When it comes to finger food fried chicken wings are hard to beat, these come wrapped in the crispiest of crispy coatings with a healthy bit of spice!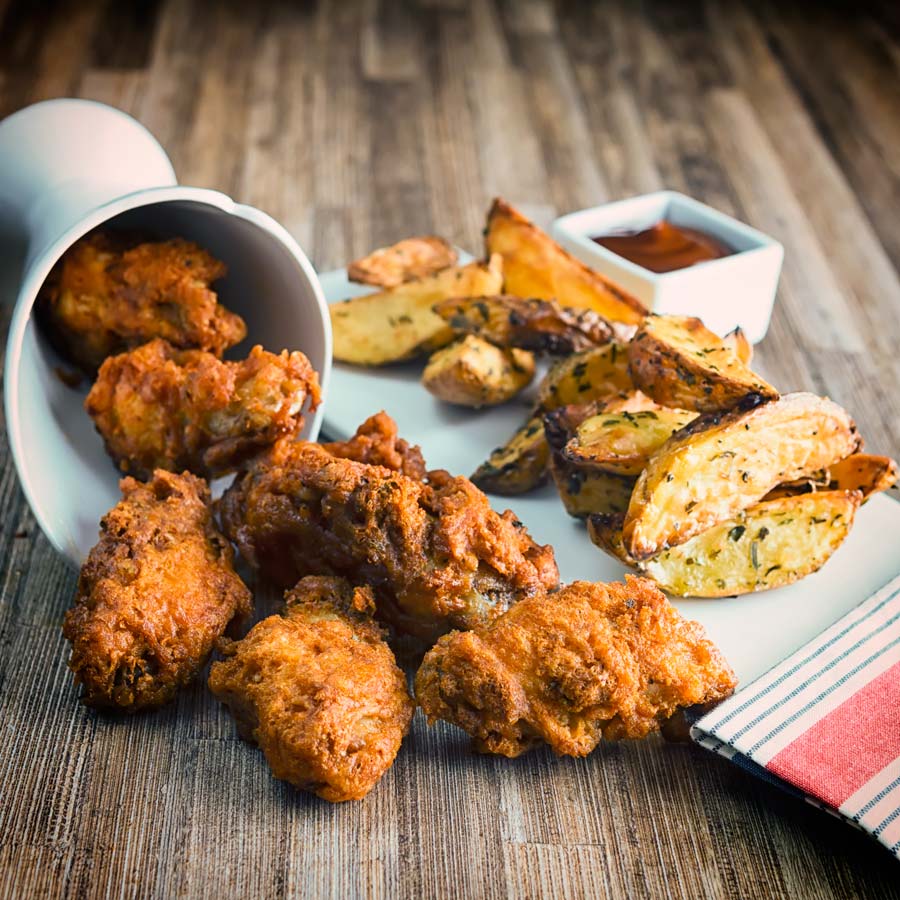 Super Crispy Fried Chicken Wings.
I am a real advocate of moderation when it comes to consumption, these super crispy chicken wings definitely fall on the side of indulgence.
Now indulgence is fine, so long as it is not a permanent state of being.
So this fried chicken recipe is fried just like my salt and pepper squid. It is not oven-fried, not baked but cooked in hot oil. And… Despite what you read on the internet nothing is the same as fried chicken!
These wings are full of flavour, perfectly cooked and have a healthy hit of spice. Although that is the only nod to healthy that this recipe makes.
Serve them up with some potato wedges and you are good to go!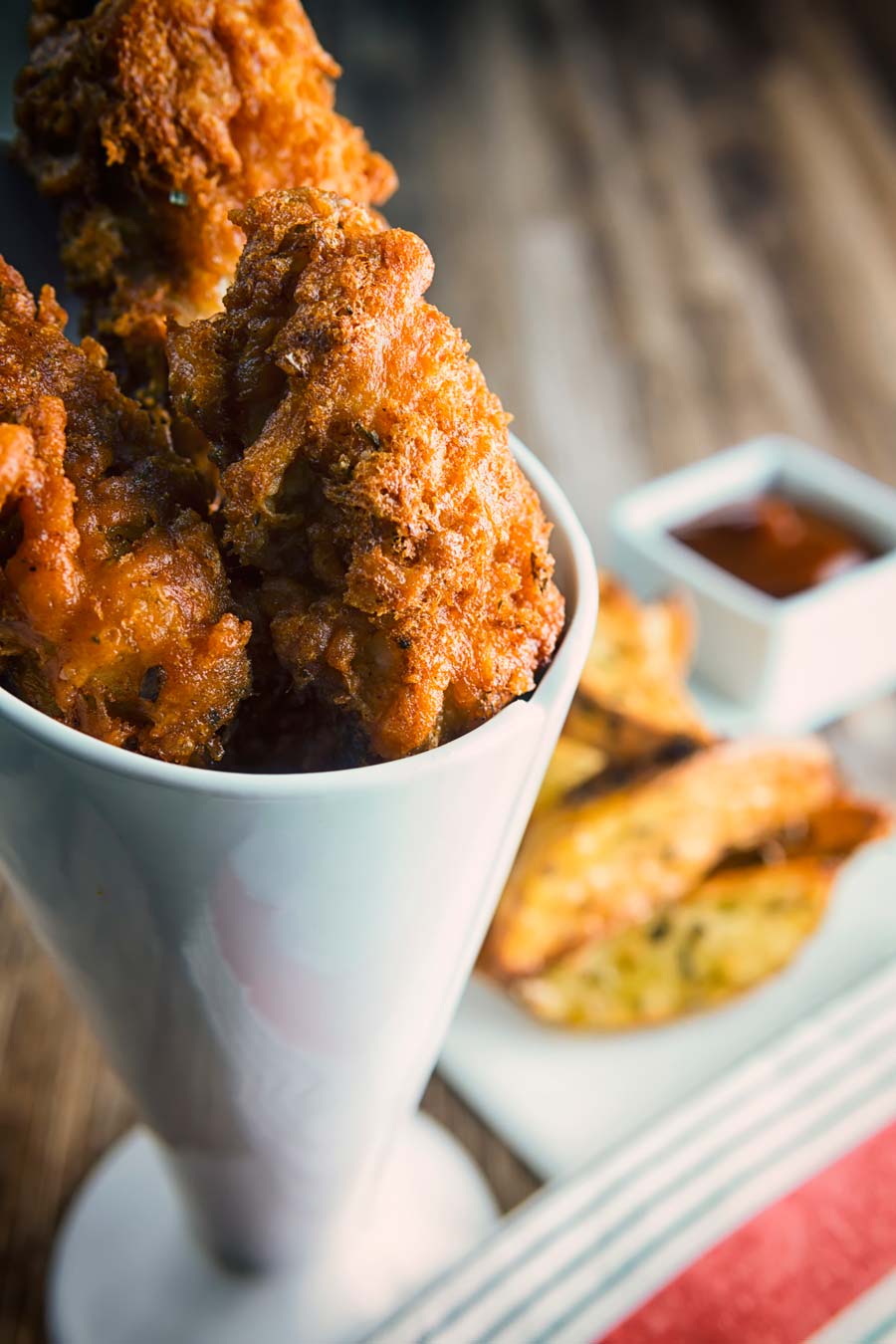 The Secret To Deep Frying.
There are a number of fundamental aspects to successful deep frying.
Most importantly get the temperature right! Soggy fried food comes from having the oil too cold.
Typically you will be up around 170-180°C approximately 350°F.
Although I go towards the lower end of this for these fried chicken wings so they do not brown too quickly.
Secondly, choose the right oil and make sure it is clean.
I personally swear by beef tallow or pork lard as it gives the crispiest results.
It is also the least healthy way to deep fry so unless it is a special occasion, like making my homemade chip shop fish and chips, then I use a cooking oil.
Typically something like a peanut oil and you want something pressed not chemically extracted.
Finally, do not overcrowd the pan, batch fry and then keep warm in an oven.
Why I hear you ask! Well, because it violates the most important rule, get the temperature right.
Each item you put in the pan lowers the temperature, add too much and you will have soggy fried chicken!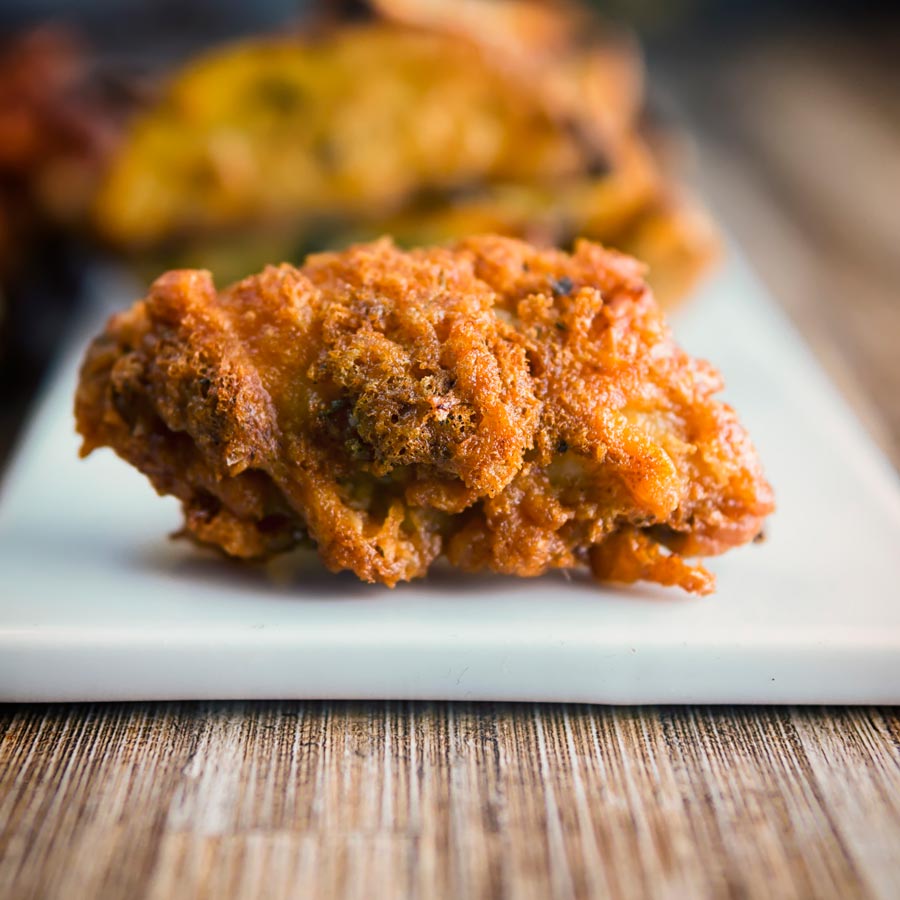 Chicken Wing Recipes.
As far as I am concerned chicken wings are the perfect finger food. Yes, they are often messy but there is just something special about them.
Now personally I am a winglet chap, that little bit of meat between the bones is always so juicy. It works out really rather well as my wife is a drumette lass, so there is no fighting.
When I say that is a good thing, I mean that sincerely because I never win.
These crispy fried chicken wings may be the first of the fried variety I have her on my site, but I have other options if you are a chicken win fiend.
I simply adore wings cooked on the grill or BBQ, with these mango glazed wings or these sriracha glazed wings being my favourite!
But fear not, chicken wings cooked in the oven are magic too! You must check out these sticky date chicken wings and these classic hot wings.
How To Keep Fried Wings Hot.
I mentioned earlier the importance of not overcrowding your pan when cooking fried chicken wings.
That, of course, leads to the question of how to keep wings hot or warm whilst you are batch frying.
Now you could send them out to the crowd as you cook them, but I am a selfish cook. If I ain't eating then no one is eating!
I find the best way to keep wings warm whilst batch cooking is to heat an oven to 100-120°C 200-250°F on fan mode.
After frying, I drain well and then use some absorbent kitchen paper to remove surface oil.
Then simply transfer to the oven, they will happily sit there and keep warm and crispy for 30-45 minutes.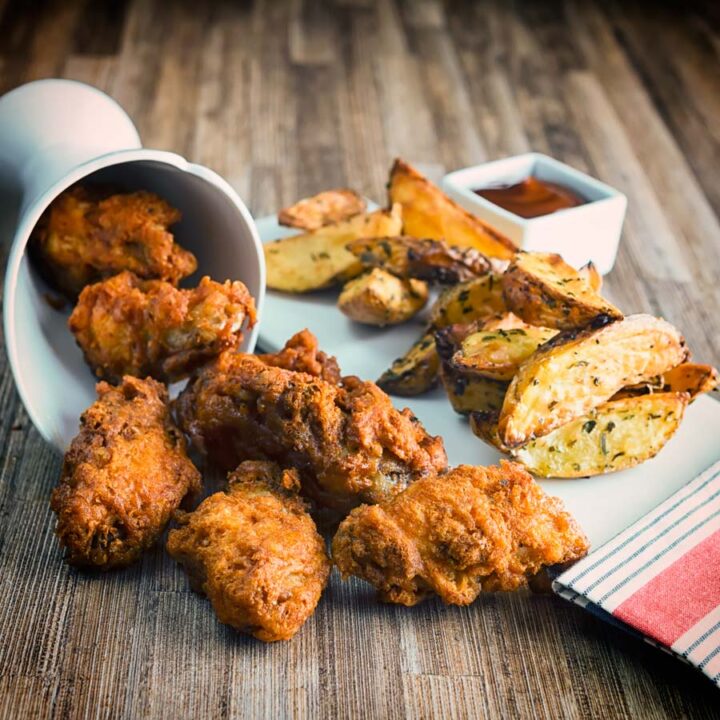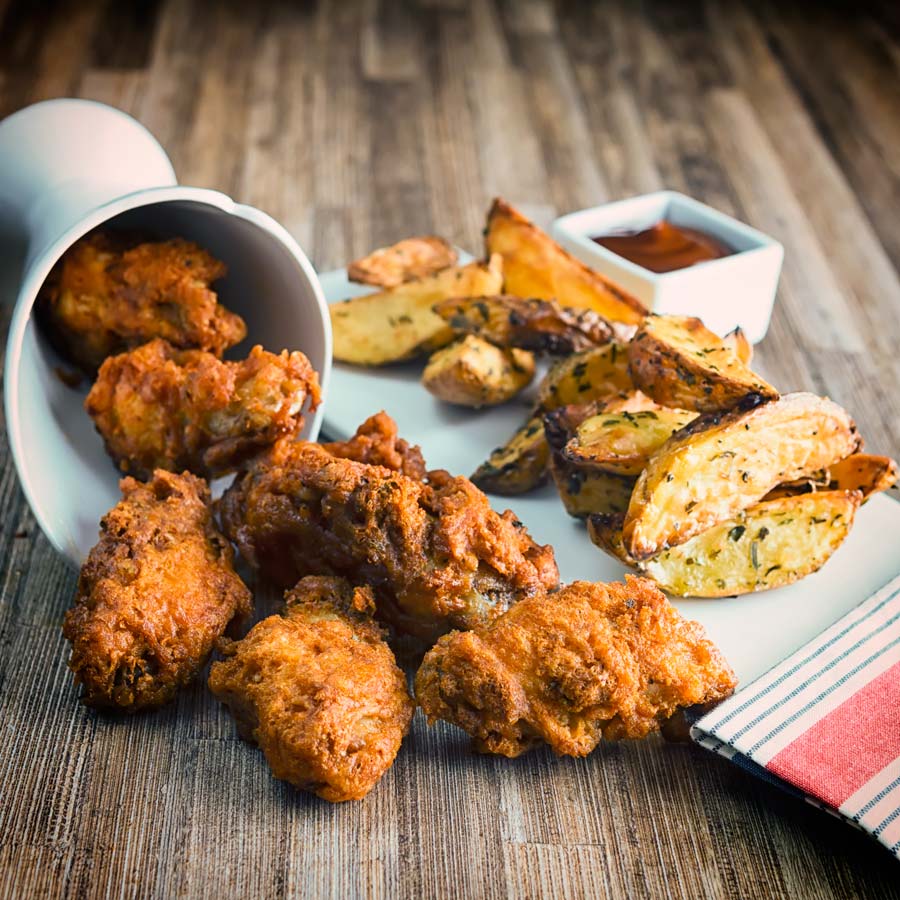 Yield:

2 Servings
Super Crispy Spiced Fried Chicken Wings
Total Time:
4 hours
40 minutes
When it comes to finger food fried chicken wings are hard to beat, these come wrapped in the crispiest of crispy coatings with a healthy bit of spice!
Ingredients
700 g Chicken Wings
200 ml Buttermilk
2 Tsp Coarse Sea Salt
1 Tsp Black Pepper
1 Tbsp Sweet Paprika
50 g Flour
25 g Cornflour
1 Tbsp Baking Powder
2 Tsp Cayenne Pepper, Push this up and down as you wish
1 Tsp Dried Thyme
1 Tsp Mustard Powder
1 Tsp Ground Coriander
Oil for deep frying
Instructions
Cut the chicken wings into winglets and drumettes.
Mix together the buttermilk, salt, pepper and paprika then add the wings, mix and let stand for at least 4 hours.
Mix together the flour, cornflour, baking powder, cayenne, thyme, mustard and coriander.
Sprinkle this over the chicken and then stir with a big spoon.
You are not looking to completely incorporate this mix, lumps are good, they make wonderful crispy chewy bits when fried.
Batch fry the chicken at 170°C or 340°F for approximately 10 minutes. You need the internal temperature of the chicken to reach 72°C or 145°F.
Keep the chicken warm in a low to moderate oven as you batch fry.
Notes
As with all of my recipes, marinading time is not included in my overall timings, you can leave the marinade for up to 24 hours.
Nutrition Information:
Yield:
2
Serving Size:
1
Amount Per Serving:
Calories:

1115
Total Fat:

69g
Saturated Fat:

19g
Trans Fat:

0g
Unsaturated Fat:

47g
Cholesterol:

498mg
Sodium:

3601mg
Carbohydrates:

31g
Fiber:

3g
Sugar:

6g
Protein:

91g