This simple blue cheese pasta recipe spaghetti coated in garlic butter and it is pushed over the top with a fantastic buttery sage crumb!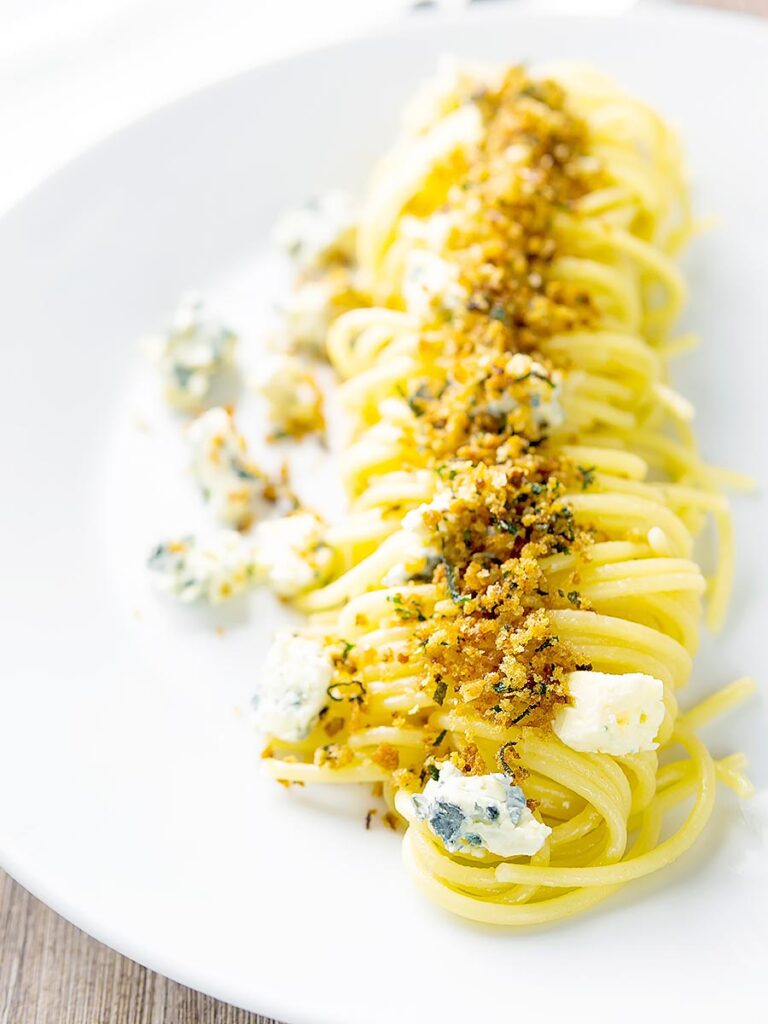 Garlic Butter Spaghetti with Gorgonzola Cheese.
This simple blue cheese pasta recipe is very much an ode to Northern Italian produce.
Garlic pasta is an all-time classic and it is a combination that forms the base of many a recipe here. Everything from my roasted garlic spaghetti recipe through to my squid ink spaghetti with shrimp feature garlic and spaghetti.
This recipe, however, features lots of lovely dairy produce, we begin with a garlic butter. I mean, it is garlic butter what is not to like?
Then we add a little sage flavoured toasted breadcrumbs… in butter of course! This adds a wonderful texture and crunch to the pasta.
The this pasta recipe needs a blue cheese and I use Gorgonzola.
Seriously, that is it!
A super quick blue vein cheese pasta recipe all done in 15-20 minutes.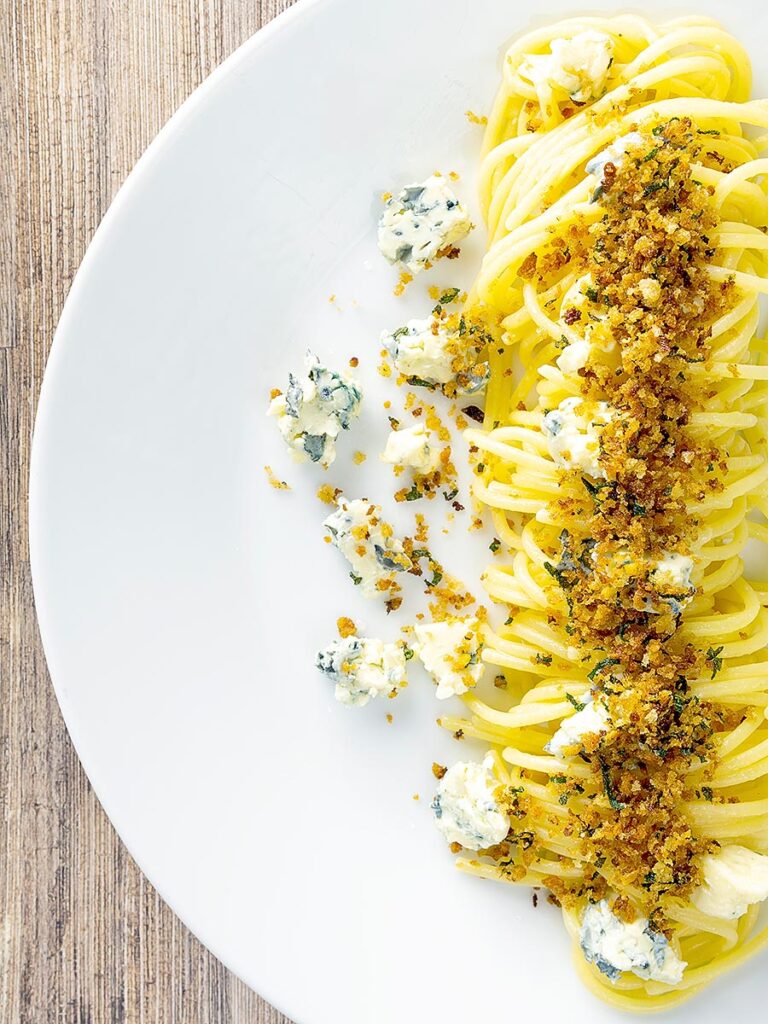 Using Other Blue Cheeses?
Gorgonzola is an ancient blue cheese from Northern Italy made from cows milk.
It has a big and bold, salty flavour that varies in firmness with age. The softer the cheese the younger it is and the milder in flavour it is.
I prefer quite a young blue cheese in this pasta recipe, I personally think that the complexity of aged gorgonzola is best with wine and crackers.
It is the cheese I choose to use in my roasted fig salad.
But you can use different blue cheeses if you like, here is a breakdown of how some of them will change the dish:
Roquefort Cheese: This is more acidic than Gorgonzola, this plays really well in this blue cheese spaghetti recipe. See my Venison Burger.
Bleu d'Auvergne: This is a great blue cheese for those that think that they do not like blue cheese. It features a different "culture" and it has a very different, almost nutty, flavour.
Stilton: This is a British cheese that is rather stonkingly good and also expensive. the big mature flavour works exceptionally well in this dish, who knew stilton spaghetti was a thing? I'd use this as a special occasion choice. See my Brocolli and Stilton Soup.
Danish Blue: The cheapest cheese on offer here and one often maligned. It has a subtler flavour when compared to the others on this list which makes this blue cheese pasta recipe a little more "family" friendly. See my Roasted Pear with Blue Cheese.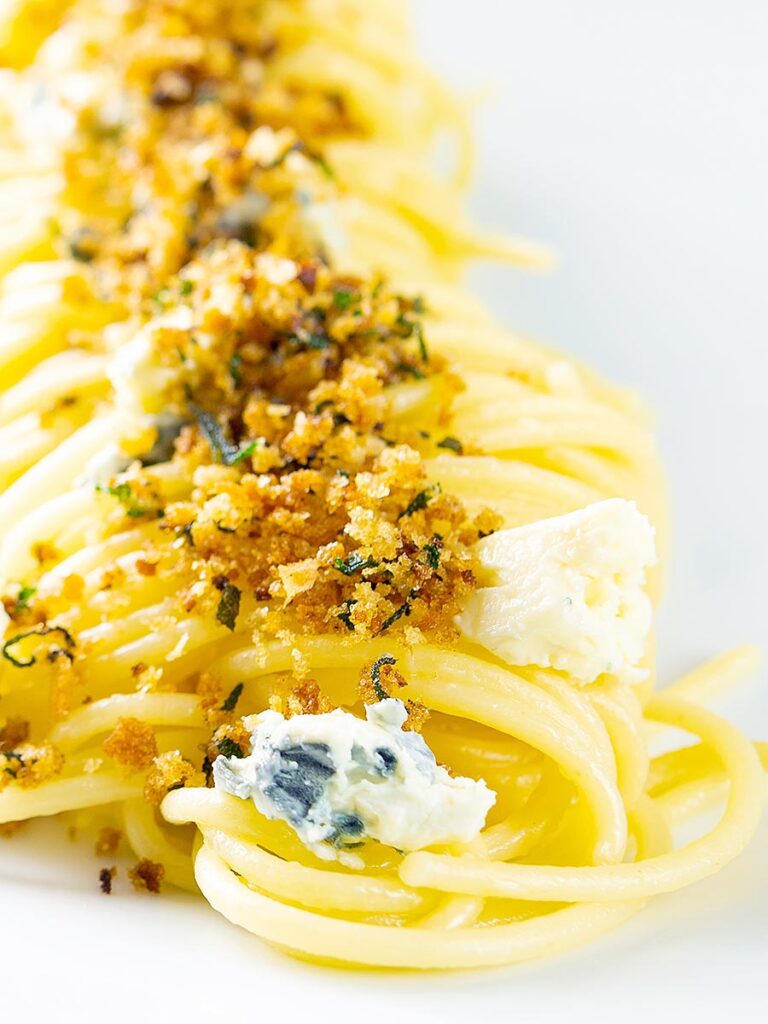 Choosing the Pasta.
I like using spaghetti for this simple blue cheese pasta dish, it is a pasta that is always in my store cupboard and it just works.
I would personally avoid tubes like penne as you will not get an even distribution of ingredients.
But everything from linguine to tagliatelle and even pappardelle work really well.
Larger conchiglie and orecchiette are also great left field options.
I rarely serve this with anything but if I would it would be a simple green side salad.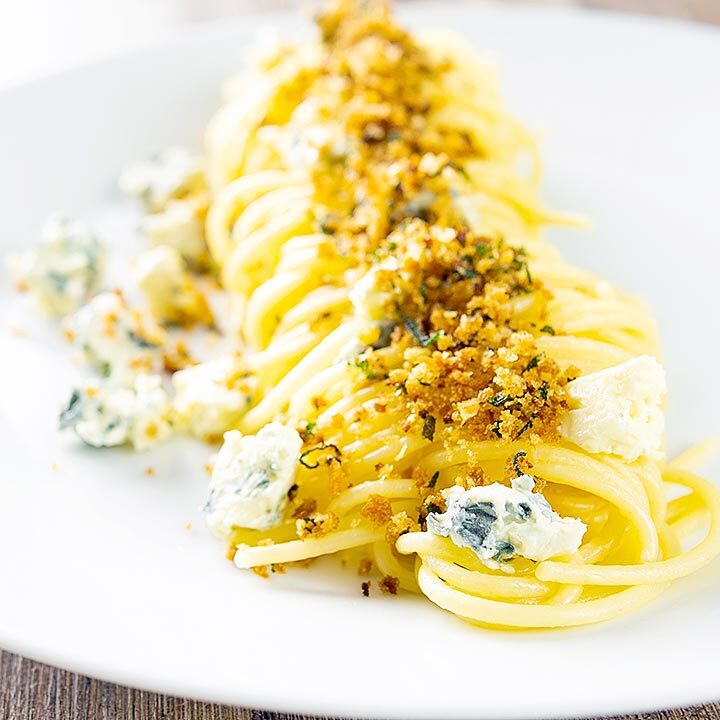 Yield:

2 Servings
Blue Cheese Pasta Recipe with Garlic Butter and Sage Crumb
Pasta for the quick win again and this simple garlic spaghetti recipe is pushed over the top with some crispy sage breadcrumbs and Gorgonzola cheese.
Ingredients
200 g (7 oz) Spaghetti
5 Cloves Garlic
75 g (1/3 Cup) Butter
20 g (3-4 Tbsp) Breadcrumbs
12 Leaves Sage
100 g (3/4-1 Cup) Gorgonzola Cheese
Salt to Season Pasta Water
Instructions
Bring a pan of water to the boil and heat two medium frying pans over a medium heat.
Slice your garlic cloves as thinly as you can.
Roll up your sage leaves into a tight sausage shape and shred them.
By now your water should be boiling, season generously with salt and then cook your pasta as per the instructions on the packet.
Whilst the pasta is cooking divide the butter equally between the two pans.
When the butter is foaming add the garlic to one pan and the sage and breadcrumbs to the other pan.
Both of these will need to cook without colouring the butter for 7-8 minutes stirring occasionally.
Whilst this is happening crumble your gorgonzola.
Drain your pasta reserving a little of the cooking liquid.
Add the spaghetti to the garlic butter pan and mix thoroughly adding just enough liquid to get a nice gloss.
Serve your pasta and then add the crumbled gorgonzola cheese and then sprinkle over some of the breadcrumbs.
Nutrition Information:
Yield:
2
Serving Size:
1
Amount Per Serving:
Calories:

758
Total Fat:

47g
Saturated Fat:

29g
Trans Fat:

1g
Unsaturated Fat:

14g
Cholesterol:

118mg
Sodium:

1190mg
Carbohydrates:

63g
Fiber:

5g
Sugar:

2g
Protein:

22g
Calorific details are provided by a third-party application and are to be used as indicative figures only.