Pasta for the quick win again and this simple garlic spaghetti recipe is pushed over the top with some crispy sage breadcrumbs and Gorgonzola cheese.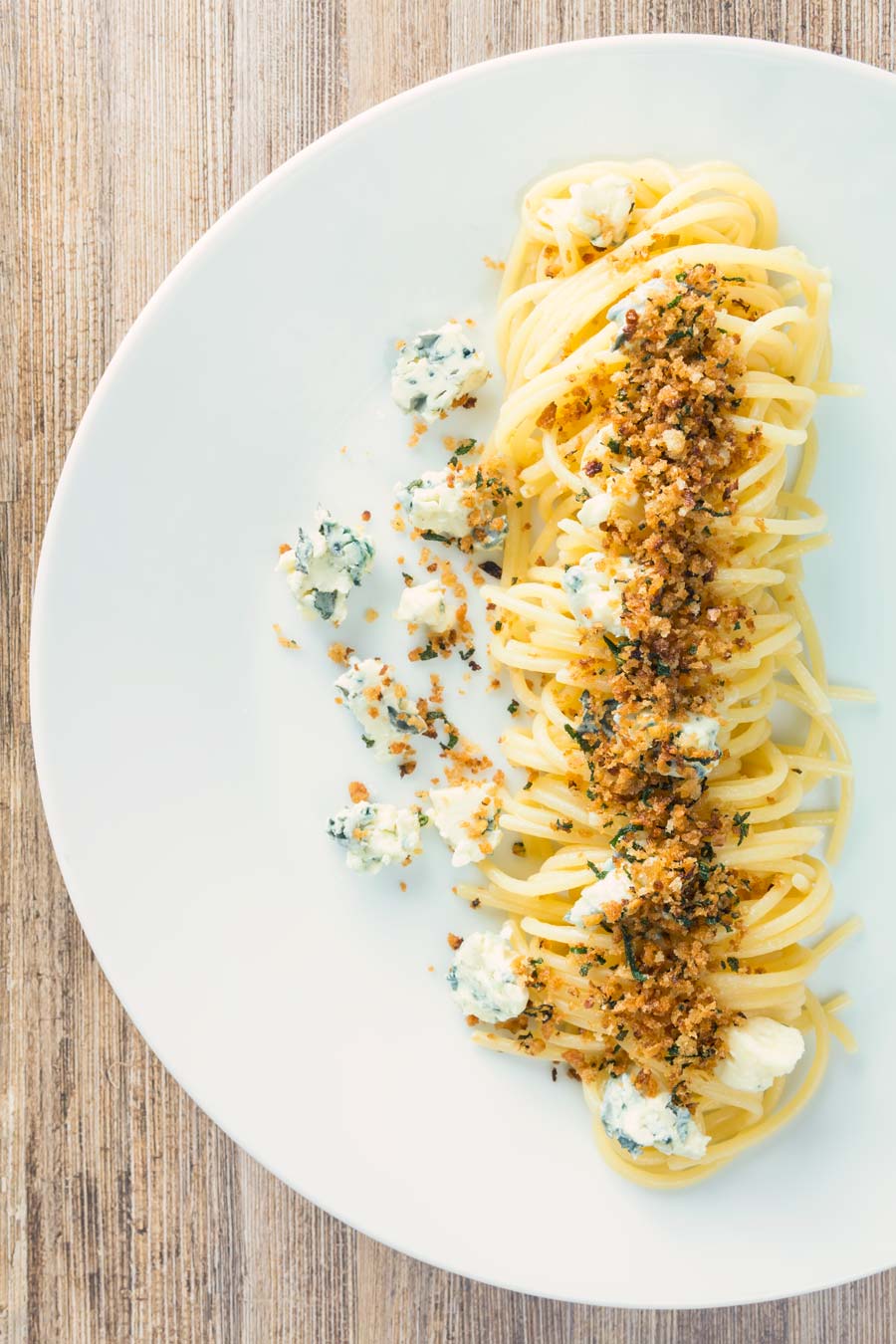 Garlic Spaghetti with Blue Cheese and Sage.
This garlic spaghetti recipe is my take on olio e aglio… Except my version definitely leans towards Northern Italian produce rather!
Garlic pasta is an all-time classic and it is a combination that forms the base of many a recipe here. Everything from my roasted garlic spaghetti recipe through to my squid ink spaghetti with shrimp feature garlic and spaghetti.
This recipe, however, features lots of lovely dairy produce, we begin with a garlic butter. I mean, it is garlic butter what is not to like?
Add a little sage flavoured toasted breadcrumbs to give some depth and texture.
Then finally we finish with some glorious Italian Gorgonzola cheese!
Seriously, that is it! A super quick pasta recipe all done in 15-20 minutes with very few ingredients that tastes wonderful.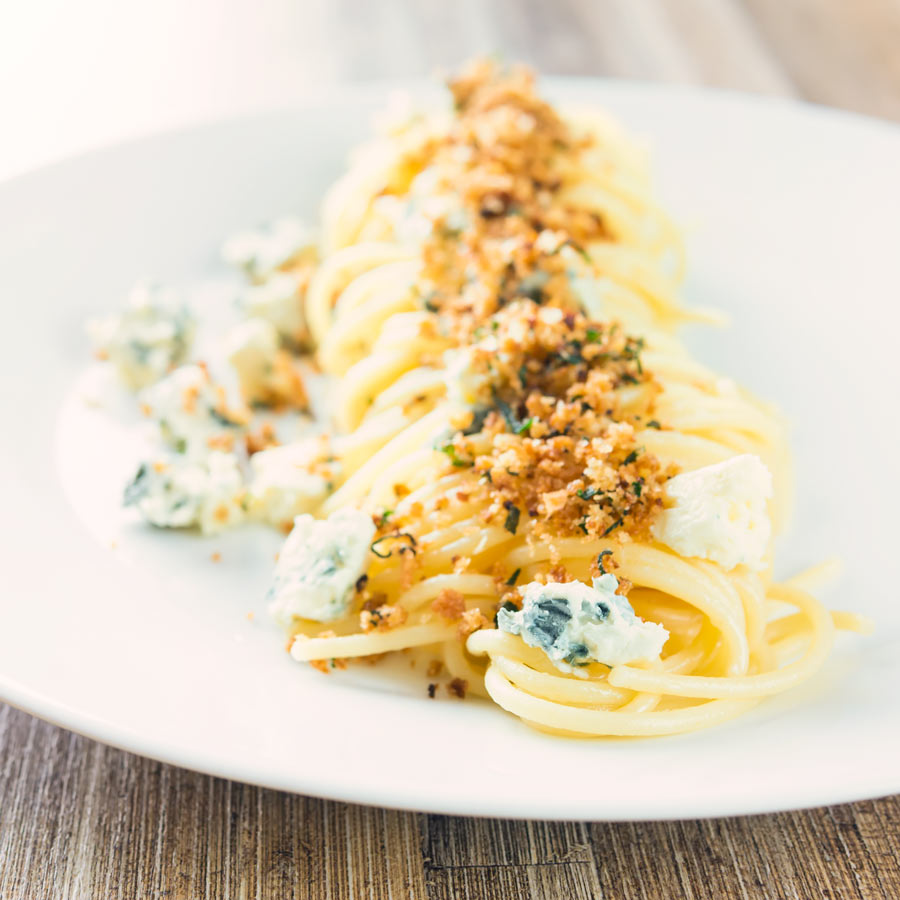 What is Gorgonzola Cheese?
Gorgonzola is an ancient blue cheese from Northern Italy made from cows milk.
It has a big and bold, salty flavour that varies in firmness with age. The softer the cheese the younger it is and the milder in flavour it is.
I prefer quite a young cheese in this recipe as I personally think aged gorgonzola is best with wine and crackers.
It is the cheese I choose to use in my roasted fig salad as well as my roasted pears with blue cheese.
You could choose Roquefort cheese as an alternative here, it has a slightly more acidic flavour. This is because it is made from ewes milk as opposed to the cows milk of Gorgonzola.
However, that definitely messes with the mojo of this garlic spaghetti recipe being inspired by northern Italian produce.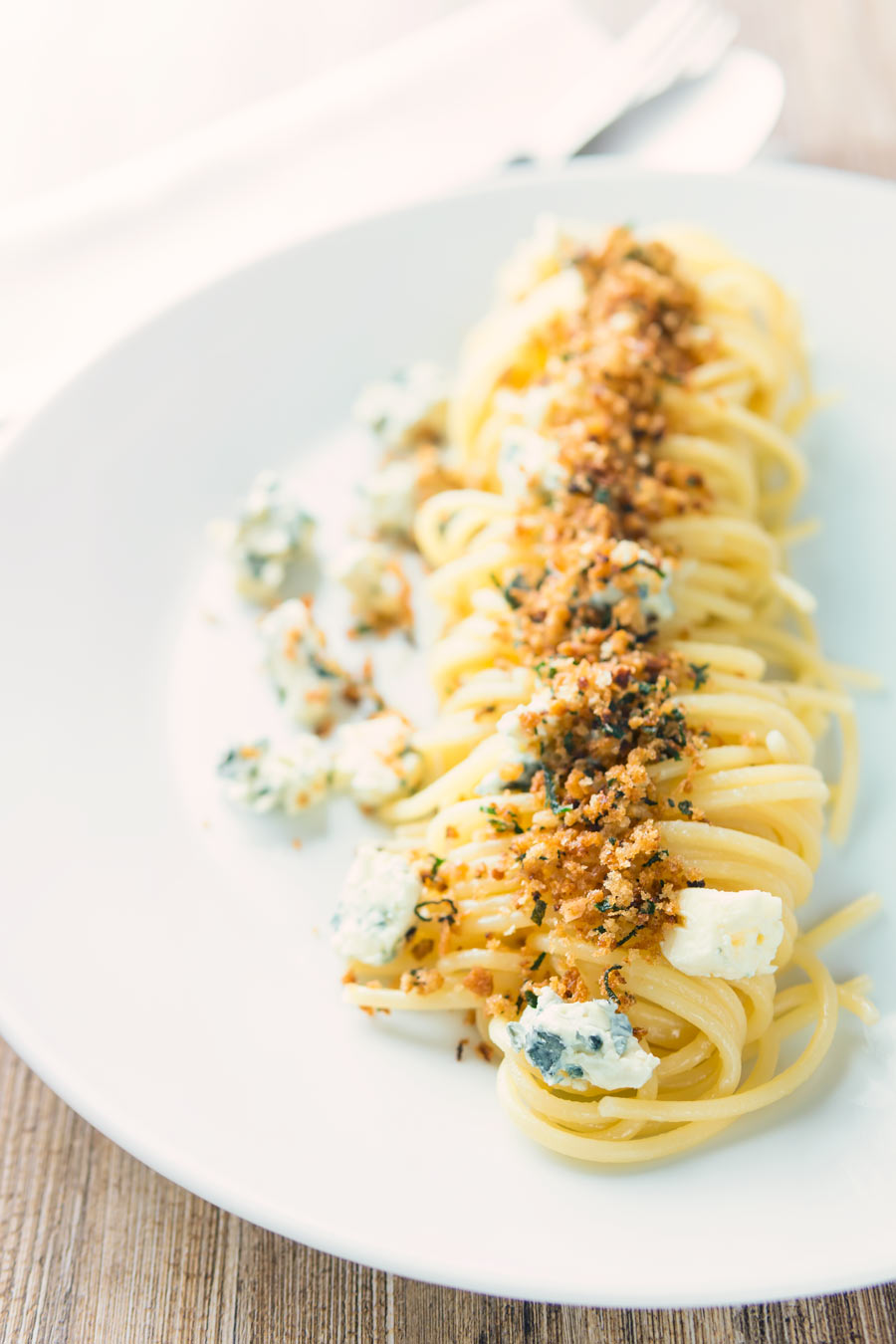 How To Toast Breadcrumbs.
This may be teaching grandma to suck eggs… But!
If there is one thing that you can guarantee I screw up in the kitchen it is toasting stuff off.
It does not matter whether it is the breadcrumbs for this garlic pasta or toasted nuts.
The key is not to blink during the cooking time. Well, maybe it is not that important to keep your eyes on things but you do need to be vigilant.
Work in a medium hot pan and keep things moving when you have got a good shade of golden brown take off the heat.
But beware your breadcrumbs will continue to toast so either keep them moving or transfer to some kitchen cloth.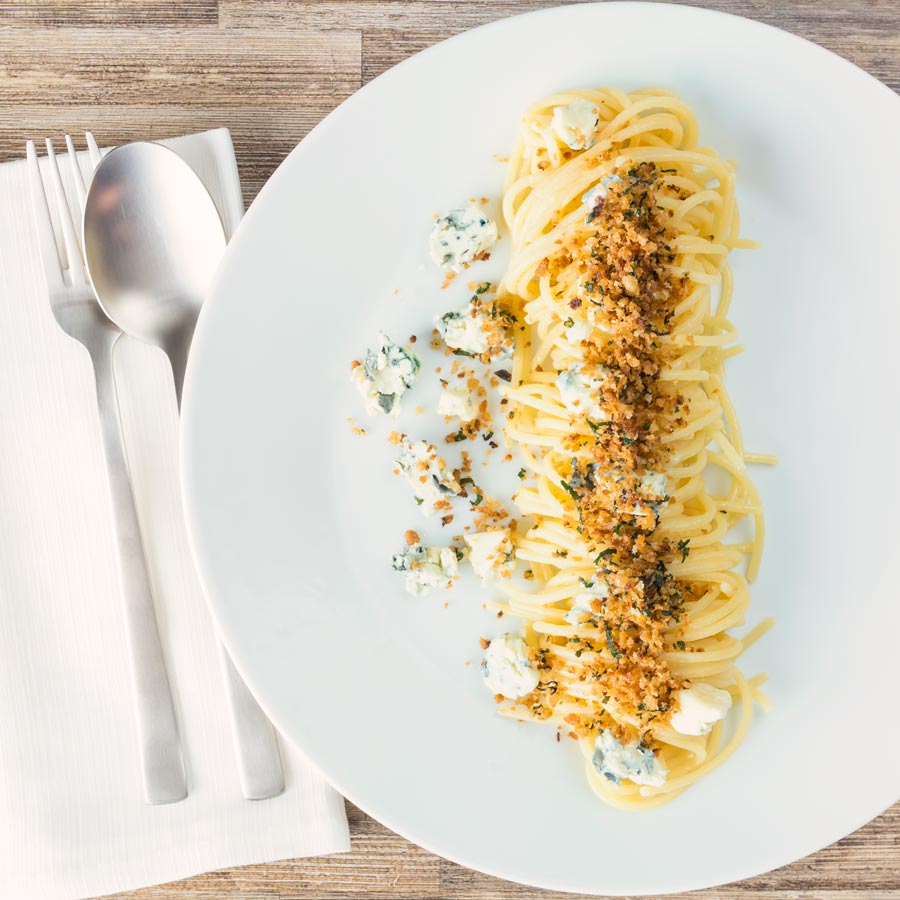 Quick Cook Pasta!
I'd like to take a moment here to offer a word of advice on buying pasta.
Do not buy quick cook pasta!
It is awful stuff, it is quick-cook because it is either extremely thin or it has cut small cuts in the surface increasing the surface area.
The fact that it cooks in 3-4 minutes should indicate that it is almost impossible to cook al-dente.
Quick cook pasta will continue to cook just like all other kinds of pasta when removed from its cooking liquid. By the time you have gone from the kitchen to your table it will become a soggy nasty mess!
Good quality pasta will cook in between 8 and 14 minutes depending on size. The spaghetti I used in this garlic spaghetti recipe was done to perfection in 9 minutes.
If you do not have that time then go out for dinner. Those 5-10 minutes saved ain't worth it!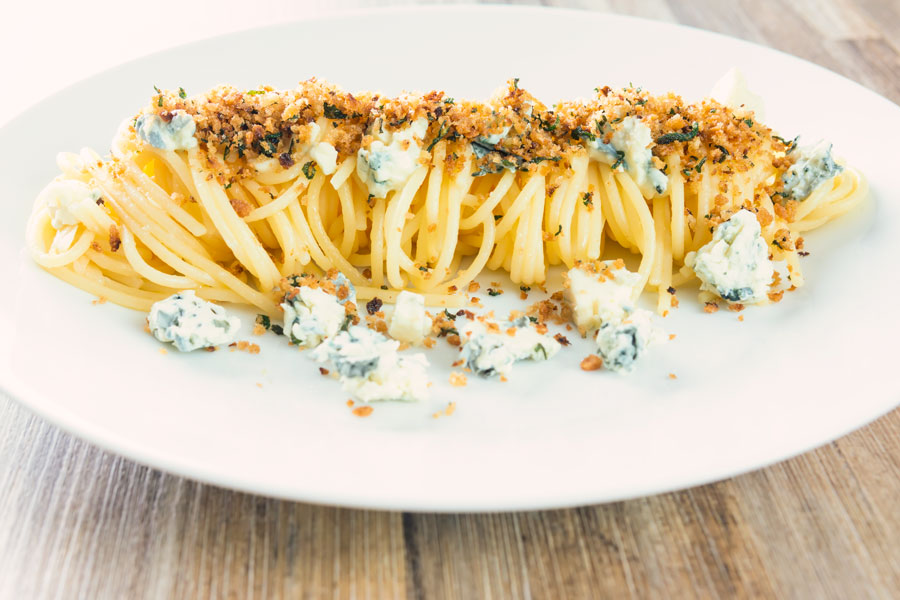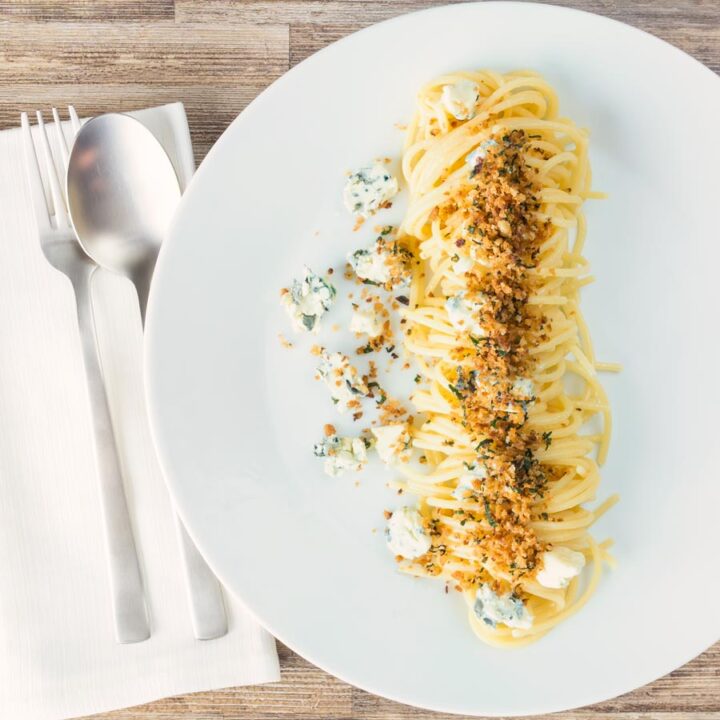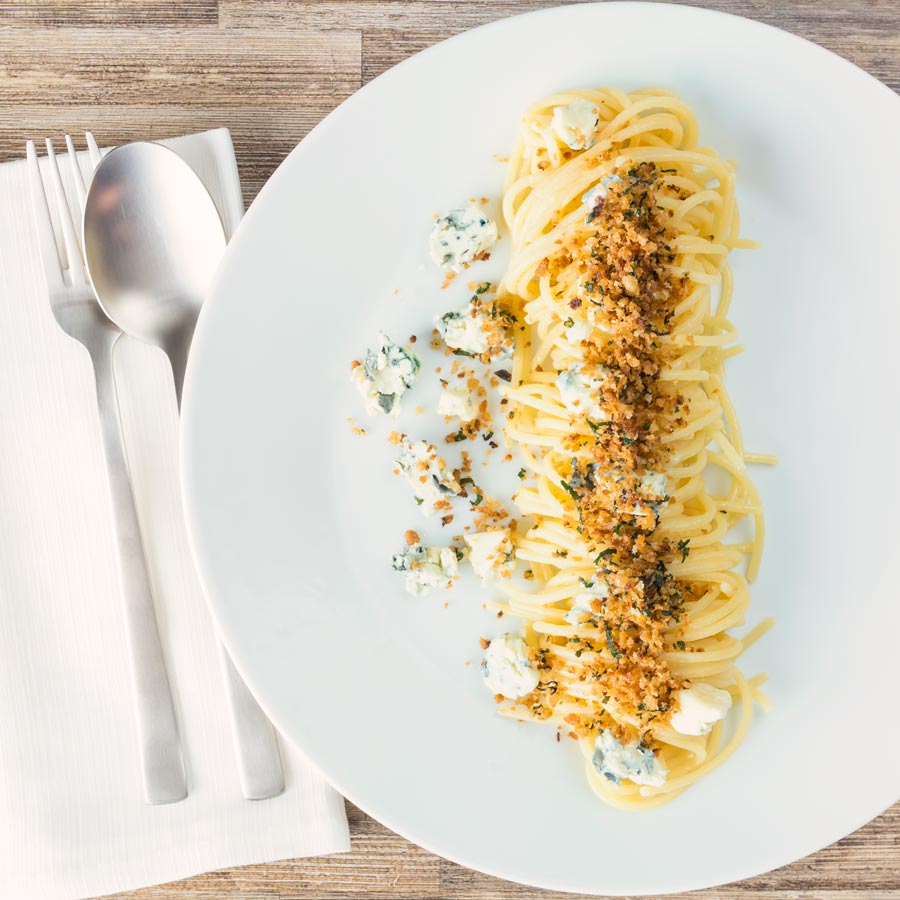 Yield:

2
Garlic Spaghetti with Blue Cheese and Sage
Pasta for the quick win again and this simple garlic spaghetti recipe is pushed over the top with some crispy sage breadcrumbs and Gorgonzola cheese.
Ingredients
200 g Spaghetti
3 Cloves Garlic
50 g Butter
20 g Breadcrumbs
12 Leaves Sage
100 g Gorgonzola Cheese
Salt, To taste
Instructions
Bring a pan of water to the boil and heat two medium frying pans over a medium heat.
Thinly slice your garlic cloves and then roll up your sage leaves and shred them.
By now your water should be boiling, season generously with salt and then cook your pasta as per the instructions on the packet.
Whilst the pasta is cooking divide the butter equally between the two pans.
When the butter is foaming add the garlic to one pan and the sage and breadcrumbs to the other pan.
Both of these will need to cook without colouring the butter for 7-8 minutes stirring occasionally.
Whilst this is happening crumble your gorgonzola.
Drain your pasta reserving a little of the cooking liquid.
Add the spaghetti to the garlic butter pan and mix thoroughly adding just enough liquid to get a nice gloss.
Serve your pasta and then add the crumbled gorgonzola cheese and then sprinkle over some of the breadcrumbs.
Nutrition Information:
Yield:
2
Serving Size:
1
Amount Per Serving:
Calories:

565
Total Fat:

36g
Saturated Fat:

23g
Trans Fat:

1g
Unsaturated Fat:

11g
Cholesterol:

91mg
Sodium:

1104mg
Carbohydrates:

43g
Fiber:

4g
Sugar:

2g
Protein:

18g