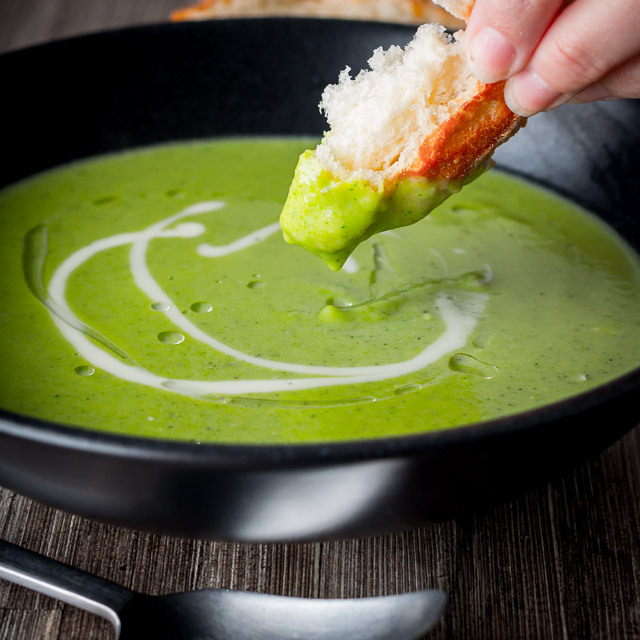 Lets kick of October (how the hell did that happen) with a proper autumnal soup and more specifically a very British Broccoli and Stilton Soup. Regular readers will know that I have more than a slight fondness for soup, I don't care what time of year it is soups and broths are always part of my food year, so in the summer will be rocking maybe something like this tomato consomme but autumn and winter sees the return of creamy soups. Broccoli is in full season no and in credibly tasty and it's earthiness works perfectly with Stilton cheese and this Broccoli and Stilton soup is a wonderfully warming and simple soup that is all fixed and done in half an hour or so. This soup categorically shuns all skinny labels, it contains cheese and cream and butter and it is fabulous for it "dahling", sometimes a beautifully indulgent, velvety soup is exactly what is called for and for that cheese, cream and butter are required! Anything without them is an impostor and though shalt not worship false idols, I'm sure I have read that somewhere, can't remember where though.
I have no idea whether Stilton Cheese is available in the US where a huge number of my readers are, so for you guys Stilton is a Strong British Blue Cheese dating back to the 18th century and those that dislike strong blue cheese will claim that it stinks like it dates back to the 18th century. It is however tasty as hell when used in 'appropriate amounts' it can quickly overpower everything you put it with, just like all blue cheeses really. If you cannot get your hands on Stilton give it a try with another blue cheese like Gorgonzola cheese, Fourme d'Ambert or Roquefort, you will need to add the cheese and taste to get the right levels if you are using a sub. Start at maybe 75g stir in the cheese and then have a taste adding in 25g amounts until you get a flavour you are happy with… Like all cooking you are in control and your palate is the only one that matters.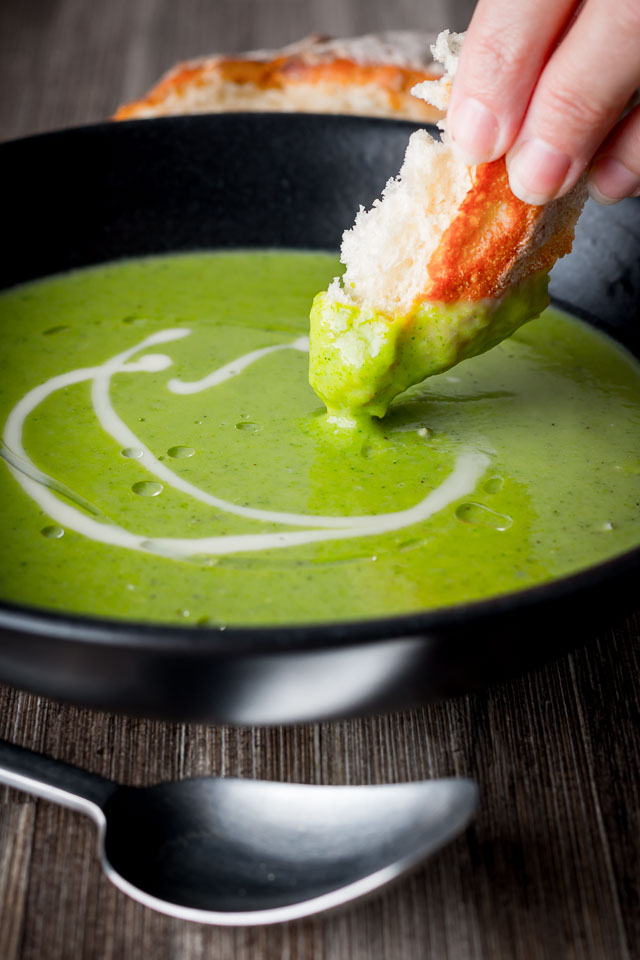 Print
Broccoli and Stilton Soup
Classic flavour combinations are front and centre in this classic British Broccoli and Stilton soup, if you can't find Stilton consider other blue cheeses.
Ingredients
100

g

Shallot:

Finely diced.

35

g

Celery:

Finely diced.

25

g

Butter.

2

Cloves

Garlic:

Finely chopped.

1

Tsp

Dried Thyme.

300

g

Broccoli:

Cut into small florets roughly the sames size as each other.

500

ml

Vegetable Stock.

100

g

Stilton Cheese:

Crumbled.

100

ml

Double Cream:

Heavy cream in the US.

Salt:

To taste.

Pepper:

To taste.

Olive Oil:

To garnish.

Double Cream:

To garnish.
Instructions
Melt the butter in a pan over a medium heat and cook the shallot, celery and garlic for 5 minutes without colouring.

Stir in the dried thyme before adding in the vegetable stock and bringing to a boil.

When boiling add the broccoli and reduce to a simmer, put on a lid and cook until soft, this will depend on the size, I am for around 1.5cm which takes around 15 minutes to cook.

Return to a low heat and now stir in the stilton cheese and cream and stir until melted.

Be careful at this point not to bring to a boil, have a cheeky taste and add salt and pepper as required.

Serve hot with a little drizzle of cream and some olive oil and of course some crunch bread.
Recipe Notes
This will serve 4 as a light lunch or starter or 2 as a gut busting winter warmer.