A Cream of Celeriac Soup as a perfect winter staple, packing loads of almost nutty 'celery' flavour and silky smooth with a fun crunchy topping.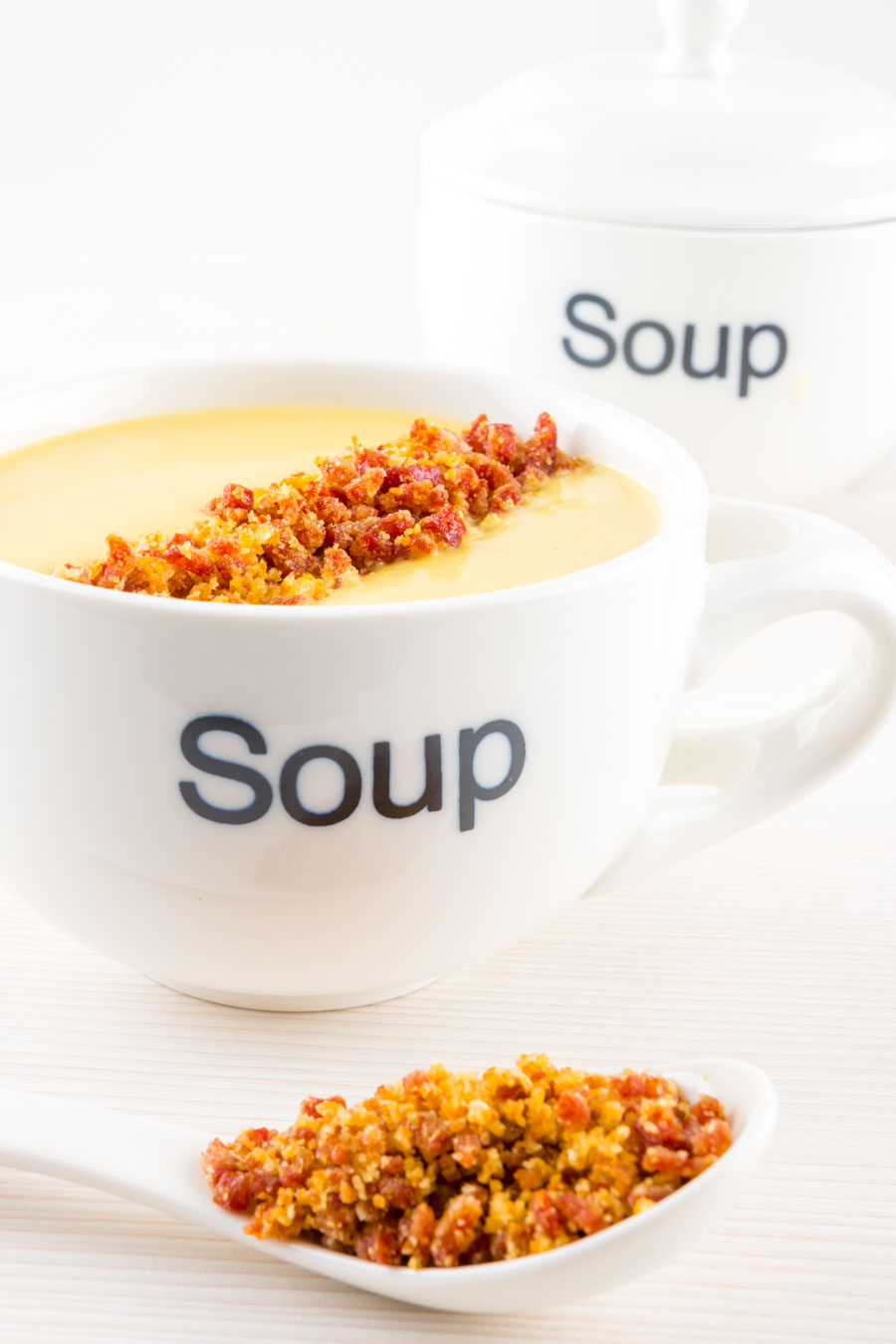 Cream of Celeriac Soup.
This Celeriac soup recipe uses, let's face it the humble celeriac is one hell of a fugly vegetable! Behind the lumps and bumps of a colour so nondescript it defies description lies, in my opinion, the tastiest of root vegetables.
So when it comes to my cream of celeriac soup I don't mess around too much.
It is all about the nutty celery-like flavour of possibly the worlds ugliest vegetable.
Apart from that, we have a classic mirepoix, some potatoes to add a smooth texture and a kick-ass stock. Be sure to use a good quality stock, it will make or break any soup.
Then, of course, we have cream and butter!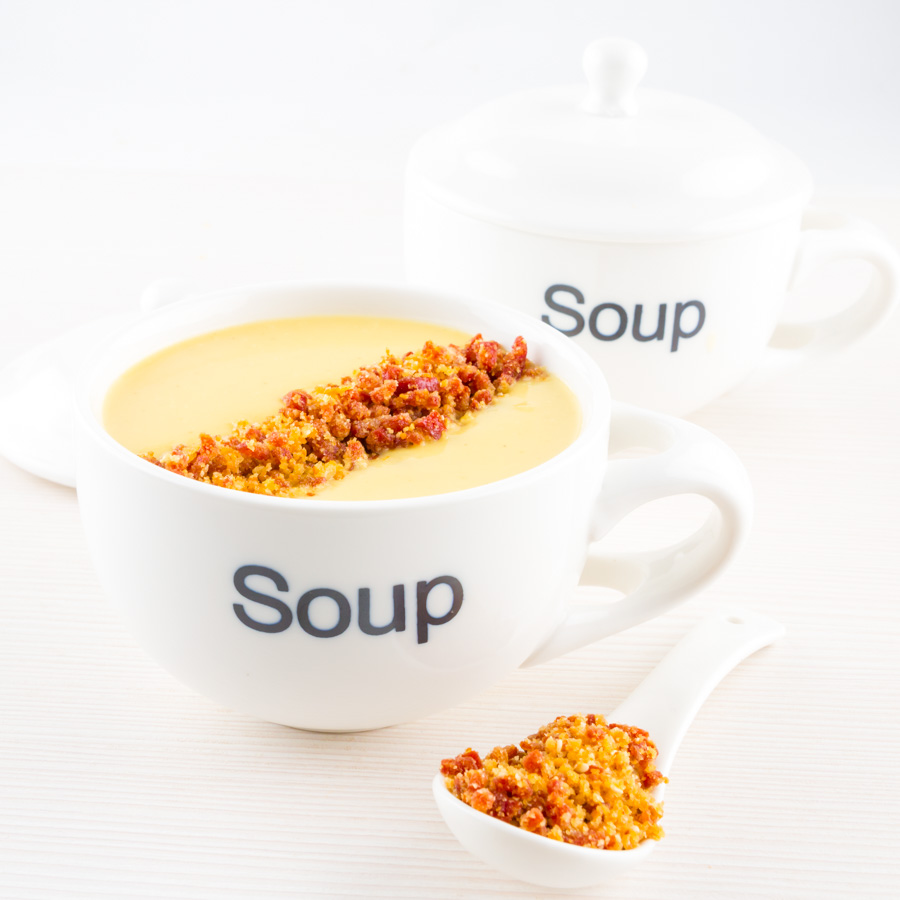 The War On Dairy.
The interweb is full of websites who have joined the war on cream, or butter or fat… I am not part of that crusade.
A cream of soup without cream is a lie, pure and simple. My cream of soups are as honest as the day is long, all of them are created with cream.
So whether it is this cream of celeriac soup, my cream of mushroom soup or cream of asparagus soup, expect cream!
I've listed the weight of the celeriac as a prepared weight for this celeriac soup purely because it is quite wasteful. You do have to hack away a load of stuff.
Being homegrown my celeriac are even more knobbly so suck it and see, but reckon on around 15-20% waste.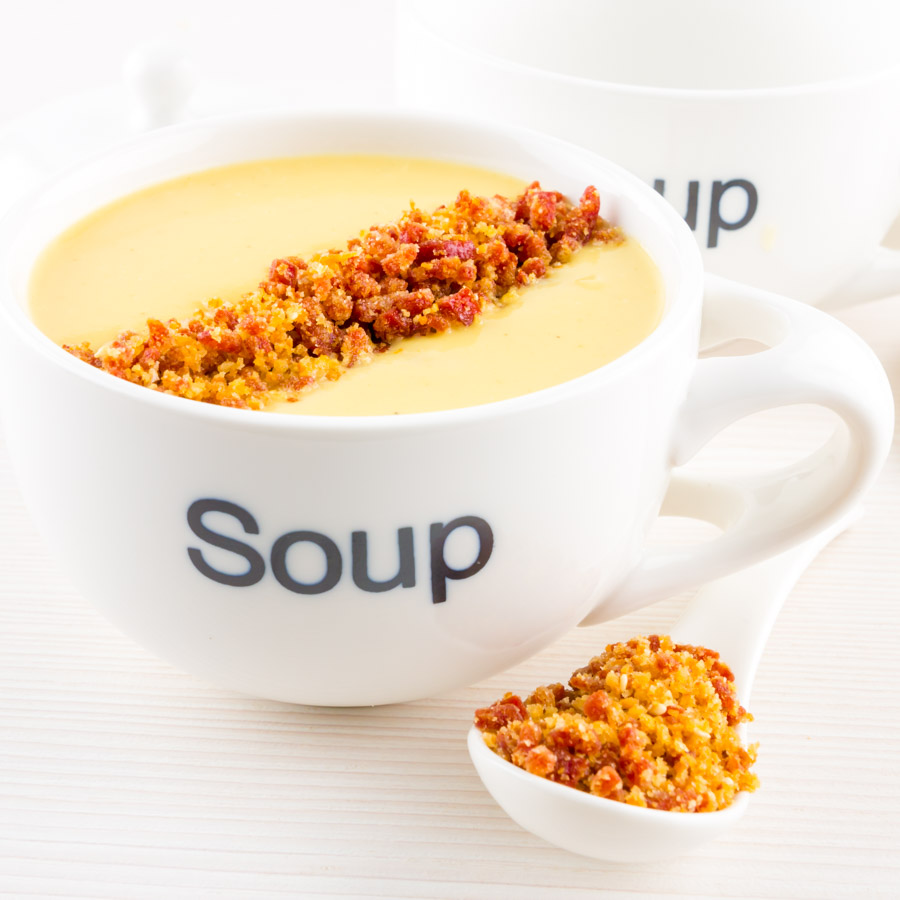 What Is Celeriac?
The celeriac is very closely related to the sticks of celery that we all know, it also tastes a lot like celery. Although the flavour is nuttier and more earthy.
Despite its less than pretty appearance, it is a popular ingredient across continental Europe and even picks up a name check in Homer's Odyssey.
Arguably the most well-known celeriac recipe is celeriac remoulade, a classic French slaw like treatment.
I love it in soups and stews, like my minestrone soup recipe and soup au pistou.
It also makes the most spectacular celeriac mash. I use it as a base for the braised pressed pork belly in this recipe.
It also roasts very well, it is a wonderfully versatile and undervalued vegetable.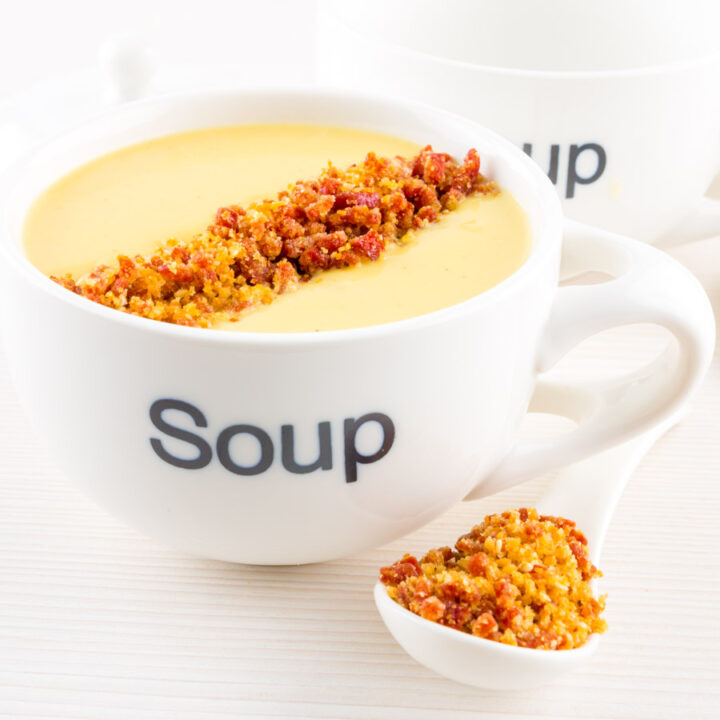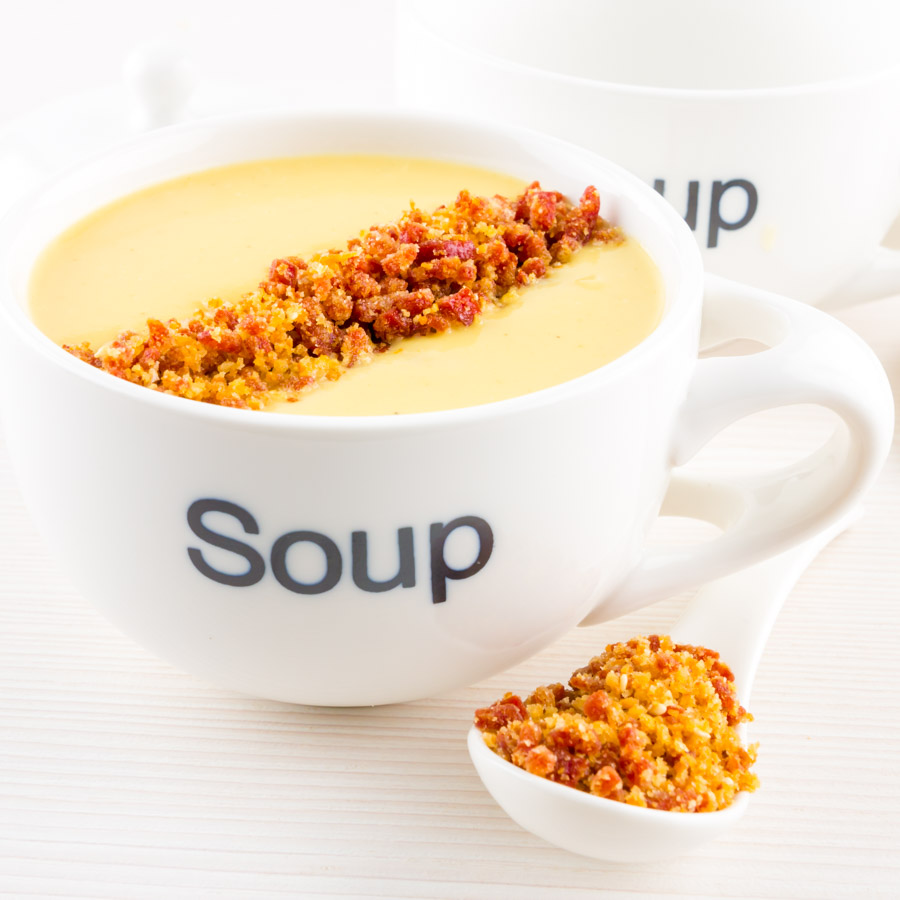 Yield:

6 Servings
Cream of Celeriac Soup
A Cream of Celeriac Soup as a perfect winter staple, packing loads of almost nutty 'celery' flavour and silky smooth with a fun crunchy topping.
Ingredients
25 g Butter
100 g Onion
50 g Celery Sticks
75 g Carrot, Medium Dice
12 Black Pepper Corns
1 Tsp Dried Taragon
100 g Potato, Cut into 25mm dice
600 g Celeriac, Prepared weight, cut into 25mm dice
500 ml Vegetable Stock
1 Bay Leaf
Salt to Taste
300 ml Milk
200 ml Cream
25 g Salami, Finely Diced
10 g Bread Crumbs
Instructions
Melt the butter in a pan over a medium heat and add the onion and celery, then cook for 5 minutes being careful not to colour the onion.
Now add the carrot and cook for a further 10 minutes.
Add in the pepper and thyme then stir.
Then add the celeriac, potato, vegetable stock and bay leaf, bring to a boil and finally reduce the temperature to a low simmer and add a lid.
Cook for 30 minutes or until the potato and celeriac are soft, check as it is cooking and add salt as required.
When the celeriac and potato are soft, blitz in a blender until silky smooth, I like to pass mine through a fine sieve to get it extra silky.
Now add the cream and milk,stir to combine and bring to temperature, now is a good time to check the seasoning again and add salt as required.
Whilst the soup is coming to temperature add the breadcrumbs and salami to a frying pan over a medium high heat and fry for a couple of minutes, stir occasionally and sprinkle on the soup before serving.
Notes
You can, of course, omit the topping and turn this vegetarian, a really great alternative would be some freshly grated hazelnut.
Nutrition Information:
Yield:
6
Serving Size:
1
Amount Per Serving:
Calories:

281
Total Fat:

19g
Saturated Fat:

11g
Trans Fat:

1g
Unsaturated Fat:

6g
Cholesterol:

56mg
Sodium:

559mg
Carbohydrates:

25g
Fiber:

4g
Sugar:

4g
Protein:

7g