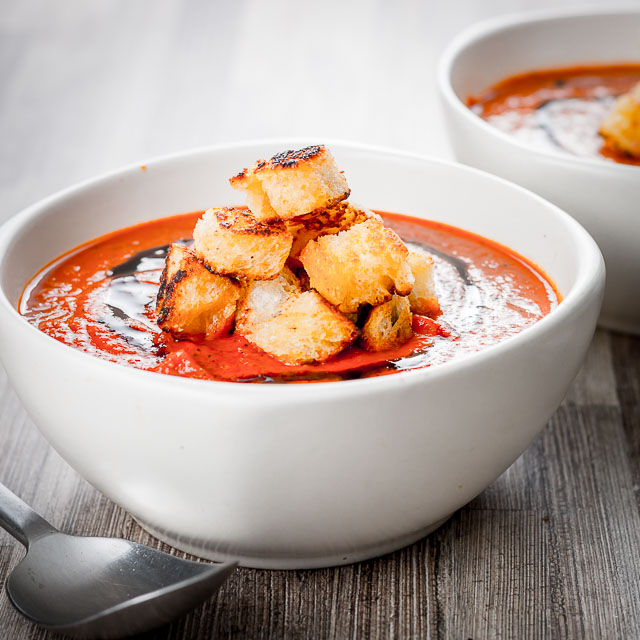 My Garlicky Roasted Tomato Soup recipe is firmly aimed at the lovers of two ingredients, tomatoes naturally and garlic.  Now I have to confess I am not a garlic fiend, although fearless stunt wifey certainly is, I do like garlic but do often think it can be over done, however when it is roasted it becomes mellow and almost sweet offering a wonderful back note without being punched in the face with garlic! Tomato soup is certainly one of those foods that I loved as a child, I could easily demolish a whole tin of the Heinz stuff with half a loaf of nasty white bread, fortunately my tastes have evolved and my waist line does not reflect my youthful gorging 😉
This is certainly a meal once again from our garden, we have scaled back from our earlier harvests of 250kg of tomatoes every year but we still grow more than enough to make up huge batches of this roasted tomato soup, not to mention gallons of passata.  We used to grow half a dozen varieties of tomatoes, it is all very nice but I'll let you into a secret, batch saving cherry tomatoes is an absolute nightmare and they would inevitably fall and we would end up with tomatoes growing all over the place! We now stick to San Marzano plum tomatoes, they are the most wonderful all round tomato and the thicker flesh and fewer seeds means less liquid and more flavour.  Don't worry if you can't get San Marzano tomatoes, this roasted tomato soup will work with what ever you have but try and get tomatoes as ripe as possible.  It is an ideal opportunity to get all frugal and pop to the market or superstore late in the day and get some end of stock tomatoes that will be reduced in price, trust me the riper the tomato the more flavour you will get!
"But Brian where's the Basil" I hear you shriek, "Basil Schmazil" I say, for me the only herb for my roasted tomato soup is thyme.  In all fairness I do think thyme makes everything taste great, but I personally love the earthy, woody, almost minty flavour, I think it is just beautiful with roasted tomato and it is the perfect marriage with the subtle balsamic flavours I have going on.
You cannot fail to have noticed I love soup, I guess I always have, but being able to head into the garden and collect handful of vegetables and turn them into a bowl of fresh and vibrant soup like this or my sorrel and fennel soup is nothing short of magic.  However, whilst I would love to think that I might poke a couple of you to drop some seeds in the ground, I am not naive, head to the market or superstore and find some veg and put together flavours that work and go to town.
I would genuinely struggle to choose my favourite soup, usually I would go with the last bowl I ate, so as I type this it is a roasted tomato soup, but that is only until next week!  Tell me what is your favourite soup?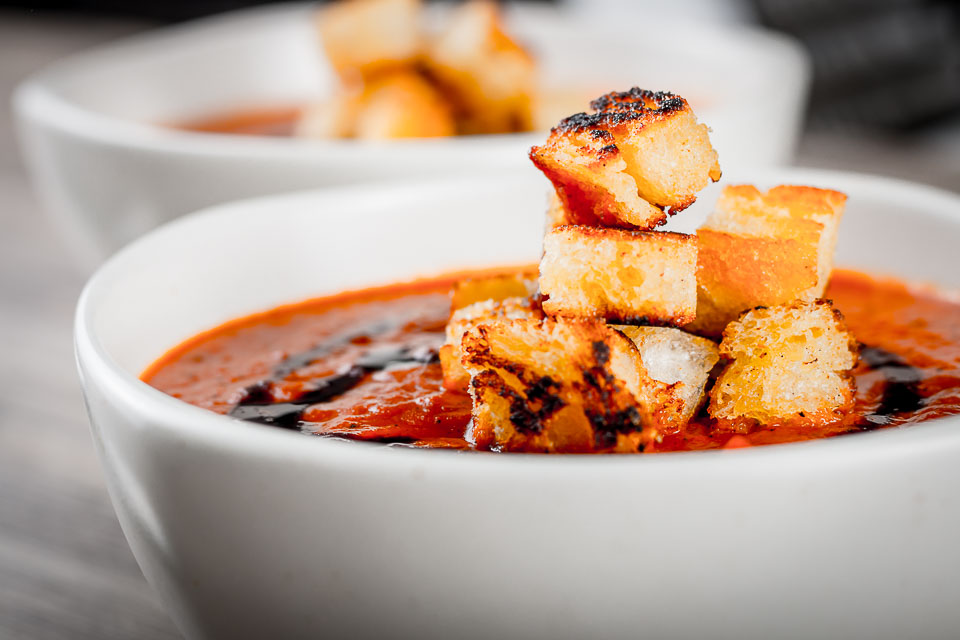 Print
Garlicky Roasted Tomato Soup
With a little bit of extra effort you can elevate a simple roasted tomato soup to a whole new taste level with hints of thyme and lots of roasted garlic.
Ingredients
1

Kg

Tomatoes.

I prefer Plum tomatoes and grow them in our garden but this is a perfect opportunity to root through the bargain basement at your local market or supermarket.

1

Tbsp

Honey.

225

g

Onion 225g.

Peeled and cut into 1cm rings.

2

Tbsp

Balsamic Vinegar.

1

Head

Garlic:.

Broken into cloves but skins left on.

2

Tsp

Dried Thyme.

1

Tsp

Black Pepper.

Coarsely Ground .

1

Tsp

Coarse Sea Salt.
Instructions
Preheat your oven to 200 C

Cut your Tomatoes in half and fry them in batches with the cut side down in a fiercely hot frying pan covered in a little flavourless cooking oil until they begin to catch on the edges, approximately 3-4 minutes. I find I can just squeeze in two batches.

As each batch finishes add 1/2 Tbsp of the honey and swirl around to coat the tomatoes and then pour into a roasting tray

When you have finished with your tomatoes add the slices of onion to the same hot frying pan and repeat the process, turning them after 2 minutes each side

When the onions are done remove the frying pan from the heat and add in the balsamic vinegar to deglaze the pan scraping all of the caught bits from the bottom and then add to the tomatoes in the roasting tin

Add in the garlic cloves, thyme, salt and pepper

Roast in the hot oven for 45 minutes

When the soup has cooked blend it with a stick blender and then pass through rotary food mill, alternatively through a medium fine sieve
Recipe Notes
Serve with garlic croutons cooked in a mix of butter and oil and a drizzle of sticky balsamic sauce.