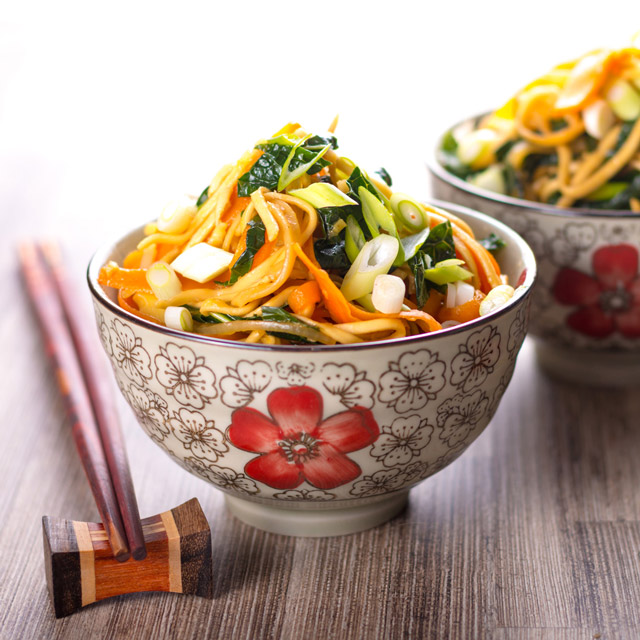 Stir fried noodles are probably my favourite quick and easy meal, all of the work goes into the preparation and then a frantic 7-10 minutes over a searingly hot wok and bish bash bosh you have a really tasty simple meal that is much more than the sum of its parts.  The sweet and sour aspect of this dish is a really simple yet beautiful combination of just a few ingredients that I always keep around at home as I consider them kitchen essentials, but here they are and the substitutes that I use on the rare occasions I run out:
Shaoxing Rice Wine: Many say use dried sherry as a substitute for this but I find gin is much closer in flavour than sherry is but take your pick.
Chinkiang Vinegar:  This is a Chinese black vinegar and the best widely available substitute is Balsamic vinegar, it does give the dish a slightly more complex flavour but it does work really rather well
Light Soy Sauce:  There really is no substitute for this or its counterpart Tamari, but be sure to not substitute light soy sauce for dark, they do very different things and have a very different flavour.
I guess my love for stir fried noodles and noodle soup stems from myself and my wife working busy jobs in the UK and the need or desire to have dinner ready in 20 minutes when we got home so we can spend time together outside of the home.  Whilst it was born of necessity it is no longer that, we eat it because we like it, and the great thing is there are no rules!  As I grow bucket loads of vegetables I usually eat this as a vegetarian dish with 2 or 3 items that are good in the garden, in spring it will be whole baby peas in the pod and asparagus, summer it might be green peppers with sorrel or spinach and it is root vegetable time in autumn so full on with the kale and carrot as in this particular instance…  However you can go meaty if you like, double up the sauce and marinade a little chicken breast or pork tenderloin that you have sliced very thinly for 10 minutes and throw it in the pan just after the onions and garlic and stir fry for a couple of minutes and then continue with what ever else you desire.
Unfortunately good Chinese food was both hard to find or incredibly expensive in the UK, so quick roadside noodle bars where you can pick up some stir fried noodles was just not possible, however it is great to see them opening and flourishing in Budapest. Naturally I don't make the 320km round trip just for stir fried noodles, but we do end up heading to the big city for a bit of noise and chaos every few months to ensure my spice cupboard is fully stocked and you can be sure that is what we have for lunch and on occasions before we head out on the town for a night on the beer…  Which usually ends in an early night as we are lousy drunks, primarily due to a lack of practice 😉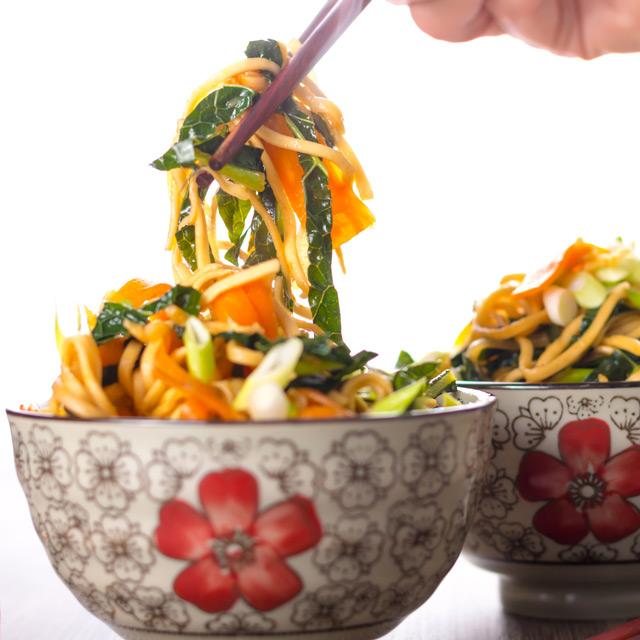 Print
Sweet and Sour Stir Fried Noodles
Nothing to my mind is quicker and easier than a stir fried noodle dish and this sweet & sour carrot and kale number is hot with ginger and superb.
Ingredients
1

Tbsp

Rice Wine.

1

Tbsp

Light Soy Sauce.

1

Tbsp

Chinkiang Vinegar.

1

Tbsp

Light Brown Sugar.

1/2

Tsp

Cornflour.

50

g

Ginger:

Peeled and Grated.

2

Cloves

Garlic:

Crushed to a paste.

100

g

Onion:

Peeled, cut in half (top to tail) and then sliced into fine slithers.

100

g

Carrot:

Cut into ribbons using a vegetable peeler.

75

g

Kale:

Shredded, if you have young kale chop it all if it is larger remove the larger part of the stems.

50

g

Bamboo Shoots:

Shredded.

75

g

Egg Noodles

2

Spring Onions:

Finely sliced for garnish.
Instructions
Begin by boiling a kettle and soaking your dried egg noodles whilst preparing your vegetables, stir your noodles every so often to make sure they are separating

Prepare all of the vegetables as per the ingredient list above, it is important to do this prior to starting cooking as this recipe moves very fast!

Mix together the rice wine, soy sauce, chinkiang vinegar, brown sugar and cornflour in a bowl and set aside

This should all take about 10 minutes and your noodles should be pretty much cooked and you can now drain them and refresh in cold water

Heat a wok over a high heat and put in 1 tablespoon of your chosen flavourless cooking oil

When the pan is blisteringly hot throw in the ginger and garlic and keep moving for 10 seconds, then add the onions and stir fry for 30 seconds

Add the carrots and kale and stir fry whilst keeping the ingredients moving for 2 minutes

Add in the noodles and stir fry for 1 minute ensuring all of the ingredients are combined

Finally add in the bamboo shoots and the sauce mix and stir fry for 1 final minute and serve with the spring onions as a garnish
Recipe Notes
It is vitally important that you have all of your vegetables prepared prior to starting, there is no time for chopping once you have begun!