Sweet and sour tofu with seared crispy tofu wrapped in a dark rich sauce with lots of veggies and pineapple is the perfect vegan fakeaway.
Taking just 25 minutes to cook also means that it is much quicker than your local takeaway and it tastes fantastic!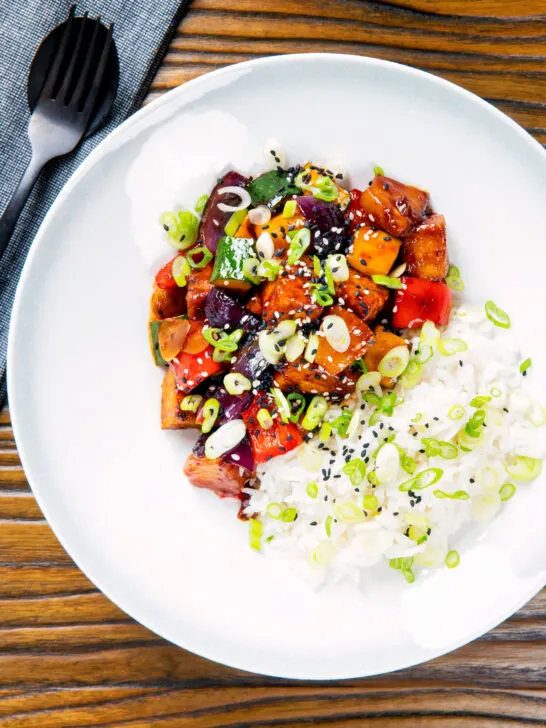 Vegan Tofu Stir Fry Fakeaway
I've been guilty of being pretty rude about tofu in the past but I am gathering a taste for it!
I'm neither vegan nor vegetarian and do not use tofu as a "meat substitute". I use it for what I think it is good at, and that to me is carrying flavour and delivering texture.
In both my Vietnamese fried tofu and salt and pepper tofu recipes its role is to be kinda crispy, whereas it is soft and smooth in my gochujang tofu stew.
I even crumble it in my tofu noodles with dan dan sauce and crumbled tofu pasta recipes.
In this sweet and sour tofu recipe, its role is to be a little more "chewy", much like in my teriyaki tofu recipe and vegan massaman curry recipe.
We begin by frying off the tofu to get a nice crispness. Then set it aside, whilst we stir-fry some vegetables and pineapple.
We finish it off with a darker and less sweet sauce than you would get from the takeaway. It is very similar to the one that I use on my sweet and sour pork chops and BBQ chicken skewers
Tofu is like a sponge and sucks up those flavours. Frying it off first means we get a unique almost chewy outside texture that I love.
It's something that you can only get when you combine tofu with a sticky sauce.
Combine that with a comfortable 30-minute cooking time and you have the perfect vegan midweek fakeaway!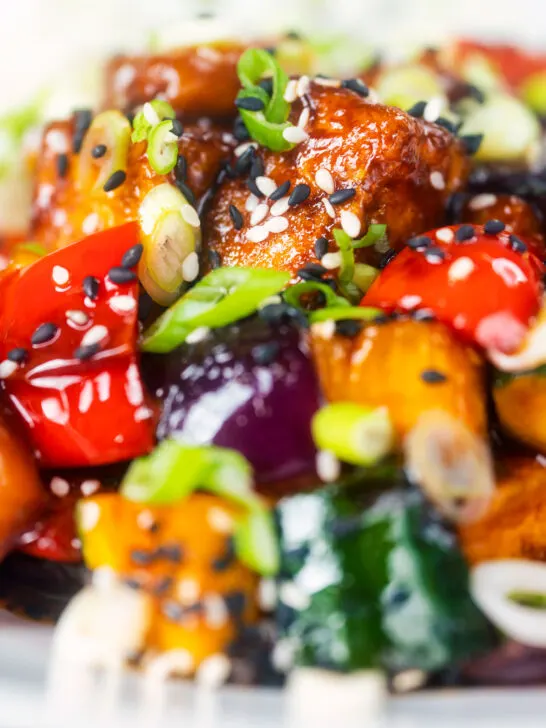 Frequently Asked Questions.
What type of tofu should I use?
You are looking for extra firm tofu, I like the brand Tofoo. If you cannot get that buy firm tofu, wrap it in a cheesecloth or some muslin and press it overnight.

To do this sandwich it between two plates and place a weight on top. This will drive out the liquid and give you the right texture.
Can I use different vegetables?
Absolutely, knock yourself out! Cauliflower and broccoli are both particularly good. I like both cauliflower and broccoli quite 'al dente" so I do not think they need blanching first.

If you are using root vegetables then they will definitely need a bit of parboiling. 5-10 minutes in rapidly boiling water should be fine but you must allow them to steam dry a little before adding to the pan.
Can I use fresh or frozen pineapple?
Yes, just sub it in for the same amount as tinned pineapple, but you will then need to buy pineapple juice.

If you are using frozen pineapple defrost it before beginning to cook because you do not want to reduce the temperature in the pan.
What is Chinkiang vinegar?
Chinkiang vinegar is a Chinese black vinegar. It has a wonderful flavour and I use it in lots of my Chinese-inspired dishes, everything from my Instant Pot Chinese Spare Ribs to my Teriyaki Salmon.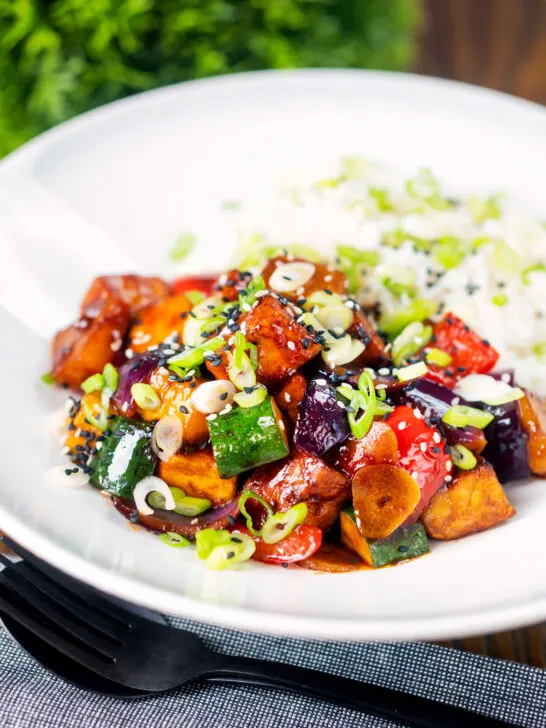 Serving Suggestions
For me, sweet and sour anything needs rice as a side because it is the perfect flavour vehicle and this tofu is no different.
I personally usually go for plain old boiled rice! There is more than enough flavour and veggies here to make this work.
However, it works well with fried rice too. If you are sticking to the vegan approach then this vegetable fried rice would be great.
If you are fine with vegetarian rather than vegan then I'd go with egg fried rice as a side for this sweet and sour tofu.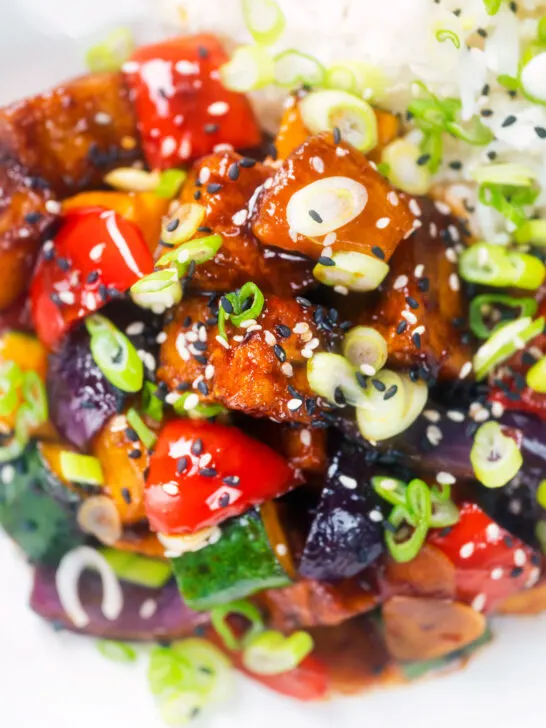 Equipment Used
I only mention brands of equipment if I think that they make a material difference to a recipe. But if you have any questions feel free to ask them in the comments section below the recipe.
Stovetop.
15cm or 6″ saucepan.
30cm or 12″ frying pan.
Chopping board.
Kitchen knife.
Prep and mixing bowls. Use anything you like for this but prepare in advance as you should for all stir fry recipes!
Stirring and serving spoons.
Kitchen tongs, these are really helpful for removing the tofu but leaving the oil in the pan.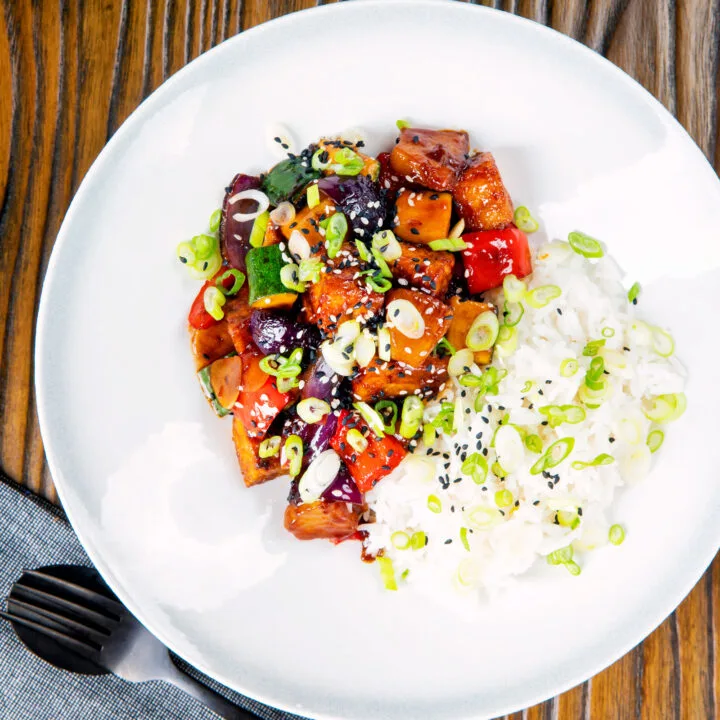 Yield:

2 Servings
Vegan Sweet and Sour Tofu Recipe
This sweet and sour tofu recipe is a simple quick and utterly delicious vegan version of the ever-popular Chinese takeaway dish.
Ingredients
275g (10oz) Extra Firm Tofu
2 Tbsp Cornflour (Corn Starch)
2 Cloves Garlic
75g (½ Cup) Red Onion
1 Small Red Pepper
1 Small Courgette (Zucchini)
100g (½ Cup) Pineapple Chunks
2 Spring Onions
2 Tbsp Cooking Oil
1 Tbsp Sesame Seeds
For the Sauce:
1 Tbsp Dark Soy Sauce
1 Tbsp Light Soy Sauce
1 Tbsp Rice Wine
2 Tbsp Chinkiang Vinegar
2 Tbsp Light Brown Sugar
2 Tbsp Tomato Ketchup
3 Tbsp Pineapple Juice (From the can is fine so long as it is not syrup)
1 Tbsp Toasted Sesame Oil
50ml (3 Tbsp + 1 Tsp) Water
To Thicken the Sauce (Optional)
1 Tbsp Water
1 Tbsp Cornflour
Instructions
Pour all of the ingredients for the sauce into a 15cm or 6" saucepan with the exception of the cornflour and bring to a boil. Cook the sauce for 5 minutes on a rapid boil remove and set aside.
Slice the spring onion into circles as thinly as possible.
Cut the tofu into rough 20-25mm (¾-1") cubes and dredge with 2 tablespoons of cornflour.
Top and tail the red onion and cut into 8 wedges.
Remove the seeds from the red pepper and cut it into 25mm (1") dice.
Peel and slice the garlic as thinly as you can.
Cut the courgette in half lengthways and then into half-moon shapes approximately 1.5cm (1/2"-3/4") thick.
Heat a 30cm or 12" nonstick frying pan over a medium-high heat and when it is hot add the cooking oil.
Remove any excess cornflour from the tofu and fry on all four sides until golden brown, remove and set aside leaving the oil in the pan.
Return the pan to a high heat and add the red onion and red pepper and stir fry for 2-3 minutes.
Throw in the garlic and stir fry for 30 seconds.
Add the courgette and pineapple then cook for another minute.
Return the tofu to the pan and pour over the sauce.
Mix the cornflour for the sauce with 1 tablespoon of water then pour as much of it into the stir fry as needed to thicken the sauce to your liking.
As soon as the sauce thickens serve topped with the chopped spring onions and sesame seeds.
Nutrition Information:
Yield:
2
Serving Size:
1
Amount Per Serving:
Calories:

525
Total Fat:

31g
Saturated Fat:

4g
Trans Fat:

0g
Unsaturated Fat:

25g
Cholesterol:

0mg
Sodium:

1157mg
Carbohydrates:

49g
Fiber:

5g
Sugar:

31g
Protein:

18g
Calorific details are provided by a third-party application and are to be used as indicative figures only.