Pan fried Teriyaki Salmon is one of the most delightful and simple dishes you could ever cook, the wonderful sauce is the perfect match for the rich fish.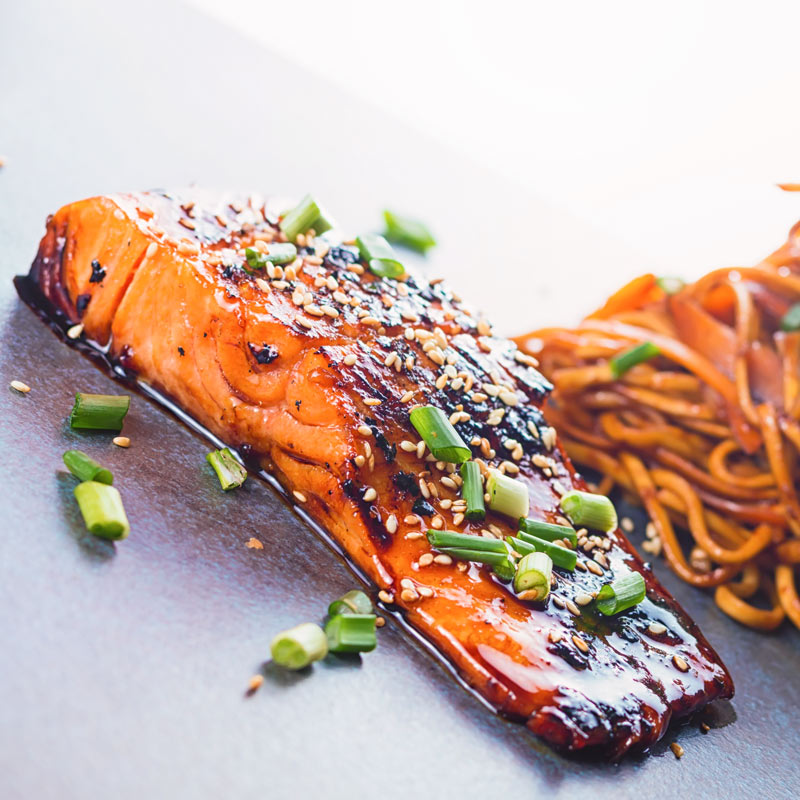 Pan Fried Teriyaki Salmon.
This Teriyaki Salmon dish is a rare foray for me into a dish that is not largely made from our garden. For that reason, I had to back that up with some vegetable noodles to make it feel right!
We went on a supermarket shopping trip last weekend. The only reason we usually shop at supermarkets is for cleaning products
However, stumbling on some beautiful fresh salmon fillets was a great treat and they accidentally slipped into our shopping basket.
There was absolutely no question as to what I was going to cook with them. I love Teriyaki Salmon.
The sweet, salty and slightly sour sauce is my idea of heaven. I usually use a teriyaki sauce with either cuck as in this Duck Donburi. I also make a wonderful Teriyaki meatball recipe but pair it with salmon and I am in heaven.
The only downside of the fish we found was that it was skinless! The crispy salmon skin with the Szechuan pepper would have been awesome.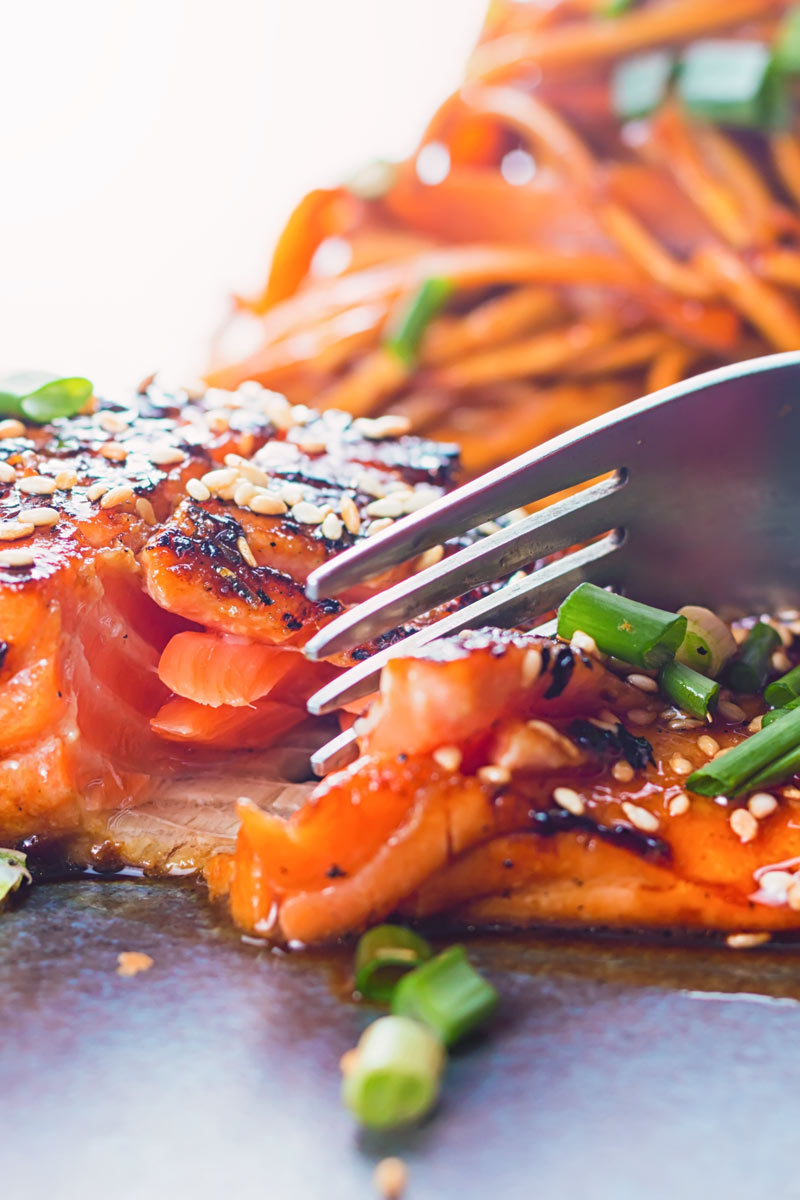 How to Cook Salmon Fillet.
Cooking salmon fillet is wonderfully simple.
I usually opt for a non-stick pan and almost always pan fry the salmon. Although I do have a great baked salmon fillet recipe with a herbed nutty crust!
They key to pan frying salmon is to cook it almost all of the way through on the skin side. Flipping it over for just the final minute of cooking.
If you do not have a non-stick pan or are averse to using them there is a great tip for using baking parchment.
Simply take a piece of baking parchment and cut it to the side of the salmon fillet. Then cook on the skin side down on the baking parchment then flip and remove the baking parchment.
This leads to beautifully golden crispy skin and absolutely no sticking!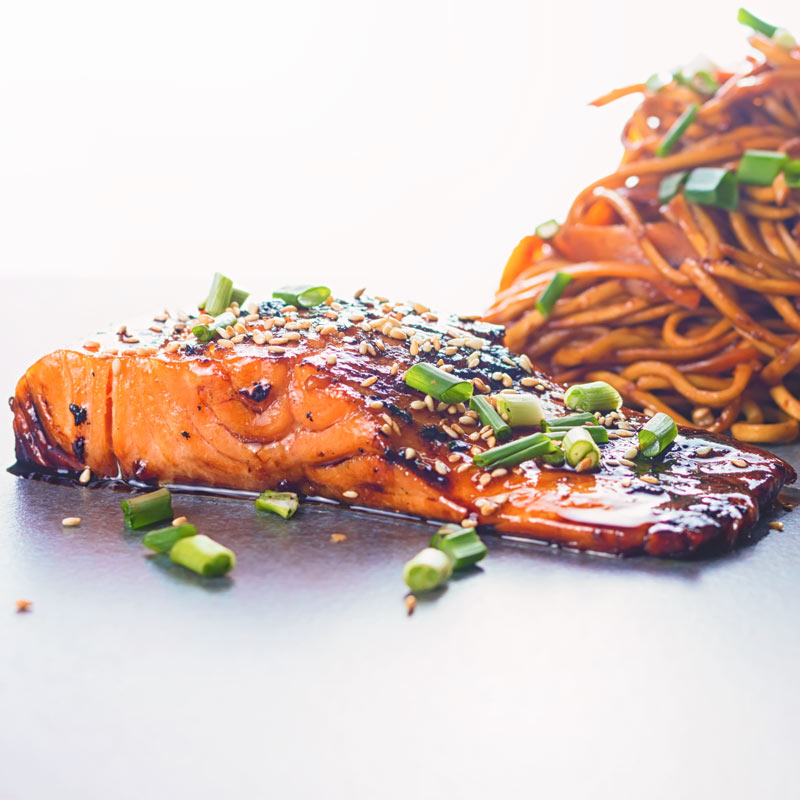 Quick Salmon Recipes.
One of the great things about pan-fried salmon recipes is how quick they are to cook. We all need fast food once in a while and pan-fried salmon definitely ticks that box.
This Teriyaki Salmon recipe is a delightfully quick dish to make. Literally, 5 minutes to make the sauce and 30 minutes to marinade. Then 5 minutes for the fish to cook and you are good to go!
But there are many other great twists on this. I have a Korean salmon recipe that goes from your fridge to your table in just 20 minutes!
This Harissa salmon with Fennel recipe comes together in just over 30 minutes, but again the cooking takes only minutes.
What are your favourite quick cook recipes or ingredients? Let me know in the comments below!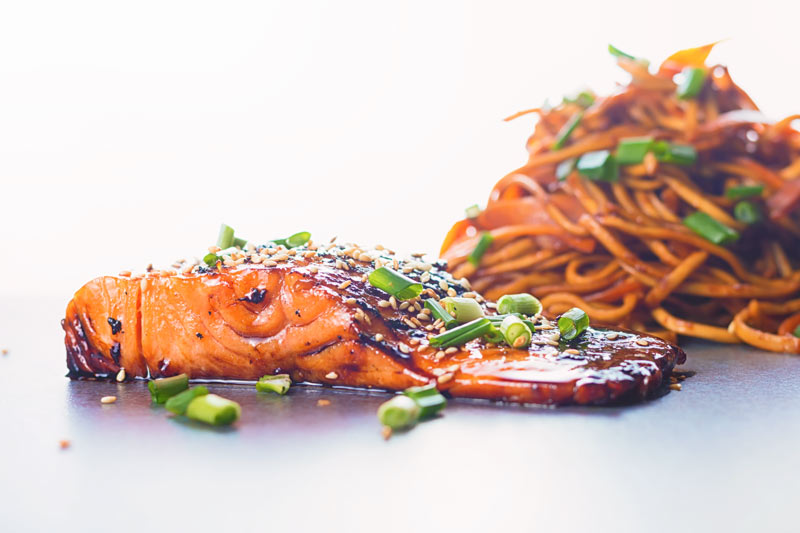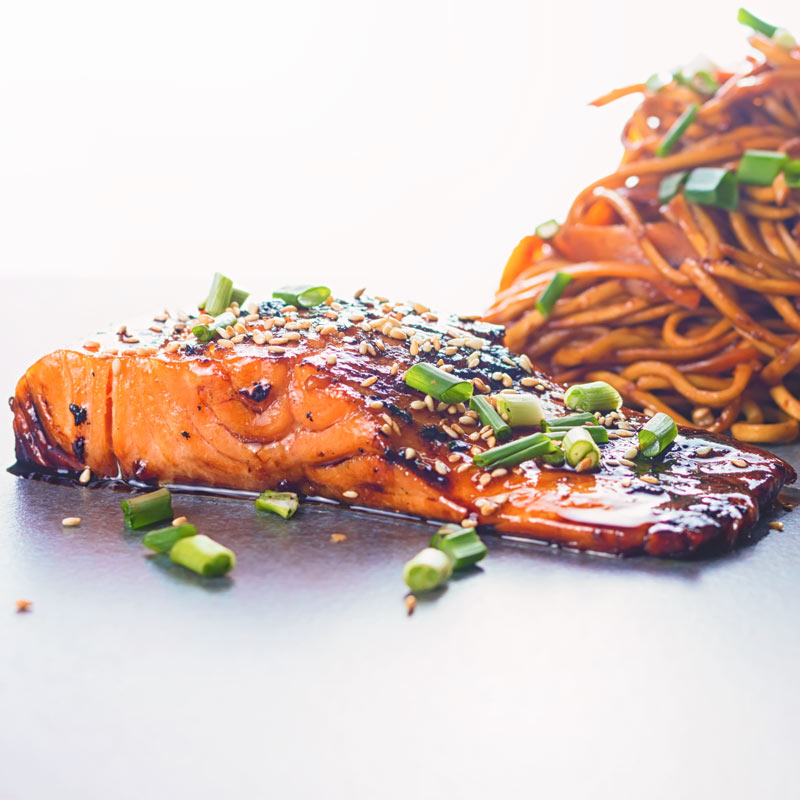 Pan Fried Teriyaki Salmon
Pan fried Teriyaki Salmon is one of the most delightful and simple dishes you could ever cook, the wonderful sauce is the perfect match for the rich fish.
Ingredients
2 Tbsp Light Soy Sauce
2 Tbsp Shaoxing Rice Wine
2 Tbsp Mirin
2 Tbsp Honey
2 Salmon Fillet, Approx 200g each
1 Tsp Szechuan Pepper
1 Tsp Sesame Seeds
Coarse Sea Salt
Instructions
Add the soy sauce, rice wine, honey and mirin to a pan and boil for 2 minutes and then cool as rapidly as possible by standing in cold water and whisking
When completely cool pour into a shallow bowl and allow the salmon fillets to sit in the sauce 30 minutes, if your fish has skin on then esure the skin does not sit in the sauce
Mean whille toast the Sesame seed and set aside for garnish
Then toast the Szechuan pepper corns and crush in a pestle and mortar or spice grinder
Heat a dry frying pan of a fairly high heat and sprinkle the fish with the szechuan pepper, before laying it in the pan. If you are using fish with the skin on the cook the fish skin side down
Cook the fish almost all of the way through on the skin side this will take about 4 minutes, then flip the fish and pour in the remaining Teriyaki marinade and allow it to bubble for 1 further minute
If you are using skinless fish add the marinade 30 seconds before you flip the fish
Garnish with toasted sesame seed and spring onions
Nutrition Information:
Yield:

2
Serving Size:

1
Amount Per Serving:
Calories:

345
Total Fat:

13g
Saturated Fat:

3g
Trans Fat:

0g
Unsaturated Fat:

9g
Cholesterol:

63mg
Sodium:

1442mg
Carbohydrates:

27g
Fiber:

1g
Sugar:

24g
Protein:

24g
Calorific details are provided by a third-party application and are to be used as indicative figures only.