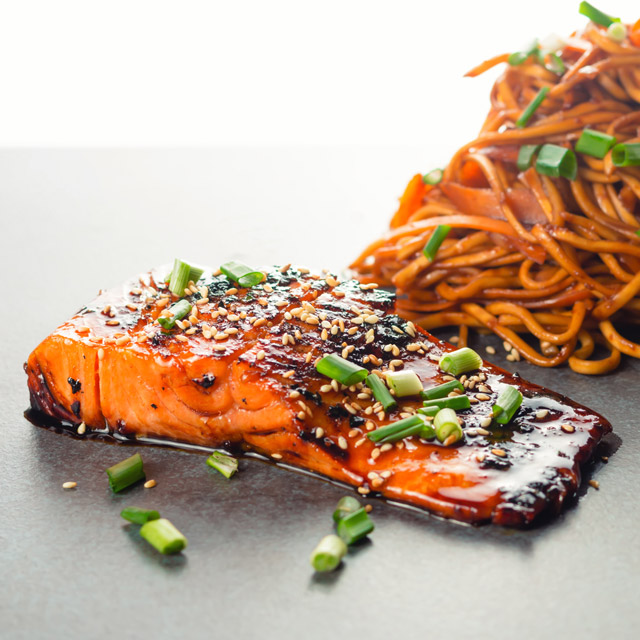 This Teriyaki Salmon dish is a rare foray for me into a dish that is not largely made from our garden and for that reason I had to back that up with some vegetable noodles to make it feel right! We went on a supermarket shopping trip last weekend, the only reason we shop at supermarkets is for cleaning products however we always scout around and usually think 'Nah'.
However stumbling on some beautiful fresh salmon fillets was a great treat and they accidentally slipped into our shopping basket.
There was absolutely no question as to what I was going to cook with them, I love Teriyaki Salmon. The sweet, salty and slightly sour sauce is my idea of heaven, I usually have to slum it with Teriyaki Chicken but pair it with salmon and I am in heaven.
The only downside of the fish we found was that it was skinless! The crispy salmon skin with the Szechuan pepper would have been awesome but hey I got salmon so I can not complain.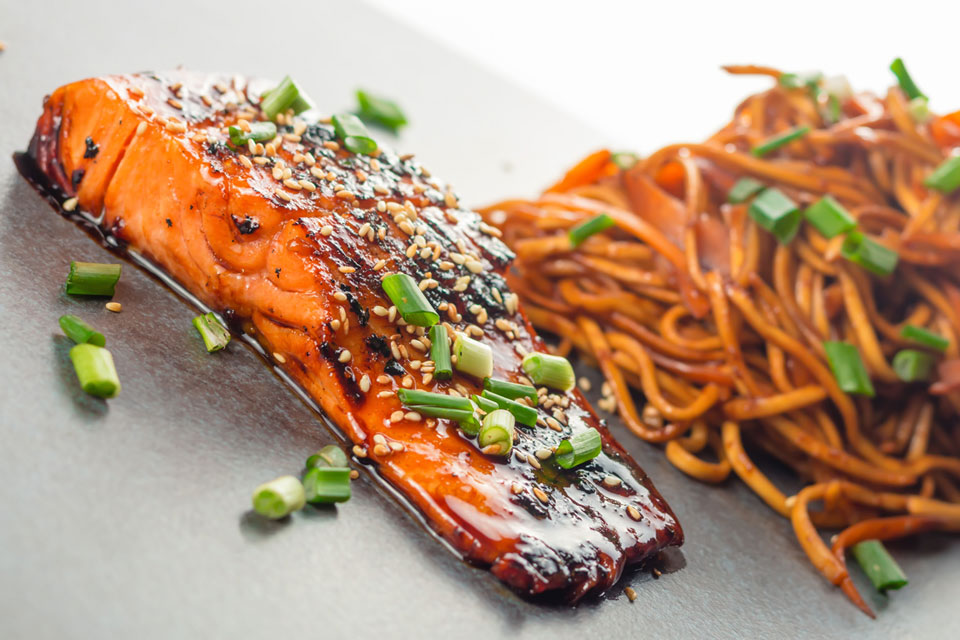 You should definitely forgive me for my evident excitement, I love fish and somehow managed to move to a landlocked country where I can usually only get my hands on Pike, Carp or Catfish so my Teriyaki salmon stood at seven years and five months. It really is a delightfully quick dish to make, literally 5 minutes to make the sauce and then 30 minutes to marinade and then 5 minutes for the fish to cook and you are good to go!
I genuinely miss fish and seafood a great deal. I lived right in the centre of the UK before we moved to Hungary but we had the most wonderful fish market despite being about as far away from the sea as you could get on a small island.
Fresh sea fish, shellfish, crustaceans formed a huge part of my diet and I never even thought about it when we left, I figured we live less than 15km away from a huge lake, we will be fine. Silly mistake! Now it is certainly not a regret, but one of the most common questions you get asked when you move abroad is what do you miss from home and apart from the obvious friends and family answer mine always revolves around food, naturally.
For my wife it is English Teabags & Salt and Vinegar Crisps but for me it has only ever been one thing great fish and whilst it was not the greatest fish, this piece of salmon and and my teriyaki salmon dish evoked memories of being a child and getting 'that' gift for Christmas!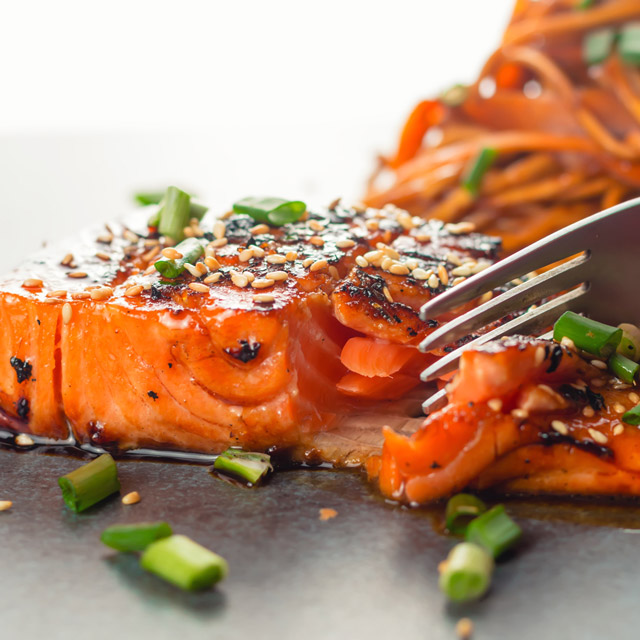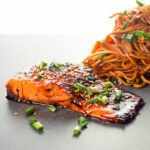 Pan Fried Teriyaki Salmon
Pan fried Teriyaki Salmon is one of the most delightful and simple dishes you could ever cook, the wonderful sauce is the perfect match for the rich fish.
Ingredients
2

Tbsp

Light Soy Sauce

2

Tbsp

Shaoxing Rice Wine

2

Tbsp

Mirin

2

Tbsp

Honey

2

Salmon Fillet

Approx 200g each

1

Tsp

Szechuan Pepper

1

Tsp

Sesame Seeds

Coarse Sea Salt
Instructions
Add the soy sauce, rice wine, honey and mirin to a pan and boil for 2 minutes and then cool as rapidly as possible by standing in cold water and whisking

When completely cool pour into a shallow bowl and allow the salmon fillets to sit in the sauce 30 minutes, if your fish has skin on then esure the skin does not sit in the sauce

Mean whille toast the Sesame seed and set aside for garnish

Then toast the Szechuan pepper corns and crush in a pestle and mortar or spice grinder

Heat a dry frying pan of a fairly high heat and sprinkle the fish with the szechuan pepper, before laying it in the pan. If you are using fish with the skin on the cook the fish skin side down

Cook the fish almost all of the way through on the skin side this will take about 4 minutes, then flip the fish and pour in the remaining Teriyaki marinade and allow it to bubble for 1 further minute

If you are using skinless fish add the marinade 30 seconds before you flip the fish

Garnish with toasted sesame seed and spring onions