Kung Pao Chicken is a classic Chinese dish from the Szechuan region however it has long become a classic staple of the Westernised take away and this is my version!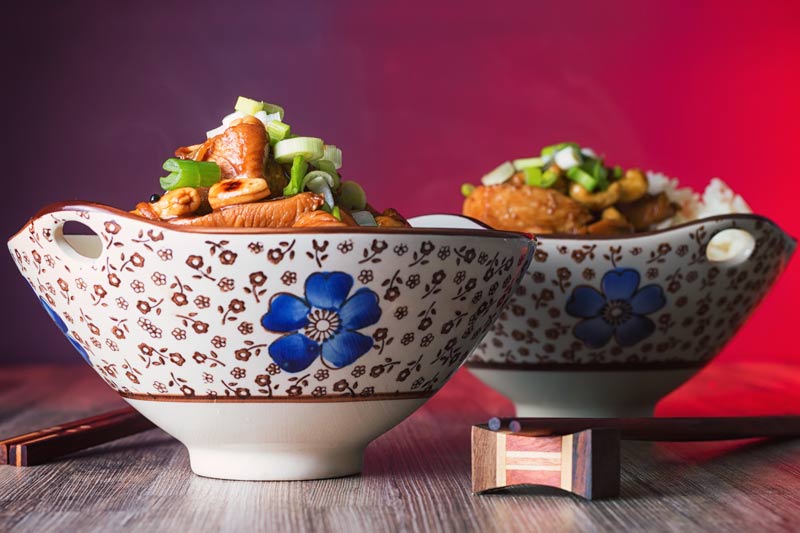 My Kung Pao Chicken Recipe.
Regular readers will know that I love a good 'fakeaway'. As a result, the appearance of a Chinese kung pao chicken recipe should come as no surprise!
Whilst I am fairly keen on playing with my recipes I think that this Kung Pao Chicken stays pretty close to its roots.
It is heady with Szechuan peppercorns and plenty of dried chili flakes but lets face it what would I know… I've never been to China.
One thing I do know is that it is very tasty and a dish that I know will always put a smile on my wifes face.
It is a quick spicy hot treat that is, in flavour terms, relatively similar to dan dan noodles or my ginger pork stir fry.
Significantly it is ready in less than 30 minutes!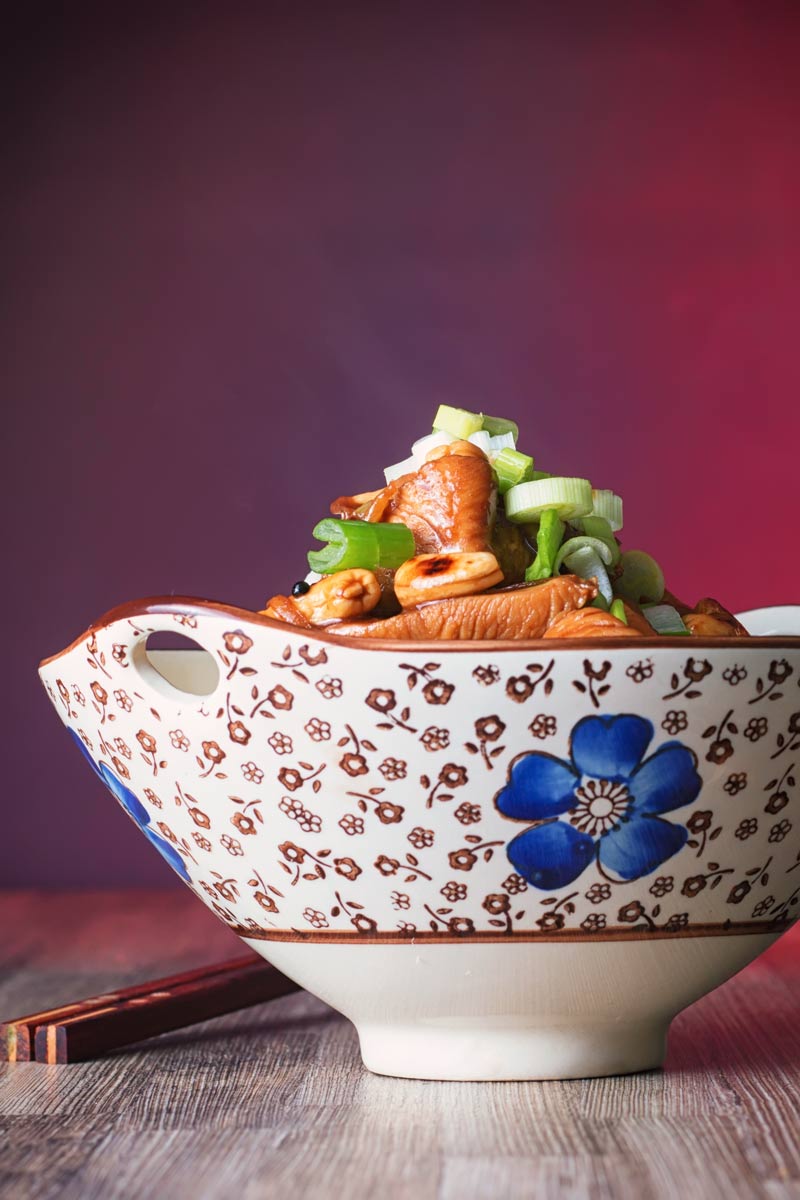 What is Kung Pao Chicken?
Apparently, the name of this dish hails after the Governer of the Szechuan state in China.
It is often translated as Gong Bao Chicken and Kung Po chicken but they are all the same dish.
It all seems very complicated but it is far from it.
We are talking about a very quick chicken stir fry recipe.
Just like my black bean chicken stir fry or Thai chicken stir fry the secret of success is all in the preparation.
Traditionally peanuts and leeks would be the core ingredients joining chicken.
My version omits the leeks and swaps out peanuts for cashew nuts. It adds a delightful creaminess to the recipe.
One of the reasons I love Chinese 'Fakeaways' is the speed, once you get going 10-15 minutes later you have a wonderfully tasty bowl of food.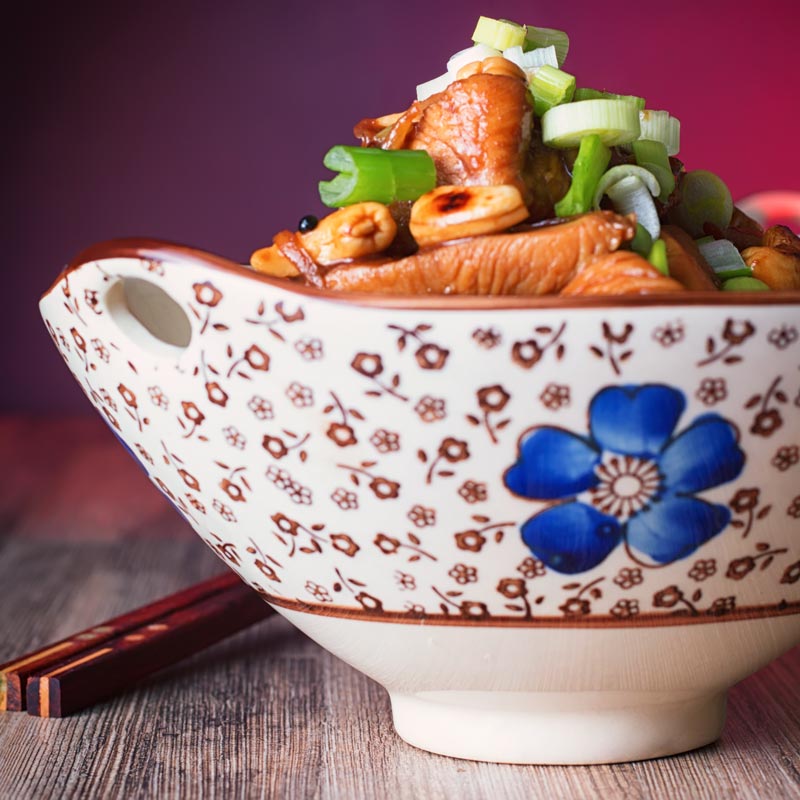 How to a Cook a Chinese Fakeaway at Home.
There is no real secret in cooking this fantastic recipe at home.
All of the tools and techniques are pretty well trodden for a home cook.
As with all stir fry recipes you should ensure that all of your ingredients are prepared before you begin.
The short marinade of the chicken breast for this recipe is a technique called 'velveting'.
It is one that is common to Chinese cuisine and adds a velvety texture to meat. As with most times I use this technique I do not use egg white, I do not find it necessary personally.
Other than that it is just a case of getting going with the wok and so long as you ensure that your wok is always hot… And I mean really hot you should be good to go!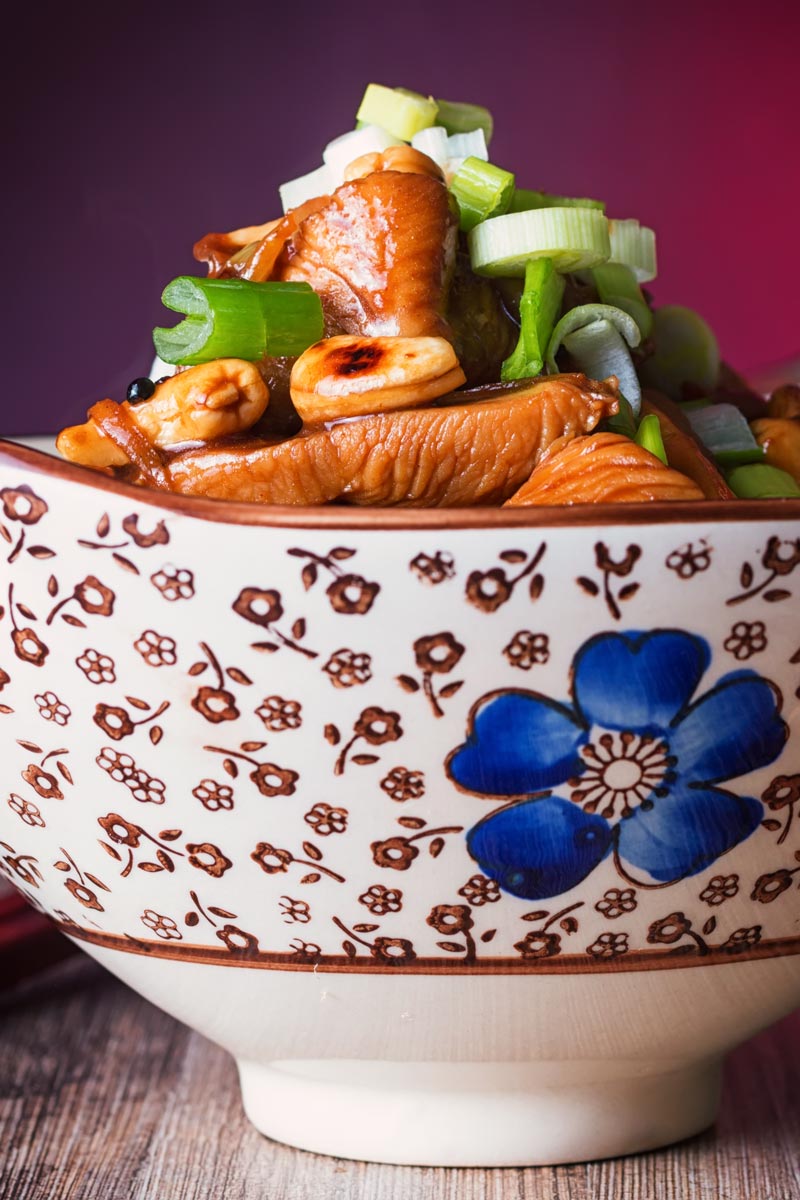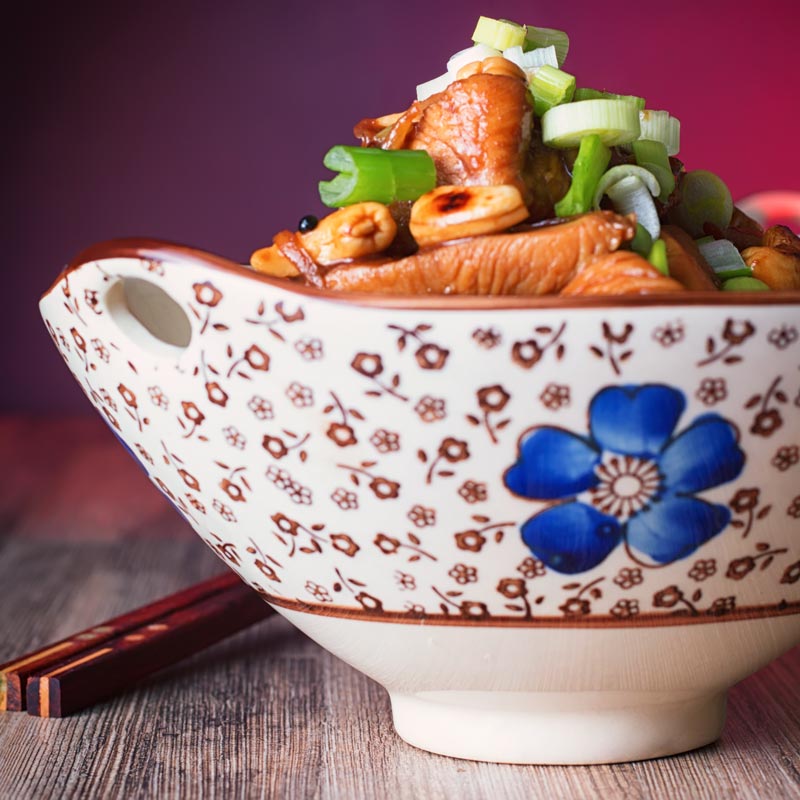 Kung Pao Chicken
Kung Pao Chicken is an all time favourite Chinese recipe from the Szechuan region. It has become a classic staple of the Westernised Chinese take away menu! 
Ingredients
1 Tbsp Light Soy Sauce
1/2 Tbsp Shaoxing wine
1 1/2 Tsp Cornflour
1 Tbsp Cold Water
2 Chicken Breasts
75 g Cashew Nuts
4 Cloves Garlic
35 g Ginger
1 Tsp Dried Chili Flakes
1 Tbsp Szechuan Peppercorns
2 Salad Onions
2 Tbsp Cooking Oil
For the Sauce
1 Tbsp Light Brown Sugar
1/2 Tsp Cornflour
1 Tsp Light Soy Sauce
1 Tsp Dark Soy Sauce
1 Tbsp Chiangking Vinegar
1 Tbsp Water
1 Tsp Sesame Oil
Instructions
Slice the chicken in half length ways and then into 5mm strips diagonally across the breast.
Finely slice the garlic and spring onions.
Cut the ginger into thin batons.
Mix together 1 tbsp light soy sauce, 1/2 tbsp Shaoxing wine, 1 tbsp water and 1 1/2 tsp of cornflour to form a quick marinade and add in the sliced chicken whilst you prepare the rest of the ingredients.
Toast off your cashew nuts in a dry wok and set aside.
Mix together the ingredients for the sauce and set aside.
Ensure you have all of your ingredients prepared before you start cooking as we are gonna go pretty fast now.
Heat the flavourless cooking oil in a very hot wok until just before it begins to smoke.
Add in the Szechuan pepper, chili flakes, garlic and ginger and stir fry for 1 minute.
Then add in your chicken along with the marinade and stir fry for 4-5 minutes.
Add in most of the salad onions but keep some green bits back for garnish.
The pour in the sauce it will thicken and go silky very quickly.
Finally add in your cashew nuts and cook until the chicken is cooked through, this should take no longer than another couple of minutes.
Notes
Serve with plain white rice.
Nutrition Information:
Yield:

2
Serving Size:

1
Amount Per Serving:
Calories:

651
Total Fat:

39g
Saturated Fat:

6g
Trans Fat:

0g
Unsaturated Fat:

30g
Cholesterol:

103mg
Sodium:

1229mg
Carbohydrates:

32g
Fiber:

4g
Sugar:

11g
Protein:

46g
Calorific details are provided by a third-party application and are to be used as indicative figures only.