Few flavours work as well together as pea and ham and this pea and ham risotto with goats cheese adds another dimension to that perfect couple!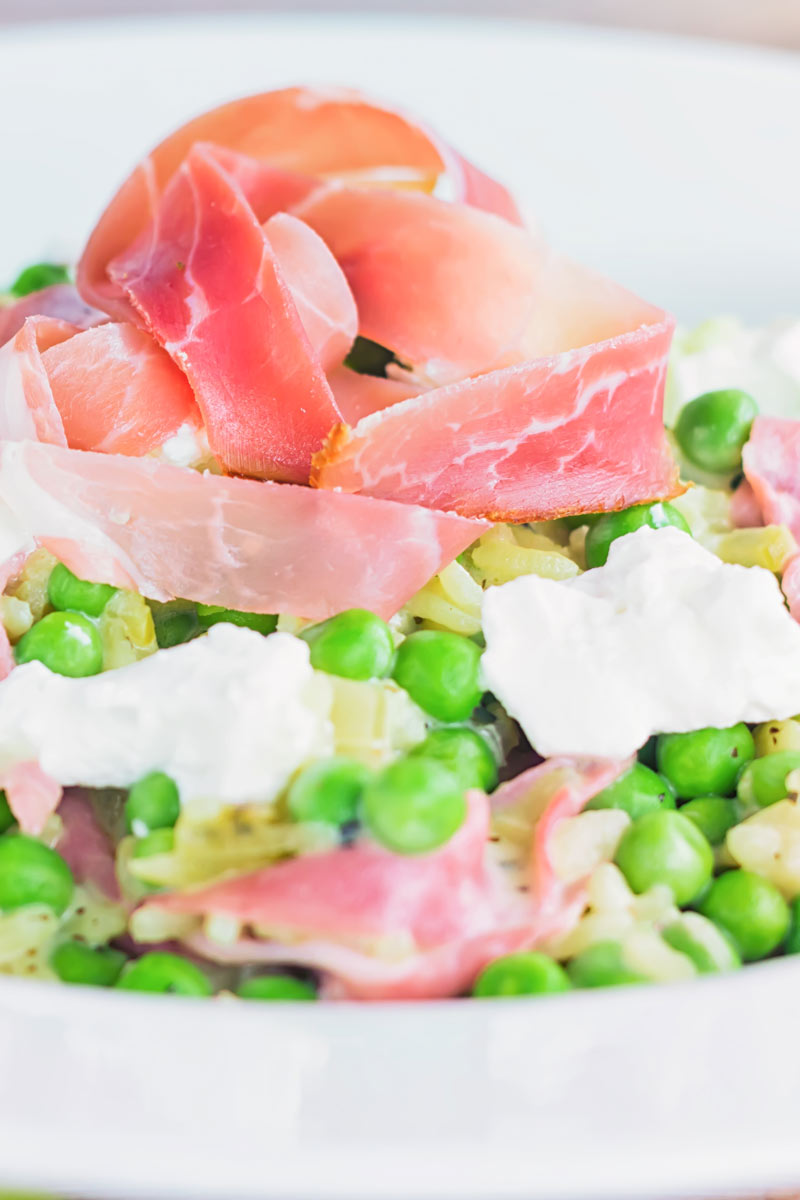 Pea and Ham Risotto with Goats Cheese.
I have waxed lyrical about the core ingredients in this pea and ham risotto before.
It is another iteration of flavours that will repeat here forever. Why?
Well simply because they are magical, salty ham, slightly acidic goats cheese and sweet peas are a match made in heaven as far as I am concerned.
So whether it is my deep fried goats cheese with peas or my pickled peach salad with goats cheese you will find similar flavour profiles in many of my dishes.
Any recipe that combines these three flavours is guaranteed to be a big hit!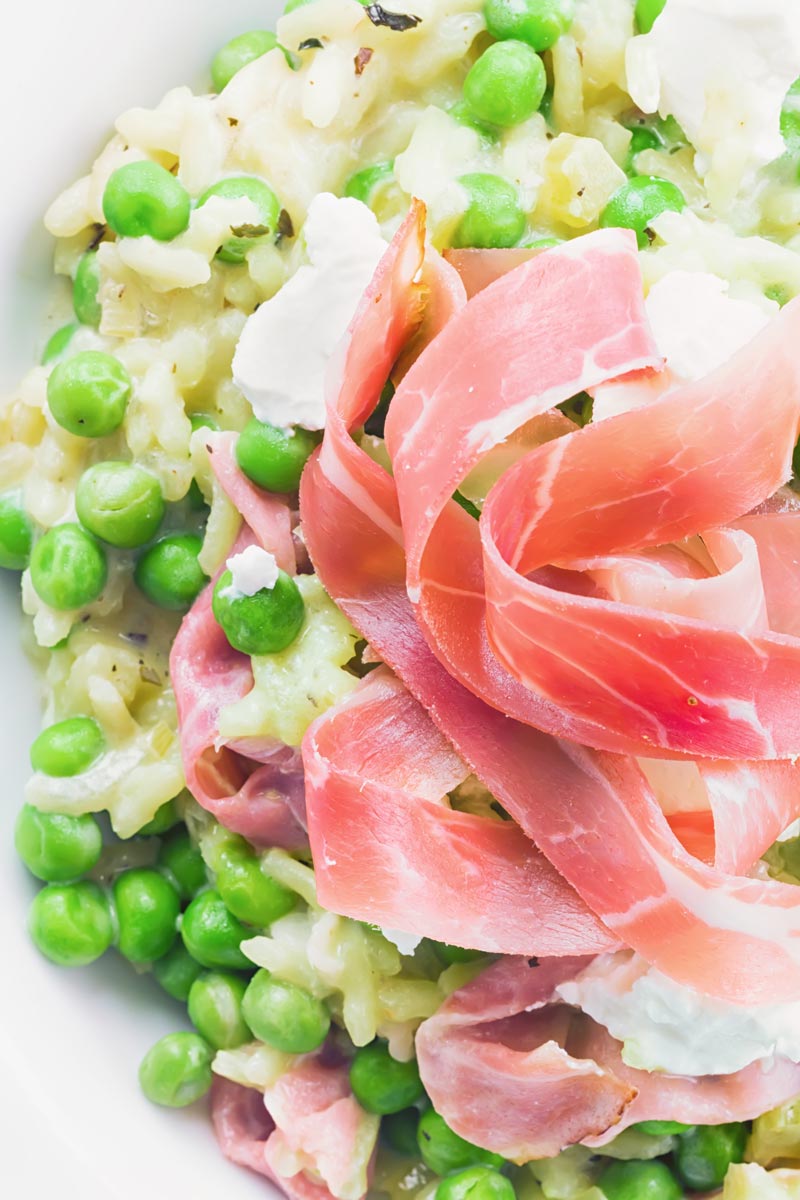 Sweet, Sour and Salty.
This risotto recipe lives on these three flavour profiles.
They are commonly associated with Asian foods liek sweet and sour chicken. But your meatballs from Ikea or a cheeseburger from McDonalds both rely on this combination of flavour profiles.
This recipe gets the sweetness from those wonderful peas, either fresh or frozen. Goats cheese provides both a sourness and saltiness and the ham a sweet saltiness.
Societies completely unlinked to each other have favoured these flavour profiles independently.
That indicates that, in general, as a species, we love these complex flavour profiles.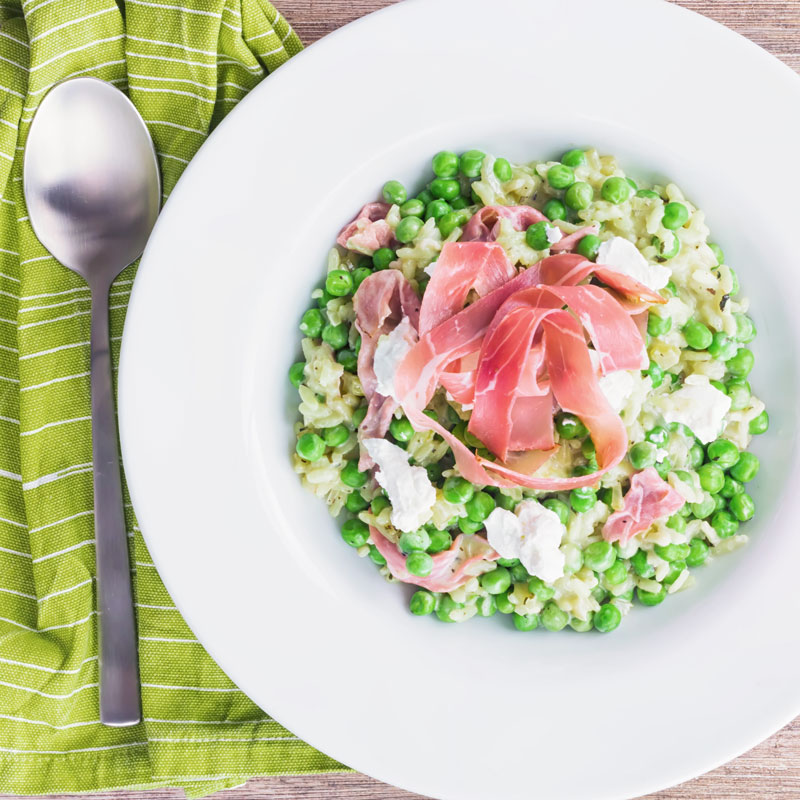 The love of a good risotto.
In the same way that these flavour profiles are not new to my site, this pea and ham risotto with goats cheese is not my first risotto 'rodeo' either.
I consider the 'ritual' to be as much a part of the risotto making process.
In fact, I love the making as much as the eating.
Now I am not a hippy, yoga pant donning, new age chap, but I am very fond of tuning in and copping out!
My personal preference for music is loud and fast and my tipple dark and red.
But the mood is always in complete contrast, chilled and relaxed because that is what cooking a risotto does.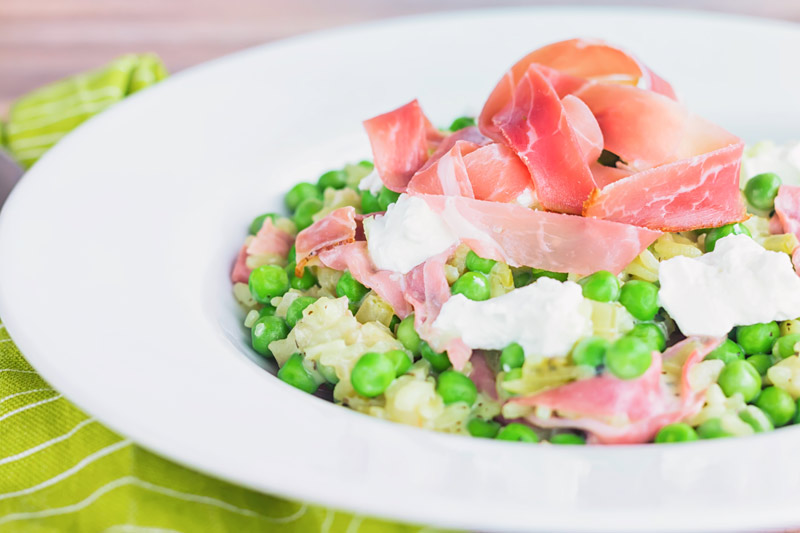 How to Cook the Perfect Risotto.
The secret is that you have one job. Stir, seriously that is it!
Risotto is the simplest dish in the world to cook because you have that one job.
If you have ever messed up a risotto it is because you did not relax and do your one job!
As a result, the more you do your job the better your risotto will be!
It is all about patience, risotto become that creamy bowl of magic because of the stirring.
The outer starchy layers of the rice combine with the wine and stock and thicken. This creates that beautiful rich and creamy 'sauce'.
And that dear readers, is the reason why every Instant Pot risotto is rubbish… Oooo check out the controversy!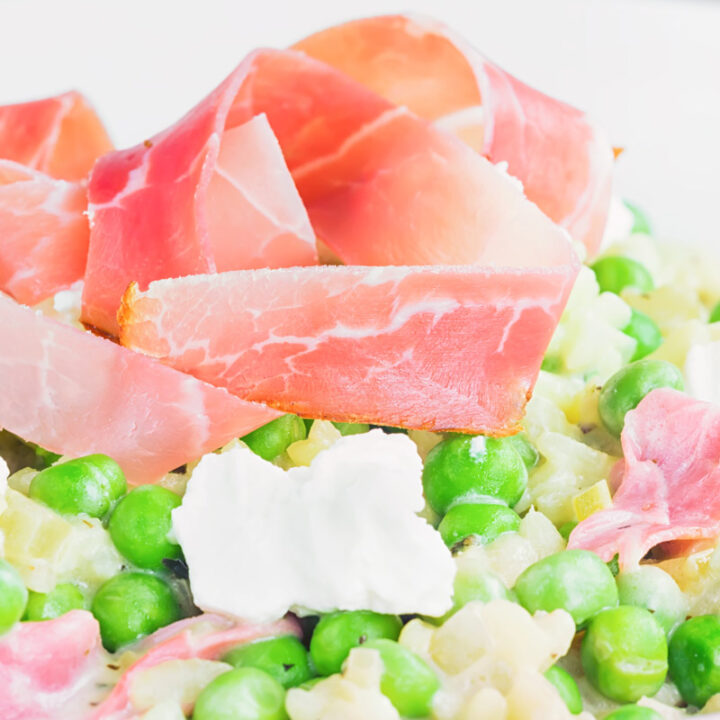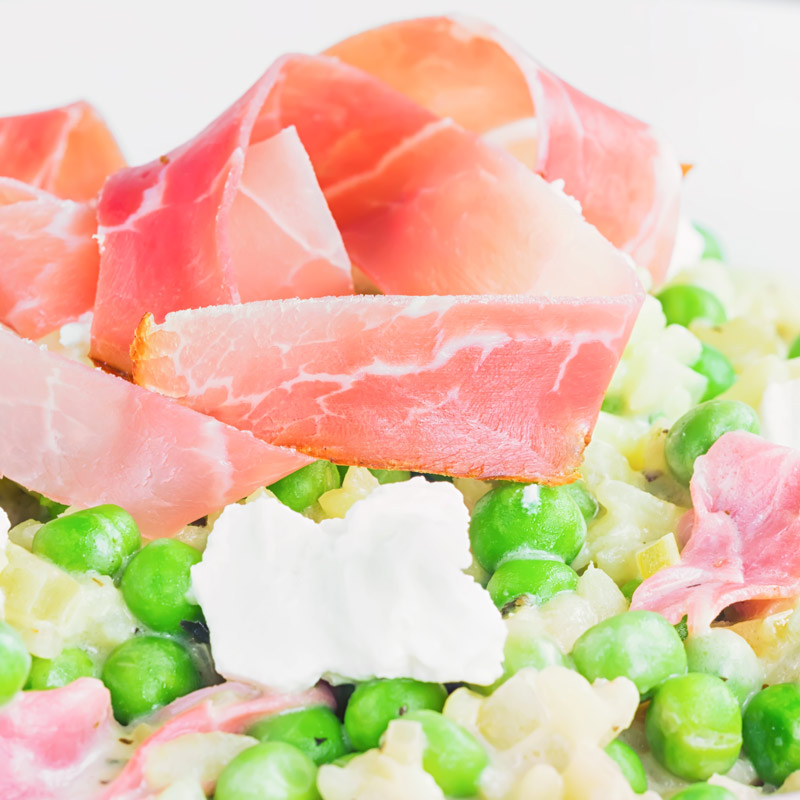 Yield:

2 Servings
Pea and Ham Risotto with Goats Cheese
Few flavours work as well together as pea and ham and this pea and ham risotto with goats cheese adds another dimension to that perfect couple!
Ingredients
125 g Risotto Rice
50 g Shallot, Finely diced.
35 g Celery, Finely diced.
100 ml White Wine
500 ml Chicken Stock
200 g Frozen Peas
50 g Butter
75 g Prosciutto Ham, Cut into 1cm strips.
150 g Goats Cheese, Soft and fresh.
1 Tsp Mint Sauce
Instructions
Add half of the butter to a large frying pan over a medium heat.
After that has meted add in the shallot and celery and cook for 3-5 minutes or until softened.
Turn up the heat a little and then add in rice and cook, stirring continuously for 2-3 minutes until it becomes translucent.
Pour in the wine and then cook out until the rice mix is almost dry.
This is the most important part of any risotto, ladel in the hot stock a little at a time stirring as often as possible, the more you stir the more creamy your risotto.
Once you have added all the stock your rice should be very nearly cooked, have a taste it should have just a little bite and the remaining liquid of which there should be little should be creamy.
When you are at this stage throw in your defrosted frozen peas and mint sauce then cook for another 60 seconds.
Finally remove from the heat, stir in 100g of the goat cheese, 50g of the Prosciutto ham and the remaining butter. Add a lid and allow to sit for 5 minutes.
Serve topped with the remaining ham and goats cheese.
Nutrition Information:
Yield:
2
Serving Size:
1
Amount Per Serving:
Calories:

859
Total Fat:

46g
Saturated Fat:

26g
Trans Fat:

1g
Unsaturated Fat:

16g
Cholesterol:

165mg
Sodium:

2627mg
Carbohydrates:

49g
Fiber:

6g
Sugar:

13g
Protein:

53g