Pea and ham risotto, true comfort food heaven, wonderful flavours, and the simplest of old fashioned cooking techniques.
Sweet peas offer the high notes, the ham offers a wonderful meaty salty vibe and the delicious goat's cheese provides the foundation flavour to build it all on.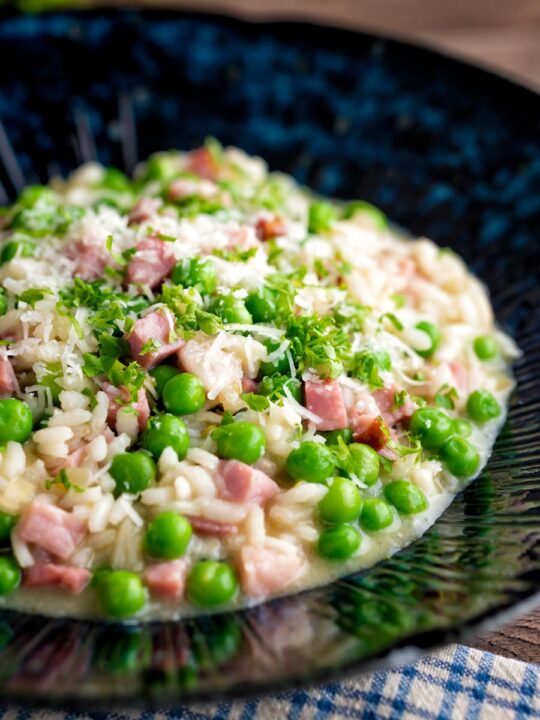 Bacon and Pea Risotto.
I have waxed lyrical about the combination of core ingredients in this easy pea and ham risotto before.
Pea and ham just work together, whether they be in my pea and ham pasta or a classic pea and ham soup.
Ham and goat's cheese feature in my peach and goat cheese salad with ham and I have a whole fresh fried goat's cheese with pea puree.
They are flavours that just work and this recipe wraps them up in a soft and perfectly textured risotto.
Just like my chicken and bacon risotto, this is classically cooked at the stove.
Don't worry, it is easy and you can even do it with a glass of wine in hand. In fact, it is the law that you must do it with a glass of plonk in hand!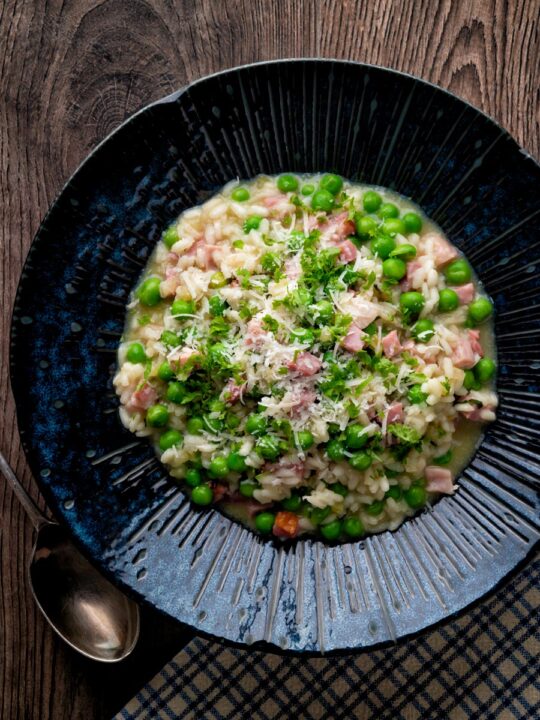 How to Cook the Perfect Risotto.
Risotto is simultaneously the simplest dish and potentially the most complicated dish to cook.
The complexity is in its simplicity, your job is simple add stock little by little and stir.
At the start of the process you need to stir constantly once the first 2 or three ladles of stock have gone in just give it a good stir every 45-60 seconds.
But be there, and look after the risotto! Take some time, put everything else aside and pour and stir, and if wine is your thing have a sip or two!
Cooking the rice to the perfect texture should take around 25 minutes and temperature is key. You want a slight bubble.
Finally don't forget to let it sit, this fixes up the final texture and is often over looked.
Once you have your technique on your stove you will be bashing out this pea and ham risotto, my mushroom risotto or smoked mackerel risotto in your sleep.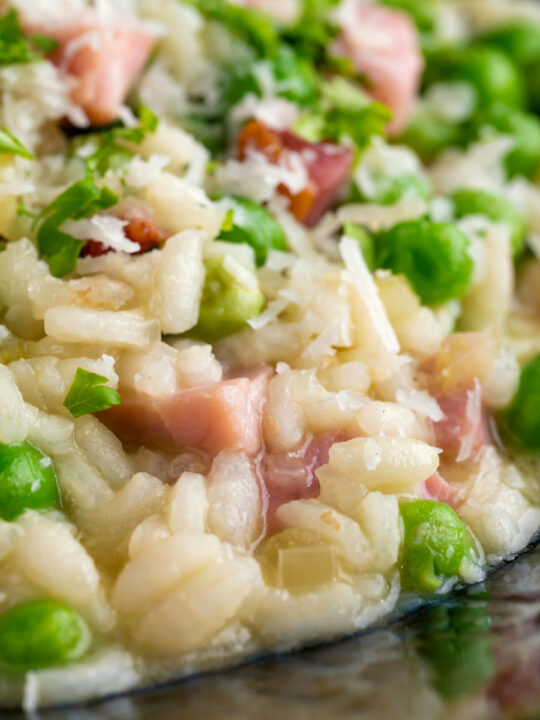 Frequently Asked Questions.
What type of ham should I use?
You should use something local and delicious! It would be easy to reel of a list of "famous" types of ham an bacon that will be imported on mass and vary in quality depending on where you are.

But realistically no matter where you live you will have some glorious local ham or bacon, speak to a butcher, they will point you in the right direction.
Do I have to use goat's cheese?
No, not at all, this dish works well with Parmesan or Pecorino Cheese.

But do try and find some aged goat's cheese. The salty acidic combination is genius with the ham and peas in this recipe.

Look for something like garrotxa and aged goat gouda or ardsallagh if you can. As with the ham you may find local producers doing interesting thongs too.
How much salt should I add?
I find that this dish needs no added salt. Between the goat's cheese, ham and stock I find that there is enough saltiness to season the rice.
However taste as you are cooking and if you feel as though you add more add it to the stock.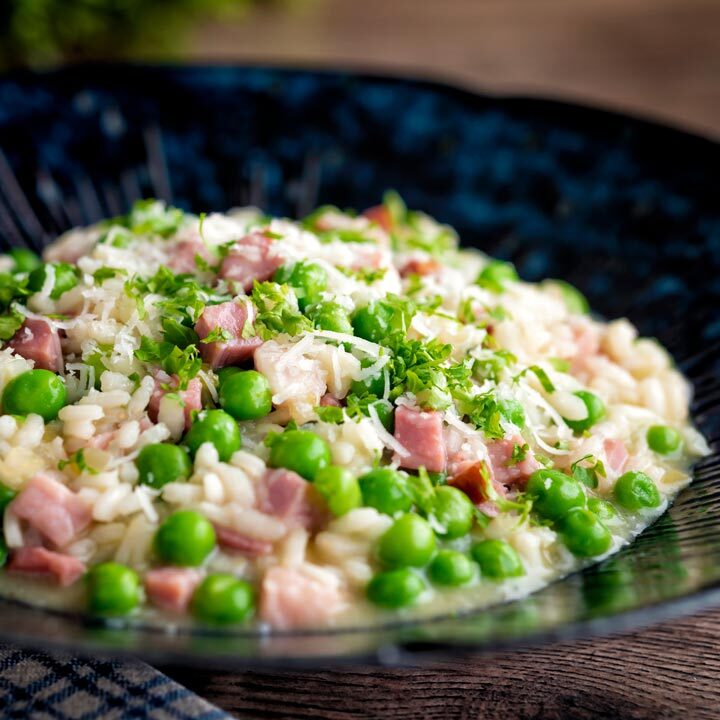 Yield:

2 Servings
Pea and Ham Risotto with Goats Cheese
Few flavours work as well together as pea and ham and this pea and ham risotto with goats cheese adds another dimension to that perfect couple!
Ingredients
125g (2/3 Cup) Risotto Rice
50g (1/3 Cup) Shallot
35g (1/3 Cup) Celery
100g (3.5oz) Ham
125ml (1/2 Cup) White Wine
500 ml (2 Cups) Hot Chicken Stock
200g (1~ Cup) Green Peas
24 Mint Leaves
50g (3 Tbsp + 1 Tsp) Butter
50g (1/2 Cup) Mature Hard Goats Cheese
Instructions
Dice the shallot and celery as finely as you can.
Cut the ham into a 7-10mm dice.
Add half of the butter to a large frying pan over a medium heat.
When the butter begins to foam add the ham, shallot and celery and cook for 5 minutes stirring regularly.
If your peas are frozen place them in a sieve and run them under cold water until they have defrosted.
Turn up the heat a little and then add in rice and cook, stirring continuously for 2-3 minutes until it becomes translucent.
Pour in the wine and then cookout until the rice mix is almost dry.
This is the most important part of any risotto, ladel in the hot stock a little at a time stirring as often as possible, the more you stir the more creamy your risotto.
Once you have added all the stock your rice should be very nearly cooked, have a taste it should have just a little bite and the remaining liquid of which there should be little should be creamy.
Shred the mint leaves as finely as you can.
Grate the goat's cheese.
When you are at this stage throw in your defrosted frozen peas and mint leaves and cook for a final 60 seconds..
Finally remove from the heat, stir in almost all of the goat's cheese, and the remaining butter.
Add a lid and allow to sit for 3-4 minutes,
Sprinkle over the remaining goat's cheese.
Nutrition Information:
Yield:
2
Serving Size:
1
Amount Per Serving:
Calories:

673
Total Fat:

32g
Saturated Fat:

18g
Trans Fat:

1g
Unsaturated Fat:

11g
Cholesterol:

105mg
Sodium:

1170mg
Carbohydrates:

55g
Fiber:

11g
Sugar:

13g
Protein:

32g
Calorific details are provided by a third-party application and are to be used as indicative figures only.