A Punjabi chole masala is also known as chana masala and it is a deep, and complexly flavoured curry from Northern India, mine is vegan.
This recipe creates a unique spice blend from scratch to create a wonderful spicy & fragrant curry that will blow your mind.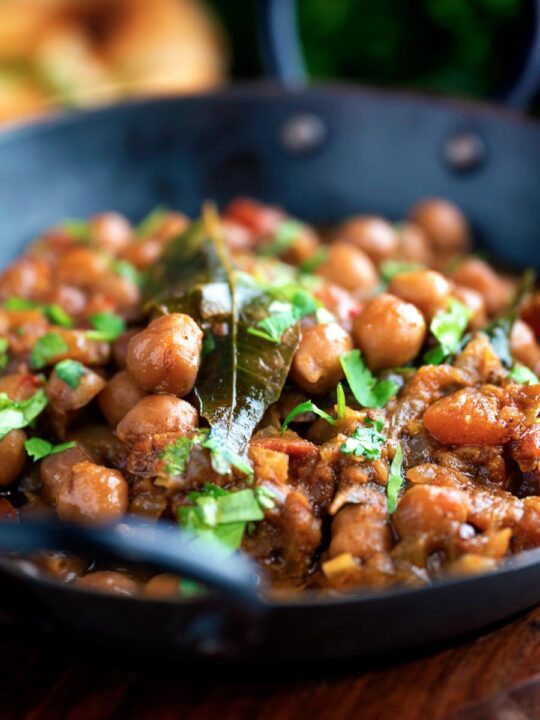 Vegan Chana Masala Curry.
You all know I am a sucker for Indian flavours! To me they are the most vibrant and magical flavours in food.
This recipe has many names, whether that be chana masala, chole or I've even seen channay which sounds like a Californian grape variety!
My chole has Punhjabi or Amritsari roots and it is naturally vegan, just like so many Northern Indian dishes.
It joins other vegan curries like my spinach and mushroom curry, saag aloo, butter bean curry, and rajma masala in my line up.
I also have a vegan mushroom biryani, much like that dish, this recipe is a labour of love.
But it is super simple to cook, the magic is all in the detail.
It has a complex and deep flavour that cannot be arrived at with shortcuts. So don't miss out cooking the chickpeas in the tea, yes you read that right!
It adds that magic something that you can't quite put your finger on.
If you want a quicker vegan chickpea curry, take a look at my simple carrot and chickpea curry or chickpea and sweet potato curry.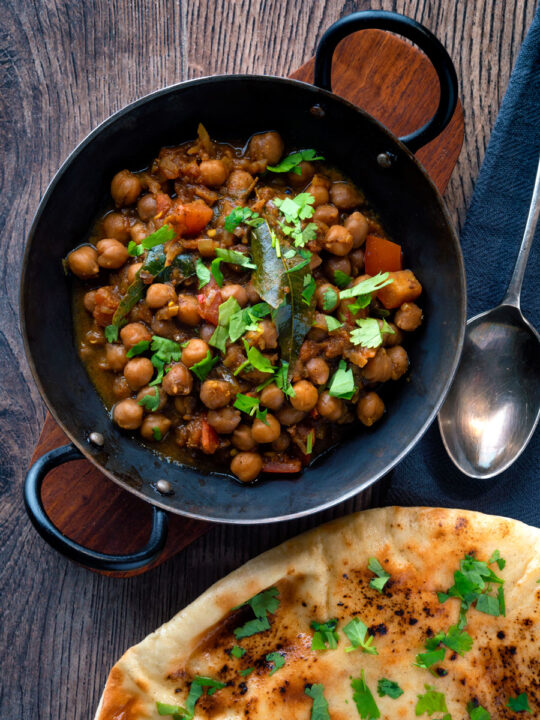 Frequently Asked Questions?
Can I use canned chickpeas?
For this Punjabi chole recipe no, not really. A significant part of the flavour in this dish is derived from the cooking process for the chickpeas.

This is then followed through in the use of this cooking liquid to help form the sauce.
What sort of tea should I use?
You want to use a black tea, if you are from the UK use what ever teabags you have at home. If you have tea leaves then wrap them in a piece of muslin and make your own bag.
Can I use dried curry leaves?
Honestly, dried curry leaves are a bit rubbish. Get some fresh leaves and put them in a zip lock back in your freezer, you should be able to find them at an Indian store.

They will last in the freezer for months in perfect condition.
How spicy is this curry?
My punjabi chole or chana masala recipe is "up there" in the heat stakes. You can increase or reduce that by adding or reducing chilli at various stages.

The simplest way to reduce the heat is to halve the number of green chilli peppers. Also you could skip adding the dried red chilli peppers back into the curry after they have finished cooking with the chickpeas.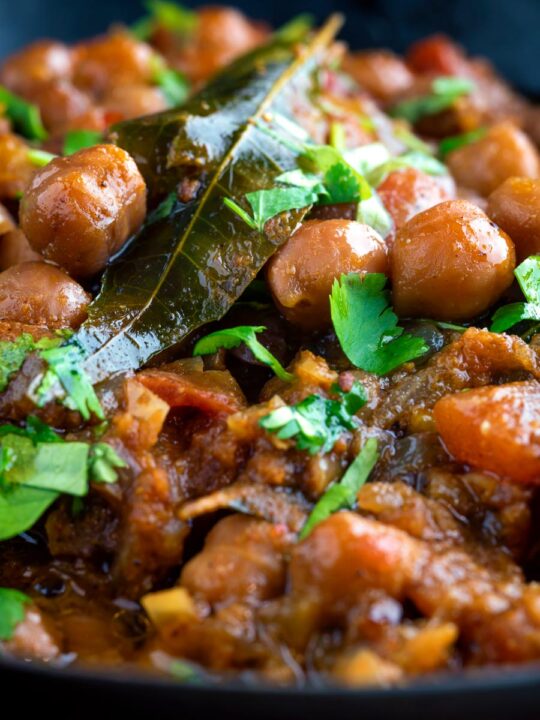 Serving Suggestions.
Traditionally a Punjabi chole or chana dal is served with bhatura. A delicious Indian fried bread that reminds me a little of Hungarian Langos.
Now whilst I am not averse to a bit of frying every now and then, but I'd be lying if I said I fried bhatura every time I made chole.
I usually break out a some of my Tandoori naan bread from the freezer or knock up some quick chapati.
It also works rather nicely as a side dish.
My Indian Spiced Roast Chicken Legs served alongside this makes a great meal, it would also be wonderful with this Indian roast lamb!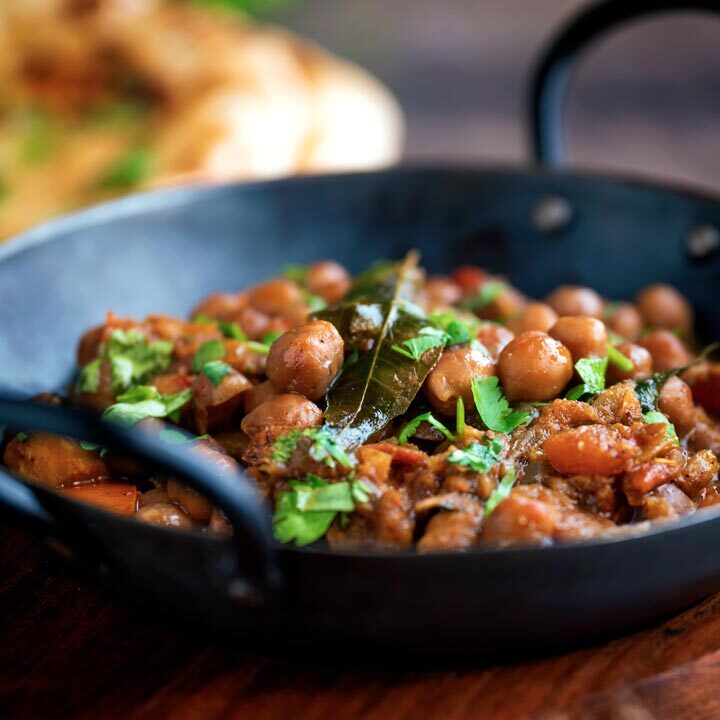 Yield:

2 Servings
Punjabi Chole Recipe
Cook Time:
1 hour
40 minutes
Total Time:
9 hours
50 minutes
When it comes to frugality a Punjabi chole or an Indian chickpea curry is right up there, a cheap meal that packs flavours well above its 'pay grade'!
Ingredients
175g (1 Cup) Dried Chickpeas
1 Tsp Salt
2 Teabags
2 Dried Red Chillies
1 Cinnamon Stick
2 Bay Leaves
Ginger Thumb Sized Piece
4 Garlic Cloves
150g (1 Cup) Onion
250g (1⅔ Cup) Tomatoes
1 Tsp Cumin Seeds
1 Tsp Coriander Seeds
1 Tsp Dried Pomegranate Seeds
1/2 Tsp Ajwain Seeds
3 Green Cardamom Pods
2 Cloves
1/4 Tsp Asafoetida
2 Green Chilli Peppers
12 Curry Leaves
1/2 Tsp Kashmiri Chilli Powder
1/2 Tsp Amchur
1/2 Tsp Ground Turmeric
2 Tbsp Vegetable Oil
Extra Salt to Taste
Instructions
Soak the chickpeas in water over night.
Place the chickpeas in a pan with 1 litre of water, the teaspoon of salt, add the teabags, cinnamon stick, bay leaves and tea bags.
Bring the water to a boil then reduce the heat to a simmer and cook for 50-60 minutes.
Skim off any foam that forms on the water during the initial boil phase.
Cut the onion into a dice as finely as you can.
Mash the garlic cloves.
Grate the ginger.
Cut the tomatoes into a 1cm dice.
Cut the green chillies in half lengthways.
Heat a wide based pan on a high heat.
When hot add the cumin, coriander, pomegranate and ajwain seeds, then throw in the cardamom pods and cloves, and toast for 2 minutes keeping moving at all times
Remove the seeds and allow to cool for 3 or 4 minutes, then blitz to a fine powder.
Remove the dried chillies, tea bags, bay leaves and cinnamon stock from the pan with the chickpeas and discard the teabags, bay leaves and cinnamon stick.
Drain the chickpeas reserving around 250ml (1 cup) of the cooking liquid.
Mash 3 or 4 tablespoons of the hot chickpeas into a paste.
Chop the now cooked dried red chillies as finely as you can (if you want to reduce the heat in the recipe discard these chillies instead).
Heat the pan you toasted the spices in over a medium high heat and when hot add the oil.
Throw in the curry leaves, green chillies and asafoetida and cook for 30 seconds.
Add the onion and cook for 3-4 minutes until the edges start to colour up.
Stir in the garlic and ginger and cook for 1 minute.
Add the tomatoes, mashed chickpeas, chopped red chilli, turmeric, amchur, chilli powder and the spice mix we created earlier and 125ml (half a cup) of the chickpea cooking liquid.
Reduce the heat to low and simmer for 20 minutes. Half way through this have a taste for salt and add more as necessary.
Add the chickpeas and as much cooking liquid as you need to get the right texture and cook for a final 5-7 minutes.
Nutrition Information:
Yield:
2
Serving Size:
1
Amount Per Serving:
Calories:

402
Total Fat:

18g
Saturated Fat:

1g
Trans Fat:

0g
Unsaturated Fat:

15g
Cholesterol:

0mg
Sodium:

1492mg
Carbohydrates:

54g
Fiber:

13g
Sugar:

16g
Protein:

13g
Calorific details are provided by a third-party application and are to be used as indicative figures only.