When it comes to frugality a chole or chickpea curry is right up there, a simple cheap meal that packs flavours well above its 'pay grade'!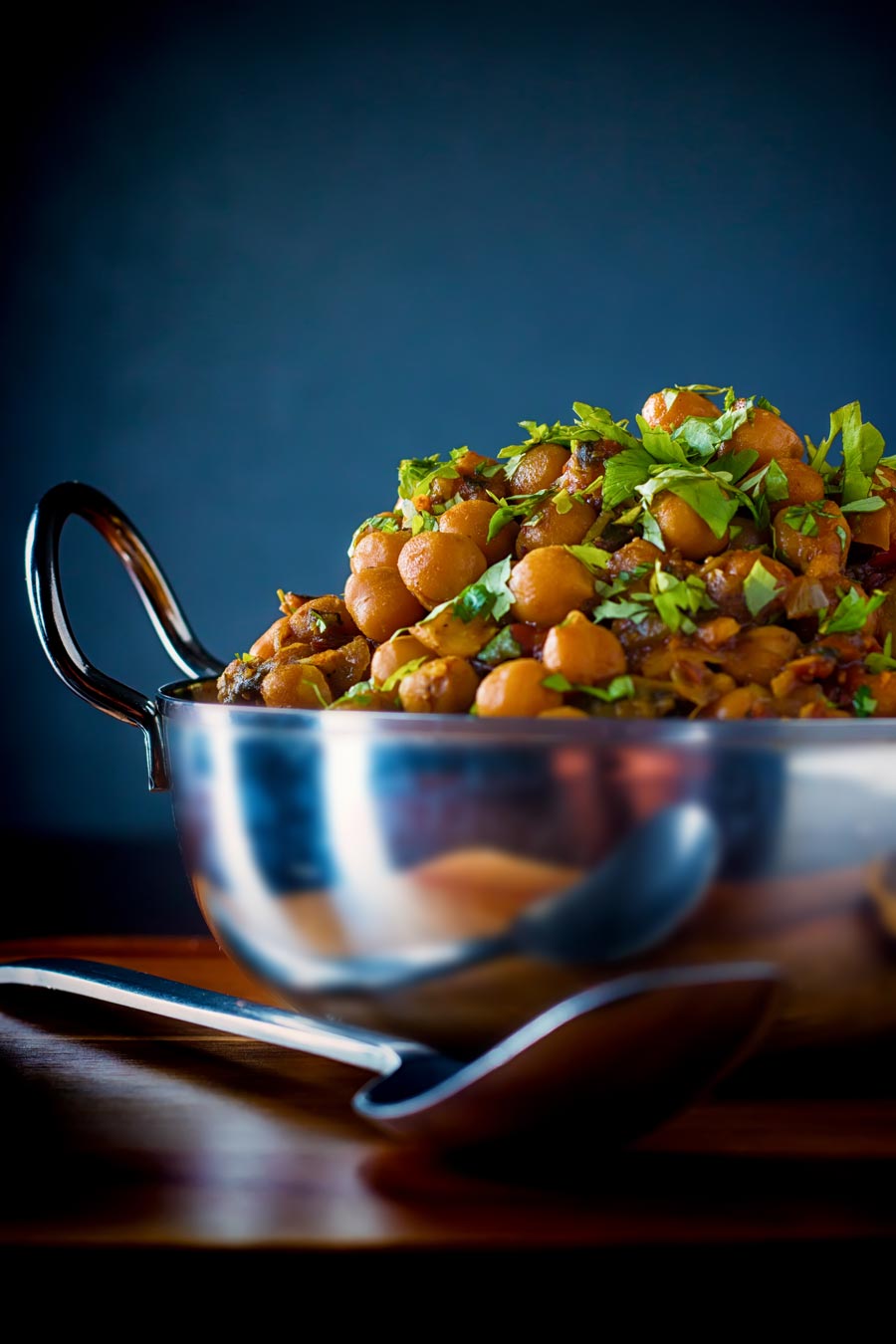 Chole, Indian Chickpea Curry.
You all know I am a sucker for Indian flavours, to me they are the most vibrant and magical flavours in food. This chole or Indian chickpea curry recipe is vegan by nature, just like a lot of Indian food.
To me, Indian food contains flavours that are big and bold but there is a subtlety in the way that they are combined.
The aim is a series of harmonious yet complex flavours and this recipe really delivers on that front.
Yes, the ingredient list is long, as is the norm for many Indian recipes. But the flavours are clean and coherent and the techniques are all really very simple.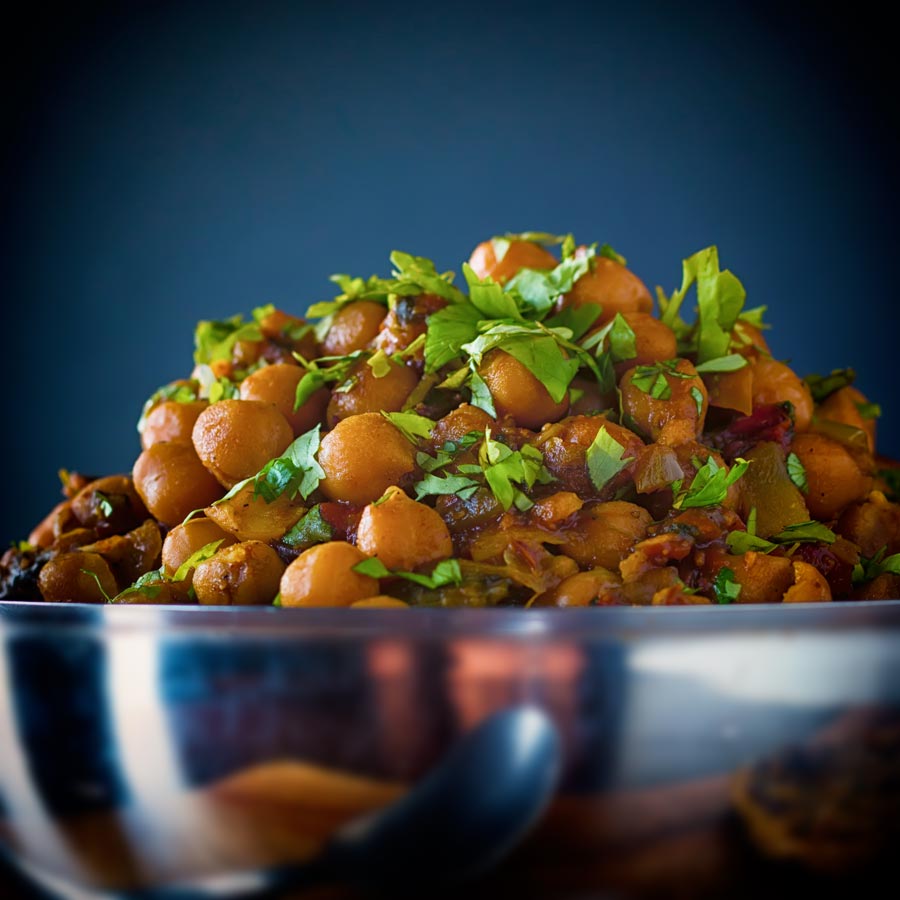 My Chole Recipe Inspiration.
This recipe comes in the main from my friend Whitney over at Whitbits Kitchen.
I've been chatting to Whitney for a while and we both share a love of food from the Indian subcontinent. I have tried a couple of her recipes and they all work out wonderfully.
As I expected this chickpea curry recipe is no different.
A top drawer tasty dish that really works so well, I did very little to the original recipe. I subbed out a couple of bits but nothing too major and paired it up with my naan bread recipe.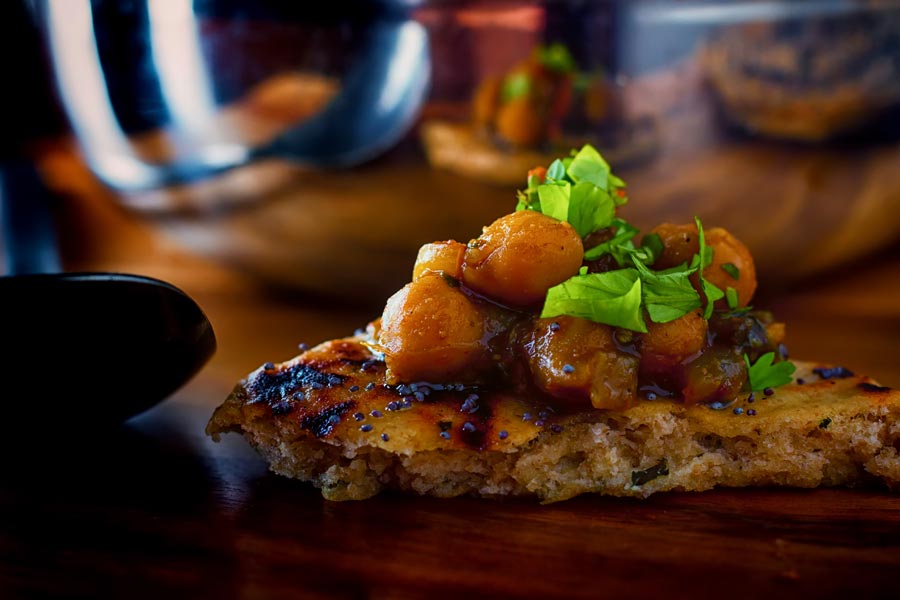 My Introduction To British Indian Food.
I am sure I have mentioned that my love of Indian food comes from living up in the multicultural city of Birmingham in the UK.
However, my love of Indian food wasn't a cultural experience, or maybe it was who knows.
As a teenager in Birmingham in the early 90's night out food would be a curry after a belly full of beer!
In Birmingham that meant a trip to a curry house although there was not so much chickpea curry consumed back then. The chances are the choice for me would have been a Pathia or a Madras curry!
Yes, they were open at 3am in the morning. Yes, there was more beer.
I honestly have no idea how I was not the size of a house as a teenager and in my early 20's!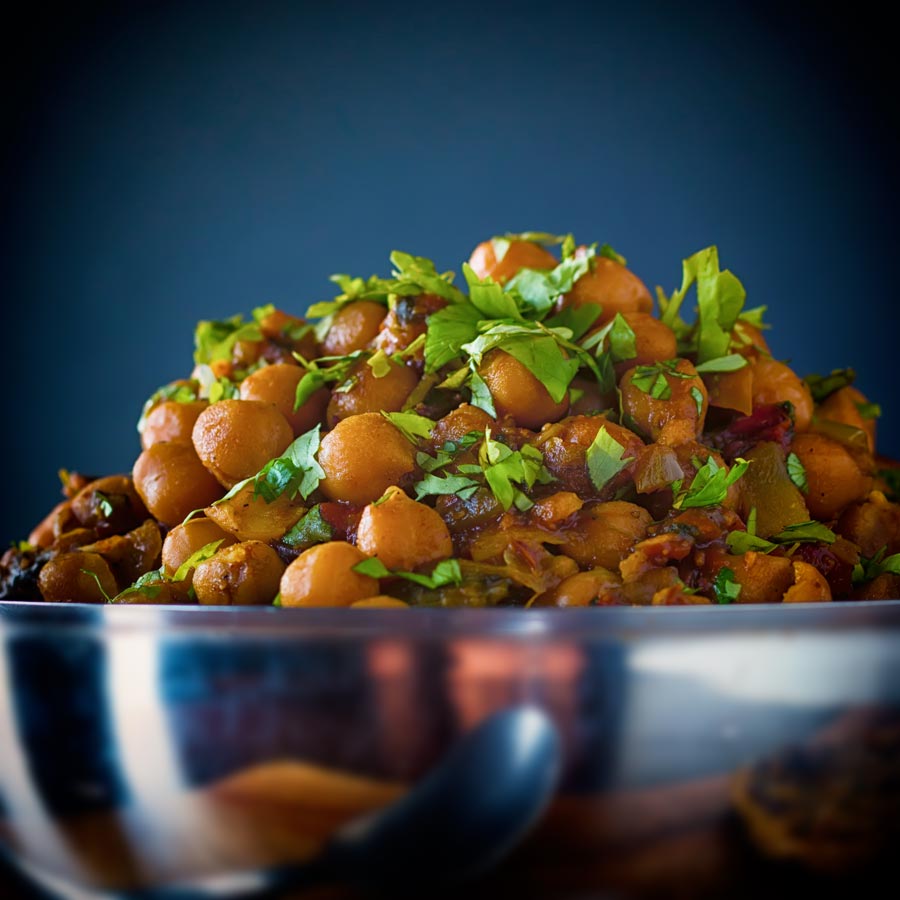 How To Cook Chickpeas.
You can use either dried or cooked chickpeas in this chickpea curry recipe.
If you are using canned chickpeas then you are all sorted you can just follow the recipe.
If you are using dried chickpeas soak overnight and then boil for an hour and twenty minutes to an hour and a half. You can cook them unsoaked but they will take upwards of four hours.
If you have a pressure cooker then you can cook chickpeas that have been soaked overnight in 15-20 minutes.
Unsoaked chickpeas take anywhere between 35 and 45 minutes.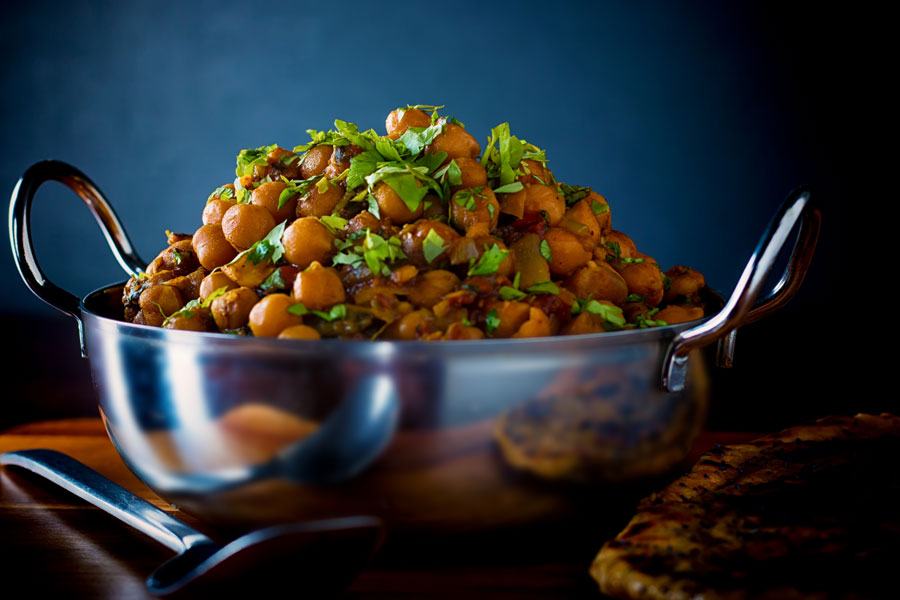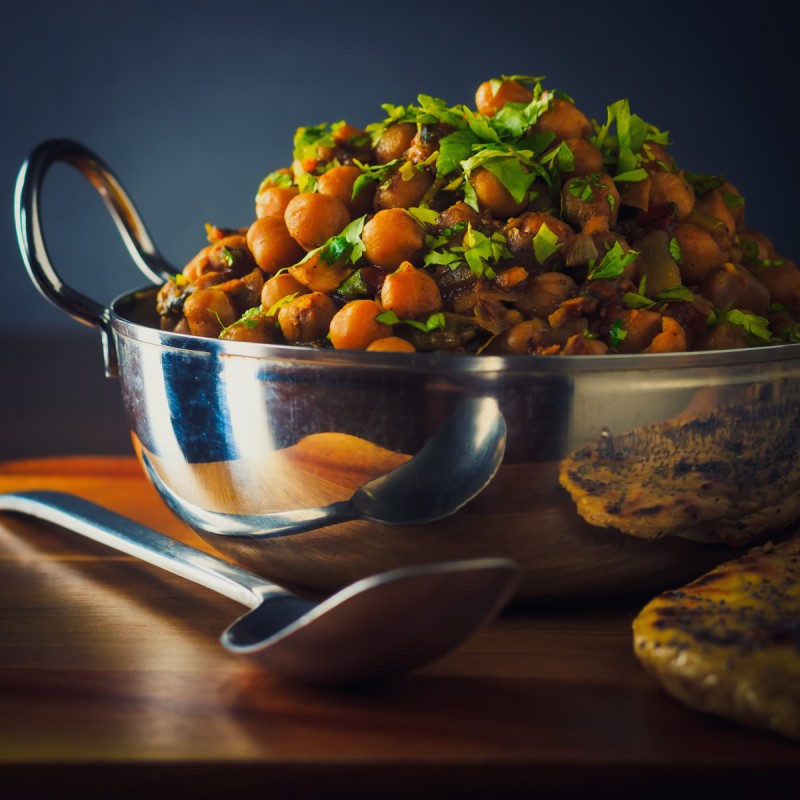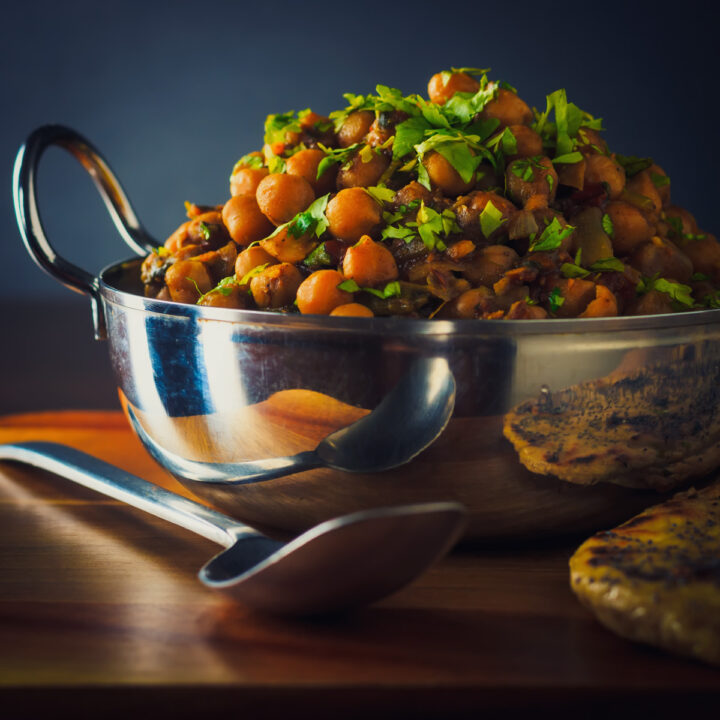 Chole: Indian Chickpea Curry
When it comes to frugality a chole or chickpea curry is right up there, a simple cheap meal that packs flavours well above its 'pay grade'!
Ingredients
2 Tbsp Cooking Oil, Neutral
450 g Cooked Chickpeas, Reserve 150ml of either the canned juice or the cooking liquid
1 Tbsp Dried Chili flakes
125 g Onion, Medium diced
2 Tomatoes, Medium Dice
1 Tsp Cumin Seeds
1 Tsp Corriander Seeds
1 Whole Black Cardamom
3 Green Cardamom
1/2 Cinamon Stick
2 Garlic Cloves, Minced
15 g Ginger, Grated
1/2 Tsp Ground Turmeric
1 Tsp Ground Coriander
1 Tsp Cumin Powder
1 Tbsp Dried Fenugreek Leaves
2 Tbsp Garam Masala
Coriander Leaves, Handful of Fresh leaves coarsely chopped
Salt to Taste
Instructions
Heat a heavy based pan over a medium high heat and add the cooking oil.
When to temperature add the chili flakes, black cardamom, cinamon, cloves, green cardamon and coriander seeds and cook out for a couple of minutes.
Then add the cumin seeds, when they begin to pop add the onions and cook until they begin to colour, you should stir occasionally during this period.
Now add the ginger and garlic, stir and cook for a further minute.
Add turmeric and stir and tomatoes and stir until the tomatoes begin to break down.
Now it it is time for the powdered spices, add in the cumin powder, coriander powder and garam masala and give it a stir.
Then add in 150ml of the reserved chickpea liquid and stir to form a sauce.
Once the sauce has formed add in the dried fenugreek leaves and cover and let simmer for 5 minutes.
Test the sauce for salt and add as necessary before adding in the chickpeas and again cover and allow to simmer gently for 15 minutes
Before serving sprinkle in a handful of fresh coriander leaves reserving some to sprinkle on top.
Notes
I love naan bread so for me it is a naan to accompany this curry but chapati or roti would work just as well!
Nutrition Information:
Yield:

2
Serving Size:

1
Amount Per Serving:
Calories:

668
Total Fat:

23g
Saturated Fat:

2g
Trans Fat:

0g
Unsaturated Fat:

18g
Cholesterol:

2mg
Sodium:

420mg
Carbohydrates:

97g
Fiber:

25g
Sugar:

27g
Protein:

26g
Calorific details are provided by a third-party application and are to be used as indicative figures only.