Mushroom biryani, a classic baked layered Indian rice dish, this version is made in a pretty classic way and is both vegetarian and vegan.
Caramelised spiced onions and fiery portabello mushrooms form the layers in this delicious recipe that takes some time to cook, but can all be prepared in advance!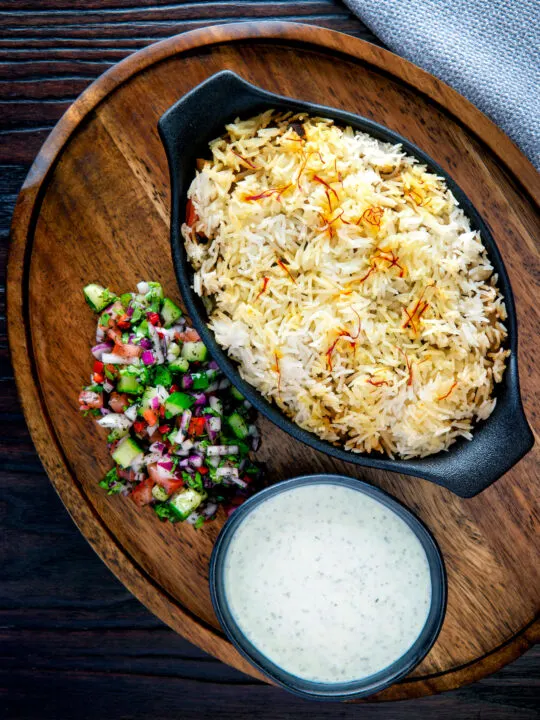 Vegan Biryani
My love of Indian flavours is hardly hidden under a bushel here on my site. British Indian restaurant-style biryani dishes were my gateway to this deep-seated love of these flavours.
A Biryani is a "labour of love" and is often served at weddings, in fact, all of the best biryanis I have eaten have been at weddings.
This mushroom biryani recipe joins my chicken tikka biryani as an ode to those dishes. It is a resized affair designed to feed two hungry people rather that the dozens that trad biryanis feed!
But it contains all of the love and care of a trad dish.
Rice is cooked with aromats, spiced caramelised onions are slowly cooked and fiery mushrooms are prepared separately before being layered together.
Then everything is baked to create the most wonderful veggie mushroom biryani.
It takes a while to cook a good biryani, but it is well worth it. I tend not to cut corners, if I wanted a quick or a cheats biryani, which I quite often do, I would make something like my keema rice!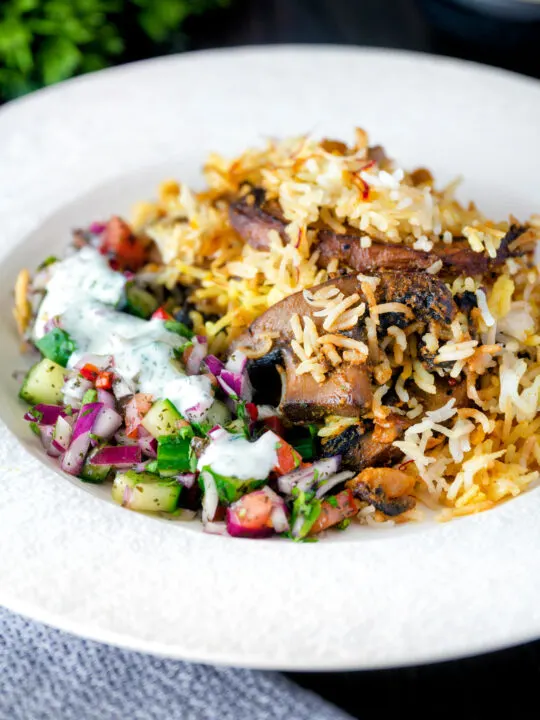 Frequently Asked Questions
Can I prepare this mushroom biryani in advance?
Yes, all three of the elements can be prepared in advance. But you do need to chill the rice quickly and get it into the fridge as soon as it is safe to do so.

The maximum for me would be the day before cooking. I personally do not like to build the Biryani until it is ready to cook. I find that it dries out the dish because the rice absorbs the juices from the shrooms.
Do I have to use portabello mushrooms?
No, but I like big strips of mushrooms in this recipe. You could use anything from button mushrooms to oyster or king oyster mushrooms.
Can I cook the mushrooms and onions together?
You could but you will not get the same caramelisation on the mushrooms.
Is the saffron essential?
No, not at all. For me, this mushroom biryani is a dish filled with time and love and a bit of a treat, so I always go the extra mile!
Can I use regular milk to steep the saffron?
Yes, of course! I use nut milk (snigger) to keep the dish vegan, if you are fine with vegetarian use regular milk.

On that note, you can also cook the mushrooms in ghee rather than oil to give a real luxurious mouth feel and flavour in the biryani.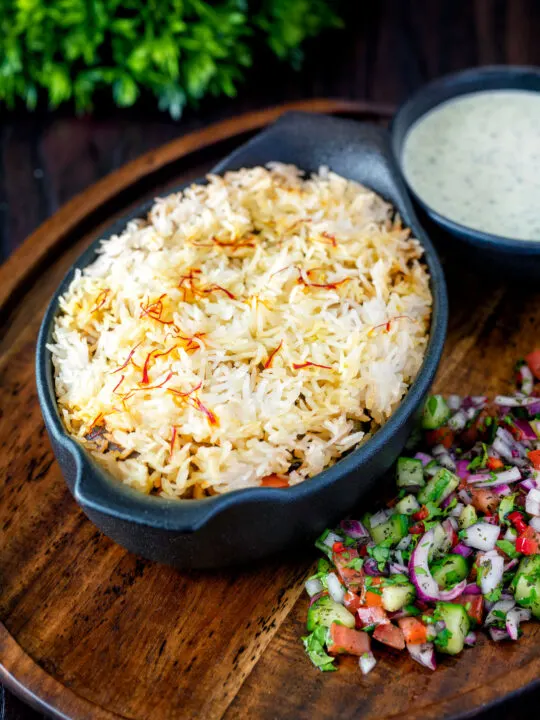 Serving Suggestions
In British Indian restaurants, biryani dishes are often served with a vegetable curry.
My spinach and mushroom curry or vegetable karahi recipes would both be perfect if you wanted to serve it this way.
However, I like to serve this mushroom biryani as a hearty rice dish.
That does not mean that it gets served alone, I like to add a mint raita and kachumber salad on the side.
If you are sticking plant-based you could make this simple vegan raita too.
Flatbreads are a mainstay of my relationship with Indian-inspired flavours and I am rather fond of serving biryani recipes with a chapati or two.
You could also serve them with a pile of poppadoms!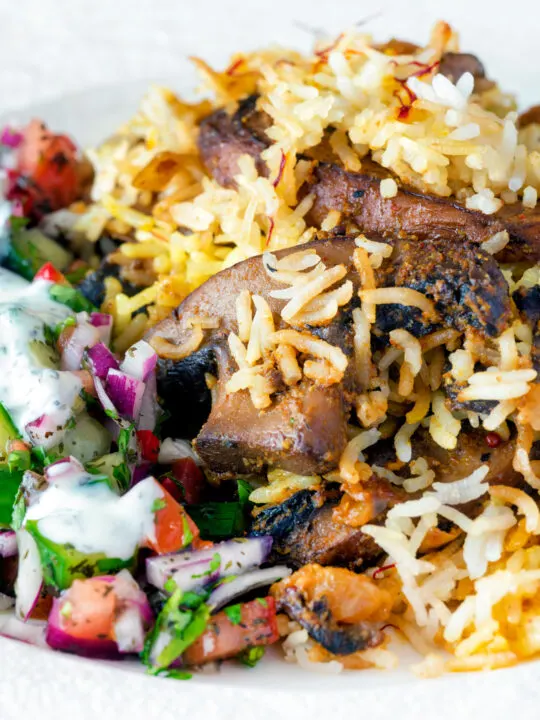 Equipment Used
I tend not to recommend specific brands of equipment unless I think that it will make a material difference to a recipe. If you have any questions feel free to ask them in the comments section below the recipe.
Stovetop.
Oven.
Weighing scales and or measuring cups and spoons.
Reactive (not non-stick) 28-30cm or 11-12″ frying pan.
Small (24cm or 9″) frying pan. You can use either a nonstick or reactive pan, you can use the same pan you cooked the onions in, but obviously, this will impact the timing of the recipe.
Small Saucepan (15cm or 6″).
Sieve.
Baking tray or large plate, to cool the rice.
2 x 500ml or a single 1-litre oven-proof dish.
Sieve.
Sharp knife.
Chopping board.
Tin foil.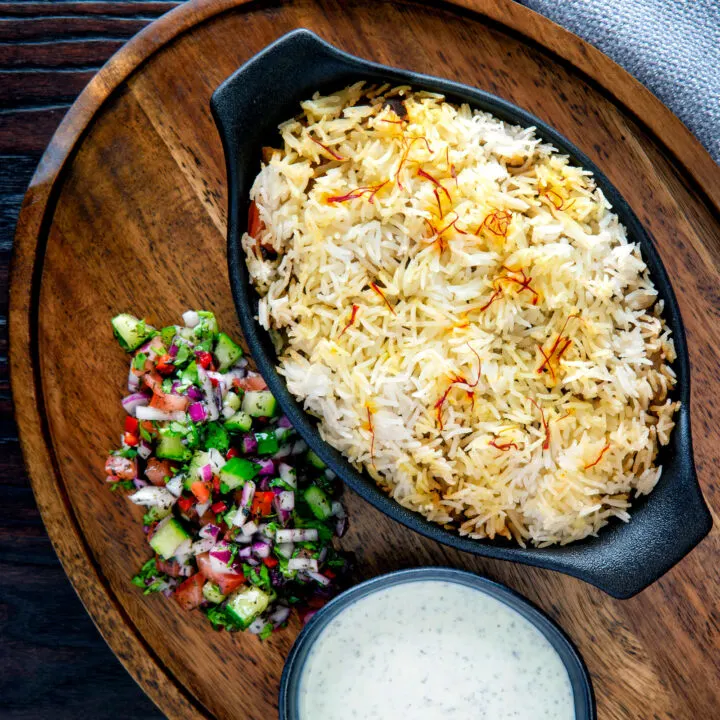 Yield:

2 Generous Servings
Vegan Mushroom Biryani Recipe
Cook Time:
1 hour
50 minutes
A classic layered rice dish from India and Pakistan, this mushroom biryani is deliciously spiced and, time aside, remarkably easy to make!
Ingredients
For the Parboiled Rice:
200g (1 Cup) Basmati Rice
1 Bay Leaf
12 Black Pepper Corns
3 Cracked Green Cardamom Cloves
1 Stick Of Cinnamon
2 Cloves
1 Whole Blade of Mace
450ml (2 Cups less two tablespoons) Cold Water
½ Tsp Coarse Sea Salt
For the Caramalised Onions:
4 Cloves Garlic
Ginger Thumb Sized Piece
2 Green Chillies
8 Curry Leaves
½ Tsp Mustard Seeds
½ Tsp Fennel Seeds
½ Tsp Cumin Seeds
½ Tsp Ajwain Seeds
300g (2 Cups) Onion
½ Tsp Ground Turmeric
½ Tsp Ground Coriander
1 Large Tomato (Approx 175g)
2 Tbsp Cooking Oil
For the Musrooms:
300g (5 or 6 Whole) Portabello Mushrooms
1 Tbsp Cooking Oil
¼ Tsp Asafoetida
1 Tsp Garam Masala
½ Tsp Kashmiri Chilli Powder
½ Tsp Garlic Powder
½ Tsp Onion Powder
½ Tsp Ground Turmeric
½ Ground Coriander
½ Tsp Salt
75ml (⅓ Cup) Water
Optional Saffron Garnish:
4 Tbsp Nut or Oat Milk
Generous Pinch of Saffron
Instructions
Cook the Onions:
Peel and grate the Ginger.
Peel and mash the garlic into a paste.
Slice the green chillies in half lengthways.
Peel the onions then cut them in half, then into half-moon shapes around 3-4mm thick.
Heat the cooking oil in a heavy-based frying pan (28cm or 11" and not non-stick) over a medium-high heat.
Add in the curry leaves, slit green chillies, ajwain, mustard, fennel and cumin seeds then cook for 30 seconds.
Add the garlic and ginger, then cook for 30 seconds.
Throw in the onions and stir, reduce the heat to low-medium, and allow to slowly cook until the onions caramelise, this should take approximately 45 minutes.
Deseed the tomato and cut the flesh into a 1cm dice (discard the seeds).
Stir in the turmeric, ground coriander, and tomatoes stir and set aside until you are ready to build the biryani.
Cook the rice:
Wash the basmati rice thoroughly and allow to soak in cold water for 20 minutes.
Add all of the remaining ingredients for the rice into a pan (15-16cm or 6") with the cold water and bring to a rolling boil.
Reduce the heat to a gentle simmer.
Add the soaked and washed rice to the water and add a lid.
Cook for 9-10 minutes (the rice should be very nearly cooked) then remove from the heat and allow to steam with the lid on for 5 minutes.
Spread the rice on a plate or tray to cool quickly and when cooled keep refrigerated until needed.
Cook the Mushrooms:
Cut the mushrooms into 5mm-7mm thick slices.
Heat the oil for the mushroom over a medium heat and add the asafoetida and cook for 30 seconds, stirring continuously.
Add the mushrooms and cook for 10 minutes.
Mix together the garam masala, Kashmiri chilli powder, garlic powder, onion powder, ground turmeric, ground coriander & Salt
Once the mushrooms have had 10 minutes and are nicely browned add the spice mix and stir for 30 seconds.
Pour in the water reduce the heat to low and add a lid, then cook for a further 10 minutes.
Build and Cook the Biryani:
Take two oven-safe dishes that hold around 500ml of liquid or one oven-safe bowl that holds around 1 litre of water.
Add a quarter or half of the onion mix (depending on whether you are using 2 or one bowl), to the base of the bowl, then a quarter or half of the mushroom mix and follow up with a third or a sixth of the rice.
Repeat the process finishing the dish off with a layer of rice.
If you are adding saffron heat the milk in a pan until it is warm but not boiling and add the saffron, swirl until the milk begins to take on the colour, then pour over the top of the biryani.
Cover the dishes or dish with foil and bake at 180°C or 350°F for 35 minutes, remove the foil and then bake for a final 5 minutes.
Nutrition Information:
Yield:
2
Serving Size:
1
Amount Per Serving:
Calories:

605
Total Fat:

26g
Saturated Fat:

2g
Trans Fat:

0g
Unsaturated Fat:

21g
Cholesterol:

0mg
Sodium:

1240mg
Carbohydrates:

90g
Fiber:

16g
Sugar:

18g
Protein:

16g
Calorific details are provided by a third-party application and are to be used as indicative figures only.