Scotch pie was something I would buy at the footie growing up, a minced lamb pie flavoured with mace and nutmeg in a crisp hot crust pastry.
Now it is much more likely to form the centrepiece of a main meal with some delicious gravy and veg!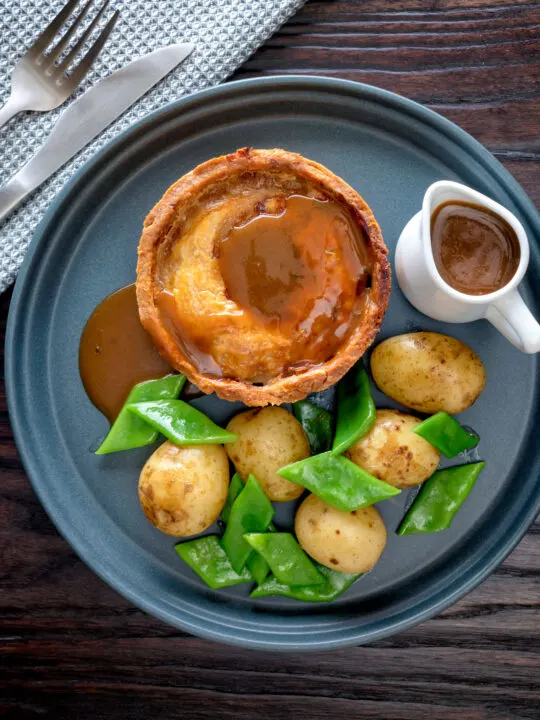 Traditional Scottish Minced Lamb Pie
To say that we Brits have a "thing" for savoury pies is a bit of an understatement.
As is often with the way of British food our obsession takes many forms. Everything from the classic pork pie and ham fidget pies or something like a corned beef a potato pie, through to potato topped cottage pie and shepherd's pie or puff pastry topped pies like my chicken and leek pie!
Don't forget pasties, and the king of the pasty world is the Cornish pasty.
A Scotch pie is traditionally filled with lamb or mutton and wrapped in a hot crust pastry case. The pastry I often favour for pies like this and my steak and ale pie, I even use it to make my pork and apple sausage rolls.
Flavourings vary from cook to cook although one is more prevalent than all others, that is mace and or nutmeg.
A flavour that is fairly common in British recipes like British sausages through to my pork and apple sausage rolls!
I add a less than typical flavouring in the form of dried mint, I love the stuff and lamb and mint is a match made in heaven.
These Scotch pies can be eaten hot or cold and are just as good as a picnic pie as they are as a main meal or lunchtime snack.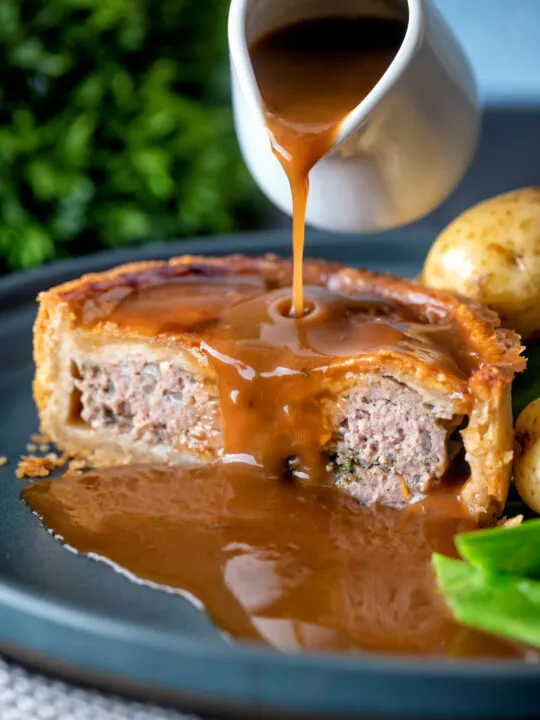 Frequently Asked Questions
Can I use store-bought pastry?
You can't really buy hot crust pastry in the stores and these pies really should be made with it. You can get away with making it with shortcrust pastry which is readily available in stores.
I use this approach with my steak and stilton pie.
Can I make these in advance?
Yes, once cooked Scotch pies will store in the fridge for 3-4 days and you can reheat them in a moderate oven.
What if I don't have lamb stock?
I would personally use chicken or vegetable stock, but you could use beef stock or even water.
Can I freeze Scotch pies?
Yes, in two different ways.

You can freeze the pies unbaked and then bake them from frozen. Form the pies in the tins, then pop them out and freeze them. Cooked pies should be cooled completely before freezing

In both instances they can be baked from frozen, I usually bake uncooked pies them at a lower temperature (160°C or 320°F) for about an hour. Coked pies at 180°C or 350°F for 30 minutes.

Check that they are piping hot with a meat thermometer before serving.
Serving Suggestions
As I mention above, Scotch pie was a footie snack growing up, but now I like to serve them hot as part of a main meal.
Here they are served with lamb gravy, and buttered new potatoes and runner beans.
You could even add mushy peas for a proper British experience!
But you can go off in any direction with the vegetables. Glazed Chantenay carrots add a lovely sweetness or you could add some braised cavolo nero to add earthiness.
Adding baked beans would take this pie recipe all the way back to childhood for us Brits!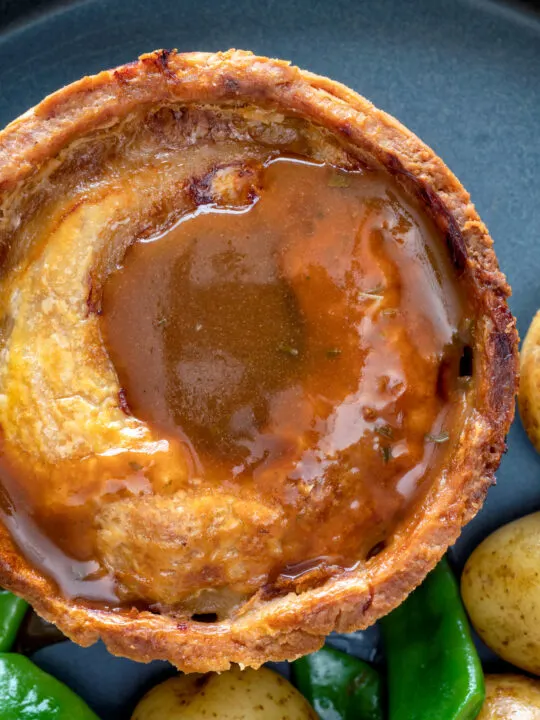 Equipment Used
I tend not to recommend specific branded pieces of equipment unless I think they will have a significant impact on the recipe. If you have any questions feel free to drop a question in the comments section.
Small saucepan (15-18cm or 6-7″).
Two pie tins (10-11cm or 4-4½").
9-10 cm (4″) pastry cutter.
Small pastry nozzle (8-10mm just under ½")
Weighing scales and or measuring cups and spoons.
Food processor, you can mix the pastry by hand with a wooden spoon, be careful not to burn yourself.
Chopping board.
Sharp kitchen knife.
Mixing bowls.
Pastry brush.
Pestle and mortar or spice grinder.
Cling film or plastic wrap.
Oven.
Stovetop.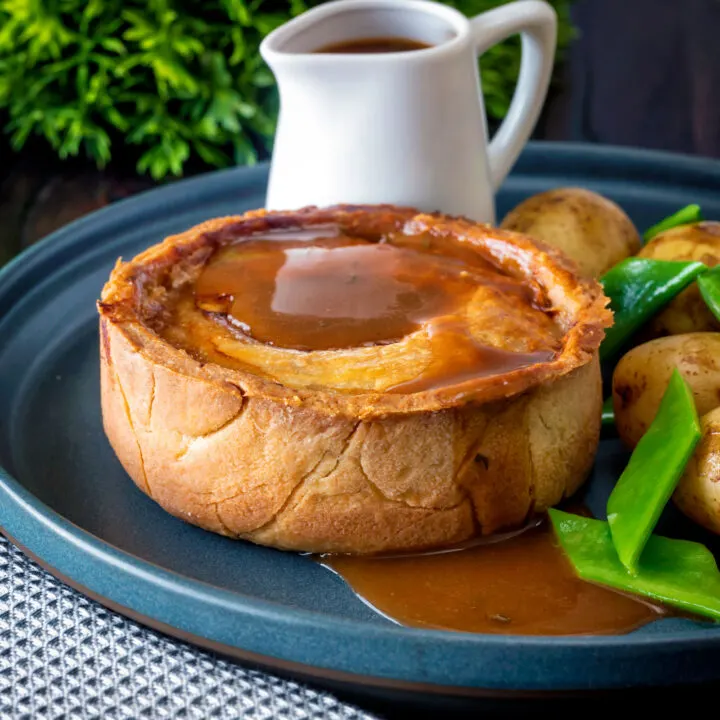 Yield:

2 Servings
Scotch Pie Recipe
Total Time:
1 hour
30 minutes
Scotch pies are also known as Scottish pies, they are part of a rich culture of British savoury pies. They are filled with minced lamb or mutton flavoured with mace and other herbs and they taste simply stunning!
Ingredients
For the Hot Crust Pastry:
100g (¼ Cup + 3 Tbsp) Lard
100ml (¼ Cup + 3 Tbsp) Water
250g (2 Cups minus 1 Tbsp) Plain flour
½ Tsp salt
2 Egg Yolks (1 for glazing)
For the Lamb Filling:
350g (12oz) Minced Lamb
100g (⅔ Cup) Onion
1 Blade Mace
½ Tbsp Black Pepercorns
1 Tsp Coarse Sea Salt
¼ Tsp Nutmeg
1 Tsp Dried Parsley
1 Tsp Dried Mint
2 Tbsp Lamb Stock
Instructions
Pour the water and add the lard into a small pan and heat it over a medium heat until the lard just melts.
Place the flour, one egg yolk and salt into a food processor and blitz to combine.
Slowly pour the hot water and dripping mix into the food processor whilst it is spinning until a dough ball forms.
Wrap the dough in cling film and set aside until it is almost completely cooled.
Place the minced lamb in a bowl.
Peel and dice the onion as finely as you can, then add it to the bowl with the onion.
Grind the coarse sea salt, black pepper and mace in a pestle and mortar or spice grinder and add it to the lamb.
Add the dried mint, parsley, nutmeg and lamb stock and mix well.
Grease and lightly flour 2 x 10-11cm (4-4.5") pie tins, I like to use lard.
Take a third of the pastry and roll it out to 4-5mm (~⅛") thick and use it to line a pie tin cutting off any excess pastry. Transfer it to the fridge and repeat with the second pie tin.
Divide the lamb mix in half, form into two balls and add them to the two pie tins pressing down to form a flat top and to fill the pies. The filling should come up to 10mm (~½") below the top of the pie.
Roll out the remaining pastry so that it is 2-3mm thick (just under ~⅛") and cut out two rounds using a pastry cutter so that they will fit inside the pastry case. Then cut out a small hole (7-8mm or just over ¼") I use a piping nozzle for this.
Place the pastry lids inside the pies, it is important that the lid is the perfect size to just fit inside the pastry case and remain below the level of the top of the pie.
Brush the top of the pie with the remaining beaten egg yolk.
Place on a baking tray and bake in the oven for 40-45 minutes at 180°C or 350°F.
Remove from the oven and remove the piese from the tins as soon as they are cool enough to handle with a tea towel. Leaving them too long may result in pies that are hard to take out of the tin.
Nutrition Information:
Yield:
2
Serving Size:
1
Amount Per Serving:
Calories:

1588
Total Fat:

97g
Saturated Fat:

39g
Trans Fat:

0g
Unsaturated Fat:

52g
Cholesterol:

400mg
Sodium:

2069mg
Carbohydrates:

106g
Fiber:

4g
Sugar:

5g
Protein:

66g
Calorific details are provided by a third-party application and are to be used as indicative figures only.