This Homemade pork sausages recipe is for a classic British breakfast banger and they taste as good as they look.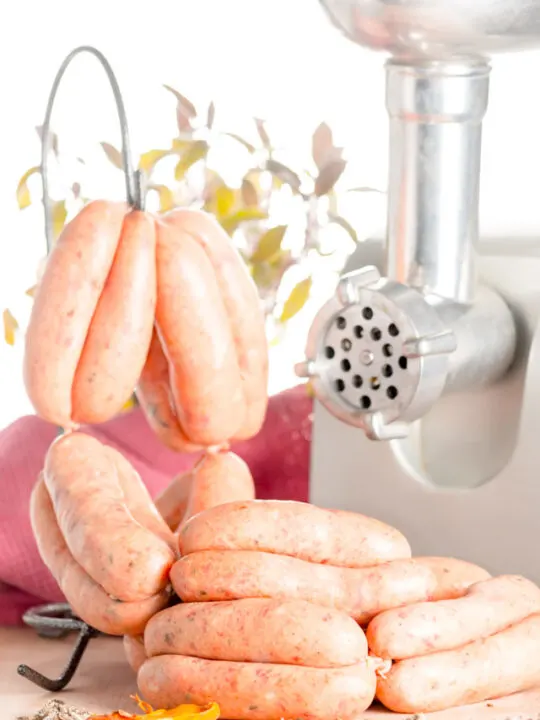 Going Out With a Banger!
It does not matter where you are in the world, no one makes sausages quite like your homeland. It is just one of the rules of being a migrant.
I love sausages, whether it is in a sandwich, part of a fry up, in a toad in the hole or in a sausage casserole. Not being able to get them lead me on a quest!
As you can see, that quest lead to perfect looking British Bangers, they also taste pretty damn perfect too. Even if I say so myself!
You may be surprised to find out that sausage skins aside the ingredients in a classic sausage are really very common. You probably have most of them at home.
And despite what you have seen on the Generation Game, making homemade sausages is really not that difficult.
Although you do need to shop for a couple of things.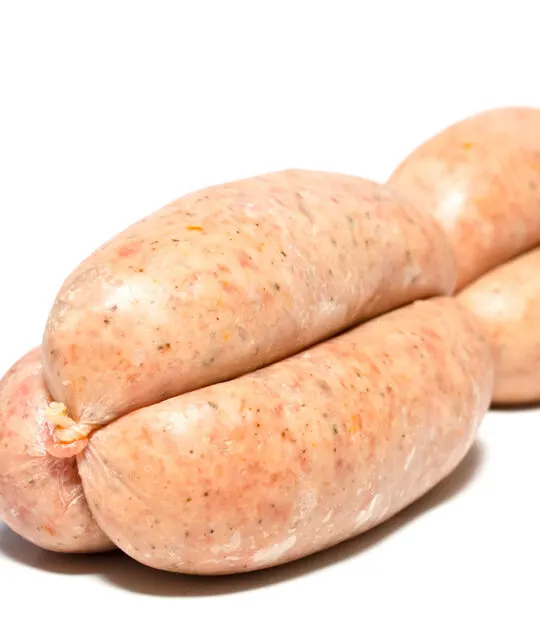 What Equipment Do You Need?
The bit of kit that you need to make homemade sausages is a meat grinder with some form of sausage stuffing attachment.
Whilst that may sound all very expensive nothing could be further from the truth.
I have a generic branded meat grinder and it came with all of the attachments for making sausages and kofte and it cost me 10,000 Hungarian Forints (about £25 at the current exchange rate).
Yes, the Hungarian currency has lots of zeros, and my machine has just kept on going since 2011.
You can get manual meat grinders and sausage stuffing machines.
They involve much more work and are most likely going to be thrown into the back of a cupboard after one use!
But it is not just a one-trick pony, first and foremost it is a meat grinder.
As a result, you get to make minced meat at home. That means MUCH better quality minced meat, those plastic trays with the little moisture collector are awful.
I have also used it to grind vegetables for things like pickles and chutneys and because of the way the grinder works it bruises and bashes the vegetables releasing otherwise undiscovered levels of flavour.
I have even used it to grind chickpeas to make falafel.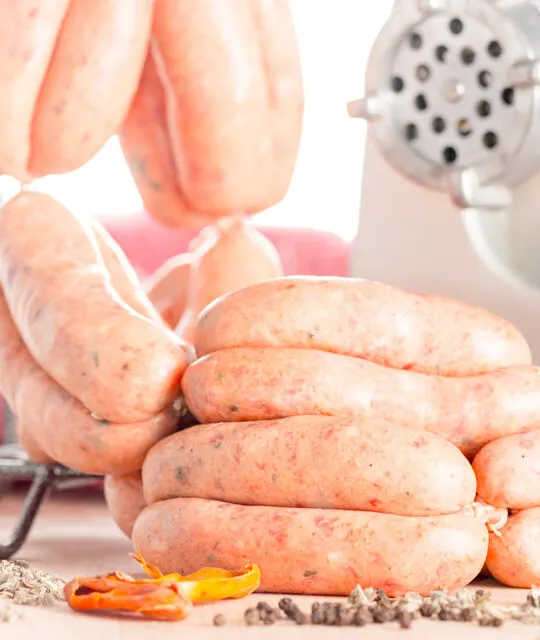 The Ingredients for Homemade Pork Sausages.
As I have mentioned above most of the ingredients for making sausages at home are store cupboard staples.
Even if you do not have them at home all of the spices are readily available.
However, sausage skins are another matter. In the UK you will either need to order them from a good butcher or order them online.
You will need to follow the instructions on the packet for soaking as each brand is slightly different. Only order natural sausage casings, the alternative is simply nasty!
Then on to the pork, sausages need fat, there is no such thing as a good low-fat sausage. It is the combination of the fat and breadcrumbs or cereal that hold them together.
I favour a combination of blade and shoulder with the addition of more fat from the belly area.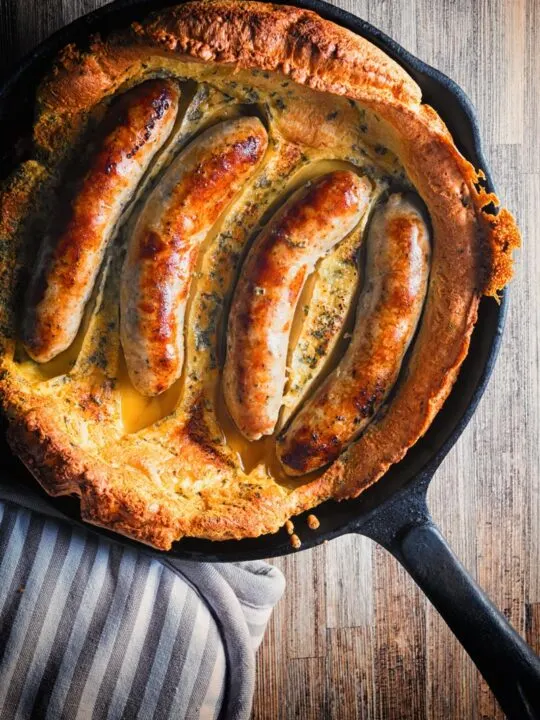 The Technique.
This recipe for homemade sausages is as much about technique as it is ingredients.
Now trying to explain this is tough, but I do have a recipe that I made for my Cumberland Sausage Recipe.
It covers all aspect but the twisting of the sausages, so this should help a lot!
As you can see, electronic meat grinders are not firing out sausages at a great rate of knots. Things are very steady which makes the process pretty simple.
One thing that you want to avoid is excessive air in your sausages.
As a result, you want to tie off your first sausage after the meat has begun to appear from the stuffing attachment.
If you have too much air in the skins it will expand when cooking and your skins will split. This will make you bangers dry and no one likes a dry sausage!
And once you have your technique nailed down you are good to go for a whole world of sausages! May I suggest my Italian sausage recipe next?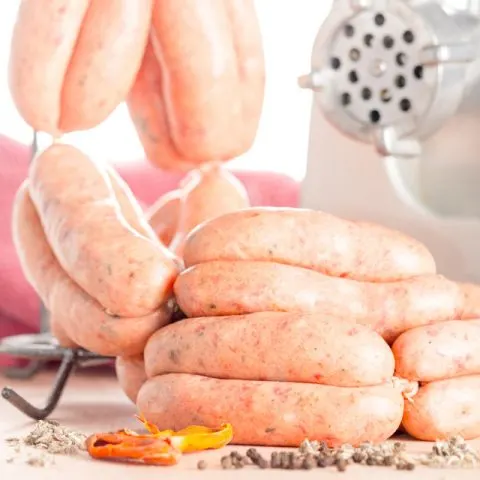 Yield:

2 Kg
Perfect Homemade Sausages Recipe
This home made sausages recipe makes the perfect pork banger, whether it is toad in the hole or bangers and mash you need these!
Ingredients
5 m Natural Sausage Casings
750 g Pork Blade
750 g Pork Shoulder
400 g Pork Belly Fat
125 g Bread Crumbs
3 Tbsp Dried Sage
1 Tbsp Salt
1.5 Tbsp Ground Mace
1 Tsp Sweet Paprika
1.5 Tbsp Powdered Mustard
1 Tbsp Black Pepper
Instructions
Soak your sausage skins as per the instructions and rinse off any salt.
Chop the meat and fat into large pieces and pass through a medium plate on your meat grinder.
Make sure that you alternate between fat and meat to begin the mixing process.
Mix the herbs spices and bread crumbs into the minced meat.
Fry off a small pattie of sausage meat to test the seasoning and increase if you wish.
Feed the sausage casings onto the sausage filling attachment on to your mixer. It is ok to make childish jokes at this point!
Set u0p the meat grinder into the sausage making configuration.
Begin to fill the sausage skins and as soon as you can see the pork mixture beginning to show through into the skin then turn off the grinder.
Tie a knot into the end of the skin leaving about 5cm of the casing empty on the side of the casing with no filling
Then proceed with filling the sausage skins.
To divide the long sausage into individual portions pinch the sausage and twist.
When moving to the next sausage pinch again but be sure to twist in the opposite direction repeating always in the opposite direction to the previous sausage.
Notes
It took me about an hour to make these however I seem to recall my first time taking considerably longer.
Calorific value refers to a kilo of sausages.
Nutrition Information:
Yield:
2
Serving Size:
1
Amount Per Serving:
Calories:

4412
Total Fat:

359g
Saturated Fat:

135g
Trans Fat:

0g
Unsaturated Fat:

199g
Cholesterol:

944mg
Sodium:

5059mg
Carbohydrates:

64g
Fiber:

6g
Sugar:

8g
Protein:

219g
Calorific details are provided by a third-party application and are to be used as indicative figures only.