Making sausages guarantees that you only get the very best meat and flavours you want, why settle for anything less?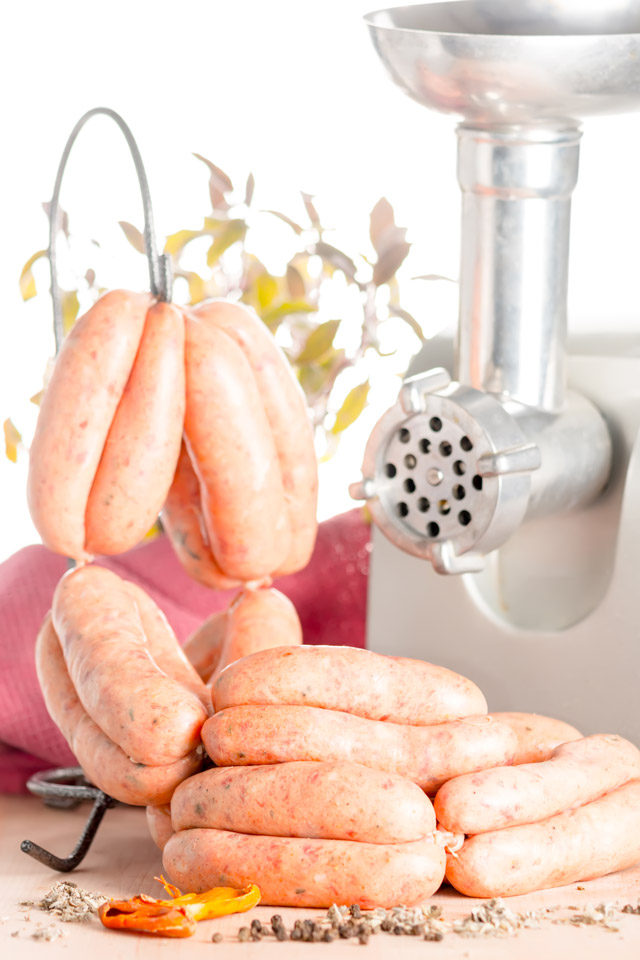 I have been making sausages pretty much ever since we moved to Hungary, as I mentioned in my Pork Pie recipe there are just some flavours from home that an expat can't live without. The good old British Banger holds the top spot in that fairly short but nevertheless important list. Not only does making sausages feel like a real achievement it is also a real giggle.
Whilst I have now become relatively accomplished at this task both myself and my wife have had many a giggling fit that has caused us to have to wipe the tears from our eyes before continuing with the task at hand. If you have children, hold on to your hat and get them involved as making bangers is every bit as much fun as it was made to look on the 'Generation Game'.
Fortunately it is no where near as hard and a well made sausage is much healthier than an endless supply of cup cakes. Add to that the versatility of a sausage and you are well on the way, you can use any combination of herbs and spices you want. You can even add things like apples, onions, the world is your oyster.
Simply serve then as you wish, as part of a Full English Breakfast, add to a casserole, a soup or my personal favourite, Toad in the Hole.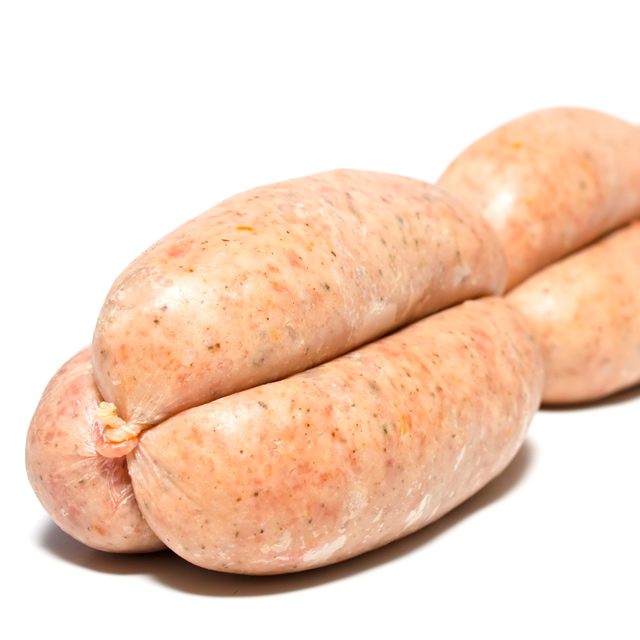 Naturally this recipe involves the owning of a particular piece of equipment and that is a meat grinder with sausage filling attachement or something similar. Whilst that may sound all very expensive nothing could be further from the truth. I have a generic branded meat grinder and it came with all of the attachments for making sausages and kofte and it cost me 10,000 Hungarian Forints (about £25 at the current exchange rate).
Yes Hungarian currency has lots of zeros, and my machine has just kept on going for almost 5 years. I did however have a very bad experience with my first purchase that was significantly more expensive and a branded name that lasted just over a year. Sometimes you don't always get what you pay for.
Now as a self confessed foodie I 'digitally' hang out in lots of places with other foodies and inevitably kitchen gadgets always get discussed on a regular basis. My answer for my go to favourite gadget is always my meat grinder. It is useful for much more than making sausages and kofte.
First and foremost it is a meat grinder so anything that uses ground meat, think burgers, chili & bolognese etc etc and it will be right there with you. It will also give you piece of mind that you are getting cut of meat that you know and can trust. Lets face it, it is very easy to hide poorer cuts of meat in ground mix!
But I have also used it to grind vegetables for things like pickles and chutneys, because of the way the grinder works it bruises and bashes the vegetables releasing otherwise undiscovered levels of flavour, I have even used it to grind chick peas to make felafel.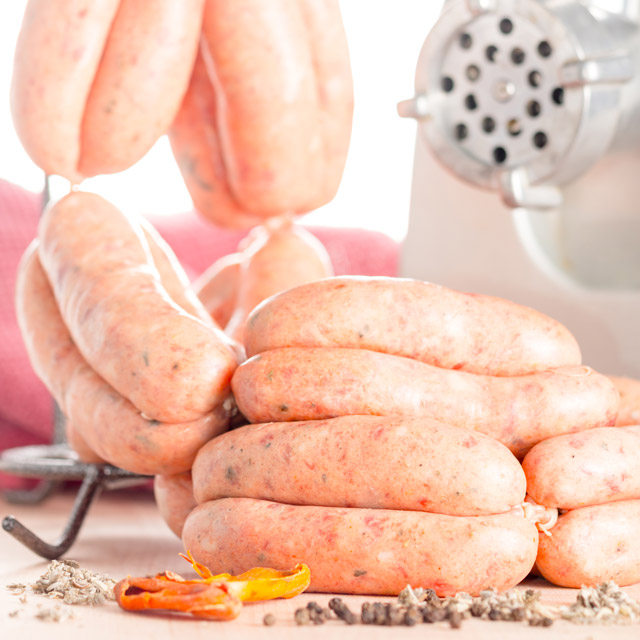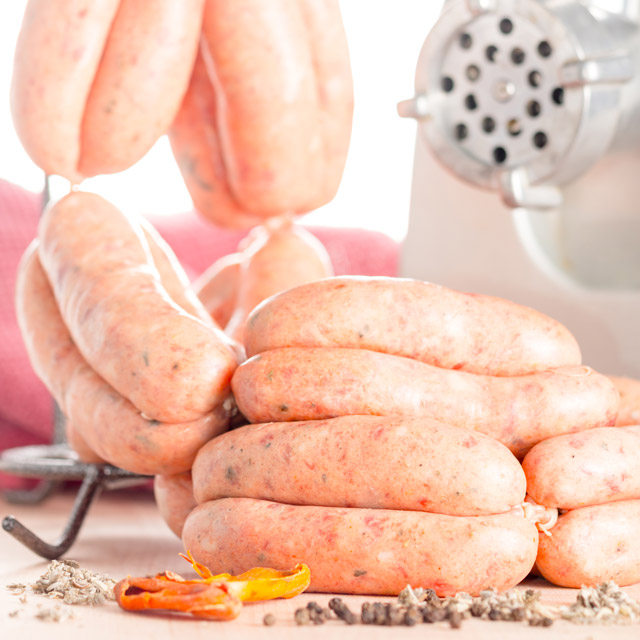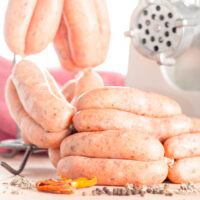 Making Sausages
Making sausages guarantees that you only get the very best meat and flavours you want, why settle for anything less?
Ingredients
5 m Natural Sausage Casings, Soaked overnight if required
750 g Pork Blade
750 g Pork Shoulder
400 g Pork Fat
125 g Bread Crumbs, Roughly 5% of the total pork and fat mix
4 Tsp Dried Sage
3 Tsp Salt
2 Tsp Ground Mace
1 Tsp Sweet Paprika
2 Tsp Powdered Mustard
1 Tsp Black Pepper, Freshly Ground
Instructions
Chop the meat and fat into large pieces and pass through the largest setting on your meat grinder, alternating between fat and meat to begin the mixing process, do not use a find setting you will end up with a texture similar to a mousse
Mix the herbs spices and bread crumbs into the sausage mix, start with a little at a time as the best bit is frying off a small pattie to test the flavour… Once you have the flavour you want allow to chill in the fridge for 30 mins
Feed the sausage casings onto the sausage filling attachment on to your mixer (if you are not making childish innuendos at the moment you are not doing it correctly)
Begin to fill the sausage skins slowly as soon as you can see the pork mixture beginning to show through into the skin then turn of the grinder and tie a knot into the end of the skin leaving about 5cm of the casing empty on the side of the casing with no filling
Then proceed with filling the sausage skins, I like to loop mine in groups of three and find a good length to work with to be 1-1.5m, once you reach that length tie off the casing
To divide the long sausage into individual portions pinch the sausage and twist, when moving to the second sausage pinch again but be sure to twist in the opposite direction repeating always in the opposite direction to the previous sausage.
If you want to form linked sausages as in my picture ensure you have 3 sausages pinched and twisted, then bring the twisted section between sausage 2&3 to the beginning of the chain and wrap together then take the 1st sausage and tie with the 5cm of left over casing before cutting.
To make subsequent links form three new sausages as per step 6 then bring together the 2nd and third of the new sausages and twist together then take the 3rd and remaining length of sausage and pass through the loop made by the twisted together sausage wrapping around the pinched section. I will try and make a video of this sometime as even I am confused by my description, but Youtube can be your friend.
Notes
It took me about an hour to make these however I seem to recall my first time taking considerably longer.
Calorific value refers to a kilo of sausages.
Nutrition Information:
Yield:

2
Serving Size:

1
Amount Per Serving:
Calories:

4412
Total Fat:

359g
Saturated Fat:

135g
Trans Fat:

0g
Unsaturated Fat:

199g
Cholesterol:

944mg
Sodium:

5059mg
Carbohydrates:

64g
Fiber:

6g
Sugar:

8g
Protein:

219g
Calorific details are provided by a third-party application and are to be used as indicative figures only.