Toad in the hole is a British dish of sausages cooked in a Yorkshire Pudding batter, my recipe is optimised for two and is easy to cook in a cast iron skillet.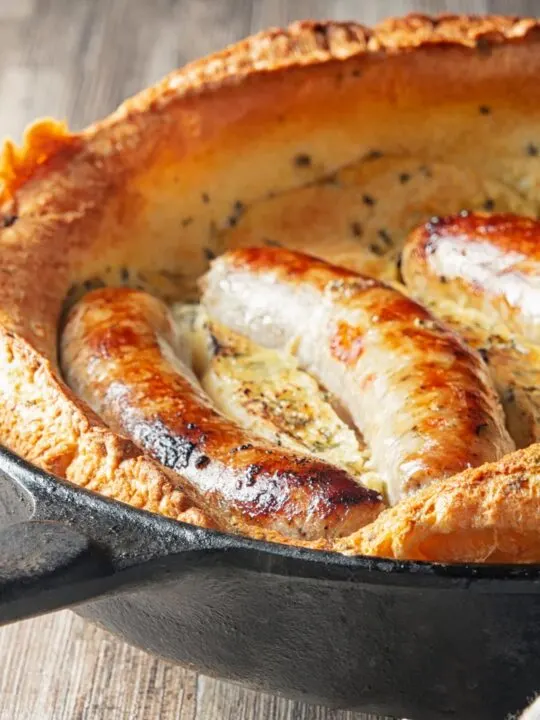 A What in a What?
When it comes to recipes with cool names Toad in the Hole is the Heavyweight champion of the world!
Don't worry this is not some "hubble and bubble toil and trouble" Macbeth witch stuff.
It is a simple dish of sausages cooked in a Yorkshire pudding batter.
It is also probably the dish that I ate the most growing up and it remains one of my favourites today.
We probably ate it so often because it was cheap! It joined other dishes like cheese and potato pie, corned beef stew and spam fritters!
This recipe is easy and if you decide not to rest your batter, really quick.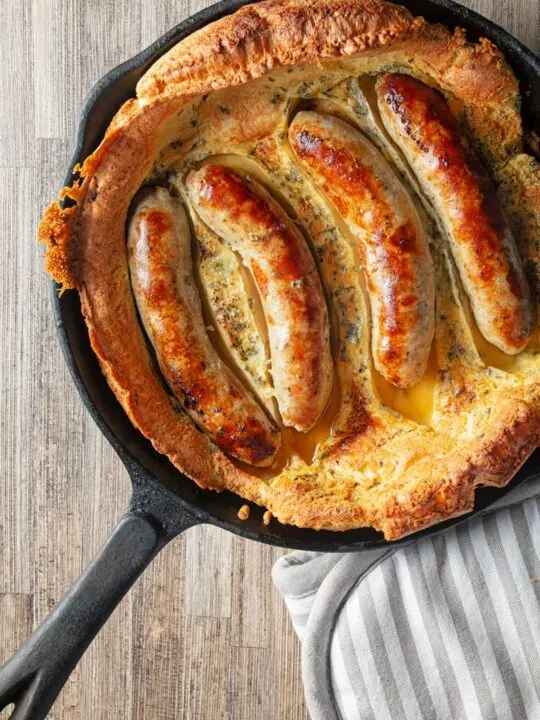 What Pan To Use.
Cooking Yorkshire pudding mix relies on a few things, the first and most important is heat.
My best results always come from a searingly hot oven and pouring the batter into a hot pan containing hot "oil".
When I say hot I am taking up at 240-250°C or 460-485°F
As a result of this, I use a cast-iron skillet, it makes the perfect toad in the hole for two greedy eaters.
My pan is 25cm or 10″ in diameter!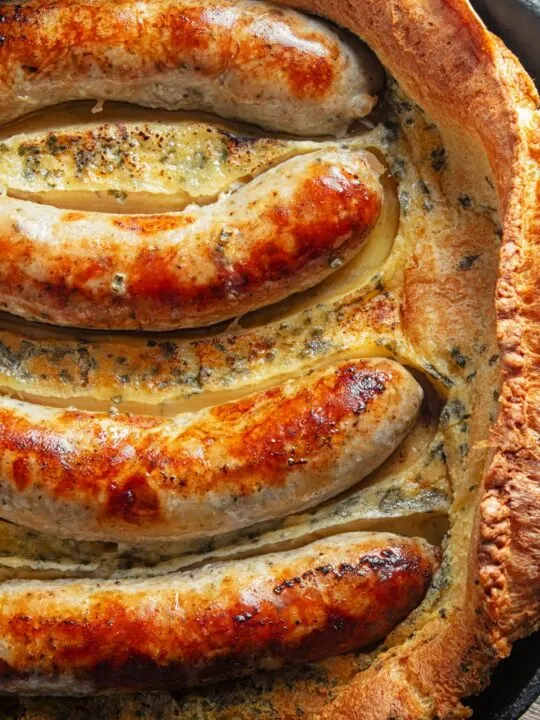 Ingredient Guide.
The sausages can be anything you want, I usually use my own homemade British breakfast sausage.
I have also used my Italian sausage and even make a veggie toad in the hole with roasted roots.
The ingredients for the batter are not as important as their measurement. This is the only recipe where the ratio of volume is important as far as I am concerned!
Pour the three ingredients into identical jars and you are good to go.
Although if you do take the time to rest the batter then you will get a better rise. I usually make mine the night before and store it in the fridge.
On a final note, let's talk fat… Lard, duck fat, goose fat or beef tallow is where it is at!
All of the above result in crispier crispy bits and tastier soft bits. If you want to then swap for oil it will still work, but do not use your expensive olive oil!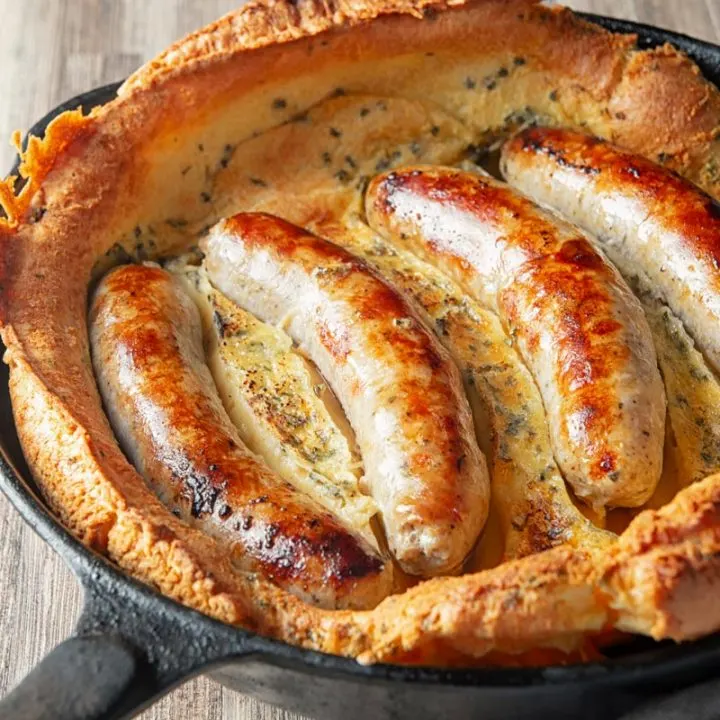 Yield:

2 Servings
Easy Toad in the Hole Recipe
Total Time:
3 hours
30 minutes
Toad in the Hole is about as British as can be, sausages in a Yorkshire pudding batter and baked to perfection, forget Sunday Lunches this is quintessentially British and so easy too!
Ingredients
400 g (14 oz) Sausages
30 g (2 Tbsp) Lard or Duck Fat
3 Eggs
75 g (1/2 Cup + 1 Tbsp) Flour (approx)
150 ml (1/2 Cup) Full Fat Milk (approx)
1/4 Tsp Coarse Sea Salt
Good Grind Of Black Pepper
1/2 Tsp Dried Thyme
Instructions
Place the lard in your skillet and then put it in the oven that is set as hot as it can be.
Place the eggs in a jar and line up 2 identical jars next to them.
fill the second and third jars to the same level, one with milk and the other with flour.
Sift the flour into a large mixing bowl and add the beaten egg and milk and mix to form a batter.
As with all Yorkshire pudding mixes, they perform better if left to stand for at least 3 hours.
Mix in the thyme, salt and pepper.
Brown of the sausages in a pan with a splash of oil for a couple of minutes on each side.
When the oven and skillet are searingly hot, add the sausages and then pour in the batter.
Transfer to the oven and cook for 20-25 minutes.
Notes
This would traditionally be served with some vegetables and an onion gravy, however my glorious wife introduced me to her tradition of eating it with garden peas and tomato ketchup... Dirty yes, tasty, hell yeah!
Nutrition Information:
Yield:
2
Serving Size:
1
Amount Per Serving:
Calories:

1121
Total Fat:

73g
Saturated Fat:

26g
Trans Fat:

0g
Unsaturated Fat:

42g
Cholesterol:

1010mg
Sodium:

1117mg
Carbohydrates:

57g
Fiber:

2g
Sugar:

2g
Protein:

55g