Bubble and Squeak is traditionally a left over dish, I like to do mine a little differently and blast it all in a cast iron skillet and rock it with an egg or two.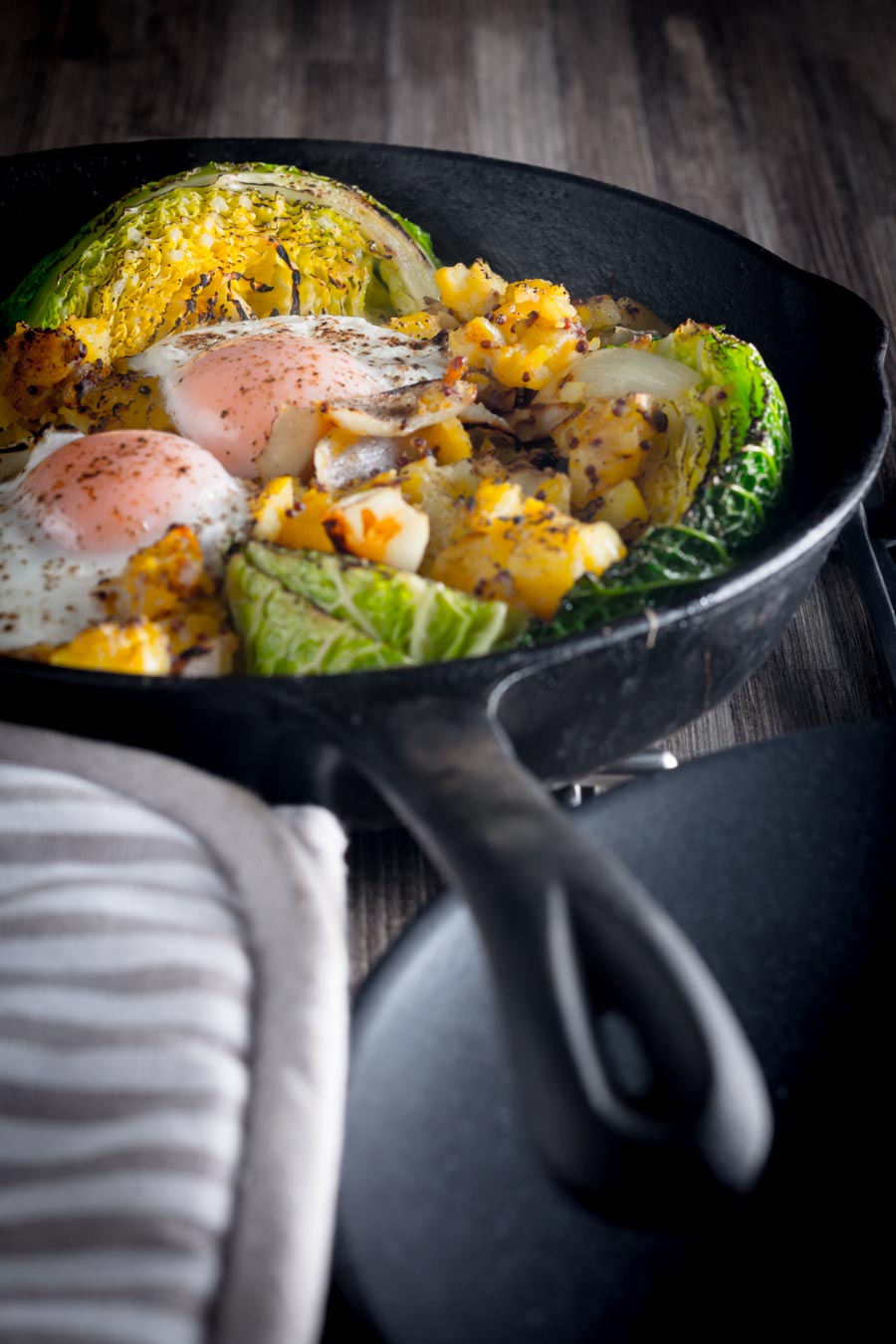 What Is Bubble and Squeak?
The name bubble and squeak dates back to 1806 in print and as is always the way probably a lot earlier than that too.
It is a quintessentially British dish that has strong regional differences much like toad in the hole. As a result, it is another one of those recipes that means so many things to different people.
I was always bought up with bubble and squeak being leftover boiled potatoes and cabbage. Those leftovers were typically from a Sunday Lunch and Bubble and Squeak was Monday dinner.
For many bubble and squeak is a breakfast recipe. Although the notion of a fried leftover potato cake for breakfast has always seemed odd to me.
Now I cook very differently to my mother and grandparents. Life changes and moves on and likewise my version of a bubble and squeak recipe has moved on too!
I hardly ever cook with leftovers in mind, I'm far too greedy for that, leftovers just mean a larger dinner to me. But that does not mean I have fundamentally changed the traditional elements of the recipe.
I've just rearranged them, all of the flavours are there as are the textures.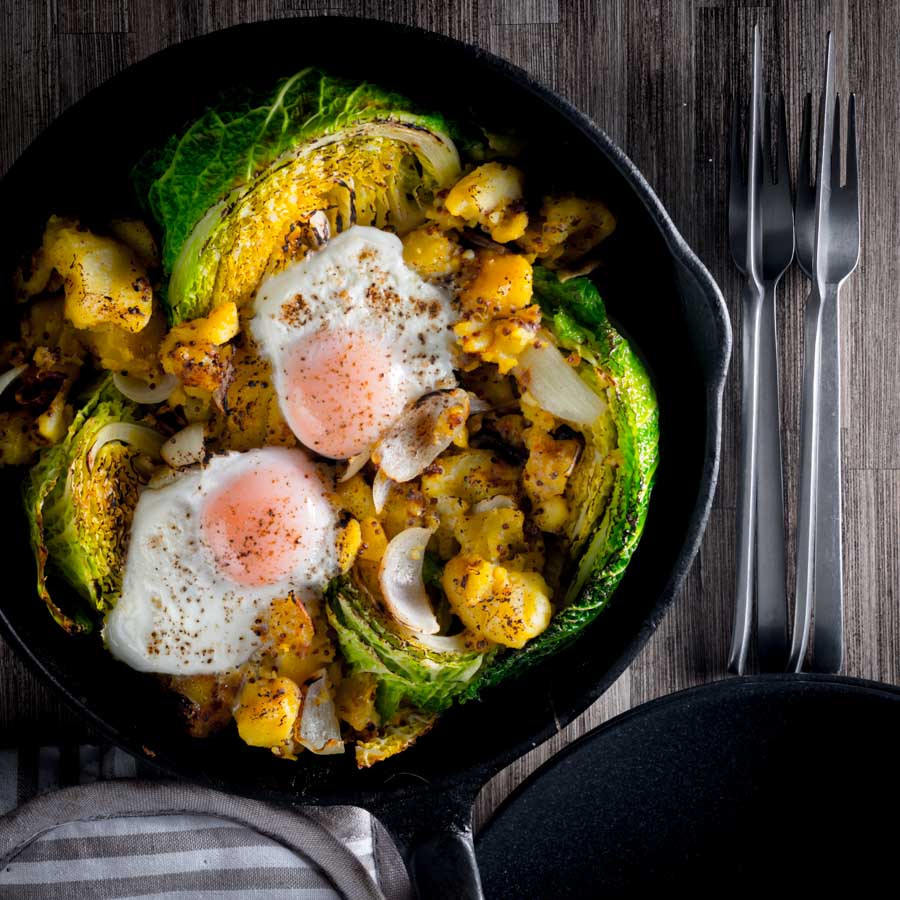 Classic Leftover Recipes.
Now whilst this may not be a leftover dish for me but it is still incredibly frugal. When I say frugal I mean pretty much free because the cabbage, onion, potatoes and eggs all come from our garden.
But in reality, all of the ingredients for bubble and squeak are cheap and it is a hearty filling dish.
As far as I am concerned there is nothing quite like the feeling of eating a dish in winter that you have lovingly and occasionally begrudgingly grown in your garden.
Whether it be Italian Arancini or the British Cottage Pie, food is littered with spectacularly good leftover recipes.
Now my lack of leftovers certainly does not mean I cannot make and enjoy these recipes.
Although one thing I can definitely have is leftover bread. If you are hunting for a dessert to follow up your bubble and squeak then look no further than Bread and Butter Pudding.
Of course, if you are on a health kick you should maybe look at my Panzanella salad instead, teehee!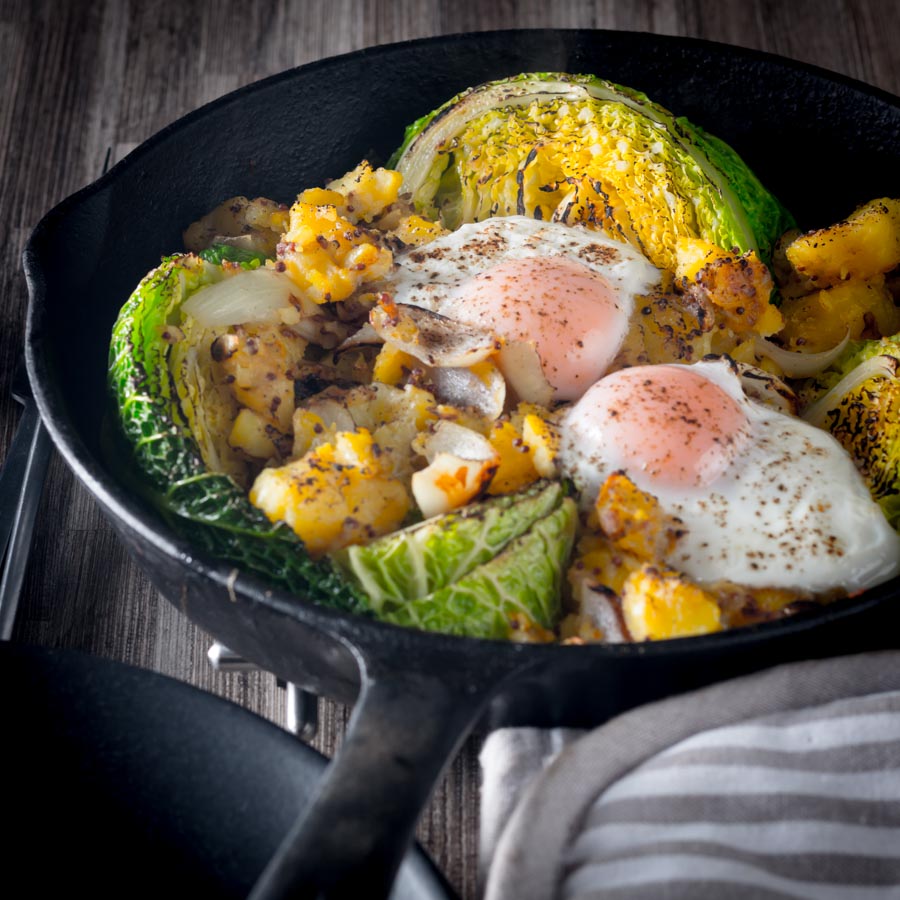 Cooking In A Cast Iron Skillet.
My recipes show that I love cooking in a cast iron skillet. They keep and transmit heat so wonderfully meaning they are perfect for recipes cooked in an oven.
Having said that any heavy-based frying pan will do for this recipe. The key is making sure everything gets coloured up nicely.
Just like my paella recipe the magic is in the blend of crispy caramalised bits and soft and comforting bits.
Most importantly you should make bubble and squeak recipe your own.
Put whatever you want in there, if the vegetables are in season they will work together don't worry about it.
You want a little bit of variation between starchy stuff and greens, I made one with sweet potatoes and sprouts that was fabulous.
I personally always eat this as a light vegetarian dinner. By all means, serve it up as a side to something like a simply grilled pork chop or chicken breast it works wonderfully.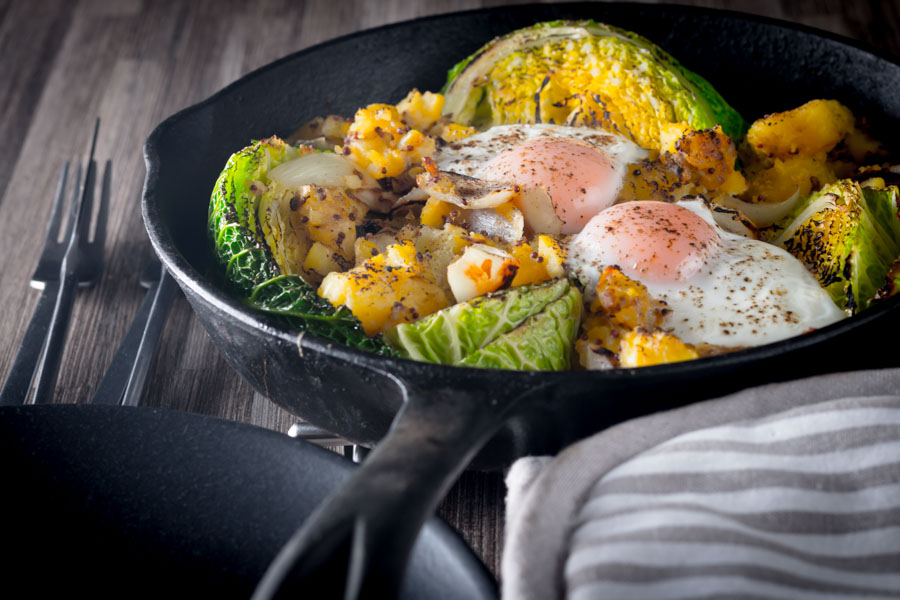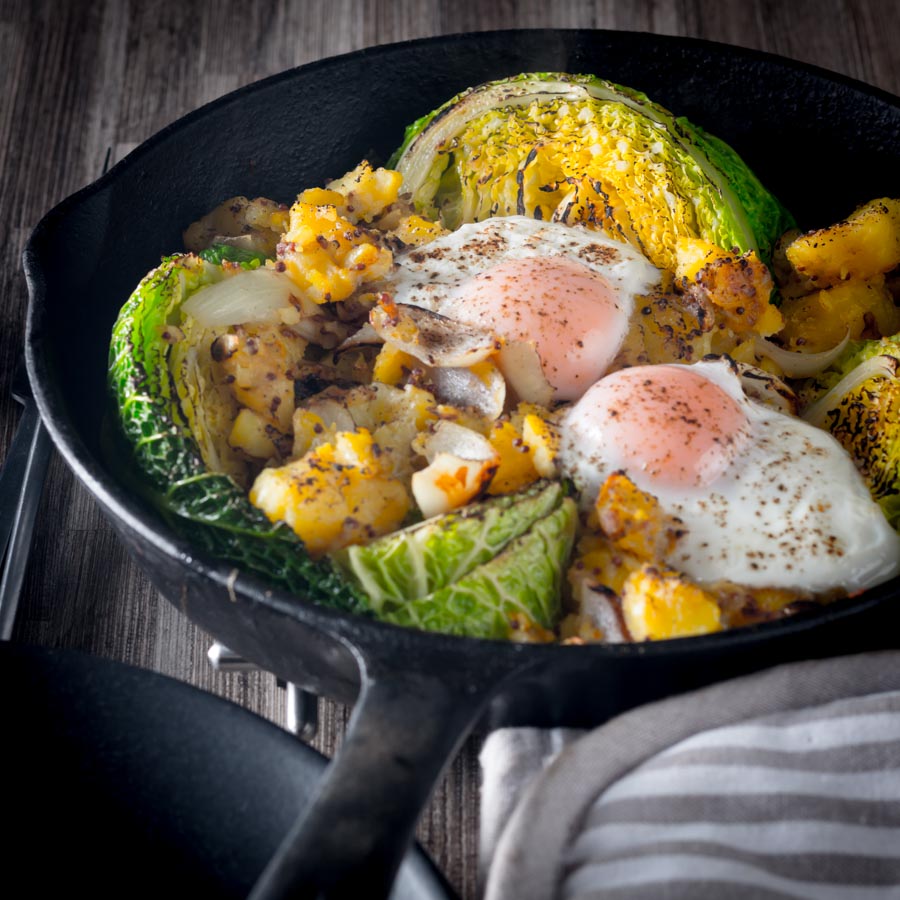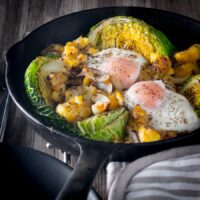 Skillet Bubble and Squeak
Bubble and Squeak is traditionally a left over dish, I like to do mine a little differently and blast it all in a cast iron skillet and rock it with an egg or two.
Ingredients
1 Tbsp Cooking Oil, Neutral
500 g Boiled Potatoes, Make sure they are cold and them break them up with your fingers don't cut them you want uneven edges and and sizes
1/2 Savoy Cabbage, Cut into quarters
1 Onion, Cut into 8 segments and then broken into leaves
1 Tbsp Grainy Mustard
2 Eggs
Salt and Pepper
Instructions
Bring some water to the boil and preheat your oven to as hot as you can get it.
Place the quartered cabbage in the boiling water and allow to cook for a couple of minutes, you just want to blanch to fix the colour and then refresh in ice cold water.
Bring the cast iron pan to temperature and once the pan is hot add in the oil and then the onions.
Stir around for a minute or so, they should colour up really quickly.
Add in the potatoes and let sit for a 3-4 minutes, again they should begin to colour really quickly.
Then add the grainy mustard and stir, then nestle in the quartered cabbage and place in the preheated oven for 5 minutes.
Crack in two eggs and return to the oven for 10 minutes or until the eggs are cooked and serve hot.
Notes
I have assumed that you have some 'left over' boiled potatoes in my timings, and they should be cold before you start.
Nutrition Information:
Yield:

2
Serving Size:

1
Amount Per Serving:
Calories:

385
Total Fat:

12g
Saturated Fat:

2g
Trans Fat:

0g
Unsaturated Fat:

9g
Cholesterol:

186mg
Sodium:

323mg
Carbohydrates:

58g
Fiber:

7g
Sugar:

5g
Protein:

13g
Calorific details are provided by a third-party application and are to be used as indicative figures only.