Bubble and squeak is a quintessentially British leftovers recipe, featuring potatoes & greens, it is perfect for breakfast, lunch or dinner!
This version is both vegetarian and vegan and forms individual patties rather than one large "cake", and if you are using leftover veg, it takes just 10-15 minutes to make.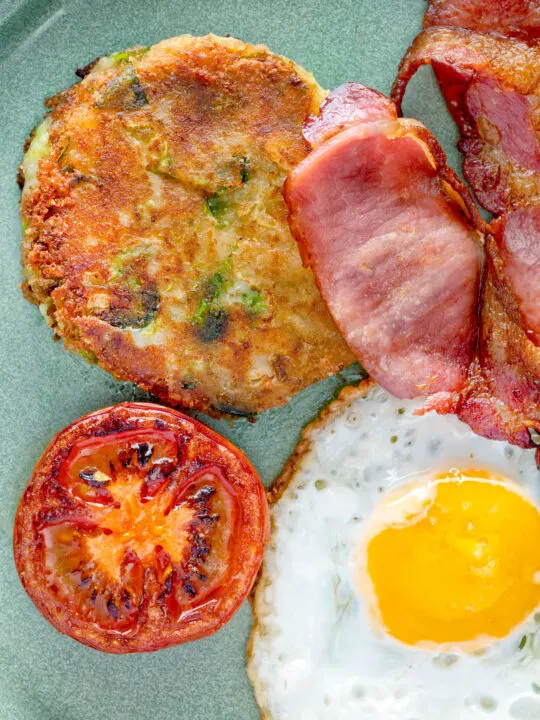 Leftover Potato Cake.
The name bubble and squeak dates back to the 18th century in print.
They are a potato cake made from leftovers, usually leftovers from Sunday lunch, in that sense they are very similar to Irish Boxty.
It is a quintessentially British dish that has strong regional differences much like a cottage pie. As a result, it is another one of those recipes that means so many things to different people.
I was always bought up with bubble and squeak being leftover boiled potatoes and cabbage.
Those leftovers were typically from a Sunday Lunch and this is what we had for "tea" on Monday.
I am now much more likely to cook this with sprouts and I also add mustard. My grandparents would have thought me terribly extravagant!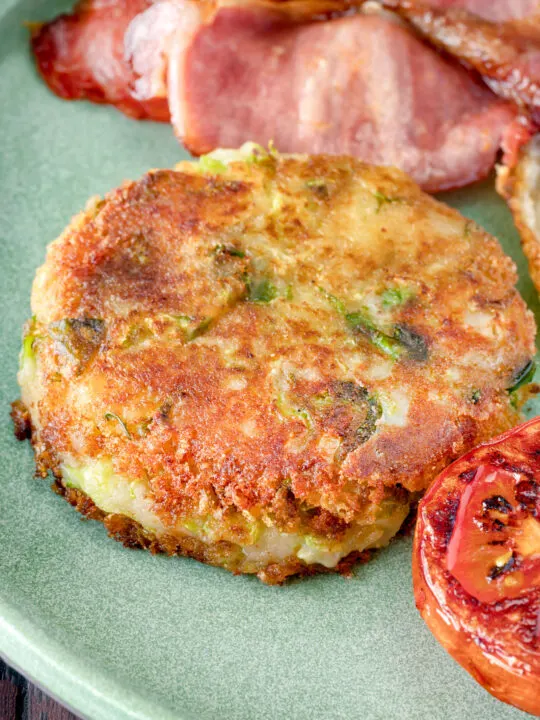 Frequently Asked Questions
What sort of potatoes should I use?
You can get away with anything apart from very waxy salad potatoes because they will not hold together. The more floury potato, the softer and more "mash" like the bubble and squeak will be.
Can I use leftover mashed potato?
It depends, I put an obscene amount of butter in my mash and that makes it unsuitable for this recipe. If you are more moderate with your butter/cream usage then yes!
Do I have to use Brussel sprouts?
Nope, any old greens will do, everything from cabbage to kale. But if you using leafy greens be sure to dry them well before mixing them with the potatoes.
What is Henderson's Relish?
It is similar in many ways to Worcestershire sauce. It is not the same and folk love to argue about which is the best, I use it in this recipe because it is both vegetarian and vegan.

Worcestershire sauce contains anchovies, but if that is not a concern for you, use that instead!
Can I make this in bulk?
Absolutely! Freeze them up before frying then cook them up right from frozen when you want them. They take 8-10 minutes to cook from frozen at a medium heat.

I freeze them on a baking tray, then stack them with baking parchment between them in a bag.
One final suggestion!
If you are not vegan or vegetarian, try cooking these in a hard fat. Something like beef dripping, lard, bacon, duck or goose fat really make these sing!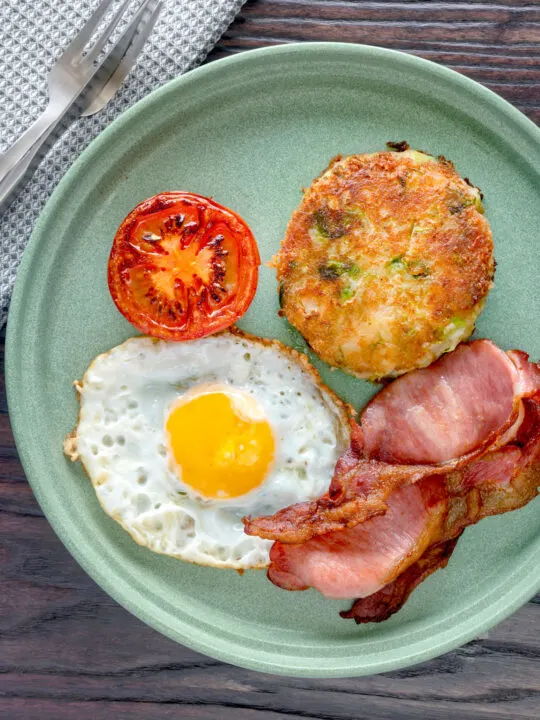 Serving Suggestions.
We have established that I am not vegan or vegetarian so I am free to serve this with eggs and bacon. I usually opt for fried eggs but scrambled eggs would be awesome too!
If I'm feeling greedy I'll add some sausages too!
It is also great with some thick-cut bacon chops!
This is often considered to be a breakfast recipe. Now I'm just a regular guy and speaking honestly breakfast is a far more simple affair than this recipe!
Despite the fact that this is eye-wateringly easy it is a lunch or dinner meal for me.
If you like the flavours but are less keen on getting your hands mucky then you should try my cabbage and potato bake. It is essentially a deconstructed bubble and squeak!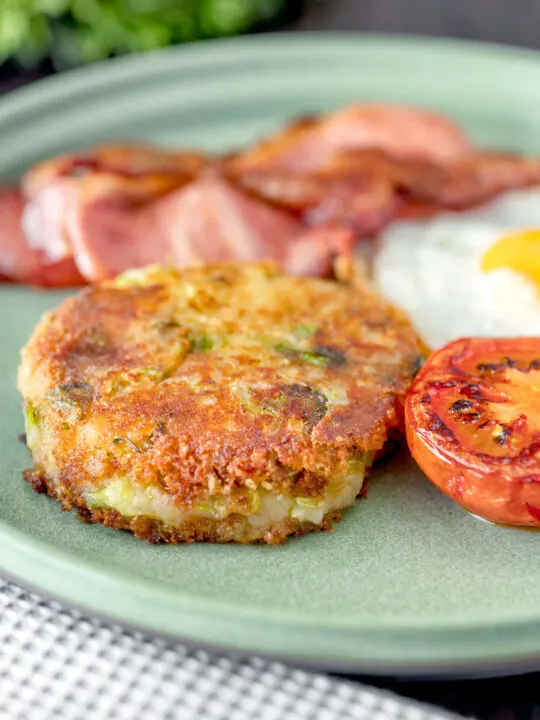 Equipment Used
I do not recommend specific brands of equipment unless I think that it will make a material difference to a recipe. If you have any questions, feel free to ask them in the comments section below the recipe.
Mixing bowl.
Weighing scales and or measuring cups and spoons.
Sharp kitchen knife.
Chopping board.
Stovetop.
Frying pan, 24cm or 10″+. You can use either a nonstick or reactive pan, I favour a reactive pan.
9cm or 3½ cookie cutter (optional).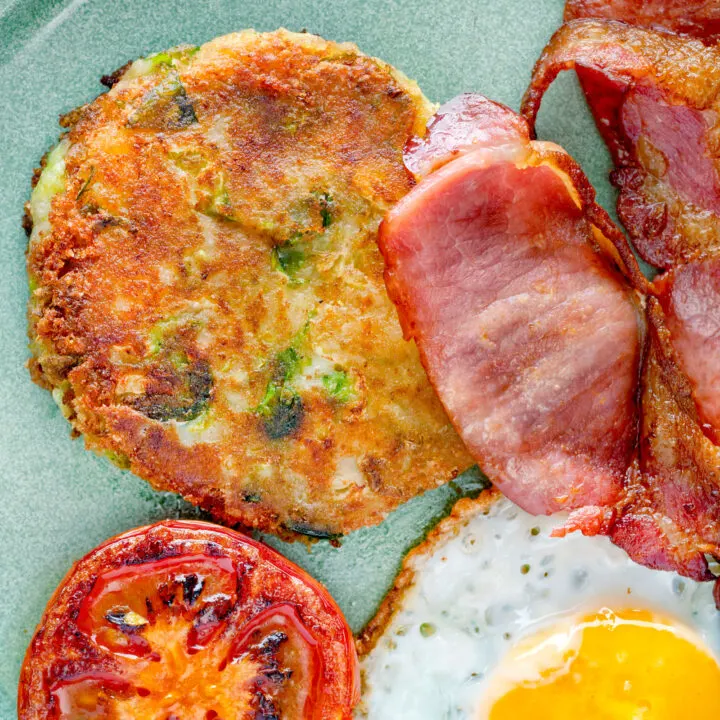 Yield:

2 Servings
Traditional Bubble and Squeak Recipe
Blessed with one of the most fun names in food, bubble and squeak is a delicious and simple leftover potato and cabbage recipe.
Ingredients
200g (1½ Cups) Leftover Boiled Potatoes
100g (1 Cup) Leftover Sprouts
1 Tsp English Mustard
1 Tbsp Hendersons Relish
½ Tsp Salt
¼ Tsp Black Pepper
1 Tbsp Flour
2 Tbsp Cooking Oil
Instructions
Place the potatoes in a bowl and gently crush them with the back of a fork.
Shred the sprouts as finely as you can.
Add in the mustard, Hendersons relish and then season with salt and pepper.
Form into 2 potato cakes in a 9cm or 3½" cookie cutter, you can free-form them too!
Roll the patties in the flour.
Heat the oil over a medium-high heat in a frying pan at least 24cm (10") in diameter and fry the potato cakes for 3-4 minutes on each side.
Nutrition Information:
Yield:
2
Serving Size:
1
Amount Per Serving:
Calories:

213
Total Fat:

14g
Saturated Fat:

1g
Trans Fat:

0g
Unsaturated Fat:

13g
Cholesterol:

0mg
Sodium:

674mg
Carbohydrates:

20g
Fiber:

2g
Sugar:

3g
Protein:

2g
Calorific details are provided by a third-party application and are to be used as indicative figures only.