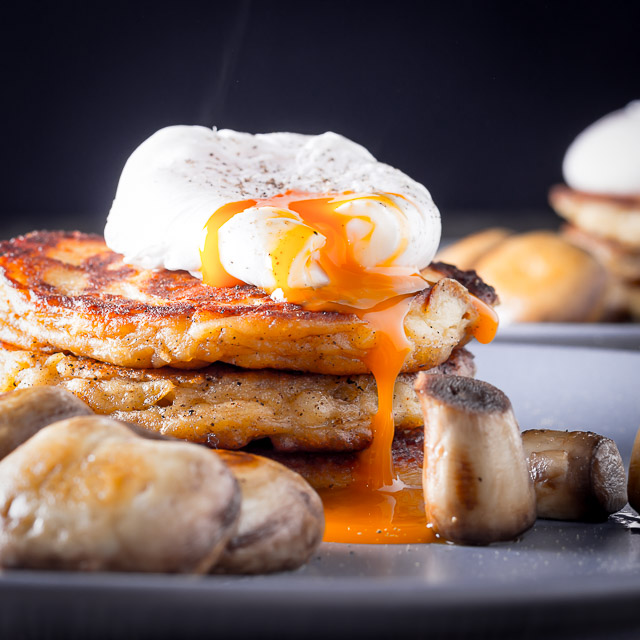 My Boxty or Irish potato pancake recipe shares its origins, with me at least, with my French Onion Soup recipe, my student days… This delight was something cooked up by an Irish guy I shared digs with and I am ashamed to say I cannot remember his name, but he swore it was the perfect hangover recovery recipe and we lived off it far more often than should have been allowed. Over the years I have kicked around with playing with this recipe, my mate would always say that his 'Ma' would make Boxty with left over mashed potato but as students we never had any of that to hand. So essentially we would grate a potato, make a pretty standard pancake 'ish' batter throw in the spuds and off we go, in fact on more than one occasion we would even add Guiness to the mix. How I survived my student days I have no idea!
Well my Boxty recipe now is a little more grown up but only just and just as my student days I never have any left over mashed potato so have top make up a little batch the night before which makes it less spontaneous. But nevertheless it is a proper breakfast pancake with real substance, but they remain fairly light and they taste tremendous, I had no idea what 'buerre noisette' was when I was a student but cooking them in nutty brown butter adds a great flavour and for me it has to be served with a simple poached egg. As a student we went with fried eggs as not one of us would have been able to poach an egg for love nor money and if we had not have run out of 'grant' money, yes I went to University when it was free, we wold probably have served it with bacon! So I'll raise my coffee cup to absent friend of whim I can no longer remember their name but I send my thanks for the genus of my Boxty recipe!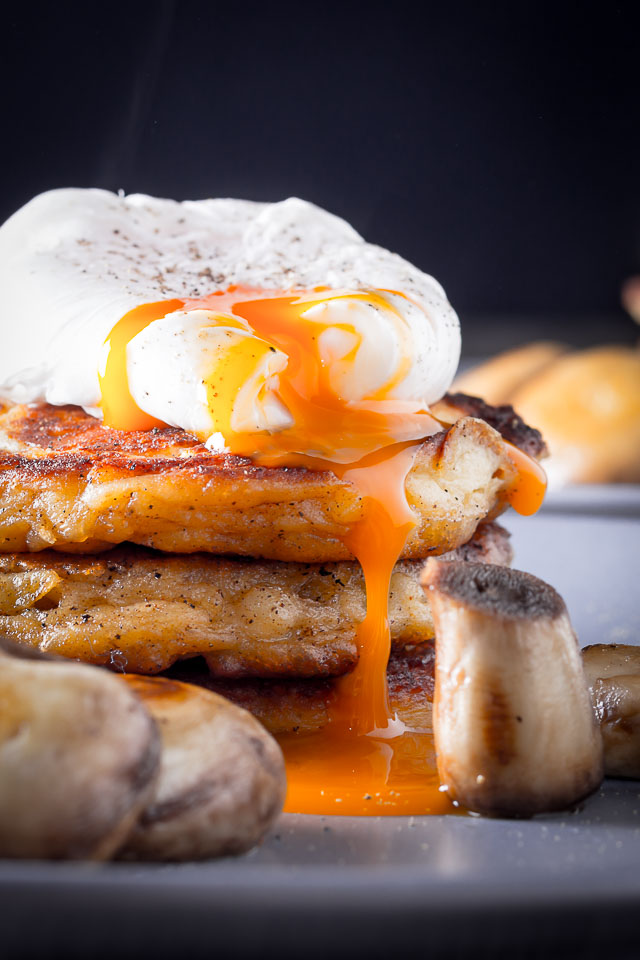 Print
Boxty: Irish Potato Pancakes
Boxty are an Irish potato pancake that I maintain are the worlds finest hangover cure and as an Englishman that is not easy to say!
Ingredients
65

g

Plain Flour.

130

g

Mashed Potato:

Left overs if you have any.

85

g

Grated Raw Potato.

1

Egg.

1

Tsp

Baking Powder.

1/2

Tsp

Coarse Sea Salt.

Black Pepper:

Good grind.

60

ml

Milk.

Butter for Cooking.
Instructions
Mix together all of the ingredients in a bowl with the exception of the milk

Slowly add in the milk until a spoonable batter is formed.

Add about 50g of butter to a pan and take it to buerre noisette or brown butter stage over a medium heat.

Add a heaped table spoon full of the batter to the butter to form the pancakes and cook on one side for 3-4 minutes and then flip and cook the second side for 2-3 minutes.
Recipe Notes
I like to serve it with a poached egg and some mushrooms, but go to town add bacon and baked beans too if you wish.