Boxty are a traditional Irish potato pancake and make for an indulgent breakfast!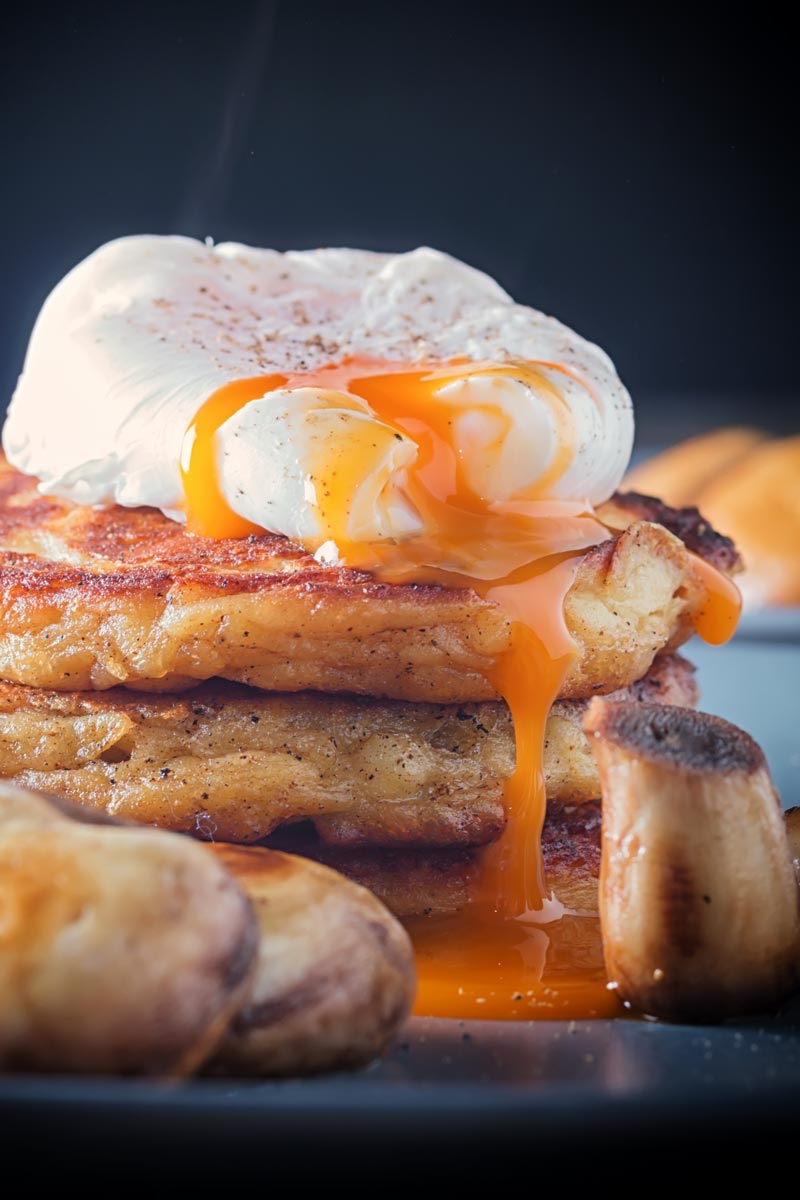 Irish Potato Boxty Breakfast Pancakes.
This old fashioned pancake recipe has been part of my cooking life since my student days, just like my beef stew recipe.
This delight was something cooked up by an Irish guy I shared digs with. I'm ashamed to say I cannot remember his name.
He swore that Boxty was the perfect hangover cure and we lived off them far more often than should have been allowed.
Over the years I have kicked around with playing with this recipe. My mate would always say that his 'Ma' would make Boxty with leftover mashed potato.
But as students, we never had any of that to hand.
So essentially we would grate a potato, make a pretty standard pancake 'ish' batter throw in the spuds and off we go.
In fact, on more than one occasion we would even add Guinness to the mix. How I survived my student days I have no idea!
Well, this Boxty recipe is a little more grown-up now but only just.
And just as my student days I never have any leftover mashed potato so have to make up a little batch the night before.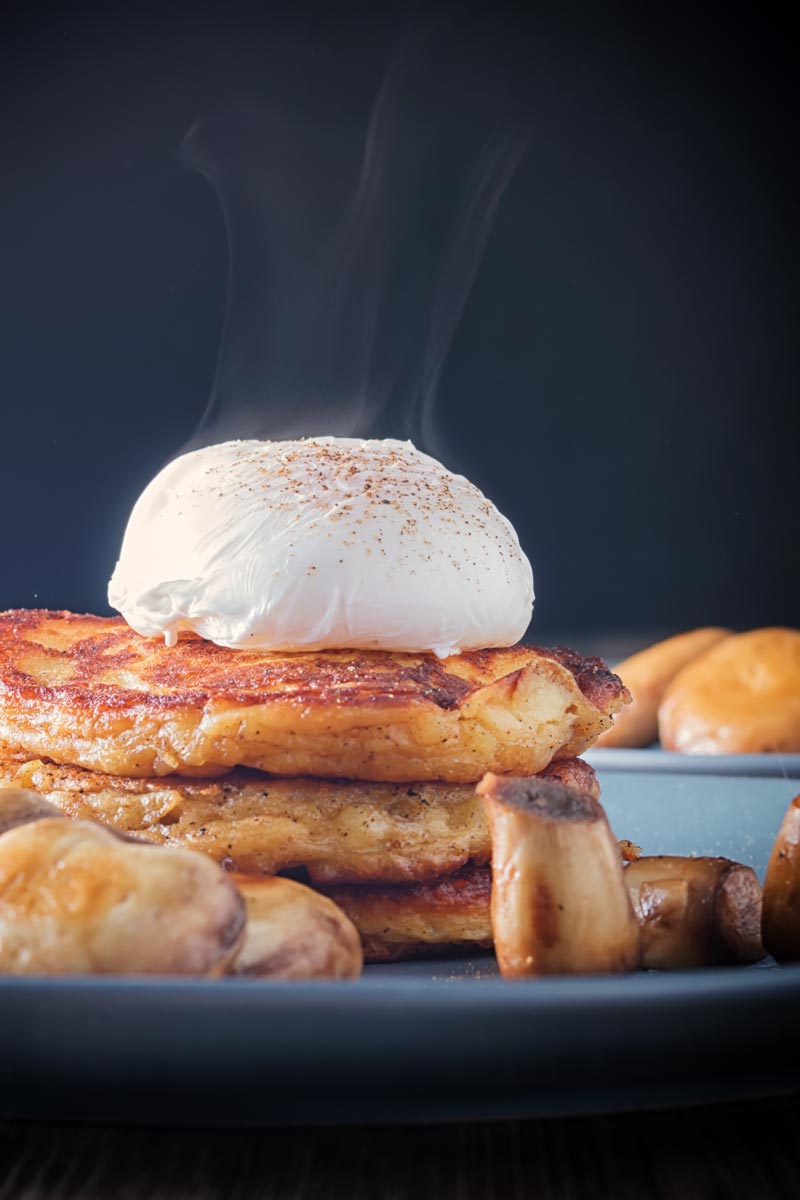 Choosing the Potatoes.
Your choice of potatoes is very important when making boxty.
Just like cooking perfect chips or mashed potatoes you want a good floury potato.
There was once a time that potatoes would have been sold by variety. But gone are the days of being able to pick up a good Maris Piper or King Edwards.
The good news is that you can tell whether a potato is floury.
Cut it open and rub it on a glass, as it dries a floury potato will leave a floury residue. This residue is starch and means a perfect boxty recipe!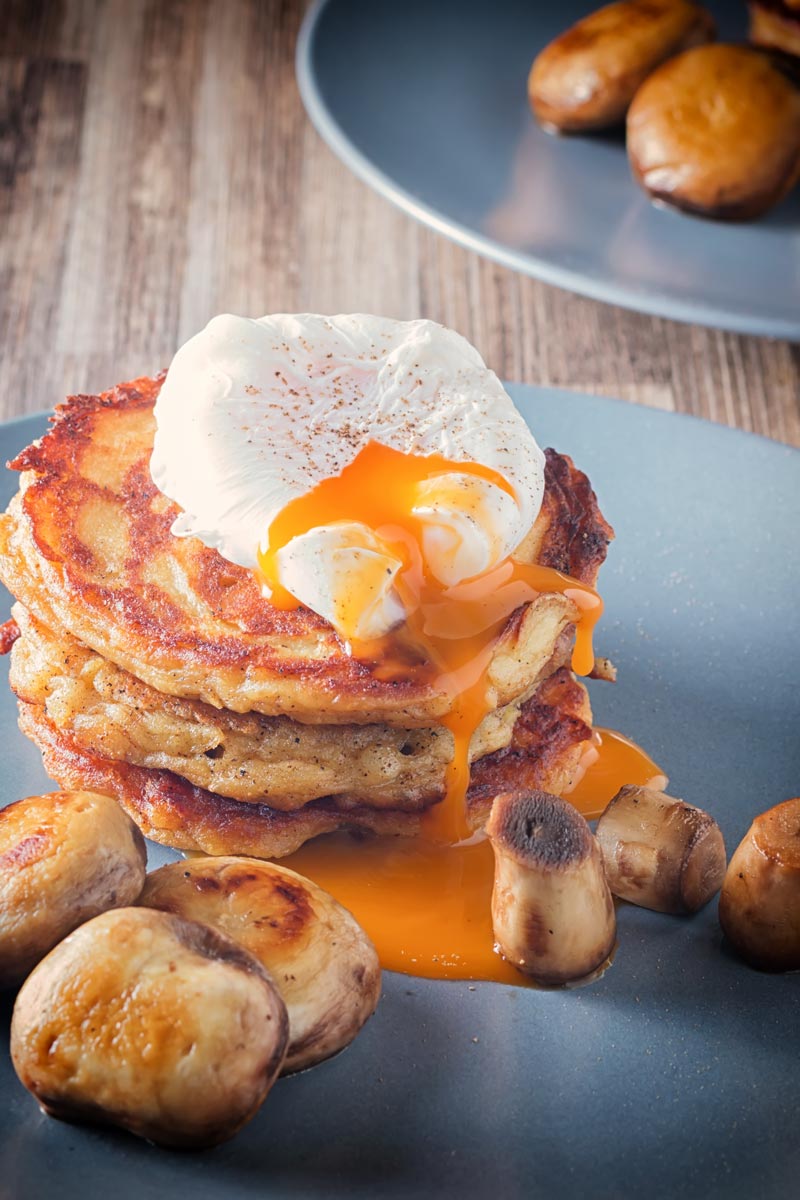 How To Cook The Perfect Poached Egg.
The internet is full of hints and tips for the perfect poached egg.
Most of them miss out the real answer, probably because it is very difficult to ascertain.
The fresher your egg the easier it is to poach, it is as simple as that.
Our eggs are from our chickens and are usually 1-2 day old at most and result in a perfect poached egg every time no matter how they are cooked.
When you crack an egg you will notice that the white has two distinct textures.
As an egg ages the thicker part of the white breaks down. This is what makes poaching an older egg more difficult.
That does not help those of you without chickens in the garden, which I am sure is most of you.
There are a number of steps you can take.
Keep your water still and steady: If your water is rapidly boiling it will break up the egg.
Gently place the egg in the water: Crack the egg into a bowl or saucer first and gently add to the water.
Swirl the water: Creating a 'whirlpool' effect can help bring in the quite of the egg if it is quite old.
Vinegar and Salt: I see this hint every time and have tried it and it makes no difference whatsoever so I would skip this one.
Then it is a case of cooking, I favour a cooking time of 2-3 minutes. Then remove from the heat and allow to sit in the hot water for 6-7 minutes.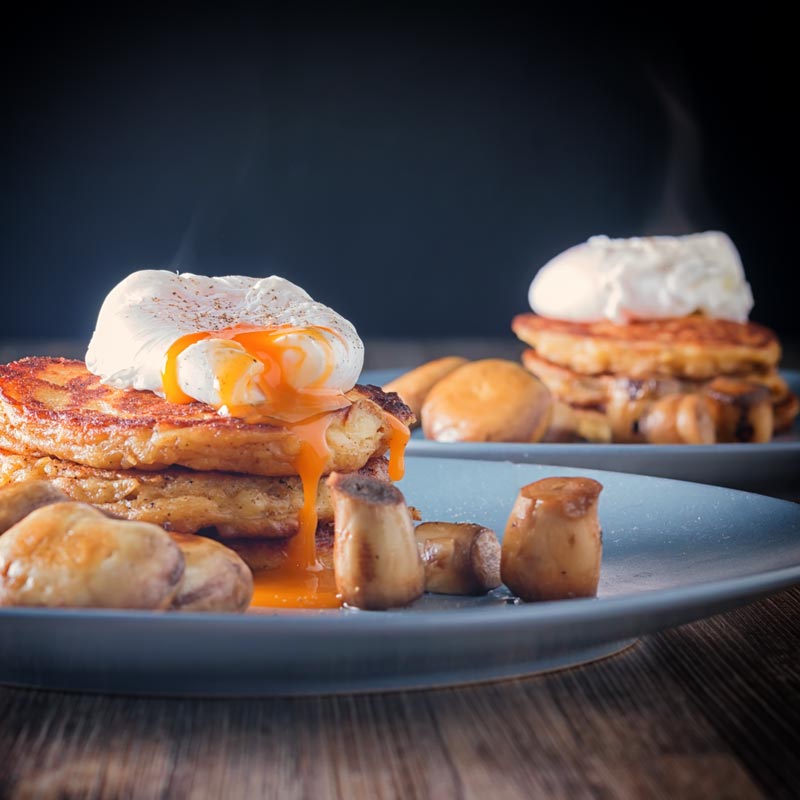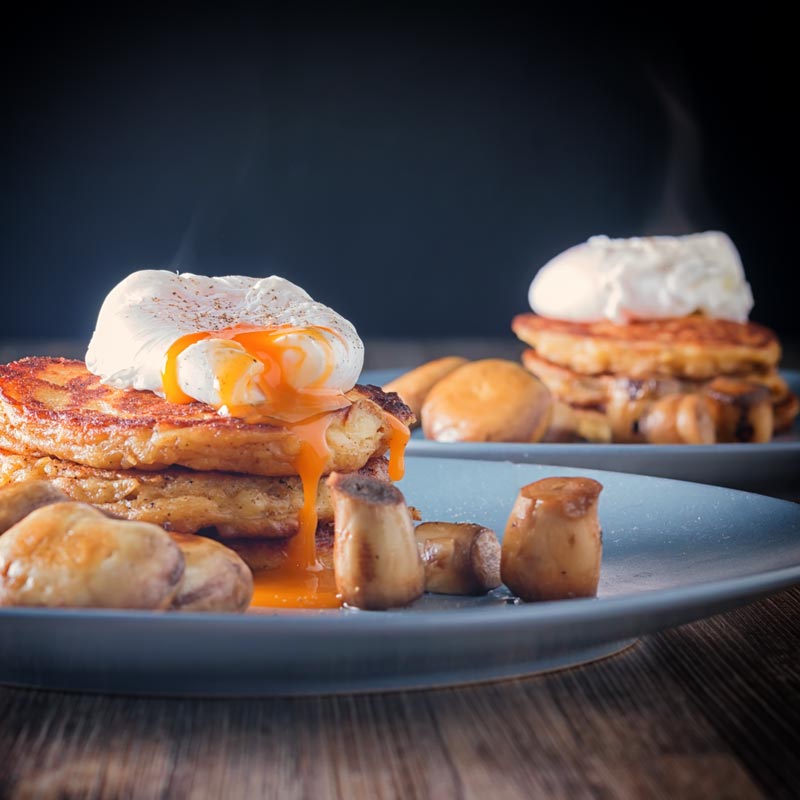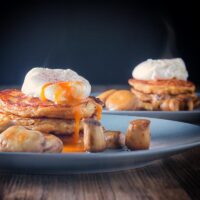 Boxty Pancake Recipe
I was introduced to these Irish Potato Pancakes when I was a student at University... I swear they remain the worlds finest hangover cure!
Ingredients
65 g Plain Flour
130 g Mashed Potato
85 g Potato
1 Egg
1 Tsp Baking Powder
1/2 Tsp Coarse Sea Salt
Black Pepper
60 ml Milk
Butter for Cooking
For Serving:
Instructions
Grate the potato
Mix together all of the ingredients in a bowl with the exception of the milk
Slowly add in the milk until a spoonable batter is formed.
Add about 50g of butter to a pan and take it to buerre noisette or brown butter stage over a medium heat.
Add a heaped table spoon full of the batter to the butter to form the pancakes and cook on one side for 3-4 minutes and then flip and cook the second side for 2-3 minutes.
Notes
I like to serve it with a poached egg and some mushrooms, but go to town add bacon and baked beans too if you wish.
Nutrition Information:
Yield:

2
Serving Size:

1
Amount Per Serving:
Calories:

375
Total Fat:

14g
Saturated Fat:

6g
Trans Fat:

1g
Unsaturated Fat:

6g
Cholesterol:

204mg
Sodium:

1180mg
Carbohydrates:

48g
Fiber:

3g
Sugar:

2g
Protein:

13g
Calorific details are provided by a third-party application and are to be used as indicative figures only.