A Cartmel style Sticky Toffee Pudding is a modern British classic recipe, featuring sticky dates and a wonderful caramel sauce it is a pudding lovers dream.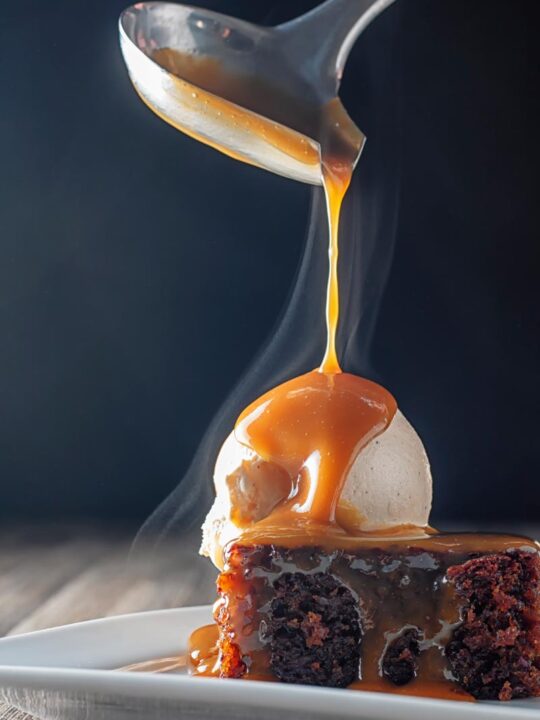 A Modern British Classic.
First of all, I cannot claim this recipe in any way shape or form and I can't really attribute it to anyone either. That is because it was scribbled on a piece of paper stuffed in the back of a cookery book I bought at a second-hand store.
However it is a recipe like many of mine born out of memories. When I married my wife we kinda ran away to Gretna Green with a small group of friends and family.
We threw our wedding reception for a coupe of hundred people the week after.
On the way home we made a pitstop and spent a few days staying in a cottage right opposite the Cartmel village shop. The spiritual home of sticky toffee pudding.
Many assume this recipe to be far older than it actually is. It was originally developed in 70's by Francis Coulson.
I love it because it reminds me of childhood, just like my other favourite desserts, rice pudding and Bakewell tart.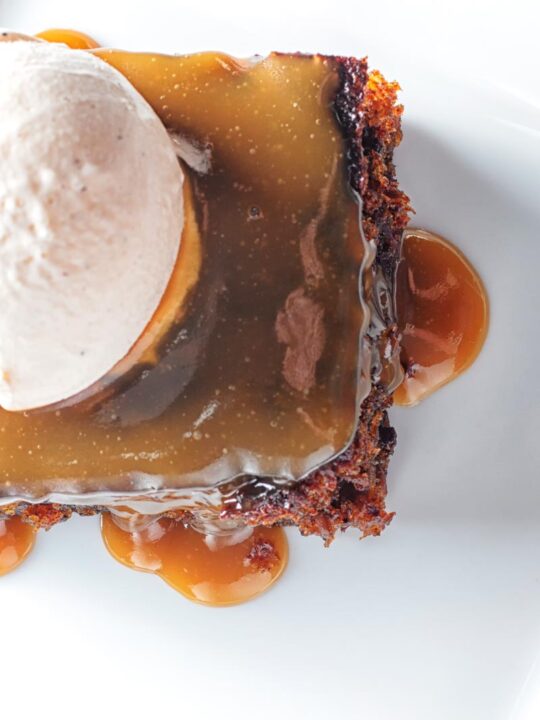 Cooking Advice.
This recipe is extremely easy to cook, it is however time consuming!
We often make a link with things that take time and them being difficult. This really is not the case, we are just becoming increasingly time poor.
The first thing to note is that if you are from the US and you have found your way here then you will have no idea what black treacle is.
It is largely the same as a medium molasses, as far as I can ascertain.
Just like making muffins it is important that you do not overwork the mix. Just bring it all together with a spoon and you are good to go.
The making of the caramel sauce is where things can go wrong.
The only failures I have had when making this is when I have stopped stirring the sauce in the initial phase. When I do the failure rate is 50%!
Once you have a silky smooth sauce then it is important to remove it from the heat before adding the final two ingredients.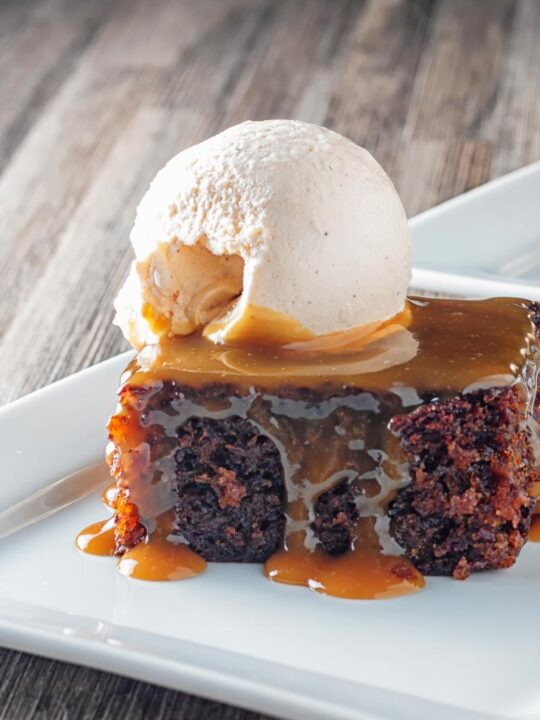 Serving and Storing.
This is a bog dessert for someone cooking for two. However every attempt I have made to scale down this recipe has been disappointing.
The good news is that it freezes wonderfully. I cut this into 8 equal slabs and place in those disposable foil oven trays.
I pour over a little sauce and then freeze. To reheat you simply place in an oven covered with foil at 150°C or 300°F for 40-50 minutes.
Whip up some more caramel sauce and serve.
There is an ongoing debate as to how to serve this rib sticking dessert. Is it ice cream or custard?
I firmly fall on the side of ice cream!
Those that say custard are forbidden permission to cook my recipe! Just kidding… or am I?
I personally love the contrast between a hearty warm dessert and sweet cold ice cream.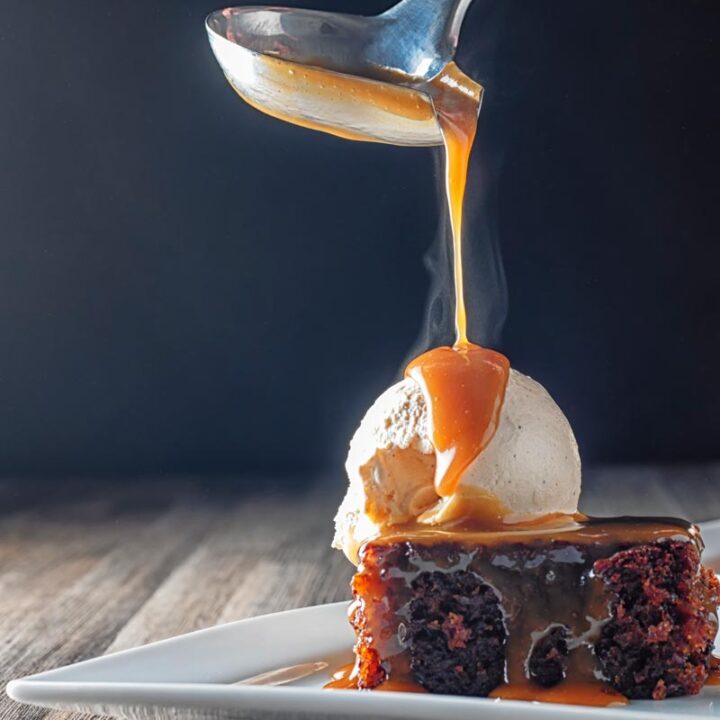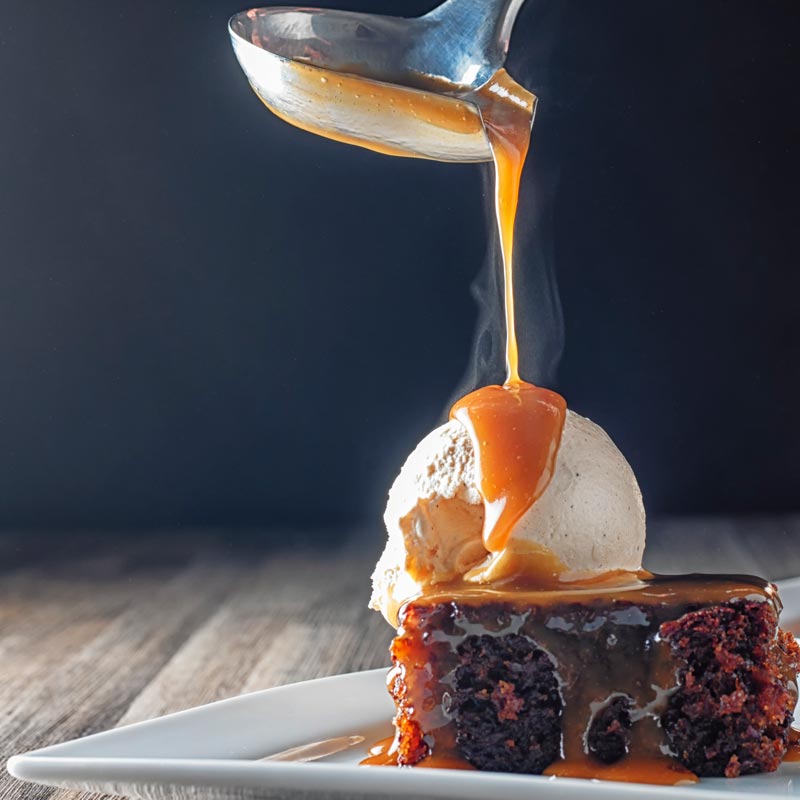 Yield:

8 Servings
Sticky Toffee Pudding Recipe
Cook Time:
1 hour
15 minutes
Total Time:
2 hours
15 minutes
Not to be confused with a cake, Sticky Toffee Pudding is an old school rib stickingly wonderful English Dessert from the 1970's whose spiritual home is the Cumbrian village of Cartmel.
Ingredients
For the Pudding
250 g (1 Cup) Dates
175 ml (3/4 Cup) Boiling water
1 Vanilla Pod, Seeds Only
100 g (1/2 Cup) Softened Butter
150 g (3/4 Cup) Muscavado Sugar
2 Eggs
2 Tbsp Black Treacle
100 ml (1/3 Cup + 1 Tbsp) Full Fat Milk
175 g (1 1/4 Cup) Plain Flour
2 Tsp Baking Powder
1 Tsp Bicarbonate of Soda
For the Caramel Sauce
60 g (1/2 Stick) Butter
150 g (3/4 Cup) Muscavado Sugar
200 ml (3/4 Cup + 1 Tbsp) Double Cream
1 Tbsp Black Treacle
Instructions
Remove the stones and cut the dates into a 5mm dice.
Pour the boiling water over the dates, stir in the vanilla seeds and allow to steep for an hour until cool.
Preheat the oven to 180°C or 350°C.
When cooled mash the dates with the back of a fork.
Place the softened butter in a bowl and cream with brown sugar.
Add the beaten eggs slowly into the sugar and butter mix.
Mix together the flour, baking powder and bicarbonate of soda in a separate bowl.
Slowly mix in the milk and flour, bicarb & Baking powder mix until a thick dough is formed, do not over mix, you want to just bring the ingredients together.
Finally mix in the dates and black treacle.
Line a baking tray with baking parchment (25cm x 18cm).
Pour in the mix and bake for 60-75 minutes.
For the sauce heat the butter, sugar and half of the cream over a medium high heat until a sauce is achieved, stir continuously.
Stir in the Black treacle and the rest of the cream.
Serve with vanilla ice cream or custard.
Notes
Muscavado sugar is a dark relatively unrefined sugar with a strong and bold flavour, do not use alternative products often called "light muscavado" sugar.
Nutrition Information:
Yield:
8
Serving Size:
1
Amount Per Serving:
Calories:

829
Total Fat:

28g
Saturated Fat:

17g
Trans Fat:

1g
Unsaturated Fat:

9g
Cholesterol:

123mg
Sodium:

346mg
Carbohydrates:

143g
Fiber:

3g
Sugar:

120g
Protein:

7g