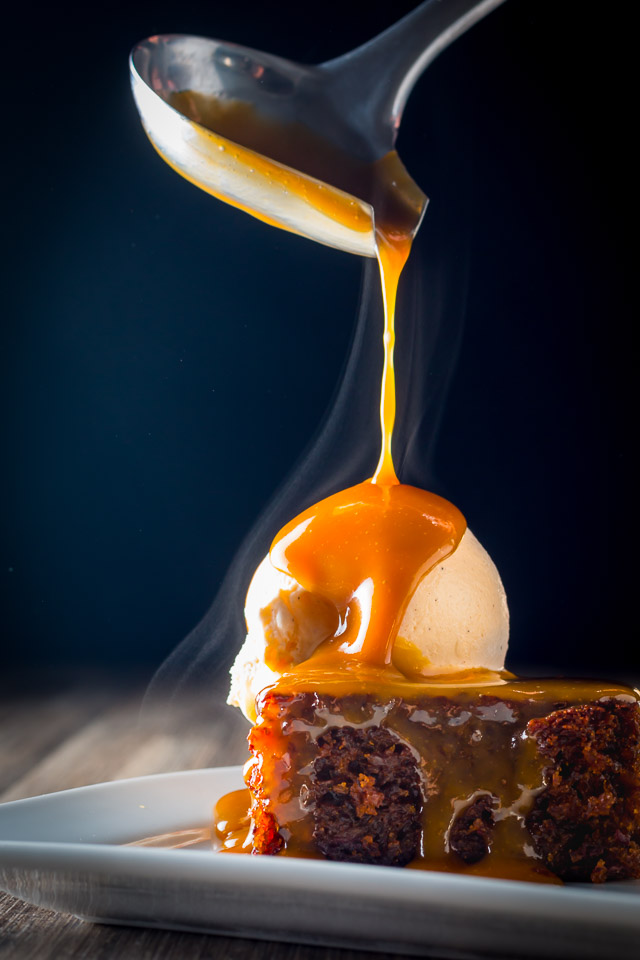 Here we go folks a collectors item a rare dessert and one that I love, sticky toffee pudding is not to be confused with a cake, this is a rich dark dessert made to make those purr who love the sweet sticky and indulgent. I cannot claim this recipe in any way shape or form and I can't really attribute it to anyone either, it was scribbled on a piece of paper stuffed in the back of a cookery book I bought at a second hand store.
However most sticky toffee pudding recipes are fairly standard with the genus being attributed to Francis Coulson who developed it for a country house hotel in the Lake District in the UK in the 1970's. In all likelihood this is a derivation on other recipes that no date go back many years, possibly hundreds, dried dates have been used to enrich British desserts for a very very long time and this is a peach of a recipe. I genuinely do not hanker after sweet food very often but when I do I want something really sweet none of this messing around, likewise on the health front… If I want a dessert don't faff around and give me a 'health conscious' dessert, give me something loaded with sugar and butter and a bit more sugar but of a different type, then top it with a sugar sauce and ice cream! This sticky toffee pudding is not just a good dish this is a great dish, my wife cites this as her favourite thing that I cook and whilst I don't do it often it is a recipe I have used for years and it always works and it is always amazing!
There is an ongoing debate as to how to serve sticky toffee pudding with there being bitter arguments over ice cream or custard, I firmly fall on the side of ice cream and those that say custard are forbidden permission to cook my recipe 😀 However presenting my sticky toffee pudding in this way was not without problems, now I shoot quickly all the food you see on my site is as it is eaten. I am not one of those folks who cooks a separate meal this is my dinner, lunch or supper and I have a deal with my wife that I can do this so long as our dinner is warm. However pouring a hot toffee sauce onto a cold ice cream presents a real challenge on the timing front, a fact that I had completely over looked in my planning!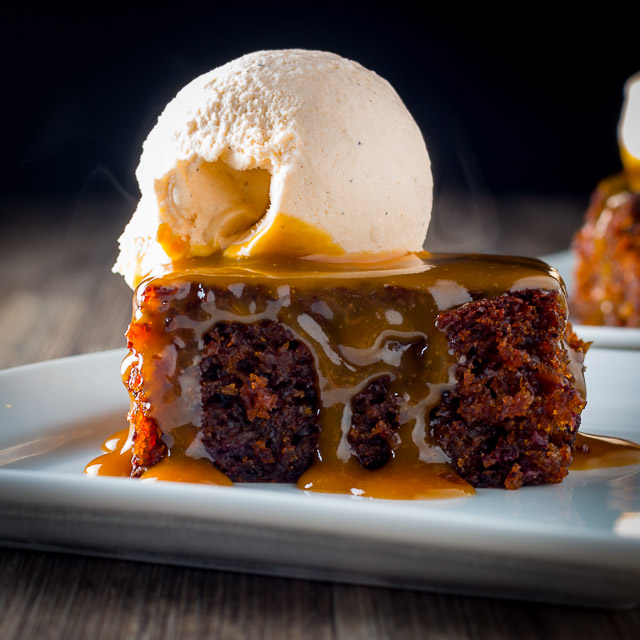 Print
Sticky Toffee Pudding
Not to be confused with a cake Sticky Toffee Pudding is an old school rib stickingly wonderful English Dessert from the late 60's early 70's.
Cook Time
1
hour
15
minutes
Total Time
2
hours
15
minutes
Ingredients
For the Pudding
250

g

Dates:

Stoned weight chopped into 5mm dice.

175

ml

Boiling water.

1

Vanilla Pod.

Seeds Only.

100

g

Softened Butter.

150

g

Brown Sugar.

2

Eggs:

Beaten.

2

Tbsp

Black Treacle:

Sub for Molasses.

100

ml

Full Fat Milk.

175

g

Plain Flour.

2

Tsp

Baking Powder.

1

Tsp

Bicarbonate of Soda.
For the Toffee Sauce
50

g

Butter.

150

g

Brown Sugar.

200

ml

Double Cream:

Heavy Cream in the US.

1

Tbsp

Black Treacle:

Sub for Molasses.
Instructions
Pour the boiling water over the dates, stir in the vanilla seeds and allow to steep for an hour until cool.

Preheat the oven to 180°C.

When cooled mash the dates with the back of a fork.

Place the softened butter in a bowl and cream with brown sugar.

Add the beaten eggs slowly into the sugar and butter mix.

Mix together the flour, baking powder and bicarbonate of soda in a separate bowl.

Slowly mix in the milk and flour, bicarb & Baking powder mix until a thick dough is formed, do not over mix, you want to just bring the ingredients together.

Finally mix in the dates and black treacle.

Line a baking tray with baking parchment (25cm x 18cm).

Pour in the mix and bake for 60-75 minutes.

For the sauce heat the butter, sugar and half of the cream over a medium high heat until a sauce is achieved, stir continuously.

Stir in the Black treacle and the rest of the cream.

Serve with vanilla ice cream or if you are dirty serve with custard :p
Recipe Notes
Unless you have a party of 8 cut the pudding into 8 squares and pour over an equal amount of the toffee sauce and freeze in an oven proof dish, simply place in the oven when ready and serve with ice cream.