Mini Bakewell tarts, a scaled-down version of a true British favourite featuring a sweet crust pastry filled with cherry jam and frangipane.
This recipe makes 4 perfect individual tartlets and they will last, if stored properly, for 3-4 days.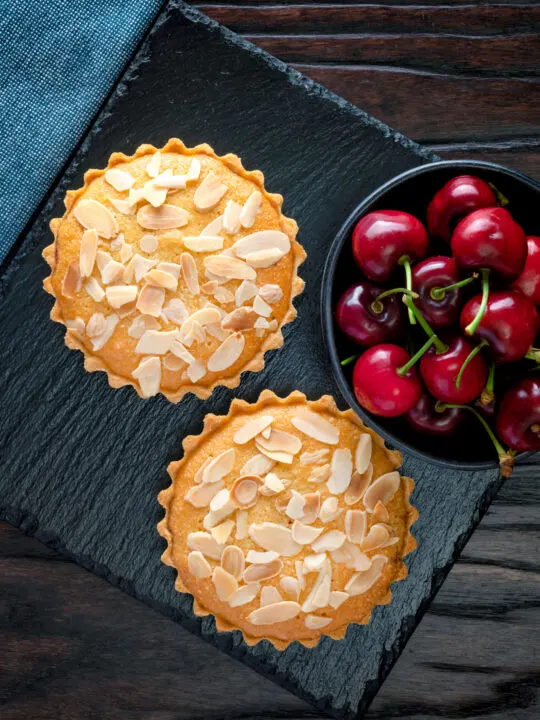 Homemade Bakewell Tart
When I was growing up Mr Kiplings Cherry Bakewells were my ultimate treat. Every single time I visited my Nan my sister and I would demolish a box fighting for the ones with the biggest glace cherry!
This recipe is an ode to those memories, but with a slant towards a much more classic Bakewell tart.
As I have grown older my sweet tooth has left the building as a result, these individual tartlets do not have the icing topping or the glace cherries I loved as a kid.
Like almost all of my dessert recipes, these individual Bakewell tarts have been scaled down. It reflects the fact that I cook for two people.
So they join other childhood favourites like lemon meringue pie, bread and butter pudding, strawberry crumble and cherry clafoutis in being designed for the smaller family.
Despite taking a while they are really very simple to make. The sweet crust pastry takes just 5-10 minutes in a food processor. The frangipane filling takes 3-4 minutes and baking aside making the tarts takes about 15 minutes.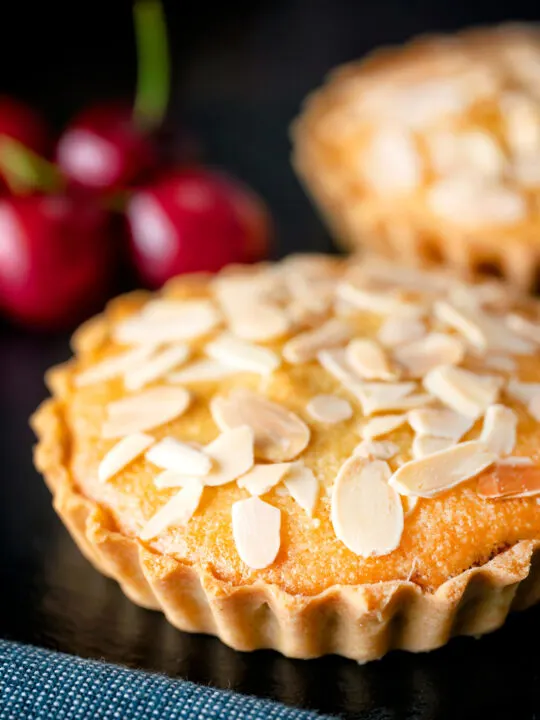 Frequently Asked Questions
Do I have to use a food processor to make the pastry?
No, you can make it by hand, but it is important that it stays cold and you work quickly.

Popping it into the freezer for 10 minutes if the butter gets too soft will help.
Why do I need to leave the pastry overhanging the tart case?
The pastry will shrink and change shape as it bakes. By leaving pastry overhanging you get a perfectly crisp edge to your tart.
Can I use a different type of jam?
Yes, knock yourself out! Raspberry jam is much more commonly found in a Bakewell tart but I prefer cherry jam. It is a not to those cherished childhood memories!

Another surprising option is apricot jam, apricots and almonds are a classic pairing.
Can these be made in advance?
Yes, the pastry can be made 2-3 days in advance and stored in the fridge. The frangipane is best made within 20 minutes of cooking though.

Once baked the tarts will store for 3-4 days in an airtight container.
What is caster sugar?
A question often asked by US cooks. Caster sugar in the US is called superfine sugar or bakers sugar, it is finer in texture than granulated sugar.

If you are struggling to source some pulsing regular sugar in a mini blender will get you pretty close.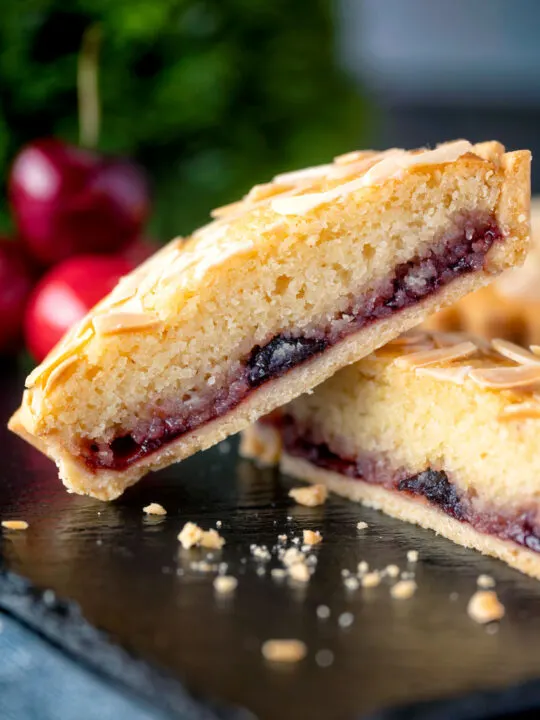 Serving Suggestions
I tend to eat these individual Bakewell tarts on their own. Maybe even in the middle of the afternoon with a cup of coffee!
However, if you wanted to serve them as a dessert, you could add a scoop of vanilla ice cream as I do with my sticky toffee pudding.
You could also add either a splash of pouring cream or even some chantilly cream.
I've even served them with a little Creme Anglaise or thin custard, it sounds odd but it works wonderfully!
Equipment Used
This is a list of the kit that I used to make these tarts. None of it is brand-specific unless otherwise stated.
Food processor (optional), for instructions to make the pastry without a food processor see the Frequently Asked Questions section.
4 x 9cm or 3½" mini tart cases.
Baking parchment.
Baking beans, I use ceramic baking beans.
Mixing bowls (any size is fine).
Measuring scales or measuring cups and spoons.
Sieve or sifter.
Oven.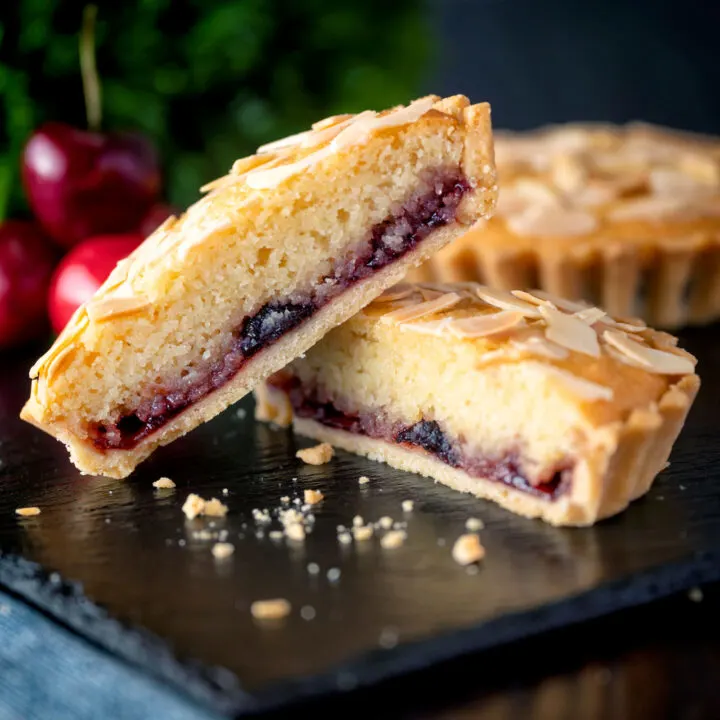 Yield:

4 Servings
Mini Bakewell Tarts Recipe
Cooling Time:
1 hour
30 minutes
Total Time:
2 hours
40 minutes
Mini or individual Bakewell tarts, crisp sweet crust pastry lined with cherry jam and filled with a simple frangipane.
Ingredients
For the Sweet Crust Pastry:
150g (1 Cup + 2 Tbsp) Plain Flour
50g (3 Tbsp + 1 Tsp) Icing or Powdered Sugar
75g (1/4 Cup + 1 Tbsp) Cold Butter
Pinch of Salt
1 Egg yolk
1 Tbsp Milk
For the Filling:
100g (1 Cup) Ground Almonds
50g (3 Tbsp + 1 Tsp) Caster Sugar
2 Eggs
4 Tbsp Cherry Jam
2 Tbsp Almond Flakes
Instructions
Sift the icing sugar into the bowl of a food processor.
Add the cold butter and flour and pulse until a breadcrumb texture is formed.
Add the egg yolk and once again pulse a couple of times.
Pou in just enough of the milk as the processor is spinning for the dough to form a ball in the bowl.
Remove the dough and wrap it in cling film and refrigerate for at least 1 hour.
Remove the dough from the fridge and cut it into 4 pieces (pinch a 2.5cm or 1" chunk off first and set that aside). Rewrap three of the pieces of pastry and return them to the fridge.
Roll the pastry on a well floured surface so that it is around 3mm thick and then line a fluted 9cm tartlet case (one with a push out base is best). Use that piece of pastry you pinched off in step 6 to help push the pastry into the fluted sides. DO NOT CUT OFF ANY OVERHANGING PASTRY.
Repeat the step above until you have 4 pastry-lined tartlet cases, place them on a baking tray, then line them all with baking parchment and pour in some baking or beans.
Place them in the oven and cook for 15 minutes at 180°C or 350°F. Then remove them from the oven and carefully remove the baking beans and parchment and put them back in the oven for another 5 minutes. Remove them and allow them to cool completely before continuing.
Using a sharp knife cut off the overhanging pastry using so that it sits flush with the tartlet cases.
Mix together the caster sugar and ground almonds in a mixing bowl, then add the eggs and mix it all together with a fork.
Place a tablespoon of jam (maybe a smidge less) in the base of each tartlet and spread it to form an even layer.
Spoon in the frangipane filling to each tartlet case until it sits flush with the pastry.
Sprinkle with the flaked almonds then place in the oven and cook for 32-35 minutes (or until golden) at 165°C or 330°F.
Remove and allow to cool before eating.
Nutrition Information:
Yield:
4
Serving Size:
1
Amount Per Serving:
Calories:

650
Total Fat:

35g
Saturated Fat:

12g
Trans Fat:

1g
Unsaturated Fat:

20g
Cholesterol:

180mg
Sodium:

346mg
Carbohydrates:

74g
Fiber:

4g
Sugar:

36g
Protein:

14g
Calorific details are provided by a third-party application and are to be used as indicative figures only.