Mr Kiplings Bakewell Tart are a happy memory from childhood, but this grown up version is better, I think Almond and Cherry are made for each other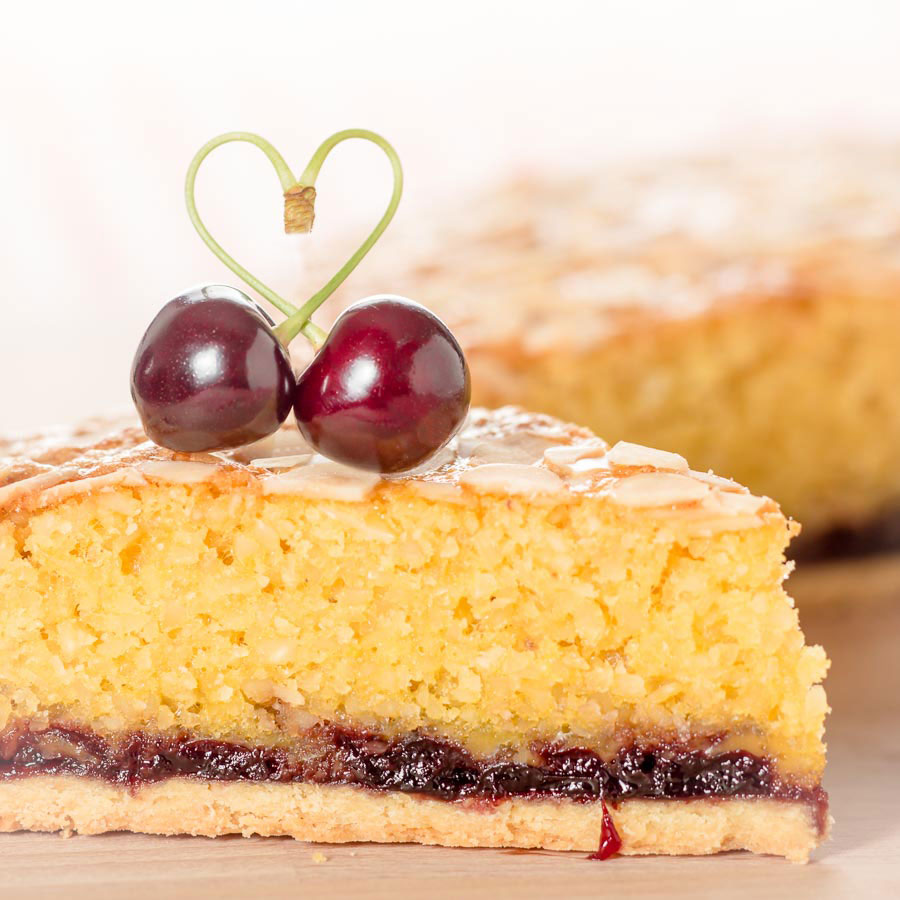 Cherry Bakewell Tart or Frangipane Tart
As a child a cherry Bakewell tart was a firm favourite of mine. However, they looked very different to this and were unbelievably sweet.
They were covered in a fondant icing and featured a Glace Cherry in the middle. Apparently they were 'exceedingly good' and I loved them. But I tried one last time I visited the UK and oh by did that Bakewell tart overwhelm with sweetness!
As I grew up I kind of lost my sweet tooth and still today I do not have any particular yearnings for sweet food. However, memories of childhood never fail to raise a smile and this bakewell tart recipe is certainly that for me.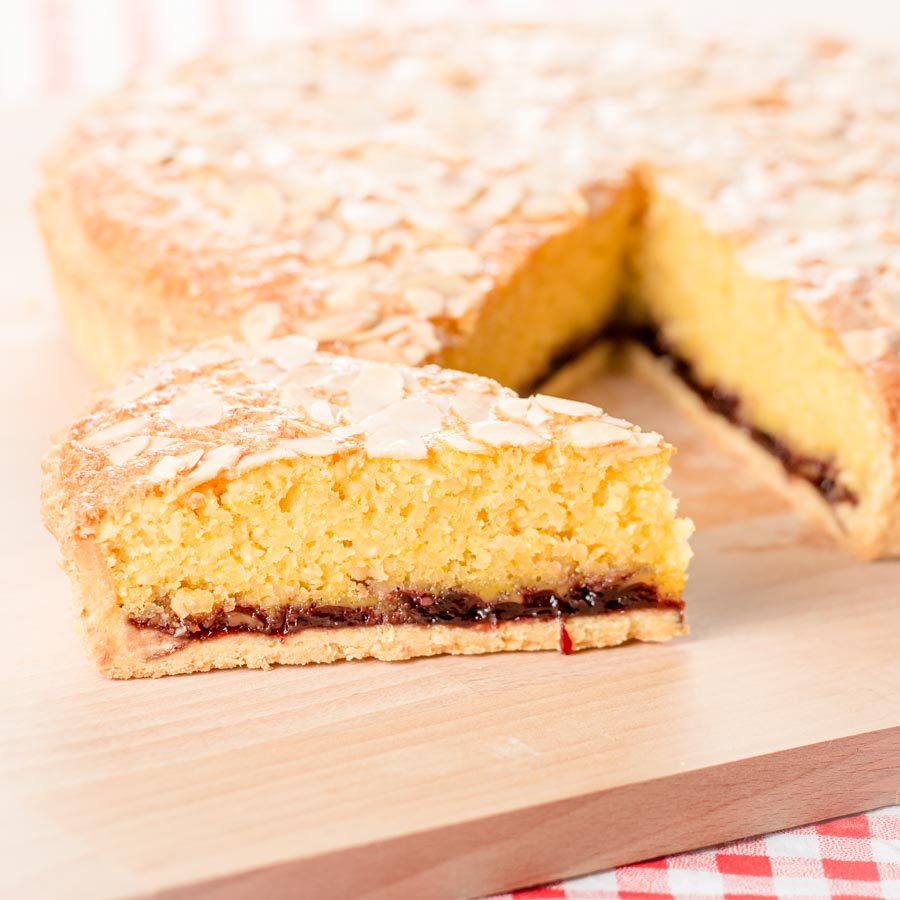 Homegrown Cherries!
We are fortunate enough to have 3 cherry trees in our garden which are being beasted by starlings at the moment. Not to mention my proclivity to munch on cherries every time I go into the garden.
Whilst they often find their way into my savoury food like this incredible Duck Burger! Or even this rather fancy pressed pork belly with cherries, they really do beg for a dessert.
So today I made a decision to make a huge vat of cherry jam. As far as I am concerned there is no finer complementary flavour for cherry than almond.
Yes even more than chocolate, having said that I am not a huge chocolate eater and can't remember the last time I had any.
The filling of the tart is a Frangipane and if you have not tried it you are really missing out.
A rich pastry cream made of crushed almonds sugar and lots of eggs. In this instance baked in a pastry case lined with my own cherry jam.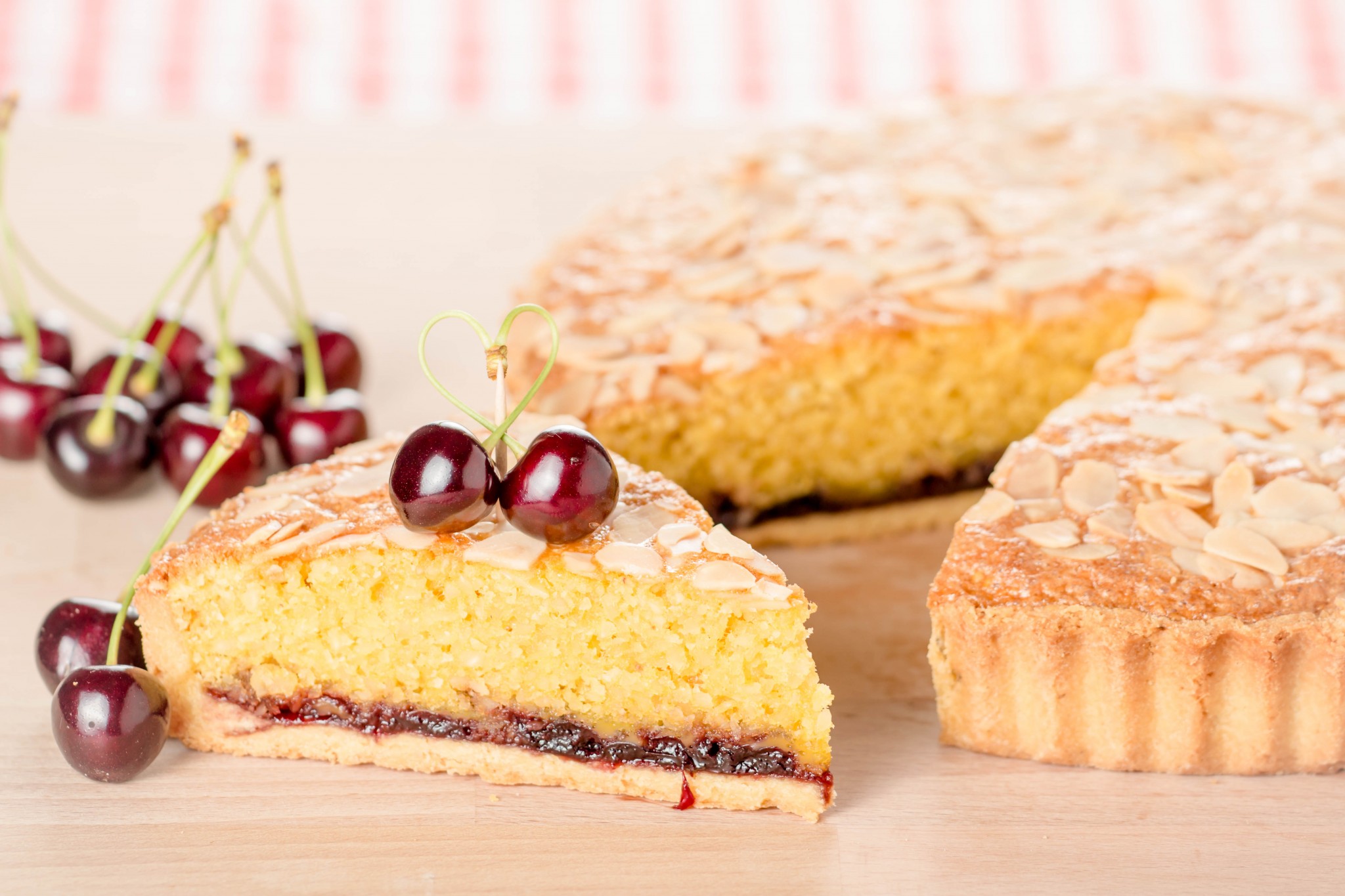 My Baking Challenges!
Now I am far from being a competent baker and the thought of making this cherry Bakewell tart was really rather intimidating. In hindsight, I could have chosen a day when the mercury was pushing 35°C.
Rookie mistake!
Our kitchen gets exceptionally warm so working with a very short butter-rich pastry was challenging. But I just about got away with it and it tastes wonderful.
However I am sure more experienced pastry cooks will knock this out with half the cursing that I did this afternoon.
It is only a little bit more grown-up than the cherry Bakewell tart I remember as a child. The addition of a little booze and the omission of the garish glace cherry gives it a much more adult appearance.
But it is plenty sweet enough to please even the sweetest of tastes!
Baking is weird I am used to being able to keep a check on the progress of my food. In many cases, you can also taste to check seasonings and flavours and you can see textures and viscosity.
Even with meat you can stick in a meat thermometer and know exactly what is happening.
With baking it is all on trust and I have to say it makes me nervous! If it always works out like this cherry Bakewell then I suppose there is goodness among the weirdness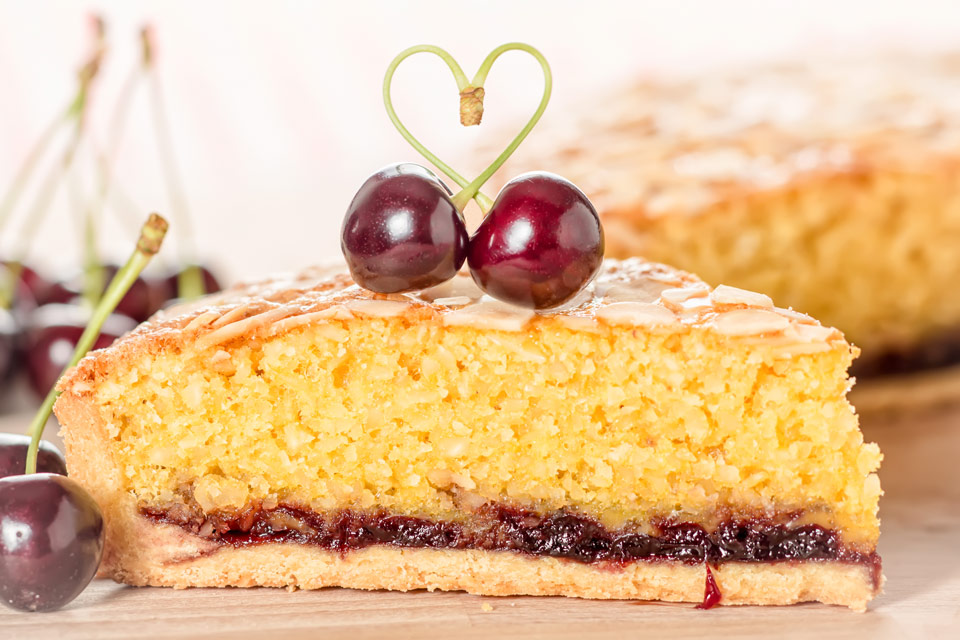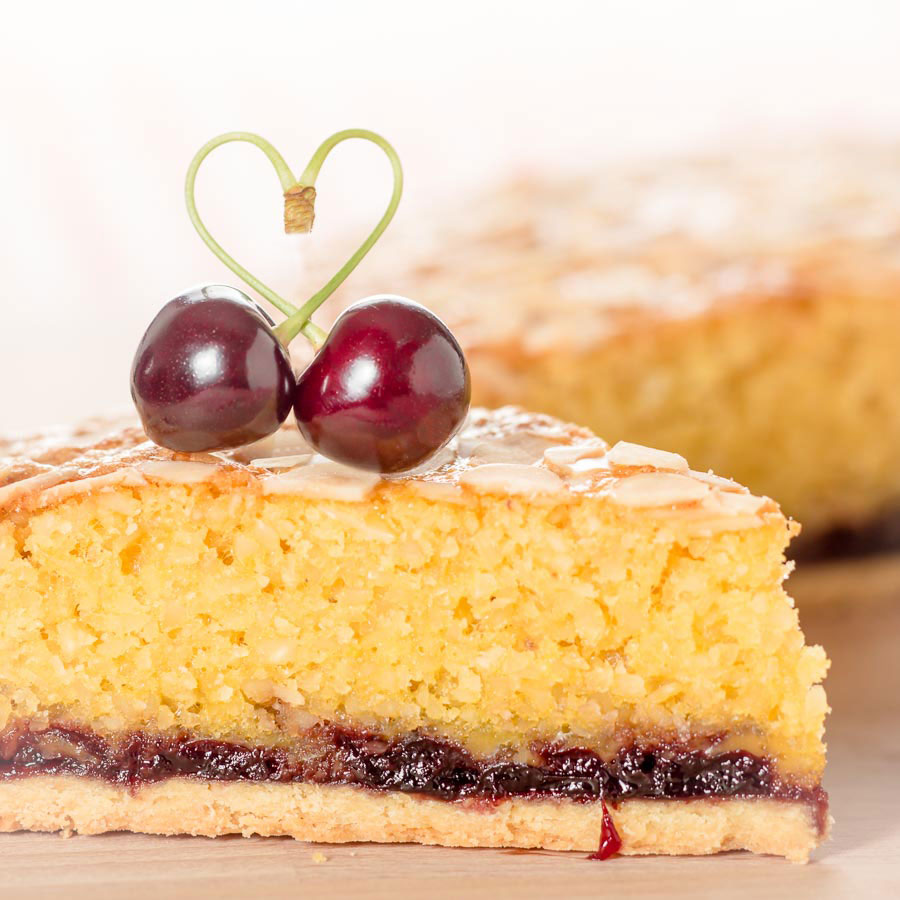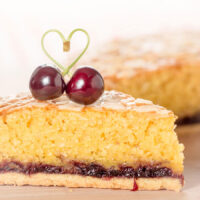 Cherry Bakewell Tart or Frangipane Tart
Cook Time:
1 hour
20 minutes
Total Time:
2 hours
20 minutes
Mr Kiplings Bakewell Tart are a happy memory from childhood, but this grown up version is better, I think Almond and Cherry are made for each other
Ingredients
For the Pastry Case
50 g Ground Almonds
425 g Plain Flour
100 g Caster Sugar
250 g Unsalted Butter, Chopped into 10mm cubes
1/2 Tsp Salt
1 Egg
2 Egg Yolks
For the Frangipane Filling
8 Eggs
400 g Crushed Almonds
175 g Caster Sugar
1 Tbsp Cherry Liqueur, I used a cherry Honey Pálinka but everywhere pretty much has a cherry liqueur speciality
4 Tbsp Cherry Jam
50 g Flaked Almonds
Instructions
Add the Ground Almonds, Sugar, Flour, Salt for the Pastry Case into a large cold metal mixing bowl
Blend the butter into the mix rubbing with your hands to form a bread crumb like texture, if you are working in a warm kitchen like I am return to the fridge a couple of times to cool down. It helps to work as quickly as you can
Add in the whole egg and 2 egg yolks and bring together to form a smooth pastry and place in the fridge for at least an hour to cool
Preheat an oven to 180°C
Flour a large surface and roll out the pastry into a large disk about 3-4mm thick, working in a cool environment helps as this pastry is very 'short'
Line a greased and floured 25cm with the pastry filling any gaps with the left over pastry and cover in baking parchment and bake in the preheated oven for 40-45 minutes until the pastry case is cooked but not coloured
Remove from the oven and allow to cool for 30 minutes reducing the oven temperature to 165°C
When cooled cut and overhanging pastry from the case and prepare the Frangipane filling
Mix the almonds and Caster sugar in a bowl and add the eggs and cherry liqueur and mix thoroughly
Spread the cherry jam on the base of the tart and then pour over the frangipane filling and top with the flaked almonds
Place in the oven for 35-40 minutes until cooked and golden brown all over, serve just warm or cold
Nutrition Information:
Yield:

8
Serving Size:

1
Amount Per Serving:
Calories:

1101
Total Fat:

65g
Saturated Fat:

21g
Trans Fat:

0g
Unsaturated Fat:

41g
Cholesterol:

323mg
Sodium:

547mg
Carbohydrates:

101g
Fiber:

8g
Sugar:

48g
Protein:

27g
Calorific details are provided by a third-party application and are to be used as indicative figures only.