NEVER MISS A RECIPE: Get your Weekly Update Email!
Finger Licking Sticky Chicken Drumsticks coated with a rich and dark glaze heavy with chili and a secret ingredient! Perfect for the oven but would work equally well on a BBQ!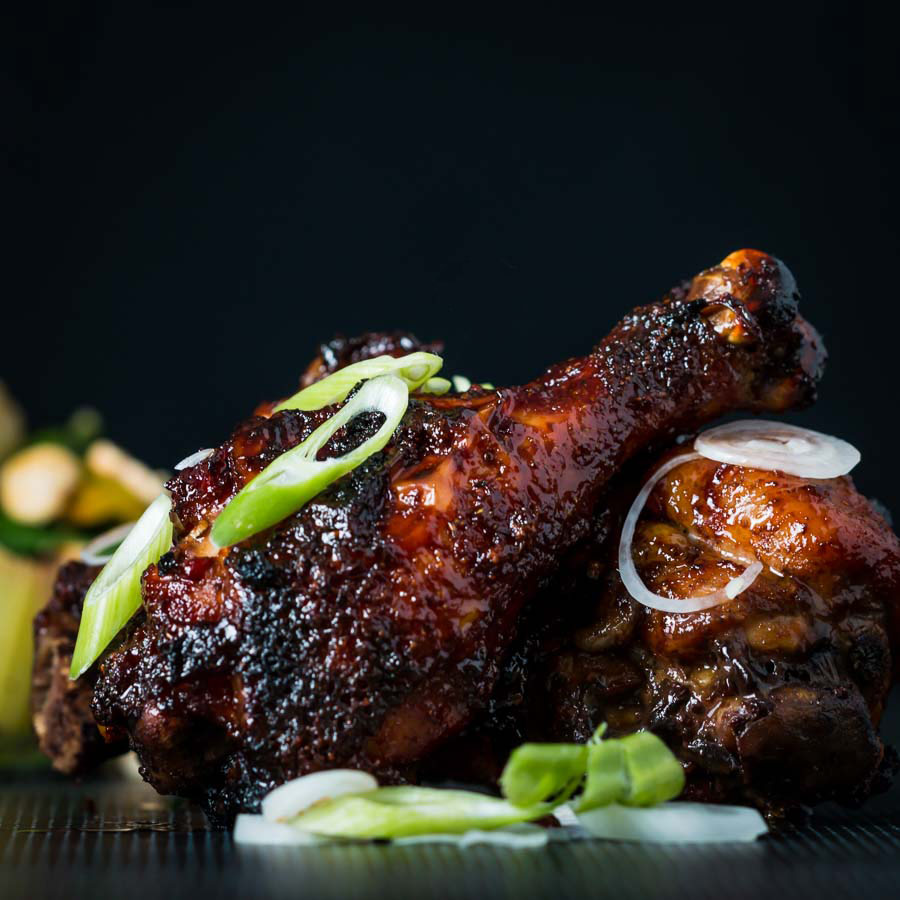 Finger Licking Sticky Chicken Drumsticks.
My Sticky chicken drumsticks and not just any old baked chicken drumsticks. Finger licking ones too!
I did consider trimming up these Chicken drummers so they were all neat and elegant and beautiful to photograph. But thought who on earth really does stuff like that? Let's face it there is something wonderful about needing wet wipes after eating dinner!
For me, there is just something about drumsticks! Sure the thigh has a little more flavour but mother nature never made the thigh with a perfect little handle.
I have returned to a time honoured favourite for todays recipe as I have had a nightmare in the kitchen this week.
I have been working on developing a bread recipe for the last few days after the success of my first baking recipe on Krumpli. My Cherry Bakewell Tart. Unfortunately, that has proved to be nothing short of a disaster.
However I will continue and you can rest assured by the time, or if ever the recipe is published it will be checked and checked again. But for the moment I am taking a walk from baking and will be back.
But this is food for comfort a sweet, salty, spicy & sticky glaze on some simply baked chicken drumsticks.  I often find that simple food is the most comforting and whilst marinading and reducing the sauce takes a little time.
It is all really easy cooking and the result is noise inducingly good.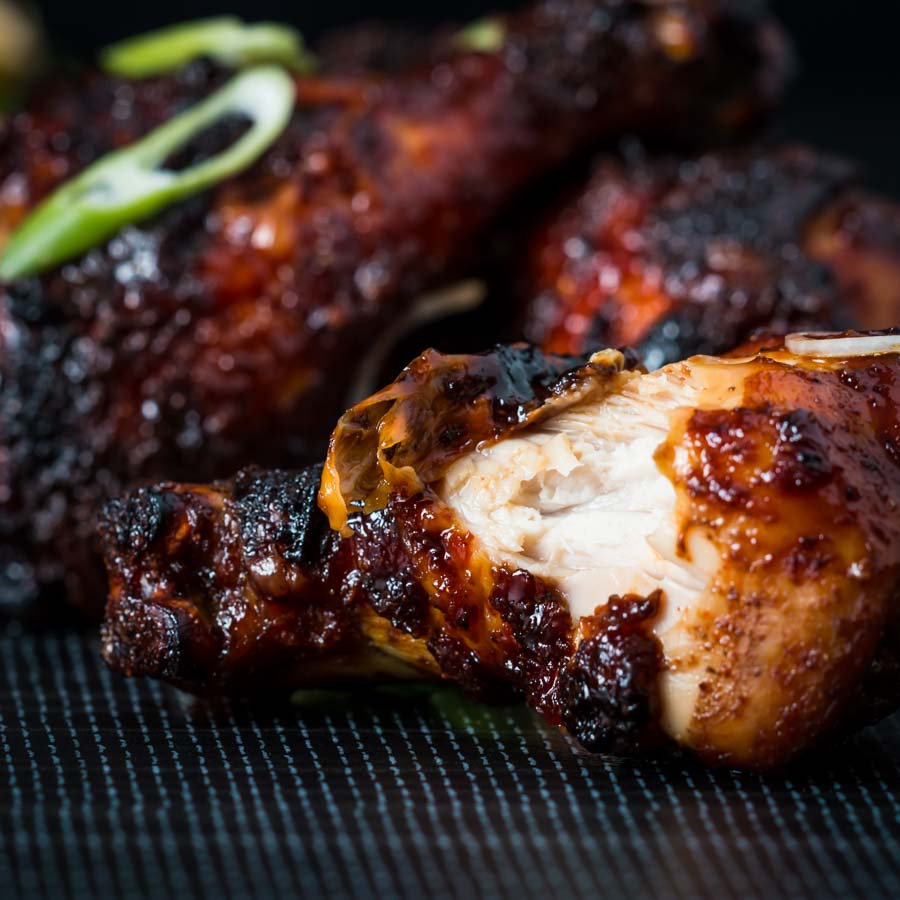 That Cherry Jam Glaze!
You could use this glaze on pretty much any meat you can stick on a BBQ. It is particularly good with pork!
As I explained in my BBQ Rib recipe I am still scarred from the best part of a year cooking on an open flame. As a result, once again these are baked.  This recipe also adopts the familiar dry rub then glaze technique. However, this recipe is certainly a lot quicker with a far less time spent in the marinade.
Most sticky glazes I have read rely on honey and whilst our local honey is good, nay great. I do love a bit of dark treacle or molasses in my sticky glazes, these sticky chicken drumsticks are no different. That slight bitter edge you get for me is heavenly.
I also used a generous amount of our own sweet chili sauce. As for the cherry jam, well it just gives it the fruity mellow sweetness that I like in my glazes!
Those of you who visit regularly will also notice I have been playing around this evening with a new photography style.
Experimenting is fine but I really should ensure I have charged batteries in my camera. Both of my batteries were dead which meant really limited time to take this shot and not enough playing around with angles and variations.
Do you have a favourite sticky chicken drumsticks recipe? Let me know in the comments section, I love new recipes!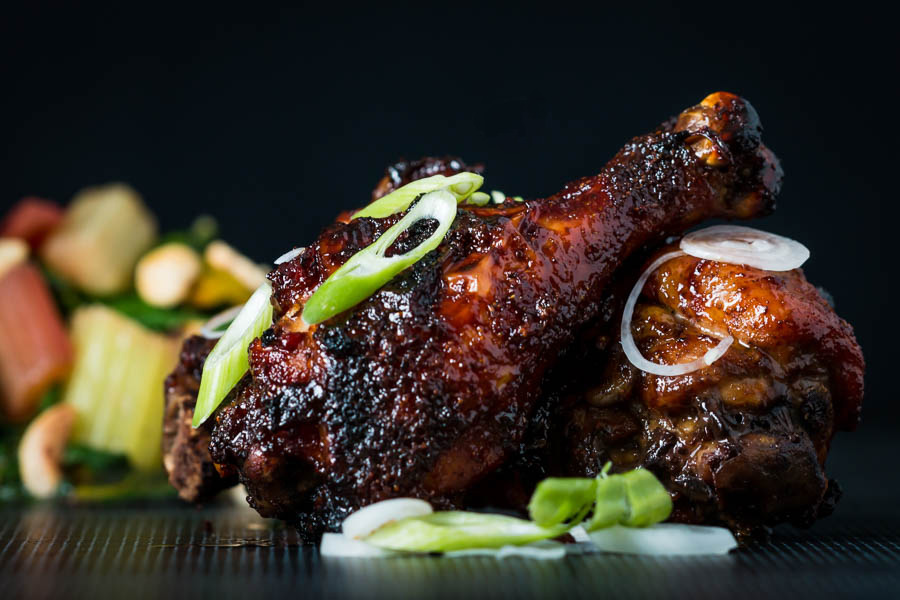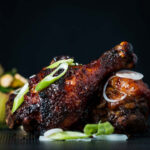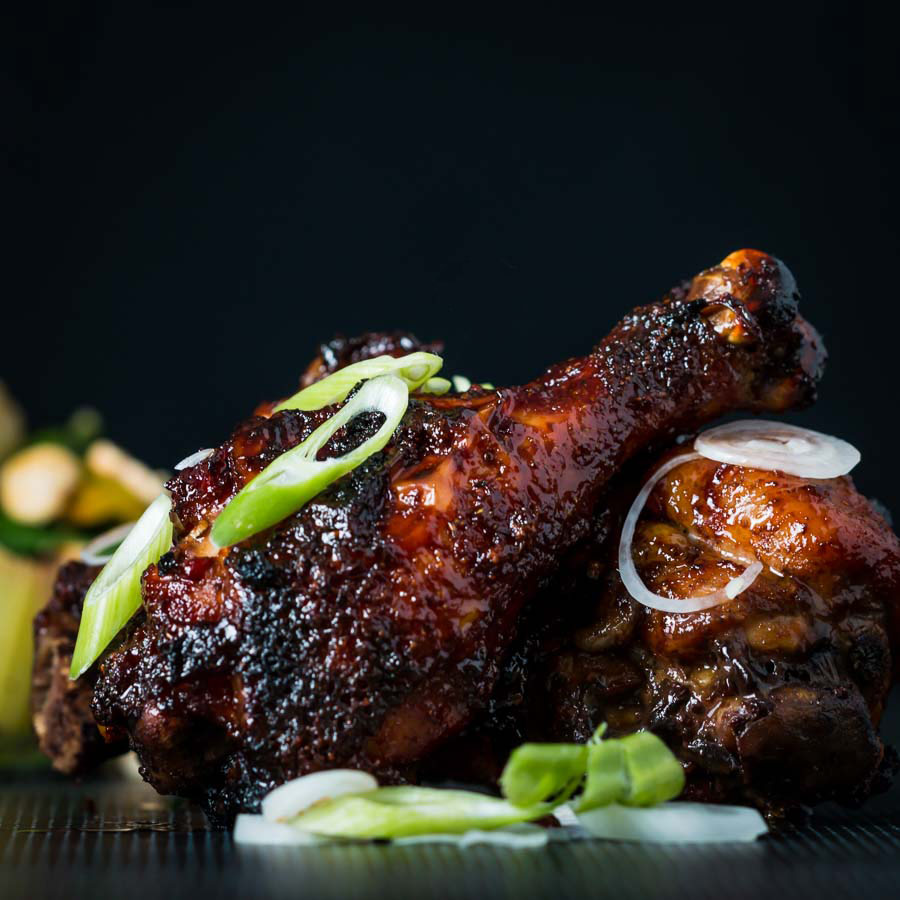 Finger Licking Sticky Chicken Drumsticks
Finger Licking Sticky Chicken Drumsticks coated with a rich and dark glaze heavy with chili, perfect from the oven but would work equally well on a BBQ!
Ingredients
For the Dry Rub
1

Tsp

Garlic Powder

1

Tsp

Sweet Paprika

1/2

Tsp

Hot Paprika

1/4

Tsp

Salt

1/4

Tsp

Black Pepper

Freshly Ground

1/8

Tsp

Ground Cloves
For the Glaze
2

Tbsp

Honey

1

Tbsp

Black Treacle

Use molasses in the US

2

Tbsp

Sweet Chili Sauce

Choose your favourite brand, I personally make my own

2

Tbsp

Light Soy Sauce

1

Tsp

Rice Wine Vinegar

1/2

Tsp

Fish Sauce

1

Tbsp

Cherry Jam
Instructions
Mix together the garlic, paprika, salt, black pepper and garlic cloves in a bag or 'tupperware' box and add the chicken drumsticks, shake well and allow to infuse for 1-2 hours

Then prepare your glaze by adding all of the ingredients into a pan and bringing to a simmer and then reducing until unctuous and sticky

Preheat your oven to 200°c

Roll the chicken around in the warmed glaze until well coated and place on a 'cooling grid' on a baking tray and cook for 30 minutes basting every 10 minutes with more of the glaze
Recipe Notes
Do not leave the initial dry rub on for longer than a couple of hours as the salt will 'cure' the meat, you can do this over night of you wish but omit the salt and add before you add the wet glaze
When baking the chicken place some baking parchment or tin foil underneath the 'cooling grid' to aid with washing up afterwards
NEVER MISS A RECIPE: Get your Weekly Update Email!