Hunters Chicken comes in many guises, mine is influenced by British Pub versions, a chicken breast wrapped in bacon, with cheese & BBQ sauce.
It is a wonderfully easy dish to cook and both the chicken and sauce can be prepared in advance, then just thrown in the oven at a later time.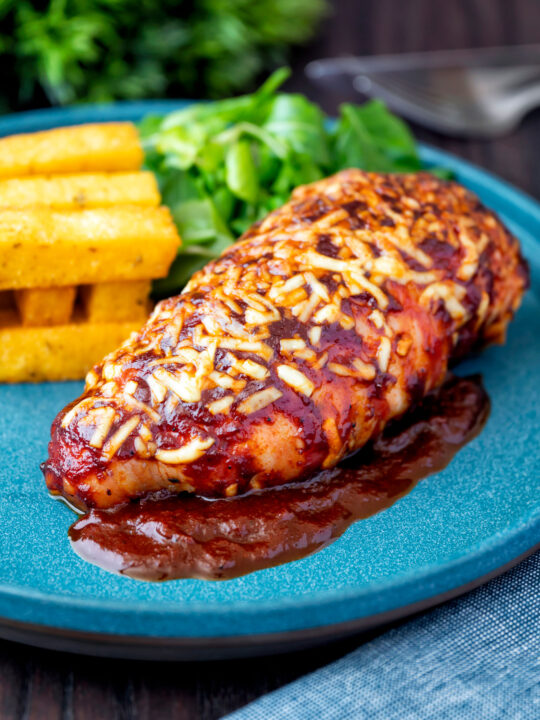 Chicken Wrapped in Bacon with Cheese and BBQ Sauce.
I will put my hands on my heart and say that I have no idea how or why this dish became known as hunters chicken.
In Italian, it is called cacciatore and it is a simple but rather elegant dish that I adore. I have both a slow cooker chicken cacciatore and rabbit cacciatore recipe here already.
The French have a version called Chicken Chasseur. Again it is a simple and elegant affair. Both the Italians and French use wine, maybe tomatoes, a little bacon and cook it nice and slow as a stew.
Us Brits seem to have taken a very different approach!
Most of us are urban dwellers and have been for a long old time. Hunters chicken in a British pub means, chicken BBQ, sauce, bacon, and cheese!
I'm a pluralist at heart when it comes to food, so I'm equally at home with my rather foxy rabbit cacciatore as I am with this daft but gloriously satisfying recipe.
I "cut" my BBQ sauce with a few things to knock back the sweetness and add a little spice. But this recipe is obscenely easy to make.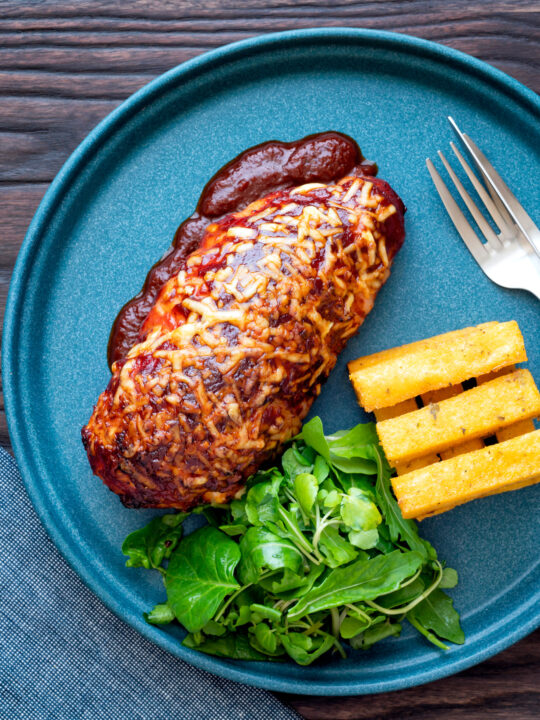 Frequently Asked Questions.
Can I prepare this in advance?
Absolutely! You can cut the chicken, stuff it and wrap it in bacon and then wrap it in cling film.
This can be done 2-3 days in advance and kept in the fridge. This actually results in a slightly better looking and tighter wrapped chicken.
Likewise, you can make the sauce days in advance, although it is so simple there is little time to be saved.
What other cheeses can I use?
Hunters chicken is full of big flavours, sweet BBQ sauce, liquid smoke and tabasco so you need a cheese with some flavour.
You could go for something Swiss, like Gruyere or maybe even some shredded mozzarella. They will deliver all of the glory of stretchy cheese but lack the right punch of flavour.
A perfect alternative to cheddar would be a hard aged goats cheese.
Are tabasco and liquid smoke essential?
Not at all and tread lightly with them, this sauce is fine to eat uncooked so you can taste as you go.
I used half a teaspoon of liquid smoke and one teaspoon of tabasco if you want a reference point.
You could omit both and use Worcestershire sauce to add a little pep.
Why is there no salt?
Hunters chicken contains loads of bacon and cheese and as a result, does not need any additional salt as far as I am concerned.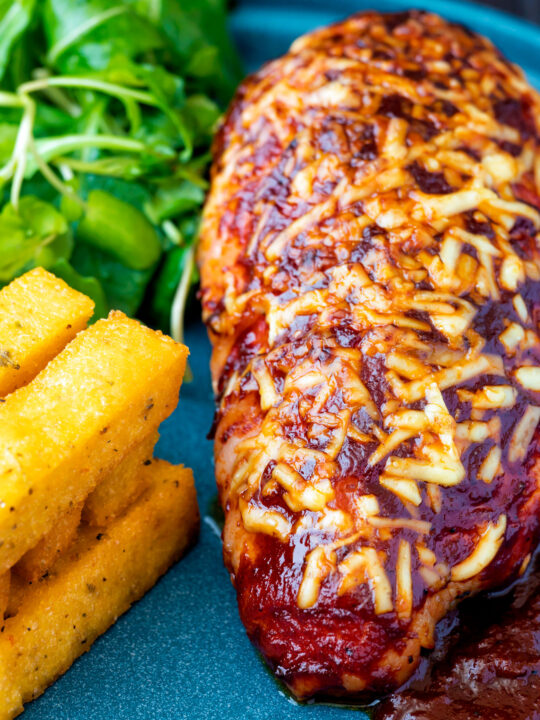 Serving Suggestions.
For me, this is almost always hunters chicken and wedges, but here I have served it with some delicious polenta chips.
I tend to cook my wedges in an air fryer as it is quick and stress-free.
It is equally as good with proper chips if you are a regular with a deep fat fryer.
I often see it served with a simple green salad, although I would personally stick with some peppery rocket or watercress.
When I am feeling as though I need some real comfort food, I serve this with mashed potatoes and peas.
Although you need to undo your belt buckle a notch after that one!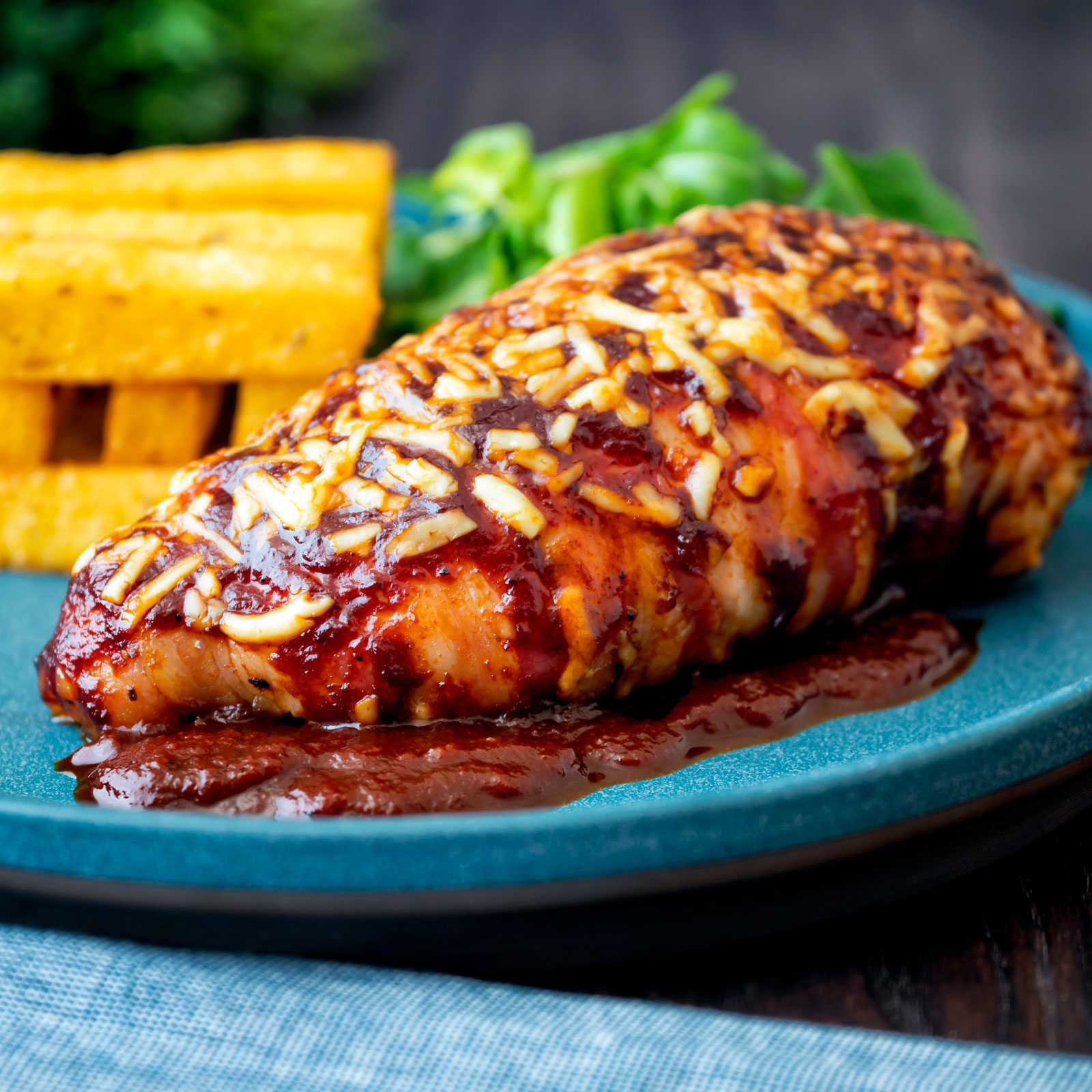 Yield:

2 Servings
British Hunters Chicken Recipe
Cheese stuffed hunters chicken was a stalwart on British pub menus throughout much of the 90's and 00's it is a simple, delicious and easy dish to make at home!
Ingredients
2 Skinless Chicken Breasts
6-8 Slices Streaky Bacon
100g (1 Cup) Cheddar Cheese
4 Tbsp BBQ sauce
4 Tbsp Tomato Passata
Liquid Smoke (To taste)
Tabasco Sauce (To Taste)
1/2 Tsp Black Pepper
Instructions
Cut 35g of cheddar from the block grate and set aside.
Cut the remaining 65g into two pieces, you are looking to make a block roughly 3/4 of the length of the chicken breast.
Take a chicken breast and make a slice with a long sharp knife in the long side of the breast roughly halfway through the breast.
Fold open the chicken like a book and season the inside with lots of black pepper. Between the bacon, cheese and BBQ sauce I do not think additional salt is required, but if you want to now is the time to add salt.
Place on the cheese and then close the chicken using your hands to help form it back into its original shape.
Season the outside of the chicken breast generously with pepper.
Starting on the underside of the chicken begin wrapping the chicken breast in the bacon, continuing on where the previous slice finished to wrap it up completely in a single layer of bacon.
Repeat with the second chicken breast and place in a baking tin.
Pop it in the oven and bake at 200°C or 400°F for 15 minutes.
Mix together the bbq sauce, tomato passata, liquid smoke, and tabasco. Add the last two whilst tasting to get the sauce right for you.
Pour this sauce over the chicken and then sprinkle the top of the chicken with the remaining cheese.
Return to the oven and cook for another 10 minutes or so until a thick part of the chicken breast reaches 68-69°C or around 155°F. Be careful to ensure that you are measuring the temperature of the chicken and not the cheese.
Remove from the oven and rest for 5-7 minutes or until the temperature reaches 73°C or 164°F.
Nutrition Information:
Yield:
2
Serving Size:
1
Amount Per Serving:
Calories:

625
Total Fat:

33g
Saturated Fat:

15g
Trans Fat:

1g
Unsaturated Fat:

15g
Cholesterol:

186mg
Sodium:

1351mg
Carbohydrates:

17g
Fiber:

1g
Sugar:

12g
Protein:

61g
Calorific details are provided by a third-party application and are to be used as indicative figures only.