Perfect air fryer chips that are crisp and golden on the outside and fluffy on the inside are never more than 30 minutes from your table.
All you have to do is choose the right potatoes and the right fat and you'll have the perfect chip butty fodder in no time at all!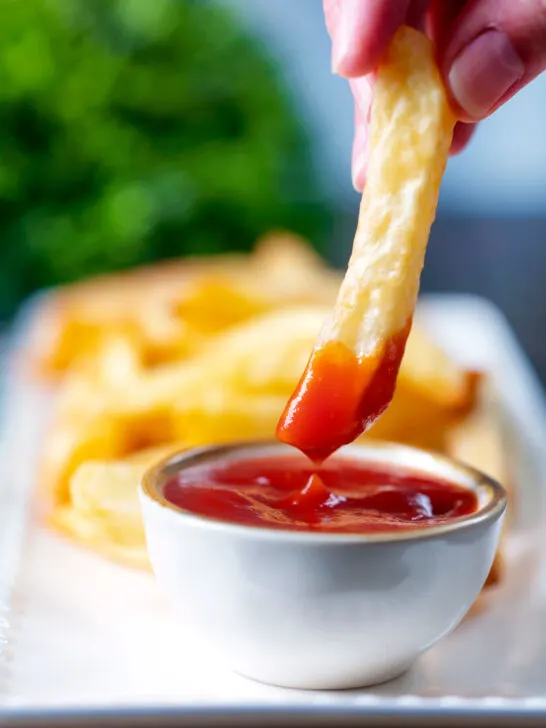 Air Fried Chips
My deep-fat fryer lives in a box and only comes out to play on special occasions. This means that probably the only time I fry chippy chips is when I am cooing chip shop style battered fish!
The rest of the time I make air fryer chips!
For years I would cook frozen chips in the air fryer, but honestly, good old potatoes are your friend. They are just as good, just as quick and significantly cheaper than their frozen brethren!
No, they are not quite as good as fried spuds… but the convenience and accessibility more than makes up for that as far as I am concerned.
They are gloriously golden and crisp on the outside and light and fluffy on the inside. Especially if you use beef dripping.
But fear not, hard vegetable fat or shortening as US readers will know it, works very well too.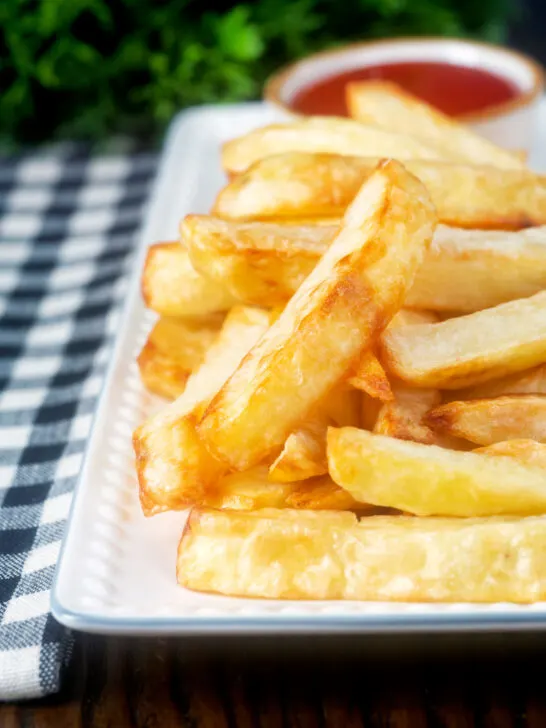 Frequently Asked Questions
Does the type of potato matter?
Yes, probably more than any other decision that you make in this recipe!

You need a nice floury or mealy potato I use King Edwards or Maris Pipers, if you are in the US look for something like a Russet!
Why do you wash the starch off the potatoes?
I like my chips to be nice and golden rather than a deep dark brown, removing the surface starch prevents the chips from colouring too much.
Can I use cooking oil rather than hard fat?
If you must, yes but the chips do not get as crispy and given that we are only using one tablespoon for two portions I think you deserve the treat!
Does the type of Air Fryer make a difference?
My biggest frustration with newer kitchen gadgets is that they all vary so much in their use.

Most importantly chips need lots of air to crisp up so try not to crowd the basket, doing so will mean that your chips do not go golden but also will not crisp up.

If you are using a fryer with a double basket, use them both. Do not cram them all into one basket, because they will not cook properly.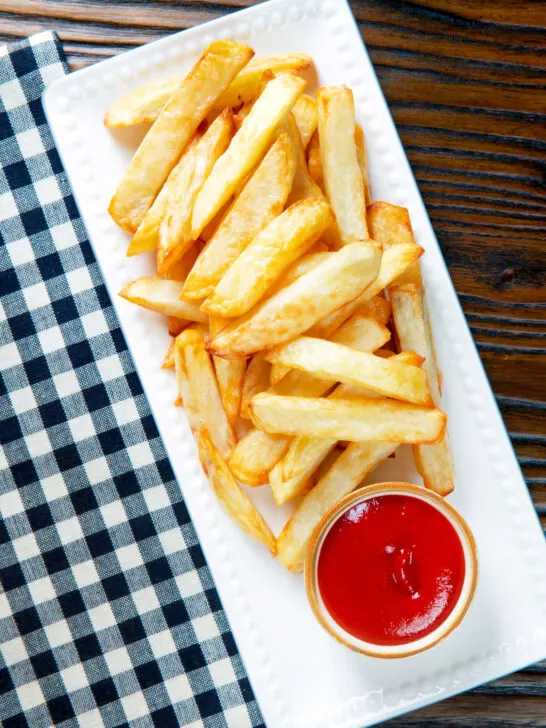 Serving Suggestions
So, air fryer chips and what to serve with them… well I pretty much use them anywhere I would use regular chips.
If I fancy a quick chip butty, guess what, or I've got some rump steak to cook, erm gammon, egg and chips. All of these are made far less stressful, less stinky and way more convenient by the good old air fryer!
If I am spending hours making a pie, working pastry and making the perfect stuffing for something like my steak and ale pie or steak and stilton pie, the air fryer gets used again.
But don't stop there you can use them to make salt and pepper chips and masala chips too!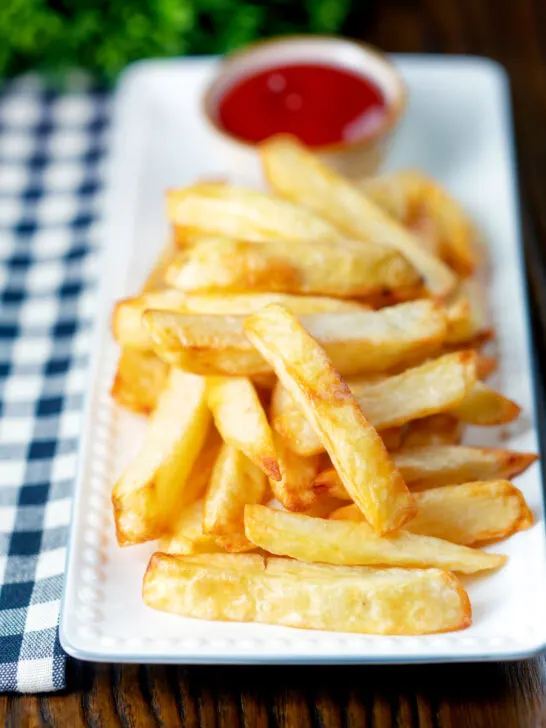 Equipment Used
I only mention specific brands of equipment if I think that they make a material difference to a recipe. But if you have any questions feel free to ask them in the comments section below the recipe.
Air fryer, I use a Phillips XXL fryer. The size of the basket definitely has an impact on cooking these chips.
Kitchen knife.
Chopping board.
Vegetable peeler.
Large bowl.
Tea towel to dry the potatoes.
Weighing scales.
Device for melting hard fat. I use a small pan and the stovetop but a small bowl and microwave work well.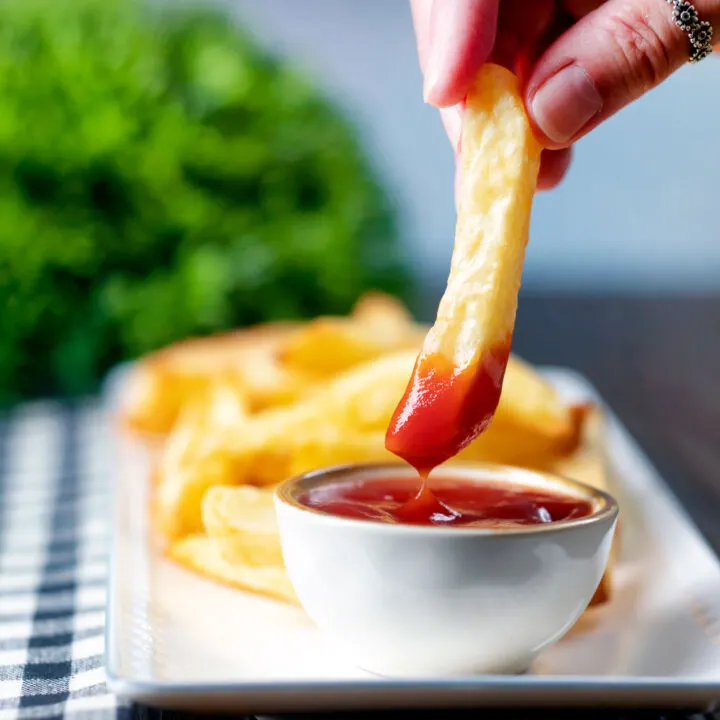 Yield:

2 Servings
Air Fryer Chips Recipe
I love proper fried chips, they are magic, however air fryer chips run them a very close second and they are far more convenient to cook and significantly healthier too!
Ingredients
600g Potatoes
1 Tbsp Beef Dripping, Lard or Vegetable Shortening
½-¾ Tsp Salt
Instructions
Peel the potatoes and then cut them, into chips with a profile of around 1cm or just under ½".
Rinse the potatoes quickly in a bowl of cold water to remove some of the starch then dry them thoroughly.
Pour over the melted fat, you can use any hard fat from vegetable fat, to lard, bacon fat or beef dripping. Beef dripping is my favourite.
Season then chips with salt and toss to coat.
Place the chips in the air fryer and cook for 16 minutes at 180°C or 350°F, giving them a shake half way through. Then turn up the heat to 200°C or 400°F and cook for a final 5-7 minutes.
Nutrition Information:
Yield:
2
Serving Size:
1
Amount Per Serving:
Calories:

337
Total Fat:

7g
Saturated Fat:

3g
Trans Fat:

0g
Unsaturated Fat:

4g
Cholesterol:

4mg
Sodium:

1483mg
Carbohydrates:

63g
Fiber:

7g
Sugar:

4g
Protein:

8g
Calorific details are provided by a third-party application and are to be used as indicative figures only.