Chimichurri Sauce is the now classic Argentine and Uruguian uncooked sauce that is the perfect accompaniment to grilled meats and in this case, rump steak!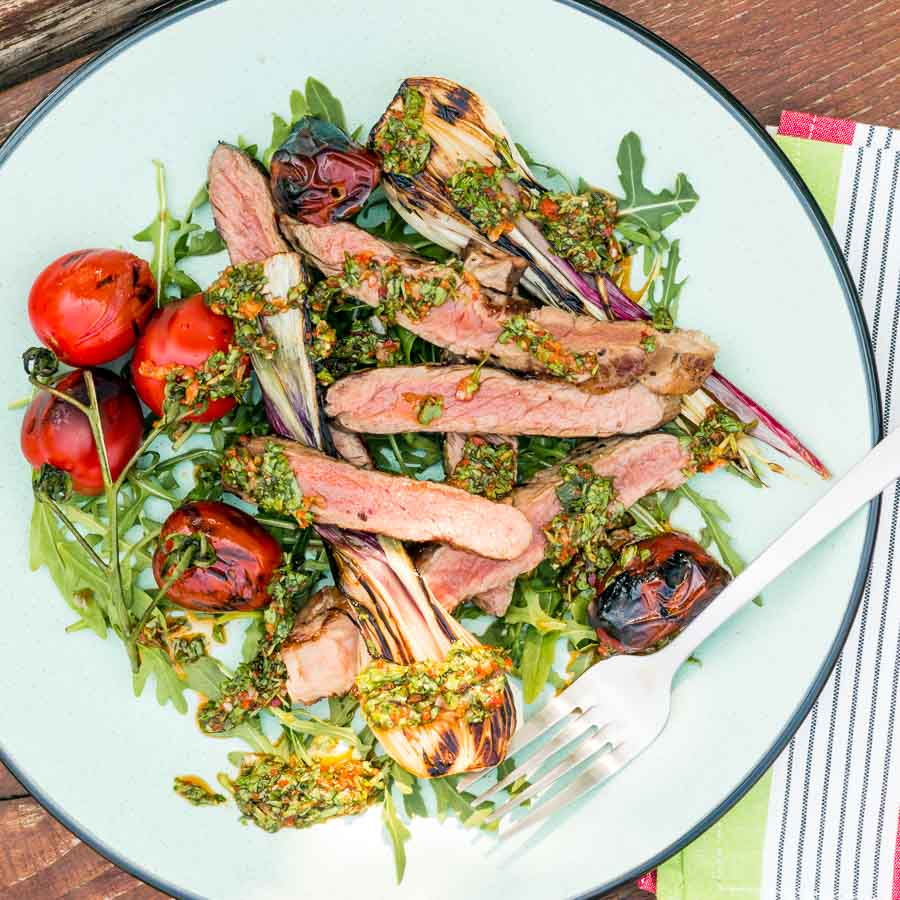 Grilled Rump Steak With Chimichurri Sauce.
Let's just say I am loving being outside right now and that is exactly where I am typing up this Grilled Rump Steak With Chimichurri Sauce recipe. Kind of apt as it was both where it was cooked and consumed.
After what seemed like a winter that lasted forever, I am so glad that grilling season is finally here. I broke my grill post cherry for the year with these mango chicken wings just last week. This grilled rump steak recipe is hot on its heels and there is another heading your way very soon.
Like most of my grilled food recipes, this recipe is all about kicking back with a couple of cold beers and enjoying our garden. As a result, the Chimichurri sauce can all be prepared in advance, and the vegetable prep is stupidly easy!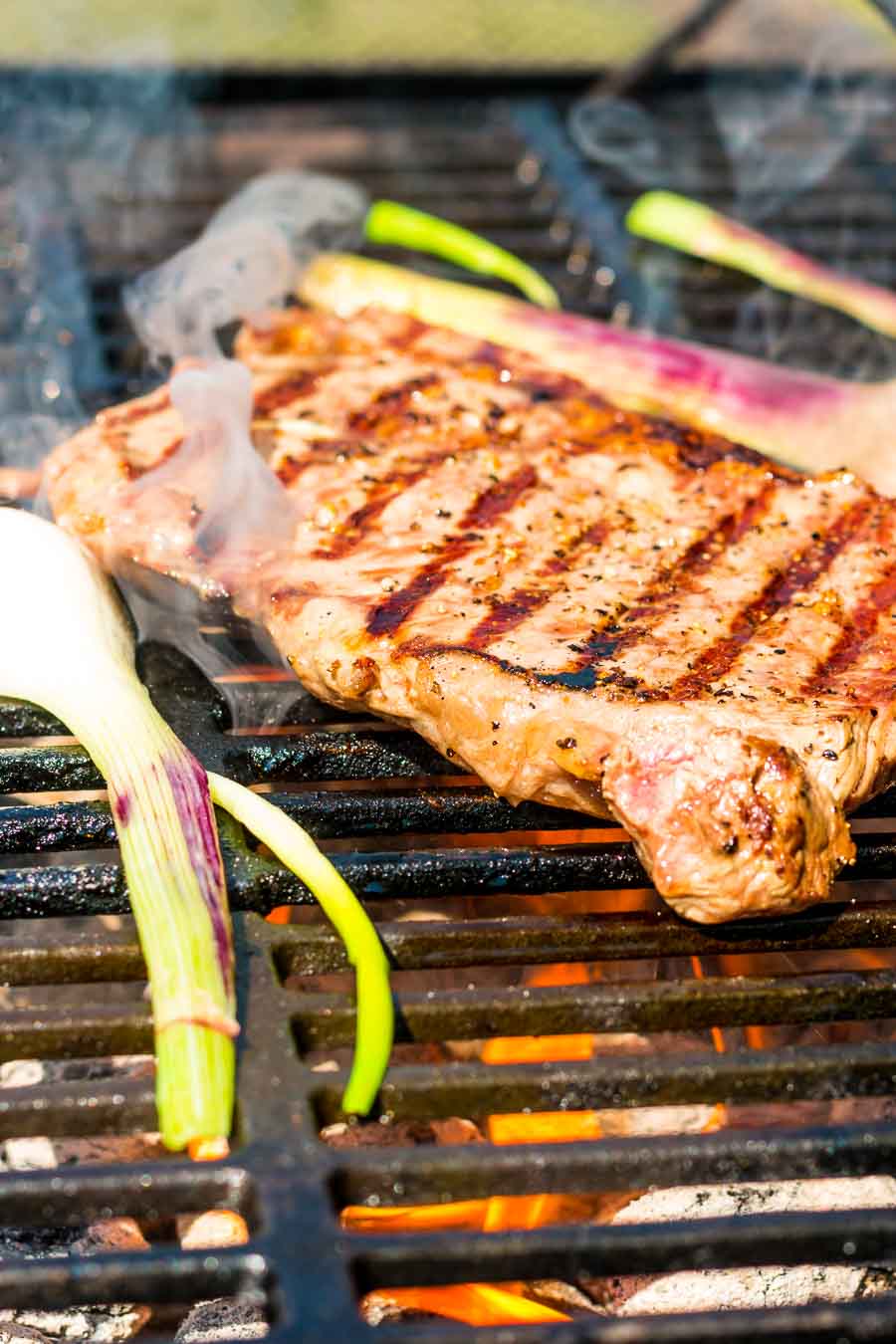 What is Chimichurri Sauce?
Chimichurri is an incredibly simple bright and vibrant sauce from Argentina and Uruguay. Just like both of those nations, it has a great affinity with beef. Accordingly ,I had to break out my version to go with this grilled rump steak.
Regular readers will know I have a geeky love of food names and where food names come from. Check out my posts on Toad in the Hole and Bubble and Squeak! To be honest I don't really care if the stories are true, they just need to be fun.
The first legend about the name comes from an Irish Settler in Argentina called Jimmy McCurry, but the second is much more fun! It kinda goes that some Brits from India were relocated from the Raj to South America. They kinda missed the bold flavours of Indian food, which I totally get. As a result they used the phrase 'gimme curry' which became chimichurri.
Sadly neither of those stories are in the slightest bit true! The name is actually a derivation of a Basque word tximitxurri, which roughly translates to ' a mix of things in no particular order'. Underwhelming right?
Anyway a good chimichurri sauce for me needs to be bright and vibrant with parsley, vinegar and of course lots of garlic!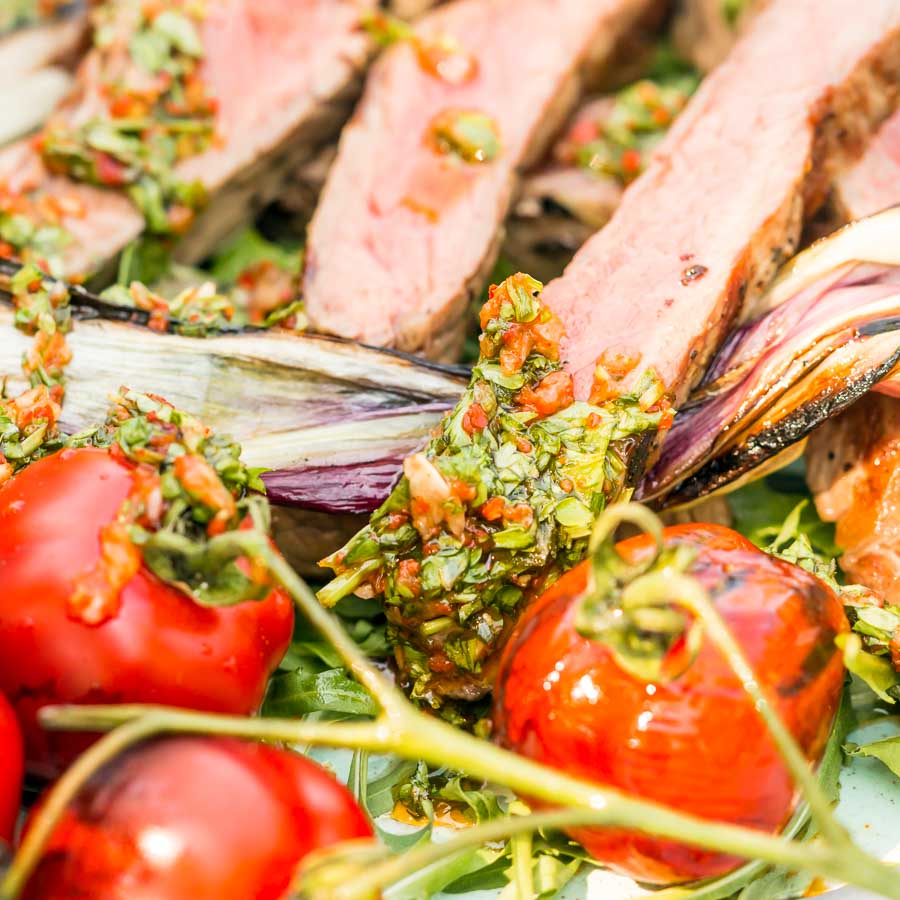 Rump Steak Rules…
I genuinely have no idea why I don't see rump steak recipes more often on line. It seems to have dropped right out of favour, which is a shame as it is a great cut of meat.
Because it comes form a part of the animal that works, it is a little tougher than the likes of sirloin or fillet. However as a result of that it has a great amount of flavour and flavour is always king.
I'm not a fan with messing around too much with steak before cooking it and keep it simple. Always cook from room temperature, marinade if you like, season well and then cook hot and fast before resting.
Due to the tendency of rump to being a little tougher I personally cook it a little longer than other cuts of steak. Somewhere around the medium rare mark, but you all know my thoughts on cooking meat… It is your dinner cook it as you like it and be happy with it!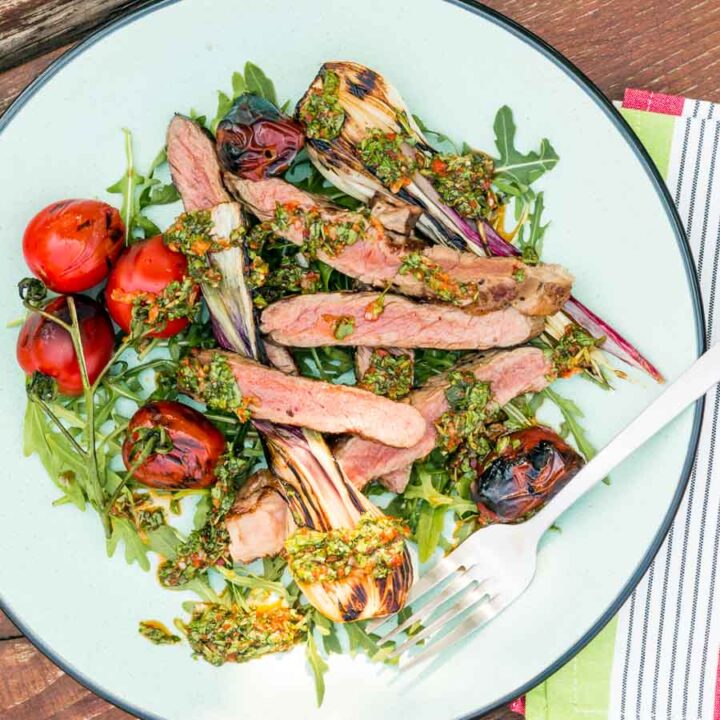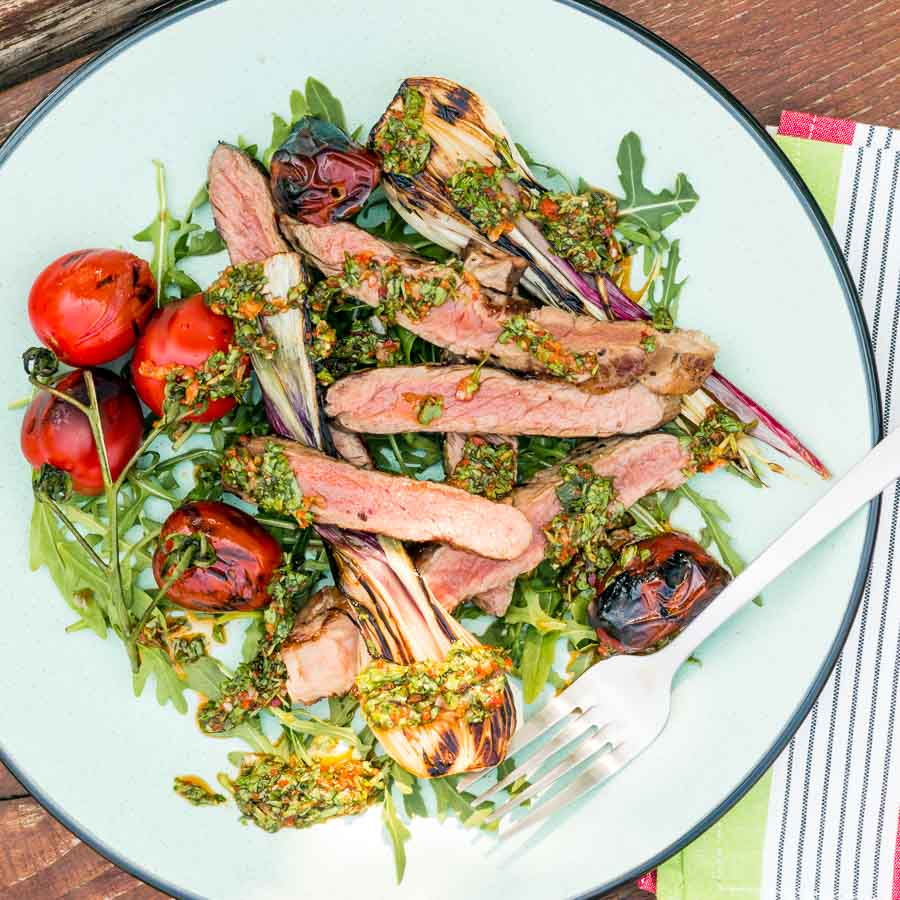 Yield:

2 Servings
Grilled Rump Steak With Chimichurri Sauce
Total Time:
1 hour
20 minutes
Chimichurri Sauce is the now classic Argentine and Uruguian uncooked sauce that is the perfect accompaniment to grilled meats and in this case, rump steak!
Ingredients
400 g Rump Steak
Salt & Pepper
35 g Arugula, AKA, rocket
200 g Cherry tomatoes, On the vine if possible
2 Large Spring Onions, Cut in half length ways
For the Chimichurri Sauce:
30 g Fresh Parsley, Chopped
120 ml Olive Oil
75 ml Red Wine Vinegar
4 Cloves Garlic, Finely diced
1 Tsp Chili Flakes
2 Tbsp Fresh Oregano
1/2 Tsp Coarse Sea Salt
1/2 Tsp Black Pepper
Instructions
Mix together all of the ingredients for the Chimichurri sauce.
Add half of the chimichurri sauce to the steak and allow to marinade for anywhere from an hour to overnight.
Light your grill.
Wipe the chimichurri from the steak and season with salt and pepper.
Throw the rump steak on the grill over a fierce heat and cook for 90 seconds a side. This is perfectly cooked for me amend for your own tastes.
Remove from the grill and allow to rest for 4-5 minutes.
Whilst the beef is resting Grill the tomatoes and spring onions.
Carve the rump steak and plate up along with lots more chimichurri sauce!
Notes
I like my rump steak cooked a little more than sirloin because it does nore work and is tougher. But as ever you should cook your meat the way you like it!
Nutrition Information:
Yield:
2
Serving Size:
1
Amount Per Serving:
Calories:

1036
Total Fat:

79g
Saturated Fat:

17g
Trans Fat:

0g
Unsaturated Fat:

57g
Cholesterol:

171mg
Sodium:

834mg
Carbohydrates:

26g
Fiber:

6g
Sugar:

15g
Protein:

56g