Surf and turf, a classic combination of steak served with seafood, my version serves garlic butter cooked langoustine, sirloin and samphire.
The dish looks incredibly impressive, but it is remarkably easy to cook and will come together in under 30 minutes and tastes incredible!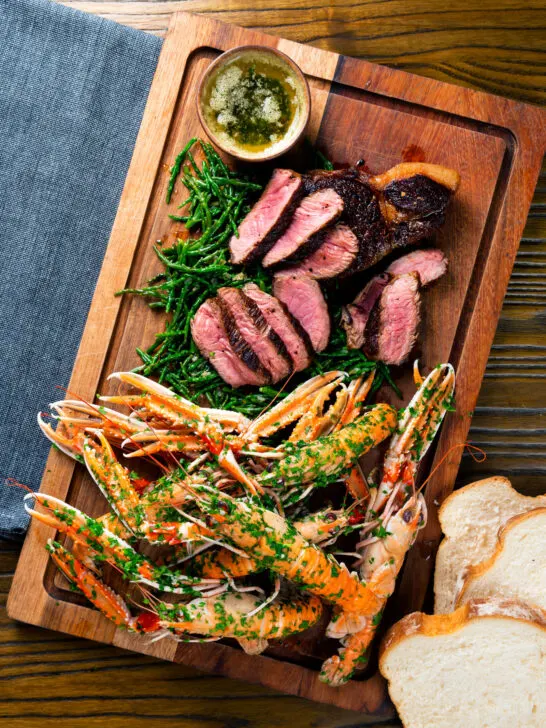 My Perfect Surf n Turf Dinner
If I really want to treat myself then surf and turf is my dinner of choice.
My version rocks some perfectly cooked pink sirloin steak for the turf part of the dish.
For the surf, I always choose some wonderful Scottish langoustine that I cook in an obscene amount of garlic butter.
I couple the stars of the dish with some salty sour samphire, which is my favourite vegetable to serve with fish and seafood. It appears in everything from my pan-fried hake with chorizo and cod salad to my crab linguini recipes.
I round out this indulgent dinner with a bit of bread to polish off the aforementioned garlic butter.
It is proper finger food and finger bowls are essential for this dish that may not be ideal first-date food!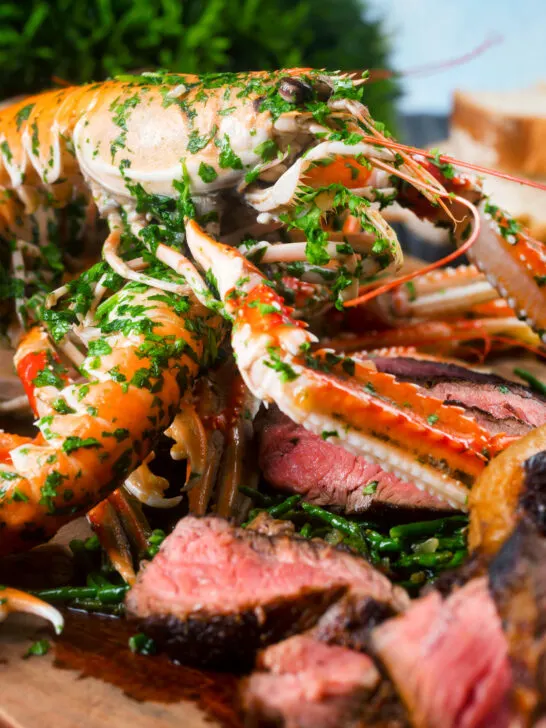 Frequently Asked Questions
Can I use a different cut of steak?
Yes, of course!

When it comes to choosing steak I typically opt for either rump steak or sirloin steak. But this dish works with any steak that you want to use?
Can I cook my steak more?
Absolutely! Nothing grinds my cooking gears more than people flexing on people's choices when it comes to cooking a steak.

It is your dinner, you should enjoy it and if that means well-done steak then jump on in the water is warm! If you want the steak cooked more than medium I would transfer it to the oven for 3-10 minutes to finish cooking.
Do I have to use a meat thermometer?
No, but as far as I am concerned it is the most accurate way of cooking meat with precision. When you get more experienced you can do it by touch, but even then I personally double-check.
Will stabbing the meat with a thermometer ruin it?
There are some ludicrous claims that using a meat thermometer on a steak will dry it out. They are absurd, steak is not a water-filled balloon which will deflate when punctured!
Is resting essential?
Yes, resting meat is every bit as important as the cooking process. DO NOT skip this step.
Can I use different seafood?
Of course, everything from prawns to lobster would work perfectly well with this dish.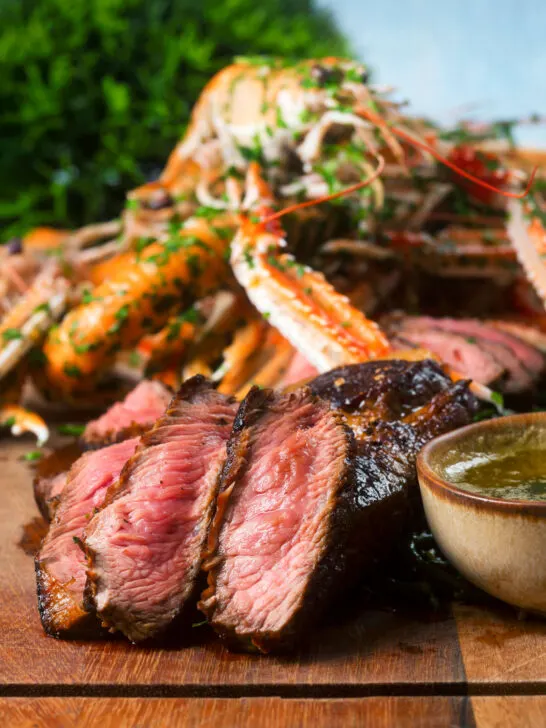 How Do You Eat Langoustine?
Many people are put off by the whole langoustine!
I get it they seem to be armour-plated with the expressed purpose of stopping you from getting to that sweet, sweet meat.
The first thing to do is pull off the tail, grab the tail and the head and pull. It will separate easily.
On the underside of the belly there are a series of "ribs", snap these and the shell will peel off like a prawn.
Depending on the size of the langoustine this can be a little difficult, a pair of robust kitchen scissors can help.
There are many of us that enjoy sucking the meat from the head, it is not mandatory 😉
There is also a wee treat waiting for you in the claws, again depending on the size of the langos.
Pull off the claws and then grab the pincer that is articulated and pull it backwards and remove it. Then use the pointy bit as a pick to get at the claw meat.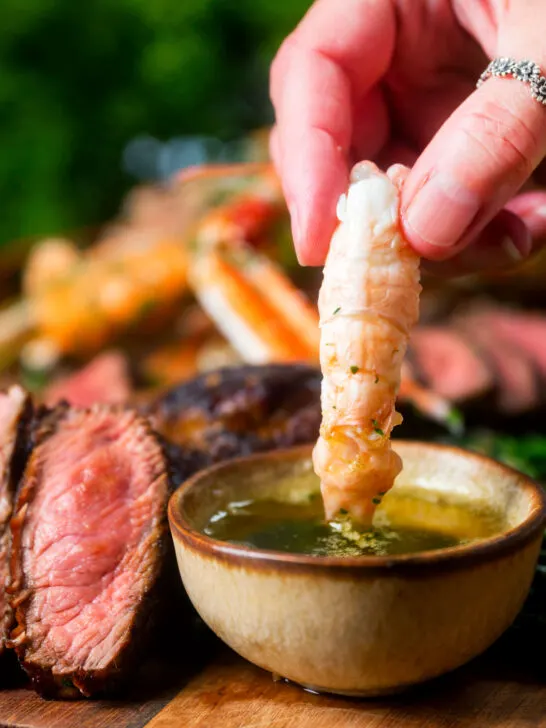 Serving Suggestions
I like to serve my surf and turf with bread to mop up all of the garlic butter that is left over.
I'd usually pick up a simple farmhouse loaf, but if I were to bake I would probably choose to make a soda bread.
Potatoes are a common and popular addition to a surf n turf platter, I personally don't think they are necessary. Mainly because I want more langoustine and more steak, but hey, I'm greedy!
If I were to add potatoes I would probably choose some straw potatoes.
But this would work equally well with some potato wedges or even some sweet potato fries.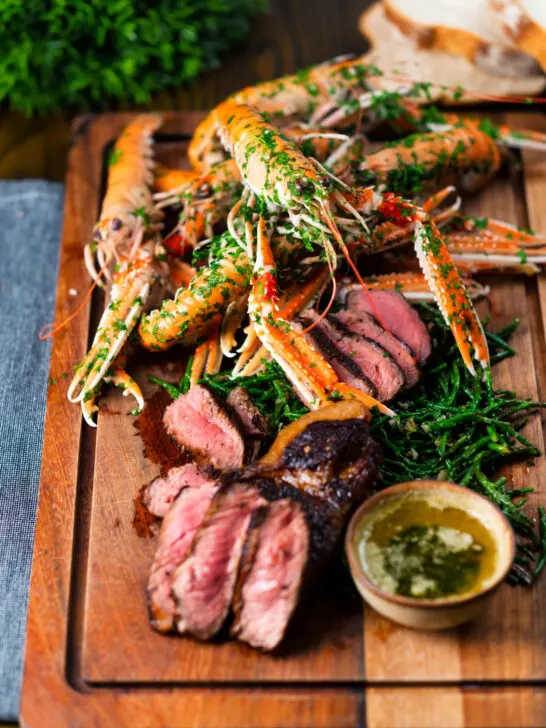 Equipment Used
I only recommend brands of equipment if I think they make a material difference to a recipe. If you have any questions feel free to ask them in the comments section of the recipe.
Stovetop.
28cm or 11″ frying pan or skillet, not nonstick.
Minimum 30cm or 12″ skillet with a lid.
Weighing scales and or measuring cups and spoons.
Chopping board.
Kitchen knife.
Kitchen tongs.
Quick cook meat thermometer, optional but recommended.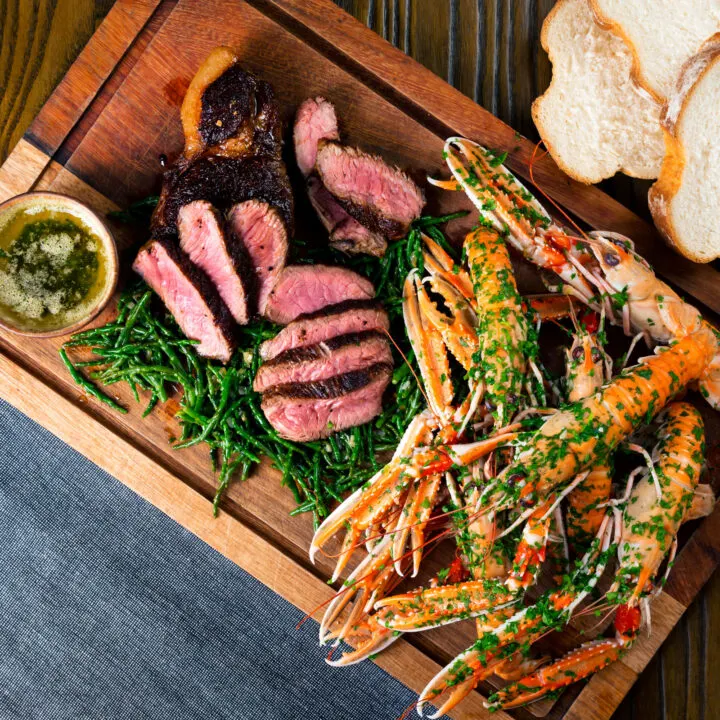 Yield:

2 Servings
Surf and Turf Recipe with Langoustine
When it comes to a treat dinner I love surf and turf, my version uses Scottish langoustine as the surf element and a nicely pink thick-cut rump steak... throw in a bucket of garlic butter and some samphire and I'm in heaven.
Ingredients
400-450g (14oz-1lb) Thick Cut Steak, I use Sirloin
8-10 Medium-Sized Langoustine
12 Garlic Cloves
175g (1 Stick plus ¼ Cup) Butter
150g (1½ Cups) Samphire
1 Tsp Cooking Oil
½-1 Tsp Salt
½ Tsp Black Pepper
Lots of Parsley
Bread for Serving
Instructions
Peel 10 of the garlic cloves and chop them as finely as you can. Bash the remaining two garlic cloves with the side of a knife, don't bother peeling these two.
Rinse the langoustine under cold water for 2-3 minutes.
Chop the parsley as finely as you can.
Heat a 28cm or 11" skillet or frying pan (not nonstick if possible) over a high heat.
If your steak feels "wet" dry it with some kitchen paper, then rub the oil into the top face of the steak and season it generously with salt and pepper.
When the pan is hot add the steak and cook on one side for 2½-4 minutes. The timing in this recipe is aimed at a single steak for two that is around 20-25mm or ¾-1" thick.
Add 50-60g (around ¼ cup) of the butter to the pan and the two bashed garlic cloves, then cook for another 2½-4 minutes depending on how you want your steak cooked, baste the steak with the butter as it is cooking. I use a meat thermometer for accurate cooking and give a temperature guide in the frequently asked questions section.
One minute before you are going to remove the steak from the pan add the remaining butter to a second large skillet (at least 30cm or 12") with a lid and place it on a medium-high heat, and when the butter begins to foam add the chopped garlic and stir for 60 seconds.
Remove the steak and rest it for 6-8 minutes covered with foil.
Add the langoustine to the pan with garlic butter making sure they are in a single layer if possible, add a lid, reduce the heat to medium and cook for 6-7 minutes.
Remove the lid throw in the chopped parsley and using some kitchen tongs turn everything over to coat them, then remove the langoustine.
Add the samphire to the pan and toss it in the garlic butter for 30 seconds, then remove the samphire and decant the butter into a bowl.
Slice the steak and pile everything onto a board and enjoy.
Internal Temperatures for the Steak:
Rare: The target temperature to remove the steak is 45-47°C or 113-117°F. The final temperature after resting will be 49-51°C or 120-124°F. Estimated total cooking time (3-4 minutes).
Medium Rare: The target temperature to remove the steak is 48-54°C or 118-129°F. The final temperature after resting will be 52-58°C or 125-136°F. Estimated total cooking time (4-5 minutes).
Medium: The target temperature to remove the steak is 55-57°C or 130-135°F. The final temperature after resting will be 59-61°C or 137-142°F. Estimated total cooking time (5-6 minutes).
Medium Well: The target temperature to remove the steak is 58-63°C or 136-145°F. The final temperature after resting will be 62-67°C or 143-152°F. Estimated total cooking time (6-7 minutes).
Well Done: The target temperature to remove the steak is 64-71°C or 146-160°F. The final temperature after resting will be 68-75°C or 153-165°F. Estimated total cooking time (8-10 minutes).
Notes
Don't forget the finger bowls this is gloriously messy food!
The calorific data for this recipe does not include the bread for serving.
Nutrition Information:
Yield:
2
Serving Size:
1
Amount Per Serving:
Calories:

1152
Total Fat:

97g
Saturated Fat:

53g
Trans Fat:

3g
Unsaturated Fat:

35g
Cholesterol:

374mg
Sodium:

1790mg
Carbohydrates:

6g
Fiber:

1g
Sugar:

0g
Protein:

63g
Calorific details are provided by a third-party application and are to be used as indicative figures only.