Cod salad a delicious & nutritious light main course salad featuring new potatoes, asparagus & samphire and a fabulous orange vinaigrette.
This recipe is both quick and easy to make, you can even cook the potatoes, asparagus and samphire ahead of time, making it even quicker.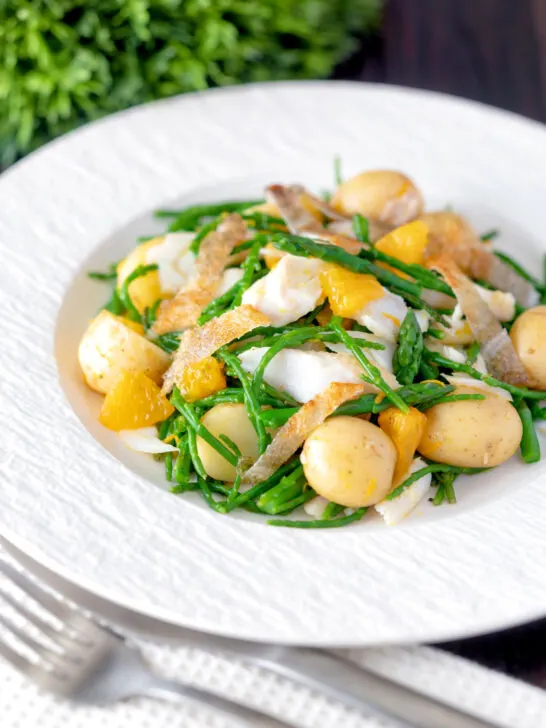 White Fish Salad with Orange
I love getting creative with main course salad recipes and this cod salad joins dishes as diverse as gammon salad and another fish offering in my smoked mackerel salad.
The inspiration for this recipe comes from a samphire salad recipe I put together earlier in the summer and as a request from my wife who wanted me to use more of it.
Like all good salads, this recipe is nothing more than a collection of things that work well together. I serve it all cold with the exception of the cod which goes into the dish warm and creates a wonderful contrast.
The cod is pan-fried in the same way I do in this hake recipe and this cod pasta recipe, even the skin gets used to provide some texture.
The samphire is joined by some pencil-thin asparagus and some glorious new season potatoes.
The dish is finished off with a wonderfully fresh and light orange dressing… the orange flesh also gets used to provide beautiful vibrant notes in the salad.
If you are a fellow samphire fiend check out my crab linguine recipe with samphire!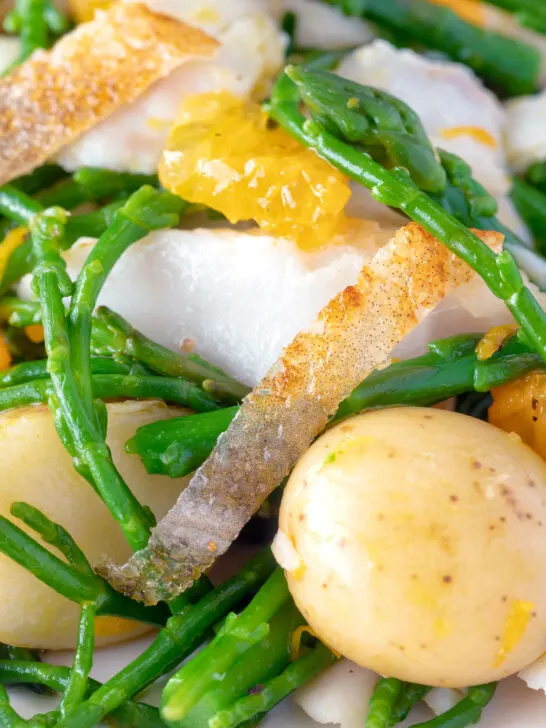 Frequently Asked Questions
Can I use another type of fish?
Yes, this dish is superb with any white fish. Everything from hake or whiting, to pollock and haddock to coley.

A special mention for coley, it is not as "white" as cod, but it tastes fantastic and is about half the price!
Do I have to use thin asparagus?
No, but it helps balance the dish and avoids big thick asparagus spears dominating the samphire.
Can I substitute samphire with anything else?
Not really samphire has a unique texture and flavour and nothing comes even close to it.
Can I use other types of potato?
Yes, but you need to make sure that they are waxy potatoes, the texture really does add so much to this recipe.
Why do you use a jar to make the dressing?
I find shaking any salad dressing in a jar gives you a much better emulsion than whisking in a bowl.

Give it a try, it is genius, and no the type of jar does not matter, I use an old jam jar.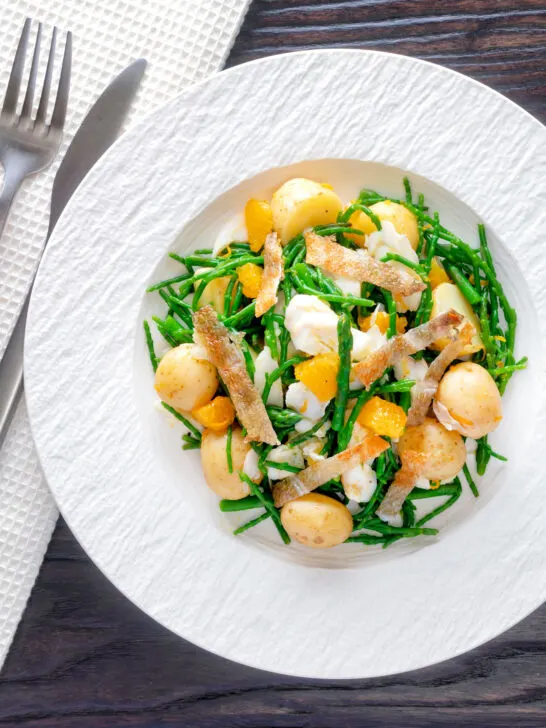 Serving Suggestions
I consider this cod salad recipe to be a light meal. But there are a couple of additions that can be made if you want to bulk it out.
Some thinly sliced and toasted French baguette is wonderful with this recipe. You can also cut it into cubes and fry it in some olive oil to make some croutons.
A perfect poached egg is also a great addition.
An important note on poached eggs, despite all of the "hacks" online the only way to make a great poached egg is with a really fresh egg. Trying with something less than fresh will yield disappointing results.
Another suggestion would be to add some rice to the dish. You would only need a little, but nutty brown rice, wild rice or forbidden rice would be perfect, would need to be cold so plan ahead!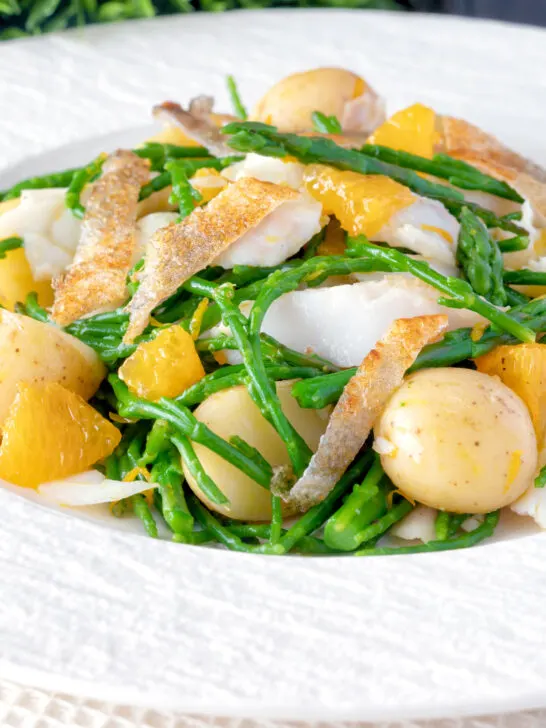 Equipment Used
I only recommend specific brands of equipment if I believe it makes a material difference to a recipe. If you have any questions feel free to ask them in the comments section below the recipe.
Stovetop.
16-17cm or 8″ saucepan.
28cm or 11″ non-stick frying pan.
Sharp kitchen knife.
Chopping board.
Small jar to mix the dressing, you can use a bowl and whisk if you like.
Weighing scales and or measuring cups and or spoons.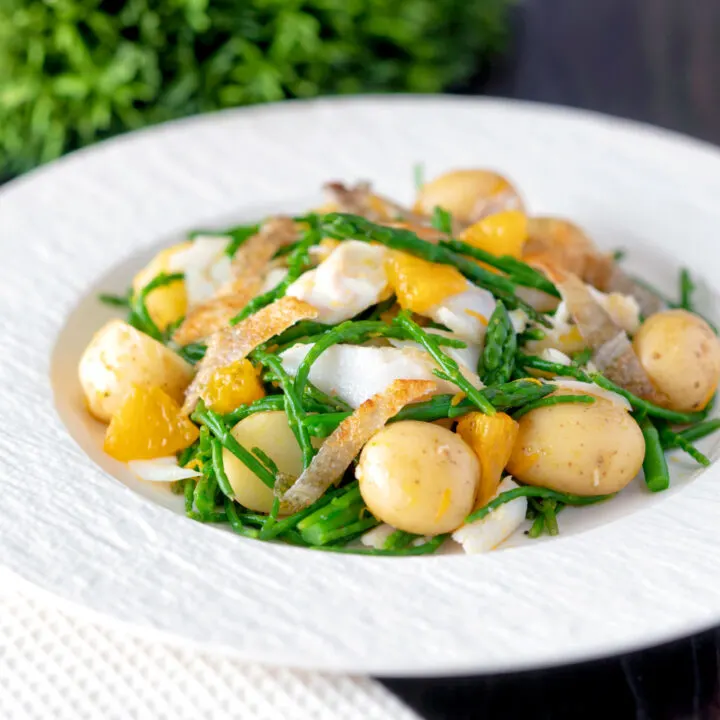 Yield:

2 Servings
Cod Salad Recipe with Samphire
A wonderfully simple cod fish salad that forgoes the leaves and uses pencil-thin asparagus, salty samphire and new potatoes with an easy orange dressing.
Ingredients
275g (10oz) Cod Fillet
1 Tbsp Cooking Oil
½ Tsp Salt + Extra for Boiling Potatoes
200g (1 Cup) New Potatoes
125g (¾-1 Cup) Thin Asparagus
100g (1 Cup) Samphire
1 Orange
3 Tbsp Rapeseed Oil
¼ Tsp Black Pepper
Instructions
Bring a small saucepan (16-17cm or 7") of water to a boil and season it with 1 teaspoon of salt, add the potatoes and cook until they are tender. This will take around 20 minutes, then remove the potatoes with a slotted spoon and allow them to cool. If the potatoes are larger than bit size chop them up a little.
Whilst the potatoes are cooking trim any woody ends from the asparagus, cut the tips off, and then cut the stems into 1.5cm pieces and set them aside.
When the potatoes have been removed add the asparagus to the potato water and cook for 90 seconds.
Add the samphire to the potatoes for the last 30 seconds.
Drain the asparagus and samphire and then refresh it in ice-cold water.
Zest the orange into a small jar and add the pepper, half of the salt along with the ground nut oil.
Peel the orange with a sharp knife to remove the pith and then remove the orange segments.
Squeeze the "carcass" of the orange into a bowl to remove and orange juice and add it to the oil in the jar, you should have around 1 tablespoon of juice, then add a lid and shake it to form a dressing.
Heat a 24-28cm (9 1/2-11") non-stick frying pan over a high heat and when it is hot add the oil.
Season the cod fillets with the remaining salt and then pan fry, skin side down for 2-3 minutes, flip the fillet and cook for another 60-90 seconds before removing and setting aside.
Combine the called new potatoes, samphire and asparagus in a salad bowl, add the dressing and toss to coat.
Add the orange segments to the salad.
Carefully remove the crispy skin from the fish and set it aside, then break up the cod into large flakes and add them to the salad. Carefully toss to coat.
Plate up then cut up the crispy cod skin and sprinkle it over the top of the salad before serving.
Nutrition Information:
Yield:
2
Serving Size:
1
Amount Per Serving:
Calories:

534
Total Fat:

30g
Saturated Fat:

2g
Trans Fat:

0g
Unsaturated Fat:

26g
Cholesterol:

76mg
Sodium:

708mg
Carbohydrates:

33g
Fiber:

5g
Sugar:

8g
Protein:

36g
Calorific details are provided by a third-party application and are to be used as indicative figures only.