This smoked mackerel salad uses some flavourings from the east combined with mango to cut through the richness and saltiness of the smoked mackerel.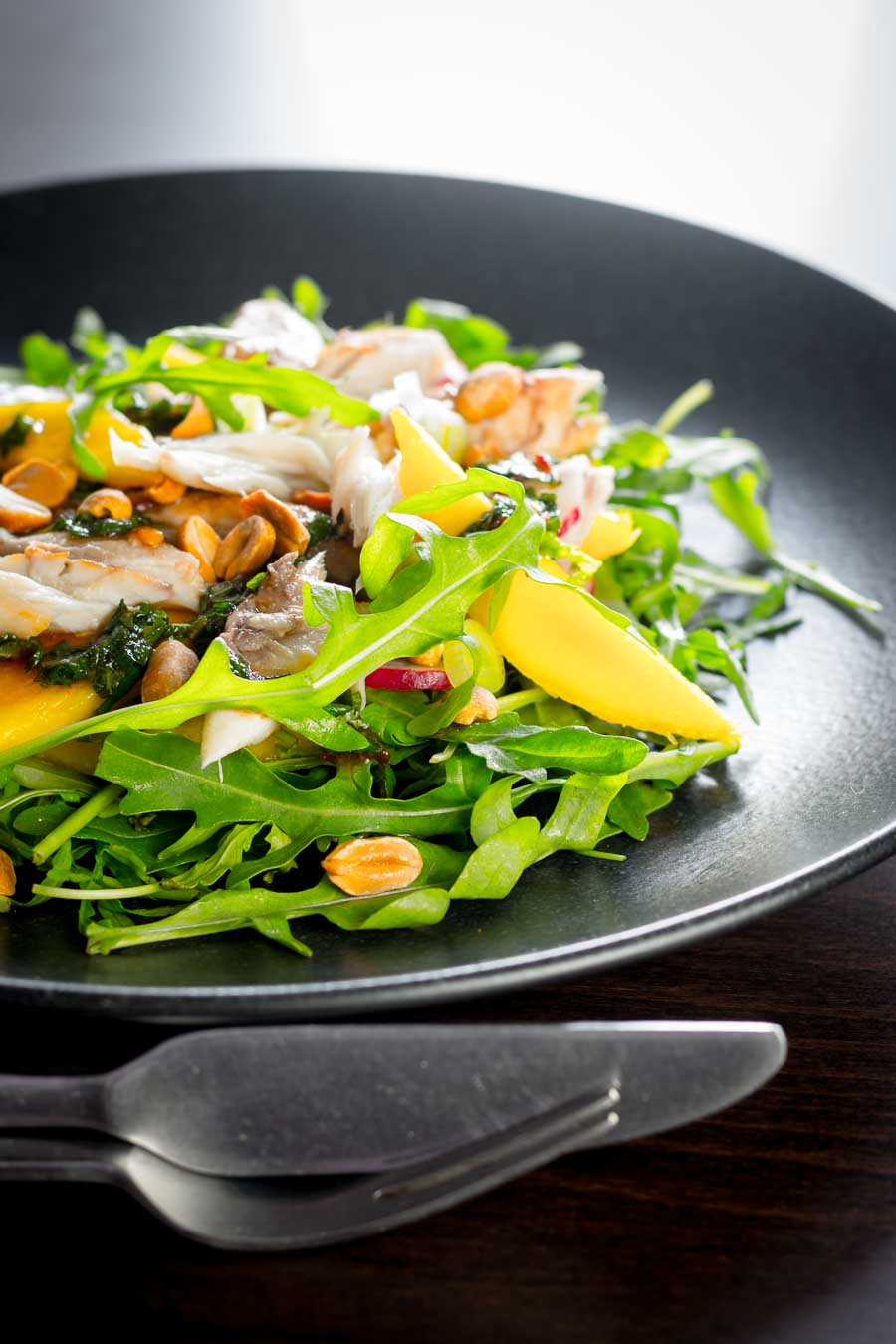 Smoked Mackerel Salad with Mango.
This smoked mackerel salad recipe may surprise some because I could definitely be described as a salad dodger. Not because I have a particularly large waistline!
But because I was bought up with some lame disjointed nonsense of a 'salad'. They mainly consisted of some iceberg lettuce, some radish, carrot, cheese, and some boiled eggs and whatever other bits the local grocer had.
I hated them! However, this smoked mackerel salad with mango is a whole new kettle of fish, see what I did there?
This mackerel salad recipe shares similar ideas to my roasted radish and duck salad. It is built to be a harmonious dish with flavours that are meant to be both distinct but also complimentary.
Smoked Mackerel is a really rich and strong flavour, even more so than fresh mackerel. As a result, I have added a host of sweet, sour and spicy flavours to cut through that richness.
Mango is the perfect sweet part of this dish and not an ingredient I use often but I can't think of anything else I would rather have.
It seems to have a richness that seems to be absent in other fruits which really works well with the smoked mackerel. Especially after sitting in a bit of lime juice for a few minutes.
The peanuts add a wonderful crunchiness to the dish. The dressing is loaded with flavours that mellow out the saltiness often inherent in smoked foods.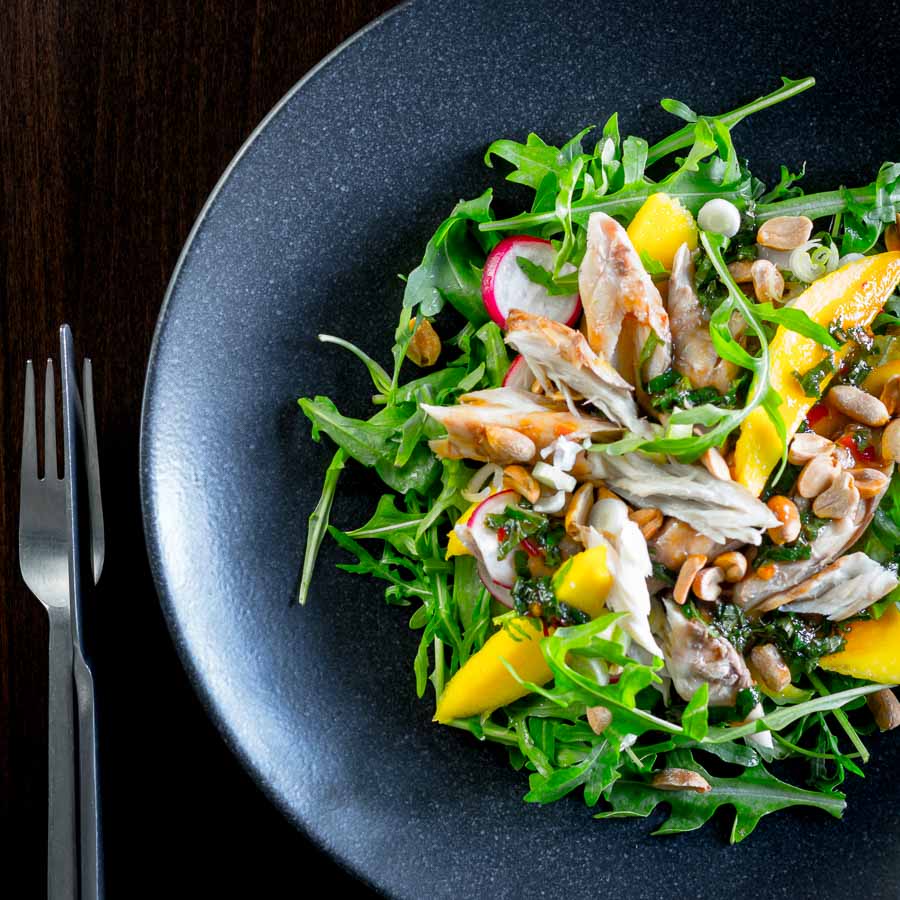 Mackerel Recipes.
This smoked mackerel salad recipe is a wonderful dish but I 'cook' it with a heavy heart… I say cook in inverted commas as there is little cooking involved.
The mackerel is only just warmed a little in the oven and the peanuts toasted.
However, the heavy heart comes from the fact that I LOVE fresh mackerel.
If there is one thing I miss about living in the UK it would be access to fresh seafood and fish. I'm sure I have mentioned it a length and right at the top of that list is mackerel.
Despite living a long way from the sea in the UK, Birmingham had the most incredible fish market.
It got even worse when I started working in the City Centre. I would often turn up at home with a couple for dinner, even if we had planned to eat something else.
To call mackerel my favourite would be an understatement. Just grill that bad boy and add plenty of salt and lemon and I am the happiest of all eaters.
In fact, it only gets better if it has just come out of the sea and it is cooked over and open fire on a beach!
Sadly I only have one fresh mackerel recipe here on Krumpli, it is however suitably simple. Lightly cured and then cooked with a blow torch in just seconds.
There are however a host of diverse smoked mackerel recipes to go alongside this smoked mackerel salad: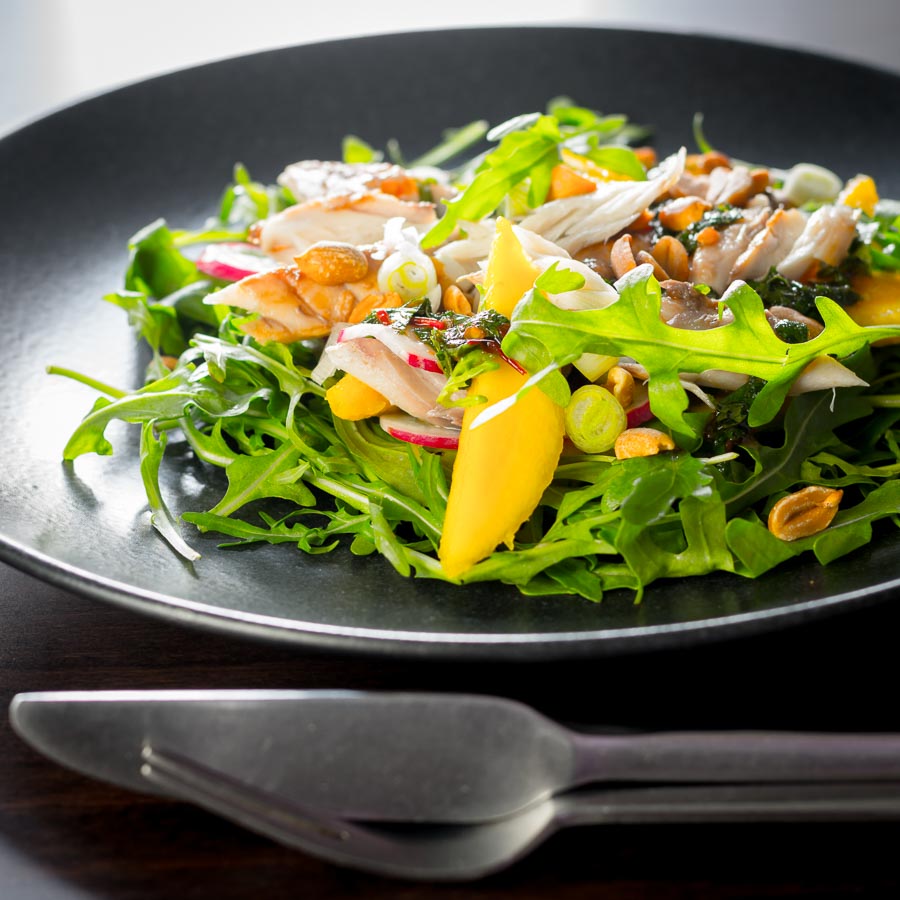 Mackerel Vs Salmon.
My wife didn't really understand my obsession with a fish that was so cheap and oily, insisting that salmon was far superior.
I have not really managed to convince her completely.
However we did visit and fish restaurant in Budapest last winter and she ordered a whole mackerel, much to my surprise.
I guess my immersion therapy before we left the UK had some impact.
Now, of course, I do not dislike salmon, I just love mackerel… But if you are a salmon person then this recipe would work equally well with some grilled salmon.
Just do not go for smoked salmon as a substitute in this particular recipe. It just does not have the oomph to stand up to the flavours.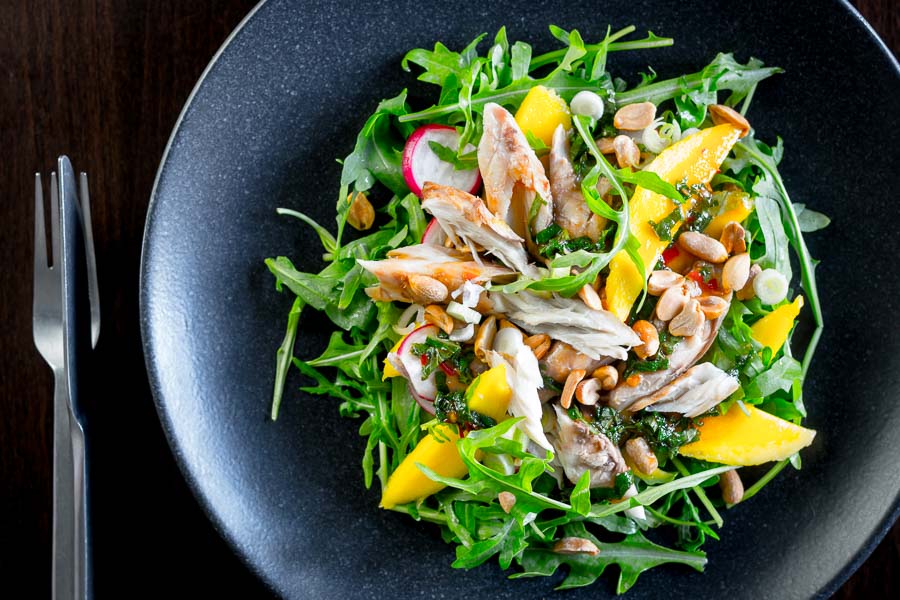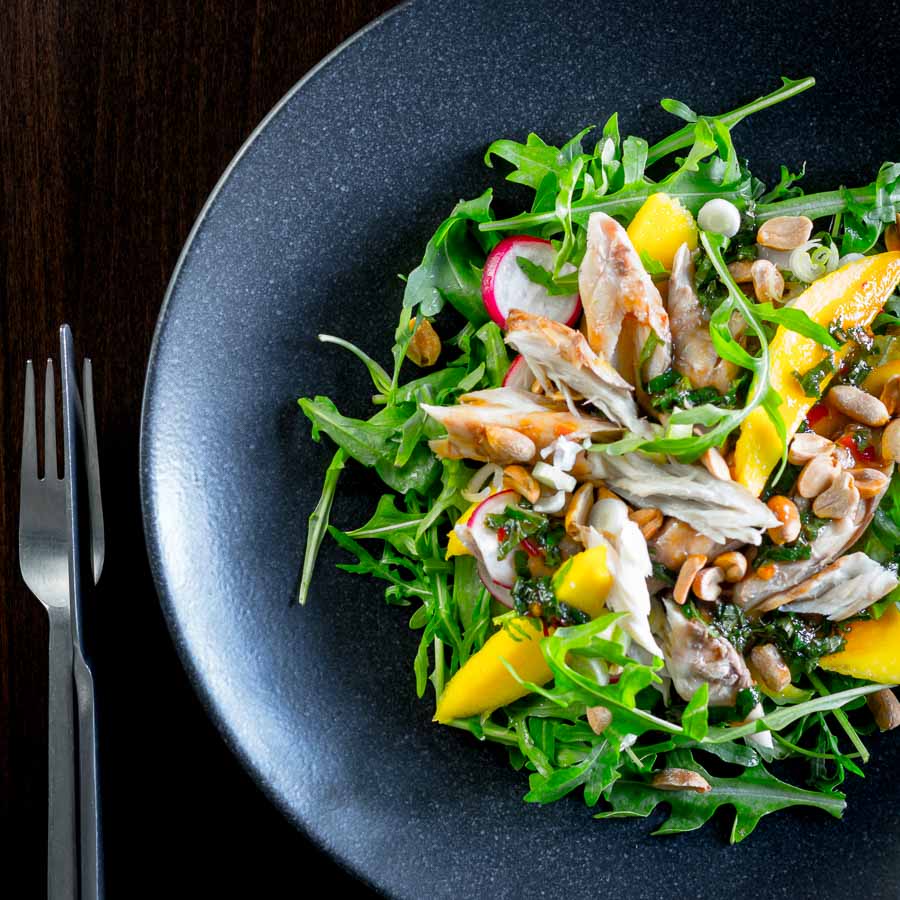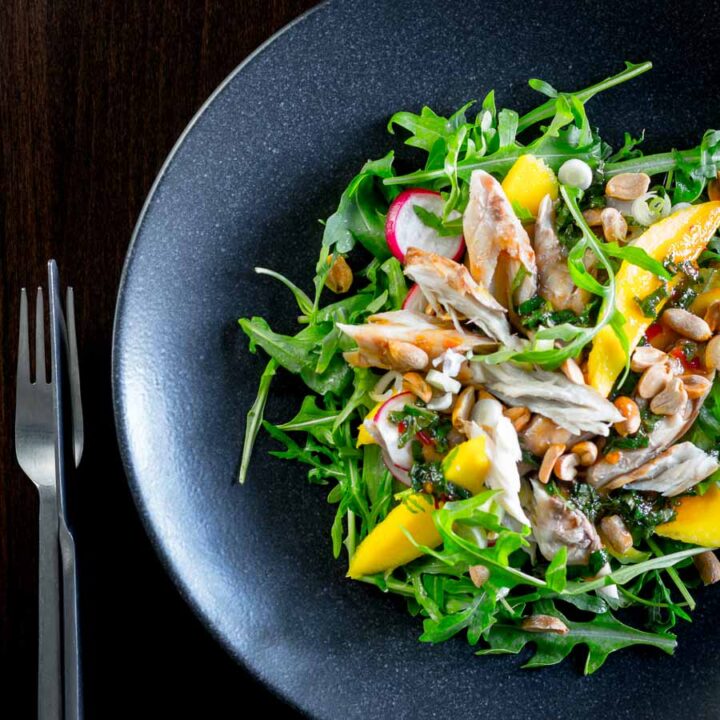 Smoked Mackerel Salad with Mango
This smoked mackerel salad uses some flavourings from the east combined with mango to cut through the richness and saltiness of the smoked mackerel.
Ingredients
50g Peanuts
1 Mango, Sliced into wedges, remove the cheek of the mango and score vertically and then run a large spoon along the flesh and they should pop right out
1 Lime, Juice only
1 Smoked Mackerel
1 Tbsp Mirin
1/2 Tbsp Dark Soy Sauce
20 Mint Leaves, Finely Sliced
1/2 Tbsp Mirin
2 Tbsp Sweet Chili Sauce
1 Tbsp Oil, I use some Rapeseed Oil
1/2 Tbsp Sesame Oil
1 Tbsp Chinkiang Vinegar
4 Radishes: Finely Sliced
50 g Fresh Arugula: Rocket for us on t'other side of the Atlantic
2 Spring Onions: Finely Sliced
Instructions
Preheat your oven to 150°C.
Whilst your oven is warming toast off your peanuts keeping an eye on them and remove them when just starting to colour which should take about 10 minutes.
Marinade the mango slices in the lime juice whilst you prepare the rest of the salad.
Take the whole Mackerel and place on a large piece of tin foil, add 1 tablespoon of mirin and dark soy sauce and form into a 'tent' ensuring the mackerel is not wrapped tightly but the 'tent' is sealed and place on a baking tray.
When you take the peanuts out of the oven replace with the mackerel and allow them to cool whilst the mackerel warms for 15 minutes.
No prepare the dressing by adding the mint leaves to a large mixing bowl, add 1/2 tablespoon Mirin, sweet chili sauce, vinegar and oils.
Have a taste, don't worry if the salt content tastes low the mackerel will provide the salty notes, it should be sweet, spicy and sour and set aside.
When you take the mackerel out of the oven add the arugula leaves and radish to the mango and lime juice and mix.
Now remove the skin and flake the mackerel and build your salad, I like to start with a layer of arugula and mango, then add the flaked mackerel followed my the dressing.
Finally sprinkle on top the peanuts and spring onions and munch!
Nutrition Information:
Yield:

2
Serving Size:

1
Amount Per Serving:
Calories:

798
Total Fat:

29g
Saturated Fat:

4g
Trans Fat:

0g
Unsaturated Fat:

22g
Cholesterol:

33mg
Sodium:

313mg
Carbohydrates:

127g
Fiber:

13g
Sugar:

108g
Protein:

17g
Calorific details are provided by a third-party application and are to be used as indicative figures only.