Sweet mango helps cut through the richness of smoked mackerel and is joined by a spicy dressing in this simple salad recipe.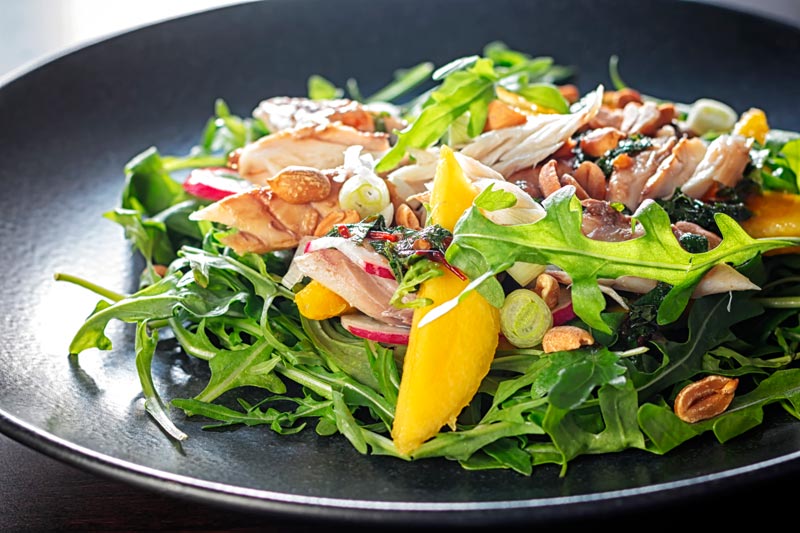 Warm Mackerel Salad.
I have a deep foodie love for the main ingredient in this wonderful main course salad.
Mackerel in any form is my favourite fish and I am really rather fond of smoked mackerel.
Not least because it is much easier to find here in landlocked Hungary than fresh mackerel!
It is commonly associated with smoked mackerel pate, but I use it for far more than that.
It is just as good in an Anglo Indian kedgeree as it is in a simple smoked mackerel pasta.
This warm mackerel salad has a very definite Asian slant which cuts through the salty, smokey richness of the mackerel beautifully.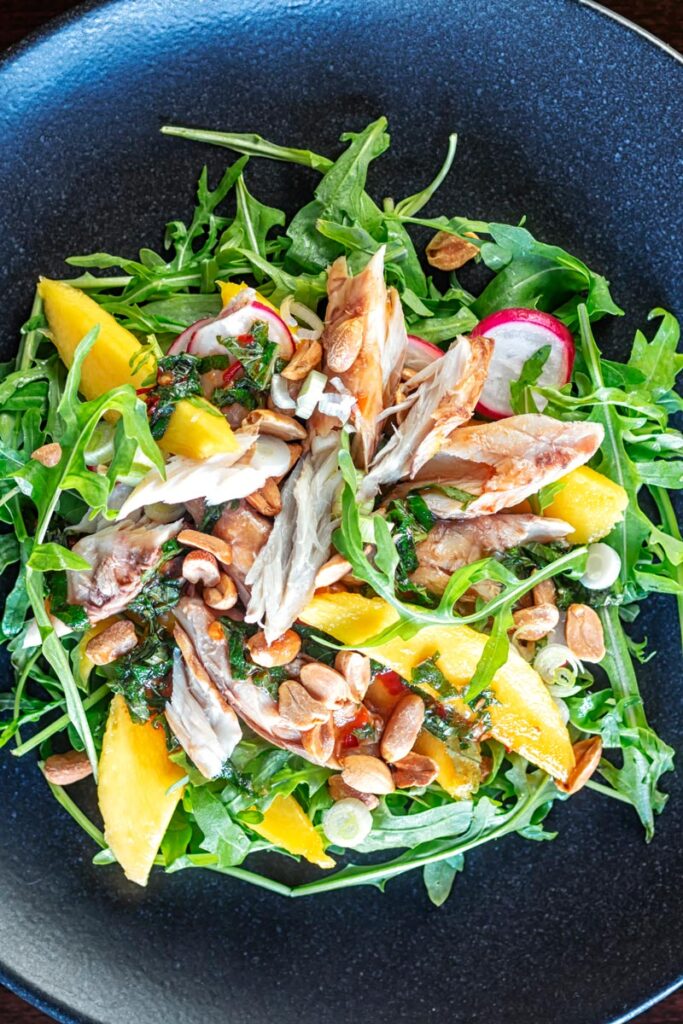 How to Cut a Mango.
The first thing that you need to do is work out which way the seed in the mango runs.
Next just lay the mango down on a chopping board it will naturally fall to lie in the same orientation that the seed runs.
Roll the mango over a quarter of a turn or 90 degrees, with the stem pointing at you.
Take a sharp knife and make a cut vertically 1-1.5cm away from the centre line of the mango. This is called the cheek!
Just like you and I, the mango has a pair of cheeks so make an identical cut on the opposite side of the mango.
To make slices, place the mango in the palm of your hand. I should be sensible and say place a kitchen cloth in your palm first, but I never do!
Then make slices down to the skin through the flesh 1cm apart.
Then slide a sharp sided large spoon between the flesh and the skin and pop out the flesh.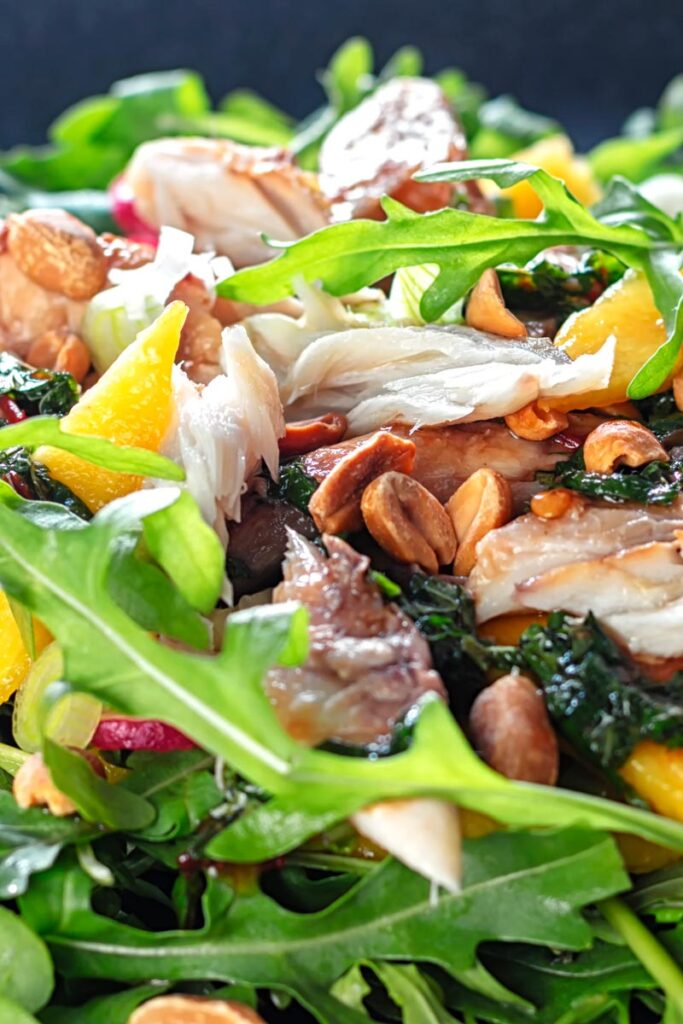 Ingredient Notes.
The first things that I should mention are notes for my American readers. Rocket is arugula and rapeseed oil is canola oil.
There are a couple of other ingredients that you may not have around that we can make substitutions for.
The first is Chinkiang vinegar and if you like my site, you should find some. I use it A LOT!
If you are new and want to make a rough approximation use a 50/50 mix of balsamic vinegar and red wine vinegar. But use half as much as indicated by this recipe.
Secondly Mirin, you can sub for Shaoxing Wine, Gin, Dry Sherry or Sake. If you are using gin reduce the amount by half.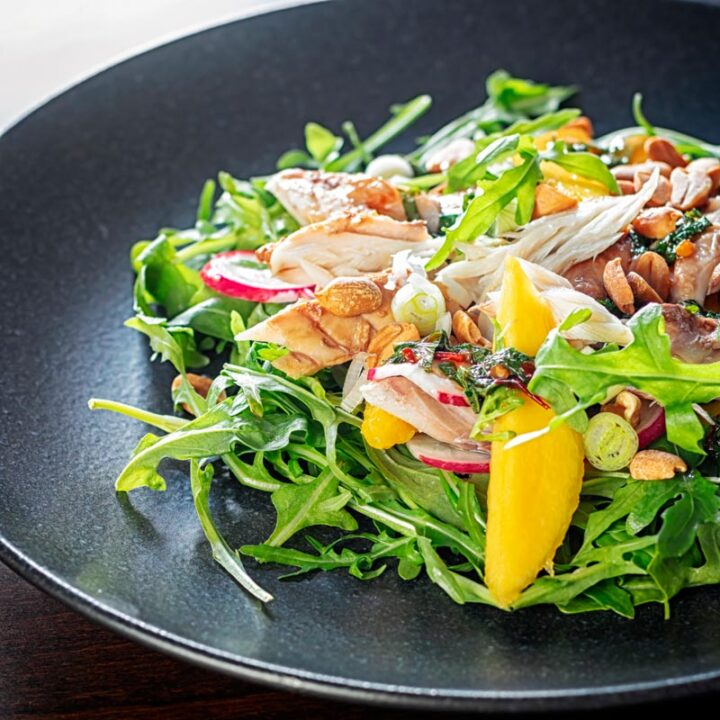 Yield:

2 Servings
Mango and Smoked Mackerel Salad Recipe
This mango and smoked mackerel salad fuses the classic ideas of a western salad with Asian flavours and it tastes delicious!
Ingredients
1 Smoked Mackerel
50g Peanuts
1 Mango
1 Lime
4 Radishes
50 g Rocket
2 Spring Onions
For the Dressing
20 Mint Leaves
1/2 Tbsp Mirin
2 Tbsp Sweet Chili Sauce
1 Tbsp Rapeseed Oil
1/2 Tbsp Sesame Oil
1 Tbsp Chinkiang Vinegar
Instructions
Heat your oven to 150°C or 300°F.
Place the peanuts on a roasting tray whilst the oven is warming keep an eye on them and remove when they are lightly toasted. (5-10 minutes)
Slice the mango into wedges (see above for instructions).
Place the mango into a bowl and squeeze over the lemon juice..
Place the smoked mackerel on a baking tray and place in the oven for 5-10 minutes to warm through a little.
Slice the mint leaves as finely as you can.
Add the mint to a bowl with the remaining ingredients for the dressing and whisk.
Taste the dressing and adjust the seasoning as required, remember the mackerel is salty!
Cut the radishes and spring onion into 1-2mm thick slices.
Remove the mackerel from the oven and pull off the skin.
Flake the flesh into the dressing.
Add the rocket, mango and radishes to the dressing and toss to coat everything.
Plate up and then sprinkle over the peanuts and spring onions.
Nutrition Information:
Yield:
2
Serving Size:
1
Amount Per Serving:
Calories:

566
Total Fat:

32g
Saturated Fat:

5g
Trans Fat:

0g
Unsaturated Fat:

24g
Cholesterol:

33mg
Sodium:

186mg
Carbohydrates:

56g
Fiber:

14g
Sugar:

35g
Protein:

22g
Calorific details are provided by a third-party application and are to be used as indicative figures only.