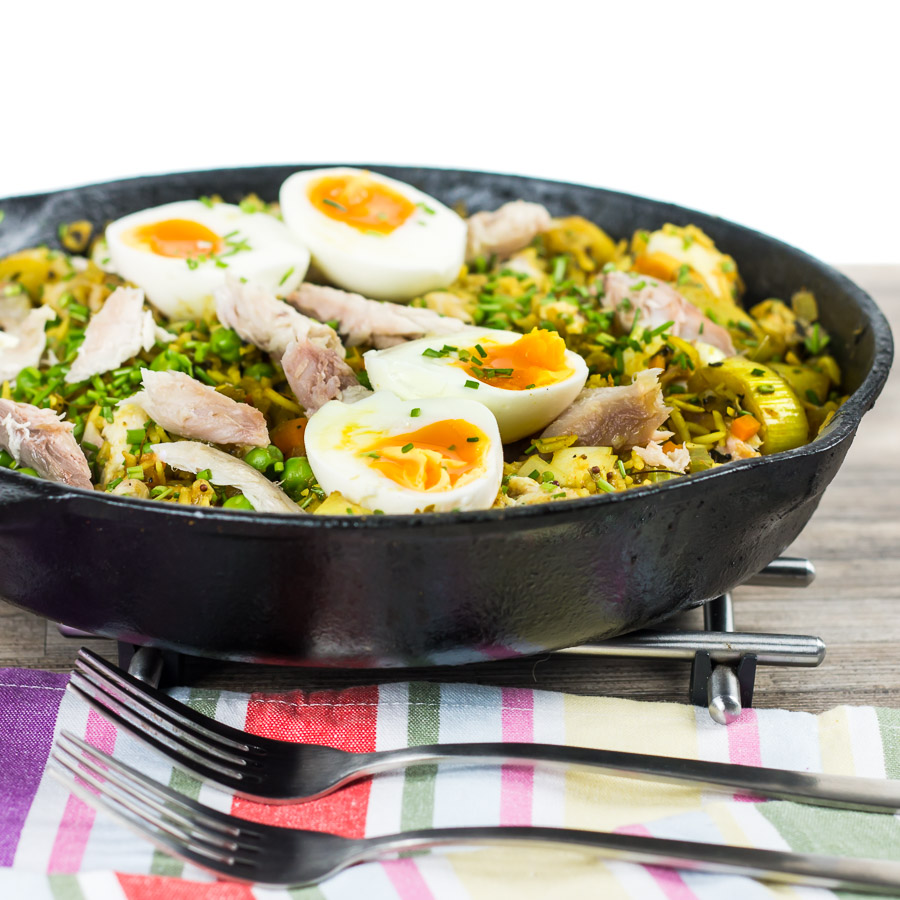 Kedgeree is so often flagged as a breakfast dish but for me it is always a lunch/dinner dish and because my smoked mackerel version is cooked in a skillet and is perfect for throwing in the middle of the table and helping yourself.
For those of you new to kedgeree it is an Anglo Indian dish most commonly made with smoked haddock and a host of Indian flavours indicating it's colonial history.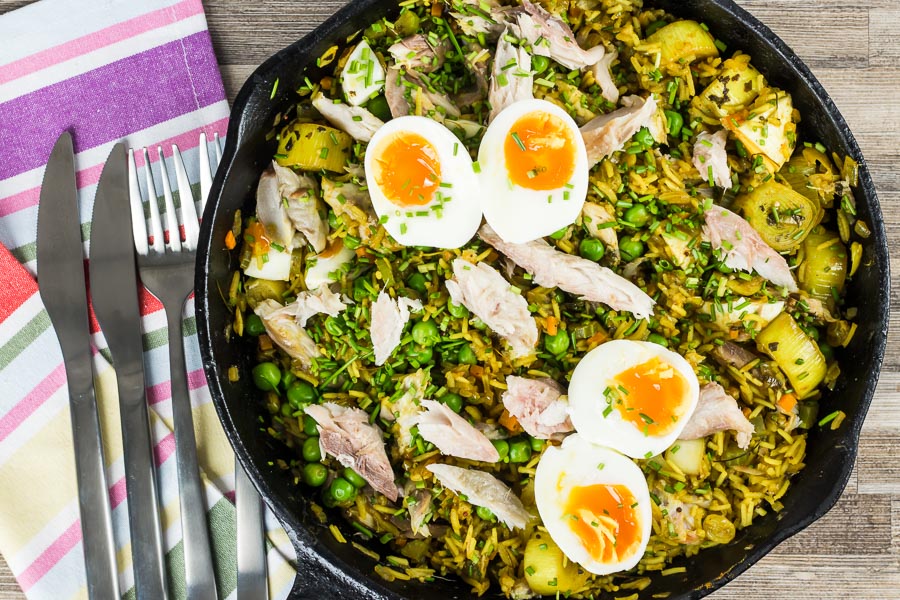 Now I don't go for curry powder, it is an ingredient I rarely use instead option for individual spices and whilst I love smoked haddock it is just impossible to find here in rural Hungary. Smoked mackerel on the other hand is readily available and so incredibly cheap it makes this recipe one of the most frugal I cook.
I love smoked mackerel and always sing it's praises here on Krumpli, go ahead hunt some down, if you need more convincing check out this smoked mackerel salad with apple and bacon or this simple smoked mackerel fusilli pasta.
But beware this recipe is cooked with leftovers in mind, maybe for a wee spot of breakfast the morning after, it never ever get to the morning after with the whole lot being demolished moments after serving!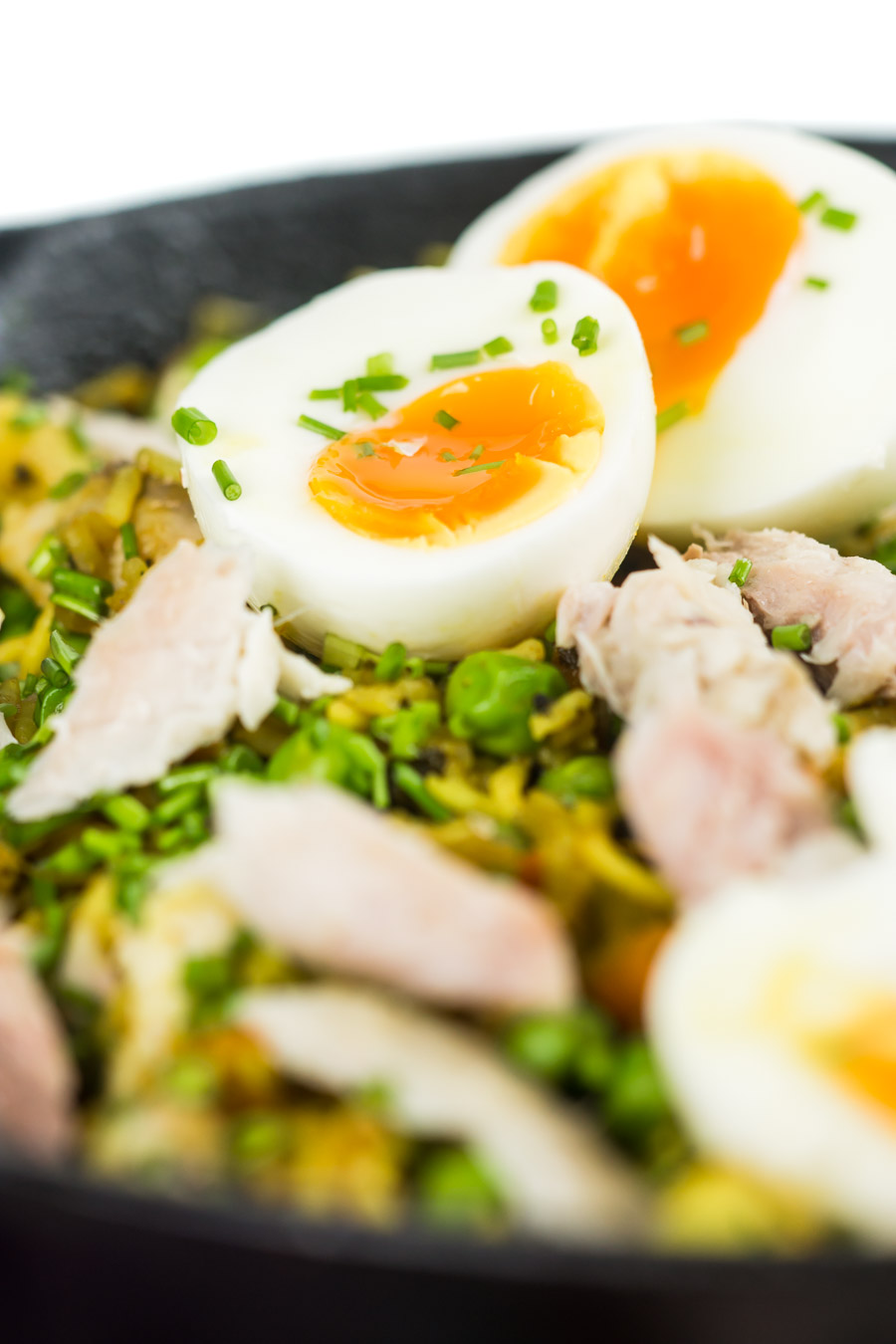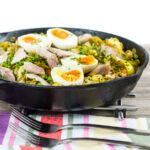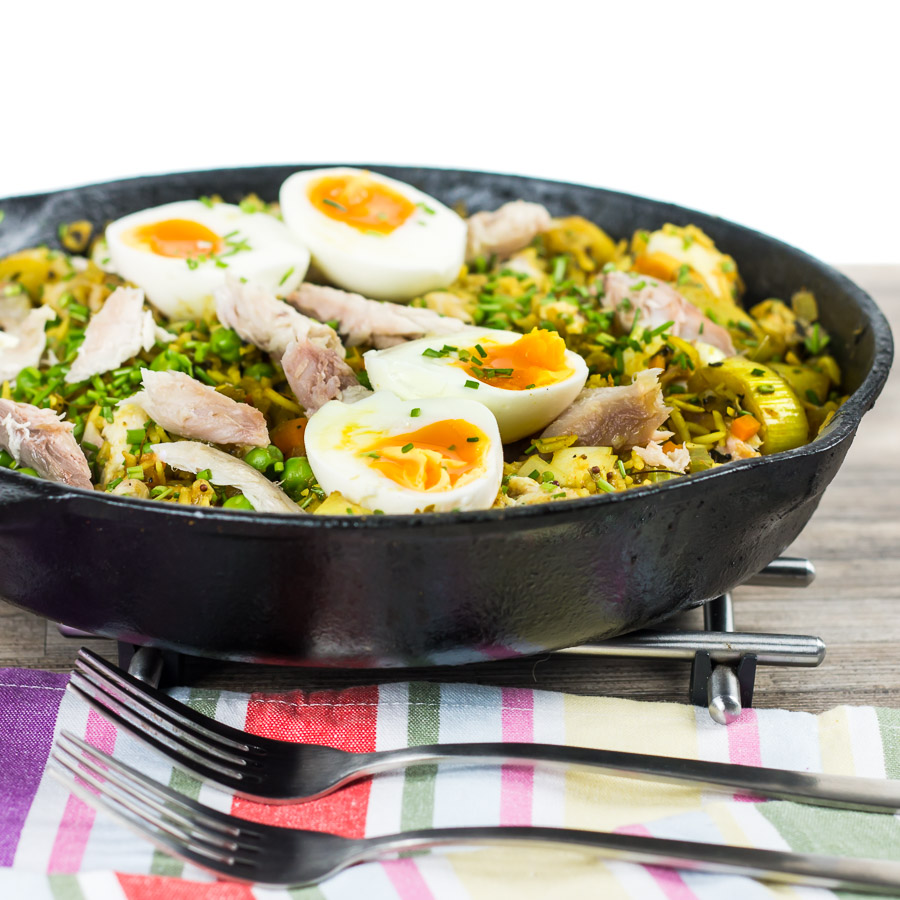 Skillet Smoked Mackerel Kedgeree
Kedgeree is an anglo Indian dish traditionally made with smoked haddock my version uses smoked mackerel and is chock full of British Indian flavours!
Ingredients
350

g

Smoked Mackerel Fillets.

1

Tsp

Cooking Oil:

Neutral.

1/2

Tsp

Coriander Seeds.

1/2

Tsp

Brown Mustard Seeds.

1

Tbsp

Dried Fenugreek Leaves.

75

g

Onion:

Finely diced.

50

g

Carrot:

Finely sliced.

75

g

Leek:

Sliced into 1cm coins.

35

g

Celery.

Finely diced.

2

Cloves

Garlic.

Finely sliced.

1

Bay Leaf.

1

Tsp

Turmeric.

1/2

Tsp

Ground Cumin.

1/2

Tsp

Black Pepper.

1/2

Tsp

Kashmiri Chili Powder.

125

g

Basmati Rice.

25

g

Butter.

3

Eggs.

1

Tsp

Lemon Juice.

100

g

Frozen Peas:

Defrosted.
Instructions
Begin by pouring 500ml of boiling water over the smoked mackerel fillets and set aside.

Bring a pan of water to the boil and boil the eggs for 7 minutes before rinsing in cold water and setting aside.

Heat a cast iron skillet over a medium high heat and add the cooking oil.

Add the coriander seeds, mustard seeds and crumble in the fenugreek leaves and cook until they start to spit.

Now add in the onion, celery carrot and leek and cook for 8 minutes.

Stir in the garlic and cook for another two minutes.

Add the dried spices, the turmeric, cumin, chili powder and black pepper along with the rice and stir to coat cooking for 2-3 minutes.

Drain the water from the mackerel fillets and pour enough over the rice so that it covers it my around 0.7cm and stir in the golden raisins.

When it comes to the boil reduce the temperature to low, throw in the bay leaf and, add a lid and then cook for 15-20 minutes. Test the rice and you want it to be nearly cooked but not fully.

Remove from the heat and allow to sit and steam for a further 10 minutes leaving the lid on.

Meanwhile remove the skin from the mackerel and flake and peel your eggs, chop the eggs into quarters. I like to keep six quarters to serve on top and chop the rest to fold in to the rice mix.

Add the peas, lemon juice and butter then stir, return the lid and leave for another 2 minutes before fluffing and serving with lots of chopped chives.