Easy smoked mackerel kedgeree, a twist on a classic British Indian rice recipe, traditionally a breakfast dish it is also great for dinner!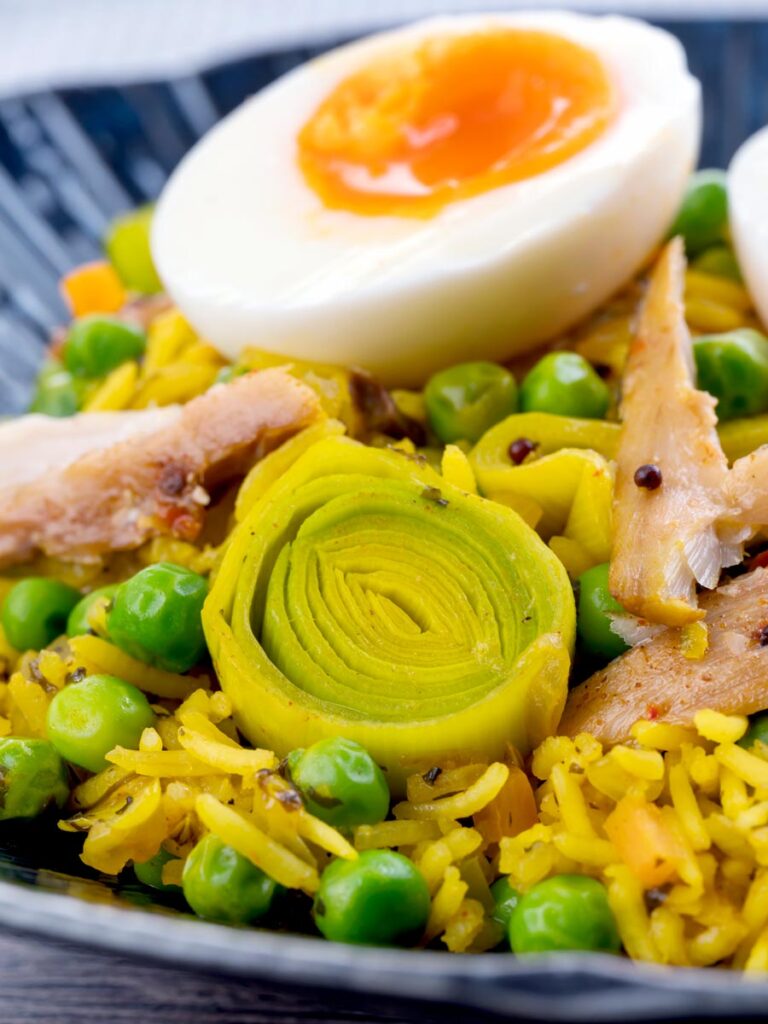 British Indian Breakfast Rice.
Smoked mackerel is no stranger to these pages, mackerel is my favourite fish and smoked mackerel is simply glorious.
It is so diverse! I use it in dishes like smoked mackerel risotto, smoked mackerel pasta tossed through a simple smoked mackerel salad.
Here it gets an Indian vibe in a take on a classic kedgeree recipe.
Typically smoked haddock would have been the key ingredient, but I've fallen in love with smoked mackerel kedgeree in recent years.
It was originally driven by availability and cost but the rich oily flavour is now the reason this is now the way that I choose to make my kedgeree.
Thought to be a Britsh Raj adaptation of kitchari or kichidi a rice and lentil recipe from India. Legend has it that it was 'created' by a Scottish regiment in India who added their smoked haddock rations to the local dish.
It was then bought back to the UK and embraced by the Victorians who loved curry.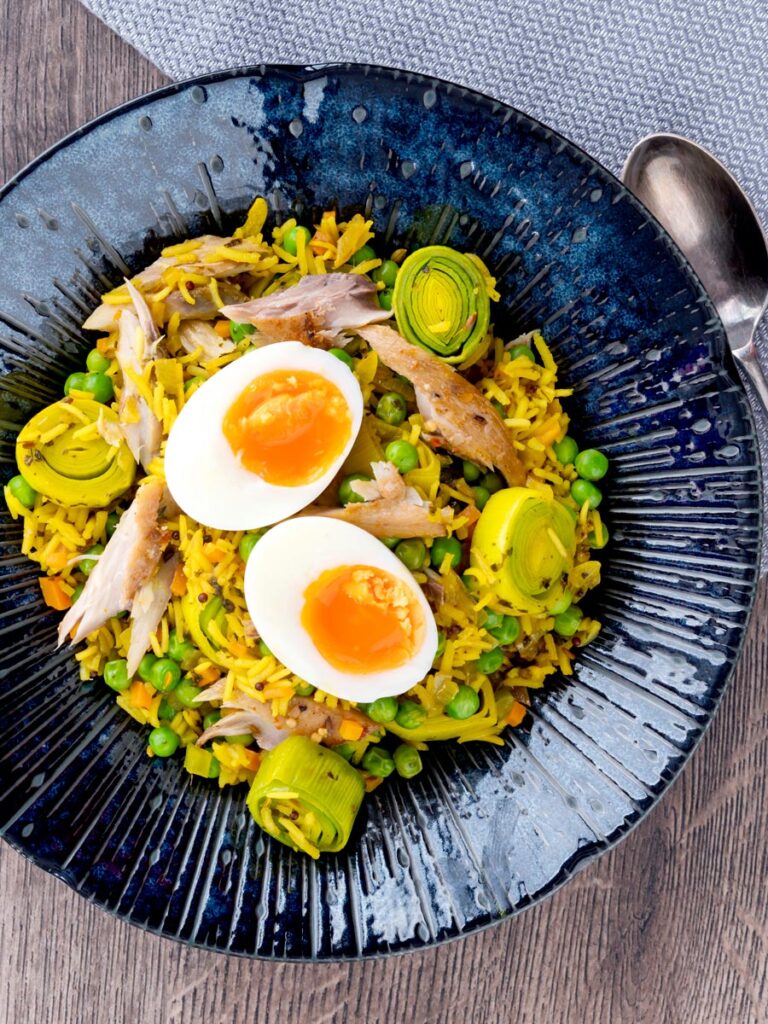 Frequently Asked Questions.
Is the type of rice important?
Yes! Just like a classic Indian Biryani this recipe needs basmati rice, nothing else will really do.
What sort of smoked mackerel should I use?
Anything you can get your hands on is fine. It is typically sold as a whole fish or as fillets and sometimes those fillets are seasoned with pepper and spices.
They all work just as well, fillets are a little easier to flake up. But the whole fish is typically cheaper, if your time is that valuable go for it.
As for the peppered fillets, feel free to use them, although I tend to find the flavours get lost in this recipe.
Can kedgeree be cooked in advance?
Yes! In fact, as with many Indian dishes, they taste better on day two.
To reheat, place in a wide-based pan with a lid and drop it in a moderate oven at 170°C or 340°F for 25 minutes or until piping hot.
This gives you plenty of time to cook some fresh, jammy boiled eggs.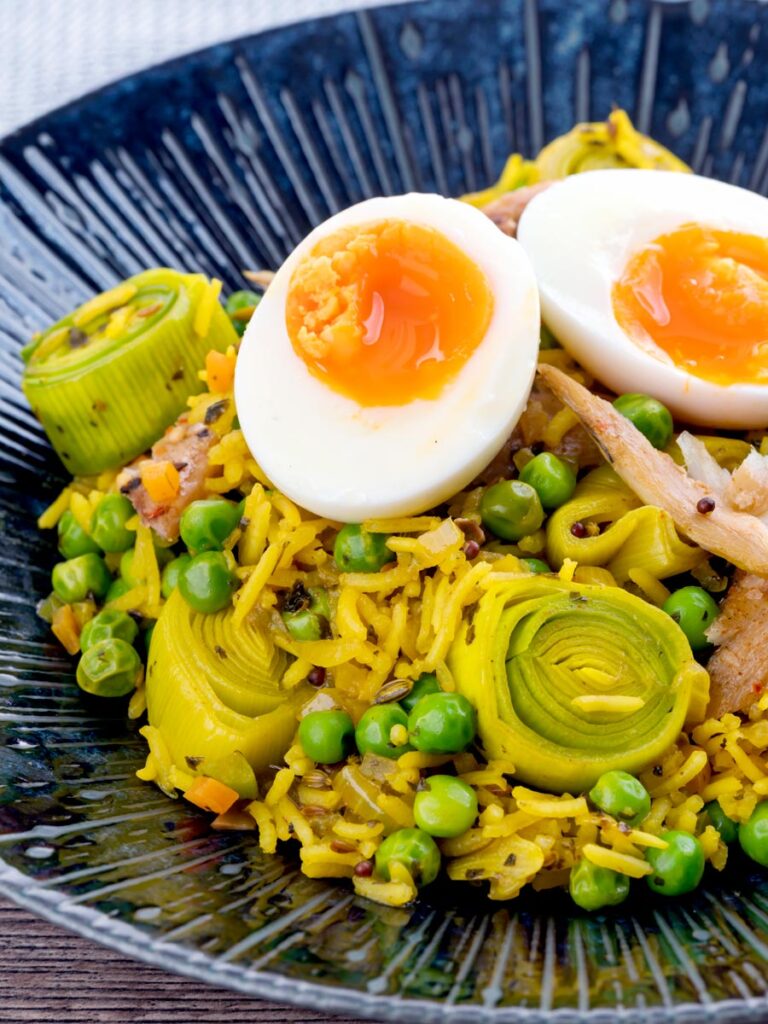 Serving Suggestions.
This dish stands alone and I'm more than happy to scoff a big bowl as it stands.
That does not mean that there are not little flourishes that can be added.
My favourite is a cucumber and mint raita, it matches so well with the flavours.
It also works really well with a nice fresh kachumber salad! If you really want to go to town you should cook up some poppadoms.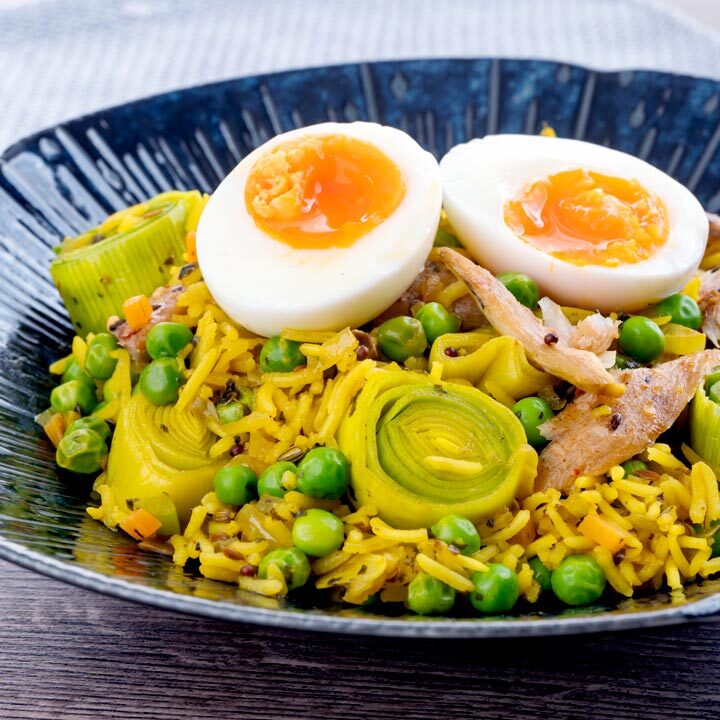 Yield:

2 Servings
Skillet Smoked Mackerel Kedgeree
Kedgeree is an Anglo Indian dish traditionally made with smoked haddock my version uses smoked mackerel and is chock full of British Indian flavours!
Ingredients
175g (6oz) Smoked Mackerel Fillets
2 Eggs
1 Tsp Cooking Oil
1 Tsp Cumin Seeds
1/2 Tsp Fennel Seeds
1/2 Tsp Brown Mustard Seeds
1/4 Tsp Asafoetida
6 Curry Leaves
75g (1/2 Cup) Onion
50g (1/3 Cup) Carrot
35g (1/4 Cup) Celery
100g (3/4-1 Cup) Leek
2 Cloves Garlic
6 Cardamom Pods
1 Tbsp Dried Fenugreek Leaves
1 Tsp Turmeric
1/2 Tsp Ground Coriander
1/2 Tsp Kashmiri Chili Powder
1//2 Tsp Salt
1/2 Tsp Black Pepper
125g (2/3 Cup) Basmati Rice
1 Tsp Lemon Juice
150g (1 Cup) Peas
Instructions
Begin by pouring 500ml of boiling water over the smoked mackerel fillets and set aside.
Bring a pan of water to the boil and boil the eggs for 7 minutes before rinsing in cold water and setting aside.
Cut the onion, celery and carrot into a 3-4mm dice.
Finely slice the garlic cloves.
Clean and cut the leek into 1cm (1/2") thick rounds.
Heat a frying pan or skillet over a medium high heat and add the cooking oil.
Add the cumin, fennel, mustard seeds, asafoetida, and curry leaves then stir for 60 seconds.
Now add in the onion, celery carrot and leek and cook for 8-10 minutes stirring occasionally.
Stir in the garlic and cook for a further minutes.
Add the cardamom pods, fenugreek seeds turmeric, coriander, chilli powder, salt, and pepper followed by the rice.
Stir and cook for 2 minutes.
Drain the water from the mackerel fillets and pour enough over the rice so that it covers it my around 5mm (1/8"-1/4") and stir in the leeks.
Reduce the heat to low add a lid and then cook for 15 minutes. Test the rice and you want it to be nearly cooked but not fully.
Flake the mackerel fillets.
Remove the lid and stir through the peas (defrosted if frozen) and lemon juice.
Add the flaked mackerel to the top of the pan and return the lid, turn off the heat and allow to steam for 5-10 minutes.
Finally shell the eggs, cut them into quarters and serve them on your kedgeree.
Nutrition Information:
Yield:
2
Serving Size:
1
Amount Per Serving:
Calories:

551
Total Fat:

24g
Saturated Fat:

6g
Trans Fat:

0g
Unsaturated Fat:

16g
Cholesterol:

252mg
Sodium:

804mg
Carbohydrates:

48g
Fiber:

9g
Sugar:

9g
Protein:

36g
Calorific details are provided by a third-party application and are to be used as indicative figures only.