The bed of Harissa spiked bulgur wheat and chickpeas is the perfect bed for these Moroccan inspired beef meatballs, a wonderful winter warmer!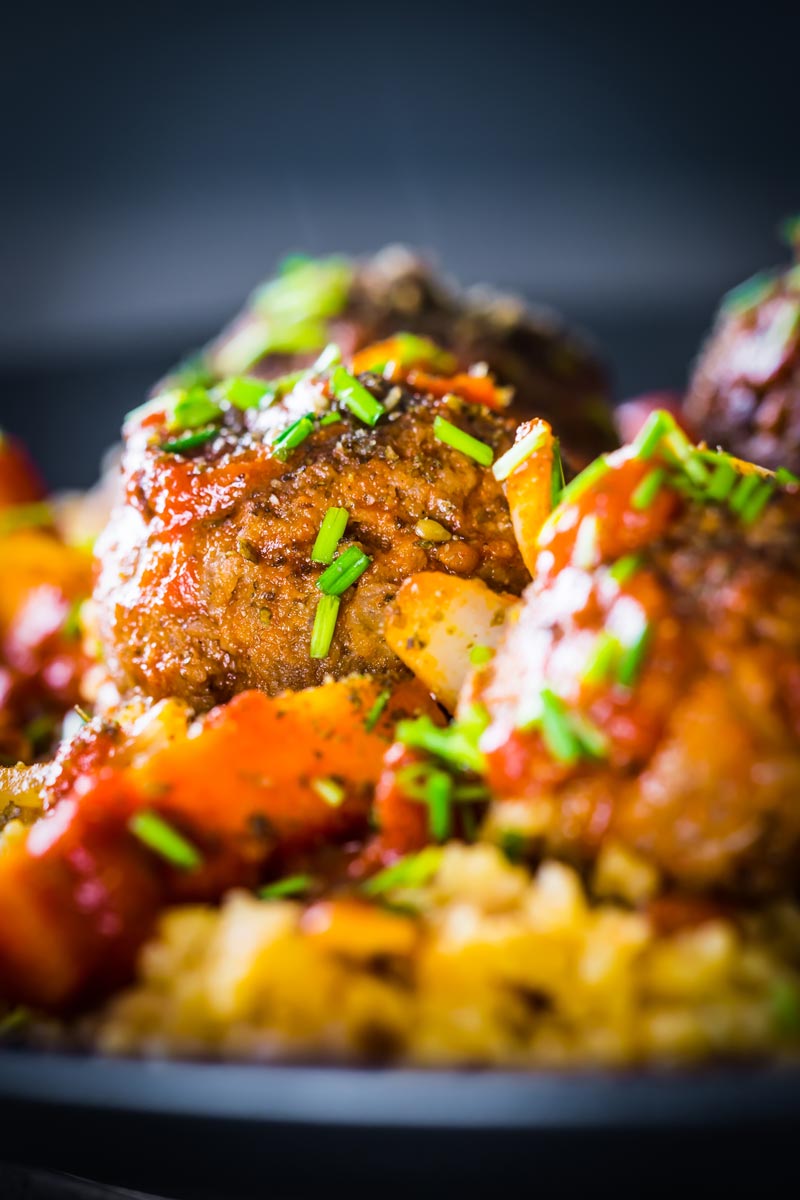 Moroccan Beef Meatballs with Bulgar Wheat and Chickpeas.
These Moroccan influenced beef meatballs join an ever-growing list of meatballs from around the world on my site.
Whether they be my very British Faggots or my Japanese influenced Teriyaki Meatballs. Of course, there are American Italian Meatballs with Spaghetti and even some Indian Chicken Meatballs or even Indian Venison Meatballs and that is without mentioning my Beer and BBQ Meatballs!
Meatballs are just magic. A wonderfully economic way of stretching meat a little further and providing a big hearty meal at a bargain basement cost.
As with many of my recipes, this Moroccan beef meatball recipe has a wonderful spicy back flavour.
This time from harissa paste. One of my favourite store cupboard ingredients that liven up and change up a typical way of using bulgur wheat.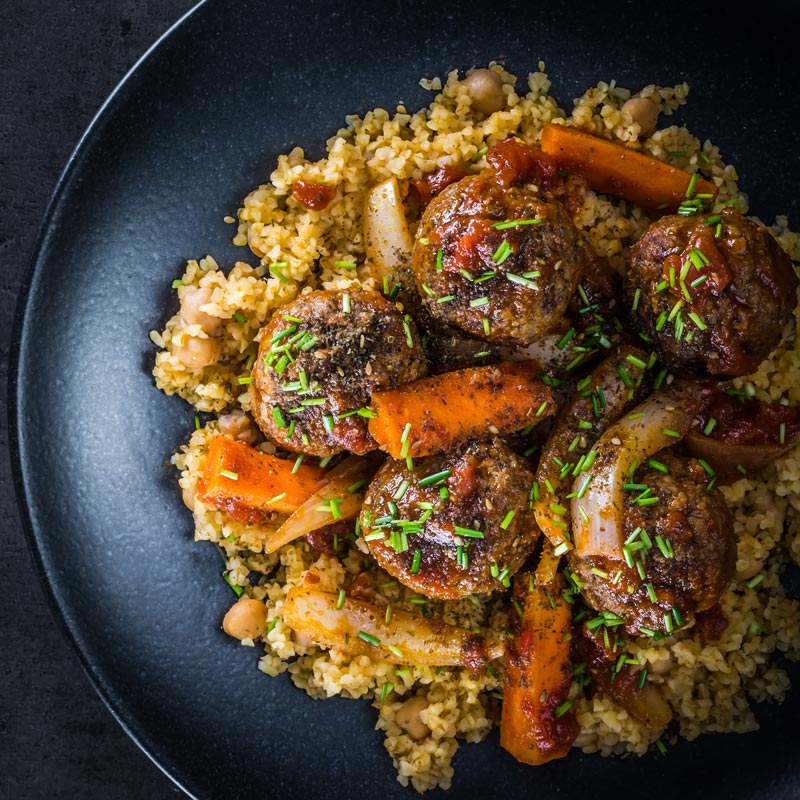 How to Make Homemade Meatballs.
This beef meatball recipe features a pretty standard way of making meatballs. In fact, it is very similar in many ways to the making of both burgers, like this venison burger, or indeed my homemade sausages.
Regular readers will know that I am not one for making foods lean of fat. So go for a minced meat somewhere between 10-20% fat content. Fat adds both flavour and keeps your balls juicy (oooo er missus).
Then it is a simple case of adding flavourings and binding agents. I strongly favour breadcrumbs and eggs.
It is then simply a case of forming your meatballs. This is as close to 'hack' as I get, use wet hands when forming your meatballs, it makes things easier.
I often see people recommend that meatballs are chilled before cooking. It is not something advise, I never cook meat straight from the fridge.
I don't advocate bringing to room temperature, just taking the chill off the surface of the meat. It is probably one of those myths like not seasoning beans before cooking, but it is one of my cooking foibles.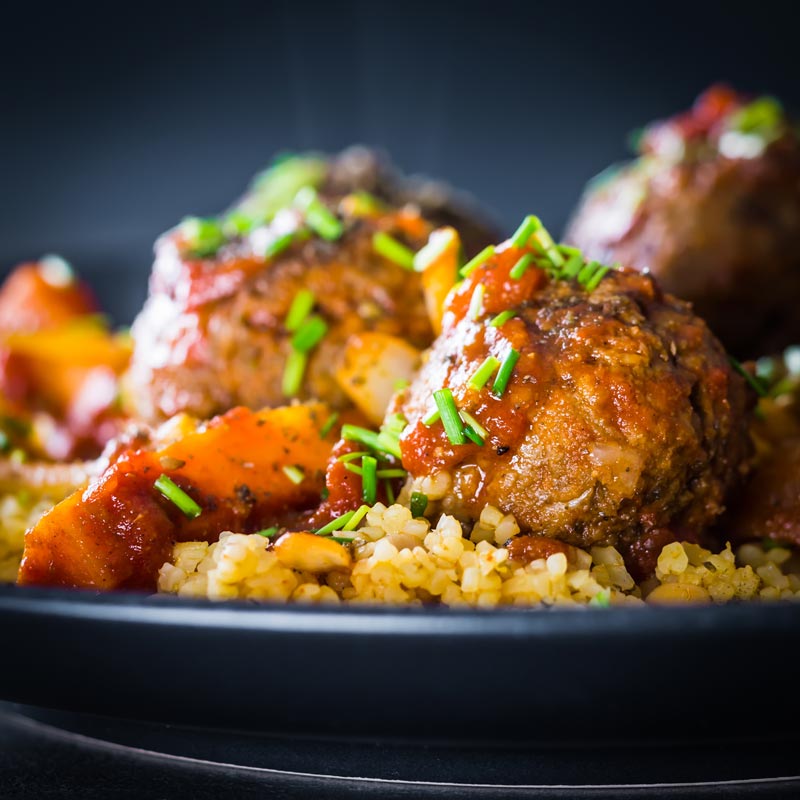 What is Bulgur Wheat?
Bulgur wheat is also known as burghul. It is nothing more than partially cooked groats of wheat, typically that wheat is Durum wheat. Yes, the pasta stuff.
It is probably most well known as the core ingredient of the classic tabbouleh. But it is also used in Kibbeh and is used to make a porridge-like dish in India and Pakistan.
It has an almost nutty flavour and great texture and makes a great accompaniment to these beef meatballs.
It is great with lots of fresh herbs but it is winter and my herb pot is empty. I object thoroughly to the cost of buying herbs from the supermarket, how expensive?!
It is, however, the end of January, seriously how did that happen? Anyway end of January which means I'll be filling up my herb plot in a matter of weeks and a whole new year of planting will kick off!
Now that is exciting, obviously come July it will be grueling!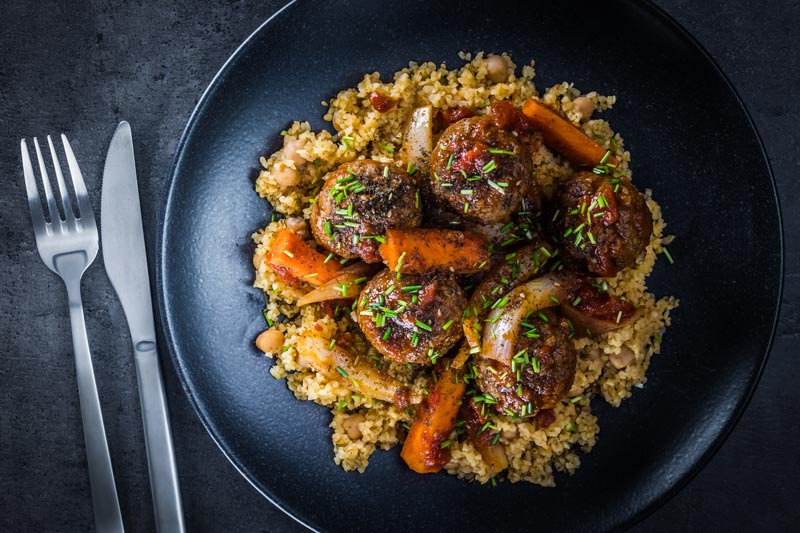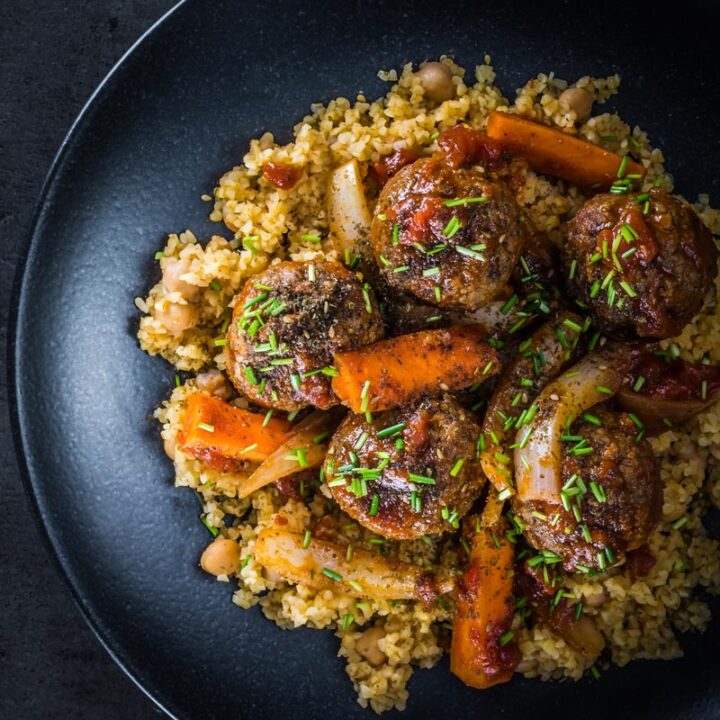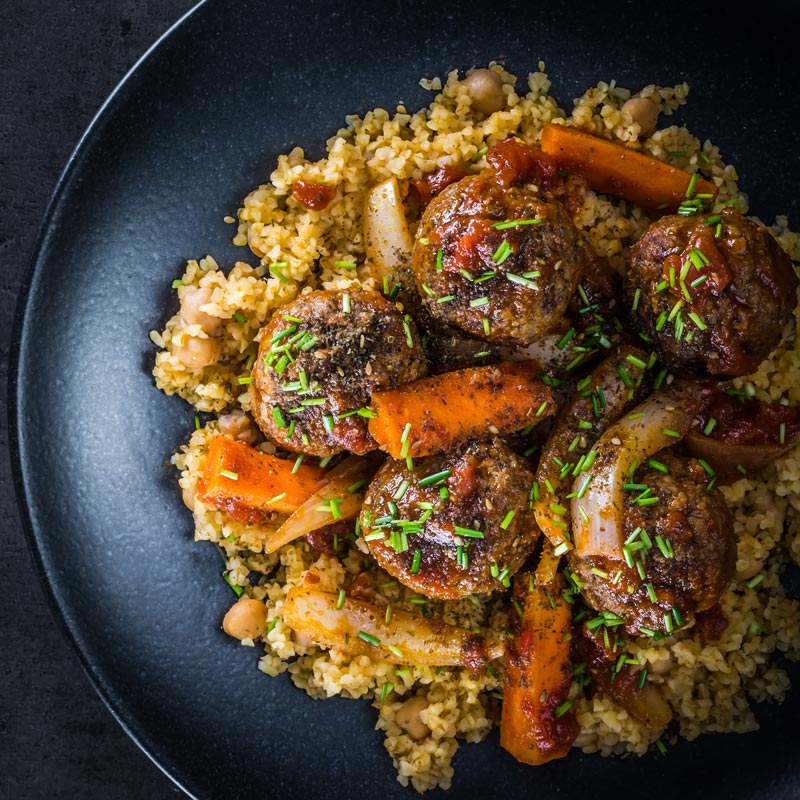 Yield:

2 Servings
Moroccan Beef Meatballs with Bulgur Wheat and Chickpeas
The bed of Harissa spiked bulgur wheat and chickpeas is the perfect bed for these Moroccan inspired beef meatballs, a wonderful winter warmer!
Ingredients
250 g Ground Beef
150 g Onion
2 Cloves Garlic
1/2 Tbsp Tomato Puree
1/2 Tsp Sumac
1 Egg Yolk
50 g Breadcrumbs
1 Tbsp Cooking Oil
100 g Carrot,
200 g Canned Tomatoes
1/2 Tsp Ground Cumin
1 Tsp Ground Coriander
1/2 Tsp Chili Powder
125 g Bulgur Wheat
100 g Chickpeas, Cooked
500 ml Chicken Stock
Salt, To taste
1 Tbsp Harissa Paste
2 Tbsp Chives
1 Tsp Zaátar
Instructions
Add the half of the onion, tomato puree, garlic, and sumac to a blender and blitz to a paste.
Add this paste to the ground beef, breadcrumb, salt to taste and the egg yolk then mix.
Form this mix into 10 meatballs around 40-45g each.
Heat the cooking oil in a frying pan and sear off the meatballs.
Cut your carrot into quarters and then in to 4cm batons
When seared removed the meatballs and add in the onion and carrots and cook for 5 minutes on a medium high heat.
Add in the cumin, coriander and chili powder and stir to coat before adding in the tinned tomatoes.
Stir this, reduce the heat to low and then add a lid and allow to steam for 15-20 minutes.
Heat the chicken stock and add in the Harissa paste and then cook the bulgar wheat for 12 minutes.
After 12 minutes add in the chickpeas and cook for a further 3 minutes.
Serve sprinkled with chopped chives and zaátar.
Nutrition Information:
Yield:
2
Serving Size:
1
Amount Per Serving:
Calories:

861
Total Fat:

40g
Saturated Fat:

11g
Trans Fat:

1g
Unsaturated Fat:

23g
Cholesterol:

211mg
Sodium:

1292mg
Carbohydrates:

73g
Fiber:

14g
Sugar:

16g
Protein:

55g
Calorific details are provided by a third-party application and are to be used as indicative figures only.