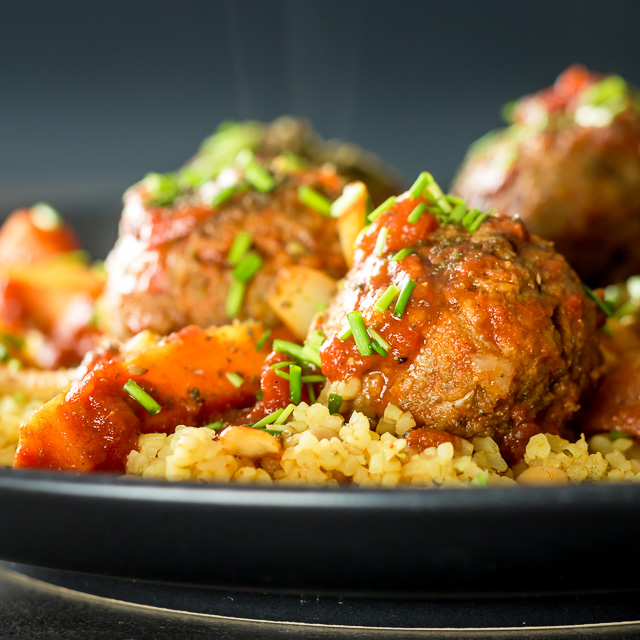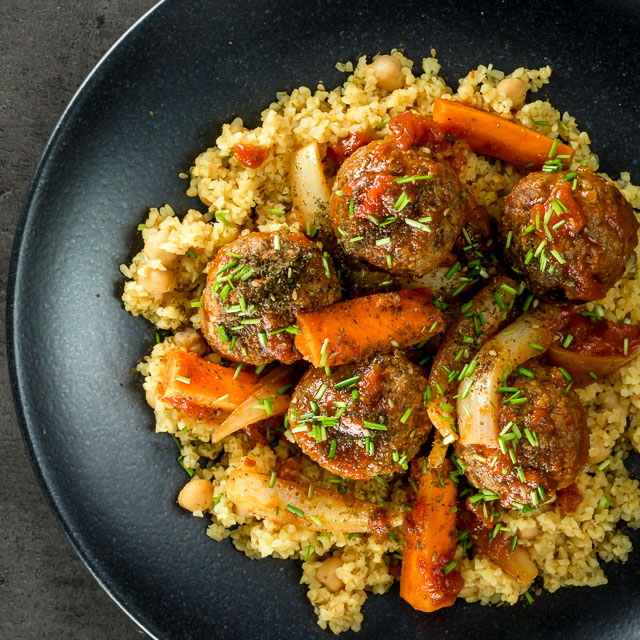 As with many of my recipes these Moroccan beef meatballs have a wonderful spicy back flavour, this time from harissa paste, one of my favourite store cupboard ingredients that liven up and change up a typical way of using bulgar wheat.
Yes it is great with lots of fresh herbs but it is winter and my herb pot is empty and I object thoroughly to he cost of buying herbs from the supermarket, how expensive. It is however the end of January, seriously how did that happen? Anyway end of January which means I'll be filling up my herb plot in a matter of weeks and a whole new year of planting will kick off! Now that is exciting, obviously come July it will be grueling 😉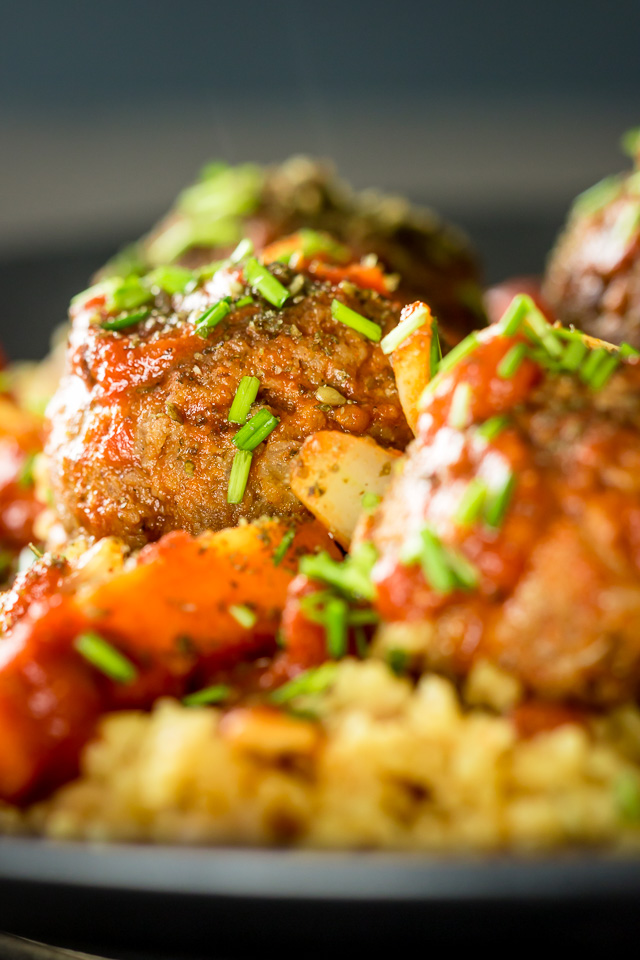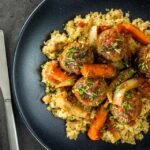 Moroccan Beef Meatballs with Bulgar Wheat and Chickpeas
The bed of Harissa spiked bulgar wheat and chickpeas is the perfect bed for these Moroccan inspired beef meatballs, a wonderful winter warmer!
Ingredients
250

g

Ground Beef

150

g

Onion

2

Cloves

Garlic

1/2

Tbsp

Tomato Puree

1/2

Tsp

Sumac

1

Egg Yolk

50

g

Breadcrumbs

1

Tbsp

Cooking Oil

Neutral

100

g

Carrot

Cut on to quarters and then in to 4cm batons

200

g

Canned Tomatoes

1/2

Tsp

Ground Cumin

1

Tsp

Ground Corriander

1/2

Tsp

Chili Powder

125

g

Bulgar Wheat

100

g

Chickpeas

Cooked

500

Chicken Stock

Salt

To taste

1

Tbsp

Harissa Paste

1

Handful

Chives

1

Tsp

Zaátar
Instructions
Add the half of the onion, tomato puree, garlic, and sumac to a blender and blitz to a paste.

Add this paste to the ground beef, breadcrumb, salt to taste and the egg yolk then mix.

Form this mix into 10 meatballs around 40-45g each.

Heat the cooking oil in a frying pan and sear off the meatballs.

When seared removed the meatballs and add in the onion and carrots and cook for 5 minutes on a medium high heat.

Add in the cumin, coriander and chili powder and stir to coat before adding in the tinned tomatoes.

Stir this, reduce the heat to low and then add a lid and allow to steam for 15-20 minutes.

Heat the chicken stock and add in the Harissa paste and then cook the bulgar wheat for 12 minutes.

After 12 minutes add in the chickpeas and cook for a further 3 minutes.

Serve sprinkled with chopped chives and zaátar.