A Roasted Vegetable Couscous is my idea of a great way to add a splash of colour and interest to root vegetables throughout winter and early spring!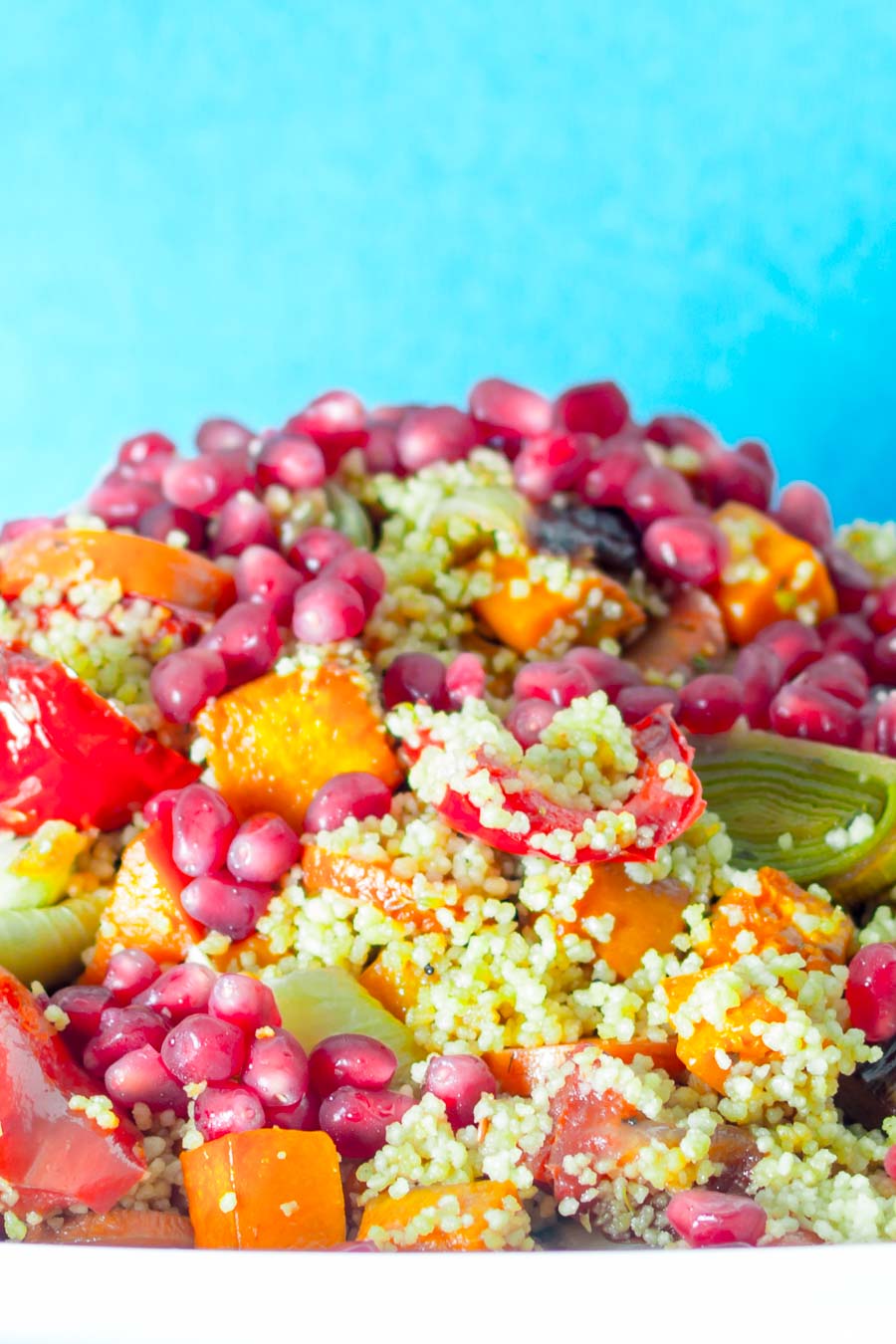 Roasted Vegetable Couscous.
My roasted vegetable couscous is often a dish I call upon when the rustic tones of winter food are getting a bit tedious. Times when I desire all the flavour of winter roots but with a splash of colour to liven things up a little.
Sure this dish takes a little time to cook but none of it is your time! 10-15 minutes work at most in the kitchen.
You can walk away for an hour and do something much more interesting.
When you come back chuck in a bit of couscous boil up some stock and you have what I consider to be a great meal.
You could, of course, serve this roasted vegetable couscous dish as a side with a grilled or roasted piece of meat. Maybe the chicken legs in this recipe or even the grilled halloumi from this recipe!
Yet despite being a committed carnivore, I could gobble this stuff up all day just as it comes. It would be fantastic with a huge handful of parsley or coriander but alas it is the wrong time of year so 'nekid' it is.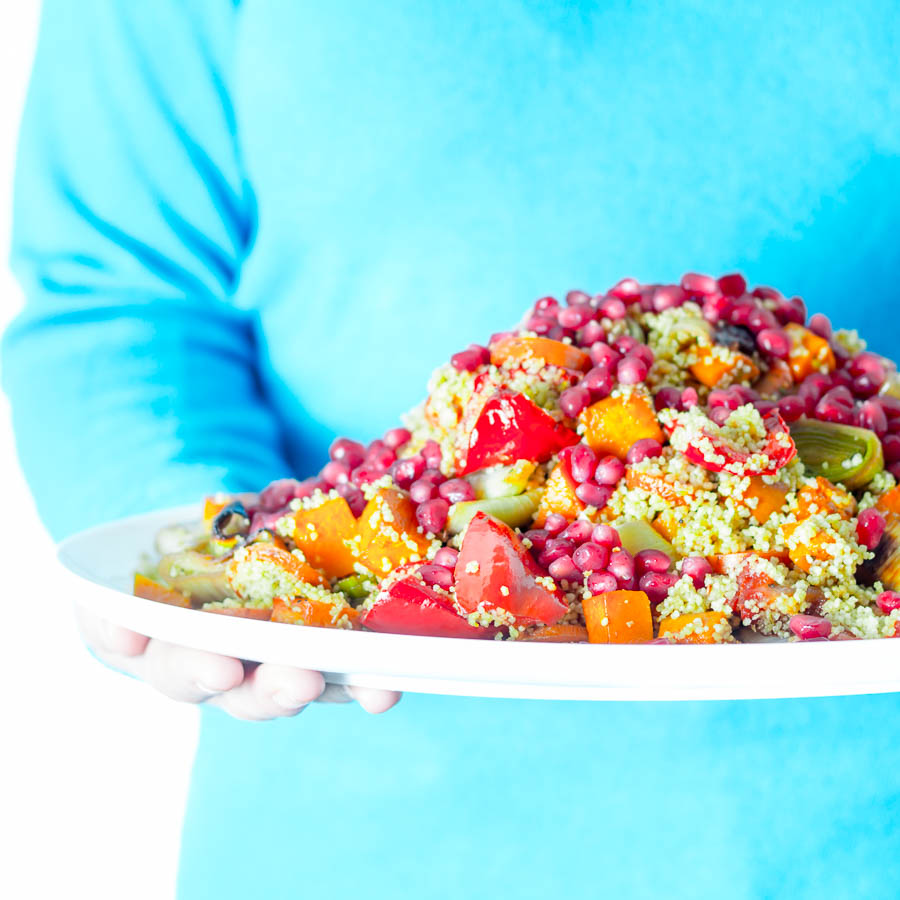 What is Couscous?
I love couscous, it is actually made from durum wheat, yes the same stuff as pasta is made of.
Dating back to the 7th century and closely associated with the North African Berbers.
It is essentially the hard part of the grain that resists grinding, it would originally have been rolled and ground by hand.
It would then have been steamed and served in much the same way it is today. However, most modern couscous is pre-steamed and then packed.
This means all you have to do is add hot liquid, around 1.5 times the volume of couscous and off you go.
It works wonderfully as both a base for a dry dish like my roasted harissa chicken thighs and wet dishes like my sweet potato tagine.
It is not to be confused with pearl couscous or Israeli couscous. That is a little different and requires more cooking but is just as delicious!
Please feel free to make this work with whatever you have, the ingredients in this are just a guide.
I use everything from swede and turnip through to celeriac, squash, and parsnips.
It may sound a little strange from someone who writes recipes to say, go wild and crazy and make it your own. But seriously do it and tell me what you did, I'd love to hear!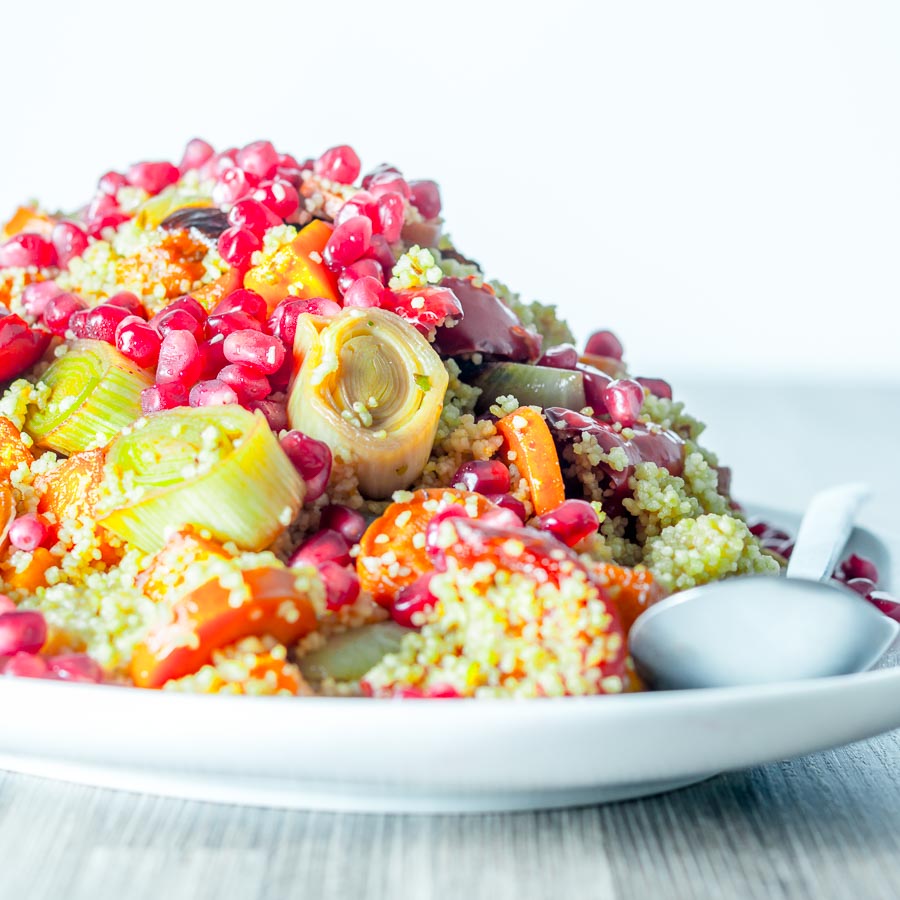 What is Pomegranate Molasses?
There is one ingredient in this roasted vegetable couscous that may not be all that common to some of you.
Pomegranate molasses. It is nothing more than a syrup made by taking the juice of a pomegranate and reducing it down. As an ingredient, it is really common in Middle Eastern and North African food and I love it.
It has an astringent flavour that is quite tart but also an unusual sweetness that hangs around in the most wonderful way.
There are many ways to add a sour vibe to a dish. Everything from lemon and lime right through to tamarind. Pomegranate molasses is just another way of doing something similar.
The good news is it should be available in decent delis or Middle Eastern stores and it lasts forever.
Can you make pomegranate molasses at home? Of course, you can!
The process is simple, take pomegranate juice, sugar and lemon and reduce. Simple hey?
Let's face it I live in the middle of nowhere and I can find it! I do have to make a trip to the big city. But nevertheless, I can find it and would definitely stick it on my 'must have in my larder' list.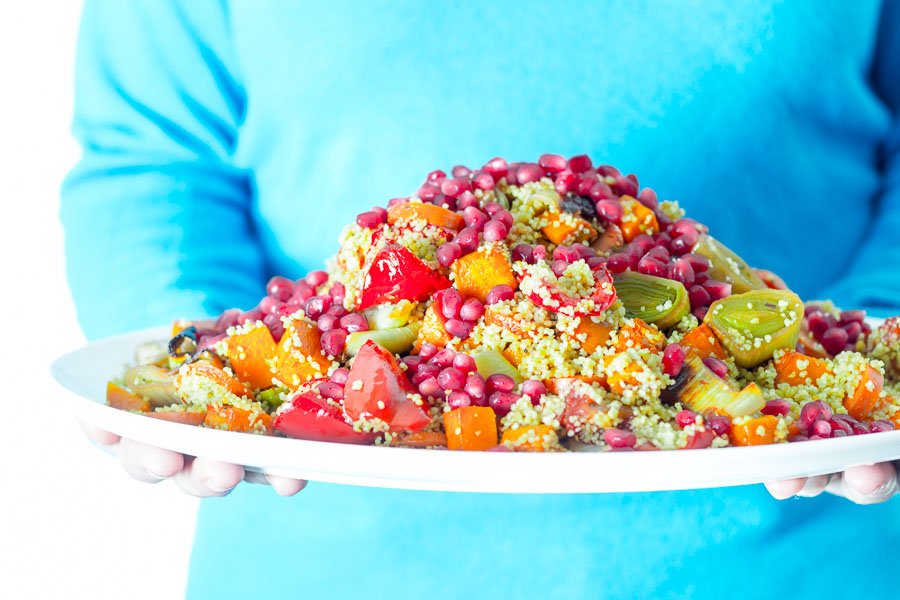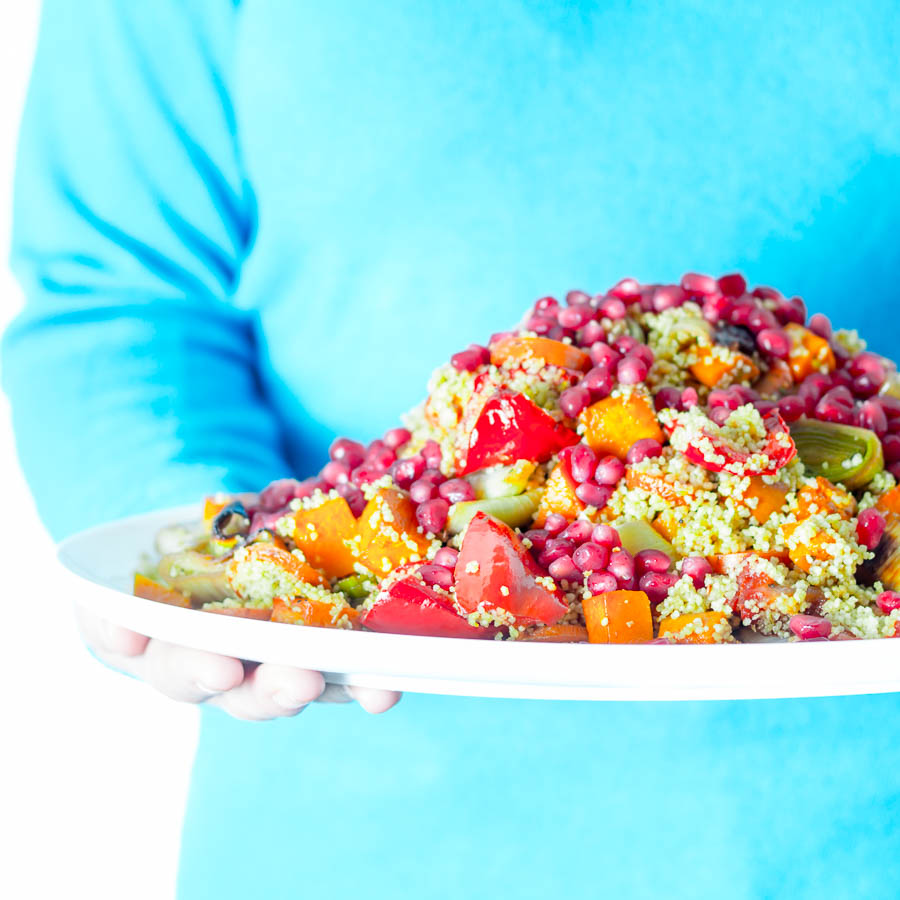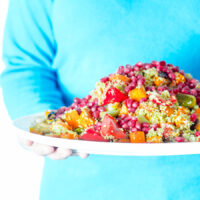 Roasted Vegetable Couscous
Cook Time:
1 hour
10 minutes
Total Time:
1 hour
20 minutes
A Roasted Vegetable Couscous is my idea of a great way to add a splash of colour and interest to root vegetables throughout winter and early spring!
Ingredients
150 g Red Peppers Preserved in Oil, I preserve my own but any shop bought brand will be fine
150 g Onion, Topped tailed and chopped in to quarters and separated out into petals
100 g Leak, Cut into 1cm rings
100 g Carrot, Cut into 5mm rings
250 g Butternut Squash, Cut into 1cm Dice
4 Cloves Garlic, Whole unpealed
1 Cinnamon Stick
3 Tbsp Pomegranate Molasses
1 Tsp Dried Oregano
2 Tbsp Cooking oil, Neutral
150 g Cous Cous, Small Grain
250 ml Vegetable Stock, Boiling
1 Pomegranate, Seed Only
Olive Oil, To taste
Salt and Pepper, To taste
Instructions
Preheat your oven to 180°C or 350°F.
Place all of the vegetables in a roasting pan with the garlic, cinnamon stick and dried oregano.
Add in the cooking oil and get stuck in with your hands to coat the vegetables.
Then add in the pomegranate molasses, mix together with a spoon and roast in the oven for 1 hour tossing occasionally.
When the vegetables are roasted remove from the oven and mix in the cous cous so that it is coated in the juices from the pan and pour in the vegetable stock.
Cover with a lid of tin foil and allow to sit for 10 minutes in a warm place.
Fork through the cous cous and vegetable mix, add a good glug of olive oil, add salt and pepper to taste and serve covered with pomegranate seeds.
Notes
I am often happy to eat this just as it comes and it makes a great supper or lunch dish but feel free to serve with a juicy pork chop something like my brined pork chop works a treat.
Nutrition Information:
Yield:

6
Serving Size:

1
Amount Per Serving:
Calories:

363
Total Fat:

10g
Saturated Fat:

1g
Trans Fat:

0g
Unsaturated Fat:

8g
Cholesterol:

0mg
Sodium:

203mg
Carbohydrates:

69g
Fiber:

5g
Sugar:

53g
Protein:

3g
Calorific details are provided by a third-party application and are to be used as indicative figures only.