Fesenjan is a simple slowly cooked Iranian stew featuring ground walnuts, pomegranate molasses, and chicken thighs that is a real treat!
A really unusual delicious dish with deep flavours and a beautifully rich chocolate colour. It also has a unique but easy cooking technique that will become a firm favourite.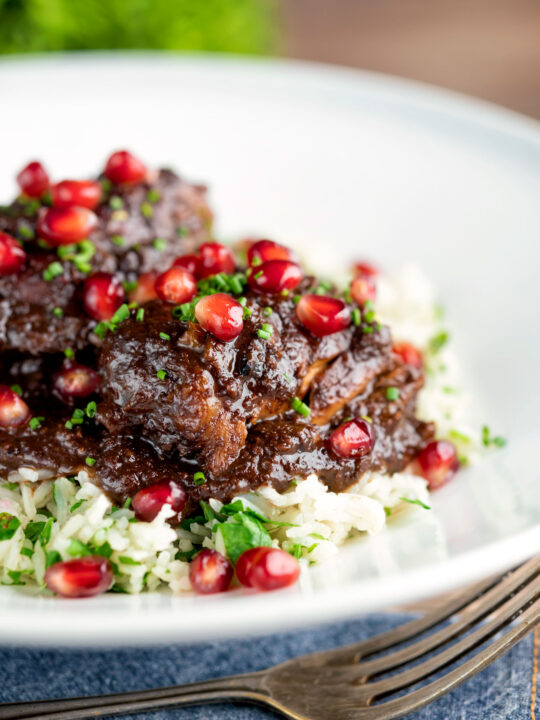 Persian Walnut and Pomegranate Stew.
Fesenjan is a fantastic rich, bold and unusual stew from Persia or modern-day Iran. Containing both walnuts and pomegranate molasses it makes for a unique recipe, but one that tastes fantastic.
I came across it in a cookery book called Persianna by Sabrina Ghayour, it piqued my interest.
I have a thing for unique and unusual recipes from around the world, including my own backyard. This recipe joins other oddities like Babi Chin, a glorious Indonesian pork stew and Faggots, pork and offal meatballs from the British Midlands.
Fesenjan is also often called fesenjoon or fesejan. It will also often be suffixed or prefixed by khoresh or khoresht, this simply means stew.
It has the most beautiful rich and dark chocolate colour and a flavour that is earthy with a subtle sweet and sour vibe.
Seriously this dish is outrageously good and comes from one of the great ancient cuisines. One that I seriously need to learn more about!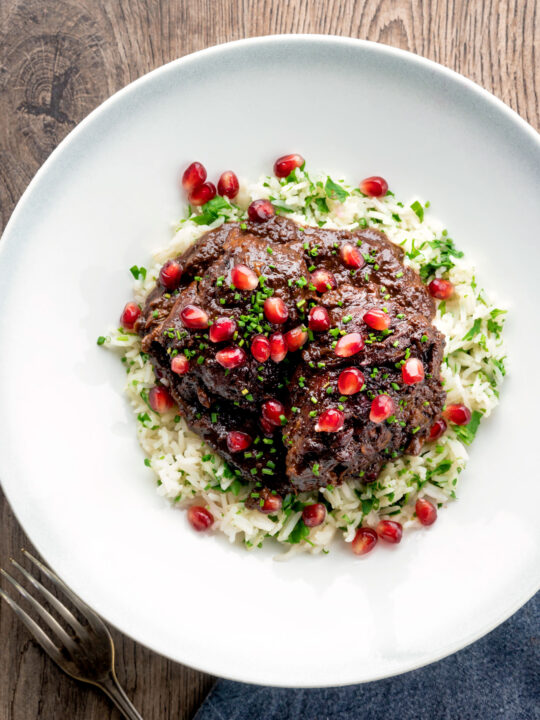 Frequently Asked Questions.
What is Pomegranate Molasses?
Pomegranate molasses is a reduction of sugar and pomegranate juice, it has a wonderful sharp flavour with a hint of sweetness.

It should be available in larger supermarkets. But if you are struggling it should be easy to find in North African, Turkish or Middle Eastern stores.

Don't be worried about having loads left over, I use it a lot. Type it into my search function at the top of the page for plenty of ideas, but a couple of my favourites are my halloumi cheese salad and zaatar chicken legs.
Can this recipe be cooked in advance?
Yes. As with many stew recipes, this khorest fesenjan is actually better after a couple of days.

It will store in the fridge for 3-4 days and in the freezer for up to 3 months. Reheat slowly in a pan covered with a lid, do not reheat too quickly or you will burn the sauce and it will taste bitter.
This is an unusual recipe, any hints?
I agree that this Persian fesenjan recipe is really unusual, but it is very easy!

But as with many recipes, there is one thing that trumps all others. For this recipe, it is ensuring that the walnuts do not burn, because it will turn the stew bitter. Keep the temperature low and stir every 20 or 30 minutes.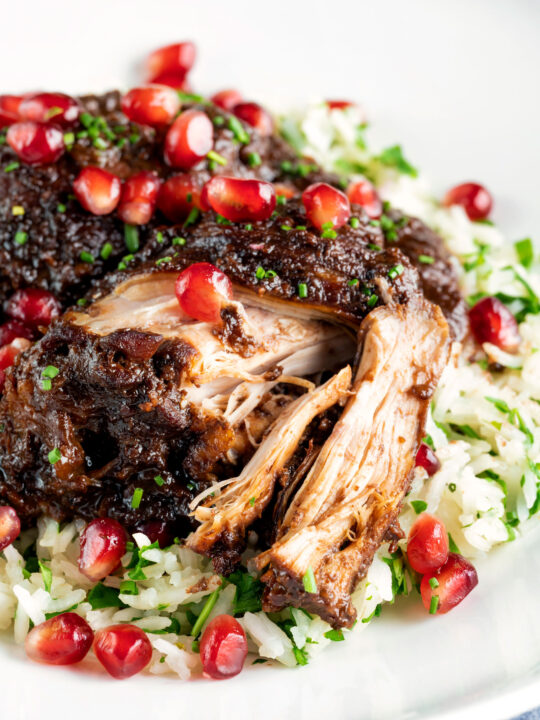 Serving Suggestions.
I like to serve this Persian fesenjan dish with rice loaded with tonnes of fresh parsley. I then garnish with pomegranate arils and snipped chives.
The sauce for this pomegranate and walnut stew is a big and bold flavour and I personally think it works well with neutral side dishes.
It would also work well with bulgur wheat or buttered couscous.
This fesenjan recipe does make loads of sauce though and sauce for stews loves bread. I've served it with m'smen, a delicious Moroccan flatbread and it is great at mopping up the thick and bold sauce.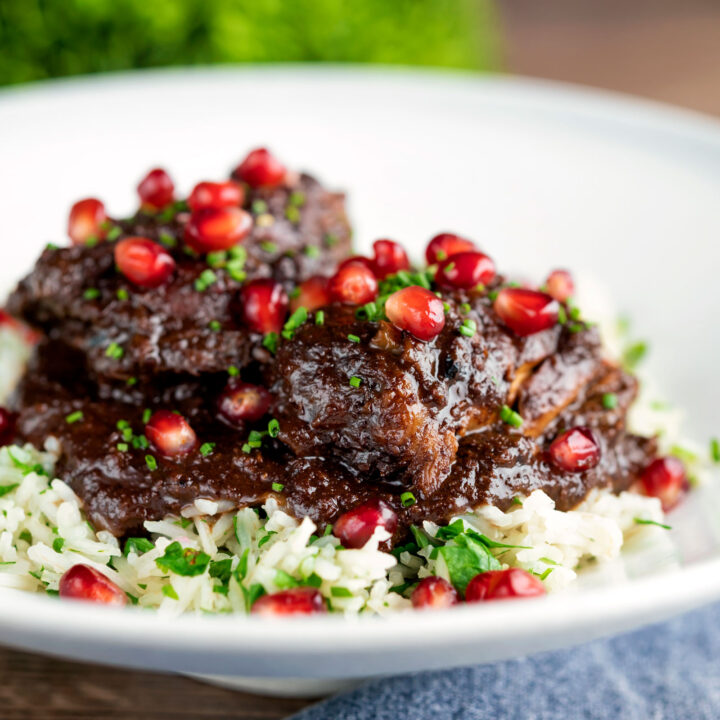 Yield:

2 Servings
Fesenjan Recipe
Cook Time:
3 hours
30 minutes
Total Time:
3 hours
45 minutes
Fesenjan is a simple Iranian chicken stew featuring walnuts, pomegranate molasses & onions that has the most incredible flavour.
Ingredients
4 Chicken Thighs (Bone in, skin off)
200g (1⅓ Cup) Onion
1/2 Tbsp Flour
150g (1¼ Cups) Ground Walnuts
300ml (1¼ Cups) Water
1 Tbsp Sugar
125ml (~½ Cup) Pomegranate Molasses
1 Tsp Salt
½ TSp Black Pepper
Instructions
Peel, cut the onion in half, and then slice into half-moon shapes about 5mm thick.
Heat a medium (20cm or 8") pan over a medium heat and add the flour and cook until it just begins to change colour, 3-5 minutes.
Add the ground walnuts to the pan, stir and then cook for 10 minutes, stirring occasionally to ensure that they do not burn.
Pour the water over the walnuts, stir to form a smooth paste and bring to a gentle boil.
Add a lid turn down the heat to low and cook on for an hour, you should see the oils from the walnuts rise to the surface. Again make sure that the walnuts do not burn!
Heat a frying pan over a medium-high heat, and when hot add the oil
Fry the onions until they soften and begin to turn golden, approximately 10 minutes.
Season the chicken generously with half of the salt and all of the pepper
Turn up the heat on the onions, add the chicken and get a nice colour on all sides.
Once the chicken is nice and golden, remove it from the heat and set it aside.
Add the pomegranate molasses and sugar to the cooked walnuts and stir until it is fully incorporated.
Drop in the chicken, onions and remaining salt to the walnuts, cover and then cook on a low heat for 1 hour.
Stir every so often to prevent the walnuts at the bottom of the pan from burning. It is vital that you keep the heat low!
Remove the lid and cook for a final hour on low.
Nutrition Information:
Yield:
2
Serving Size:
1
Amount Per Serving:
Calories:

1069
Total Fat:

65g
Saturated Fat:

9g
Trans Fat:

0g
Unsaturated Fat:

41g
Cholesterol:

146mg
Sodium:

1316mg
Carbohydrates:

74g
Fiber:

7g
Sugar:

59g
Protein:

53g
Calorific details are provided by a third-party application and are to be used as indicative figures only.