Fesenjan is a simple slow cooked Iranian stew featuring walnuts, pomegranate molasses, onions and chicken thighs that packs a huge punch of flavour.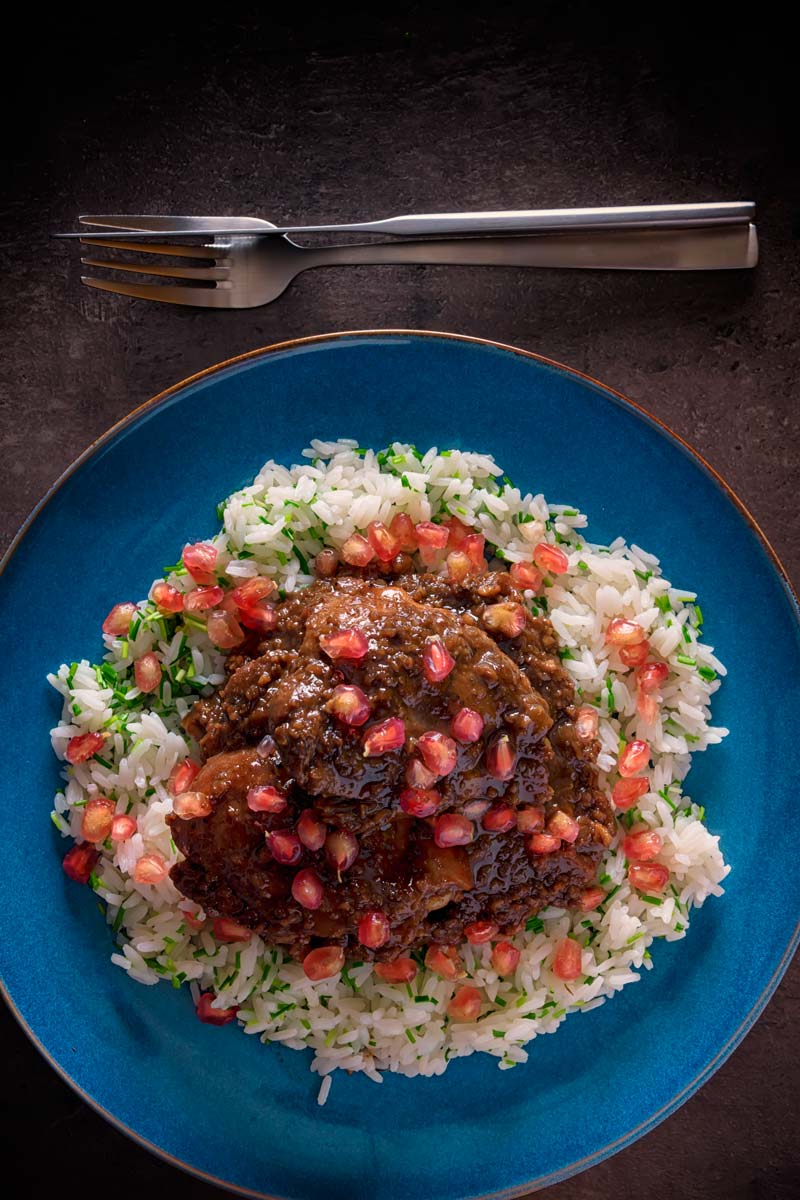 What Is Fesenjan?
Fesenjan is a rich and unusual stew from Iran. Containing both walnuts and pomegranate molasses and honestly not much else it makes for an odd recipe, but one that tastes fantastic.
I came across it in a cookery book called Persianna by Sabrina Ghayour, it piqued my interest.
As is normal I then floated around the web and found probably the only time when almost all of the recipes agreed with each other.
Most of the recipes I find that I am interested in vary massively when I research them. But in this case, there was very much a common recipe at the base of them all.
How to Cook Fesenjan.
The techniques in this fesenjan recipe may seem odd to the Western cook, they certainly do to me.
Considering that I spend a lot of time hunting down the cool and unusual of the food world that is saying something.
However, there is no real skill in cooking this dish. The trick is ensuring that things are not catching on the base of the pan as you cook.
Give the dish a stir every 20-30 minutes and just check you have no sticking. If you do turn the temperature down a little.
I have to say I was a little sceptical but I needn't have been this is insanely good. Big strong flavours quite sharp and astringent but also earthy with fall off the bone chicken.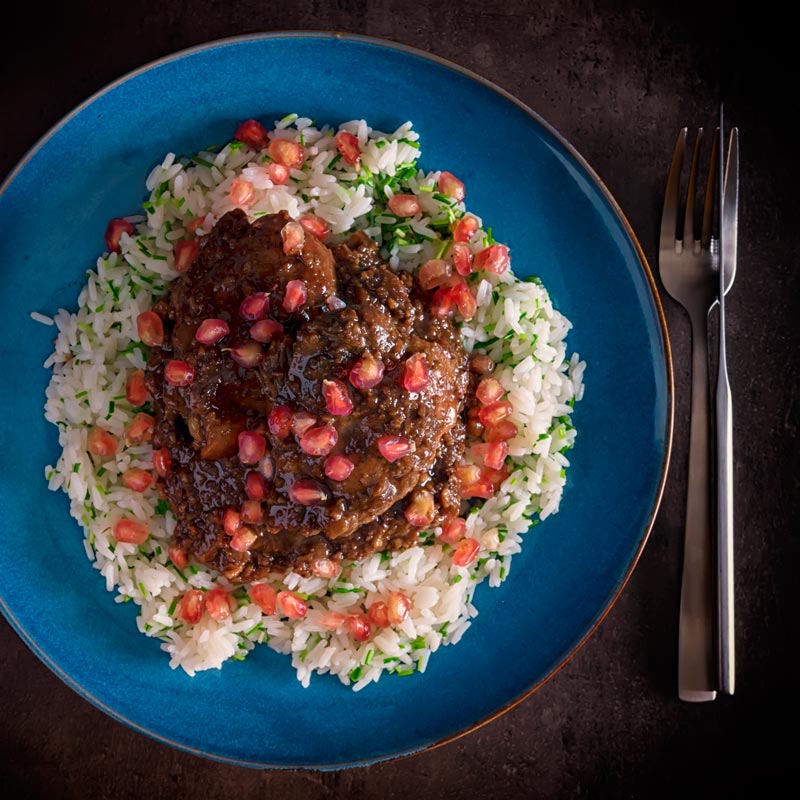 Pomegranate Recipes.
I love using pomegranate and pomegranate molasses in my cooking. Both of these ingredients are used a lot in North African and Persian recipes.
Quite of often the seeds of the pomegranate are used to dress dishes. That is the same way I have here in this fesenjan recipe.
You will see it op up a lot here on my site in recipes like my roasted vegetable couscous and my zaatar chicken leg recipe.
Pomegranate molasses is a reduction of pomegranate juice. It has a wonderfully rich and fragrant sharp flavour and works so well as a glaze.
I favour it in both meat and vegetarian recipes as diverse as my pomegranate glazed chicken thighs and my pomegranate halloumi cheese recipe.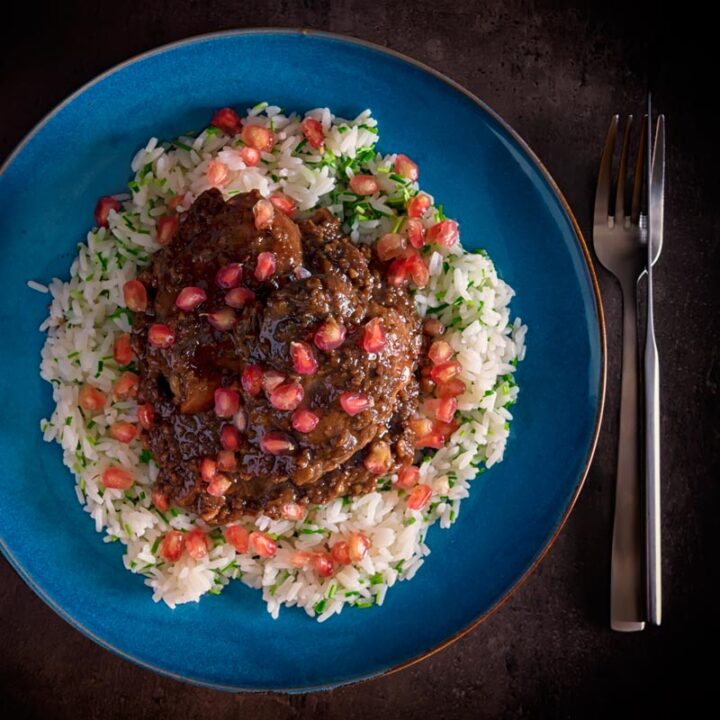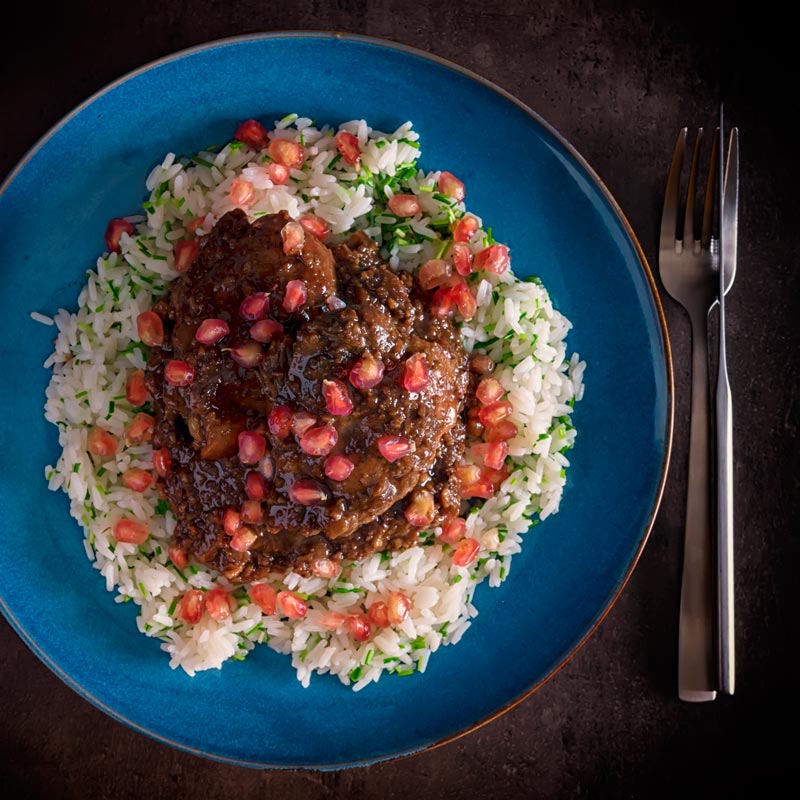 Yield:

2 Servings
Fesenjan: Walnut and Pomegranate Chicken Stew
Cook Time:
2 hours
40 minutes
Total Time:
2 hours
55 minutes
Fesenjan is a simple slow cooked Iranian stew featuring walnuts, pomegranate molasses, onions and chicken thighs that packs a huge punch of flavour.
Ingredients
4 Chicken Thighs, Bone in, no skin
200 g Onion
1/2 Tbsp Flour
200 g Walnuts
400 ml Water
1 Tbsp Sugar
150 ml Pomegranate Molasses
Salt and Pepper
Instructions
Begin by slicing your onion into half moons and then grinding your walnuts into a 'breadcrumb' texture.
Heat a pan over a medium heat and add the flour and cook until it just begins to change colour.
When the flour has changed colour add the ground walnuts and stir then cook for 10 minutes stirring occasionally to ensure that they do not burn.
Pour the water over the walnuts, stir to form a smooth paste and bring to a gentle boil.
Add a lid turn down the heat and cook on for an hour, or until you notice the oils of the walnuts form the surface of the mix.
Heat another pan over a medium-high heat, add the oil and begin to fry the onions until they soften and begin to turn golden.
Season the chicken generously with salt and pepper and then turn up the heat on the onions.
Add the chicken and get a nice colour on all sides.
Once the chicken is coloured remove from the heat and set aside.
When your walnut mix is cooked add in the pomegranate molasses and sugar and stir until it is fully incorporated.
Add the chicken and onion mix to the pan, cover and then cook on at a low-medium heat for a couple of hours.
Stir every so often to prevent the walnuts at the bottom of the pan from burning.
The taste and season with salt and pepper. Take note that some of the astringency of this sauce will abate as it cooks and the flavours will become more rounded.
If the sauce is a little thin, remove the chicken turn up the heat and cook on a gentle boil for 10 minutes to thicken up.
Notes
Serve with simply cooked white rice with lots of chives and pomegranate seeds.
Nutrition Information:
Yield:
2
Serving Size:
1
Amount Per Serving:
Calories:

1821
Total Fat:

102g
Saturated Fat:

17g
Trans Fat:

0g
Unsaturated Fat:

82g
Cholesterol:

333mg
Sodium:

677mg
Carbohydrates:

168g
Fiber:

10g
Sugar:

147g
Protein:

79g