General Tso's Chicken, a fab Chinese takeout recipe featuring fried chicken in a glorious sweet & sour sauce with a hint of hoisin sauce.
10-15 minutes prep time and 10 minutes cook time also makes this dish way quicker than the delivery dude or dudette can get to you!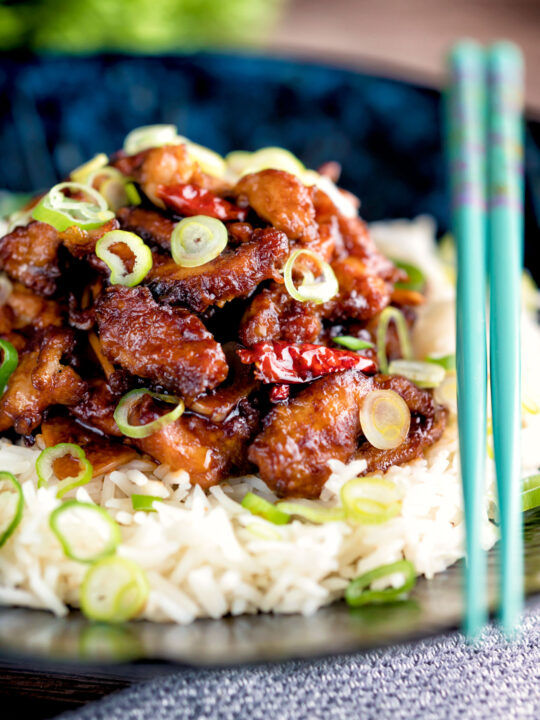 Fiery Chinese Fakeaway Fried Chicken.
General Tso and his chicken is very much one of those modern-day dishes with a hotly debated "history".
There are a whole host of these dishes, chicken tikka masala, the balti curry and even the classic pasta carbonara exist nowhere by those names prior to WWII.
General Tso's chicken is a dish that appeared in the 1970s and it is definitely a US-centric Chinese takeaway dish. It is certainly not one that appeared on menus in Chinese establishments in the UK when I was growing up.
But it speaks to me in so many ways, so many of my favourite flavours and cooking techniques.
Battered and fried chicken in a sauce with a sweet and sour vibe, is very similar to my sweet and sour pork balls recipe.
But here the batter is not as crisp and features soy sauce and sesame oil.
The sauce rocks hoisin saice an ingredient that appears in my Chinese spare ribs and dan dan noodles. This gets mellowed with more salty soy sauce and the rather lovely Chinkiang vinegar.
Add some fiery dried chillies and we are approaching my food heaven.
If you are looking for something similar but with less of the hassle of frying, check out my honey chilli chicken recipe.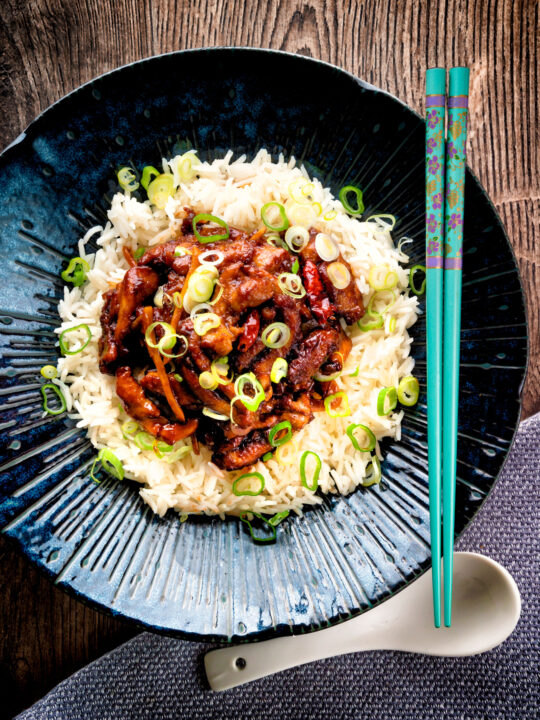 Frequently Asked Questions
Do I have to fry the chicken?
For this recipe yes, I have tried the usual suspects to replace frying when I was developing this recipe and they all disappointed.

I usually use a deep fat fryer, although my second favourite method is to use a wok. I use a sugar thermometer to monitor the temperature because they usually have a clip to safely secure them
What is Chinkiang vinegar?
It is hands down my favourite Chinese vinegar, it is a black vinegar and has a more interesting and complex flavour than normal rice vinegar.

It features in recipes as diverse as my teriyaki prawns to my BBQ pork ramen. You can sub for normal rice vinegar if you wish.
Can this be made in advance?
No. This is definitely a dish that needs to be served immediately and it does not reheat well.

However, all of the prep can be done in advance! The sauce and the batter are absolutely fine being made up to 24 hours in advance. Just give them a good stir before you get started.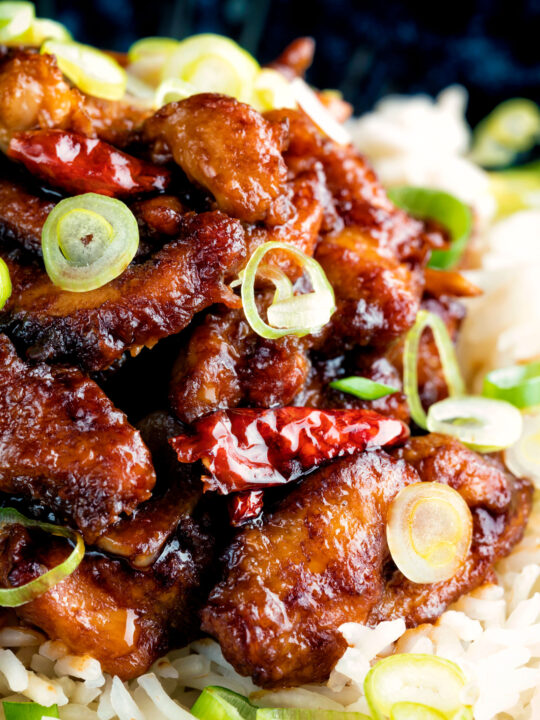 Serving Suggestions.
More often than not some plainly cooked white rice is the partner of choice for my General Tso's chicken recipe. But, it is also great with egg fried rice.
When it comes to food I have no "guilty treats", food should never be 'owt to be ashamed of! I grew up loving the chips from the Chinese takeaway, that's fries for my US readers.
In honour of that love, I often serve this with a potato side dish, I usually do my crispy fried potatoes. But if I am feeling particularly up for it I will do my chippy chips, although I will not add the vinegar.
And finally, a bit of love for noodles, this recipe is great with some simple soy sauce noodles.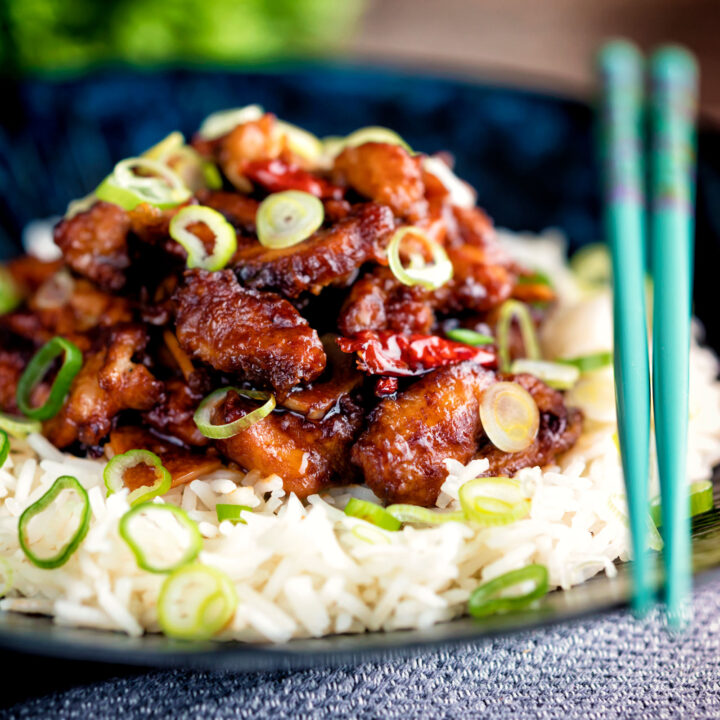 Yield:

2
General Tso's Chicken Recipe
General Tso's Chicken is the very definition of US invented Chinese food, but one that is superb, a perfect quick and spicy fakeaway!
Ingredients
For the Stir Fry
400 g Chicken Thigh
12-18 Dried Birds Eye Chilli Peppers
35 g Ginger
4 Cloves Garlic
1 Spring Onion
1 Tbsp Cooking Oil
Oil for deep frying
For the Marinade:
2 Tsp Light Soy Sauce
1 Tsp Dark Soy Sauce
1 Egg Yolk
2 Tbsp Cornflour, Corn starch in the US
2 Tsp Toasted Sesame Oil
For the Sauce:
1 Tbsp Tomato Puree
4 Tbsp Water
1/2 Tsp Cornflour, Cornstarch in the US
2 Tsp Light Soy Sauce
1 Tsp Dark Soy Sauce
2 Tsp Chinkiang Vinegar
2 Tsp Hoisin Sauce
1 Tsp Brown Sugar
Instructions
Slicing your chicken into strips around 5mm wide and 3-4cm long.
Mix together all of the ingredients for the marinade and add to the chicken and allow to steep whilst you prepare the remaining ingredients.
Slice the garlic as thinly as you can.
Peel and cut the ginger into batons approximately 2mm in profile.
Slice the spring onion as finely as you can.
Place all of the ingredients for the sauce into a bowl and mix well.
Heat your oil for deep frying to 180° C or 350°F.
Fry your chicken, in batches if required for 3-4 minutes until crispy and cooked through.
Drain on a kitchen cloth.
Heat a wok over high heat and then when it shimmers add the tablespoon of cooking oil.
Throw in the chillis, garlic, and ginger and stir fry for 30-40 seconds.
Pour in the sauce, it will thicken after 30-60 seconds.
Add the chicken, toss to coat and serve sprinkled with the spring onions.
Nutrition Information:
Yield:
2
Serving Size:
1
Amount Per Serving:
Calories:

744
Total Fat:

49g
Saturated Fat:

11g
Trans Fat:

0g
Unsaturated Fat:

37g
Cholesterol:

348mg
Sodium:

1390mg
Carbohydrates:

27g
Fiber:

3g
Sugar:

8g
Protein:

53g