General Tso's Chicken is the very definition of US invented Chinese food, but one that is superb, a perfect quick and spicy fakeaway!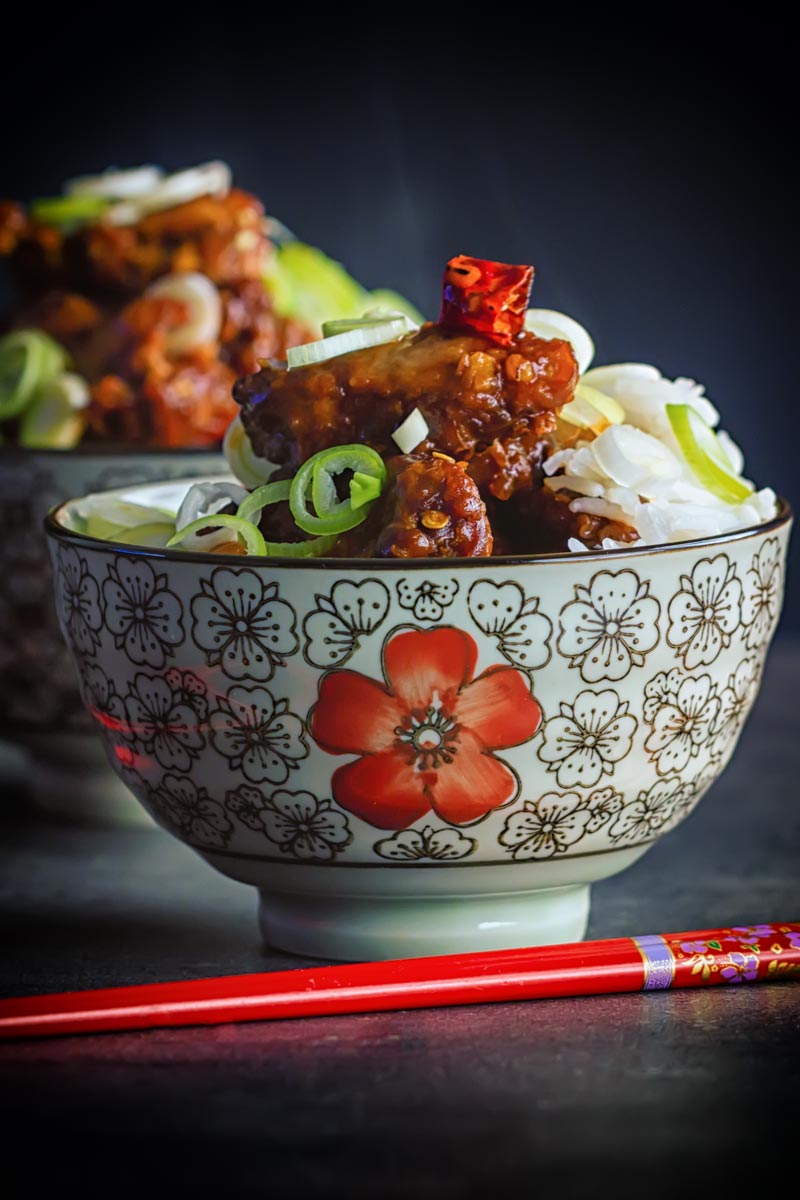 General Tso's chicken.
The famed General Tso's Chicken is one of those relatively modern day dishes with a surprisingly disputed history. One would think that dishes developed as recently as the 1970's would have their history clearly defined. It is a constant source of amusement that this is often not the case.
In similar fashion the history of both the Chicken Tikka Masala and Balti Curry are both hotly disputed. What is undeniably true is that as a species we humans live to argue about shit that really aint all that important.
The thing that is generally accepted is that it is a battered chicken dish in a spicy sauce. To be honest that is so common to so many Chinese style dishes.
I usually use a deep fat fryer for this sort of dish. It just gives me a little more control over temperature.
It also means that I do not have to worry about fat spilling all over my cooker top! But a stove top is fine, just don't fill your pan with more than a third of oil.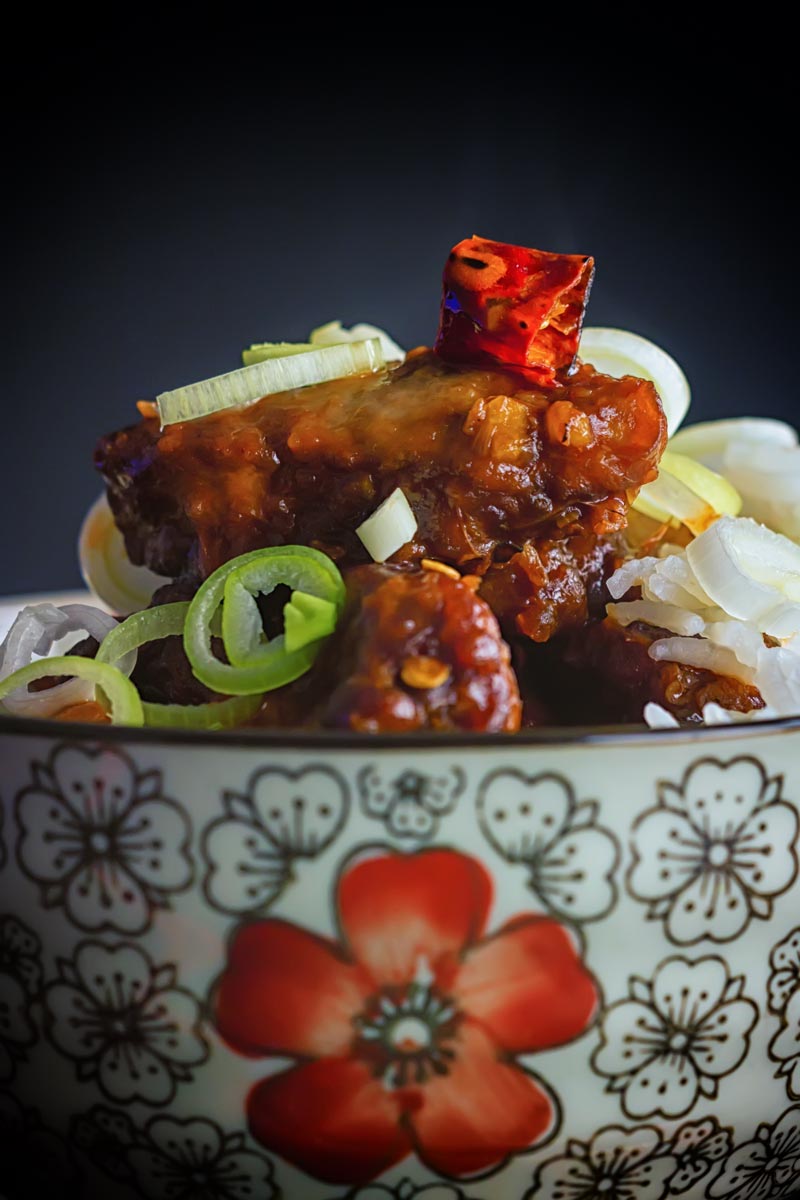 Hot Stuff!
If you are a regular here you will be more than aware that I am very happy to splash out the spicy recipes once in a while. Now there is an elephant in the room when it comes to spicy recipes. Unquestionably as food writers we avoid the question of 'heat' like the plague.
Why? Well because it is so incredibly personal. What one person will find unbearably volcanic another will find mild. It is just one of those things that is almost impossible to explain or quantify.
Fortunately I think most of us, on balance, are more than aware where our tolerance levels are when it comes to the spicy wee beasties that chillies are.
As a result you should do what you feel comfortable with add chili to suit your own needs. However, if you are stripping of chili remember to replace that flavour. As with most recipes omitting an ingredient leaves a hole, you need to plug that hole!
A Word Of Caution!
One final word of caution, we are in essence throwing a lot of dried chili into hot oil at the start of this recipe, it will atomise the capsaicin. You really do not want your face anywhere near that stuff!
In other words keep your head away from the top of the wok and make sure your extraction is running. This bad boy has the potential to make you cry!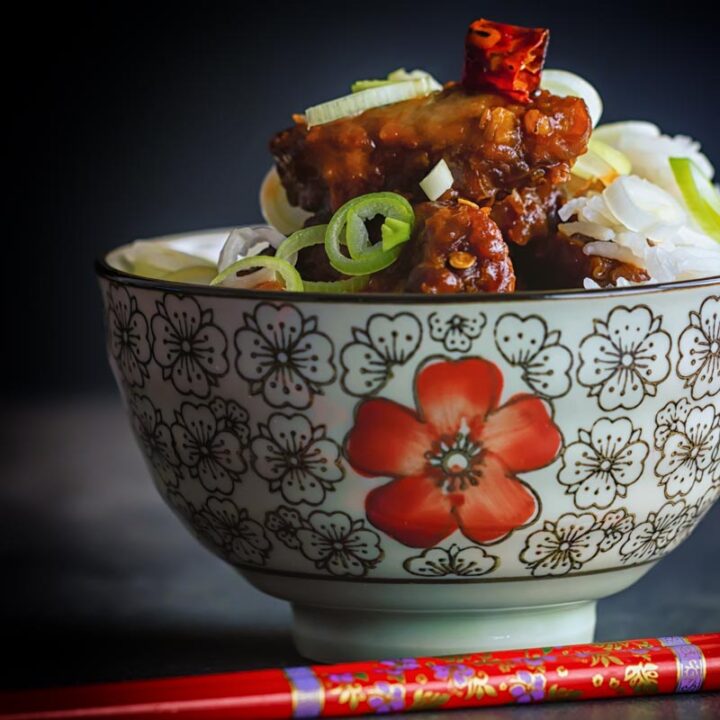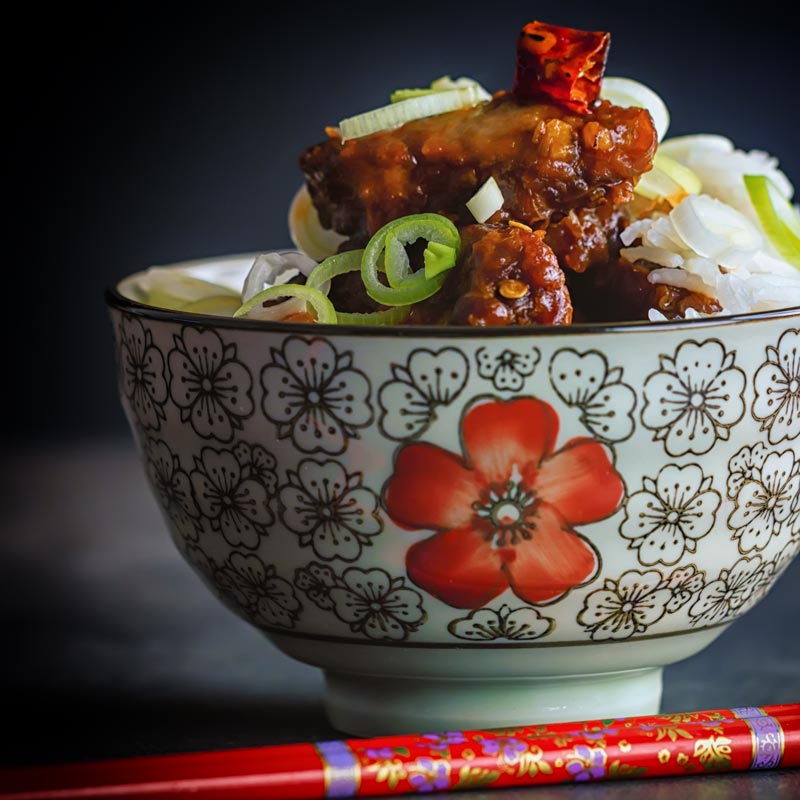 Yield:

2
General Tso's Chicken
General Tso's Chicken is the very definition of US invented Chinese food, but one that is superb, a perfect quick and spicy fakeaway!
Ingredients
For the Stir Fry
400 g Chicken Thigh
6 dried chile
35 g Ginger
4 Cloves Garlic
1 Spring Onion
1 Tbsp Cooking Oil
Oil for deep frying
For the Marinade:
2 Tsp Light Soy Sauce
1 Tsp Dark Soy Sauce
1 Egg Yolk
2 Tbsp Cornflour, Corn starch in the US
2 Tsp Toasted Sesame Oil
For the Sauce:
1 Tbsp Tomato Puree
4 Tbsp Water
1/2 Tsp Cornflour, Corn starch in the US
2 Tsp Light Soy Sauce
1 Tsp Dark Soy Sauce
1 Tbsp Chinkiang Vinegar
Instructions
Begin by slicing your chicken into slices around 5mm wide and 3-4cm long.
Mix together all of the ingredients for the marinade and add to the chicken and allow to steep whilst you prepare the remaining ingredients.
Prepare the garlic (sliced), ginger (grated) and chili (chopped) and afterwards combine all of the ingredients for the sauce.
Finely slice the spring onion.
Now that we have prepared all of our ingredients we can begin to cook.
Heat your oil for deep friyng to 180° C or 350°F, I use a deep fat fryer but use what ever you are comfortable with.
Fry your chicken, in batches if required for 3-4 minutes until crsipy and cooked through.
Drain on a kitchen cloth.
Heat a wok over a high heat and then when it shimmers add the tablespoon of cooking oil and then straight away the chili, garlic and ginger.
Cook for 30-40 seconds then go straight in with the sauce and as it thickens after 30 seconds add the chicken and toss to coat.
Serve on simply boiled rice and sprinkled with the spring onion.
Notes
You can of course make this as spicy as you like, chili tolerance is incredibly personal. I consider this to be a fairly spicy dish, I am sure many would find it mild and even more will find it positively volcanic!
Nutrition Information:
Yield:
2
Serving Size:
1
Amount Per Serving:
Calories:

744
Total Fat:

49g
Saturated Fat:

11g
Trans Fat:

0g
Unsaturated Fat:

37g
Cholesterol:

348mg
Sodium:

1390mg
Carbohydrates:

27g
Fiber:

3g
Sugar:

8g
Protein:

53g