Delicious sweet explosions of garden peas make a wonderful addition to an otherwise traditional pasta carbonara.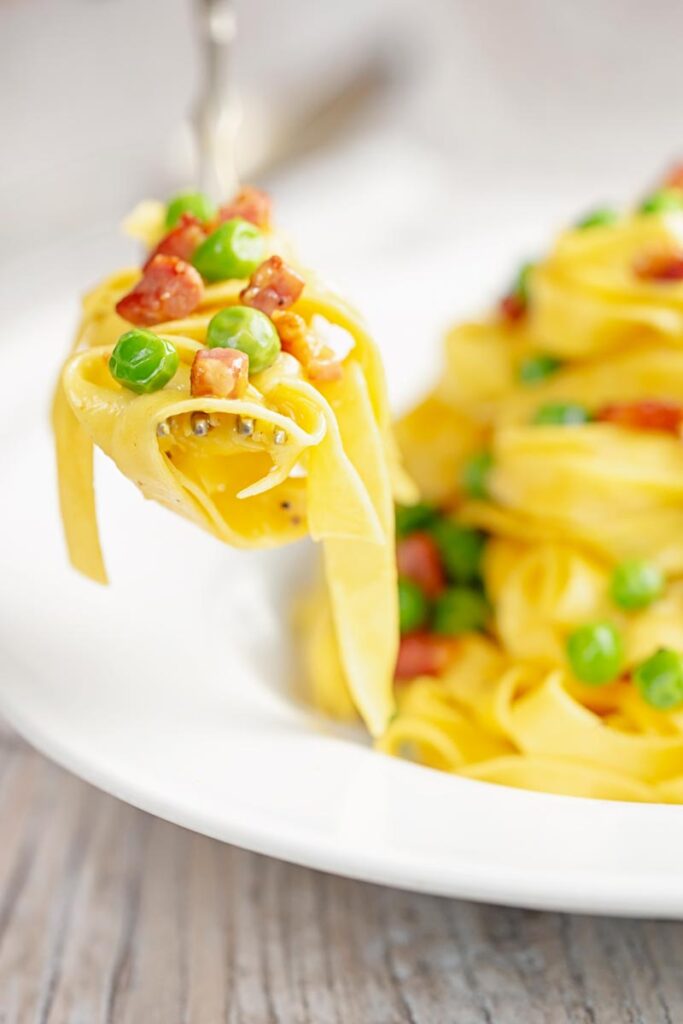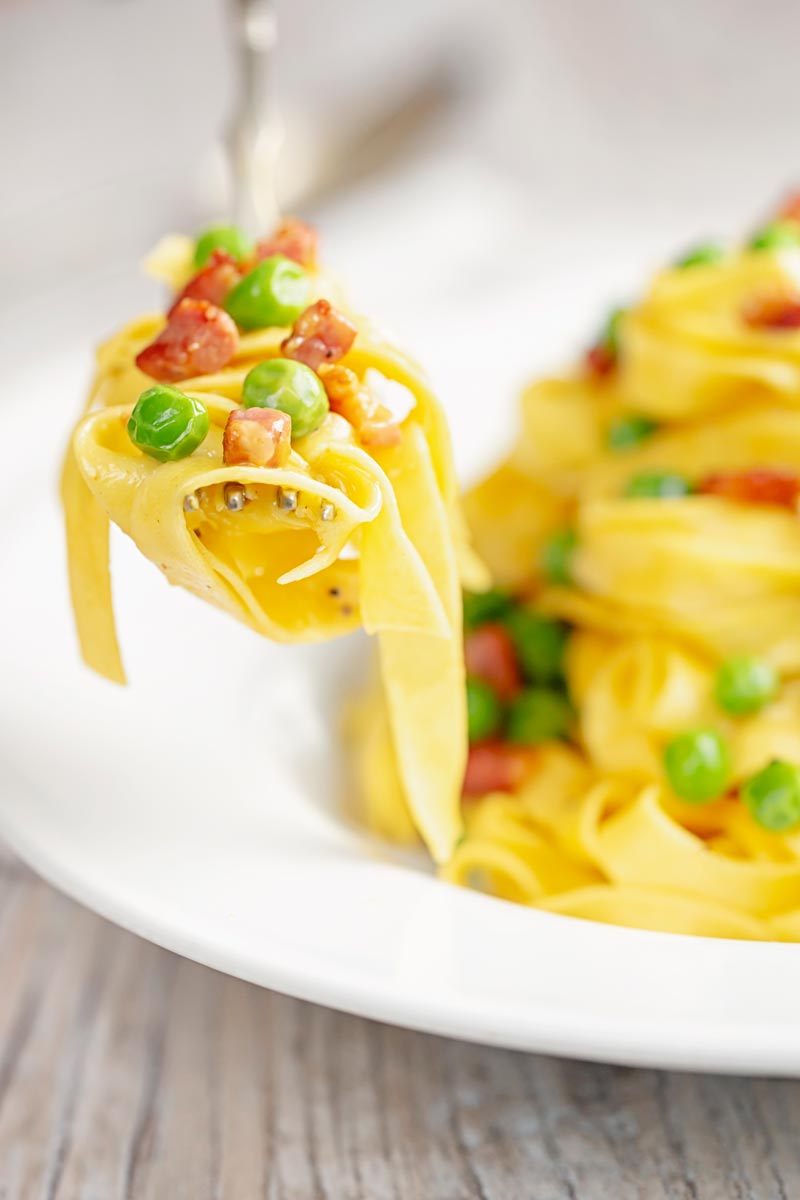 Breaking the Rules.
Fortunately, we do not live in a world where recipes are written in stone and are forced upon us.
However, Italian food seems subject to some perverse form of "ownership". So I am sure that the addition of peas in this otherwise traditional carbonara will enrage some.
Far more so than should be warranted by a dish whose name is unrecorded before World War Two.
But hey, I love this recipe, it is single-handedly influenced by my wife who chucked some fresh peas into a carbonara I was cooking.
It stuck and I love it, I never eat carbonara any other way now.
In fact, I love it so much that peas now make an appearance in my pesto spaghetti too!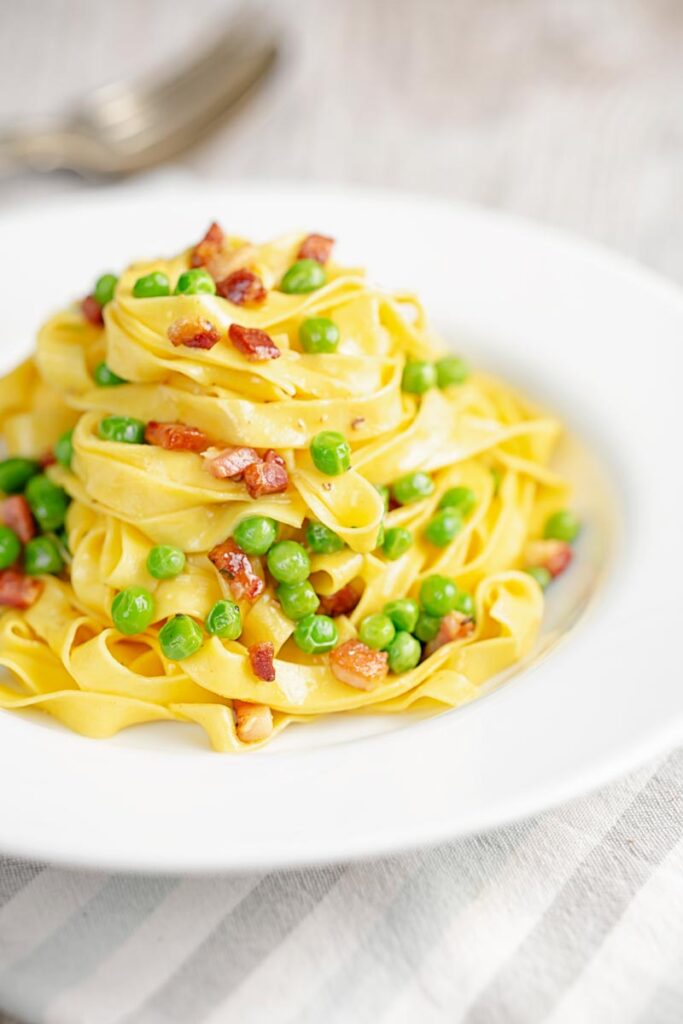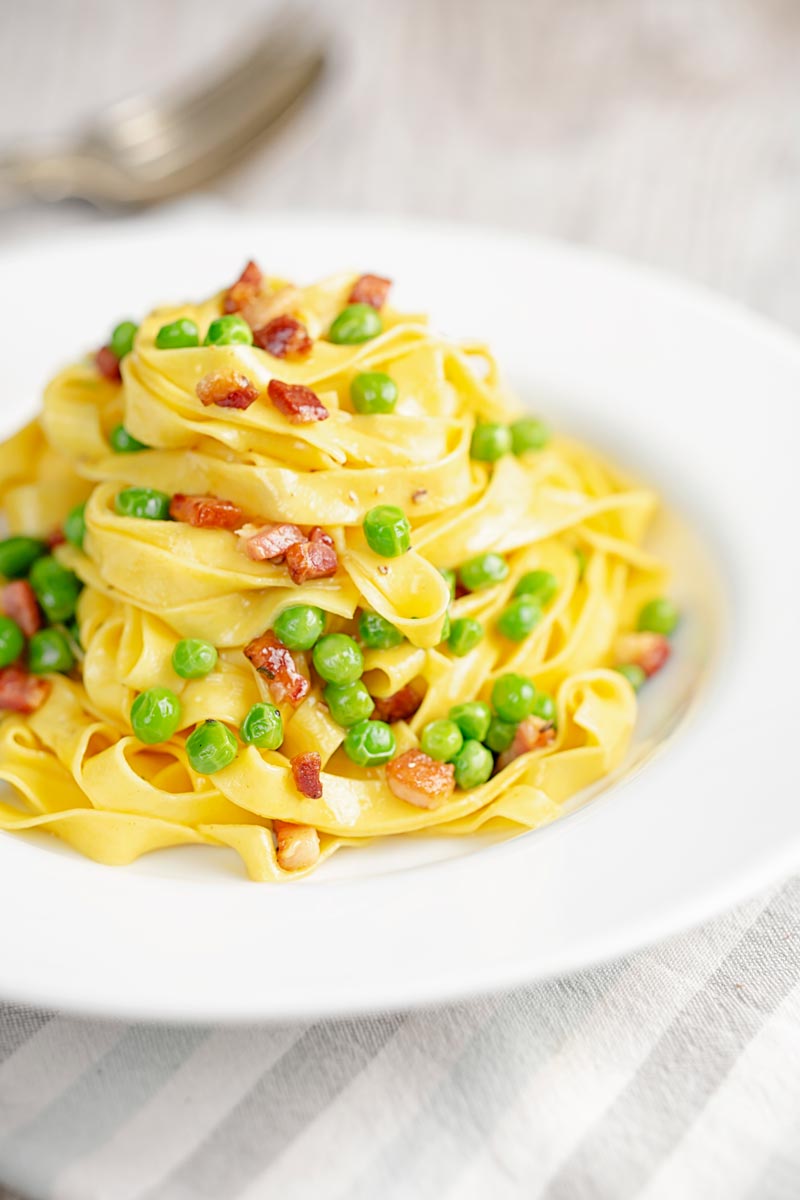 A Guide to the Ingredients.
I am a passionate believer in eating local where ever possible.
So whilst many will argue that this recipe should be made using Guanciale or at a push Pancetta, I say rubbish.
As I mention in my Bucatini all'Amatriciana recipe recipes always favour local products. They are not the best, they are the best that can be sourced locally.
I firmly believe in that, many regions around the world have wonderful cured pork products.
Use the very best that is local to you. Trust me, it will be better than an often inferior imported product created for the inflated prices of the export market!
Other than that, the dish is simple, use a pasta you like. I personally favour tagliatelli or fettucini.
The most important thing about the ingredients in this simple recipe is to ensure that they are the best quality.
We do very little to them so a lack of quality will be evident.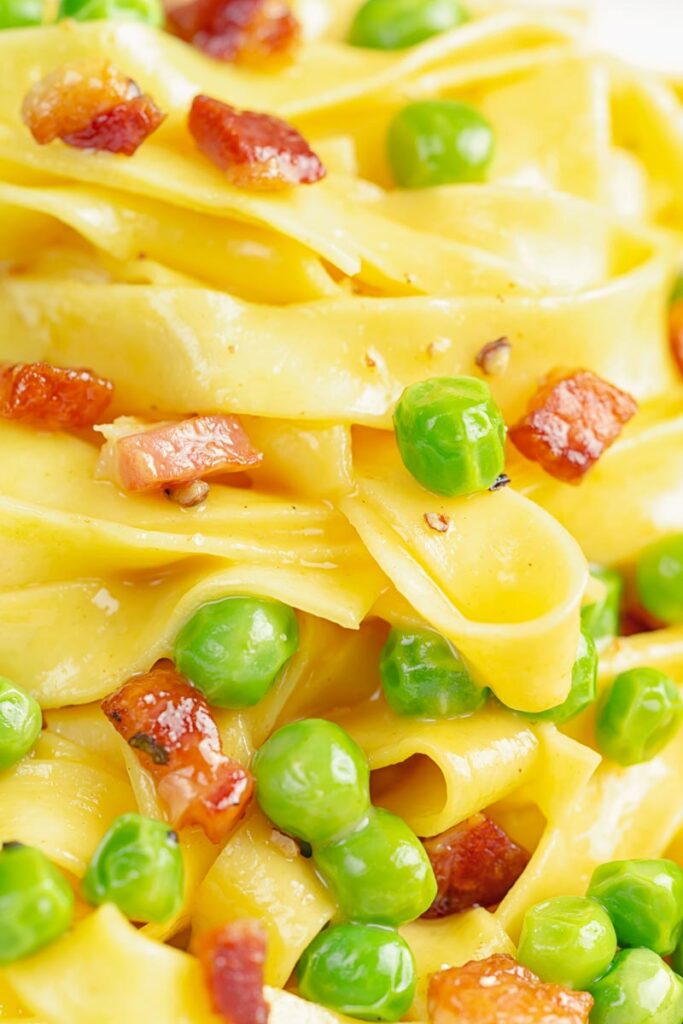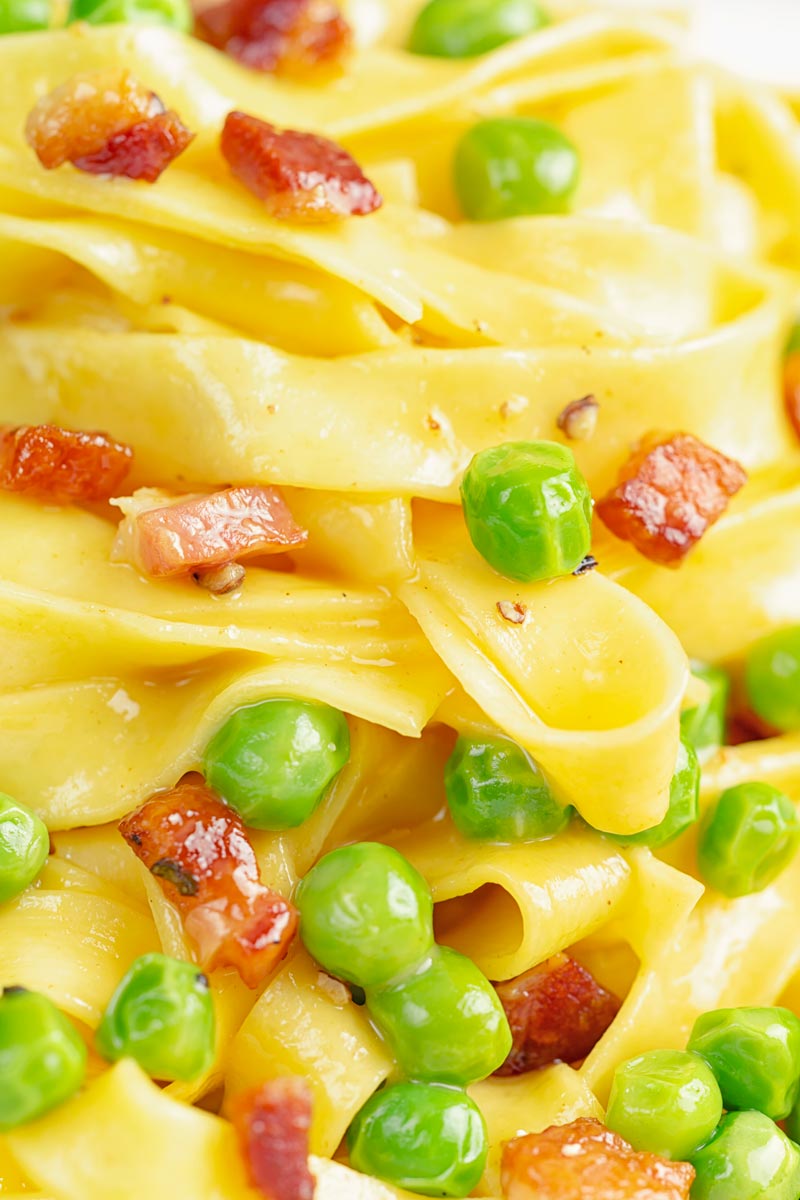 Cooking Hints and Tips.
Whilst this recipe is insanely simple there are a couple of things that can make it go horribly wrong.
First and foremost make sure you do not add the eggs to a pan over the heat.
This will almost certainly result in pasta with scrambled eggs. Whilst I am good to go for niche recipes that one is just plain nasty!
Secondly, if you are the sort of person that keeps there eggs in the fridge then bring them up to room temperature before cooking this recipe.
Likewise, do not add frozen peas to the pasta, start the recipe by running them under cold water to defrost. By the time you are ready for them they will have defrosted.
Finally as with all pasta recipes do no discard all of the cooking water. Adding a little into the sauce will add the final gloss to the meal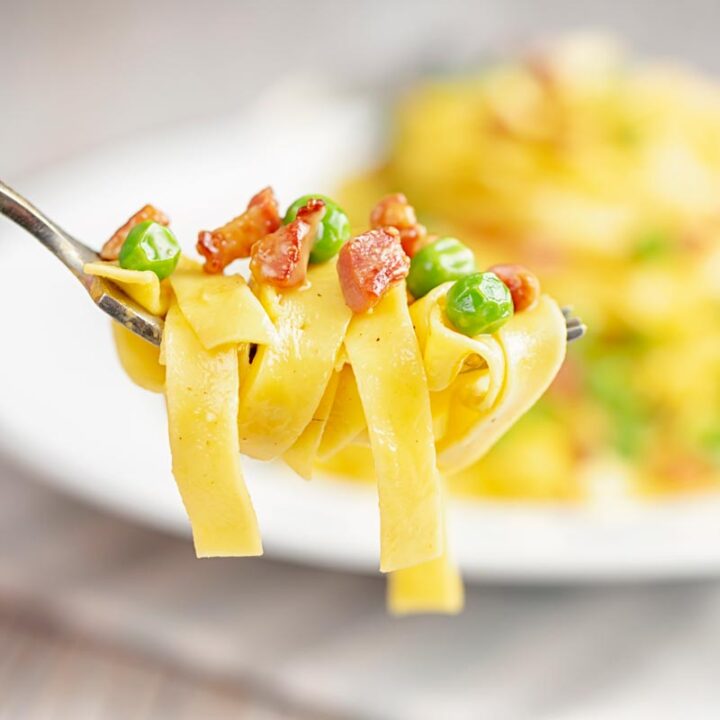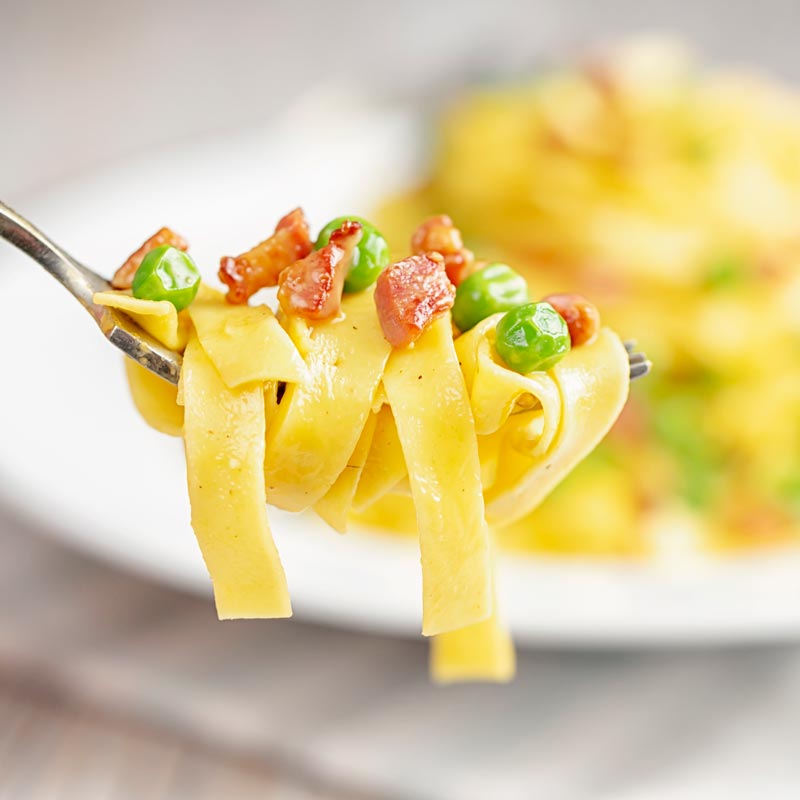 Yield:

2 Servings
Pasta Carbonara with Peas Recipe
Delicious sweet explosions of garden pea make a wonderful addition to an otherwise traditional pasta carbonara.
Ingredients
150 g Smoked Fatty Bacon
2 Eggs
1 Egg Yolk
50 g Parmesan Cheese
1/2 Tsp Black Pepper
200 g Dried Pasta
100 g Garden Peas
Instructions
If you are using frozen peas run them under cold water to defrost.
Cut the bacon into 4-5mm cubes.
Place the cubed bacon into a frying pan over a medium heat and render down the fat and cook until golden.
Place the egg and egg yolk into a mixing bowl with freshly ground black pepper and the Parmesan cheese and mix together and set.
Bring a large pan of generously salted water to the boil and cook your pasta for 1 minute less than the instructions indicate.
Drop the peas in with the pasta for the last 60 seconds of cooking.
Drain the pasta and add it to the bacon. and stir to coat.
Remove from the heat and add the cheese and egg mix again stirring to coat.
If your pasta is a little dry add more of the reserved pasta cooking liquid.
Notes
Adapted from From My Wife, thank you darling!
Nutrition Information:
Yield:
2
Serving Size:
1
Amount Per Serving:
Calories:

757
Total Fat:

41g
Saturated Fat:

15g
Trans Fat:

0g
Unsaturated Fat:

23g
Cholesterol:

374mg
Sodium:

1792mg
Carbohydrates:

45g
Fiber:

5g
Sugar:

4g
Protein:

49g
Calorific details are provided by a third-party application and are to be used as indicative figures only.