Roasted figs sit at the heart of this glorious salad that also features prosciutto ham, rocket (arugula), blue cheese, and hazelnuts.
The figs are baked in the oven in a balsamic vinegar and honey mix, a classic accompaniment and a perfect contrast with the salty ham and sour salty blue cheese.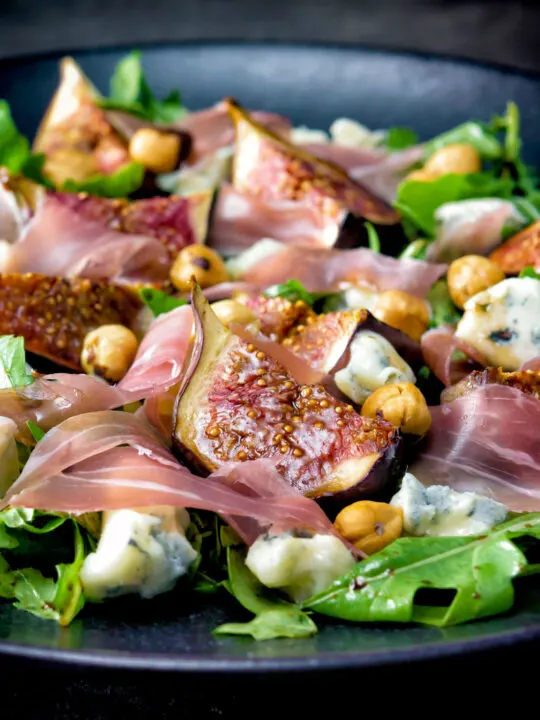 Baked Fig Salad
I have a thing for using fruit in main course salads. There are apples in my smoked mackerel salad, oranges in a duck salad, pomegranate in a halloumi cheese salad, and even pickle peaches for a goats cheese salad.
I even have a gammon, egg and chips salad with pineapple!
This salad recipe uses roasted fresh figs. An ingredient with a perilously short season and one that is both delicate and perishable.
More often than not, they are to be found preserved, but they are in the stores now and I adore roasted fresh figs.
These figs are baked with just a little honey and some balsamic vinegar, this gives them a soft texture and a sweet and sour vibe.
Sweet and sour flavours really need something salty to underline the savoury nature of this fig salad.
Prosciutto ham is perfect for this and it is wafer-thin so it will not dominate the roasted figs in this dish.
The hazelnuts in this recipe provide an earthiness that is mirrored by the Gorgonzola cheese.
I use young buttery Gorgonzola for this but feel free to go with the really punchy aged cheese if that is your thing!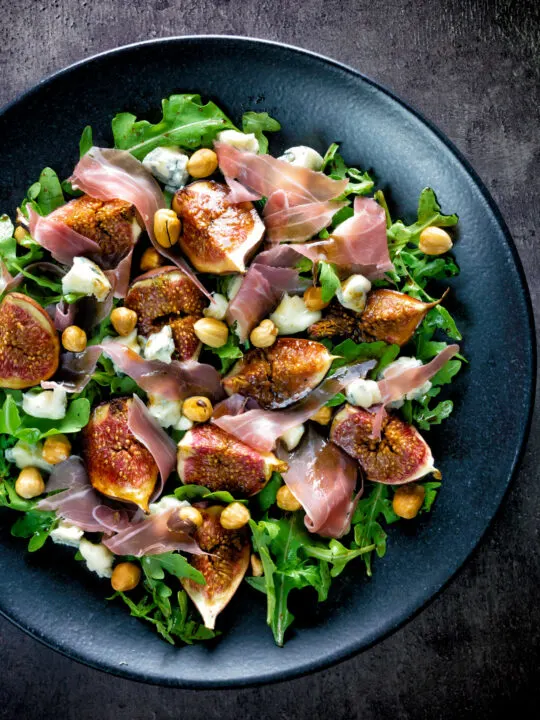 Frequently Asked Questions
When are figs in season?
Figs are a strange old fruit, they are related to the Mulberry family and they have two seasons.

One short season at the start of summer, keep your eyes open at the end of May for a month. Then a longer fruiting season from August through September.

They are notoriously quick to ruin. Do not think you can leave them for long before using them!
How should I store figs?
I keep figs in a cool dark cupboard in a paper bag.

They will keep a little longer in the fridge. However, I personally think that has a detrimental impact on both the flavour and texture.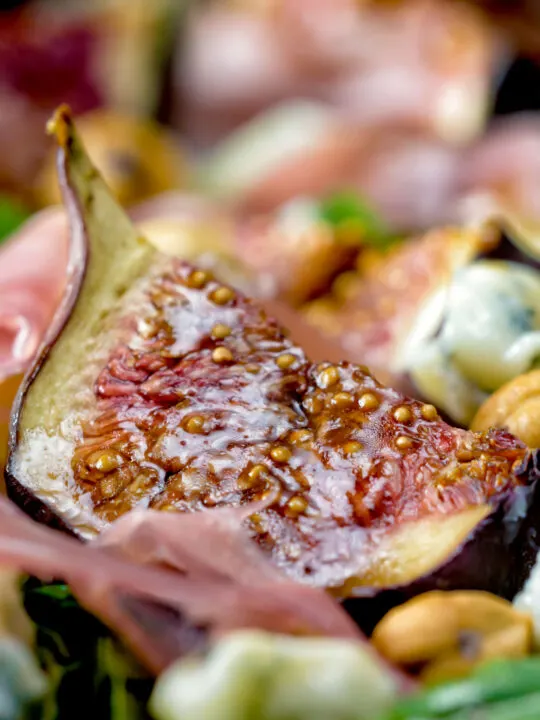 Serving Suggestions and Variations
This is a simple light salad and the only thing I would add on the side is a nice bit of bread to mop up the juices.
I'd choose a nice focaccia bread, but a ciabatta would also work well too.
As for variations on this roasted figs salad, I would look at playing around with the type of ham and blue cheese.
There will be a host of locally cured hams that you could use in this recipe depending on where you are. They vary in sweetness and saltiness and all will bring something different to these roasted figs.
Finally the blue cheese, I find that a buttery gorgonzola cheese offers the best balance.

But if you wanted to go more punchy you could look at a Stilton. Although I think a Roquefort or even a Danish blue make better alternate cheeses for this roasted fig salad.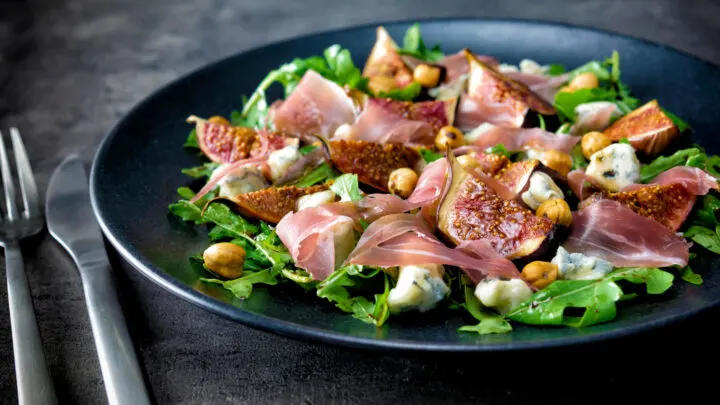 Equipment Used
I only name-check brands of equipment if I think they make a material difference to a recipe. But if you have any questions feel free to ask them in the comments section below the recipe.
Oven.
Roasting tin, use one large enough to hold the figs in a single layer.
Mixing bowl and stirring spoon.
Chopping board.
Kitchen knife.
Weighing scales and or measuring cups and spoons.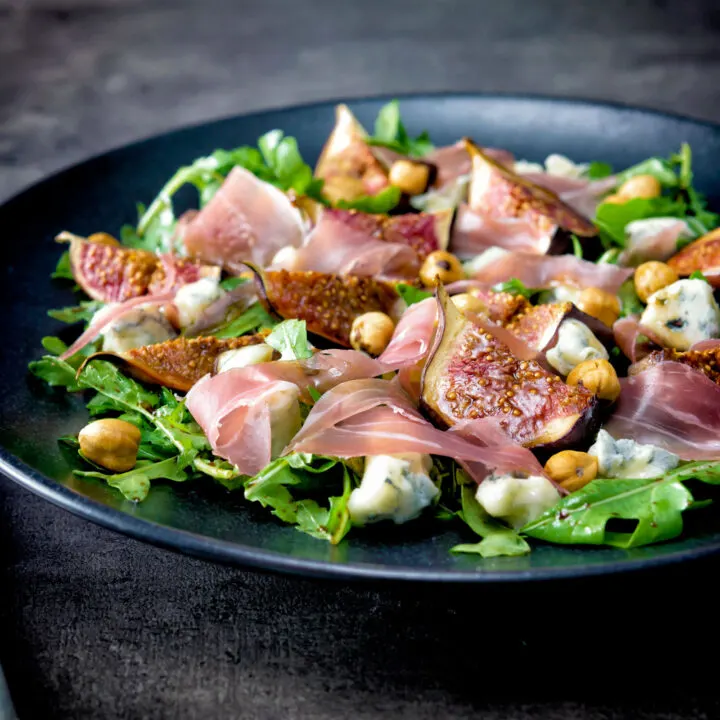 Yield:

2 Servings
Roasted Figs Salad Recipe with Prosciutto Ham
The fig season is perilously short, roasted figs are cooked in Balsamic vinegar and honey and then combined with acidic blue cheese and salty ham to create the perfect light main course salad.
Ingredients
6 Fresh Figs
100g (¾-1 Cup) Gorgonzola Cheese
50g (3-4 Slices) Prosciutto Ham
50g (~⅓ Cup) Hazelnuts
50g (~2 Cups) Rocket AKA Arugula
1 Tbsp Honey
75ml (~⅓ Cup) Balsamic Vinegar
2 Tbsp Olive Oil
1 Pinch Salt
1 Pinch Black Pepper
Instructions
Mix together the honey and balsamic and heat in a pan until just before boiling point.
Cut your figs into quarters and then season with a generous pinch of salt and pepper.
Place the figs in a roasting tin and then pour over the honey and balsamic mix.
Place the hazelnuts in a separate tray.
Put both of these trays in the oven and roast at 220°C or 450°F for 15 minutes, keeping an eye on the nuts ensuring that they do not burn.
Crumble the gorgonzola cheese.
Tear the ham into strips.
Remove the figs from the oven and drain off the cooking juices into a bowl and allow them to cool for 4-5 minutes.
Pour the olive oil into the cooking juices and whisk to form a dressing.
Dress the rocket with the dressing and place it on a plate, add the remaining ingredients before pouring over a final drizzle of the dressing before serving.
Nutrition Information:
Yield:
2
Serving Size:
1
Amount Per Serving:
Calories:

784
Total Fat:

50g
Saturated Fat:

14g
Trans Fat:

0g
Unsaturated Fat:

33g
Cholesterol:

98mg
Sodium:

1986mg
Carbohydrates:

52g
Fiber:

7g
Sugar:

42g
Protein:

38g