Figs are a gloriously diverse ingredient, my favourite way to eat them is in a roasted fig salad paired with wonderful blue cheese and hazelnuts!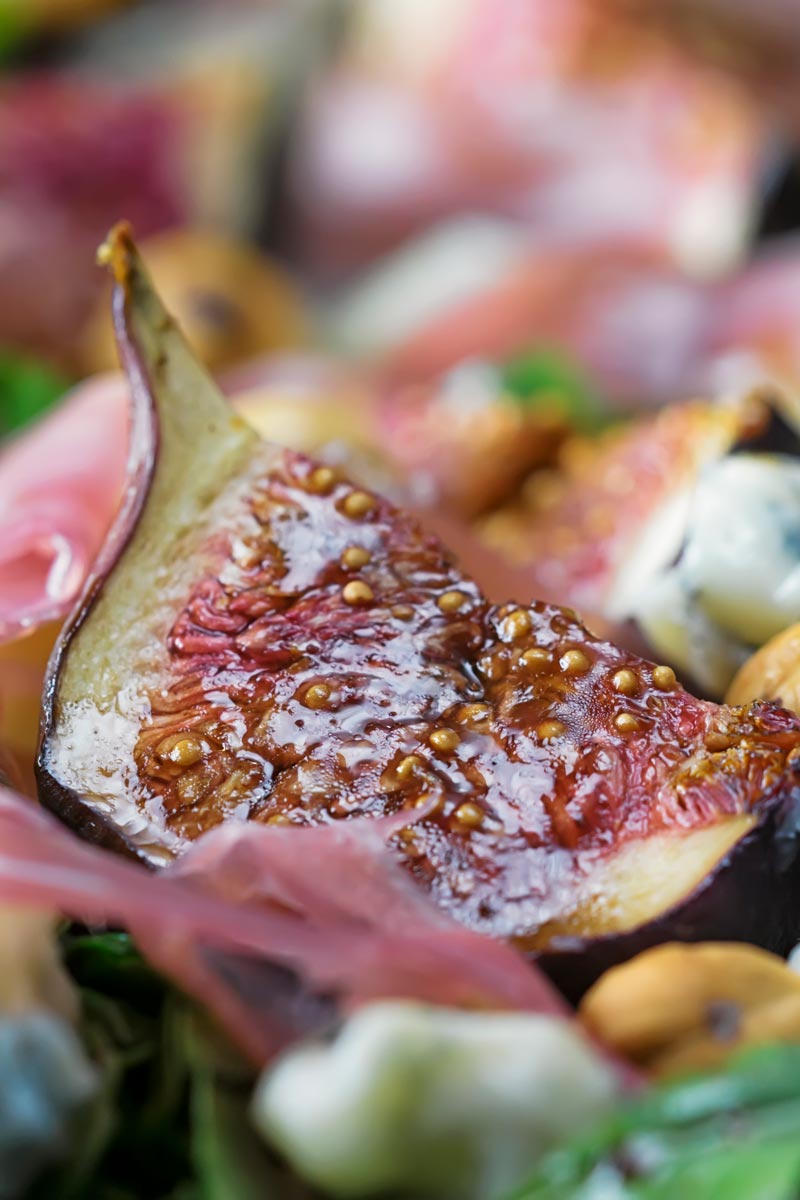 Roasted Fig Salad With Blue Cheese and Hazelnuts…
Figs are such a great ingredient and this recipe is my favourite way to eat them. If you have been visiting me for a while you will know that I have a thing about using fruit in savoury salads.
Whether it be pickled peaches in a ham salad or apples in a mackerel salad, it is definitely my thing.
We are coming now to the close of summer and fig season is upon us… This salad is the perfect close of summer light meal and is super quick and packs a load of great flavour.
The figs are roasted with just a little honey and some balsamic vinegar, this gives them a soft sweet and sour flavour.
Now once you have sweet and sour you need something salty to pack home that savoury edge.
Prosciutto ham is perfect for this it has the most wonderful savoury saltiness and is wafer thin so it will not dominate.
The hazelnuts in this recipe provide an earthiness which is mirrored by the Gorgonzola cheese.
I use young buttery Gorgonzola for this but feel free to go with the really punchy aged cheese if that is your thing!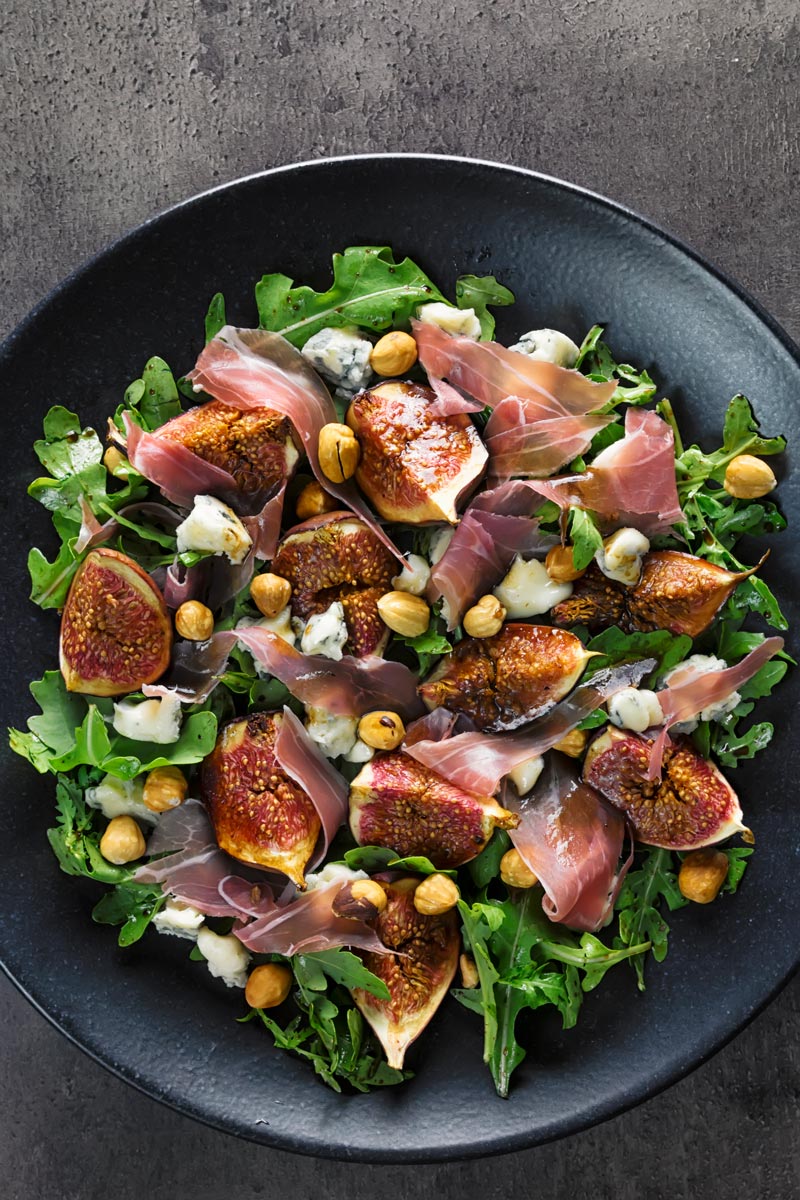 Cooking Fruit.
Baked or roasted figs are really low maintenance and really tasty. It is nothing more than dropping them in a hot oven for between 15 and 30 minutes.
For this recipe, I wanted my figs to stay soft and juicy with the edges slightly sticky. So they get between 15 and 20 minutes.
If you want your figs a little more firm and chewy then go the full hog and push towards 30 minutes.
I personally like to season them lightly when I roast them. It just helps to underline that savoury edge rather than pushing towards dessert.
When using fruit or sweet elements in any savoury dish you need to be really careful with your seasoning.
You need to add a much more savoury edge that you would without the sweet elements to ensure a nice balance.
You can see my approach in both this Mango Smoked Mackerel Salad and this Blackberry Pork Chop Recipe.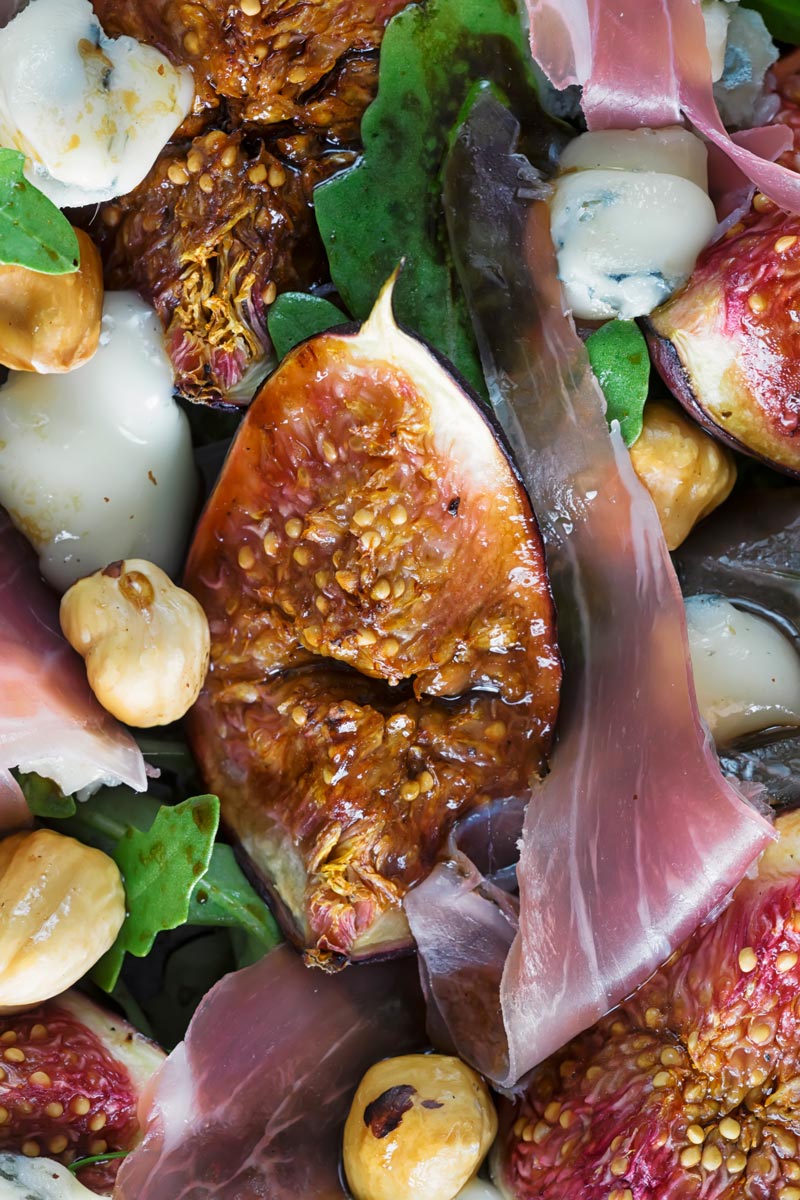 When Are Figs In Season?
Figs are a strange old fruit, they are related to the Mulberry family and they have two seasons.
One short season at the start of summer, keep your eyes open at the end of May for a month. Then a longer fruiting season from August through September.
They are notoriously quick to ruin… Do not think you can leave them for long before using them!
They will keep a little longer in the fridge. However, I personally think that has a detrimental impact on both the flavour and texture.
I love them in this fig and pork chop tray bake!
Do you have any favourite savoury fig recipes? Let me know in my comments, I'd love to try them!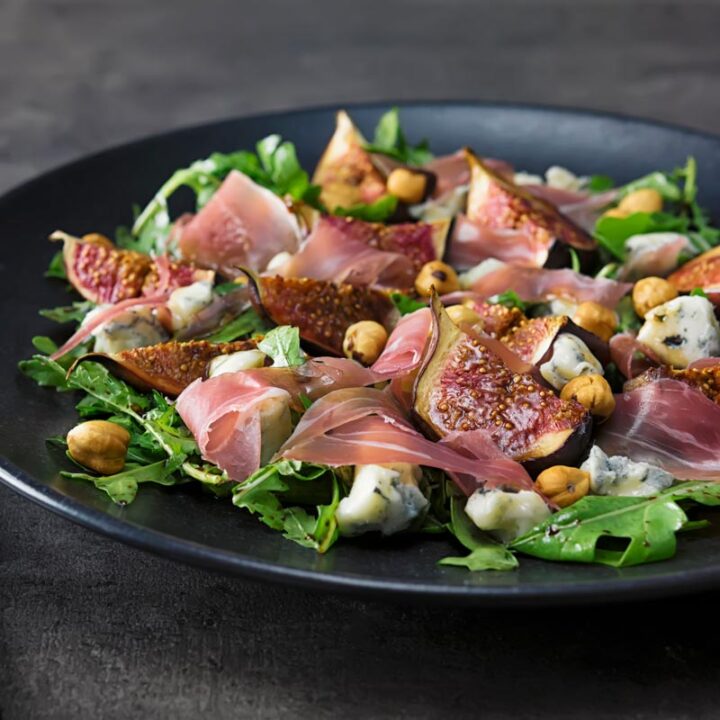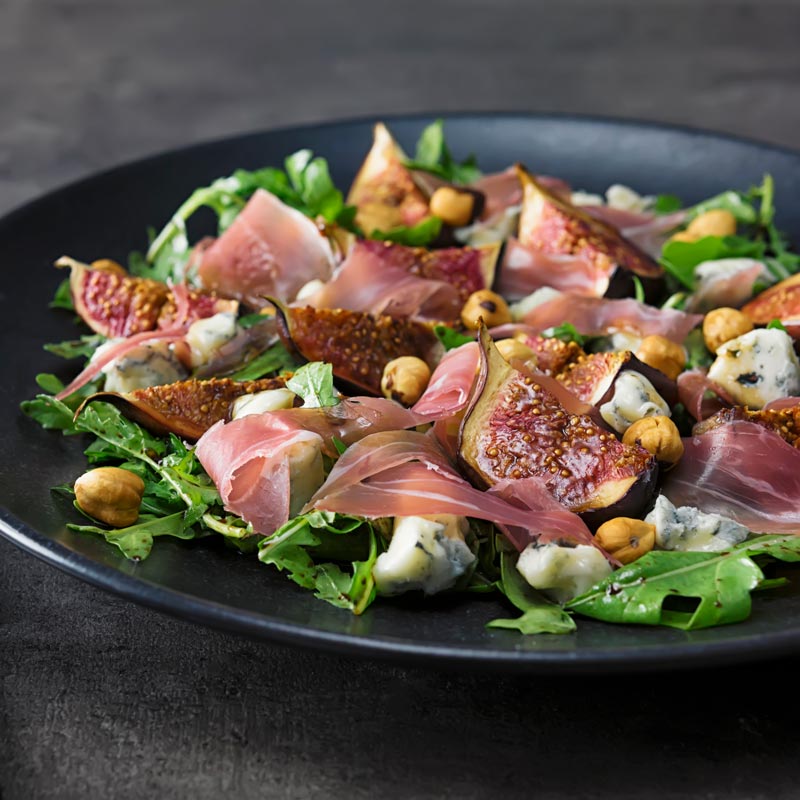 Yield:

2 Servings
Roasted Fig Salad With Blue Cheese
The fig season is perilously short, here we roast figs with Balsamic vinegar and honey and combine them with acidic blue cheese and salty ham to create the perfect light main course salad.
Ingredients
6 Fresh Figs
100 g Gorgonzola Cheese
50 g Prosciutto Ham
50 g Hazelnuts
50 g Rocket, AKA Arugula
1 Tbsp Honey
75 ml Balsamic Vinegar
2 Tbsp Olive Oil
1 Pinch Salt
1 Pinch Black Pepper
Instructions
Mix together the honey and balsamic and heat in a pan until just before boiling point.
Cut your figs into quarters and then give a scant seasoning with salt and pepper.
Place in a roasting tin and then pour over the honey and balsamic mix.
Place the hazelnuts in a separate tray.
Put both of these trays in the oven and roast at 220°C or 450°F for 15 minutes, keeping an eye on the nuts ensuring that they do not burn.
Whilst these are roasting crumble to cheese and tear the ham and pick the rocket.
When roasted take out the figs and allow to cool a little and drain off the cooking juices.
Whisk with the olive oil and allow to cool.
Dress the rocket with the dressing and place on a plate interspersing with the remaining ingredients adding a final drizzle of the dressing before serving.
Nutrition Information:
Yield:
2
Serving Size:
1
Amount Per Serving:
Calories:

784
Total Fat:

50g
Saturated Fat:

14g
Trans Fat:

0g
Unsaturated Fat:

33g
Cholesterol:

98mg
Sodium:

1986mg
Carbohydrates:

52g
Fiber:

7g
Sugar:

42g
Protein:

38g