This quick duck breast salad combines a classic flavours with duck with unusual but simple techniques to create a fantastic main course salad.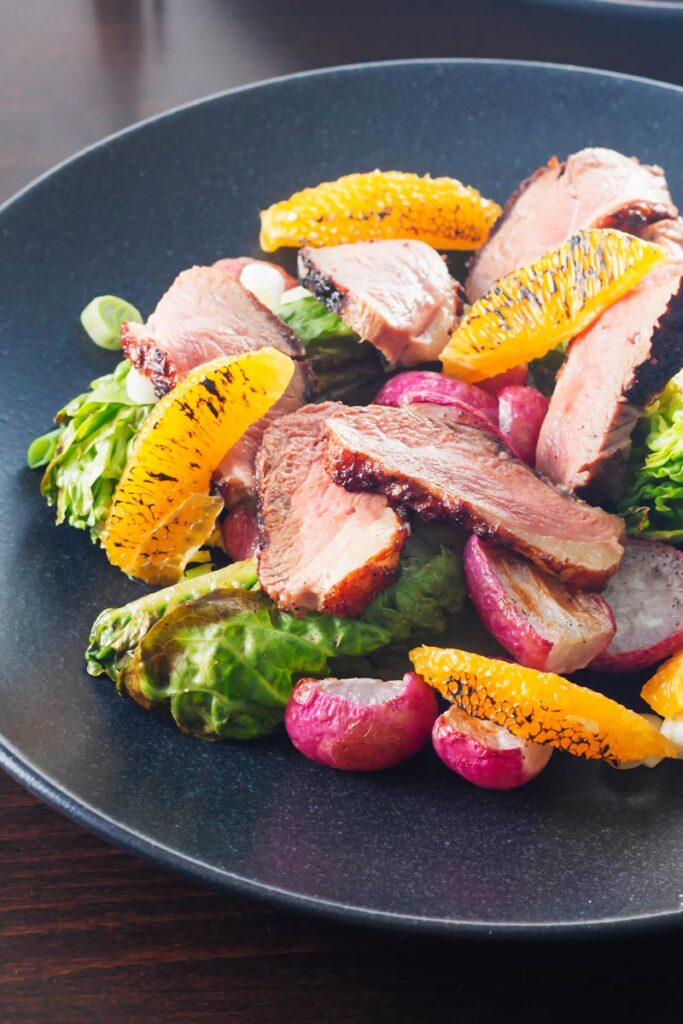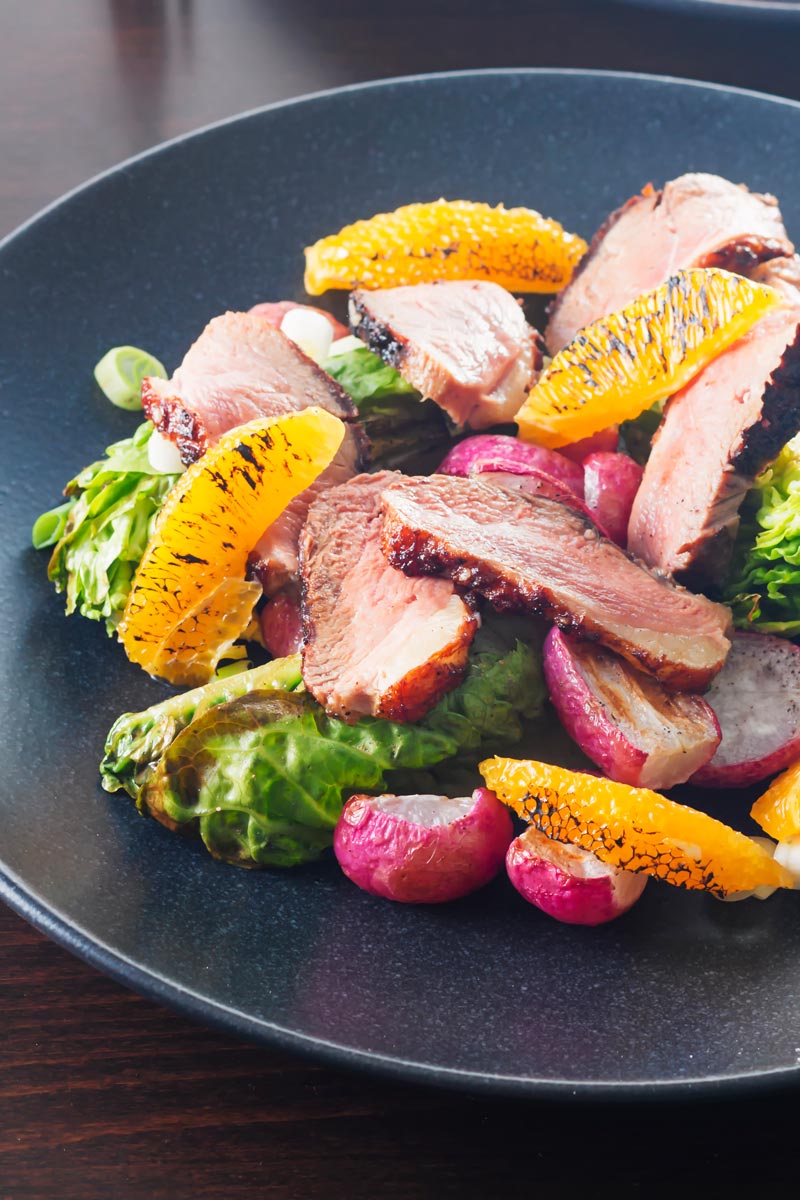 Duck Salad.
I grew up thinking that salads were something pious that folk ate when they were on a diet… This. Ain't. One. Of. Those. Salads!
This recipe takes ingredients that just work together and combines them with some fun techniques to create a fantastic light main course salad.
This is my spring duck salad, I also have a late summer duck salad that I pair with balsamic cherries.
It is also surprisingly quick taking just 30 minutes of pretty leisurely cooking.
I think this makes for a great date night salad leaving plenty of room for a dessert and even a starter.
It is also great fodder for a small dinner party, although I would avoid larger numbers. This is simply because getting the duck right for lots of people with different preferences can be difficult.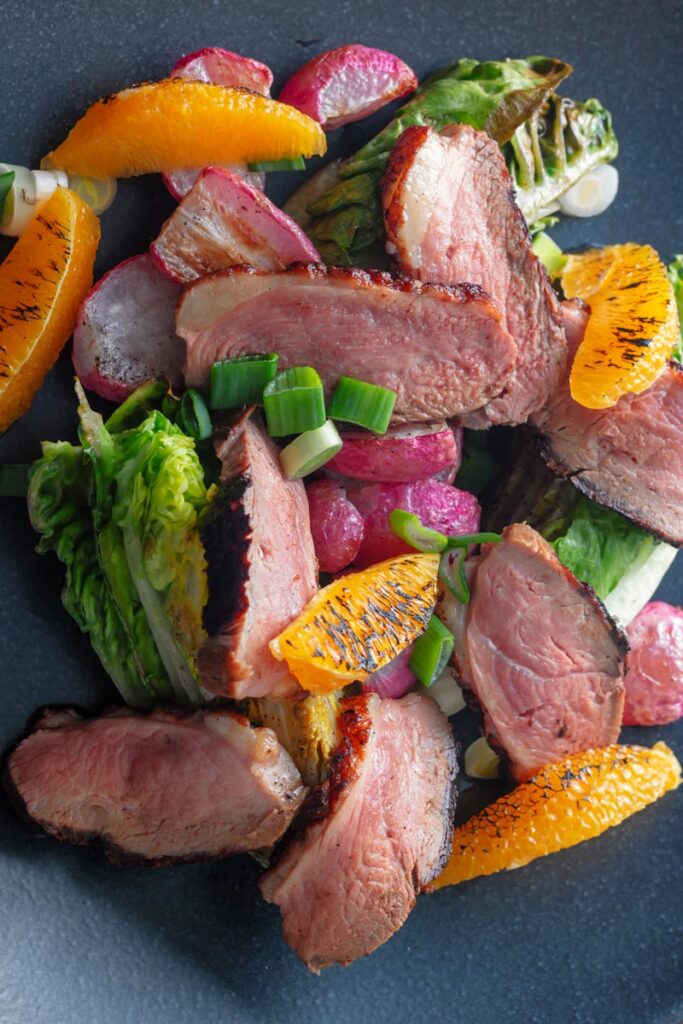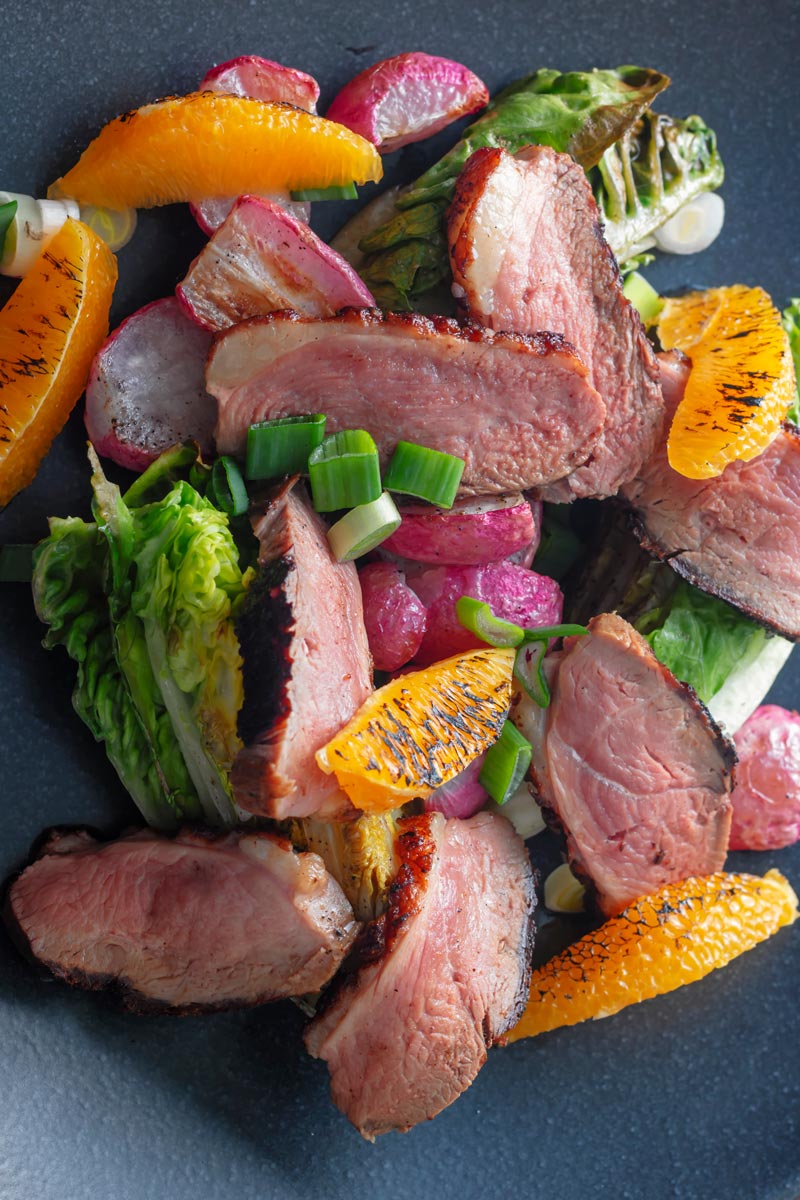 Cooking The Duck.
My preference for pan fried duck is the cold pan method.
The technique is exactly the same as the one featured in my duck a l'orange recipe that you can see in the video below.
As far as I am concerned the best, nay, the only way to get duck cooked perfectly consistently uses a meat thermometer.
I have no irons in the fire, use whatever one you like, I use one from that Swedish place that begins with "I".
It cost me the equivalent of a fiver $7-8 for my US readers and has been with me for a long old time!
I am not one of those cooks that mock people for how they like their meat cooked.
My preference is as pink as is safe in any circumstance.
But it is your dinner, so here are some internal temperatures for you to look out for.
These temperatures represent the internal temperature after resting. You want to remove the meat from the pan when it is 3-5 degrees below this as it will continue to cook whilst resting.
Medium Rare: 57°C
Medium: 62°C
Well Done: 67°C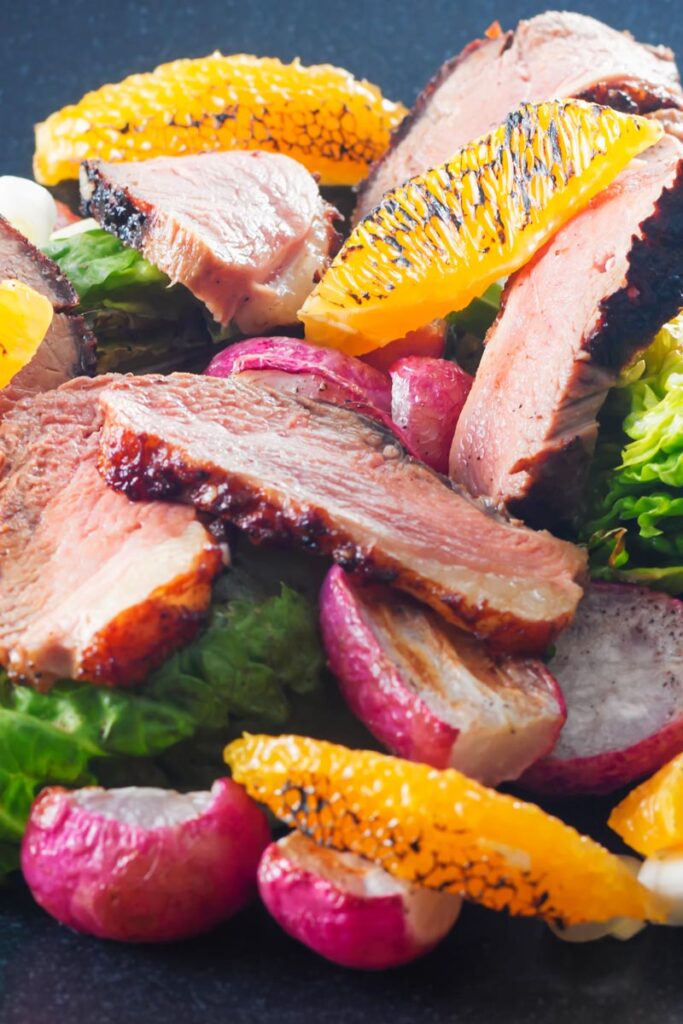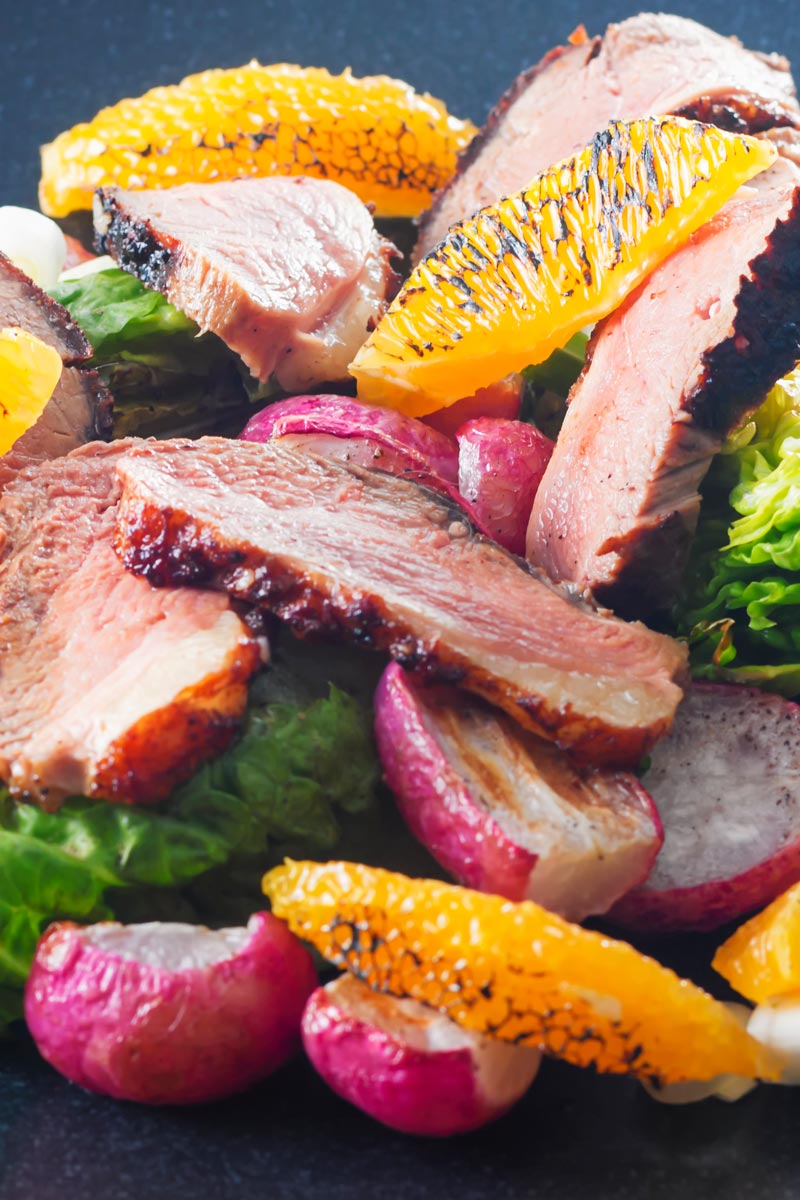 Other Techniques.
This recipe features 3 other cooking techniques that are a little less common than most.
Cooking Lettuce:
This is not as unusual as you may think, the French braise lettuce in petits pois a las Francaise.
This recipe sears the recipe in duck fat and it adds the foxiest of flavours!
Roasting Radishes:
This is a relatively new technique for me too and I love it. It helps eliminate a little of the harshness and adds some sweetness.
Seared Orange Segments:
This technique is not really unusual, although it is more commonly associated with dessert.
Here it adds sweet, sour and bitter notes to the salad and they also negate the need for a dressing.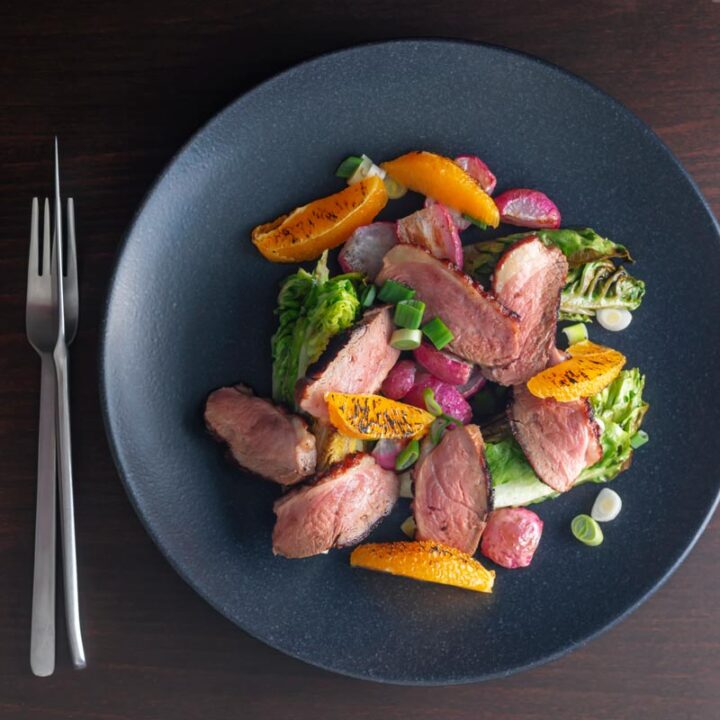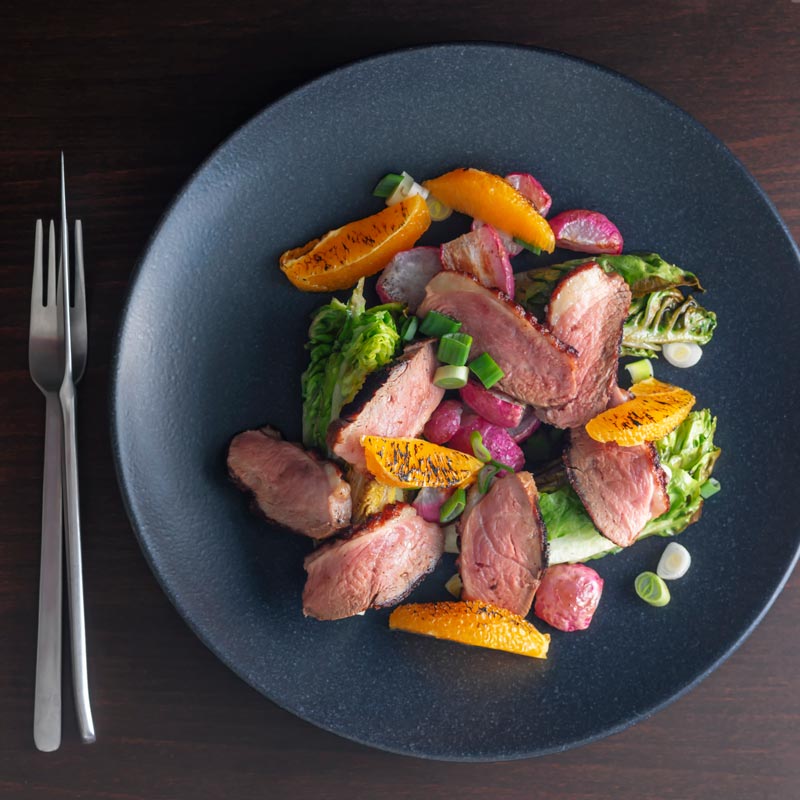 Yield:

2 Servings
Duck Breast Salad with Orange Recipe
This sup0er quick duck breast salad can be on your plate in just 30 minutes and has a few unusual new techniques to play with!
Ingredients
2 Duck Breasts
200 g Radish
2 Baby Gem Lettuce
2 Spring Onions
1 Orange
Salt & Pepper
1 Tbsp Olive Oil
Instructions
Top and tail the radishes and cut in half.
Toss the radishes in the oil and season well with salt and pepper.
Place in a single layer in a roasting tray and roast at 220°C or 450°F for 20 minutes.
Cut a 1cm crosshatch shape in the skin of the duck ensuring that you do not cut through to the flesh.
Season well with salt and pepper.
Place the duck skin-side down in a cold pan.
Turn on the heat under the pan so it is just below medium.
Cook the duck breast without moving for 10-12 minutes.
Cut the baby gem lettuce into quarters.
Finely slice the spring onions.
Peel and cut your orange into segments.
As the duck renders out the fat you should drain it off and save it for cooking other stuff.
After the duck has had its cooking time flip and cook to your liking, for me this is usually 5 more minutes.
Remove the duck and rest for 5 minutes.
Drain off the oil from the pan leaving scant covering, then place on a high heat.
When the pan is hot place the lettuce in the pan cut side down and sear for 90 seconds.
Finally, sear the orange segments under a hot broiler or with a blow torch.
Nutrition Information:
Yield:
2
Serving Size:
1
Amount Per Serving:
Calories:

608
Total Fat:

33g
Saturated Fat:

8g
Trans Fat:

0g
Unsaturated Fat:

23g
Cholesterol:

326mg
Sodium:

395mg
Carbohydrates:

15g
Fiber:

5g
Sugar:

9g
Protein:

61g
Calorific details are provided by a third-party application and are to be used as indicative figures only.