Warm duck breast salad featuring roasted radishes & asparagus with rocket (Arugula), orange segments, and the simplest of orange dressings.
The whole dish cooks in around 25-30 minutes and is a real dressy salad dish that is perfect as a shared starter or a main course salad.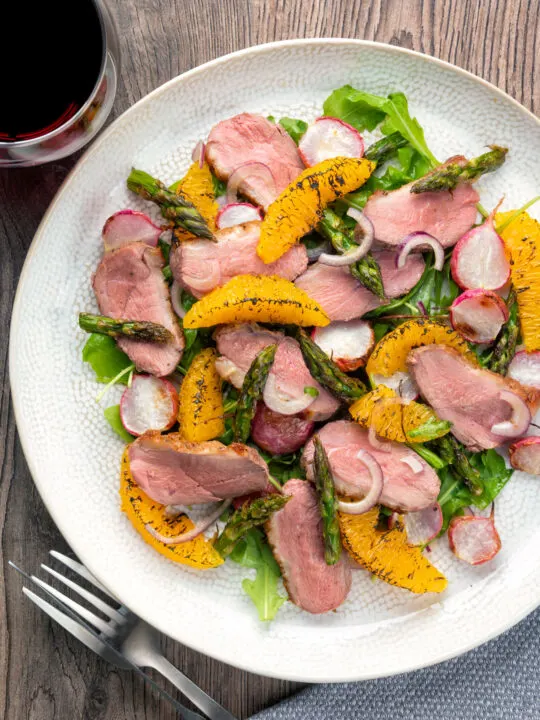 Summer Duck Recipe.
I grew up thinking that salads were something pious that folk ate when they were on a diet… This. Ain't. One. Of. Those. Salads!
I often associate duck with hearty winter fayre. Whether it is a whole roast duck, roast duck legs or something like my Thai duck curry they are belly fillers.
This warm duck salad with orange takes ingredients that simply just work together. Duck with Orange, Asparagus with orange, fennel with orange and combines to create a fantastic light main course salad.
It is also surprisingly quick taking just 30 minutes of pretty leisurely cooking. I use the cold pan method of cooking duck, it is gloriously simple and yields the best results for pan fried duck.
I think this makes for a great date night salad leaving plenty of room for a dessert and even a starter.
It is also great fodder for a small dinner party, although I would avoid larger numbers.
This is simply because getting the duck right for lots of people with different preferences puts way too much stress on a night that you should be enjoying too.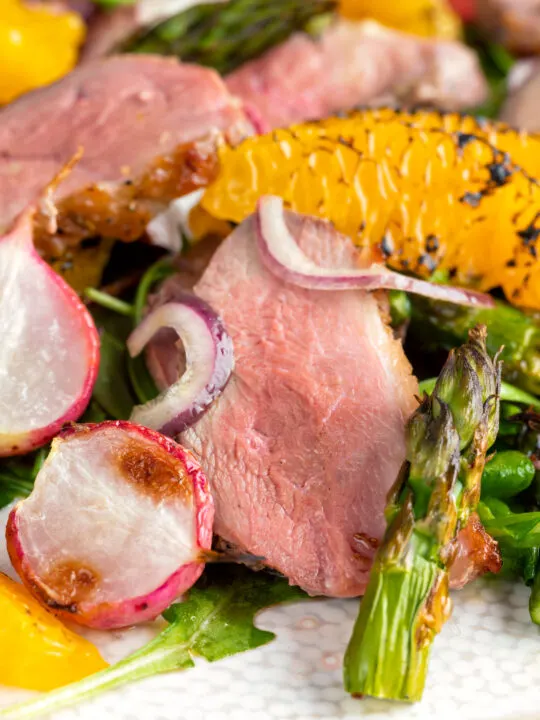 Frequently Asked Questions.
How do you tell when duck is perfectly cooked?
The very best way to do this is to get yourself a meat thermometer. I use an "instant read" thermometer that costs around £10 or $15. If you cook meat it will make you a more accurate cook from day 1!

I like my duck cooked nice and pink so I cook until 53-54°C or 127°F and rest for 5-10 minutes before carving.

If you prefer medium cooked duck, remove it at around 60°C or 140°F and well done at 65°C or 150°F.
Can I use something other than asparagus?
Yes, if it is not asparagus season I use green beans in this salad, and roast them for just 5 minutes.

Whilst we are discussing the asparagus, I use just the tips in the recipe. You can use all of the asparagus and just snap off the woody part.

However I prefer to use the asparagus stems to make my cream of asparagus soup!
Are there alternative salad leaves that can be used?
Yes, the first that springs to mind is watercress which has a beautifully peppery flavour like rocket or arugula.

The second is lamb's lettuce which is occasionally known as corn salad, it has a much milder flavour but a beautiful texture.

Finally, if you are the foraging type then how about dandelion leaves? They taste superb and are often overlooked!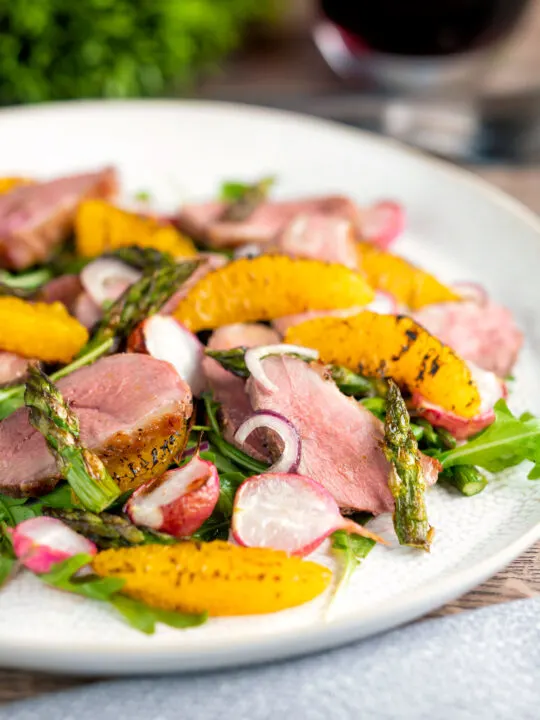 Serving Suggestions.
If I am serving this duck breast salad as a main course then I typically use a whole small duck breast per person.
It doe however make for a wonderful light starter for a multi course meal and then I use a single duck breast between two people.
If I wanted to bulk out this salad and make it a heartier meal then I would likely add some bread to munch on. My choice personally speaking would be a nice focaccia bread.
Although you could also add some grains, some simply cooked bulgur wheat or puy lentils or even pearly barley.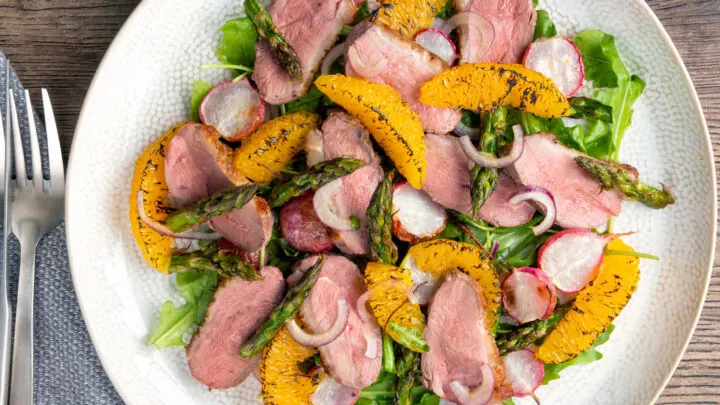 Equipment Used
I only mention brands of equipment if I think that they make a material difference to a recipe. But if you have any questions feel free to ask them in the comments section below the recipe.
Stovetop.
28cm or 11″ frying pan or skillet, do not use a nonstick pan if possible.
Roasting tin.
Blow torch or grill (broiler).
Chopping board.
Kitchen knife.
Weighing scales and or measuring cups and spoons.
Kitchen tongs.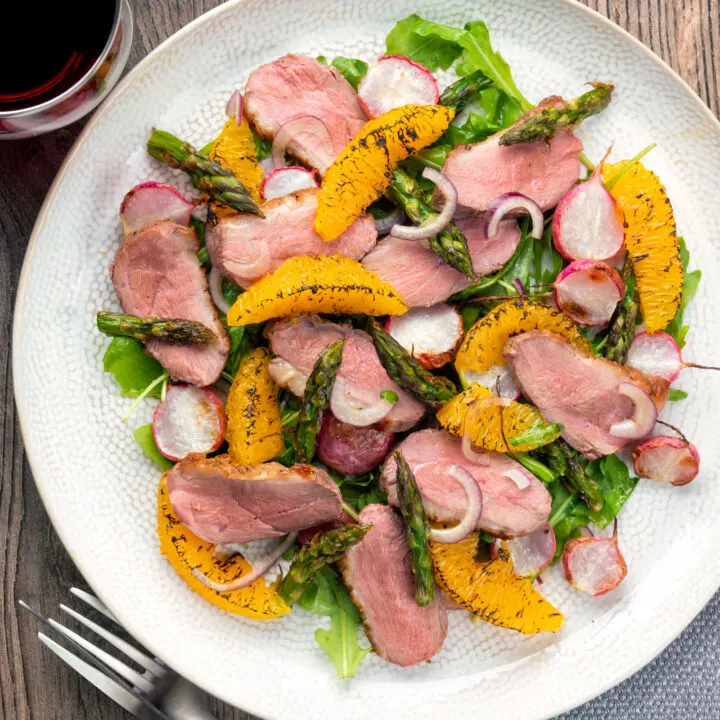 Yield:

2 Servings
Duck Breast Salad with Orange Recipe
This super quick duck breast salad can be on your plate in just 30 minutes and has a few unusual new techniques to play with!
Ingredients
2 Small Duck Breasts
1 Tsp Fennel Seeds
½ Tsp Black Pepper
½ Tsp Coarse Sea Salt
12 Small Radishes
24 Asparagus Tips
1 Orange
2 Handfuls Rocket (Arugula)
~2 Tbsp Olive Oil
Salt to taste
Black Pepper to taste
Instructions
Ensure the skin of the duck breast is dry and then cut a cross-hatch pattern (1cm) in the skin making sure not to cut the flesh.
Place the coarse sea salt, fennel seeds and black pepper in a spice grinder or pestle and mortar and grind.
Rub the fennel mix into both sides of the duck breasts.
Place the duck breasts skin side down into a cold 28cm or 11" frying pan or skillet (do not use non-stick). Turn on the heat to a low-medium temperature and allow it to sit for 8-12 minutes.
Peel and cut the red onion in half and then slice as finely as you can into half-moon shapes.
Cut the top and bottom from the orange and then peel it with a sharp knife removing the skin just below the pith.
Cut each segment from the orange by sliding a sharp knife alongside each membrane.
Squeeze the orange juice from the leftover orange "carcass" into a bowl.
By now the duck breast should have started to give off some fat, pour this over the radishes and return the duck pan to the heat.
Toss the radishes in duck fat, sprinkle with a good pinch of table salt and place them into the oven.
Add three times as much oil as you have orange juice from the leftover orange and whisk, season with salt and pepper to taste.
After the duck is nicely golden on the skin side flip it over and cook on until your desired level of "done". I remove the duck at 53-54°C or 127°F and rest for 5-10 minutes tented in foil.
Cut the greens from the radish and then cut them in half and place them into a small roasting pan with the asparagus tips and pour over the duck fat. Place the pan in a hot oven at 220°C or 450°F and cook for the time it takes for the duck to rest.
I like to sear the orange segments to add a slightly bitter edge, I use a blow torch but sliding them under a hot grill or broiler works just as well.
Once the duck has rested thinly slice it.
Dress the rocket and red onion with the orange juice and oil mix and add to a plate.
Scatter over the roasted radishes, asparagus and seared orange segments.
Finally top with the duck and serve.
Nutrition Information:
Yield:
2
Serving Size:
1
Amount Per Serving:
Calories:

628
Total Fat:

34g
Saturated Fat:

8g
Trans Fat:

0g
Unsaturated Fat:

23g
Cholesterol:

326mg
Sodium:

1106mg
Carbohydrates:

18g
Fiber:

6g
Sugar:

9g
Protein:

64g
Calorific details are provided by a third-party application and are to be used as indicative figures only.