Slow roast duck legs, with perfectly golden crispy skin, soft and moist meat and a delicious and simple silky balsamic gravy.
This dish takes around 3 hours to cook, but you only spend 10-15 miuntes or so at the stove, the rest of the time is all yours!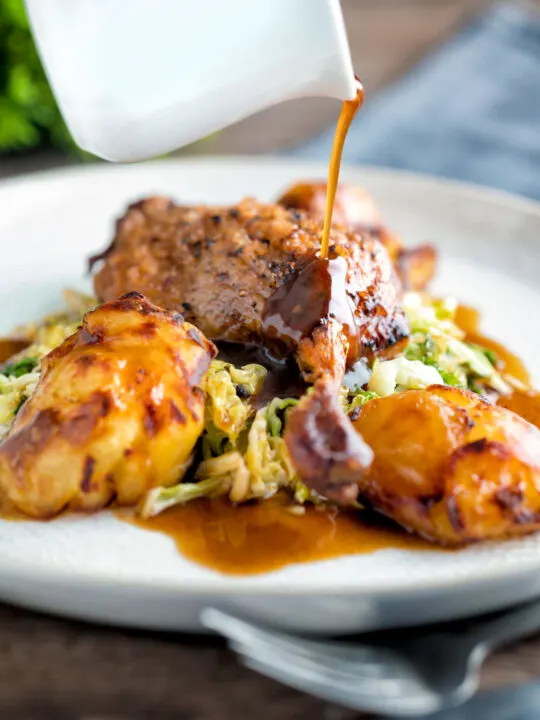 Slow-Cooked Duck Legs
If you have spent any time here you will know that duck is an ingredient that I adore cooking with.
Whether it is my whole roast duck, classic duck with orange sauce or even my Indian duck curry they are among my personal favourite recipes.
Slow-cooking duck helps render out all that white fat and it does not matter whether it is duck breast like in my Thai duck curry or the legs like my hoisin duck legs!
It is such a simple way of cooking too, a nice low oven, season the duck legs then roast them for two and a half hours. Then turn up the heat to get some colour and get the gravy rocking and rolling.
Oh and what a gravy it is, again it sticks with the simple approach, chicken stock, balsamic vinegar and honey.

This is reduced down in the oven and all you have to do is thicken with cornflour (cornstarch in the US). I use a very similar approach in my roasted chicken leg and chicory recipe.
This dish is perfect dinner party food, it can be scaled up for as many people as you like and so long as your oven is big enough, there are no timing changes.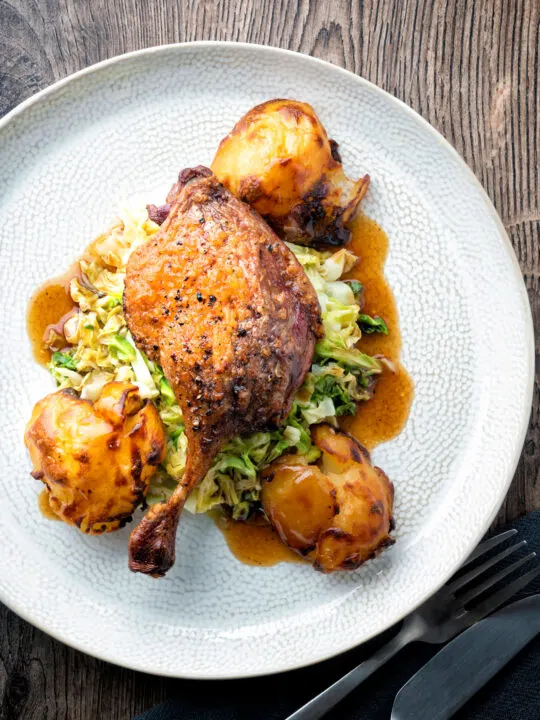 Frequently Asked Questions.
Will this method work with chicken legs?
No, chicken has nowhere near enough fat to cope with this type of cooking. Treat yourself to some duck legs, you will love this!
How long will the skin stay crispy?
The skin will remain nice and crispy for around 15-20 minutes. It will then start to go kinda chewy, which I secretly love!
Can I cook this recipe for more people?
Yes! In fact, this recipe is perfect for scaling both up and down. You do not need to alter the cooking time at all.

One thing you must do though is to make sure you do not overcrowd your roasting tin. Leave a good two fingers space between each duck leg.

Also if you are cooking lots a good hint is to place the duck legs on a wire rack so that they do not get submerged in fat.
Is the rendered fat good for keeping?
Oh yes! This is perfect for passing through a fine sieve or cheesecloth and used in cooking at a later date. Store in an air-tight jar in the fridge and use at your leisure.

If kept properly it will last up to 6 months, but good luck resisting for that long!
Serving Suggestions.
Cooking for two means that often times a large roasted dinner is a bit of overkill.
These slow roast duck legs are absolutely perfect for turning into a smaller roast dinner.
This time round I made some crushed roast potatoes. I popped them in the oven for the final 30 minutes of cooking at the lower temperature and the 30 minutes at a high temperature. Make sure to parboil them first!
I also made some savoy cabbage with bacon, although I dropped the Crème Fraiche and cooked it in white wine rather than stock.
They would be awesome with red cabbage, roasted parsnips, garlic green beans, I'd even serve them with Yorkshire puddings!
Essentially anything you would have with your trad Sunday lunch.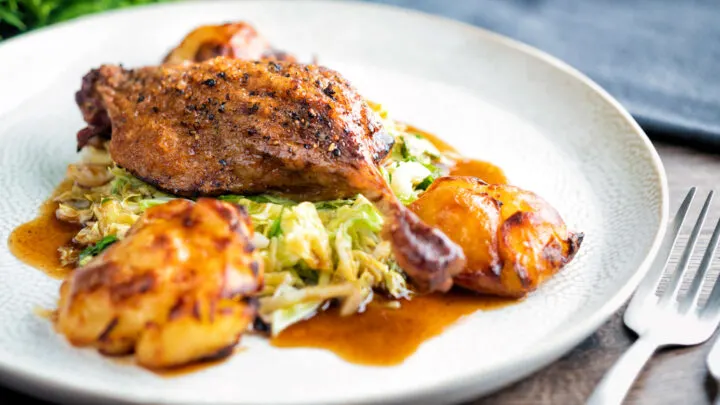 Equipment Used
I only name-check brands of equipment if I think they make a material difference to a recipe. But if you have any questions feel free to ask them in the comments section below the recipe.
Oven.
Roasting tin or baking dish, choose one that is just a little larger than duck legs.
Mixing bowl.
Measuring jug, cups and or spoons.
Kitchen tongs for serving.
Fine mesh sieve or cheese cloth, to strain the duck fat so that it can be stored.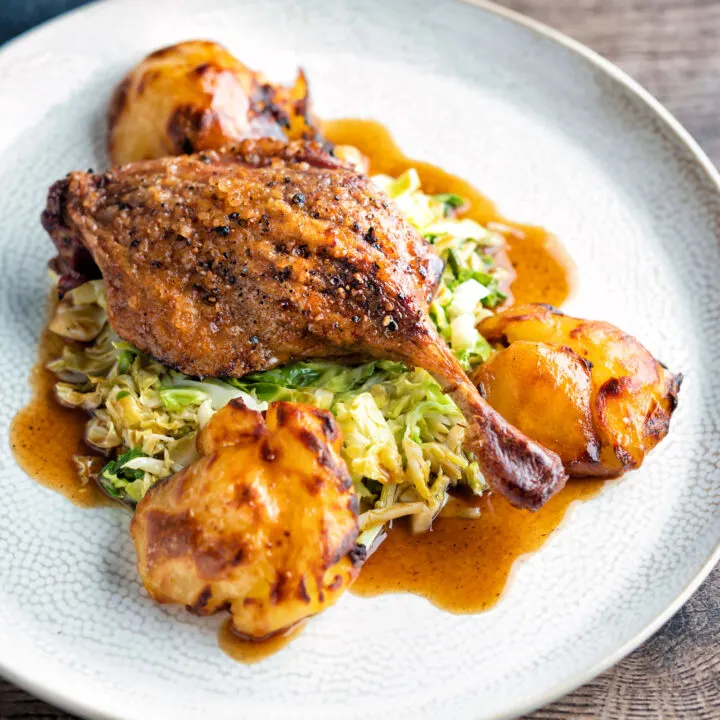 Yield:

2 Servings
Slow Roast Duck Legs Recipe
Total Time:
3 hours
5 minutes
Many people consider duck intimidating to cook with, but these foolproof slow roasted duck legs prove differently. The perfect small-scale roast for two people or easily scaled for a dozen providing your oven is big enough.
Ingredients
2 Duck legs
1 Tsp Coarse Sea Salt
½ Black Pepper
250ml (1 Cup) Chicken Stock
2 Tbsp Balsamic Vinegar
½ Tbsp Honey
½ Tbsp Cornflour (Cornstarch)
Instructions
Heat your oven to 130°C or 265°F.
Dry the duck legs as well as you can then rub them all over with the sea salt and black pepper.
Place the duck in a roasting tine or baking dish that is just a little larger than the duck legs and cook them for 2½ hours basting the duck legs with the fat that is rendered from it 2 or 3 times through the cooking process.
Mix together the chicken stock, balsamic vinegar and honey.
After 2½ hours turn the oven to fan mode at 200°C or 400°F.
Remove the duck pan and drain all but a scant covering of oil from the duck roasting pan.
Pour in the chicken stock mix and return to the oven.
Cook for a final 30 minutes.
Remove from the oven and set aside the duck legs.
Mix the cornstarch with a tablespoon of the cooking liquid, then stir it back through the liquid to thicken for a minute or so.
Nutrition Information:
Yield:
2
Serving Size:
1
Amount Per Serving:
Calories:

274
Total Fat:

12g
Saturated Fat:

3g
Trans Fat:

0g
Unsaturated Fat:

8g
Cholesterol:

108mg
Sodium:

1440mg
Carbohydrates:

12g
Fiber:

0g
Sugar:

9g
Protein:

28g
Calorific details are provided by a third-party application and are to be used as indicative figures only.