Tamarind duck legs, a delicious slowly cooked recipe with a bold sauce featuring dates, almonds, & the distinct flavour of tamarind.
As this dish is gently cooked in a sauce, I use skinless duck breasts to prevent the dish from becoming too greasy, which also makes it a little easier on the waistline too!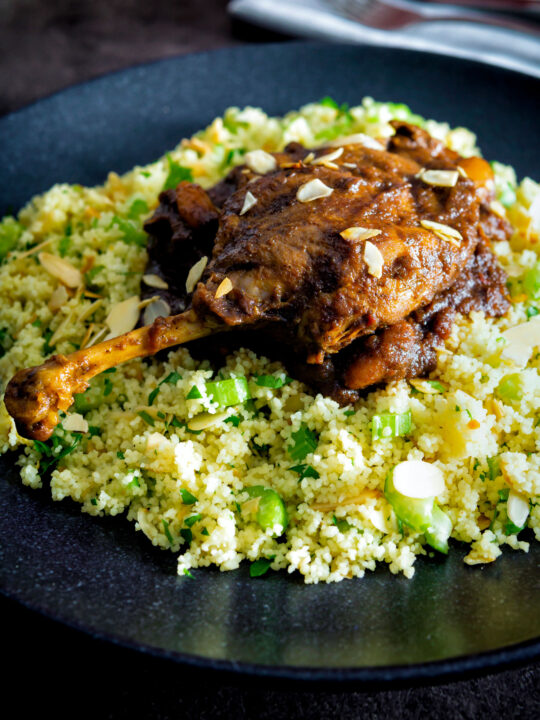 Braised Duck Legs.
I love cooking and eating duck, it is an ingredient that many folk think is difficult to cook. But nothing could be further from the truth!
In many ways, it is much more forgiving to cook than chicken and I love it in everything from a classic duck with an orange sauce to more unusual dishes like my Thai duck curry or my duck and plum stir fry.
These slowly braised tamarind duck legs are a real favourite in our house.
It is a dish with a slight North African or Persian influence, a place where sweet and sour flavours are very much embraced in savoury food.
A classic and pretty traditional example of this is my fesenjan recipe a delicious walnut and pomegranate molasses stew.
When it comes to a flavour combination sweet and sour takes some beating for me. I use it in places you would expect like sweet and sour chicken, but also in salads, soups and stews.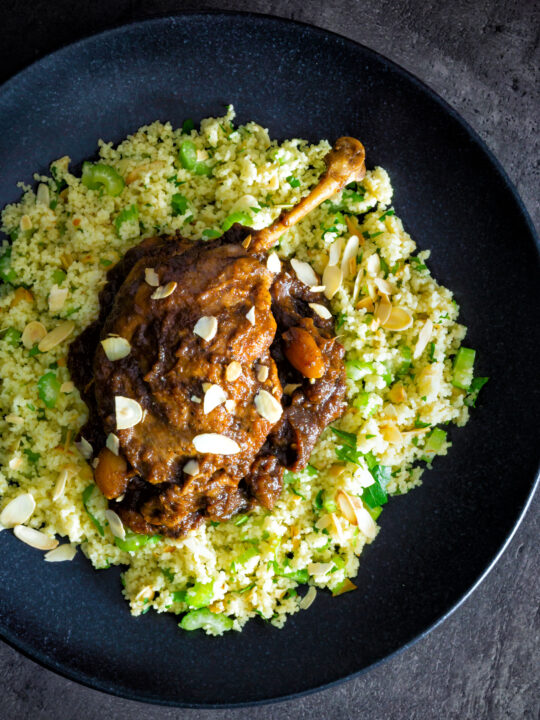 Frequently Asked Questions.
Do I have to skin the duck legs?
No, you can leave the skin on, but it does get "flabby" in the cooking process and I do not find it pleasant to eat.

Removing the skin also removes a lot of fat from the recipe, now I love duck fat but here it does the dish no flavours.

I stick the duck skin in a pan and roast it alongside these duck legs to render off the fat. I save it to roast potatoes in or use it to make my toad in the hole recipe.
Can I use tamarind concentrate?
Yes, but you will need to be guided by the brand that you use. They are all different and if you use too much I find that it gives a recipe a metallic taste.

Most tend to be between 5-10 times concentrated so you will need 1-2 teaspoons, but start lower and taste as you go.
What is tomato passata?
Tomato passata is an Italian product of sieved tomatoes, it is gloriously smooth and is great for sauces. In the US something similar is called tomato puree, although watch out for added sugar and salt.

You can blend tinned tomatoes to get pretty close if you wish.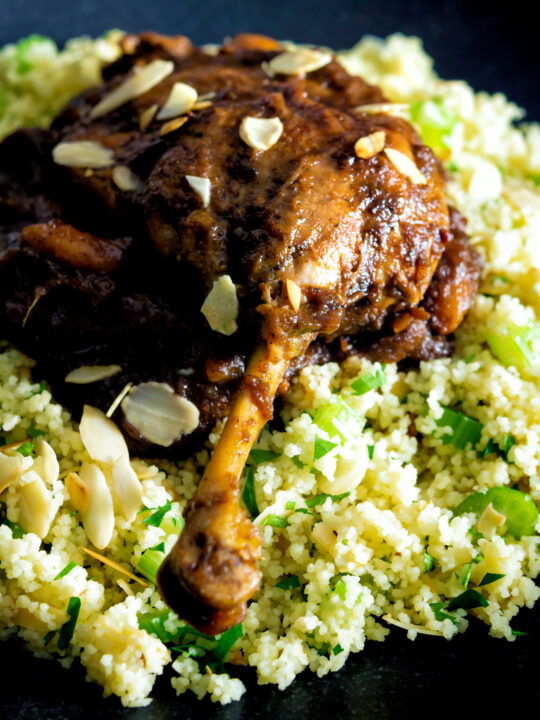 Serving Suggestions.
I served these tamarind duck legs with a simple buttered couscous that I added a load of spring onions to.
It works just as well with some simply cooked bulgur wheat or even a tabouleh salad.
You can even serve it with rice. I personally think that it works wonderfully with nutty wholegrain brown rice.
But the sauce is also great with potatoes, regular old spuds or sweet potatoes.
I've served this with wedges, my fried potatoes and even with sweet potato fries and it has been great every time.
If you like your duck legs roasted check out my slow roast duck leg recipe.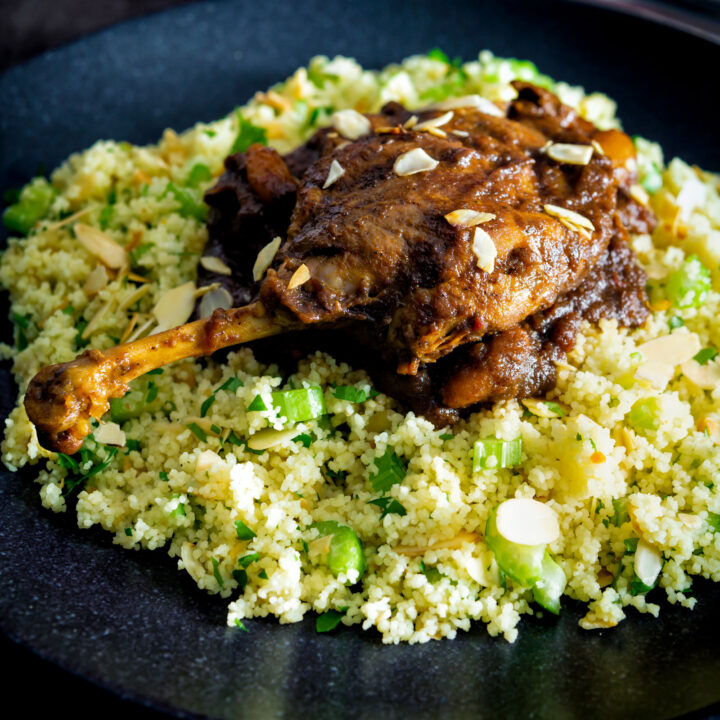 Yield:

2 Servings
Tamarind Duck Legs Recipe
Cook Time:
2 hours
10 minutes
Total Time:
2 hours
30 minutes
Tamarind roast duck legs are slowly cooked in a rich date and sauce that rocks the whole sweet and sour vibe with a North African influence!
Ingredients
2 Duck Legs
100g (⅔ Cup) Onion
1 Red Chilli Pepper
100g (⅔ Cup) Pitted Dates
100ml (~½ Cup) Tomato Passata
1 Tsp Ground Cumin
1 Tsp Ground Coriander
1/2 Tsp Ground Cinnamon
2 Tsp Dried Mint
50g (1½" Cube) Tamarind Pulp
50ml (3 Tbsp + 1 Tsp) Boiling Water
1/2 Tbsp Honey
50g (⅓ Cup) Blanched Almonds
Salt to Taste
1 Tbsp Cooking Oil
125ml (½ Cup) Water
Instructions
Break up the cube of tamarind and then pour over the boiling water and allow to sit for 10 minutes mashing with a fork occasionally.
Remove the skin from the duck legs, begin by cutting the skin around the "ankle" of each duck leg down to the bone.
Slide your finger under some of the loose skin by the duck thigh and then pull the skin from the duck leg.
Apply pressure with your thumbs to pop the knuckle from the bottom of the drumstick.
Season the duck legs with half a teaspoon of salt and set aside.
Press the tamarind through a fine-mesh sieve.
Roughly chop the onion and chili and add them to a blender along with half of the dates and the tomato passata.
Add the cumin, coriander, cinnamon, and dried mint and blend to a smooth paste.
Heat a frying pan over a medium heat and add the cooking oil when the pan is hot.
Add the paste to the pan and then cook for 5 minutes, before tasting and adding salt to your palate.
Add in the tamarind paste, honey, the remaining dates that have been roughly chopped, and the blanched almonds.
Stir in the half a cup of water.
Add the duck legs to the pan and spoon over some of the sauce, add a tight-fitting lid and roast in the oven at 150°C or 300°F for 2 hours.
Nutrition Information:
Yield:
2
Serving Size:
1
Amount Per Serving:
Calories:

890
Total Fat:

42g
Saturated Fat:

9g
Trans Fat:

0g
Unsaturated Fat:

26g
Cholesterol:

155mg
Sodium:

1519mg
Carbohydrates:

86g
Fiber:

12g
Sugar:

53g
Protein:

51g
Calorific details are provided by a third-party application and are to be used as indicative figures only.