Duck with orange sauce is a classic combination and here we take a duck breast and pan-fry it to perfection and then make a quick pan gravy.
It is a recipe that feels fancy, but it is quick to make at around 25 minutes and the cold pan method of cooking duck breast is foolproof!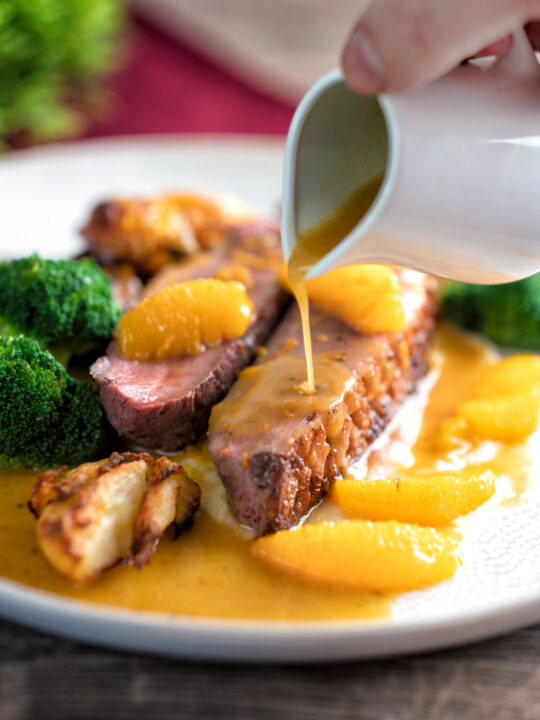 Duck a l'Orange
It would seem that food nostalgia is strong in me at the moment!
Duck with orange sauce or duck a l'orange as I remember it being called is a retro classic that I think deserves to be cooked far more regularly.
First of all I love cooking with duck, whether it is the breast like my duck tagine or even my duck stir fry. Or the legs for my braised duck legs in tamarind, or even just simply roasted duck legs it is probably my favourite "alternative" meat to cook with.
It is beautifully forgiving to cook, and let's face it, it just sounds and feels lahdedah and special.
But honestly, this duck with oranges dish is stupidly easy to cook and can be cooked for 4 as easily as it is for 1. Grab yourself 2 pans and go for 8 if you want!
The orange sauce for the duck cooks in the time it takes to rest the duck breasts and tastes divine. Duck with orange is a classic combination and one that I also feature in my duck breast salad recipe.
And the cold pan method of cooking duck breast renders that fat out beautifully.
It creates crispy skin and no mountain of chewy white fat, it is the same technique that I use in my Indian duck curry.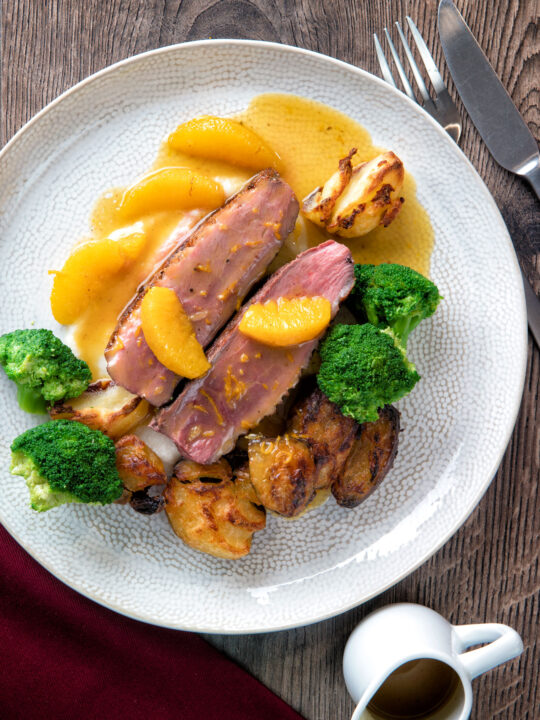 Frequently Asked Questions.
How do I know when the duck is cooked?
Buy a meat thermometer, they are cheap and will make you a better cook immediately!

As you can tell I like my duck rare! I cook it until it reaches 53-54°C or 127°F and remove it to rest, it will continue to cook as it rests.

If you want medium, remove the duck at around 60°C or 140°F and well done at 65°C or 150°F.
Why are you not using the duck fat in the sauce?
I have nothing against duck fat, I love the stuff, just not as much as butter, especially in a sauce.

The orange sauce for these duck breasts needs to be silky smooth and that is where the butter plays its part.
Put the duck in a cold pan… REALLY?
Yes! Trust me on this, I spent years putting my duck in a hot pan and searing it off. It almost always results in uneven cooking and lots of white unrendered fat.

The method gives you perfect skin every time, no unrendered fat and beautifully cooked meat.

Just keep the pan at a low-medium temperature. You can tell if you have got it right when the oil very slowly starts to flow after 30-60 seconds and you have got no sizzling.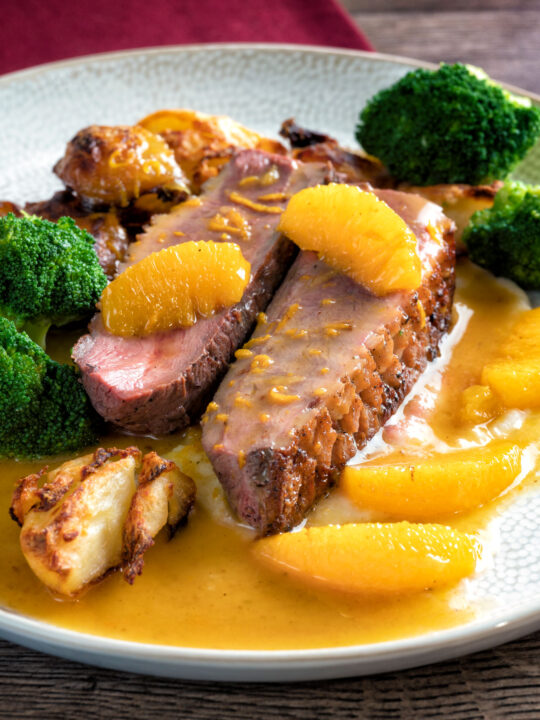 Serving Suggestions.
Duck with orange sauce is often times as close as I get to a roast and I have a few favourites that I love to serve it with.
The first is roast potatoes because yeah roasties! Although after I have par boiled them I like to crush them a little to get more crispy bits.
Then comes simple steamed broccoli, although garlic green beans work well too.
Finally, if I can score some, I make a Jerusalmen artichoke puree. The nutty flavour and creamy texture is glorious with the orange sauce.
You could add braised red cabbage and roasted parsnips would also be amazing!
Yield:

2 Servings
Duck with Orange Sauce Recipe
Welcome to another retro throwback recipe, Duck a l Orange may hark back to the 70's dinner parties but it still has a relevant place on any dinner table if you ask me!
Ingredients
2 Duck Breasts
30g (1½ Tbsp) Honey
3 Oranges
2 Tbsp Red Wine Vinegar
200ml Chicken Stock
30g (2 Tbsp) Butter
1 Star Anise
1 Tbsp Cornflour (Cornstarch)
Instructions
Zest all three oranges.
Cut two of the oranges in half and juice them.
Top and tail the final orange then place it on a cutting board and cut off the skin working in a "barrel shape".
Then take a sharp knife and remove the segments by cutting along side the thin white membranes.
Score the skin of the duck breasts in a diamond or cross hatch pattern making sure you do not go through the flesh.
Season the duck with salt and pepper on both sides.
Place the duck in clean cold pan on the hob, (do not use a nonstick pan).
Turn on the heat to a lwo-medium temperature.
Allow the duck to cook for 8-10 minutes pushing down occasionally to prevent curling at the corners.
When teh skin is crispy and golden flip over and cook for another 5-6 minutes or until the internal temperature reaches the required level of "doneness".
Remove the duck and set aside covered with foil and allow to rest for the time it takes to make the sauce.
Drain the fat from the pan (DO NOT THROW IT AWAY).
Return the pan to a high heat and add the butter.
When the butter is foaming and melted add the star anise, chicken stock, red wine vinegar, honey, orange zest and oraneg juice less keeping back 1-2 tablespoons.
Reduce the sauce over a high heat by at least half.
Whilst the sauce is reducing mix together the cornflour with the orange juice and mix to form a slurry.
Stir the cornflour slurry through the sauce to thicken slightly.
Add the orange segments, stir to heat slightly.
Finally carve the duck breast adding any resting juices to the sauce and serve topped with sauce.
Nutrition Information:
Yield:
2
Serving Size:
1
Amount Per Serving:
Calories:

755
Total Fat:

38g
Saturated Fat:

14g
Trans Fat:

0g
Unsaturated Fat:

21g
Cholesterol:

356mg
Sodium:

431mg
Carbohydrates:

40g
Fiber:

5g
Sugar:

30g
Protein:

63g
Calorific details are provided by a third-party application and are to be used as indicative figures only.