Welcome to another retro throwback recipe, Duck a l Orange may hark back to the 70's dinner parties but it still has a relevant place on any dinner table if you ask me!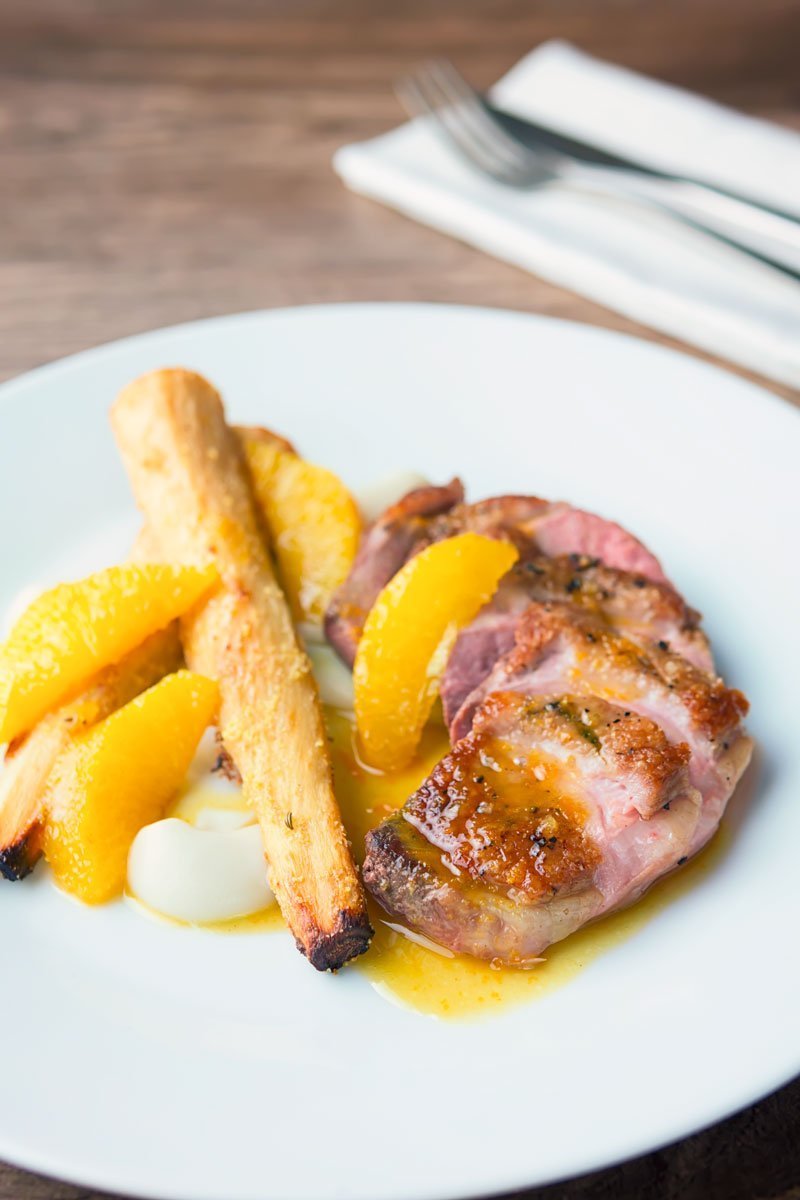 Duck A L Orange…
It would seem that food nostalgia is strong in me at the moment! Whilst duck a l orange was never present on our menu growing up it certainly is now!
It is really a simple recipe and the rich duck just loves that whole sweet and sour thing.
That may sound odd, many folk associate sweet and sour with Asian food but it really is a common theme across the globe.
Hell just grab a bite of your favourite burger and I'm pretty sure you will find that flavour combo in there somehow. With the sour edge coming from pickles or mustard and the sweet from your bbq sauce, ketchup or fried onions.
It is just one of those irresistible combinations that you trip over time and time again in World food.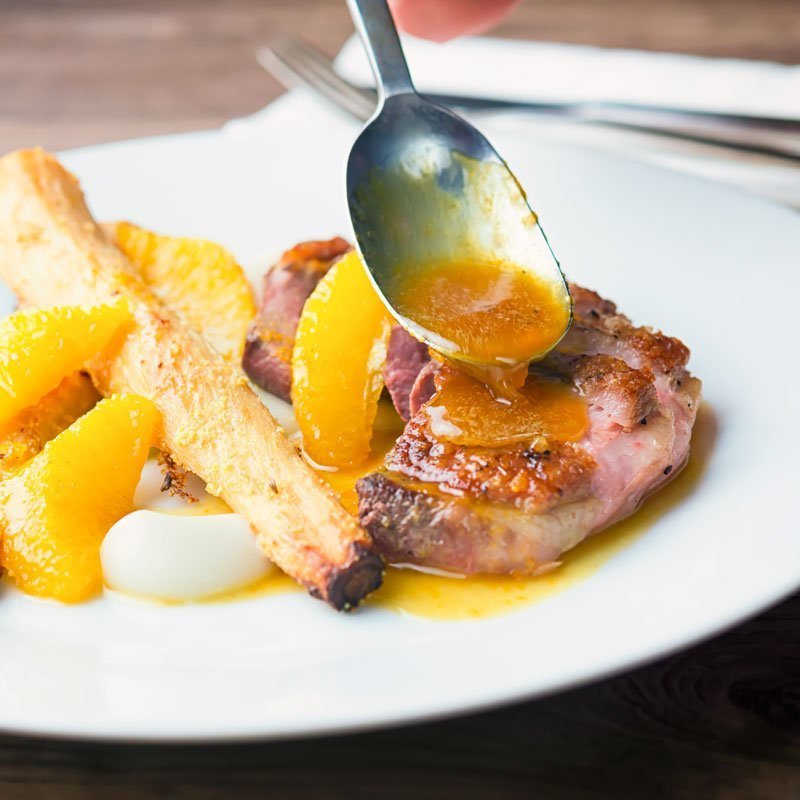 Classic French Recipes.
Duck a l Orange pretty much typifies French food for me!
A real fancy ass name that means something really simple. It is in fact all about good ingredients treated fairly simply to create beautiful food.
Check out my take on other classic French recipes below:
There is nothing hard in this recipe at all, and you can ignore my serving suggestions if you like and serve it with whatever takes your fancy.
But I urge you to give it a try, it is a real treat with flavours that just work perfectly together!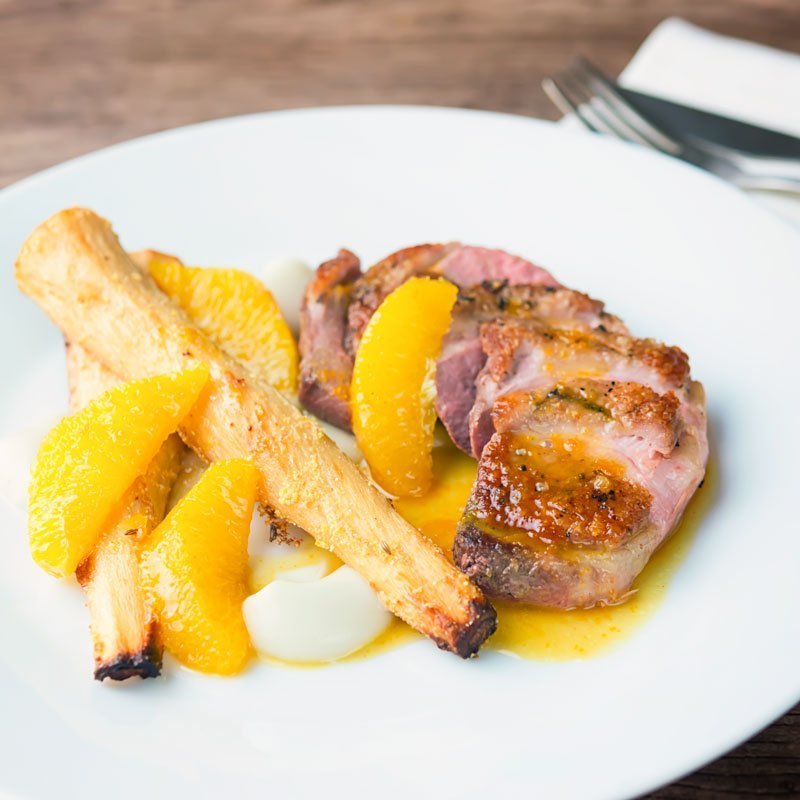 How To Cook Duck Breast.
There are a host of duck recipes here on my site and you will find two methods of cooking duck breast.
This Duck a l Orange recipe relies on the cold pan method of cooking duck breast. A couple of my older recipes get cooked using a hot pan method.
I have erred towards the cold pan method in recent years because I find it renders the fat out of the duck more completely. It leaves a wonderfully coloured and beautiful crispy skin.
The most important part is to leave the duck alone, leave it for at least 12 minutes before checking. Moving it around will not result in beautifully crispy skin.
I like to keep my duck breast really rather pink, however, if you want to cook your duck further then you can.
Rather than resting the duck from the pan just transfer it to the oven and cook to your liking.
Do not skip resting when the duck is cooked though!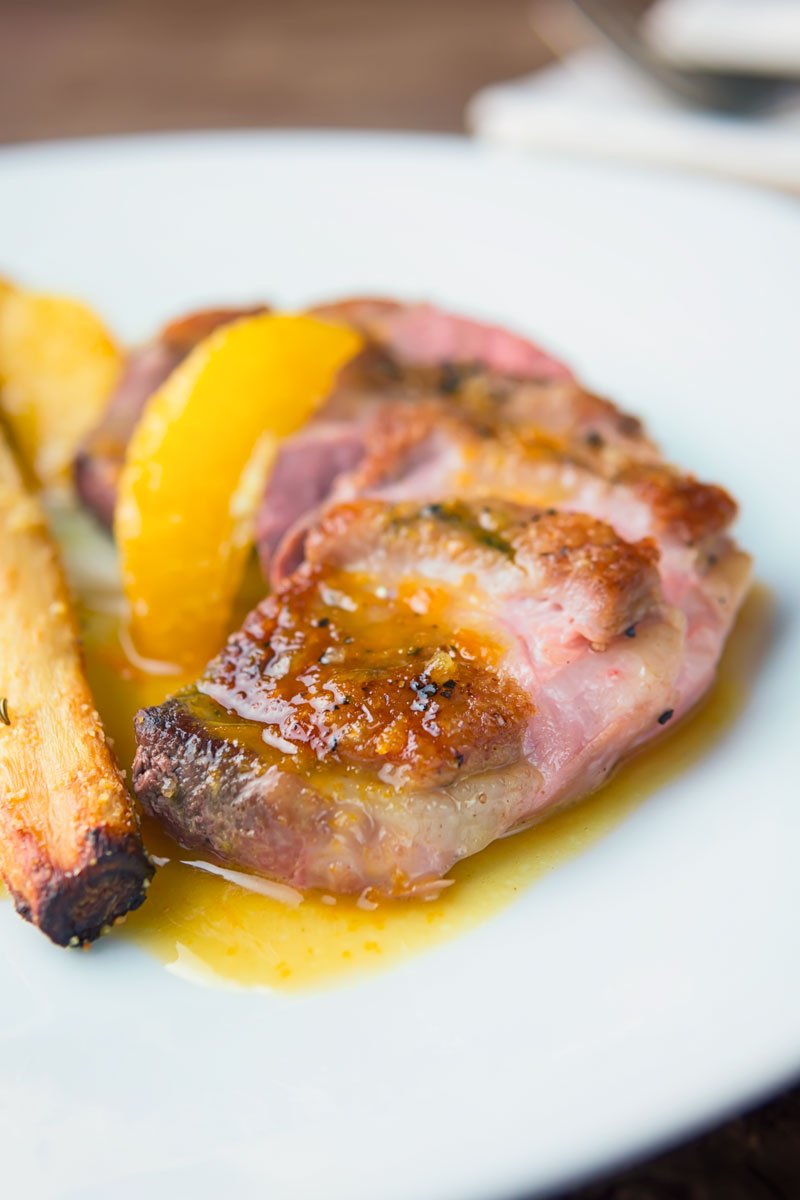 Retro Recipes.
This retro Duck a l Orange recipe brings me right back to food nostalgia.
What does it for you?
It would seem that I am on a run at the moment with so many recipes from my childhood like hotpot, chicken and mushroom pie and stroganoff all making appearances.
I also have a real childhood favourite of mine guaranteed to raise eyebrows next Tuesday, the humble British faggot!
As far as I am concerned the finest meatball known to mankind!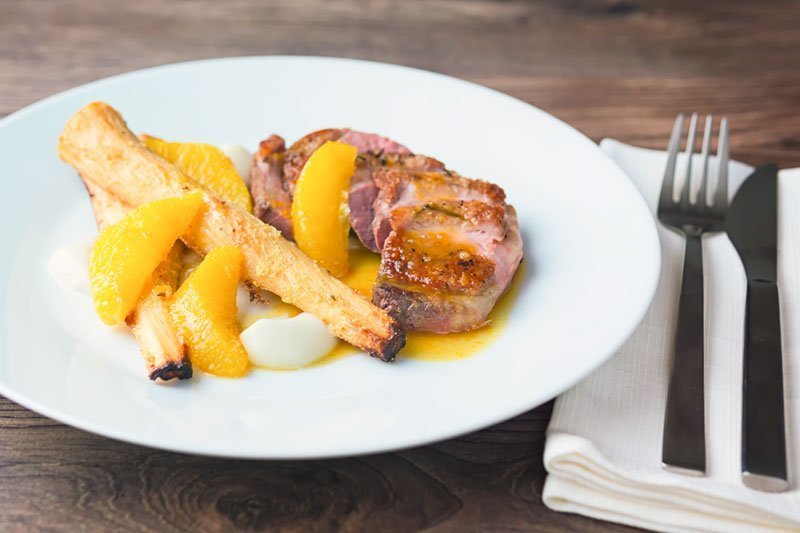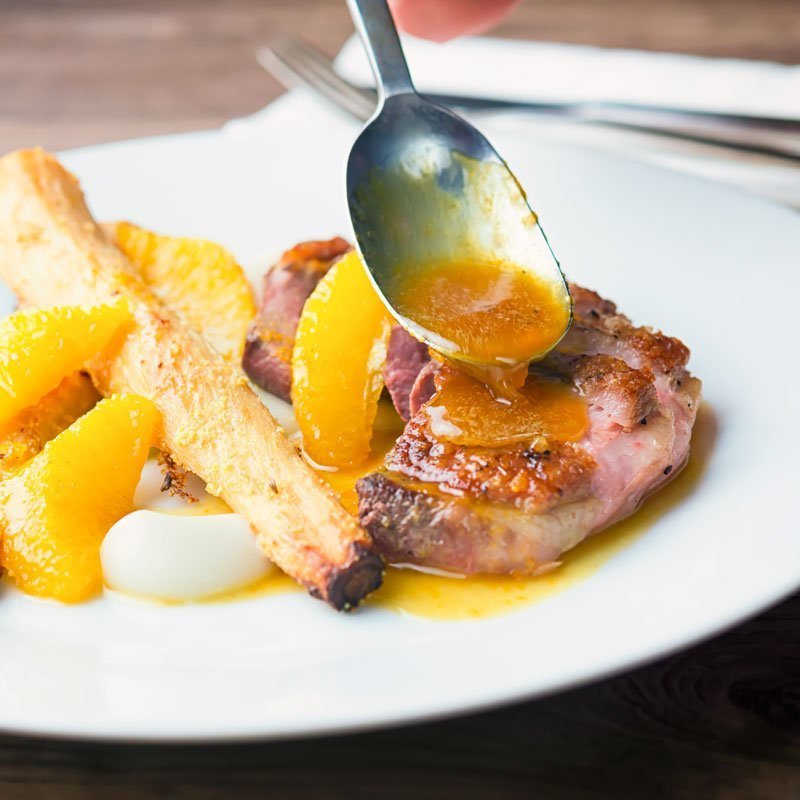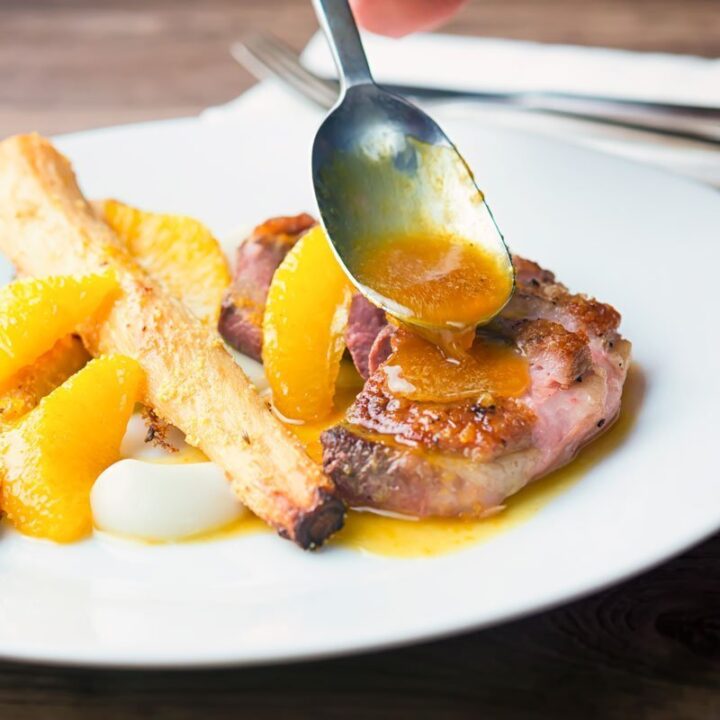 Duck a l Orange
Welcome to another retro throwback recipe, Duck a l Orange may hark back to the 70's dinner parties but it still has a relevant place on any dinner table if you ask me!
Ingredients
For the Jerusalem artichoke Puree:
250 g Jerusalem Artichoke, Peeled
75 ml Heavy Cream
Salt, To taste
Pepper, To taste
For the Roasted Parsnips:
300 g Parsnips, Cut peeled, top and tailed and cut in half
30 g Butter
1 Tsp Fennel Seeds
1 Tbsp Polenta or Cornmeal
Salt, To taste
For the Duck a l'Orange:
2 Duck Breasts, Score the skin of your duck breasts into a 1 cm diamond
25 g Sugar
3 Oranges, You will need the zest of all three, the juice of two and the flesh of the third cut carefully into segments
2 Tbsp Red Wine Vinegar
200 ml Chicken Stock
25 g Butter
1 Star Anise
Instructions
For the Jerusalem artichoke Puree (40 minutes):
Boil the Jerusalem artichokes on boiling salted water until soft.
Blend with the the cream adding salt and pepper as required to forma smooth puree.
Gently reheat when ready to serve.
For the Roasted Parsnips (50 Minutes):
Boil the parsnips in salted water for 5 minutes.
Remove from the pan and allow to steam dry a for a few minutes.
Toss in the polenta and fennel seeds and then place on a baking tray.
Dot with the butter and then roast in the oven at 200°C or 400°F for 40 minutes.
For the Duck a l'Orange (30 minutes):
Place the sugar in the base of a pan with the star anise and heat over a medium heat.
When it starts to form a golden caramel colour at the edges add in the orange juice, stock and red wine vinegar along with the orange zest.
Reduce this sauce down to around 100-150ml.
Meanwhile season your duck breast with salt and pepper and place in a cold pan skin side down.
Turn the heat on under the duck at a medium-low level and leave to colour for 12-15 minutes.
Drain off the fat from the pan if needed after 8-10 minutes.
Flip over and cook until cooked to your desired level.
Remove from the pan cover and rest for 5 minutes before carving.
Whilst the duck is resting add the orange segments and butter to the sauce to finish.
Nutrition Information:
Yield:

2
Serving Size:

1
Amount Per Serving:
Calories:

1377
Total Fat:

63g
Saturated Fat:

30g
Trans Fat:

1g
Unsaturated Fat:

28g
Cholesterol:

391mg
Sodium:

717mg
Carbohydrates:

140g
Fiber:

17g
Sugar:

54g
Protein:

67g
Calorific details are provided by a third-party application and are to be used as indicative figures only.