NEVER MISS A RECIPE: Get your Weekly Update Email!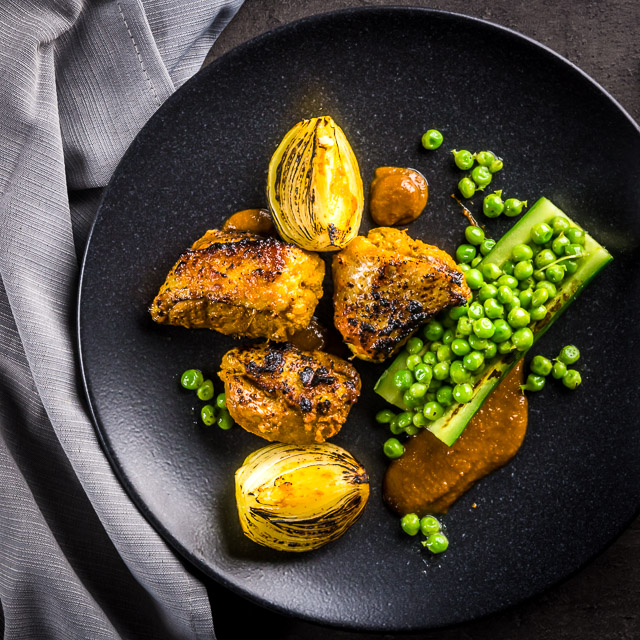 You know I like a good fakeaway right? Well this Duck Tikka Masala is a dish I had been working on for a while and is actually the dish that I made for our Valentines Day meal this year. I'm very happy to share it with you as it means I got to cook it again.
I posted a Babgulyás recipe a short while ago and mentioned that it was about as Hungarian as it could be, well as far as I am concerned Tikka Masala, all be it Chicken Tikka Masala is about as British as it gets. It is rumoured to have come from an Indian Restaurant in Glasgow when a 'drunk' punter came in and ordered a Chicken Tikka and complained when it had no sauce. The waiter returned to the kitchen and made a sauce involving a tin of cream of tomato soup and some spices.
As time has gone by the dish has become refined and arguments over the provenance have raged but either way it has become what it is today, grilled marinated meat in a spicy gravy.
So what we have here is my Duck Tikka Masala and it is awesome. The meat is juicy and still rosy pink in a marinade that is then turned into a sweet and sour sauce powered by tamarind and honey to cut through the richness of the duck meat.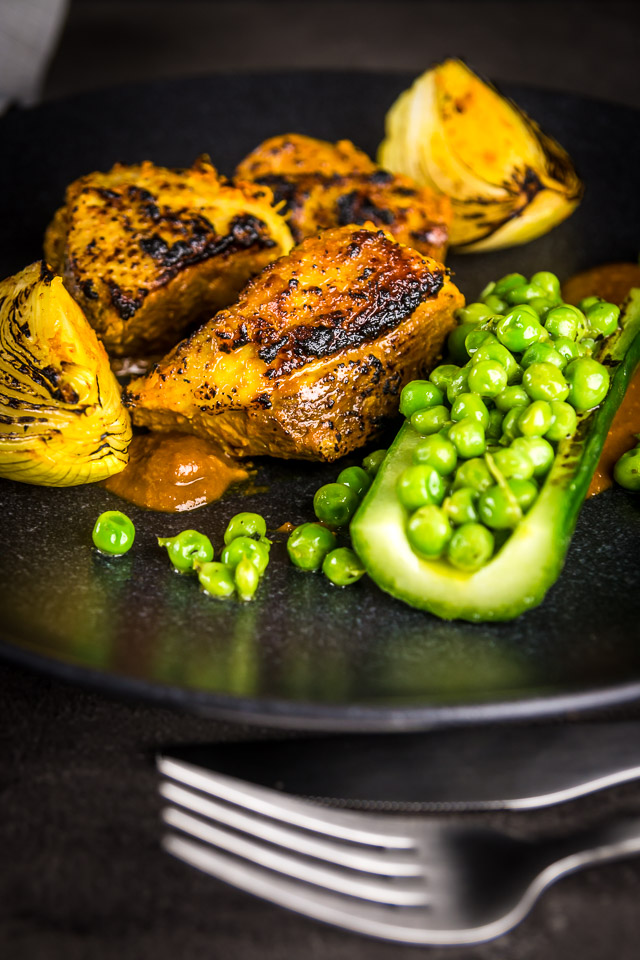 The accompaniment for dish is a bit of fun I have been playing around with for Indian food for a while and whilst unusual it is absolutely awesome and much lighter than rice. Which means extra room for flat breads!
The minty sweet peas and cucumber is perfect along side the duck tikka masala, and I suppose it is another hint to the British origins of this recipe. It is also time where I can freely use last years harvest of peas without worrying about using them all up. Primarily because our new seasons planting has now begun and peas are in the ground and will be harvested in 6-8 weeks.
Where on earth did that time go? It only felt a couple of recipes ago when I was complaining about the cold. I have also been trying to do some pre-planning for my summer recipe plans for you, and I am really excited.
Following on from last years BBQ fest there is plenty more of that coming your way and a whole host of picnic food. Myself and Julie are determined to spread our wings a little further into the Hungarian countryside so expect to see some exciting new style posts with great picnic recipes and some pictures from the Great Hungarian Plain and maybe even the hilly bits too!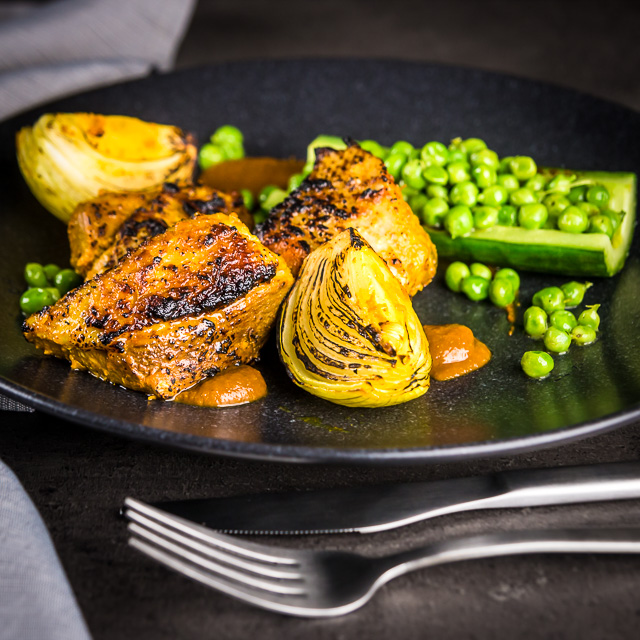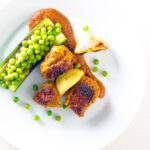 Duck Tikka Masala With Seared Cucumber and Peas
Tikka Masala goes fancy with this Duck Tikka Masala beautifully grilled with a tamarind and honey sauce, cucumber and peas!
Ingredients
2

Duck Breast

Around 150g each

1

Tbsp

Ground Turmeric

1/2

Tbsp

Lemon Juice

1/2

Tsp

Coarse Sea Salt

50

g

Onion

20

g

Ginger

20

g

Garlic

50

g

Tomato Puree

1/2

Tsp

Chili Flakes

1

Tsp

Ground Cumin

1

Tsp

Ground Coriander

1

Tsp

Garam Masala

1/4

Tsp

Black Pepper

100

g

Natural Yoghurt

2

Tbsp

Flavourless Cooking Oil

1

Onion

Cut into quarters

100

g

Tamarind Pulp

1/2

Tbsp

Honey

10

cm

Cucumber

Cut in half length ways and seeds scooped out

100

g

Garden Peas

Defrosted if frozen

1

Tbsp

Ghee

1/8

Tsp

Asafoetida

1

Tsp

Mint Sauce
Instructions
Cut each duck breast into thirds and rub with the turmeric, lemon juice and salt.

Now take the onion, garlic and ginger and add to a mini blender and mix to a paste.

Take the onion paste and mix in the tomato puree, chili flakes, cumin, coriander, garam masala pepper, yoghurt and cooking oil to form your marinade and pour over the duck breast and allow to marinade for at least 4 hours, or even better over night.

Heat your grill or broiler if you are that way inclined to high.

Whilst the grill is heating remove the duck from the marinade and thread onto skewers along with the onion and place the remaining marinade into a small saucepan over a medium heat.

Add the tamarind pulp and honey to the marinade and stir check for seasoning and reduce the temperature to low and allow to simmer.

Place the duck and onion skewers under the grill and cook for 3-4 minutes a side checking constantly to ensure you are getting a nice colour but not burning them, when cooked allow to rest for a couple of minutes.

Now heat a dry frying pan over a high heat and scorch the cut side of the cucumber for 60 seconds, then remove the cucumber.

Remove the pan from the heat add the asafoetida followed by the ghee and when melted add the peas and mint sauce, return to a medium to low heat and add back in the cucumber to warm through.

Then serve on warmed plates.
Recipe Notes
This would be awesome served with a chapati or roti, but I serve mine with naan bread, why? Because I am from Birmingham and it is naan with everything!
NEVER MISS A RECIPE: Get your Weekly Update Email!