This delicious and simple slightly deconstructed Thai duck curry is full of the taste of Thai food and sweetened with pineapple.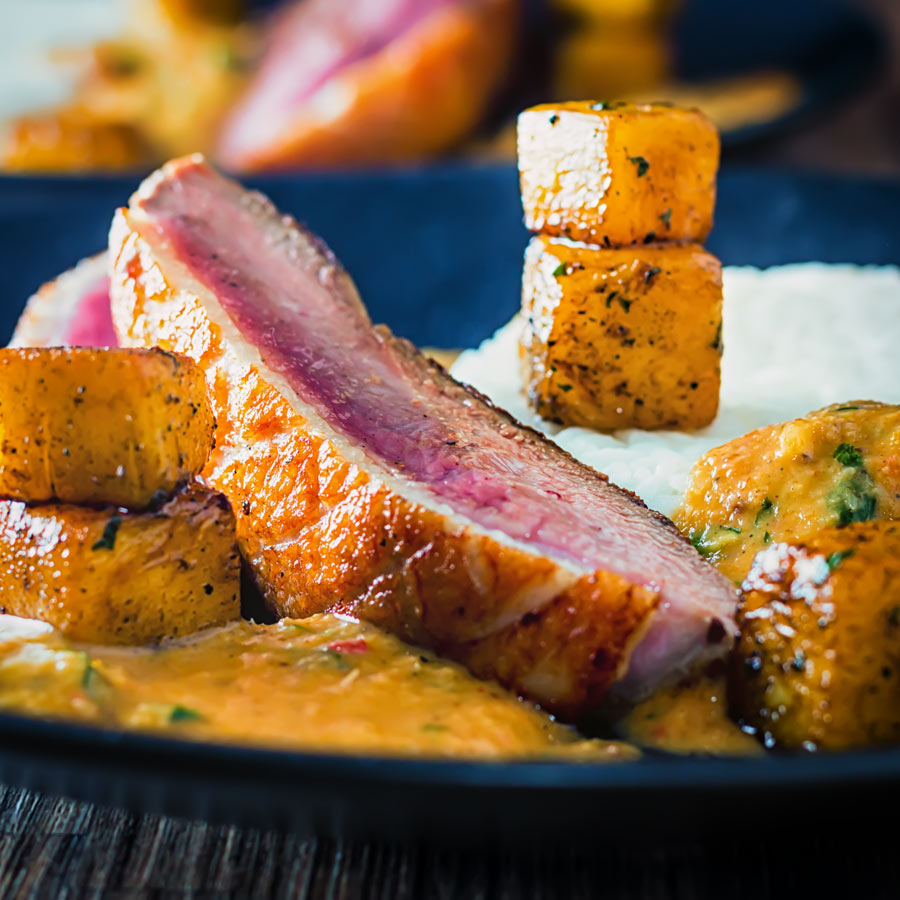 Thai Duck Curry with Pineapple.
I love this time of year, my food gets much more adventurous due to having a little more free time. My over-whelming desire to treat myself takes over and this Red Thai Duck Curry with Pineapple is just one of the results.
It may sound difficult and look impressive but this dish is incredibly simple to make.
If you are planning a dinner party you can rustle this up really quickly. I'm talking a shade over 30 minutes!
Most importantly most of the prep can be done in advance. All you need to do is cook the duck and when you are ready to serve. Amaze your guests with something that looks wonderful, tastes great.
Breaking this curry into its constituent parts really helps with the eating too. Allowing you to take little bits of the sweetness of the pineapple with some of the hot sauce. It also means I get to cook the duck just as I like it rather than having to cook it well done!
Naturally, they will need to like spice though, this Thai Duck Curry recipe is HOT stuff!
I often bang on about my love of the sweet, salty, sour and hot flavour combination and Thai food does it so well.
This duck curry recipe naturally embraces that in much the same way my Thai Beef Salad and Thai Chicken Stir Fry recipe does.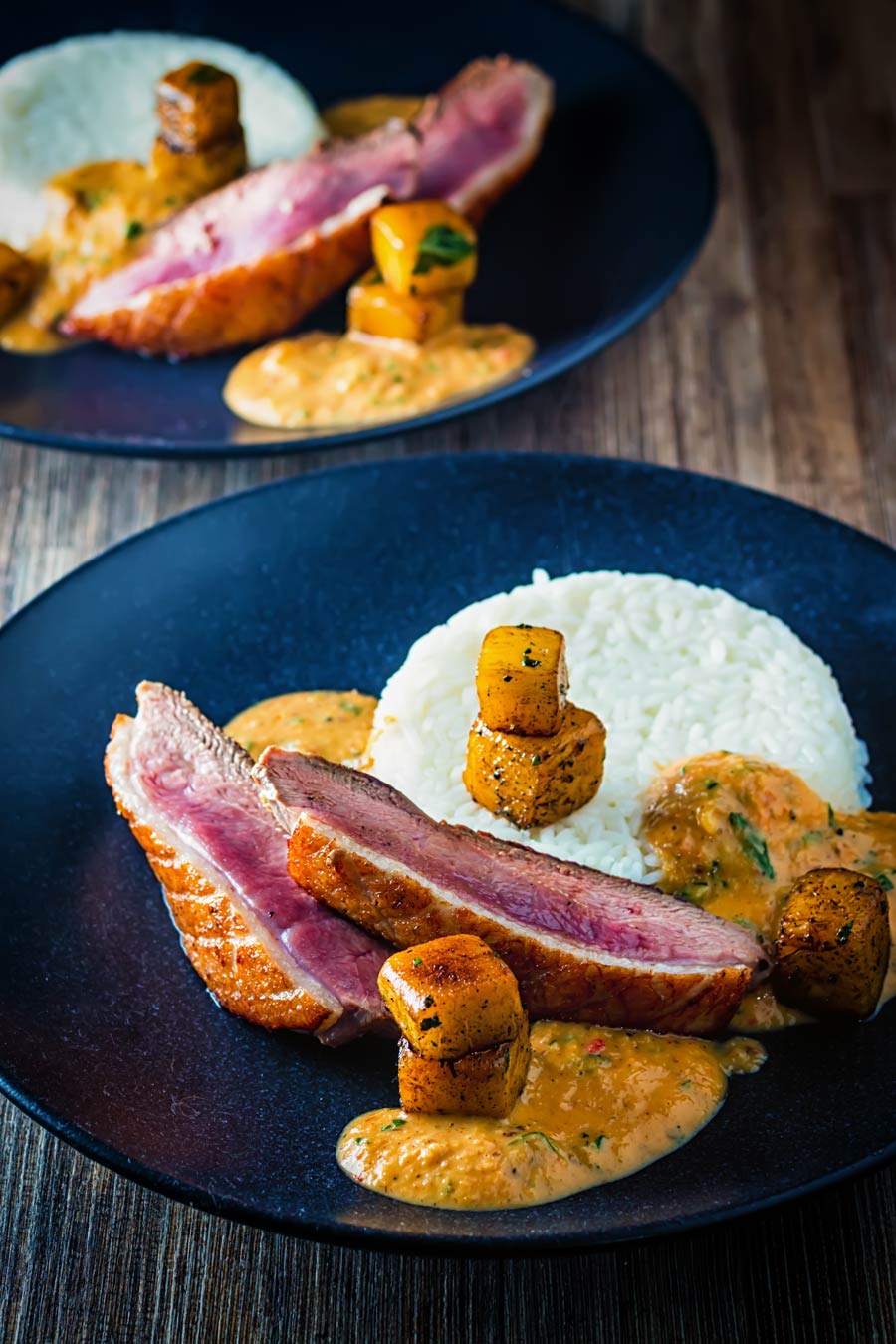 What Is Thai Red Curry Paste?
You will notice I have called for Thai Red Curry Paste in this duck curry recipe. You can of course use your favourite shop bought variety but I always make my own.
Every trip I make to Budapest involves a trip to my favourite Asian store and ingredients for Thai Curry pastes are on the list.
In the main, it is a combination of rehydrated dried red chili, lemongrass, garlic and ginger or galangal. Ginger and galangal are not the same thing, they do have very different flavours.
Galangal is a much more authentic ingredient for this recipe. However, they can be used interchangeably and your curry paste recipe will not be ruined.
Don't worry if you do not use curry paste often, it freezes fabulously!
I put the paste into silicon ice cube trays and when frozen solid I just pop them out of the tray and place in a bag.
Then whenever the need for a Thai flavoured dish arises like this Thai Chicken salad for instance, I am ready to go!
My Thai Green Chicken Curry features a from-scratch version of Thai Green Curry Paste.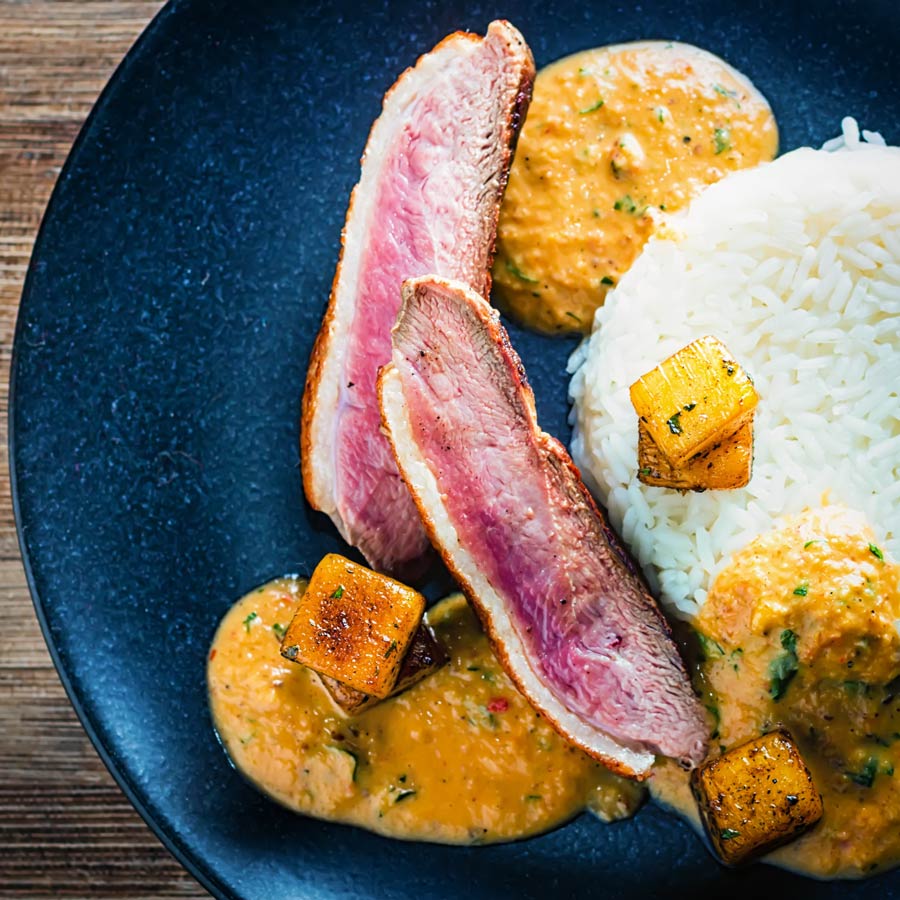 Savoury Pineapple Recipes.
I am usually one of those people who scoff at the use of pineapple in savoury dishes. In fact, I firmly believe that a 'Hawaii Pizza' is a food crime that should be locked away in a cell and the key thrown away.
Which is odd really as I have no issue in general with fruit in savoury dishes. In fact, it is something in general that I love! Whether it be pickled peaches in a ham and cheese salad or pears with pork chops, it is really my thing!
However in this Thai duck curry recipe pineapple seems to be the perfect addition. The sweetness next to the fiercely hot sauce and the creamy nature of the coconut milk all match beautifully!
Please make sure you use fresh pineapple though even the tinned stuff in natural juices is too sweet!
One final note, as you can see I like my duck very pink. But, I have added some notes as to the internal cooking temperatures to serve your duck as you like.
If I can offer one word of advice as a cook, then buy a meat thermometer! Seriously mine is as much a fundamental part of my kitchen as my fridge, cooker or knife!
They are not expensive, mine cost the equivalent of about 5 bucks and I would not be without it!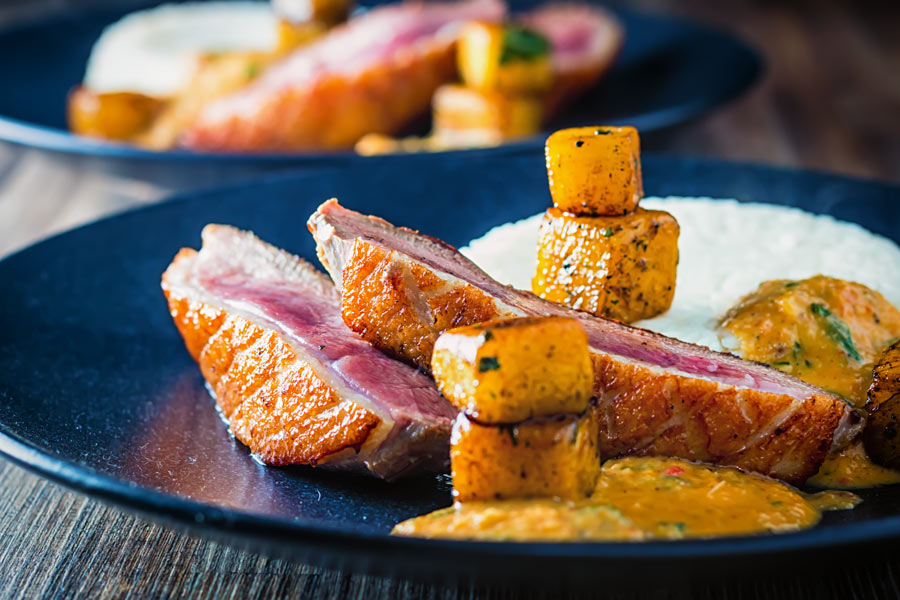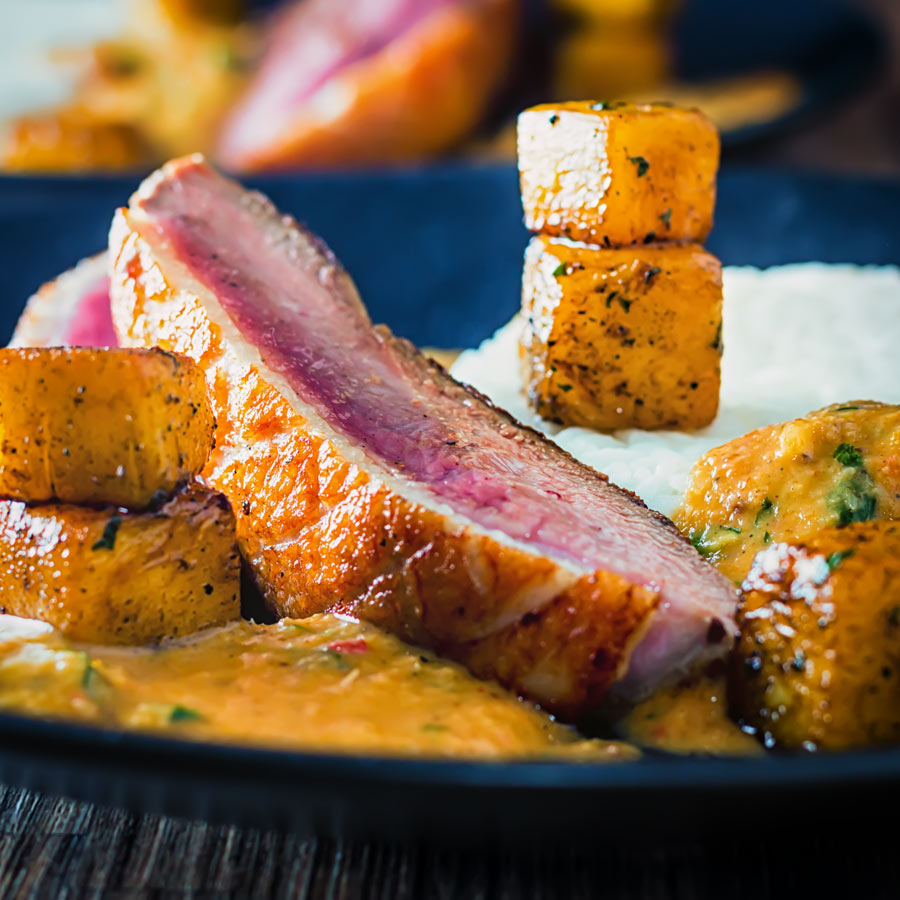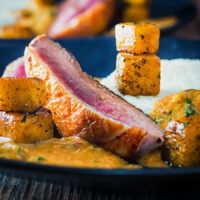 Thai Red Duck Curry with Pineapple
This delicious and simple slightly deconstructed duck curry is full of the taste of Thai food and sweetened with pineapple.
Ingredients
2 Duck Breasts, Ensure the skin is dry and score in a criss cross pattern with a sharp knife ensuring you do not pass through to the flesh
6 Tbsp Red Thai Curry Paste
150 g Thick Coconut Milk
Handful Basil Leaves, Around 30 leaves, Thai Basil is best but regular basil will work fine
200 g Pineapple, 1.5 cm dice
Homemade Thai Red Curry Paste
15 15 Dried Red Chili
1.5 Tbsp Coriander Seeds
1 Tbsp Cumin Seeds
0.5 Tbsp Pepper Corns
1 Tsp Coarse Sea Salt
50 g Ginger Or Galangal
3 Sticks Lemongrass
10 Cloves Garlic
150 g Shallot
1 Lime, Zest Only
25 g Coriander
1 Tbsp Dried Shrimp Paste, (Optional)
Instructions
Fry off the curry paste in a frying pan for 1 minute until it becomes fragrant.
Add in the Coconut milk and stir and add in 100g of the fresh pineapple and cook for 5 minutes on a low heat.
Blitz this sauce in a blender and set aside whilst you cook your duck.
Heat a dry sauce pan over a high heat and when hot place in your duck skin side down after you have seasoned with salt and pepper.
Add the remaining 100g of pineapple around the duck.
It is important that you do not mess with the duck too much whilst it is cooking on the skin side but ensure you occasionally turn the pineapple cubes to prevent them from burning.
When your duck skin is crisp and golden as my pictures above flip the duck and allow it to finish cooking on the flesh side.
It is difficult to say how long to cook a duck breast for, we all have different tastes and duck breasts are all different sizes. I would recommend using a meat thermometer and use the guide in my notes below to ascertain how you would like your duck cooked.
When your duck is cooked set aside and allow it to rest for at least 5 minutes.
No finish off your sauce, bring it to a simmer and add in almost all of the basil and stir.
Add a little basil to the pineapple cubes and stir and then plate.
I like to serve this with some plainly boiled rice and add the sauce on the side and dot the plate with the fried pineapple cubes.
Thai Red Curry Paste Instructions:
Soak the chilis in cold water for 15 minutes.
Toast the seeds and pepper off in a dry pan for about 1 minute and then grind in a spice grinder or pestle and mortar.
Peel and roughly chop your ginger.
Remove the outer leaves and coarsely chop your lemongrass.
Peel your garlic.
Remove the tops of the chilis then add all of the ingredients including the spice mix to a blender then blitz into a fine paste. 
Notes
Place your meat thermometer into the thickest part of the duck breast and take the reading and cook your duck the way you like it 🙂
Rare: 57°C
Medium: 62°C
Well Done: 67°C
Nutrition Information:
Yield:

2
Serving Size:

1
Amount Per Serving:
Calories:

878
Total Fat:

46g
Saturated Fat:

22g
Trans Fat:

0g
Unsaturated Fat:

21g
Cholesterol:

329mg
Sodium:

1373mg
Carbohydrates:

50g
Fiber:

3g
Sugar:

24g
Protein:

69g
Calorific details are provided by a third-party application and are to be used as indicative figures only.