This Spicy Thai Beef Salad is a bit of a mish-mash of inspirations but the dressing is all Thai and packs a serious chili punch!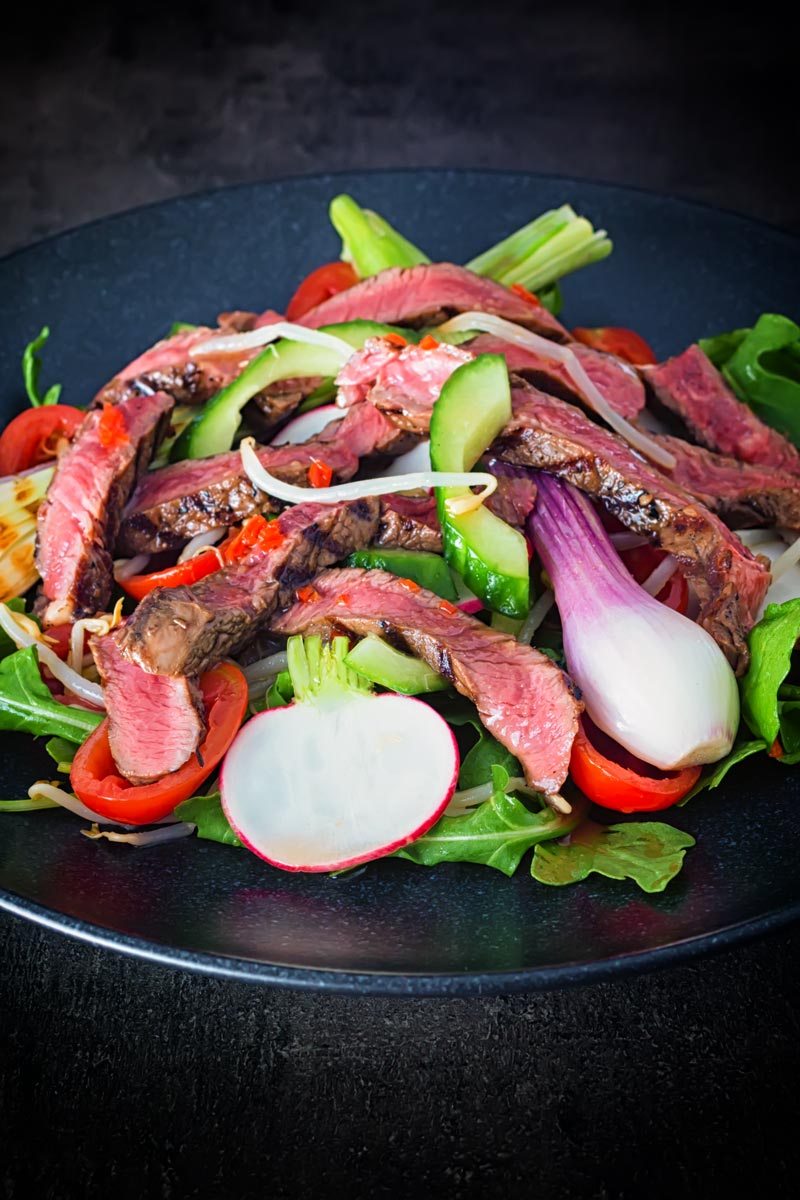 Spicy Thai Beef Salad.
Looks like I am in a fine vein of form when it comes to ingredients of late. This Thai beef salad joins a recent cured mackerel recipe and a glorious salmon salad too.
I am sure where most of you are from those ingredients will not be all that difficult to get your hands on or indeed expensive.
But in these parts, they are all really rather costly and very rare to find. All I need now is some lamb and I will be deliriously happy.
To be honest I'm not sure my bank balance will cope with more food extravagance. As a result, I will definitely be cooking from the garden and with more frugal ingredients for the next couple of weeks.
As you would expect from a Thai beef salad recipe goes big on hot sour, sweet and spicy flavours. I have written many times about his magical combination of flavours.
They are food heaven for me and I feature at least three in most of my savoury recipes.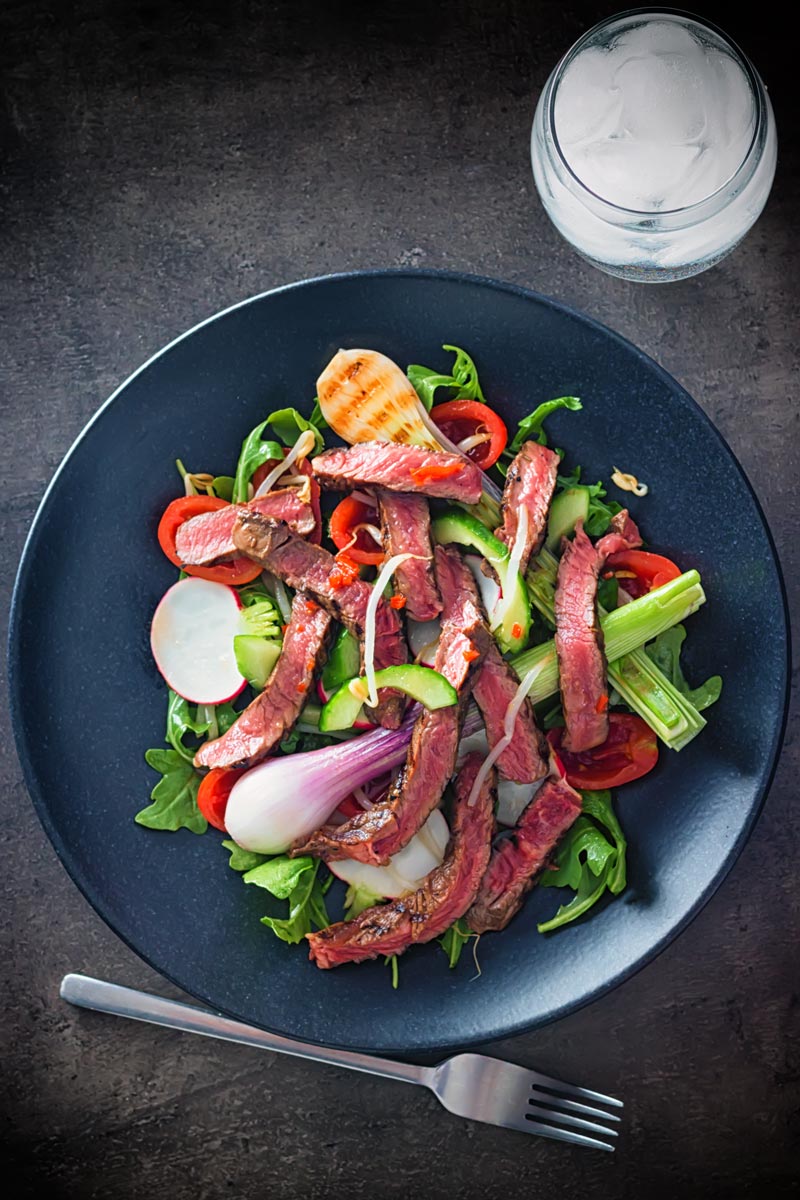 The Best Salad Recipes.
For me, the very best salad recipes are those that are salads that are a complete meal. I have little or no time for an unrelated bit of greenery on the side of a plate.
This Thai Beef Salad recipe joins a host of other salad recipes on my site that are just that. A complete and coherent meal, much like my smoked pork tenderloin salad or my ham and cheese salad with pickled peaches.
I eat salads all of the time during the summer and never compromise my almost pathological desire for a good meal. Salads are not boring, there is no reason why they can not form a complete and light but filling meal.
The key to making a great salad is the same as cooking any other great meal. Work out everything you need both in terms of flavour, texture and constituent parts.
So in this Thai Beef Salad, we have the beef for protein. Radish, tomato, bean sprouts and onions for vegetables. The radish and bean sprouts also provide crunch and texture… As for flavour. Well it is evident that we have that by the bucket load and all designed to work together!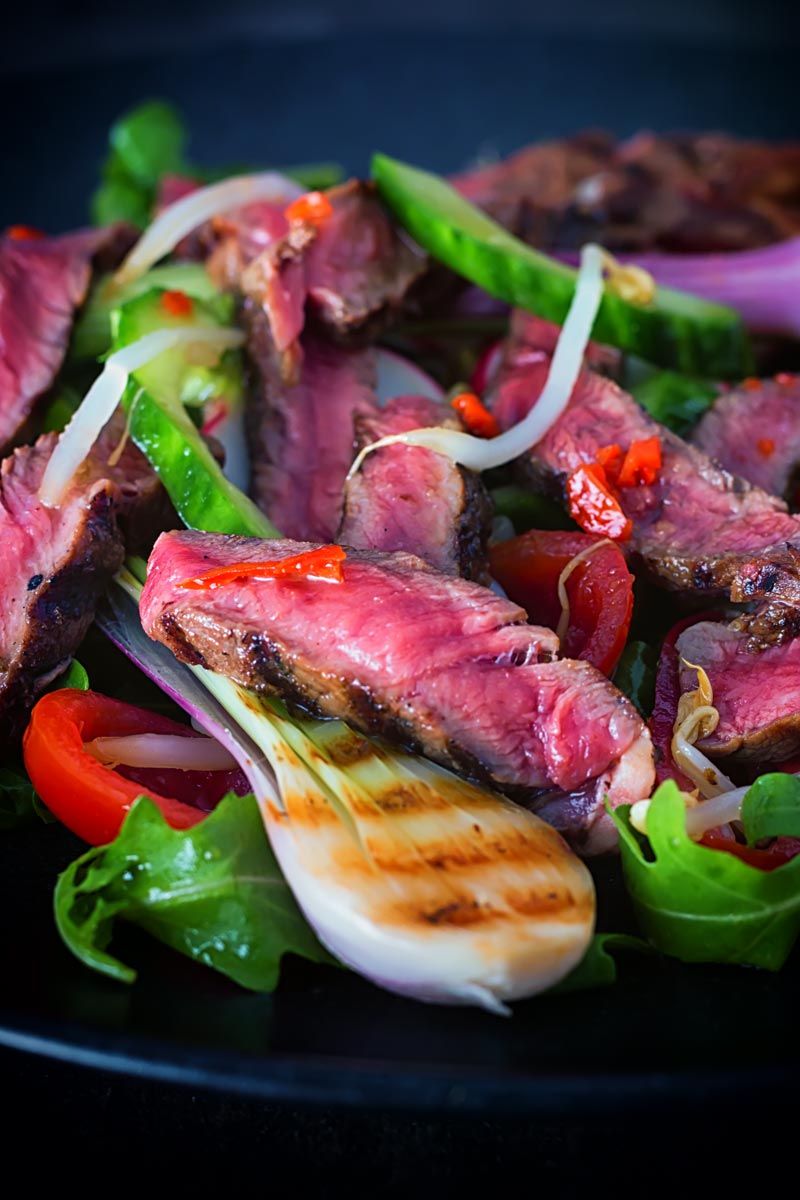 How To Cook Steak.
Cooking steak or indeed any meat is very much a personal thing. I've discussed preferences on the cooking of meat here before.
As you can tell from these images I kinda like my beef pretty rare. This really does favour a high heat quick cook and a reasonable resting time.
If you like your beef well done or pushed beyond medium then a slower cooking approach is definitely better as far as I am concerned.
So if you want to cook your beef well done for this Thai beef salad I would recommend cooking it very differently. Begin with your beef, throw it in a low oven with some salt and pepper and a little oil. Cook on a moderate oven, around 150°C until cooked to your preference.
Press the steak with your finger the more firm it is the more well done it is. The remove from the oven, it will look pretty insipid, don't worry!
Finally, heat a griddle pan to very high and then sear to get colour and rest for at least 5 minutes. Your well-done steak will not be in the slightest bit tough!
The most important part of cooking a steak is the eater, do not be browbeaten into thinking your preference is wrong!
Food is meant to be enjoyed by you so if you like your beef in this beef salad a step away from charcoal then fill yer boots. I'll not judge you although lordie knows so many folk online will.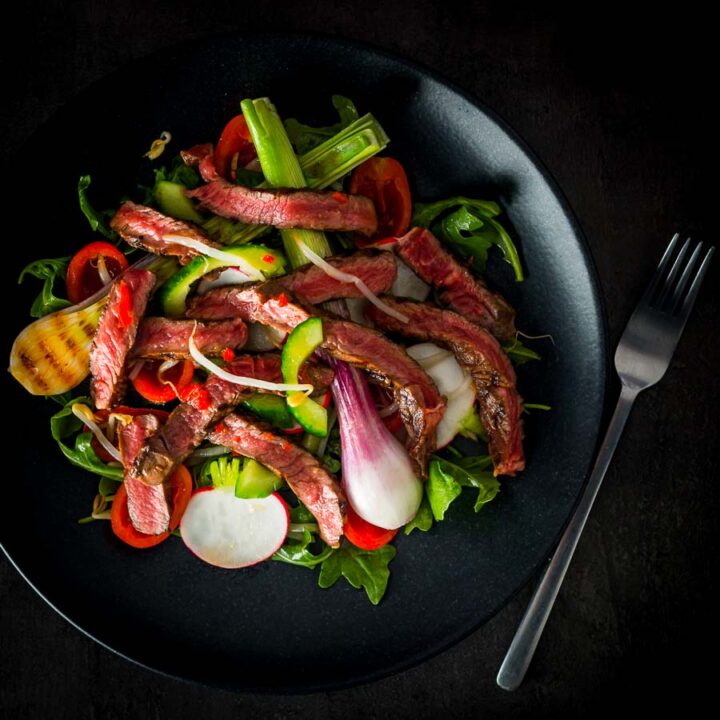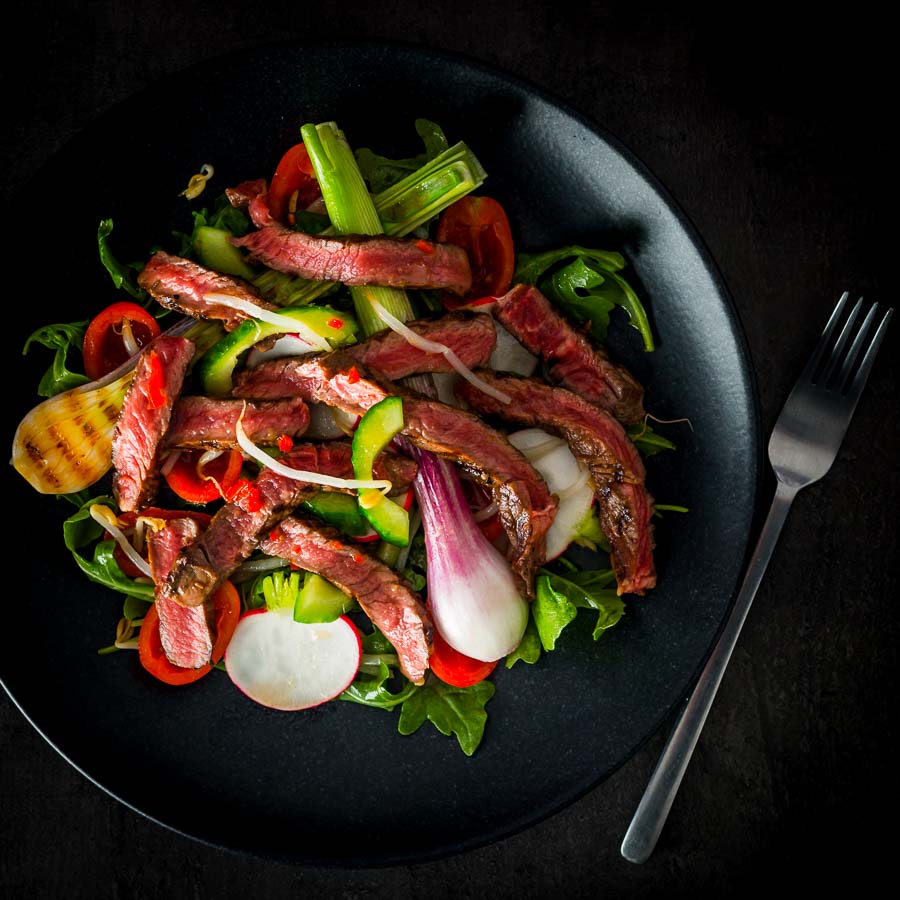 Yield:

2 Servings
Spicy Thai Beef Salad
This Spicy Thai Beef Salad is a but of a mish mash of inspirations but the dressing is all Thai and packs a serious chili punch!
Ingredients
400 g Sirloin Steak, I use two 200g steaks, by all means use another cut but you will need to work out your own timings
1 Tbsp Light Soy Sauce
1 Green Chile, Finely sliced
1 Tbsp Rape Seed Oil, Canola Oil in the US
1/2 Tsp Black Pepper, Ground
For the Dressing:
2 Tbsp Lime Juice
2 Tsp Fish Sauce
1 Tsp Brown Sugar
1/2 Tsp Lemon Grass Paste
1 Red Chile, Go as hot as you like and add as much as you like
1 Tbsp Rape Seed Oil, Canola oil in the US
For the Salad.
40 g Rocket, AKA Aragula
130 g Cherry Tomatoes, Cut in half then deseeded
75 g Cucumber, Deseeded and sliced into 3mm slices
50 g Radish, Finely Sliced
50 g Beansprouts
2 Salad onions, Red if possible, cut in half length ways
Instructions
Place the steaks in a bowl big enough so that they can both lay flat, then add in the oil, soy sauce, sliced green chili and black pepper and allow to marinade for at least 20 minutes. Over night is best.
Mix together all of the ingredients for the dressing and set aside.
Heat a skillet over a high heat whilst you are prepping the vegetables.
When the skillet is smoking hot cook the steak to your liking, my steaks were between 1cm and 1.5cm thick and were cooked for no more than 2 minutes per side.
Rest your steak for 10 minutes under foil before thinly slicing, whilst you are doing this sear your spring onion in the same pan as the steak for 2-3 minutes.
Dress the remaining salad ingredients with some of the dressing.
Place the sliced beef on over the dressed salad and then drizzle a little more dressing and serve.
Notes
As is the case in most of my recipes the timing does not include time to marinade in this dish.
Nutrition Information:
Yield:
2
Serving Size:
1
Amount Per Serving:
Calories:

819
Total Fat:

57g
Saturated Fat:

13g
Trans Fat:

0g
Unsaturated Fat:

39g
Cholesterol:

184mg
Sodium:

1158mg
Carbohydrates:

19g
Fiber:

4g
Sugar:

10g
Protein:

58g