Prawn and mango curry, deliciously spicy with a complex but balanced sweet and sour flavour & all in 25 minutes, what are you waiting for?
This easy and quick curry is a curry for those that want to play with the lighter and zingier side of Indian food.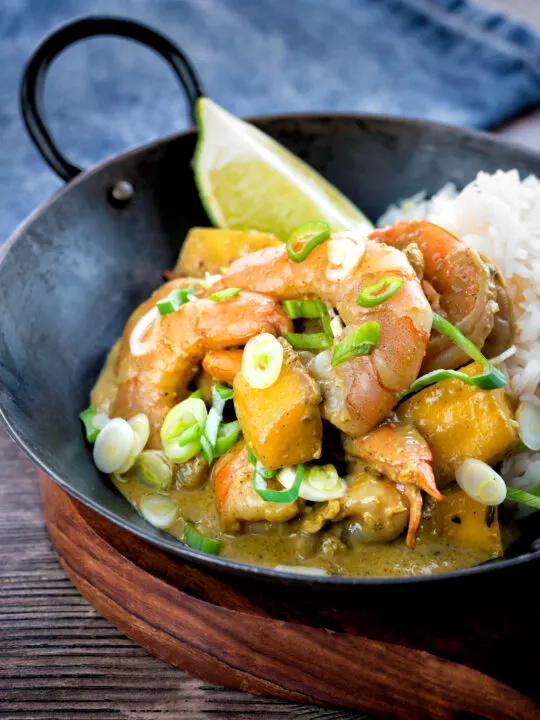 Indian Mango & Shrimp Curry
I love creating new curry recipes and this Indian prawn and mango curry is loosely based on a classic Keralan offering, chemmeen manga curry.
Traditionally this would have been made with "raw" mango, that is to say, a green unripe mango.
Now whilst under-ripe mangoes are ten a penny here in Europe, unripe mango is a little more difficult to find.
So I run with slightly under-ripe mango. This gives the recipe much more of a sweet edge, which I personally think is wonderful with sweet prawns.
But I also add a nod to the original ideas behind the recipe with the use of amchur. A wonderfully sour spice made from raw unripe mango.
A spice that adds a sour element to many of my curries, including my glorious beef vindaloo and my personal favourite chicken pathia.
And if the fruit thing is a little too far for you you should definitely check out my other quick Indian prawn curry and a wonderful king prawn bhuna.
Whilst you are roaming you should check out my take on a Keralan fish curry, Indian coconut chicken curry and my monkfish curry too!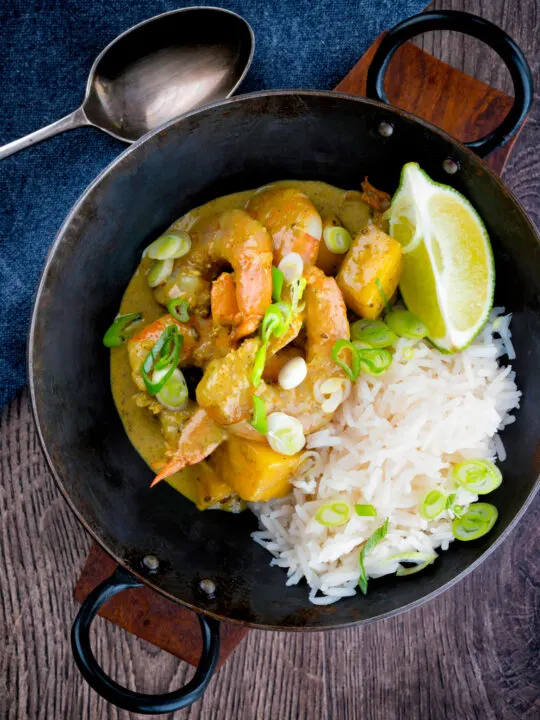 Frequently Asked Questions
What size prawns should I use?
You want large prawns for this recipe. I use size 16-20, although you could get away with 20-30 if you cook them for a little less time.
Are frozen prawns ok?
Absolutely, I never use anything else!

Although you should defrost them before cooking them or they will add too much water into the final curry.

The best way to defrost them is to run them under cold water for 10 minutes.
Are pre blanched prawns ok?
Yes, but with the caveat that all you need to do is heat them up. If you attempt to cook them they will be like rubber bullets!
Can I use low fat coconut milk?
You can, although I would not advise doing so the reduced fat content fundamentally changes the mouthfeel of the dish and not in a good way.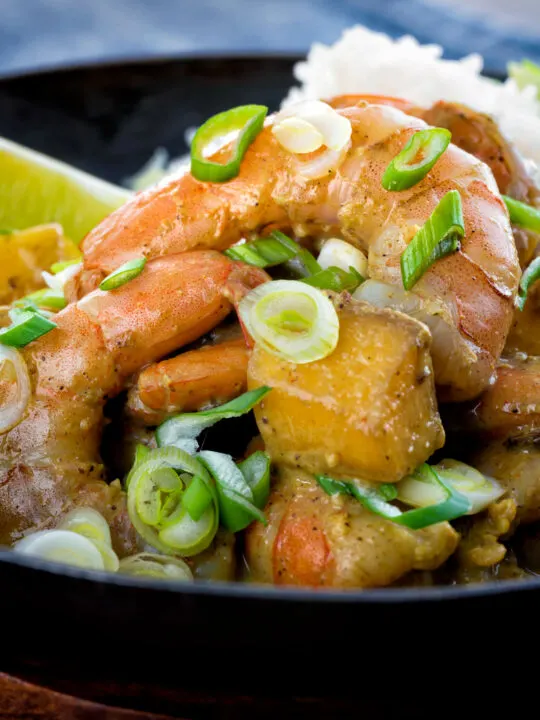 Serving Suggestions
Rice is an ever-popular staple to serve with curry and for me, plain boiled or steamed rice is the perfect side dish for this quick and easy shrimp and mango curry.
However, there are many other options out there, pilau rice is the obvious choice but we can go beyond rice.
I'm British which means potatoes as a side for everything and this turmeric and lemon roasted potatoes would be great with this shrimp curry.
Sticking with the potato vibe you could go with my roasted Bombay potatoes or aloo methi too! Both would be a great side for this delicious recipe.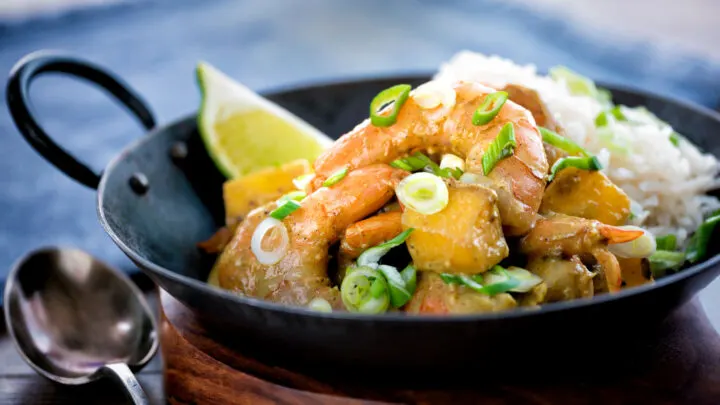 Equipment Used
I only mention brands of equipment if I think that they make a material difference to a recipe. But if you have any questions feel free to ask them in the comments section below the recipe.
Stovetop.
Wok.
Colander if you need to defrost the prawns.
Stirring and serving spoons.
Kitchen knife and paring knife.
Chopping board.
Grater.
Weighing scales and or measuring jug, cups and spoons.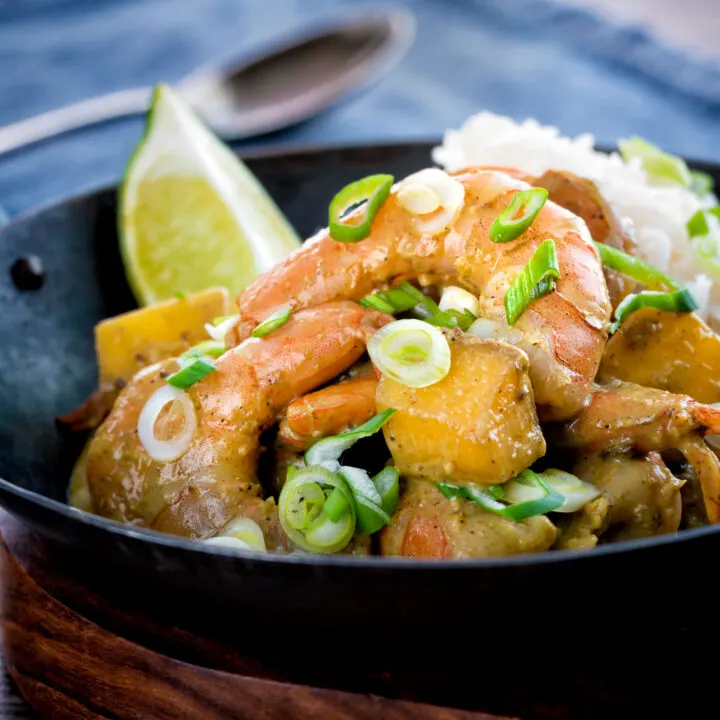 Yield:

2 Servings
Prawn and Mango Curry Recipe
This Indian prawn and mango curry is loosely based on a Kerelan chemmeen manga curry, and it all cooks in well under half an hour.
Ingredients
300g (10oz) Large Prawns
1 Slightly Underripe Mango
1 Lime
1 Spring Onion
1 Tbsp Cooking Oil
¼ Tsp Asafoetida
1 Green Chilli Pepper
1 Tsp Fennel Seeds
½ Tsp Fenugreek Seeds
½ Tsp Ajwain Seeds
2 Garlic Cloves
15g (Thumb Sized Piece) Ginger
½ Tsp Kashmiri Chilli Powder
½ Tsp Turmeric
1 Tsp Amchur
165ml (⅔ Cup) Tin Coconut Milk
50ml (3 Tbsp + 1 Tsp) Water
Salt to Taste
Instructions
Cut the chilli pepper in half lengthways.
Mash the garlic cloves.
Grate the ginger.
Cut the mango into cubes 1.5cm (½") and squeeze over half of the lime, cut the other half of the lime into wedges and set aside.
Slice the spring onion into rounds as finely as you can at a 45° angle to the stalk.
Heat a wok over a medium-high heat and add the oil when it is hot.
Add the asafoetida, green chilli, ajwain, fennel and fenugreek seeds and stir until the ajwain seeds crackle.
Reduce the heat to medium and add the garlic, ginger, chilli pepper, amchur and turmeric.
Stir for 60-90 seconds then pour in the coconut milk, stir and have a taste, then as salt as necessary.
Reduce the heat to low and simmer for 3-4 minutes to thicken.
Increase the heat to medium-high and add the prawns and the diced mango and 50ml of water, then cook until the prawns are cooked, this should take 4-5 minutes.
Serve sprinkled with the spring onion and the remaining wedges of lime.
Nutrition Information:
Yield:
2
Serving Size:
1
Amount Per Serving:
Calories:

555
Total Fat:

28g
Saturated Fat:

8g
Trans Fat:

0g
Unsaturated Fat:

15g
Cholesterol:

66mg
Sodium:

1377mg
Carbohydrates:

56g
Fiber:

7g
Sugar:

28g
Protein:

26g
Calorific details are provided by a third-party application and are to be used as indicative figures only.