This Beef Vindaloo is my take on the Anglo Indian Vindaloo which is a take on the Indo Portuguese classic from Goa, who said fusion food is new?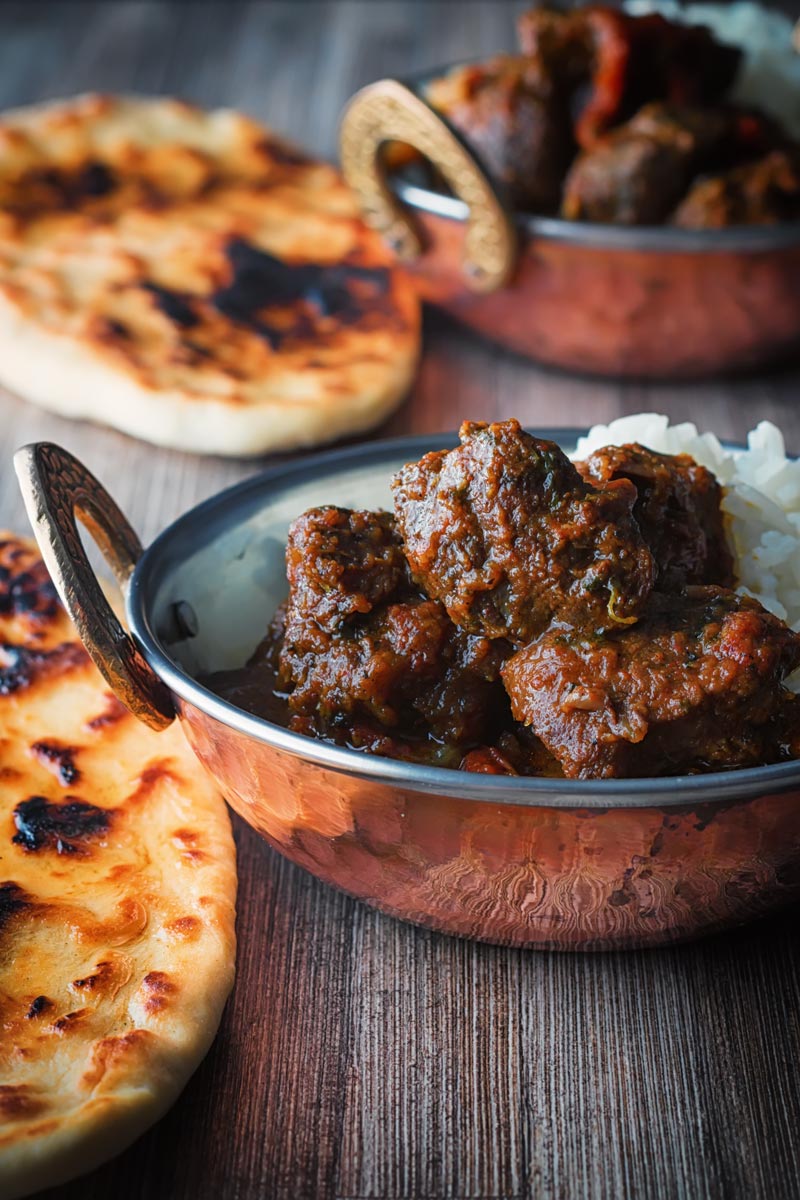 What is a Vindaloo Curry?
Yes, I know it is summer. Yes, I know it is hot out there! But aint nothing getting between me and my love for a good curry and this recipe is definitely good curry.
Vindaloo has appeared here on the blog before with my pork vindaloo recipe.
It really is traditionally a pork dish with Portuguese leanings from India.
This is brown food at its very best. It is hot, warming, welcoming spicy and all sorts of love wrapped up in a bowl.
And the Instant Pot is the perfect way to cook it.
Indian food has a long association with pressure cookers and an Instant pot curry is a beautiful thing!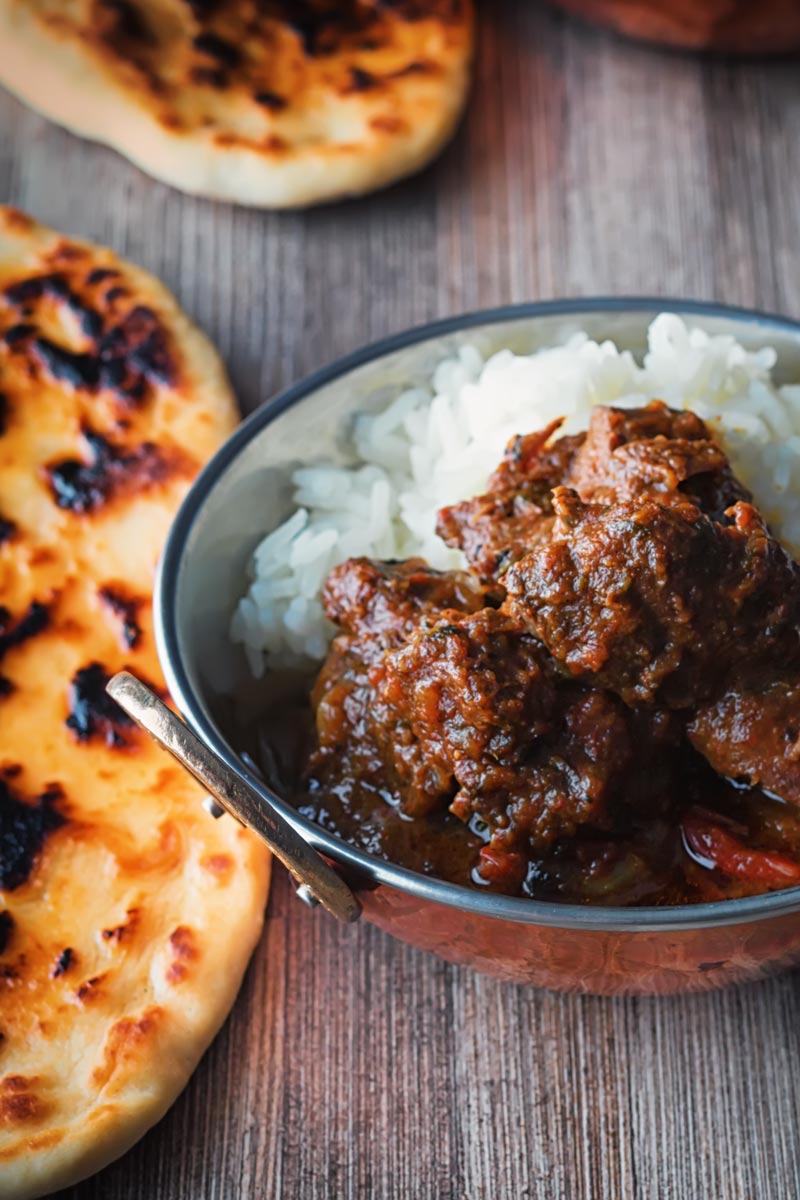 What Does It Taste Like?
Like all good vindaloo, this one has a wonderfully astringent flavour.
This is brought to you by vinegar, lemon juice, tamarind and a magical spice called armchoor which is also known as mango powder.
Probably because it is made from dried ground green un-ripe mango, imaginative hey?
It adds a rich sourness to the dish that the liquids do not bring on their own.
It is certainly one of the less well-known spices in the Indian store cupboard but one I love.
If I can get it out here in the Hungarian wilderness I suspect you should be able to dig it up with a little effort. If not you can omit it.
I would not add any more sour liquids personally as that would take it off in the wrong direction.
If you like sour notes in your spicy food you really should check out my Indian Chicken Pickle Recipe!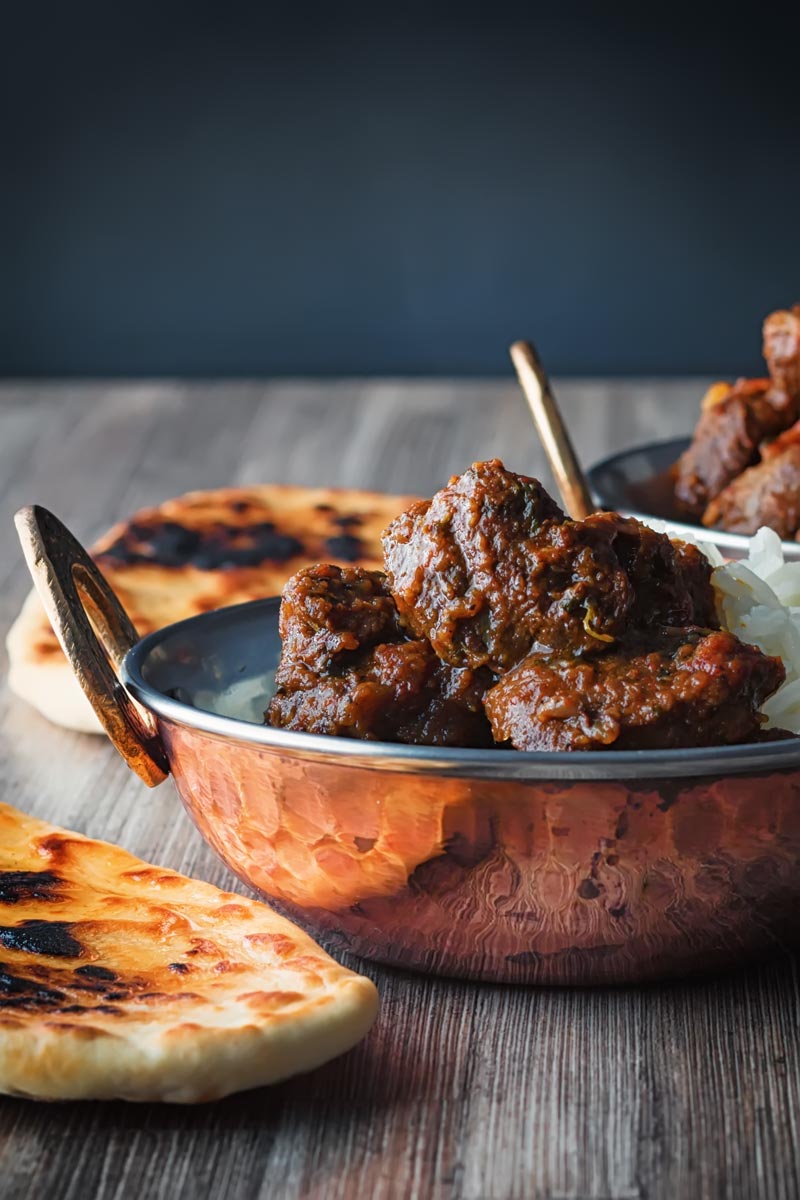 Serving Suggestions.
When it comes to sides for curry recipes I am a pretty simple guy.
I strongly favour a simply boiled or steamed rice and a flat bread of some description.
The reasoning behind that is that curries are so insanely punchy in flavour that flavours in side dishes are often lost.
But the idea also accounts for the spice in curries, plain rice and bread are perfect cooling agents.
Now I'm not gonna tell you how to boil rice, there are a million sources online. The only advice I will offer make sure you season well enough.
There is nothing more unpleasant than underseasoned rice as far as I am concerned.
Bread on the other hand, bread I can definitely help you out with. I have mentioned before that naan bread is my first love when it comes to curry.
Unless my curry is dry then it is always my go-to, and this beef number is certainly not a dry curry.
Now you can, of course, opt for a chapati, and I can certainly help you out there too. This is my Chapati recipe!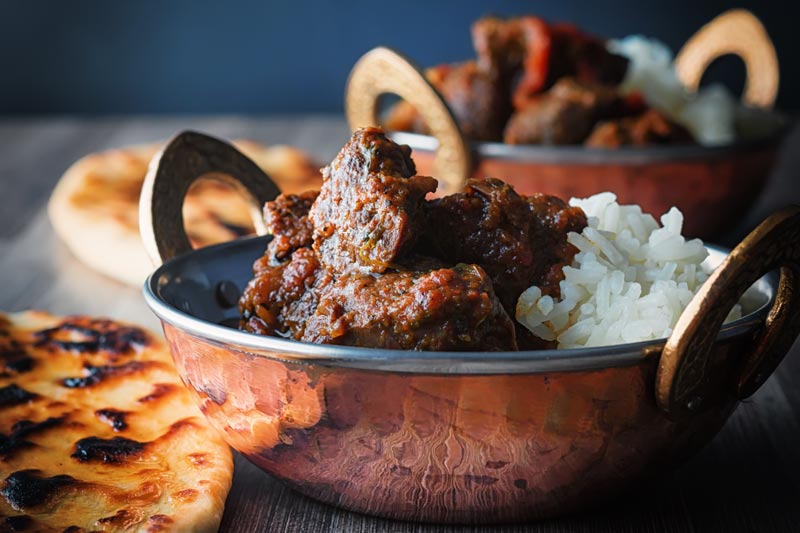 What If I Don't have an Instant Pot?
This vindaloo recipe is cooked in the Instant Pot.
Personally, I hate having slow cooked food when I am hanging around the house, it is absolute torture for someone who works from home!
It is like being waterboarded with the promise of dinner.
You just have to wait 2-3 bloody hours whilst all the lovely goodness wafts around your nostrils.
But if you want to cook this in a regular way you can follow the methodology in my pork vindaloo recipe I mentioned earlier.
Essentially simmer on the stovetop for a few hours.
In fact, you could throw it in a slow cooker and make slow cooker vindaloo too!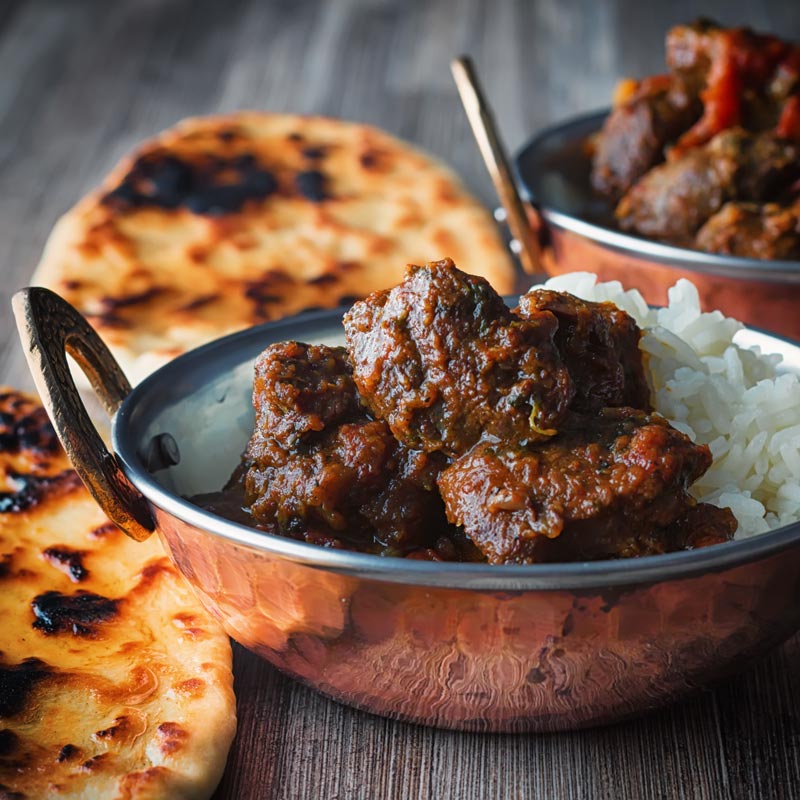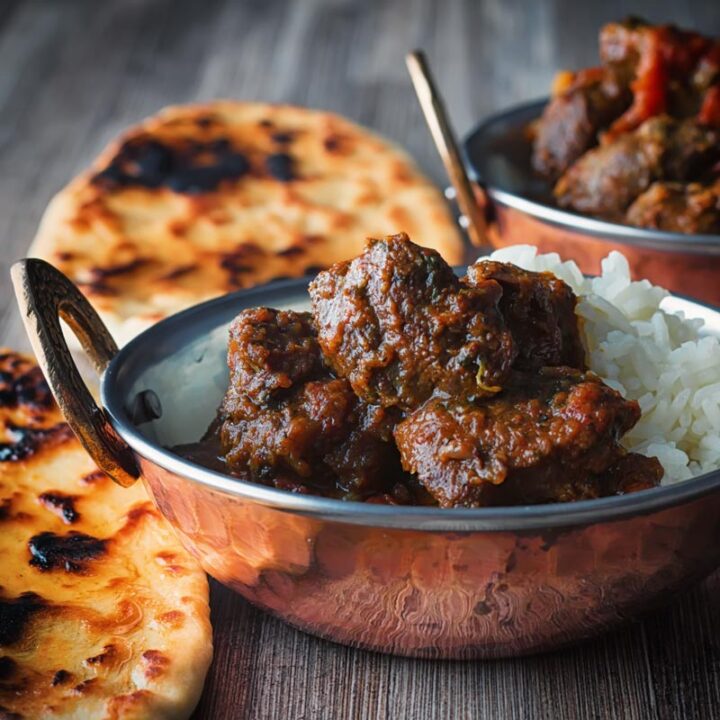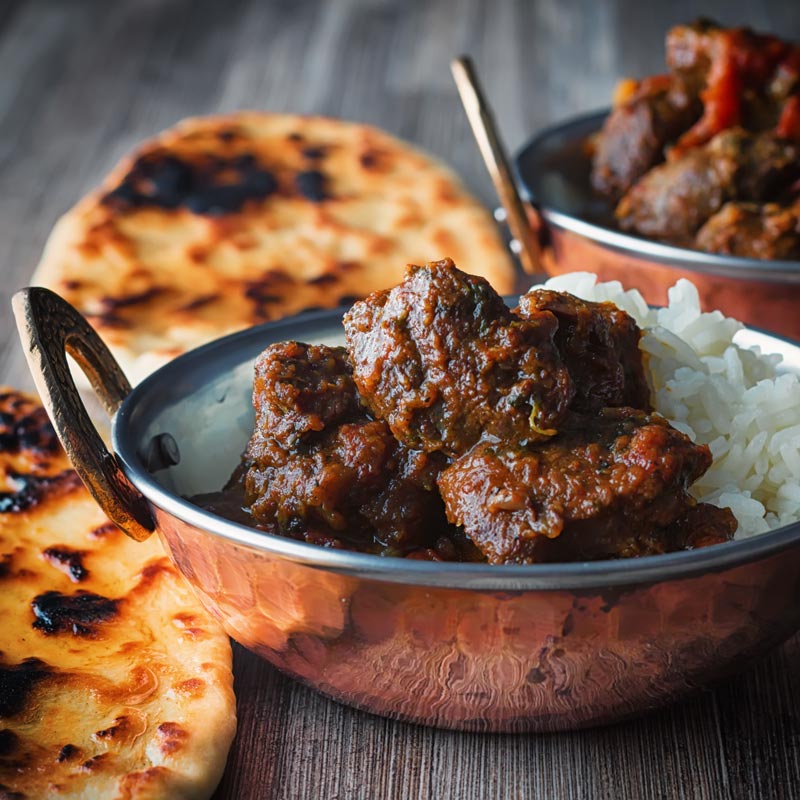 Yield:

2 Servings
Instant Pot Beef Vindaloo
Total Time:
1 days
55 minutes
Hot with chili and sour with tamarind, vinegar and lemon juice this heavily spiced Instant Pot Beef Vindaloo really is a wonderful curry!
Ingredients
500 g Beef Shin, Cut into 3cm chunks
100 g Onion, Cut into wedges
2 Green Chile, Sliced
2 Tomatoes, Roughly chopped
150 ml Water
2 Tbsp Ghee
For the Marinade:
1/2 Tsp Ground Cinnamon
1/4 Tsp Ground Cloves
1 Tsp Armchoor, AKA mango powder
1 Tsp Ground Turmeric
1/2 Tsp Ground Cumin
2 Tbsp Kashmiri Chili Powder
1/2 Tsp Ground Black Pepper
50 g Onion
8 Cloves Garlic
25 g Ginger
1 Tbsp Lemon Juice
1 Tsp Coarse Sea Salt
1 Tsp Honey
50 ml Tamarind Pulp
3 Tbsp White Vinegar
12 Cardamom Pods, Bashed
Instructions
Add all of the ingredients for the marinade with the exception of the cardamom pods to a blender and blitz to a paste.
Add this paste with the cardamom pods to the chopped beef and allow to marinade for at least 12 hours although it is better to do it for 24.
When your marinade is finished heat the ghee in either a frying pan (medium hot) or in the InstantPot (high) on saute mode and cook the onions for 10 minutes until golden.
Now add the beef with the marinade and brown for five minutes.
Add the remaining ingredients to your InstantPot, seal the lid and cook for 35 minutes on high pressure with a 10 minute natural pressure release.
When the pressure has been released remove the solids from the sauce with a slotted spoon and reduce the sauce on saute mode (high) until a thick and unctuous sauce is achieved (stirring occasionally), this should take around 10 minutes.
Return the beef to the sauce and stir to coat.
Notes
You can of course cook this on the stove top, rather than use the InstantPot cook over a low-medium heat for 3 hours stirring occasionally.
Nutrition Information:
Yield:
2
Serving Size:
1
Amount Per Serving:
Calories:

1030
Total Fat:

64g
Saturated Fat:

28g
Trans Fat:

0g
Unsaturated Fat:

29g
Cholesterol:

250mg
Sodium:

1577mg
Carbohydrates:

42g
Fiber:

9g
Sugar:

19g
Protein:

72g
Calorific details are provided by a third-party application and are to be used as indicative figures only.