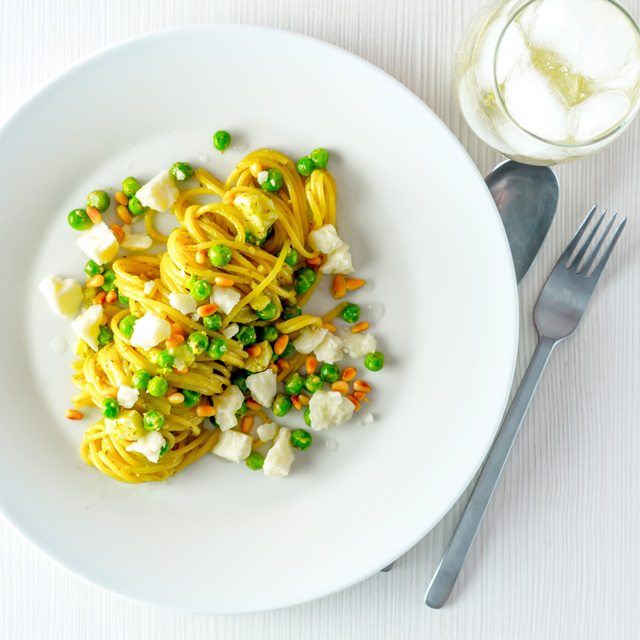 Time for the folk who don't like goats cheese to run away again as this simple Pesto Spaghetti with Peas and Goats Cheese goes in for it in a big way. I love the goat cheese and and peas combination the almost chalky salty flavour along side the sweet explosions of peas is just wonderful as far as I am concerned and it has already appeared as a combination here once this summer in a deep fried goats cheese and pea puree recipe that you really must check out. Rather that soft goats cheese though this super simple, some would say stupidly simple recipe uses hard matured goats cheese that packs even more flavour, I did tell you none goat cheese lovers to run 😉
Pesto spaghetti is a beautiful thing, a quick 10-15 minute dinner from a jar of pesto that has been hiding in the cupboard if you want, or make your own pesto if you can, fresh pesto really is a beautiful thing. The addition of the peas and goats cheese just adds a finishing flourish to one of the most wonderful low maintenance mid week meals that I cook. Which s pretty much perfect at the moment as our two week summer sabbatical with Julies Mum has worn us out and we are both in full on lazy mode!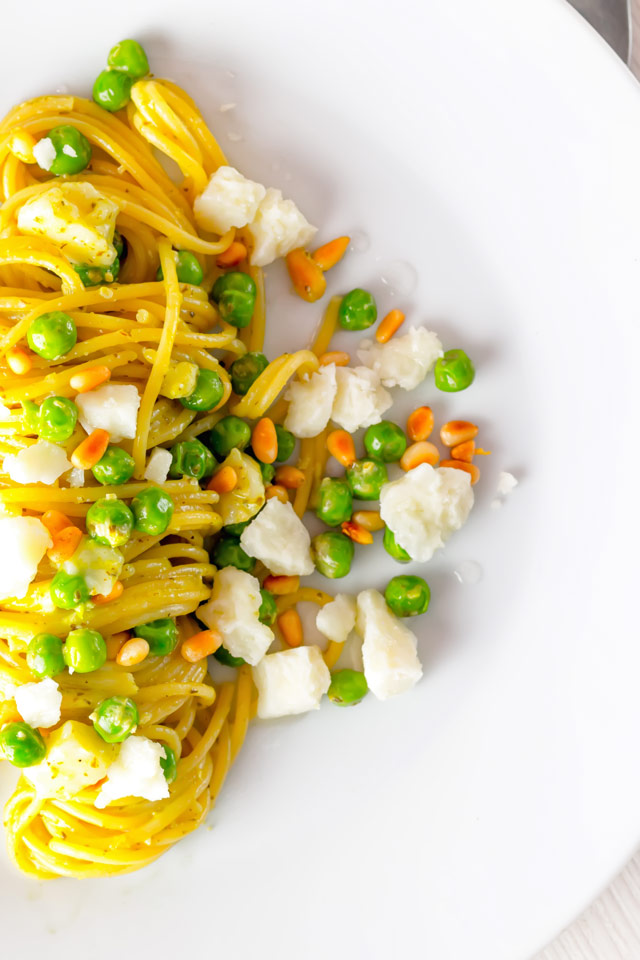 Print
Pesto Spaghetti with Peas and Goats Cheese
Pesto spaghetti is given a new breath of life with some peas, goats cheese and some extra pine nuts, fast simple and really really tasty!
Ingredients
150

g

Spaghetti

100

g

Goats Cheese:

Use something aged and hard and crumble with your fingers.

25

g

Pine nuts.

50

g

Pesto:

Use store bought or make your own (recipe below for homemade).

100

g

Peas:

Frozen are fine.

1

Tbsp

Olive Oil.

Salt.
For Homemade Pesto:
25

g

Pine Nuts.

35

g

Basil.

25

g

Parmesan Cheese.

2

Cloves

Garlic.

75

ml

Olive Oil:

Approx.
Instructions
Bring a large pan of water to the boil and generously salt, use this to cook your spaghetti as per the instructions.

This should take around 8-10 minutes, once the pasta has been in the water for a couple of minutes heat a dry frying pan over a medium heat and toast of your pine nuts. Keep your eyes on these they will go from not cooked to burned real quick.

2 minutes before the pasta is ready to come out of the pan add your peas and cook for a couple of minutes, reduce this to one minute if using fresh.

When you pasta is cooked al dente, drain reserving a little of the cooking liquid.

Add the pasta to a pan and mix in the pesto half of the goats cheese, the peas and half of the pine nuts and mix with enough of the cooking liquid to make a nice "sauce".

Serve and sprinkle with the remaining goats cheese and pine nuts and drizzle with olive oil.
Homemade Pesto:
If you are making your own pesto, toast the pine nuts in a dry frying pan.

Transfer to a blender, add the remaining ingredients and blitz until an appropriate texture is achieved.