Pesto Alla Trapanese is a glorious Sicilian variant of a pesto, my version features almonds, golden raisins & basil alongside other goodies.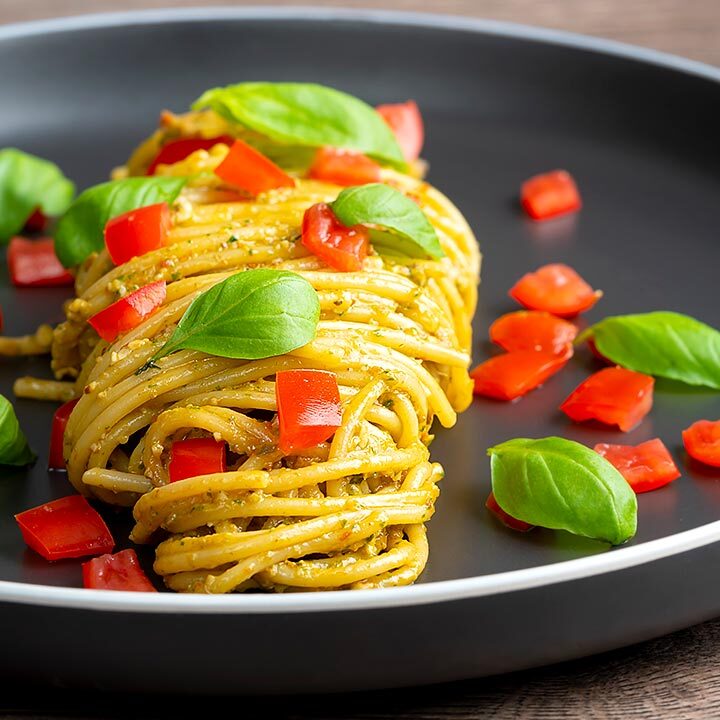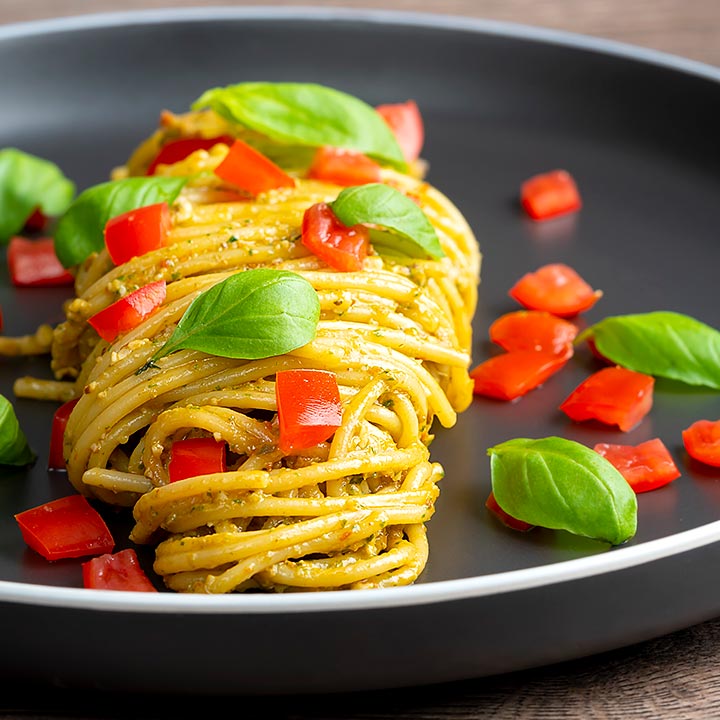 An Overlooked GENIUS Recipe!
My friend Liz gets a shout out for this recipe, I had never heard of a pesto alla trapanese until she posted about it in a wee cooking group on Facebook.
When I found out what went it consisted of I knew that it would be my next project!
It is genuinely a long list of things that I love… First of all it is a pesto, I have "a few", I'm sure there is a song in there somewhere! Everything from wild garlic pesto to a classic basil pesto to get you started.
I even have a rocket pesto pizza and a pea pesto!
So yeah I like the stuff in this recipe, check out this ingredient list!
Basil.
Almonds.
Anchovies.
Capers.
Raisins.
Sun Dried Tomatoes
Garlic.
Parmesan Cheese.
And to top it off a sprinkle of chilli too!
Seriously, I am coming over all sound of music, this is a list of so many of my favourite things. And I had NO IDEA that the Sicilians had been combining them into a pesto for centuries!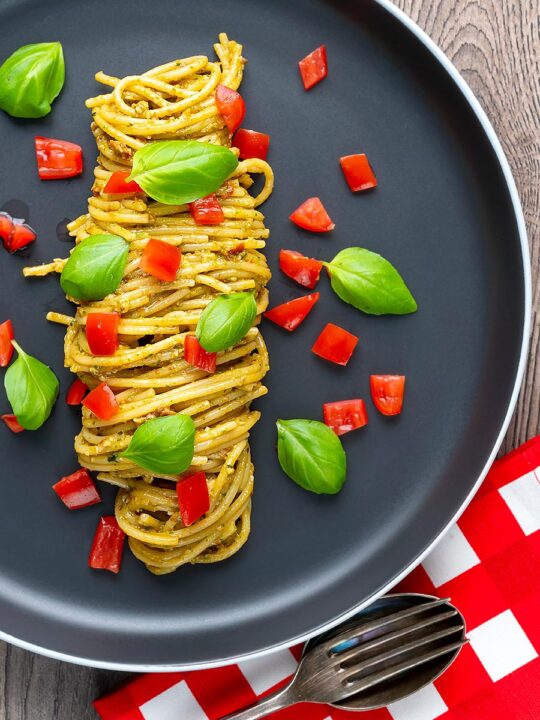 Recipe Hints and Tips.
Most conventional wisdom tells you to make a pesto in a pestle and mortar.
This is for good reason, because it bruises and breaks down the cell structure of the nuts and herbs.
It is however a pain to get started and you do need a large pestle and mortar.
It is perfectly acceptable if not quite as good to make pesto in a mini blender.
I do have a little tip though, once you have blended it, transfer it to a pestle and mortar and pound if for a couple of minutes. It just helps get the oils really flowing.
The next tip is in the oil to use. I always buy my sun dried tomato in oil and it is the oil in the jar that I use to make this pesto.
This is because it adds a beautiful deep level of flavour to the dish, just top the jar back up with more olive oil when you are done!
Another use for the oil in sun dried tomato jars is to use some of it in the oil you use to make homemade mayonnaise.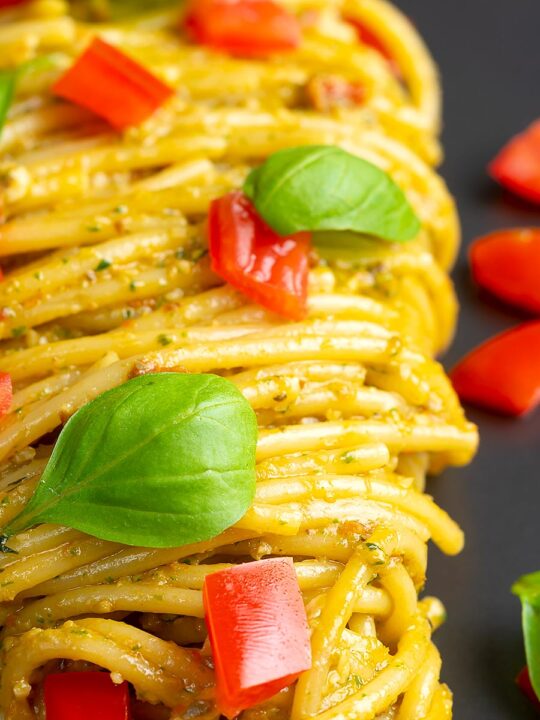 How to Add Pesto to Pasta.
When you are adding your pesto to your pasta you should always do it off the heat.
It is also really important to save a little of the cooking liquid from the pan.
Drain your pasta then return it to the pan, add the pesto then stir.
The heat of the pasta should free up the oils and start to melt the parmesan.
Little by little you then add some of the cooking water from the pasta, for two people you will need 2-3 tablespoons of it.
This pesto will keep covered with oil for a week or so but it is at its very best when freshly made.
I have also discovered that this Sicilian pesto is unbelievably good spread on hot buttered toast!
It would also be awesome used to top fish like this pesto cod recipe.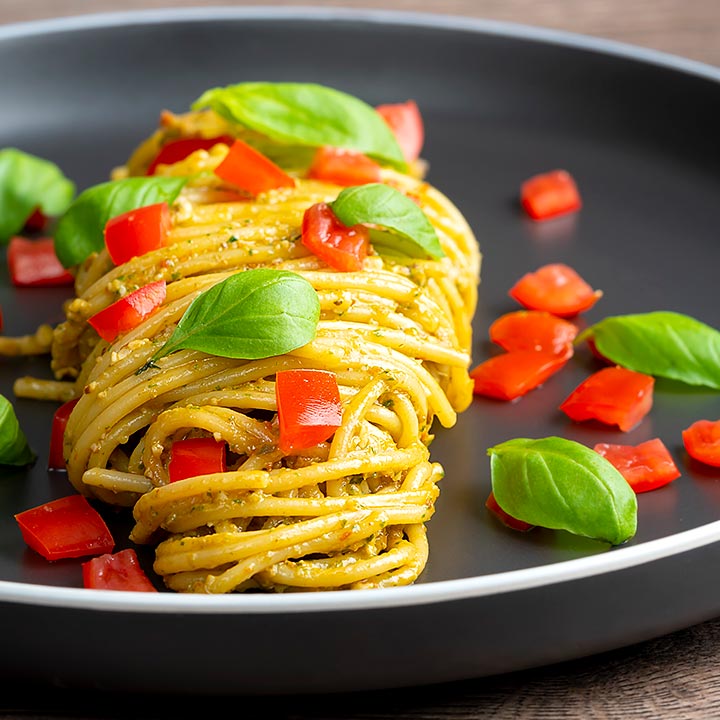 Yield:

2 Servings
Pesto Alla Trapanese Recipe
This pesto alla trapanese is a collection of glorious ingredients that may make you raise an eyebrow, but once you try it you will be hooked!
Ingredients
For the Pesto:
35 g (1/4 Cup) Blanched Almonds
2 Anchovy Fillets
1 Tbsp Capers
20 g (4 Tbsp) Golden Raisins
1 Large Garlic Clove
30 g (1.5 Cups) Basil Leaves
60 g (1/2 Cup) Sun-Dried Tomatoes in Oil
30 g (1/3 Cup) Parmesan Cheese
50 ml (3 Tbsp + 1 Tsp) Olive Oil
Pinch Chilli Flakes (Optional)
For the Pasta:
200 g (7 oz) Spaghetti
4 Litres (1 Gallon) Water
1-1.5 Tbsp Salt
Instructions
Place the almonds in hot dry pan and toast for 3-4 minutes, ensure you keep the moving all of the time.
Place in a blender with the anchovy, capers, raisins, garlic cloves.
Pack in the basil and then add the parmesan cheese and chilli flakes.
Pour over the olive oil and then blend to a rough paste.
Cook the pasta for 60 seconds less than the packet instructions.
Drain the pasta reserving 2-3 tablespoons of the cooking liquid.
Return the pasta to the pan and stir through the pesto.
Add the pasta cooking liquid a little at a time until you have a nice coating on the pasta.
Notes
I like to deseed some tomatoes and add them raw before serving along with a few fresh basil leaves.
Nutrition Information:
Yield:
2
Serving Size:
1
Amount Per Serving:
Calories:

439
Total Fat:

36g
Saturated Fat:

6g
Trans Fat:

0g
Unsaturated Fat:

28g
Cholesterol:

16mg
Sodium:

612mg
Carbohydrates:

23g
Fiber:

4g
Sugar:

12g
Protein:

12g
Calorific details are provided by a third-party application and are to be used as indicative figures only.