This rocket pesto pizza is very much a change form the norm, it is gloriously savoury and indulgent with a thick and voluminous crust!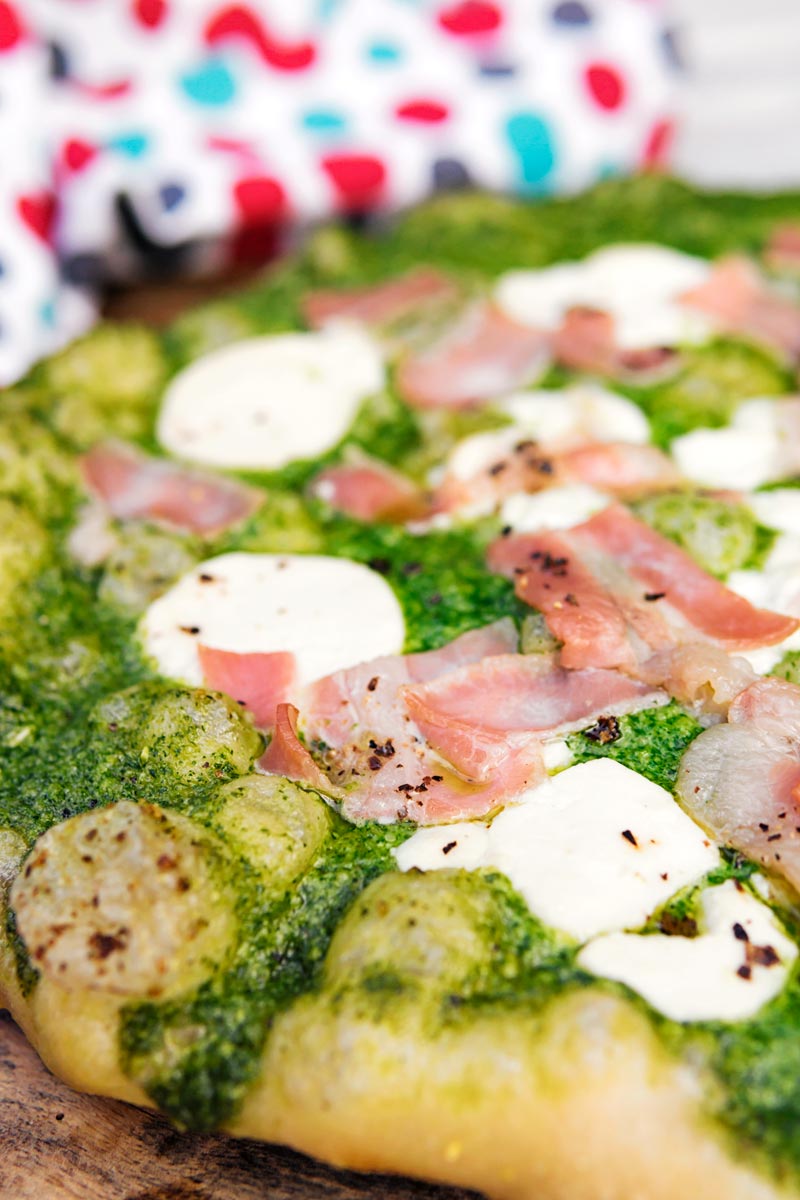 Rocket Pesto Pizza with Goats Cheese and Bacon.
This is my third pizza on my website, the first was is a classic Margherita Pizza, the second a less than classic BBQ chicken grilled pizza.
Like the second this pizza is not so classic, featuring a pesto base and topped with goats cheese and bacon. Again like the second I also favour cooking this on a BBQ.
Even the pesto is a little "outside the box" too a rocket pesto rather than basil pesto.
You could even use wild garlic pesto or even pea pesto to top this delicious pizza. My next experiment is to play around with pesto alla Trapanese as a pizza topping.
Unlike both of my former pizzas this is a thick crust pizza.
You will note that there is no added salt in the toppings for this recipe.
Avoid adding any, we have plenty of salt between the parmesan cheese, bacon and goats cheese.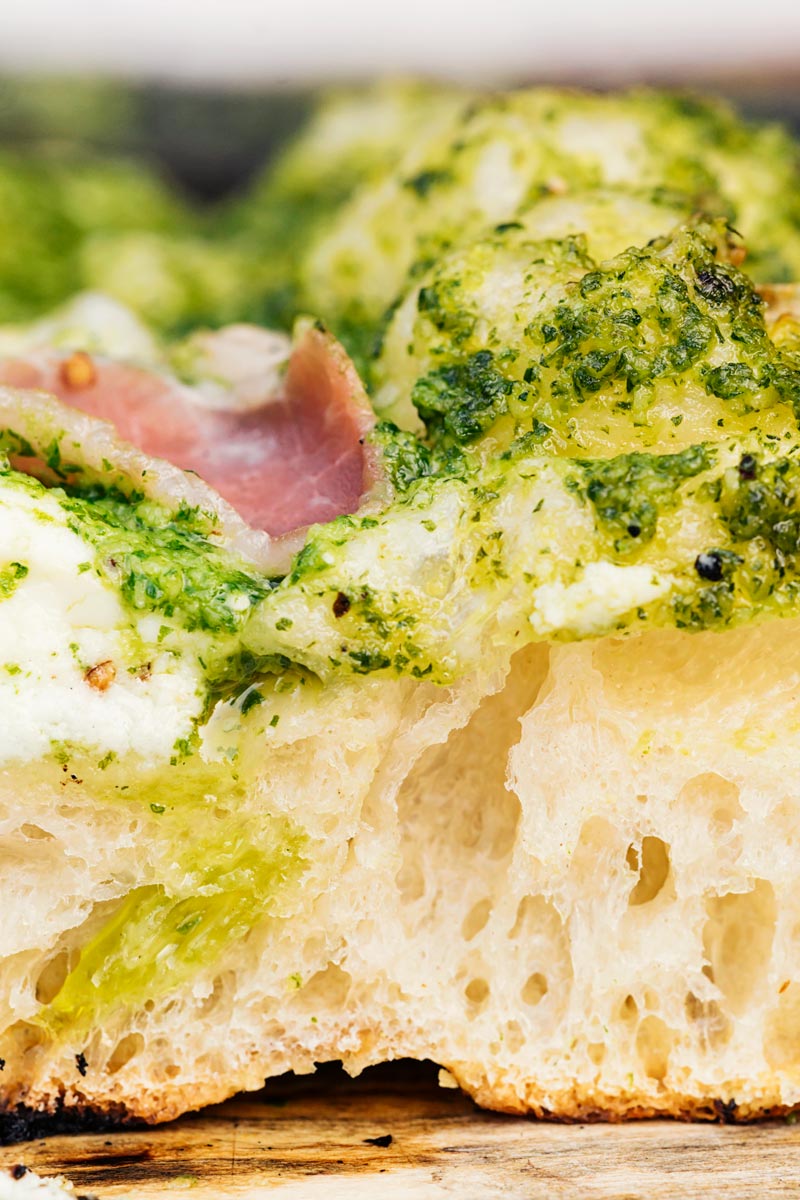 What's The Difference Between Thick and Thin Crust?
Absolutely nothing other than the thickness of the crust.
However, that is not where the story ends. Typically pizza dough is allowed to rise then it is punched back.
Then it is formed into balls and then allowed to sit for a short while, this prevents the pizza form shrinking back when flattened.
This rocket pesto pizza has an additional proving after it has been flattened. It is only another 15 minutes or so but that is the secret to the fluffy crust you can see.
That and of course being cooked on a fierce heat.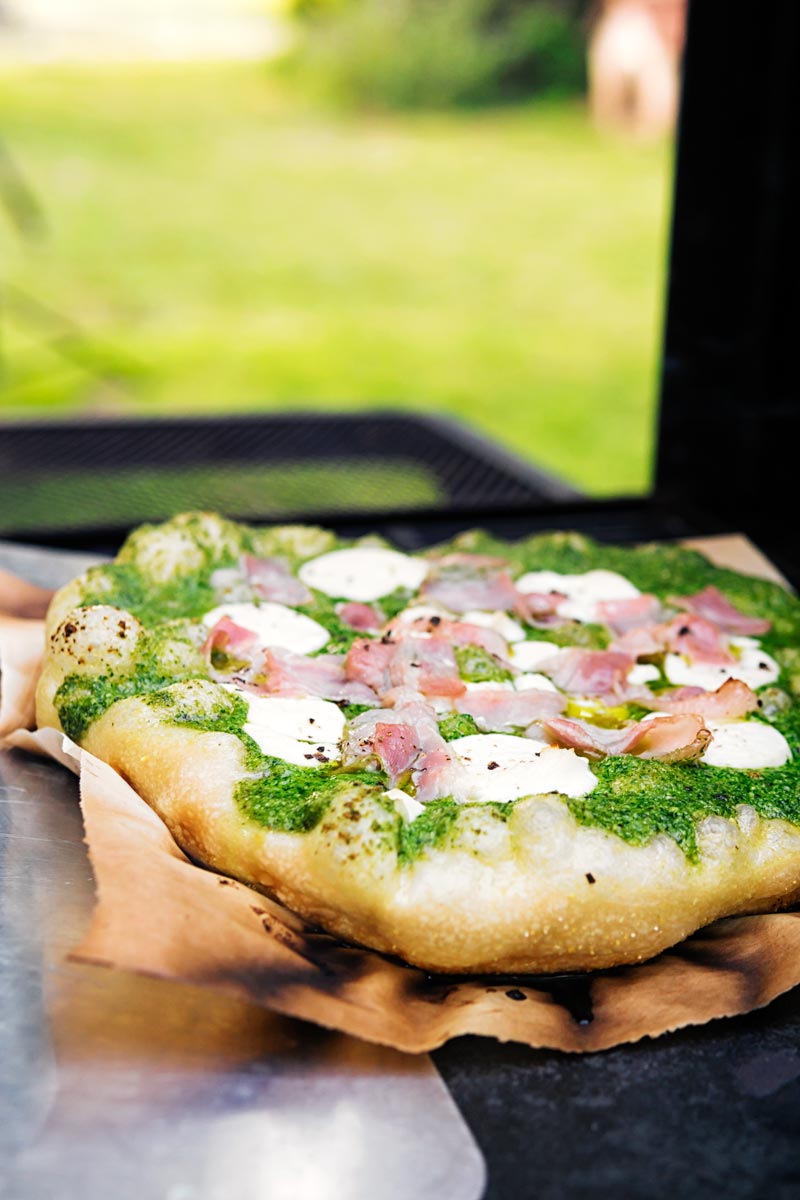 Cooking on a BBQ.
I have added two cooking instructions for this recipe. One for cooking in the oven and the second for cooking on a BBQ.
I love cooking fakeaway recipes on my grill, everything from my venison burger to my BBQ Tandoori Chicken are favourites.
However, Pizza is the real revelation, my guide to grilled pizza will tell you why in more detail.
But in short it is the searing heat, most domestic ovens will top out at 25o°C or 480°F.
With a good run, I can get my BBQ up to 350°C or 650°F, this means it behaves much more like a pizza oven or even tandoori oven!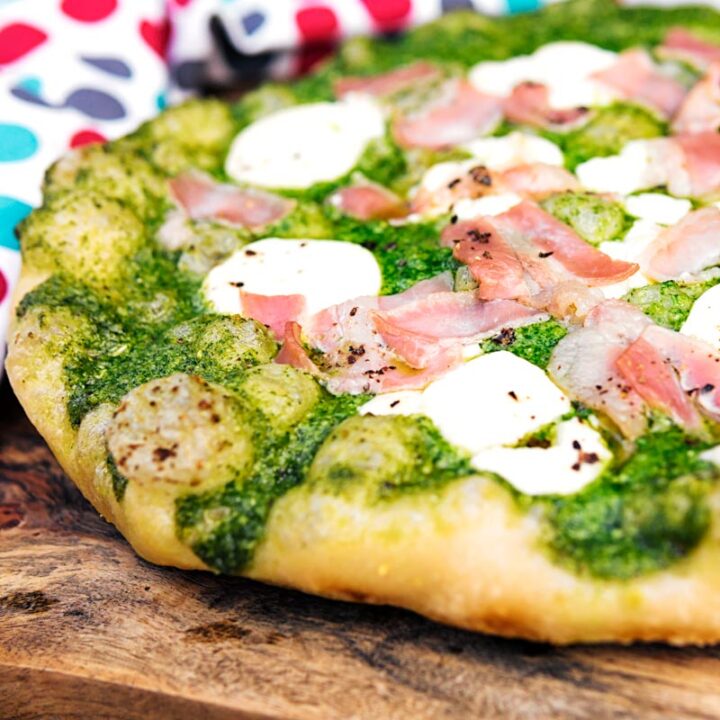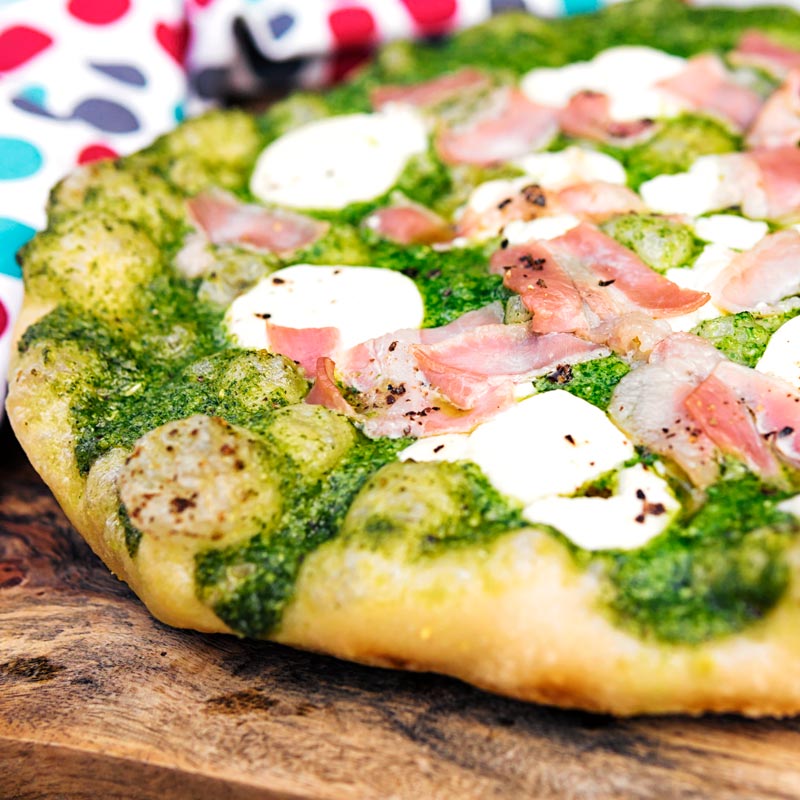 Yield:

2 Pizzas
Rocket Pesto Pizza with Bacon and Goats Cheese
Total Time:
1 day
40 minutes
This glorious thick crust pizza is break from the norm, it is a rocket or arugula pesto pizza, we add a bit of bacon and goats cheese because it just works!
Ingredients
50 g (1.75 oz) Rocket
30 g (1 oz) Pine Nuts
30 g (1 oz) Parmesan Cheese
1 Clove Garlic
75 ml (2.5 fl oz) Olive Oil
1 Tsp Black Pepper
100 g (3.5 oz) Bacon
200 g (7 oz) Goats Cheese
For the Pizza Dough
300 g (10.5 oz) Plain Flour
75 g (2.6 oz) Semolina Flour
1/2 Tsp Salt
1/2 Tbsp Sugar
7 g (1 sachet) Fast Acting Yeast
1 1/2 Tbsp Olive Oil
225 ml (7.6 fl oz) Water
Instructions
If you are making my pizza dough then the night before cooking bring together all of the ingredients and knead for 10 minutes.
You can also do this in a stand mixer with a dough hook, just let it go until it is soft and elastic.
Place in a lightly oiled bowl and cover with a damp cloth.
Allow to rise over night.
About 35 minutes before you are ready to cook knock back the pizza dough, divide into two balls.
Cover with a cloth and allow to sit for 15 minutes.
Throw the rocket, olive oil, garlic, Parmesan cheese, black pepper and pine nuts into blender and roughly blend to form a pesto,
Cut the bacon in to 2.5cm squares.
Now form the pizza dough balls into pizza bases on a floured work top, use your hands for this.
This is a thick crust pizza so you want something around 1cm thick.
Cover and allow to sit for another 15 minutes.
Top the two pizzas with the rocket, then goats cheese and finally the bacon.
I like to transfer my pizza to some baking parchment.
To Cook on a BBQ:
Fire up your BBQ and put in pizza steel or pizza stone.
Open your vents and get the heat up to 300°-350°C or 575-650°F.
Add the pizza close the lid and cook until it is puffed up and the bacon crisped.
This should take around 5-6 minutes.
To Cook in an Oven:
Heat your oven as hot as you can get it with a pizza steel or pizza stone. At a push you can use an upturned heavy based pan. This is typically around 250°C or 480°F.
Add the pizza and cook until it is puffed up and the bacon crisped.
This should take around 10-12 minutes.
Notes
Feel free to use any pizza dough recipe that you like, mine is an over night dough for flavour.
Nutrition Information:
Yield:
2
Serving Size:
1
Amount Per Serving:
Calories:

1743
Total Fat:

97g
Saturated Fat:

30g
Trans Fat:

0g
Unsaturated Fat:

62g
Cholesterol:

106mg
Sodium:

2126mg
Carbohydrates:

153g
Fiber:

8g
Sugar:

5g
Protein:

63g