Burger and sausages are not the only BBQ game because grilled pizza… Yes, you "heard" me right… cooking pizza on a barbecue is a thing and it is genius. This is all you need to know!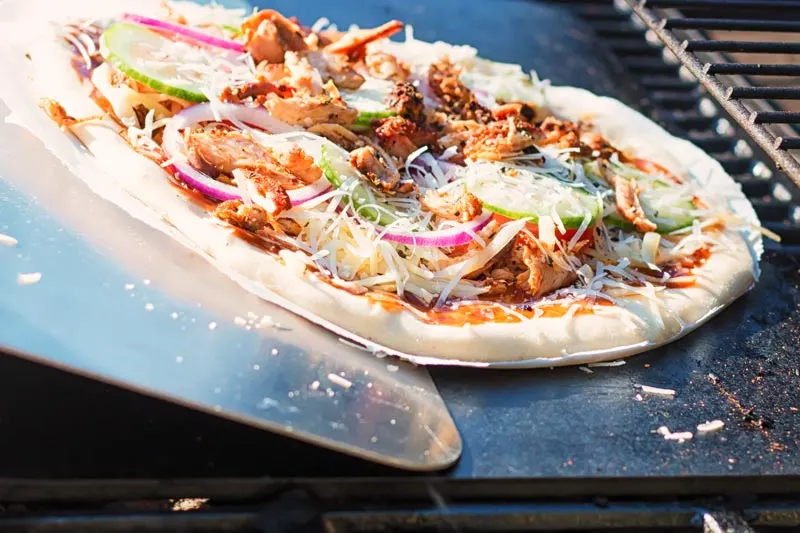 The Ultimate Guide to Grilled Pizza.
Cooking Pizza at home is often a bit of a letdown, pizzas are cooked in fierce ovens. Temperatures can reach 370°C or 700°F and thin crust pizzas cook in 2-3 minutes.
Whilst the average domestic oven cannot reach these temperatures your grill can certainly get close.
This will mean that your pizza will have that same wood-fired smoky taste and finish that you get from the very best pizza joints.
Now you will need a 'few' things to get this right, but I will walk you through this step by step:
BBQ or Grill
Pizza Stone, steel, heavy baking sheet or cast iron pan.
Pizza Recipe!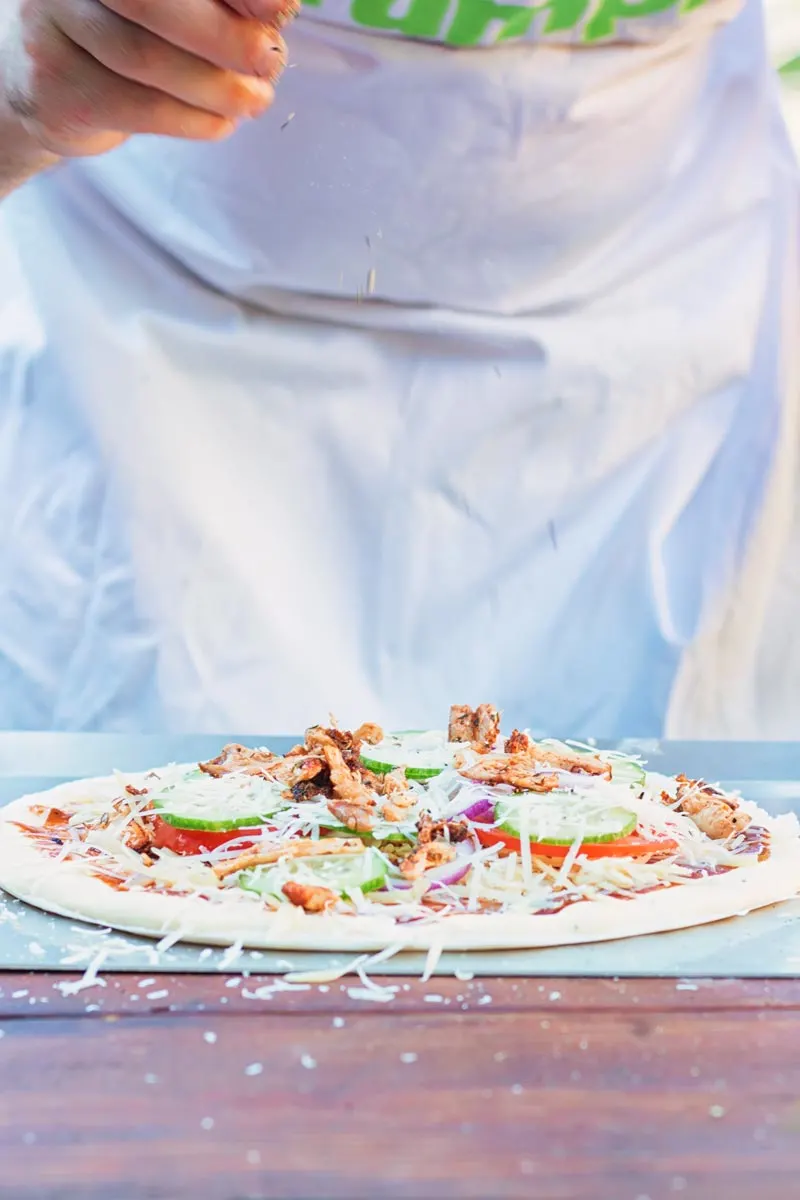 The Grill.
The first and probably the most important thing you will need is a grill!
There are a few things that you will need to bear in mind here.
A lid: In order to make grilled pizza your BBQ needs a lid. This is a none negotiable and because of the temperatures involved a 'Heath Robinson' rig is not recommended
Gas or Charcoal: This guide is written for charcoal barbecues. I suspect that there are some takeaways you can get from this if you use a gas grill but I have not tested them.
Temperature: All grills will achieve different temperatures at different times. get to know your grill! Most importantly make sure you have some way of reading the temperature.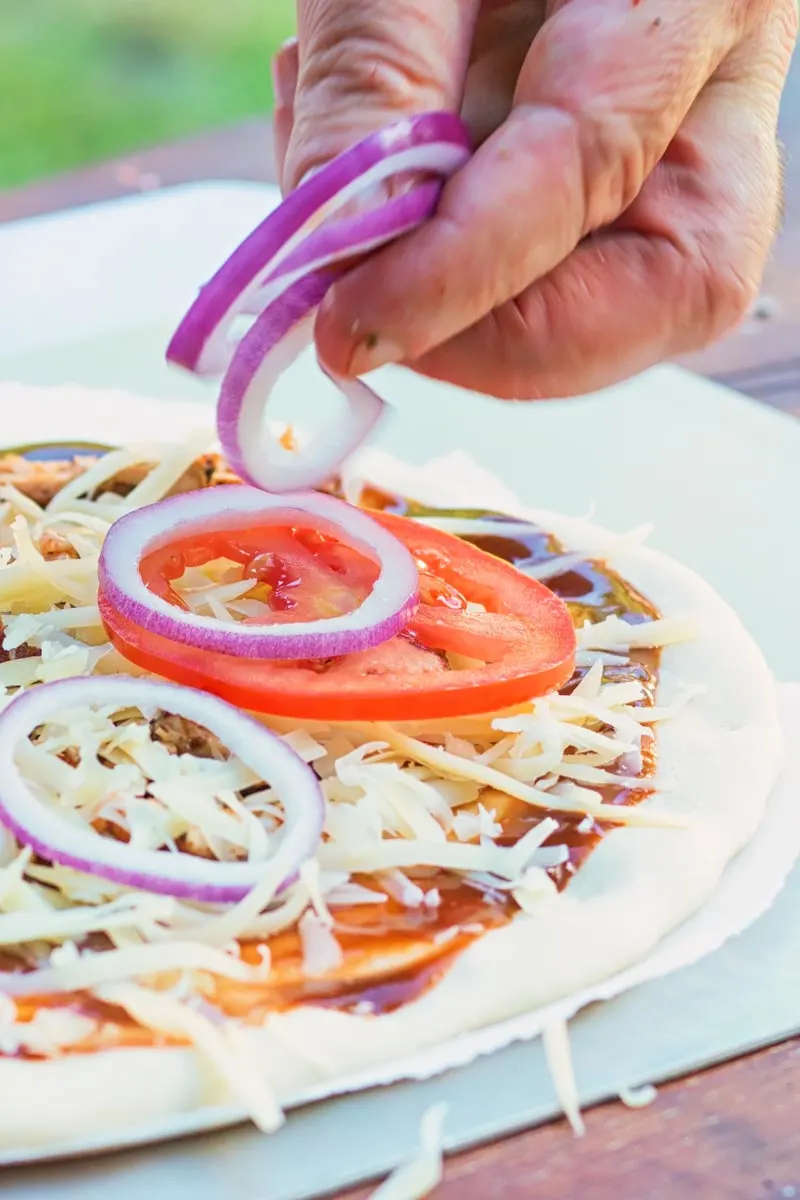 The Pizza Stone, Pizza Steel and Alternative Ideas.
You can not just straight up put your pizza on the grill or barbecue. You need to have something to place it on.
Now to get the best grilled pizza you want something that will be solid and hold a great deal of heat.
That heat will be imparted to the dough of the pizza and get that lightning-quick cooking time. The base should blister and be crispy within mere minutes.
The best way to do this is a pizza stone or pizza steel.
Naturally, you will want to make sure that whatever you buy fits into your grill!
If you have not got either of these and do not want to buy one things are not a bust.
You can use the heaviest baking tray you have or even use a cast iron pan flipped upside down!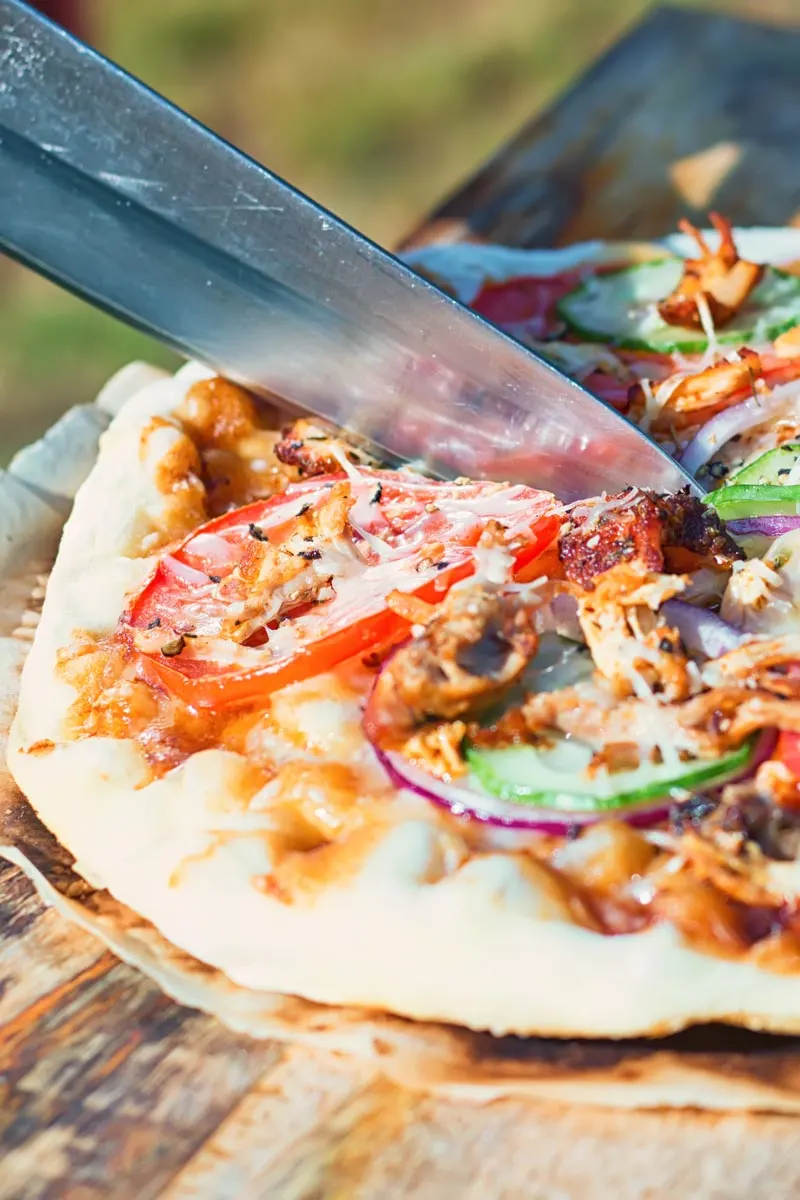 The Recipe and Cooking?
Of course, there is a recipe for a BBQ chicken pizza below, it's very apt and it's what I do!
But there are a few things worth mentioning here.
First of all the heat, you want this insanely hot… I'm talking 300-350°C 600-675°F.
Then you need to decide on your pizza.
The first thing to mention here that this approach really is only for thin crust pizza. If you do not roll out your pizza thin enough the outside will be coal before the inside cooks!
Whilst we are on the dough, I very much favour an overnight dough for reasons:
It takes the pressure off my BBQ preparation, doing it the night before means the day of the BBQ is very much more relaxed.
Flavour! Seriously it is insane.
But if you are in a rush, my friend Rosemary has a corking quick no knead pizza dough recipe!
Then your toppings… Go with whatever you like, remember not to pile too high. We are cooking for mere minutes!
You can lay your toppings out on the table and get your guests to make their own grilled pizza, which is a great giggle.
If you want a pizza with a bit of a difference then check out this rocket pesto and goat cheese pizza!
And if you want a tsaty beverage you could do an awful lot worse than making your own elderflower champagne. 'Free' booze!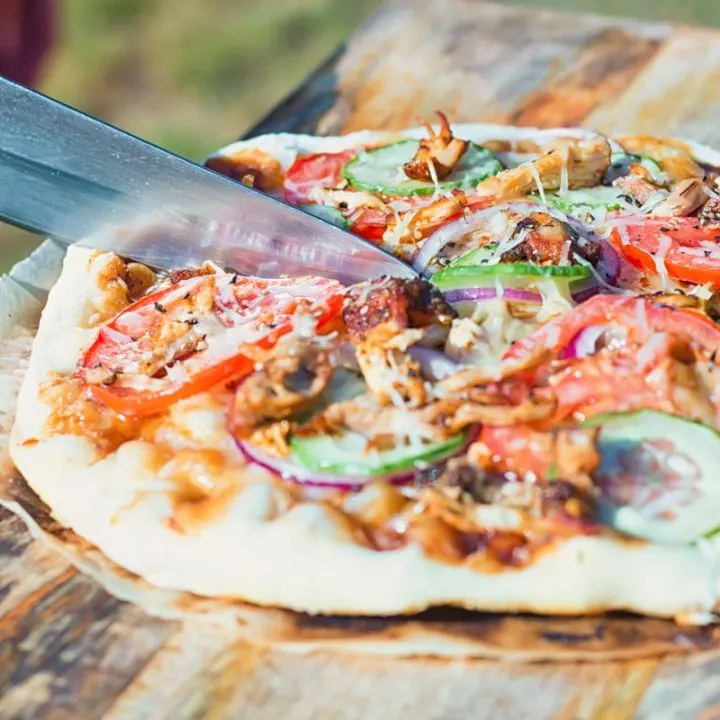 Yield:

2 Pizzas
Shredded BBQ Chicken Grilled Pizza
Total Time:
1 day
15 minutes
Grilled pizza cooked on a BBQ is a revelation and what better place to start than a sweet and smokey BBQ Chicken Pizza loaded with all the goodies.
Ingredients
For the Pizza Dough:
300 g Plain Flour
75 g Semolina Flour
1/2 Tsp Salt
1/2 Tbsp Sugar
7 g Fast Acting Yeast
1 1/2 Tbsp Olive Oil
225 ml Water
For the Chicken:
2 Skinless Chicken Thighs
1 Tsp Sweet Paprika
1/2 Tsp Spicy Paprika
1/2 Tsp Garlic Powder
1/2 Tsp Dried Oregano
1/2 Tsp Dried Thyme
1/2 Tsp Coarse Sea Salt
1/2 Tsp Black Pepper, Coarsely ground
For the Pizza.
100 ml BBQ Sauce
200 g Grated Gouda Cheese
Tomato
Cucumber
Red Onion
Parmesan Cheese
Black Pepper
Instructions
Pizza Dough:
The day before you are going to make the pizza mix together the dry ingredients for the dough and then make a well in the centre.
Now add in the olive oil and the water a little at a time, I like to use the back of a regular table knife to bring the dough together.
Once all or nearly all of the water has been taken in and you have a dough forming, lightly flour your work surface and knead the dough for 10 minutes until nice and elastic.
The set aside in an oiled bowl for 24 hours under a damp cloth.
Shredded Chicken:
Begin by firing up the BBQ and dropping your pizza steel or stone.
Take your chicken and make a couple of deep cuts in the flesh and rub in the herbs and spices.
Place on the indirect heat of the BBQ with the lid down and cook for 40-45 minutes as the pizza steel comes to temperature.
When cooked the internal temperature should read at least 73°C.
Remove and when cool enough to handle shred with a couple of forks.
As with all pizzas the key now is heat, you want temperatures as hot as you can get 300°C as a minimum and a steel that has been sat in that heat for at least 45 minutes.
Building the Pizza:
Thinly slice the tomato, cucumber and red onion
Lightly dust your work surface and turn out the pizza dough. It should have a light crust on it, don't this adds a load of flavour.
Knock back the dough and knead for 5-10 minutes.
Cut the dough in to two pieces and form in to two 30-35cm pizza bases and place on baking parchment.
Cover with a kitchen cloth for 5 minutes whilst you clean up and gather the remaining ingredients.
Now build, my running order goes, BBQ Sauce, Chicken, Cheese, Tomato, cucumber, red onion, more cheese, parmesan, more chicken and lots of cracked black pepper. But hey it's a BBQ get folk to do what they want.
Slide on to the fiercely hot pizza stone or steel and cook for 5-6 minutes.
Notes
Feel free to use some pre-cooked chicken if you like, however the thighs cook in the same time it takes to warm the pizza steel.
Nutrition Information:
Yield:
2
Serving Size:
1
Amount Per Serving:
Calories:

1506
Total Fat:

50g
Saturated Fat:

23g
Trans Fat:

0g
Unsaturated Fat:

25g
Cholesterol:

253mg
Sodium:

2845mg
Carbohydrates:

187g
Fiber:

10g
Sugar:

31g
Protein:

77g
Calorific details are provided by a third-party application and are to be used as indicative figures only.