Krumpli at the movies… Watch the video and if you like it share it 😀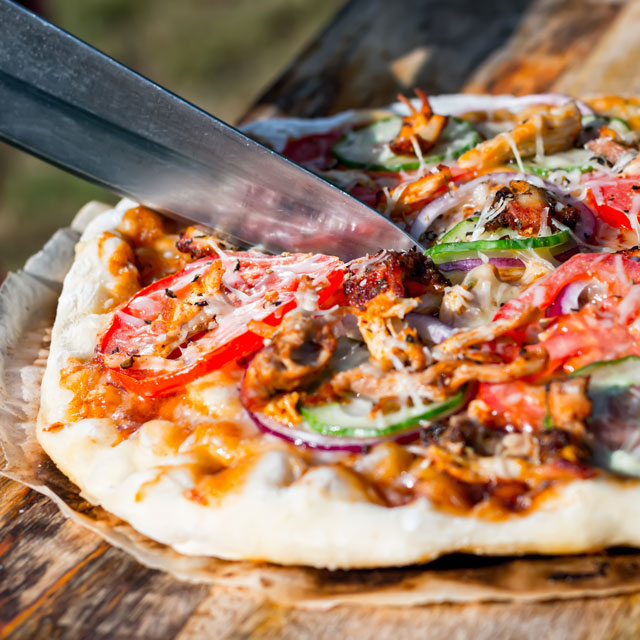 This BBQ chicken pizza is close as I can get to a proper "old skool" pizza cooked in a pizza oven, the BBQ packs much more heat than you can achieve with a domestic oven and that smokey flavour adds something that can not be replicated. You do need a little help though with something like a pizza stone or steel, those of you with a good memory may remember I did a test on a new bit of kit I was sent to test a while ago and worked on my Margherita pizza. Go take a look I was kinda gushing but I loved my Pizza Steel and this BBQ chicken pizza is a perfect example as to why it works for me. I am sure that other options are available however I have not used them so can't offer any thoughts on brands.
For many food bloggers this recipe would probably be broken down into two or three recipes, but if there is one thing I hate about online recipes and that is having to visit multiple pages or even sites to cook dinner. So staying true to keeping my site about the way I cook here it is from start to finish, I have left the overall timing blank, because it is a two day recipe with 10-15 minutes required here or there but it is all pretty simple and it is awesome. I am sure there are some that will be shocked, nay angered at my use of shop bought BBQ sauce on this shredded BBQ chicken pizza, well tough, if you wanna make your own fill your boots, I even have 2-3 knocking around here on my site in different recipes.
This recipe for me is an ode to a local pizza restaurant, pizza is pretty much the only food you can get in a restaurant in these parts that are not traditionally Hungarian (I don't class burger or gyros joints as restaurants). We don't have them that often but my favourite place does a pizza called the Kentucky and it is largely this, BBQ sauce, Cucumber, Chicken and Gouda Cheese and I LOVE it… Not just a little but, so much that I have not ordered any other variety of pizza there since I first tried this, I always swap a slice with my wife to try something and none has come close to the warm and fuzzy feeling this gives me. The flavours are simple and I just cannot get enough of them.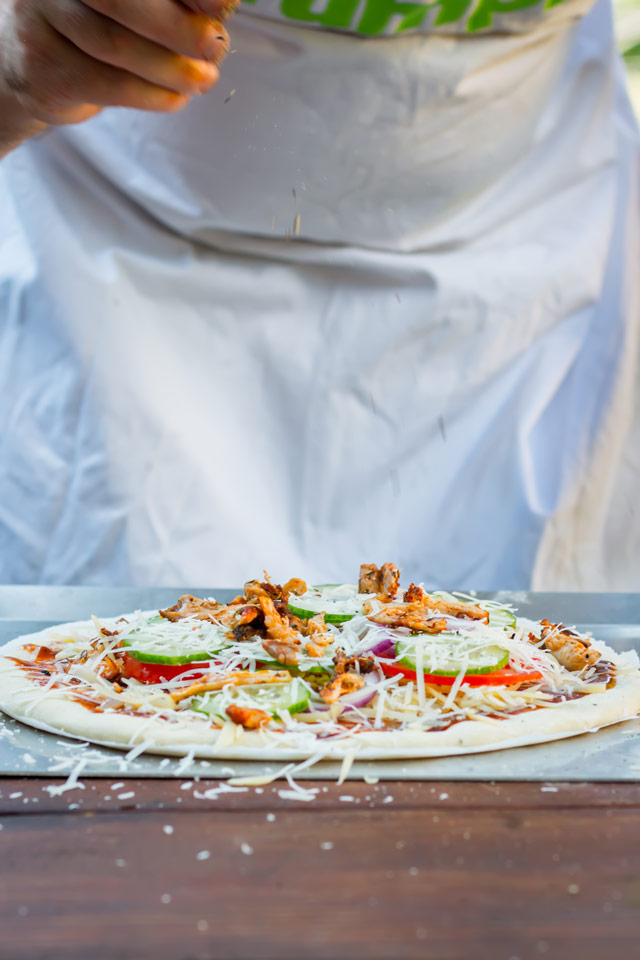 Print
Shredded BBQ Chicken Pizza
Cooking pizza on a BBQ is a revelation and what better place to start than a sweet and smokey BBQ Chicken Pizza loaded with all the goodies.
Ingredients
For the Pizza Dough:
300

g

Plain Flour.

Plus extra for dusting.

75

g

Semolina Flour.

1/2

Tsp

Salt.

1/2

Tbsp

Sugar.

7

g

Fast Acting Yeast.

1 Sachet.

1 1/2

Tbsp

Olive Oil.

225

ml

Water.
For the Chicken:
2

Chicken Thighs

Bone in, skin removed.

1

Tsp

Sweet Paprika.

1/2

Tsp

Spicy Paprika.

1/2

Tsp

Garlic Powder.

1/2

Tsp

Dried Oregano.

1/2

Tsp

Dried Thyme.

1/2

Tsp

Coarse Sea Salt.

1/2

Tsp

Black Pepper.

Coarsely ground.
For the Pizza.
100

ml

BBQ Sauce.

Use your favourite shop bought brand, if it it too thick let it down with a little water.

200

Gouda Cheese.

Tomato:

Thinly sliced.

Cucumber:

Thinly sliced.

Red Onion:

Thinly sliced.

Parmesan Cheese.

Black Pepper:

Coarsely ground.
Instructions
Pizza Dough:
The day before you are going to make the pizza mix together the dry ingredients for the dough and then make a well in the centre.

Now add in the olive oil and the water a little at a time, I like to use the back of a regular table knife to bring the dough together.


Once all or nearly all of the water has been taken in and you have a dough forming, lightly flour your work surface and knead the dough for 10 minutes until nice and elastic.


The set aside in an oiled bowl for 24 hours under a damp cloth.

Shredded Chicken:
Begin by firing up the BBQ and dropping your pizza steel or stone.

Take your chicken and make a couple of deep cuts in the flesh and rub in the herbs and spices.

Place on the indirect heat of the BBQ with the lid down and cook for 40-45 minutes as the pizza steel comes to temperature.

When cooked the internal temperature should read at least 73°C.

Remove and when cool enough to handle shred with a couple of forks.

As with all pizzas the key now is heat, you want temperatures as hot as you can get 300°C as a minimum and a steel that has been sat in that heat for at least 45 minutes.
Building the Pizza:
Lightly dust your work surface and turn out the pizza dough. It should have a light crust on it, don't this adds a load of flavour.

Knock back the dough and knead for 5-10 minutes.

Cut the dough in to two pieces and form in to two 30-35cm pizza bases and place on baking parchment.

Cover with a kitchen cloth for 5 minutes whilst you clean up and gather the remaining ingredients.

Now build, my running order goes, BBQ Sauce, Chicken, Cheese, Tomato, cucumber, red onion, more cheese, parmesan, more chicken and lots of cracked black pepper. But hey it's a BBQ get folk to do what they want.

Slide on to the fiercely hot pizza stone or steel and cook for 5-6 minutes.
Recipe Notes
Feel free to use some pre-cooked chicken if you like, however the thighs cook in the same time it takes to warm the pizza steel.