Pressed pork belly is always a winner with me, as a cut of meat pork belly is cheap and packs so much flavour. This is paired with cherries and peas.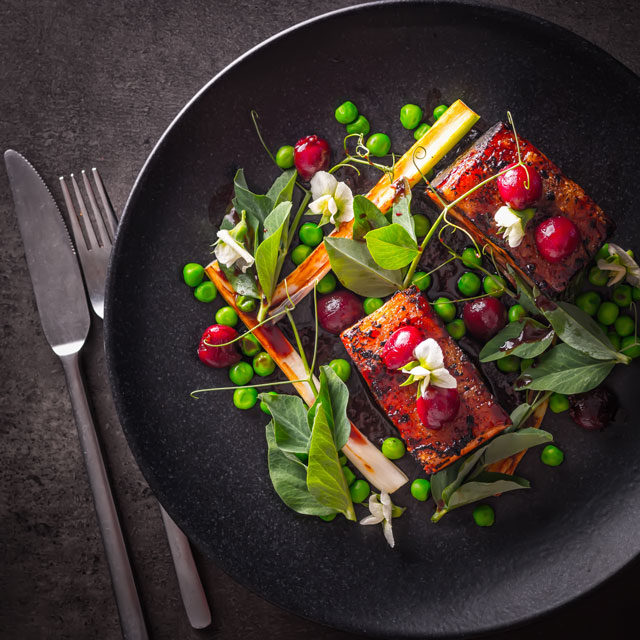 I love pork belly and pressed pork belly is a truly wonderful way of creating a really beautiful looking plate of food that is bursting with flavour out of a cut of meat that should be costing you pennies to buy.
This recipe is given a bit of a boost on timing with my friendly InstantPot, if you don't have one you can of course do this in a dutch oven or even a slow cooker.
Keep the ingredients the same and in a dutch oven place in the oven at around 3-4 hours at 150°C and in the slow cooker go for 8 hours on low, then continue as per my instructions for my pressed pork belly.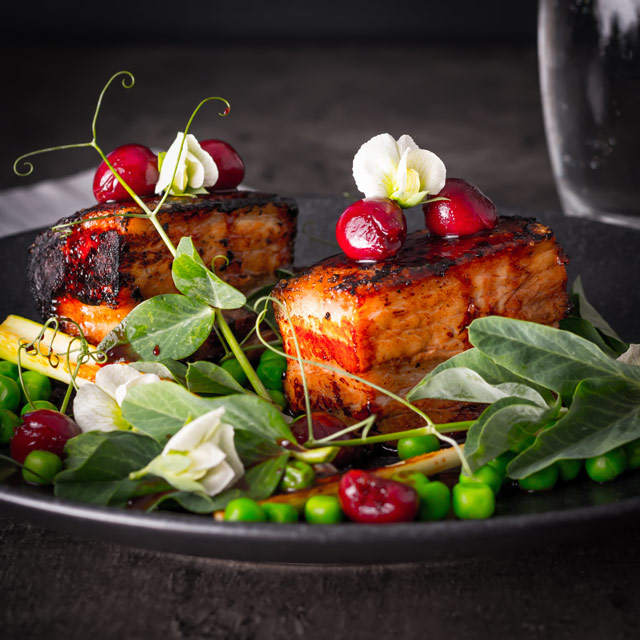 This recipe is another one of those that I just love, a collection of wonderful ingredients, most from my garden and pretty much all from our village (including the pork) and the peas and cherries provide a wonderful sweetness to play on the soft richness of the pork belly.
It really is the way I love to cook, when we lived in the UK it was typically the way I did cook. My wife would usually call into the store on the way home and present me with a collection of ingredients she fancied eating that night and orft I went and made dinner.
Sadly this is likely to be the last of my cherry recipes this year, I can't believe I only managed to develop two new cherry recipes this year before the starlings had the rest away.
We did of course make some jelly, jam, syrup and a little wine as well as indulged in the odd cherry clafoutis or lots. There are of course lots of cherries in the ships still, but it feels a little bit wrong buying cherries when you have 3 large trees in the garden, eating seasonally from the garden definitely has a down side.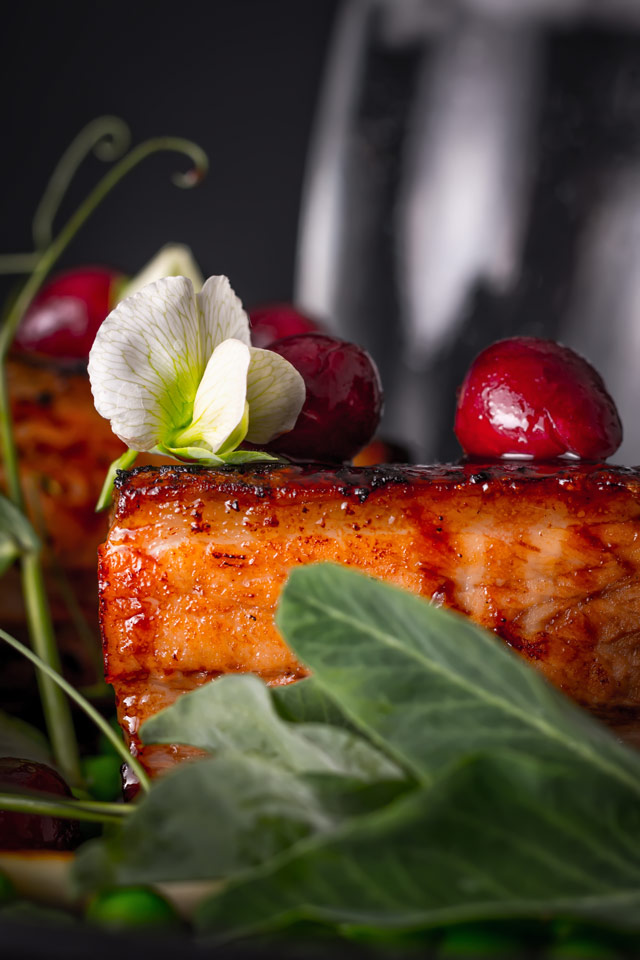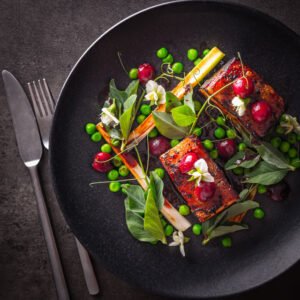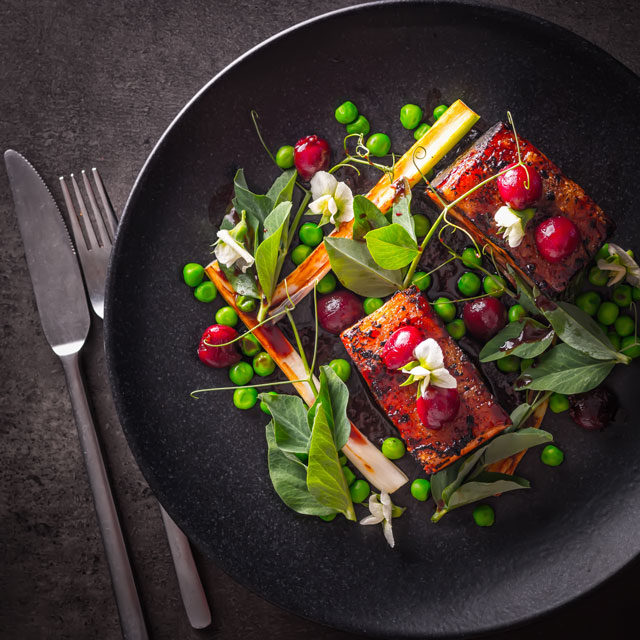 Instantpot Pressed Pork Belly With Port Cherries
Pressed pork belly is always a winner with me, as a cut of meat pork belly is cheap and packs so much flavour. This is paired with cherries and peas.
Ingredients
450

g

Pork Belly

Skin removed, don't throw it away make some scratchings

1

Head

Garlic

Cut in half around the fattest part

200

g

Cherries

Pitted

1/2

Tbsp

Olive Oil

1

Tbsp

Coarse Sea Salt

1

Tbsp

Black Pepper

Coarsely ground

175

ml

White Wine

3

Spring Onions

Cut in half length ways about 10cm long

75

g

Peas

Fresh are great but frozen will be fine

1

Handful

Pea Shoots

Optional, replace with other salad greens

24

Cherries

Pitted

50

ml

Port

25

g

Butter

1

Tbsp

Cooking Oil

Neutral
Instructions
Take the garlic and place in the bottom of the Instantpot with the cherries and white wine.

Now rub the pork belly with the oil, salt and pepper and place on the trivet in the pot.

Cook on manual high pressure for 60 minutes with a natural pressure release.

When the IP has released, remove the pork and press between two baking sheets using weights to press the pork. When cool enough transfer to the fridge and allow to sit for 4 hours.

Strain the liquid from the Instant Pot through a fine sieve pushing the cherries and garlic through with the back of a spoon.

This should yield around 350ml of liquid, reduce this over a hot heat to just 75ml.

Slice the pork into nice presentable pieces.

Heat meanwhile heat 2 small pans on the stove boil salted water in the first and cook the peas.

Add the port and 2 tbsp of reduced sauce to the second and boil, then add the butter and whisk.

When this has formed a nice sauce add in the 24 cherries and allow to stay warm on a low heat.

Add cooking oil to a frying pan and brush the portioned pork belly with some of the remaining reduced stock and fry until nicely coloured.

Finally fry off the spring onion halves for 60 seconds and build your plate.