Pressed pork belly twice cooked until crispy and this recipe finishes it with a cherry and port sauce, a true fine dining dish at home!
I have instructions for braising the pork in the oven, slow cooker and the Instant Pot which saves hours of time and energy too!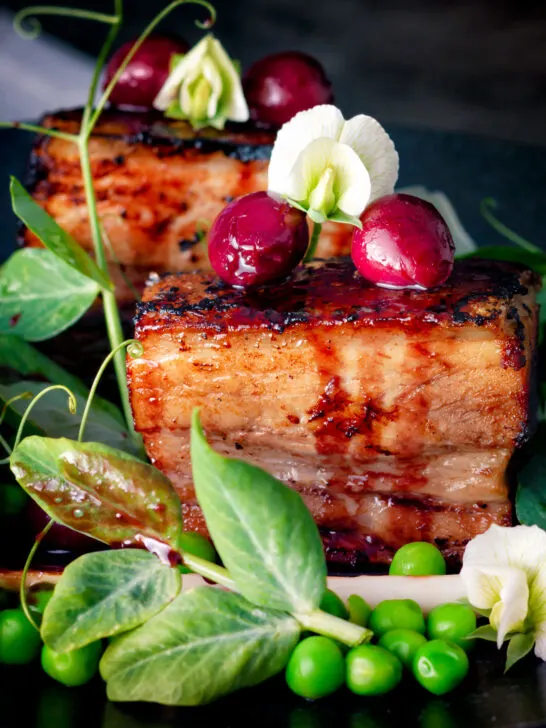 Twice Cooked Crispy Pork Belly
I adore pork belly, it is one of my favourite cuts of meat! It is blessed with a boat load of flavour and it is relatively affordable too.
I have recipes as diverse as an Indonesian babi chin recipe to roasted pork belly slices and crispy Chinese pork belly to Vietnamese glazed pork belly.
In the last decade it has become a bit of a darling of the fine dining world and this twice-cooked pressed pork belly recipe is my homemade ode to that style.
It is a time-consuming recipe but very little of it involves you spending time in the kitchen.
The pork is slowly braised initially. I have given you instructions for the oven, slow cooker and pressure cooker or instant pot for this phase.
Then it is pressed overnight before being sliced and fried until crispy.
The braising liquid is then formed into a sauce with the addition of some port and cherries which are a perfect match for the rich meat.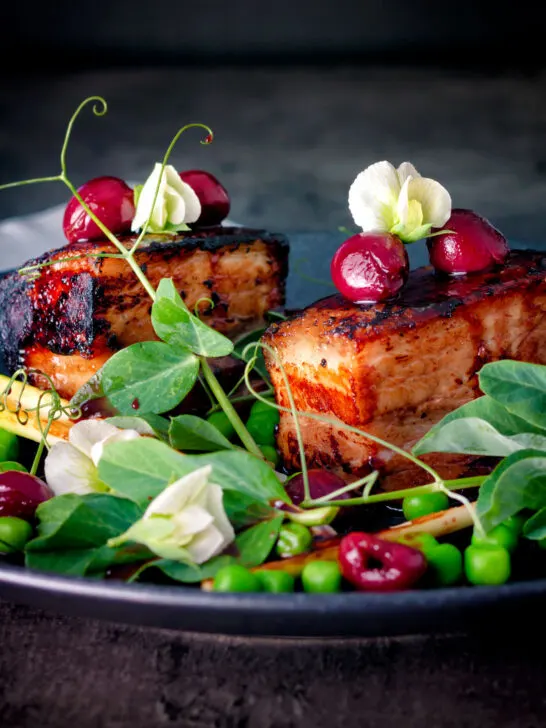 Frequently Asked Questions
What's the best way to braise the pork belly?
All three methods give very similar results and as such, you can choose which ever method works best for you in terms of time and cost.

I usually cook the pork belly in a slow cooker because I can leave it alone all day and do something else.
Can I use pork belly with the rind on?
Yes, but it will not crisp up even when it is fried, as a result, I prefer to use belly with the rind off.

You can cook it then remove it after draining, then scrape off the fat and dry it in the fridge. Once it is super dry fry it and it will puff up and make amazing puffed scratchings.
Do I have to use port?
No, you could use more red wine, but the port does add a wonderfully rich and deep flavour to the sauce.
How long will the pork last in the fridge before being fried?
You can leave it for up to 48 hours before frying it so long as it is well wrapped.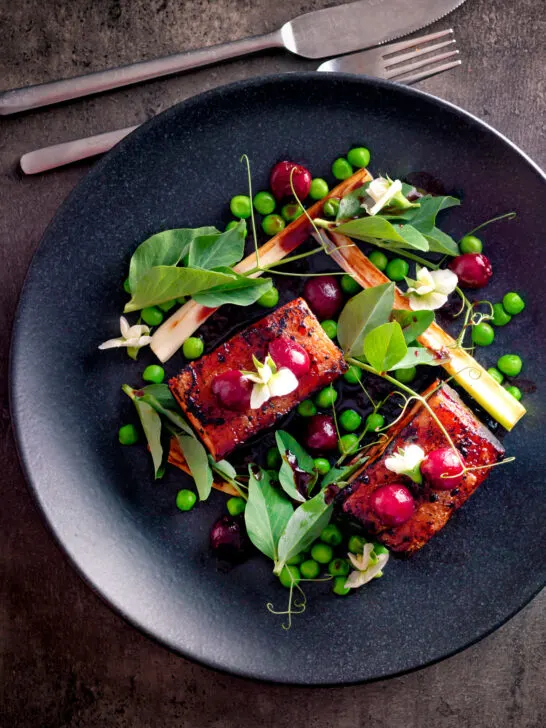 Serving Suggestions
I've served this pressed pork belly recipe with some seared spring onions, peas and pea shoots from the garden… I've even added some pea flowers.
But his dish is wonderful with a simple green salad with the pork as the star of the dish, especially if you want something light.
If you want to really double down on the hearty feel of this dish then how about some fondant potatoes or Parmentier potatoes.
Mash also makes a great side for this recipe, both mashed potatoes and celeriac mash work well.
If you want some greens something like asparagus cooked in the air fryer, roasted tenderstem broccoli and garlic green beans are fab options.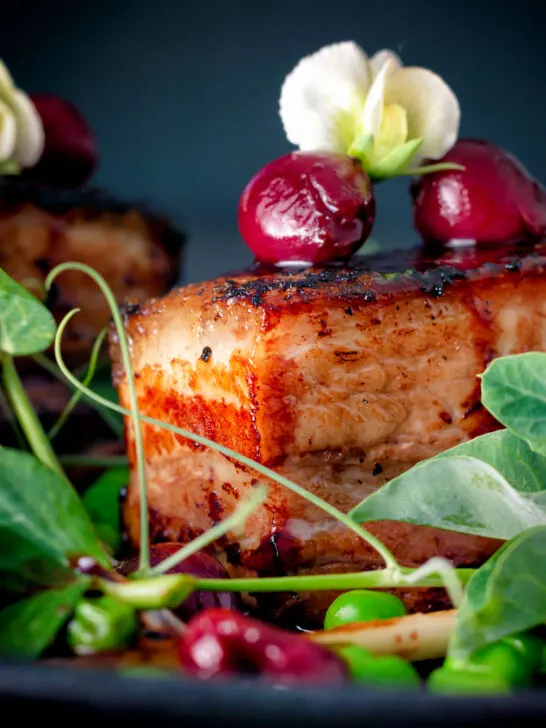 Equipment Used
I only name-check specific brands of equipment if I think that they make a material difference to a recipe. If you have any questions feel free to ask them in the comments section below the recipe.
Stovetop.
Oven or Instant Pot or slow cooker.
24cm or 10″ Dutch oven or saucepan if you are cooking this in the oven.
Sharp kitchen knife.
Chopping board.
Cherry or olive pitter.
Weighing scales and or measuring cups and spoons.
Tin foil.
Sieve.
Ladle.
16-17cm or 7″ saucepan.
28cm or 11″ frying pan.
Weights to press the pork, I use some tinned tomatoes.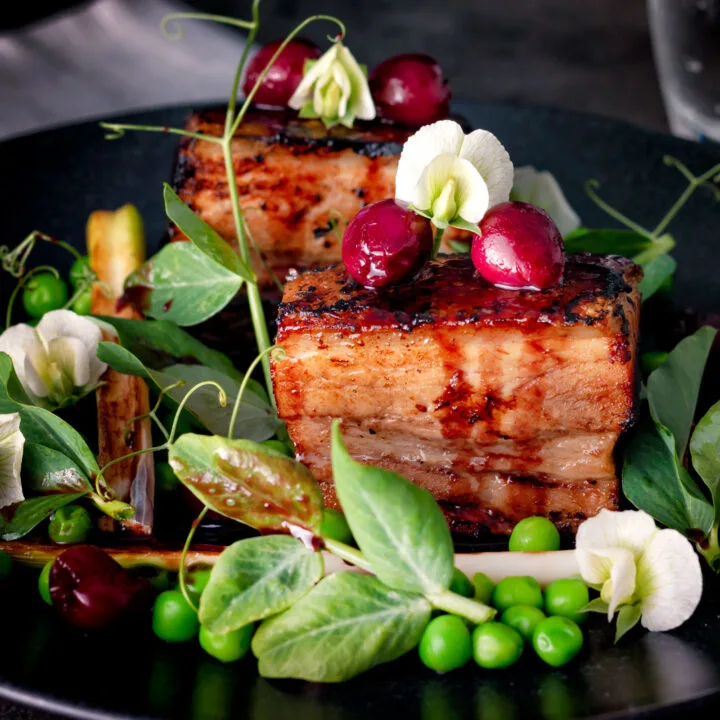 Yield:

2 Servings
Pressed Pork Belly Recipe with Port Cherries
Cook Time:
4 hours
30 minutes
Total Time:
12 hours
40 minutes
Pressed pork belly is always a winner with me, as a cut of meat pork belly is cheap and packs so much flavour, and the port and cherry sauce matches it perfectly!
Ingredients
450g (1lb) Pork Belly without the Rind
1 Head Garlic
½ Tbsp Olive Oil
½ Tsp Coarse Sea Salt
1 Tsp Ground Black Pepper
200g (1½ Cup) Cherries
175ml (¾ Cup) Red Wine
125ml (½ Cup) Chicken Stock
125ml (½ Cup) Port
50g (3 Tbsp) Butter
1 Tbsp Cooking Oil
Instructions
Cut the head of garlic in half across the width of the garlic.
Rub the pork belly with the olive oil and salt and pepper.
Pit two-thirds (1 cup) of the cherries
To Braise in the Oven:
Heat a 24cm (10") Dutch oven or oven-proof saucepan with a lid over a high heat.
Add the red wine, chicken stock, garlic and pitted cherries to the pot and bring it to a boil.
Drop in the pork belly and add a lid, then transfer to the oven and cook for 3-4 hours at 150°C or 300°F.
To Braise in the Instant Pot:
Pour the red wine, chicken stock, garlic, and pitted cherries into the Instant Pot.
Add the pork belly then seal the lid and pressure cook on high pressure for 60 minutes, then allow the pressure to release naturally.
To Braise in a Slow Cooker:
Pour the red wine, chicken stock, garlic, and pitted cherries into the slow cooker.
Add the pork belly then add the lid and cook on low pressure for 6-7 hours.
Press the pork belly and Pass the Sauce:
When the pork belly is braised remove it from the cooking device and allow it to cool.
Strain the cooking juices through a fine mesh sieve into a bowl and push it through with a back of a ladle pressing the garlic and cherries to extract the juices. Once cooled place in the fridge and allow to rest for the same time as the pork belly.
Once the pork is cool enough to handle wrap it in foil then sandwich it between two plates or baking sheets and then add a weight to compress it (some tinned food works great). Once the pork has cooled enough to transfer to the fridge do so and allow it to sit for at least 8 hours.
Frying the Compressed Pork Belly and preparing the sauce:
Remove the sauce from the pork and the fat will have settled at the top of the bowl, scrape this off and discard it.
Pour the remaining sauce into a medium-small (16-17cm or 8") saucepan with the port and reduce it by two-thirds over a high heat.
Remove the pork from the fridge and unwrap it, trim it up so that the sides are neat and cut the remaining pork into 4 equally sized pieces.
Pit the remaining cherries.
Heat a 28cm or 11" frying pan over a high heat and when it is hot add the cooking oil and sear the pork on all sides until it is crispy and nicely browned and hot right the way through.
Whilst the pork is browning whisk the butter into the sauce, if you have an immersion blender, use this at this point it will create a much more creamy sauce.
Stir the cherries through the sauce and allow them to heat gently whilst the pork is finishing.
Serve with sides of your choice.
Nutrition Information:
Yield:
2
Serving Size:
1
Amount Per Serving:
Calories:

1144
Total Fat:

80g
Saturated Fat:

32g
Trans Fat:

1g
Unsaturated Fat:

45g
Cholesterol:

245mg
Sodium:

1436mg
Carbohydrates:

30g
Fiber:

3g
Sugar:

15g
Protein:

56g
Calorific details are provided by a third-party application and are to be used as indicative figures only.