Vietnamese pork belly is influenced by a dish called thit ba chi kho, it features pork braised & caramelised in a salty spicy-sweet sauce.
Whilst this dish takes a shade over an hour to cook it is exceptionally easy, brown the pork, then chuck it all in the wok and put your feet up!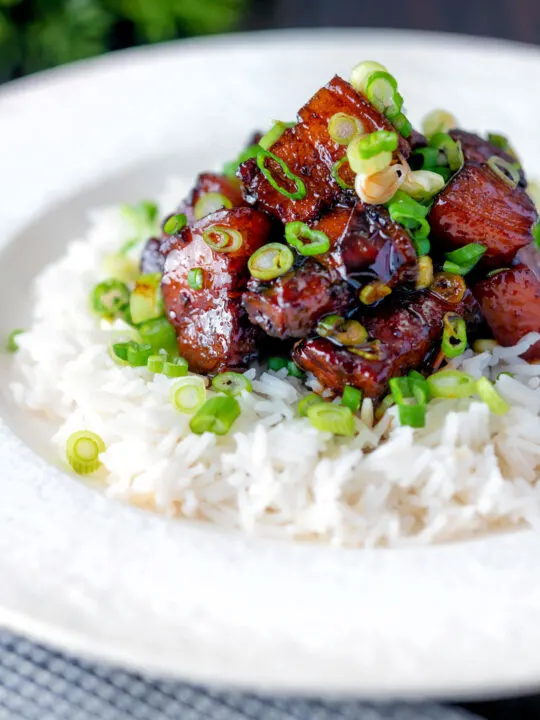 Thit Ba Chi Kho
I adore pork belly, it is hands down my favourite cut of pork. I use it for dishes as diverse as a good British roast pork to the slightly fancy pressed pork belly.
Here pork belly gets some Vietnamese influences in a dish that uses techniques common across South East Asia.
The principle technique involves cooking the meat in a sweet and salty broth until it all evaporates leaving a sweet and sticky glaze.
It is one that appears in my Indonesian influenced babi chin recipe and my Korean influenced pork belly with asparagus.
It is a wonderful cooking technique that leads to beautifully cooked pork and a wonderfully shiny glaze!
I flavour that glaze with star anise, lemongrass and chilli in a really simple recipe to cook.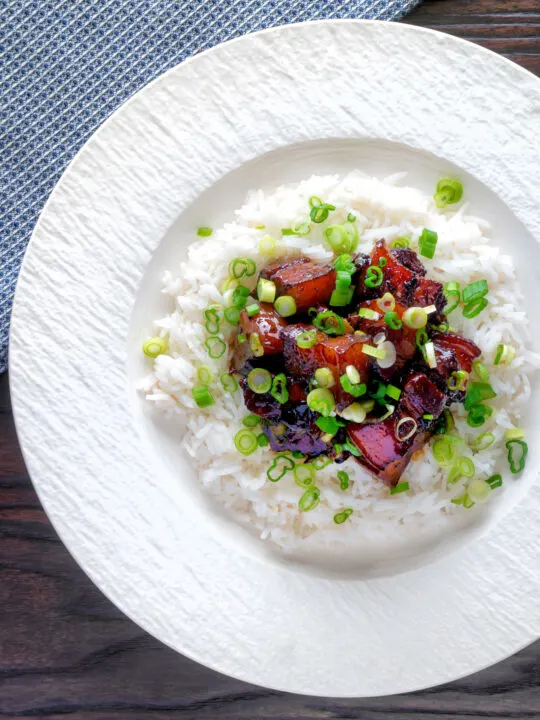 Frequently Asked Questions
Can I use another cut of pork?
Not really, no other cut comes close to the layering of fat in pork belly which is one of the defining features of this dish.
Can I use light soy sauce?
You can but it is not ideal, and you will need to make some alterations to the recipe.

Light soy sauce is less sweet and more salty than the dark variant. If you want to sub in light soy sauce reduce the amount to two tablespoons and add an extra teaspoon of brown sugar.
Do I have to use fish sauce?
For me, yes. This dish has very few ingredients and lives and dies on the umami sensation provided by fish sauce and MSG.
Do I have to use MSG?
"Have to" is a strong word but it really does elevate this dish greatly! Monosodium glutamate really enhances the umami "flavour" in a dish.

There are no proven negative side effects and it is perfectly natural. It originates from seaweed broth although today is much more likely to be made from sugar cane, beets or molasses.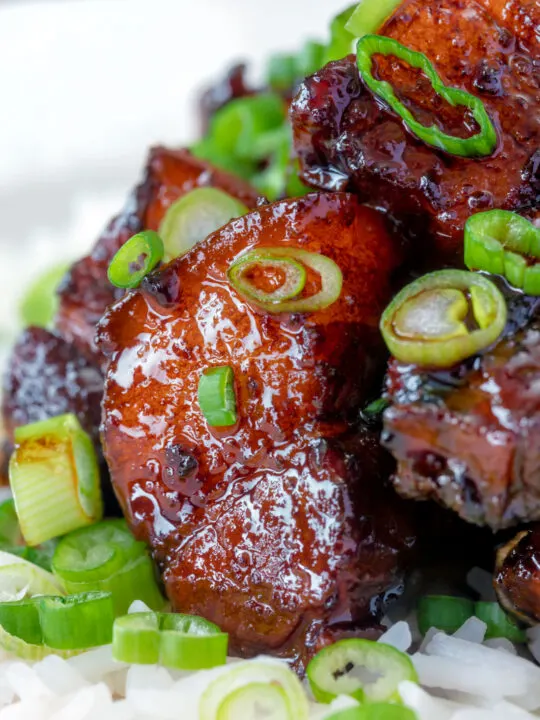 Serving Suggestions
I've served my Vietnamese pork belly here with some plain rice and chopped spring onions. But it is a versatile dish that goes with lots of dishes.
Sticking with rice, egg fried rice is perfect with this recipe if you have a second wok!
On to the veggies, some stir-fried broccoli or an asparagus stir fry would both make a nice addition to this recipe.
If you wanted to serve this with a salad this spicy cucumber salad would be great, as would this green papaya salad.
You could even go with noodles, this Thai influenced glass noodle salad would be perfect.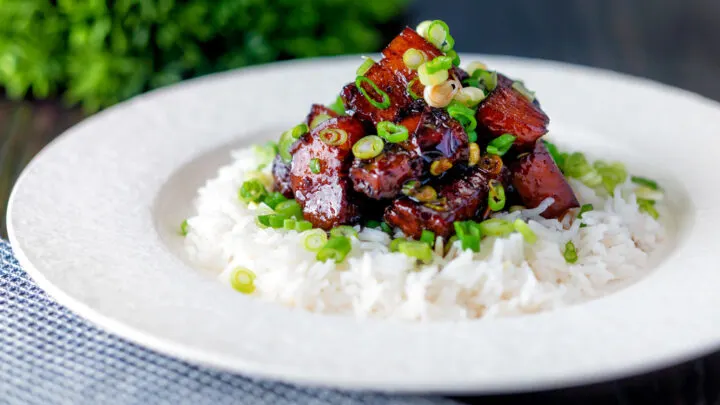 Equipment Used
I don't recommend specific brands of equipment unless I think that it makes a tangible impact on the recipe. If you have any questions feel free to drop them in the comments section below.
Measuring scales and or measuring cups and spoons.
Sharp kitchen knife.
Cutting board.
Wok, I use an old well-seasoned carbon steel wok.
Mixing bowls.
Stovetop.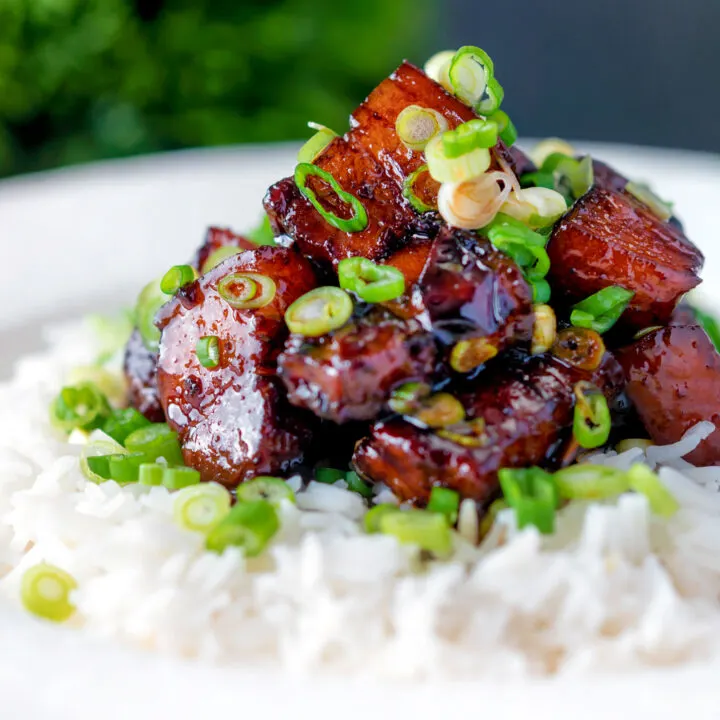 Yield:

2 Servings
Vietnamese Pork Belly Recipe
Cook Time:
1 hour
10 minutes
Total Time:
1 hour
15 minutes
Thit ba chi kho is a Vietnamese braised and caramlelised pork belly dish, it is extremely simple to make and tastes fantastic!
Ingredients
400g (14oz) Pork Belly Strips
30g (2 Tbsp) Brown Sugar
6 Small Dried Chilli Peppers
2 Star Anise
3 Tbsp Dark Soy Sauce
1 Tbsp Fish Sauce
1 Red Bell Pepper
15g (Half of a thumb-sized piece) Ginger
1 Stick Lemongrass
½ Tsp Monosodium Glutamate (MSG)
Instructions
Cut the pork belly into chunks 1-2cm thick across the strip.
Heat a wok over a medium-low heat and add the pork, there is no need for any oil. Stir the pork every couple of minutes, this process will take about 20 minutes.
Cut the red pepper into a 1cm dice.
Bash the piece of ginger with the side of a knife to bruise it.
Bash the lemongrass with a knife to bruise it.
Once the pork is nicely browned remove it and place it in a bowl.
Add the brown sugar, soy sauce and fish sauce and stir.
Once the sauce begins to bubble add the star anise and chilli peppers and stir for 30 seconds.
Return the pork to the wok along with the red pepper, lemongrass and ginger, then pour over enough water to cover the pork by around 5-6mm (¼").
Sprinkle in the MSG and stir to combine.
Turn the heat up to medium and cook for 45-50 minutes at a medium boil until almost all of the liquid has reduced and you are left with a viscous and shiny coating on the pork.
Nutrition Information:
Yield:
2
Serving Size:
1
Amount Per Serving:
Calories:

767
Total Fat:

44g
Saturated Fat:

16g
Trans Fat:

0g
Unsaturated Fat:

26g
Cholesterol:

168mg
Sodium:

2233mg
Carbohydrates:

42g
Fiber:

3g
Sugar:

25g
Protein:

52g
Calorific details are provided by a third-party application and are to be used as indicative figures only.