Slow roast pork belly with fantastically crispy crackling is a dream Sunday lunch & this is how I make mine, including the cider gravy!
This dish takes around 4 hours to cook including prep and resting, but it is very easy. This leaves you plenty of time to get your trimmings for Sunday lunch absolutely perfect.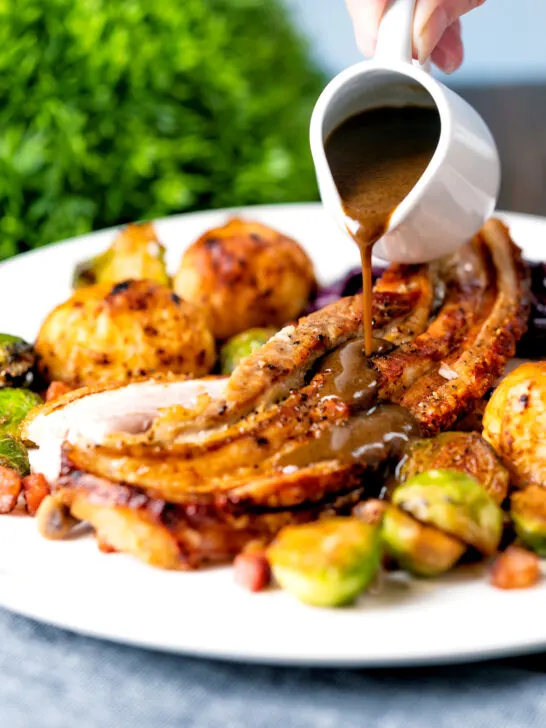 Roasted Pork Belly with Crispy Crackling
The Sunday lunch is a great British institution and whilst it is not one that I indulge in often it holds a special place in my food memories.
The French have been known to refer to us as "Les Rosbifs" after our love of roast beef and whilst it is true, we are not all raised on roast beef, it was far too expensive for us!
Most likely it would have been roast chicken in our house with roast pork being the second most likely to make an appearance.
Roast lamb or roast beef would have been a really treat and as for roast duck, well that's something that only appeared in my life long after I left home.
As far as I am concerned roast pork belly is THE perfect cut of meat for a low-maintenance Sunday lunch.
You can throw it in the oven, turn the heat down later and let it cook. It cooks for around 4 hours in total, but if you get carried away you can leave it for another 30 minutes, even an hour and it will be fine.
No matter what you do with it, you get the juiciest hunk of meat that always has the perfect crispy crackling!
As for the gravy, put down the bisto and grab a bottle of cider and some stock! You will have the perfect silky smooth gravy with a fantastic flavour that matches the perfectly cooked pork.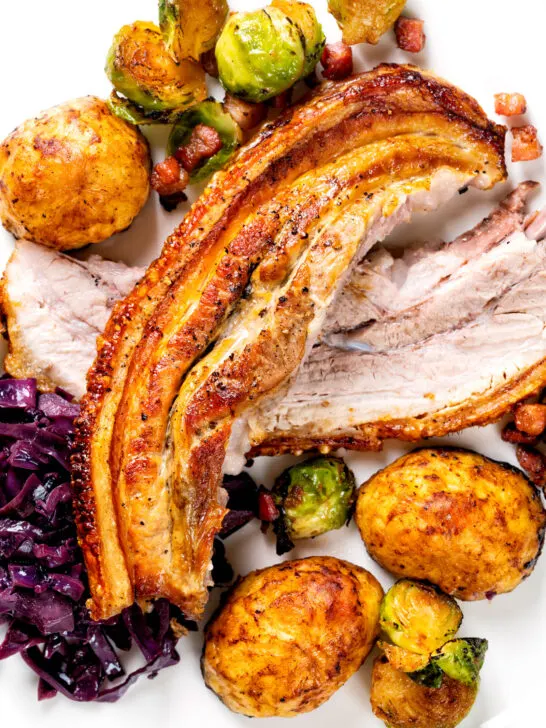 Frequently Asked Questions
What's the secret to a pan roasting gravy?
The secret to a perfect roasting pan gravy is patience, nothing more nothing less!

Make sure you reduce your liquid and keep on reducing by 2/3 to 3/4 of the original volume. Then add loads of cold butter to add richness and body.

I blend this gravy because I want to incorporate the onions that the pork roasts on.
How can I make a gravy if I have an induction hob?
If you can't put your roasting tin on your stovetop for whatever reason, reduce the cider in a saucepan then pour it into the baking tray. Stir and scrape to get as many of the juices and crispy bits off the roasting tin.

Then return it to the saucepan, add the stock and reduce again, finally whisk in the butter before serving.
How do you get perfect crispy crackling on pork?
The internet is full of "hot takes" and "hacks", no matter the subject… I'm here to say that there are loads of ways to make perfect crispy crackling.

The key is driving off liquid moisture from the skin and heat is the best way to do this, whether that be at the start of the cooking process or at the end of the cooking process.

This recipe uses heat at the start of the cooking process, my beer-roasted pork knuckle uses heat at the end of the cooking process.
Do I need to score the skin?
Yes and no… Scoring the skin does nothing to help or hinder the production of crispy crackling.

Scored skin does however increase the amount of seasoning you are getting into that top layer of fat. It also makes it easier to carve the pork.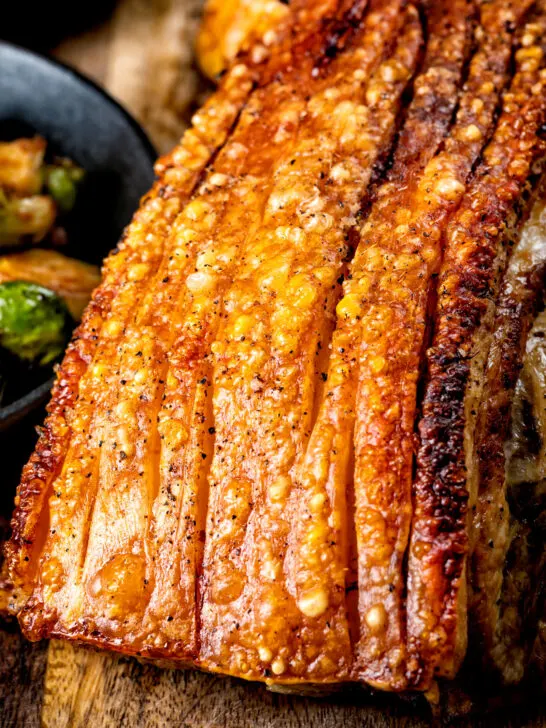 Serving Suggestions
I was raised on Sunday Lunch platters that were loaded with food, I'm now much more inclined to have 3-4 things and be able to function after lunch!
However, you should knock yourself out, here I've served my slow roast pork belly with braised red cabbage, miso Brussels sprouts and roast potatoes.
Roasted tatties are the only non-negotiable on a Sunday lunch as far as I am concerned! Oh yeah and gravy, roast pork, or any Sunday lunch ain't complete without gravy.
Honourable mentions go to glazed Chantenay carrots, buttered savoy cabbage, roasted savoy cabbage, roast parsnips and of course some good old garden peas!
You could even rock the Yorkshire pudding vibe. There are some people who claim that Yorkies only go with roast beef, those people are wrong!
Don't forget the apple sauce with this dish, despite the fact that I managed to do so in these pictures. It is an essential part of a roast pork dinner and it is perfect with cider gravy.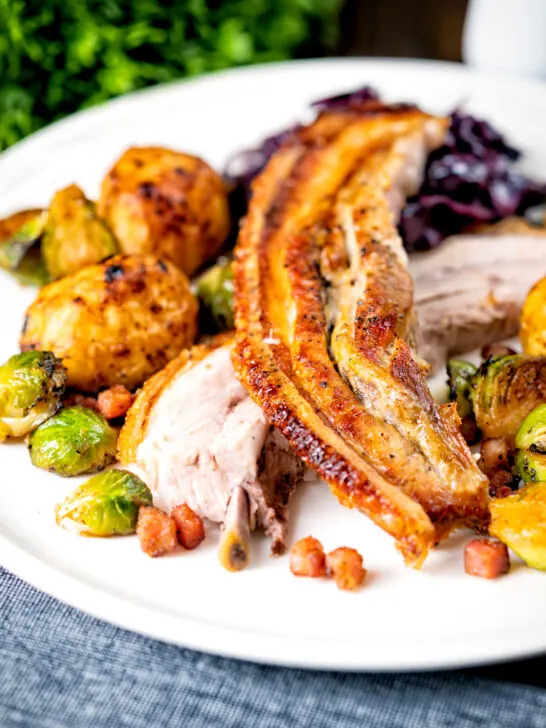 Equipment Used
I only name-check brands of equipment if I think that they make a material difference to a recipe. But if you have any questions feel free to ask them in the comments section below the recipe.
Oven.
Stovetop.
Roasting tin, large enough to hold the meat and roast potatoes if you are cooking them.
18cm or 7″ saucepan.
Blender.
Fine mesh sieve.
Chopping board.
Kitchen knife.
Measuring jug and or cups and spoons.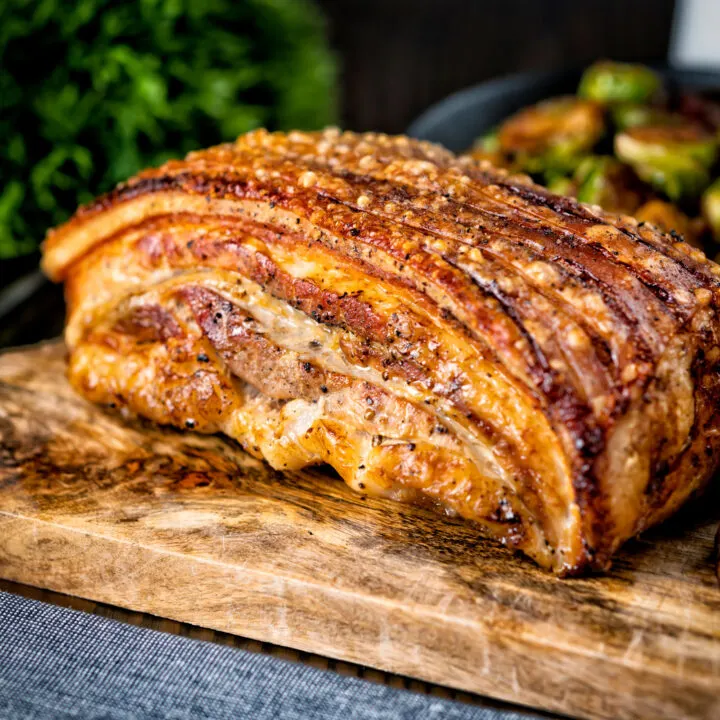 Yield:

4 Servings
Crispy Slow Roast Pork Belly Recipe with Cider Gravy
Total Time:
3 hours
45 minutes
A hunk of slow-roasted pork belly with perfect crispy crackling served with a glorious cider pan gravy is my idea of food heaven!
Ingredients
1.5kg (3.1 lb) Bone-in Pork Belly
½ Tsp Ground Black Pepper
1 Tsp Coarse Sea Salt
1 Large Onion
For the 'Gravy'
330ml (1⅓ Cup) Cider
250ml (1 Cup) Chicken Stock
50g (3 Tbsp + 1 Tsp) Butter
Salt to Taste
Instructions
The night before you cook the pork, score the ski n taking care not to cut through to the flesh. This is optional and makes no difference to the quality of the crackling, but it helps to season the pork fat beneath the skin. Leave the joint in the fridge uncovered overnight.
Around 15-20 minutes before you are ready to cook heat your oven as high as it will go (around 250°C or 480°F).
Cut the onion into slices around 1-1.5cm (½") thick and place them in a roasting tin.
Season the pork with salt and pepper paying attention to rubbing it into the cuts in the pork skin, then place it on top of the onions.
Pop the pork in the oven and cook it for 20-30 minutes or until the skin begins to blister.
Turn the heat down to 150°C or 300°F and allow the pork to cook for another 2-2½ hours.
When the pork is done remove from the oven and allow to rest for 20-30 minutes.
Pour off all but a scant covering of fat from the roasting pan and place it over a high heat on the stovetop.
Pour in the cider scraping the pan as you go to deglaze it and reduce by half.
Add the chicken stock and reduce it by a further quarter to a third.
Transfer the stock gravy, including the onions to a blender and blitz until very smooth.
Pass the sauce through a fine mesh sieve into a 18cm or 7" saucepan and bring it to a boil.
Finally, whisk in the cold butter just before serving adding salt and pepper to taste.
Notes
If you want to roast potatoes add them to the roasting tin and baste them with the oil from the pork an hour before you remove the meat from the oven.

Then turn the oven up to 180°C or 350°F whilst the pork is resting to crisp them up.
Nutrition Information:
Yield:
4
Serving Size:
1
Amount Per Serving:
Calories:

898
Total Fat:

65g
Saturated Fat:

26g
Trans Fat:

1g
Unsaturated Fat:

36g
Cholesterol:

239mg
Sodium:

1066mg
Carbohydrates:

16g
Fiber:

1g
Sugar:

11g
Protein:

60g
Calorific details are provided by a third-party application and are to be used as indicative figures only.