There is nothing as fine as a piece of Slow Roast Pork Belly with crispy crackling paired with a roasting pan gravy it is comfort food heaven!
Whilst this recipe takes a while most of the time you can kick back and drink in the aroma of your dinner easing its way to perfection.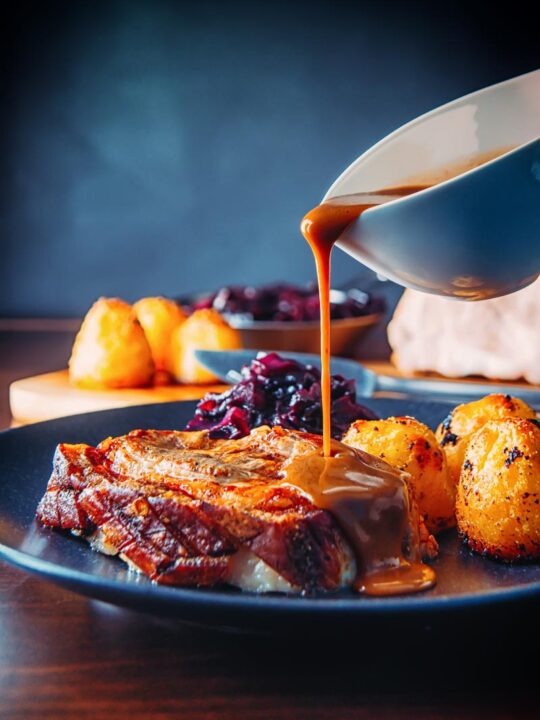 The Classic British Roast.
The French have been known to refer to the British as "Les Rosbifs" after our love of roast beef.
Whilst it is true, we are not all raised on roast beef, it is far too expensive, snigger!
We will roast any big old hunk of meat, anything from a whole duck to roast chicken.
Add a slathering of gravy and we are in heaven!
One of my favourites is Slow Roast Pork Belly, it has the perfect ratio of fat to meat.
Which when slow roast leads to just the juiciest pieces of meat and always seems to have the perfect crispy crackling!
I was raised on Sunday Lunch platters that were loaded with food.
I now prefer a much more moderate plate of food and usually serve this with braised red cabbage or roasted savoy cabbage and roast potatoes.
In a hushed voice, I will add that I usually use a slice of bread to mop up the gravy at the end of the meal. Is that just me?
But it would be equally good served alongside these baked pears with blue cheese!
If you want roast pork and don't have as much tome then check out my roast pork fillet with apple puree or roast pork tenderloin with apricots.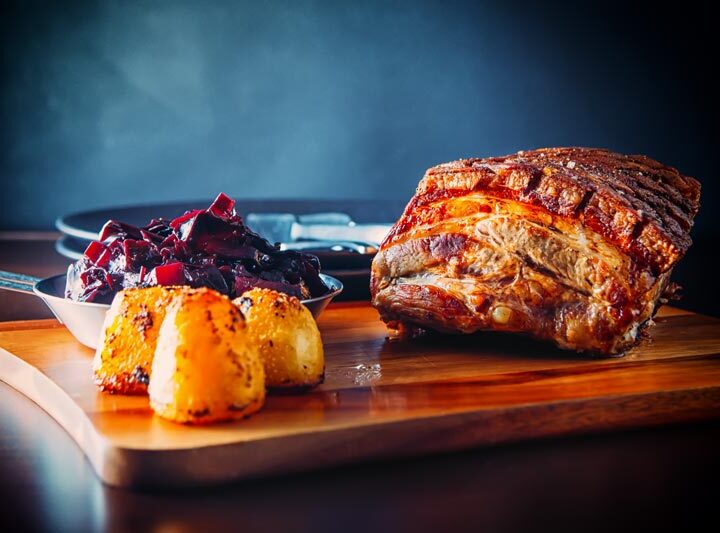 How To Make A Roasting Pan Gravy.
The secret to a perfect roasting pan gravy is patience, nothing more nothing less!
Make sure you reduce your liquid and keep on reducing by 2/3 to 3/4 of the original volume. It does not matter whether you are using beer, wine, stock or water.
Then a load of butter to add richness and body.
When you do that there should be no need for cornstarch or flour to thicken your gravy.
It should take approximately 15-20 minutes. But a joint of roasted meat needs to rest for between 15 and 30 minutes so there is ample time.
Placing a roasting pan on your hob can cause problems if like me you cook on electricity.
I get around this by bringing the liquid I am using to make the gravy to a boil.
Then I pour it into the roasting tray and scrape off all the caramelised bits before returning to a pan for the reduction phase.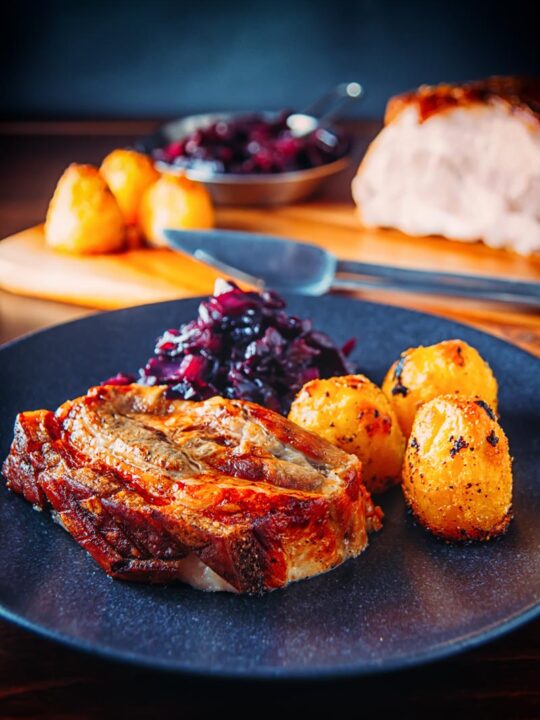 How To Get Perfect Crackling.
There is a whole host of old wives tails to getting the perfect crackling.
The key is driving off liquid. I usually rely on heat to achieve this either turning the heat to high at the start or end of the cooking process.
Both this Slow Roast Pork Belly recipe and my Chinese Pork Belly use the early heat method and my pork knuckle uses the late heat method.
Many will tell you to make sure your skin is dry. Well, I pour beer all over my pork knuckle before it cooks and that always has the most wonderful crackling.
I do like to score the fat on my pork belly as it makes it easier to serve. I have tested it both scored and unscored and both return perfect crackling.
But scored makes it easier to eat.
Salt does help drive off moisture but it also is responsible for flavour so do not skimp!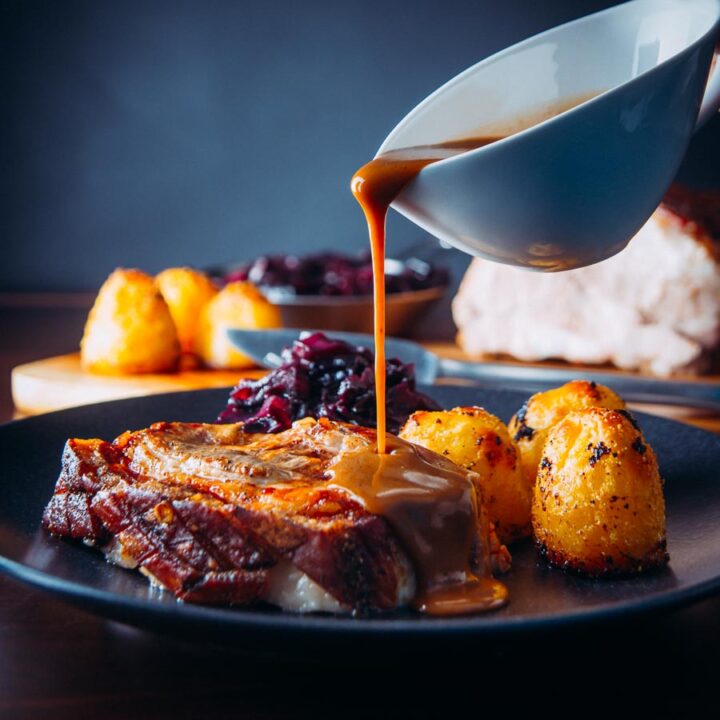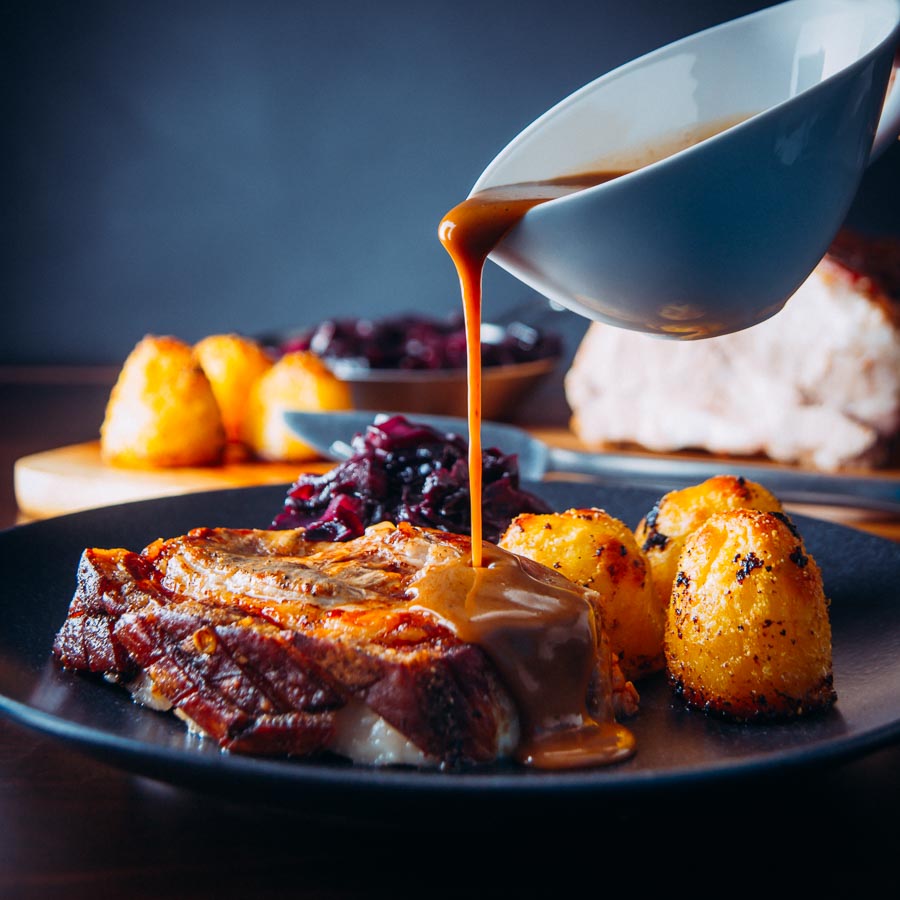 Yield:

4 Servings
Crispy Slow Roast Pork Belly Recipe
Cook Time:
3 hours
20 minutes
Total Time:
3 hours
30 minutes
A hunk of slowly roasted pork belly served with a glorious pan gravy is my idea of food heaven!
Ingredients
1 kg (2.2 lb) Pork Belly
1 Tsp Ground Black Pepper
1 Tsp Coarse Sea Salt
1 Large Onion
For the 'Gravy'
330 ml (1 1/3 Cup) Cider
250 ml (1 Cup) Chicken Stock
50 g (3 Tbsp + 1 Tsp) Butter
Salt and Pepper
Instructions
Make sure your pork belly has been bought closer to room temperature before cooking.
Preheat your oven to 220°C or 450°F.
Score the skin of the pork in a crosshatch pattern with each cut around 1cm from the last.
Cut the onion into slices around 1-1.5 cm thick, do not worry about removing the skin.
When your oven is hot arrange the onion slices in a square roughly the same size as your pork and place the pork on top
Place in the oven for 30 minutes or until the skin begins to blister, you may need to turn the pork occasionally if your oven has hot spots.
When the skin is beginning to blister and crackle turn down the heat to 150°C or 300°F and allow to cook for another 2 hours.
If you want roast potatoes add them when you reduce the oven temperature.
When the pork is done remove from the oven and allow to rest for 20 minutes.
If you have roast potatoes in the oven turn the temperature up to 200°C or 400°F to crisp them up whilst you rest the meat.
Now is the perfect time to make the gravy, pour off all but a scant covering of fat from the roasting pan and place over a high heat.
Pour in the cider scraping the pan as you go to deglaze
Then pour in the chicken stock and reduce my two thirds to three quarters.
When reduced pass through a fine-mesh sieve.
Melt in the butter whilst whisking and taste for seasoning adding salt and pepper as required.
Notes
I usually parboil floury potatoes for 10 minutes for roasters, then toss them around to rough them up before I put them in the roasting tin.
Nutrition Information:
Yield:
4
Serving Size:
1
Amount Per Serving:
Calories:

898
Total Fat:

65g
Saturated Fat:

26g
Trans Fat:

1g
Unsaturated Fat:

36g
Cholesterol:

239mg
Sodium:

1066mg
Carbohydrates:

16g
Fiber:

1g
Sugar:

11g
Protein:

60g
Calorific details are provided by a third-party application and are to be used as indicative figures only.