There is nothing as fine as a piece of slow roast pork belly with a crispy crackling, particularly when it has a sexy gravy too… So I guess this goes down as fine, real damn fine!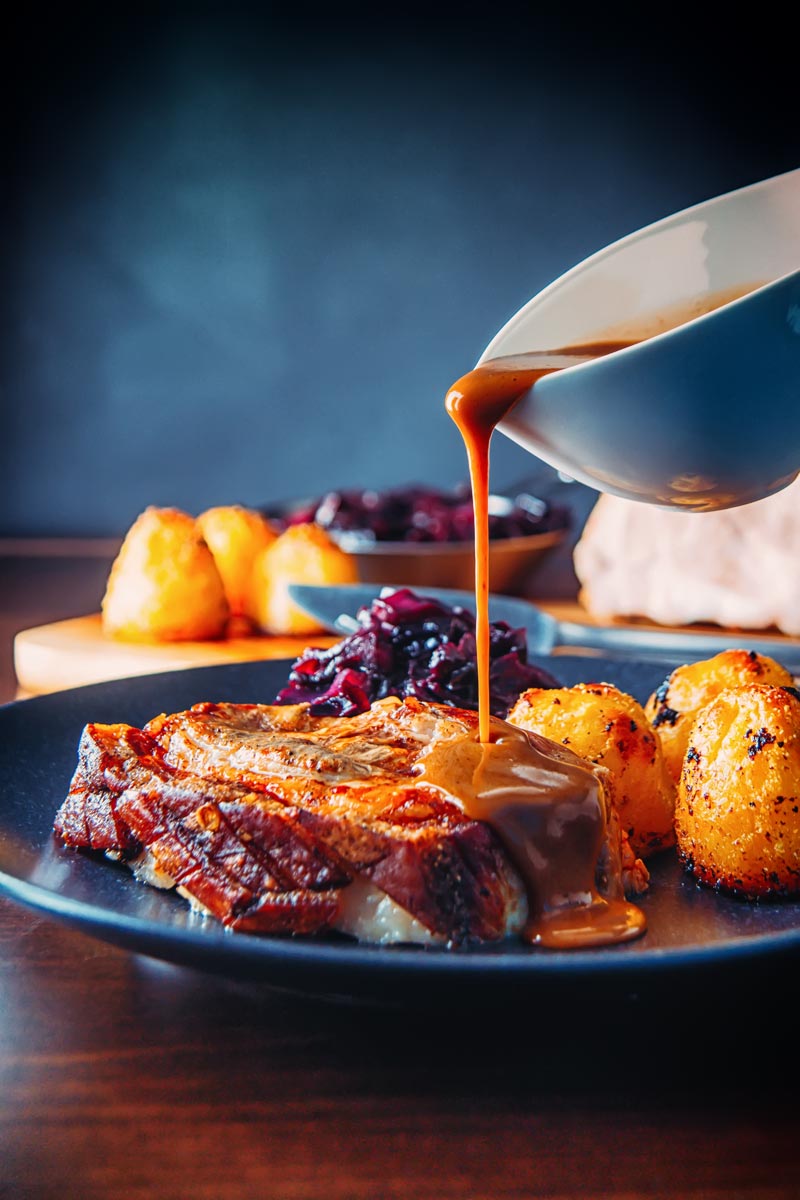 Crispy Roast Pork Belly With Red Cabbage.
I have my Mother in Law visiting this week and this dish is a follow up to my instant pot pork chop with red cabbage dish. It will also be our Sunday 'dinner' this week.
With there being just the two of us it is rare for us to roast a joint of meat. But seeing as I love Roast Pork Belly I figured I better practice this dish.
Now I couldn't serve my Mother in Law a dish I hadn't practiced in a while could I?
So here it is, a dish that I don't think could be more British if it tried.
Crispy Pork Belly, some red cabbage and a kick-ass gravy. Hell, I even add some roast potatoes to give it the full British accent!
I did forego the apple sauce though but it never worked on a dish with gravy for me personally.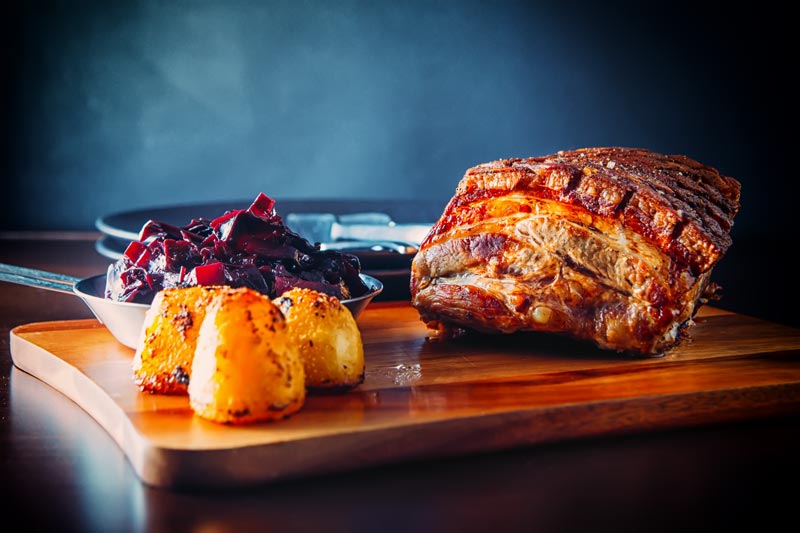 How To Make A Roasting Pan Gravy.
An awful lot of people seem to struggle to make a real roasting pan gravy. I can only assume it is impatience, the secret is making sure you reduce and keep on reducing by 2/3 to 3/4 of the original volume.
Then a load of butter to add richness and body.
When you do that there should be no need for cornstarch or flour to thicken your gravy. You have a simple homemade perfect gravy ready to go!
It should take between 15-20 minutes. However, a decent joint of roasted meat needs to rest for between 15 and 30 minutes so there is ample time.
Well that's my gravy anyway and the way I have always made it. Having said that I was definitely 'Bisto baby'.
All of the gravy I consumed growing up as a child would have come out of a packet. Even roast pork belly would come with a beef gravy.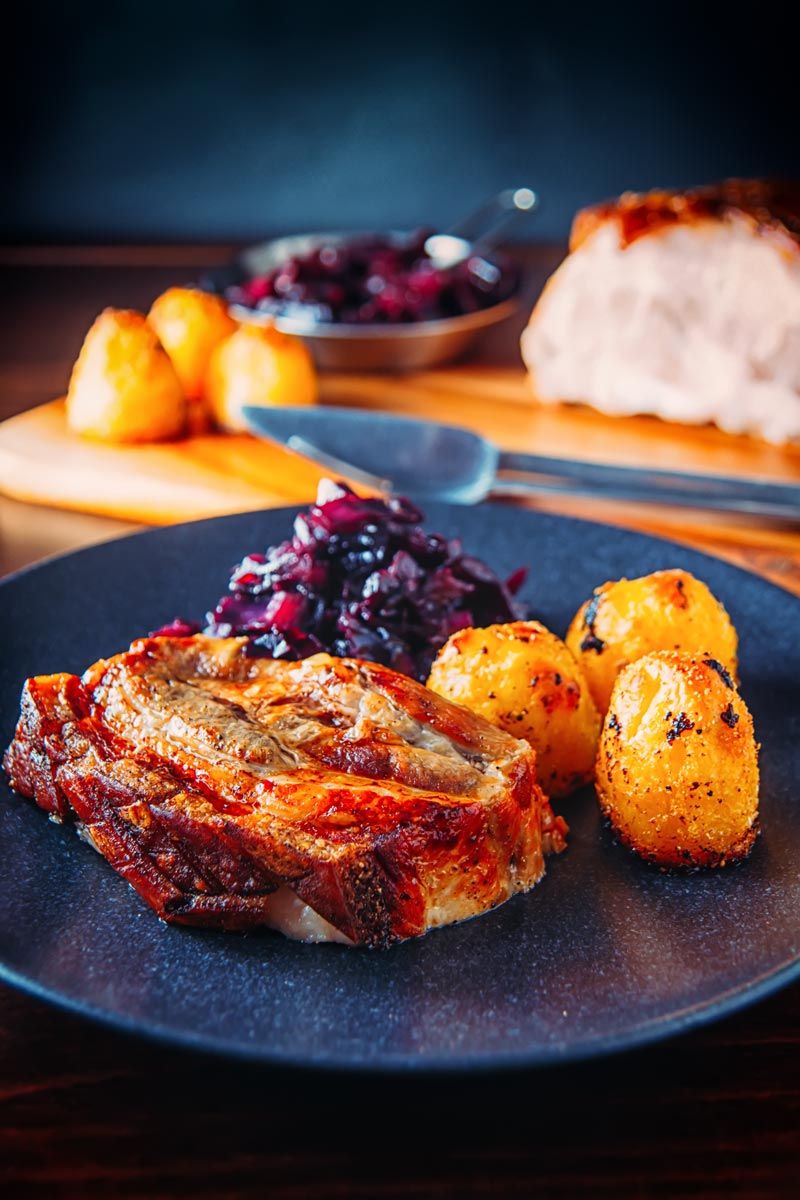 My Love For Pork Belly Recipes.
If you have been visiting for a while you will more than a little bit aware that I love pork belly.
It is the perfect meat if you ask me, bags of flavour, the perfect balance between lean and fat. Oh yeah, then you have the crackling… Just one more thing, it is dirt cheap too!
As a result, you should expect many pork belly recipes than there already are here.
One of the main reasons I love it is the versatility, of course, you can go really simple as in this classic Sunday lunch.
But you can do really fancy too, you should definitely check out this pressed pork belly with port cherries!
I'm also delighted to see pork belly recipes appearing on high-end restaurant menus too.
Although I fear, that in the same way beef and pork cheeks have increased in cost, the same fate awaits pork belly.
But do you know what? It doesn't matter, it could be the most expensive cut of pork and I would still favour it. Simply because it is the most delicious!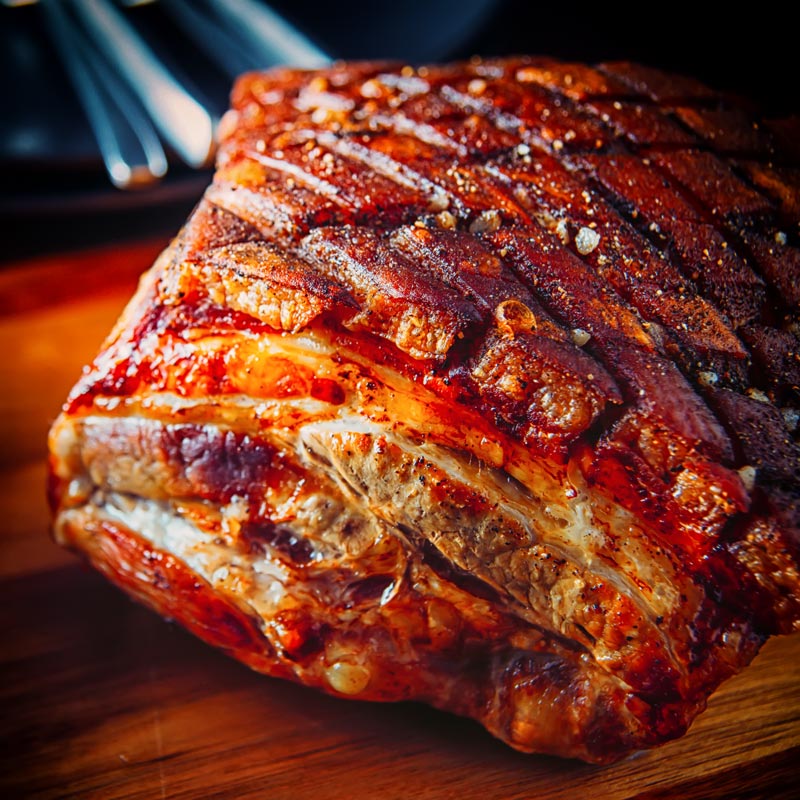 In Other News!
You know I like to keep you guys up to date! We have just one glorious week left of freedom from the garden.
If the weather forecasts hold true we will be straight back into the garden for planting the day after we put Julies Mum on the plane back home.
Now right now I will tell you that it is an exciting time and I can't wait. Feel free however to copy and paste this to me in 3-4 months time.
You know when I am complaining about feeling like an old man!
Naturally, I will not laugh it off! I will just say that 'Summer Brian' thinks that 'Winter Brian' is a dick.
In all honesty that is reciprocally true, once we get beyond two thirds through a season I am hankering for it to change again!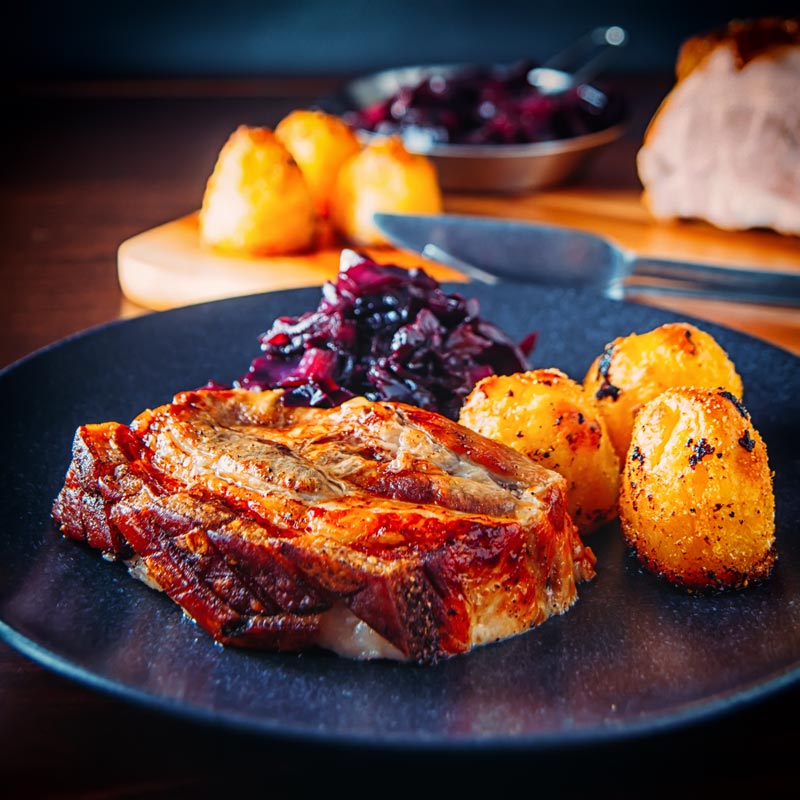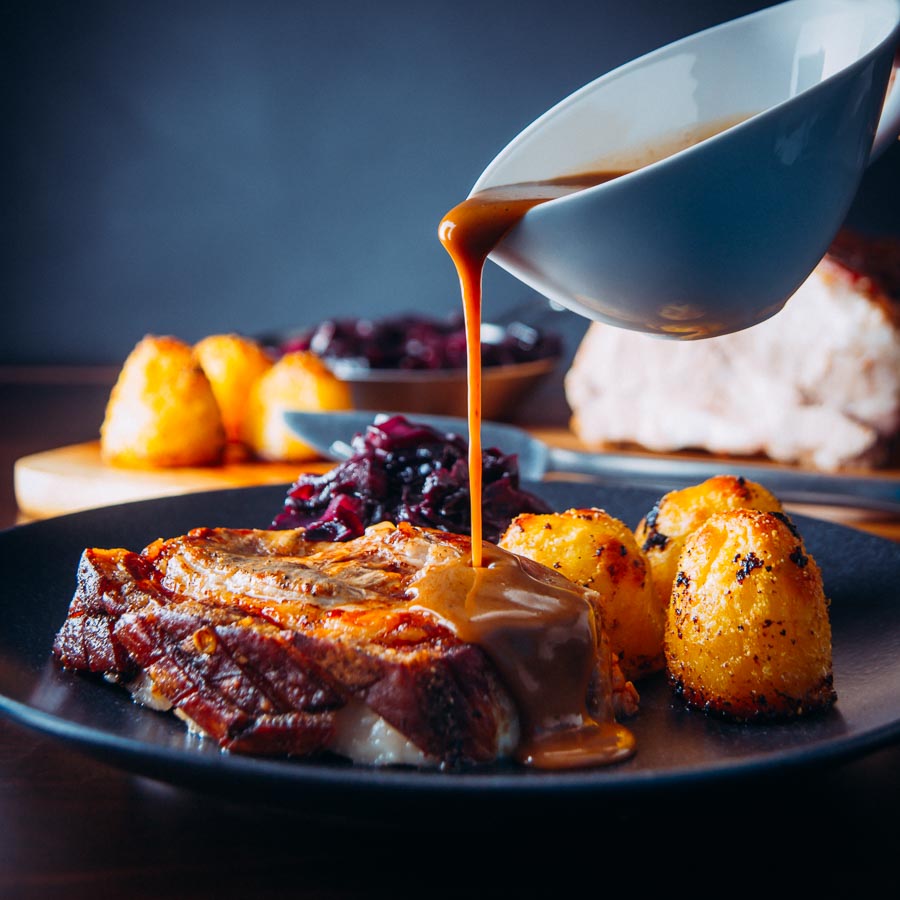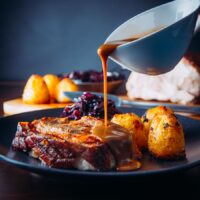 Crispy Roast Pork Belly With Red Cabbage
Cook Time:
3 hours
20 minutes
Total Time:
3 hours
30 minutes
There is nothing as fine as piece of slow cooked roast pork belly with a crispy crackling, so I guess this goes down as real damn fine! 
Ingredients
1 kg Pork Belly, Bone in skin on
1 Tsp Black Pepper Corns, Coarsely Ground
1 Tsp Coarse Sea Salt
1 Large Onion, Cut into 1cm slices
For the Red Cabbage
300 g Red Cabbage, Shredded
3 Tbsp Olive Oil
25 g Honey
100 ml Red Wine
25 ml Red Wine Vinegar
1/2 Tsp Coarse Sea Salt
Good Grind Black Pepper
For the 'Gravy'
200 ml Cider
200 ml Chicken Stock
25 g Butter
Salt and Pepper
Instructions
Make sure you pork belly is at room temperature and the skin is dry before beginning.
Preheat your oven to 220°C.
Now score the skin of the pork in a cross hatch pattern with each cut around 1cm from the last.
When your oven is hot arrange the onion slices in a square the same size as your pork and place the pork on top, place in the oven for 30 minutes or until the skin begins to blister, you may need to turn the pork occasionally if your oven has hot spots.
When the skin is beginning to blister and crackle turn down the heat to 150°C and allow to cook for another 2 hours.
When you have about an hour and a half left before serving, heat a pan with the olive oil for the red cabbage and cook the cabbage until it softens over a medium to low heat which should take around 20 minutes.
Pour in the wine, honey, red wine vinegar and season, then reduce the temperature to low and allow to cook for an hour stirring occasionally.
When the pork is done remove from the oven and allow to rest for 20 minutes.
Now is the perfect time to make the gravy, pour off all but a scant covering of fat from the roasting pan and place over a high heat.
Pour in the cider scraping the pan as you go to deglaze, now pour in the chicken stock and reduce my two thirds.
When reduced pass through a fine mesh sieve and then enrich with the butter and taste for seasoning adding salt and pepper as required.
Notes
I also added some potatoes roasted in duck fat to this dish because I'm just that kinda guy 😀
Nutrition Information:
Yield:

4
Serving Size:

1
Amount Per Serving:
Calories:

1012
Total Fat:

70g
Saturated Fat:

24g
Trans Fat:

1g
Unsaturated Fat:

43g
Cholesterol:

225mg
Sodium:

1320mg
Carbohydrates:

28g
Fiber:

3g
Sugar:

16g
Protein:

62g
Calorific details are provided by a third-party application and are to be used as indicative figures only.