Roast duck always feels special and this recipe doubles down on that!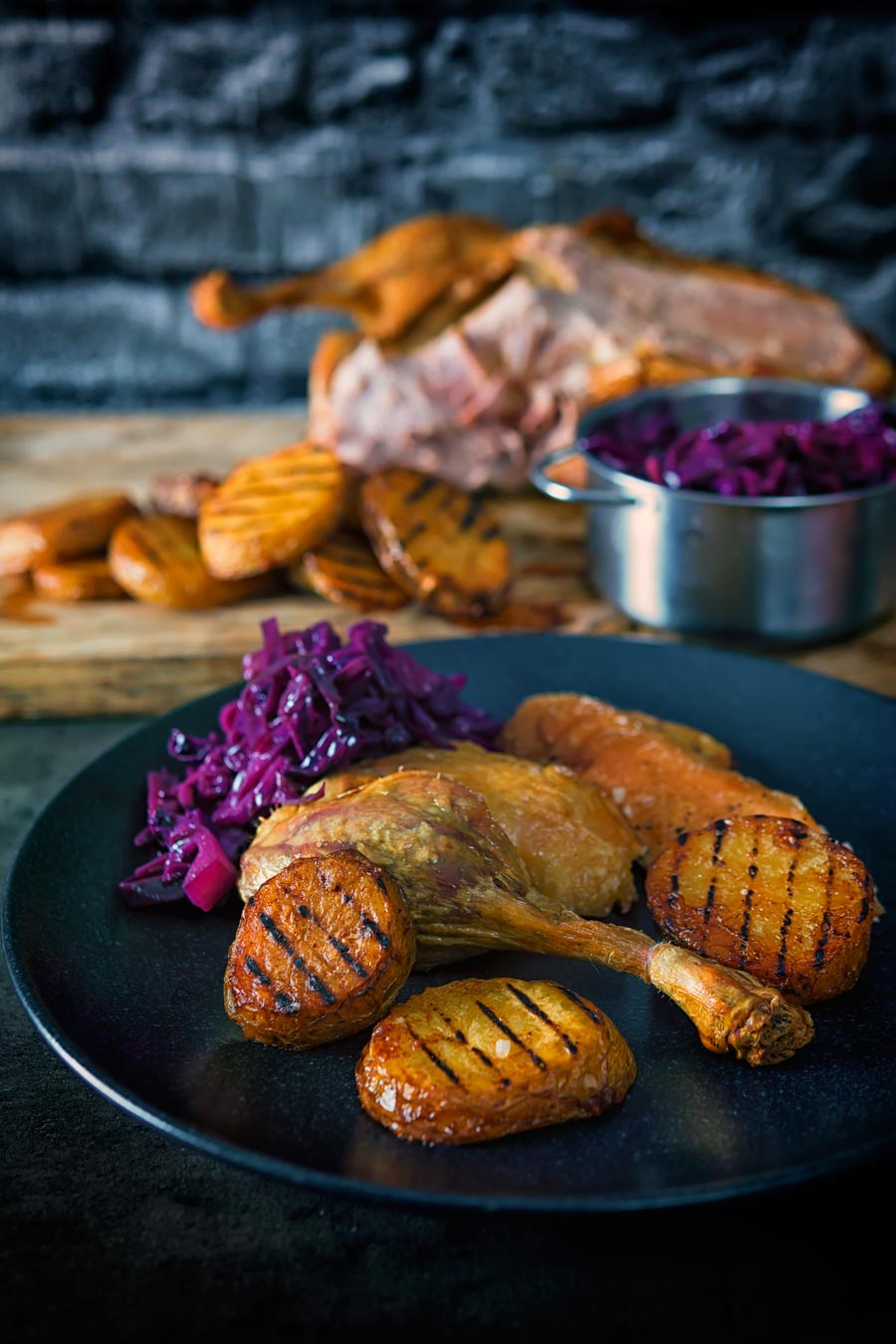 An Old Fashioned Roast.
Well, where do I start with this recipe? It is wonderfully old fashioned, about as British as it gets and as delicious as any dish I have ever cooked.
Regular readers will know that I am rather fond of the occasional duck recipe. Whether it is duck breast in my pan-fried duck breast with honey roast parsnips, slow-cooked duck legs in my duck donburi recipe or quickly cooked in this duck stir fry!
This, however, takes the whole duck and does something quite magical with it.
I use a technique from a chef called Michel Roux Jr, so pretty much as close as you get to food royalty!
It features the very best potatoes I have ever eaten or cooked, but more on those later and make a wonderful buttery red wine giblet gravy.
It is a complete heart of a Sunday lunch and ideal for a Christmas dinner for a smaller family. In that vein, it is very similar to this roast guinea fowl recipe!
You will also not be left sat on the sofa pondering gastric surgery or subject you to the cursed turkey leftovers for months.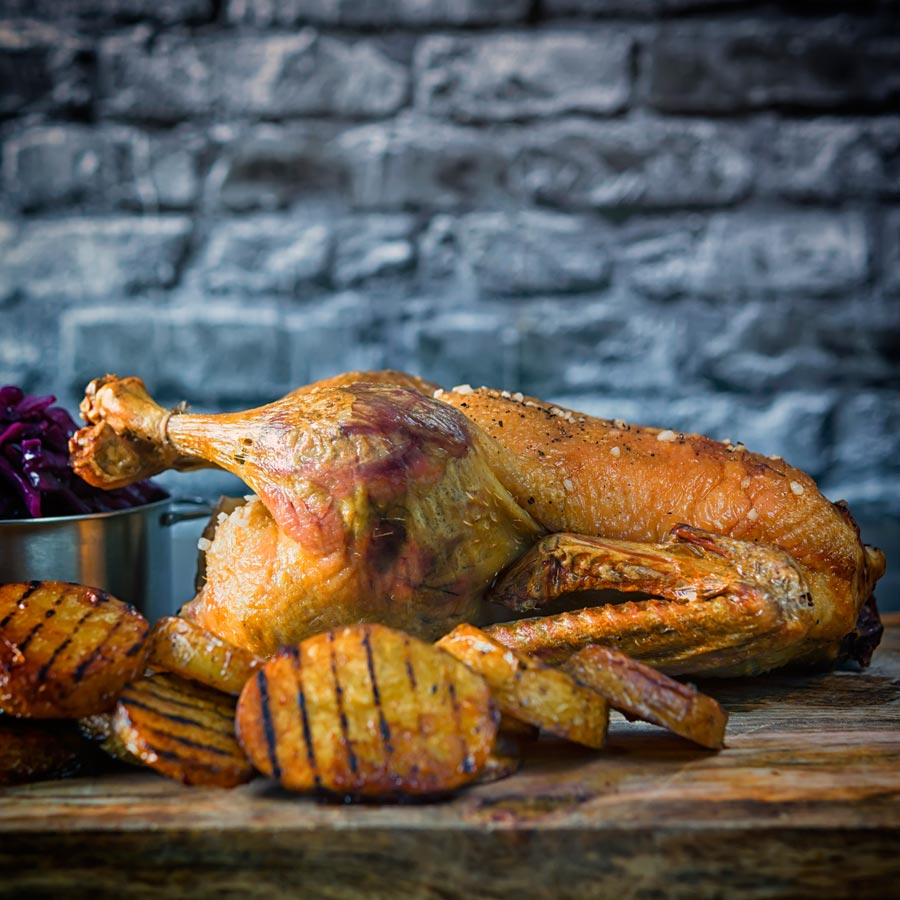 The Secret to Cooking a Whole Duck.
I've spent years playing around with different techniques for roasting duck. This one results in a perfectly cooked duck with crispy duck skin.
I've seen and tried everything from searing the bird to boiling it before placing in an oven.
This technique is insanely easy and has no preparation aside from stringing together the legs.
The bird is thrown in the oven at a brutally high temperature and then the temperature is dropped whilst the cooking continues.
The secret that really makes a difference with this roast duck recipe is to not cook it in a roasting pan!
It allows the hot air to circulate around the bird freely which really helps render out that fat.
One of the downsides is that it does make your oven a little muckier than using in a roasting tin.
But this is a special meal, not your average Sunday roast, have you seen the calorie count? Cleaning the oven after really is worth it!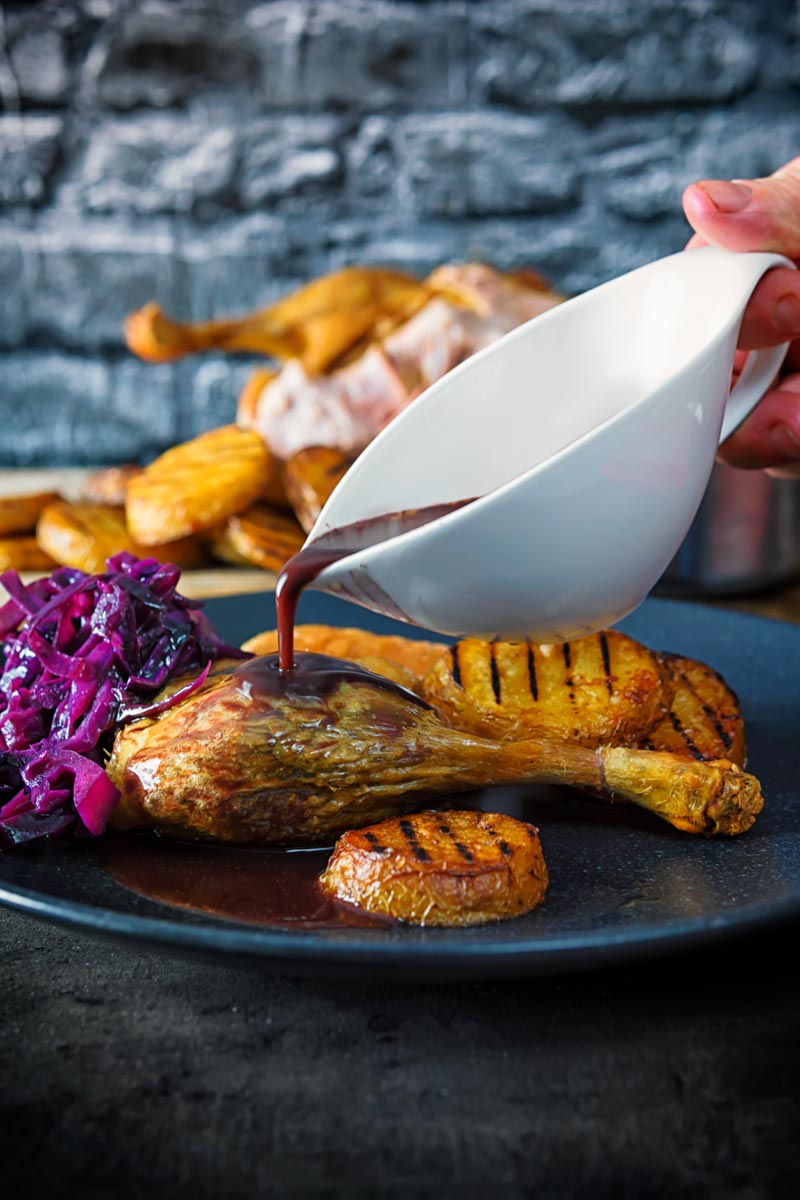 The Best Potatoes Ever!
Potatoes are my wifes favourite vegetable, she would eat them with every meal given half the chance.
These are her favourite potatoes, no I do not cook them all the time, but when I do I am in the good books. She even prefers these to my proper chip shop chips, and that is saying something.
I have nothing against traditional roast potatoes, in fact I love them, but these are special!
So what makes these roast potatoes special? Duck fat and more specifically the fat that drips onto them from the duck.
In many ways, the technique is very similar to Boulangere potatoes. Traditionally that would be a hunk of meat cooked in the cooling oven of the local bakery on a bed of potatoes.
The fat would render out and then cook the potatoes.
Even in the relatively short period of time these potatoes cook they begin by roasting. Then as the pan fills up with duck fat from the roasted duck they begin to become confit potatoes.
They are insane, wonderful, magical, think of a superlative and throw it away because it ain't good enough to describe how good these krumpli are.
Yes, my website name means potato in Hungarian!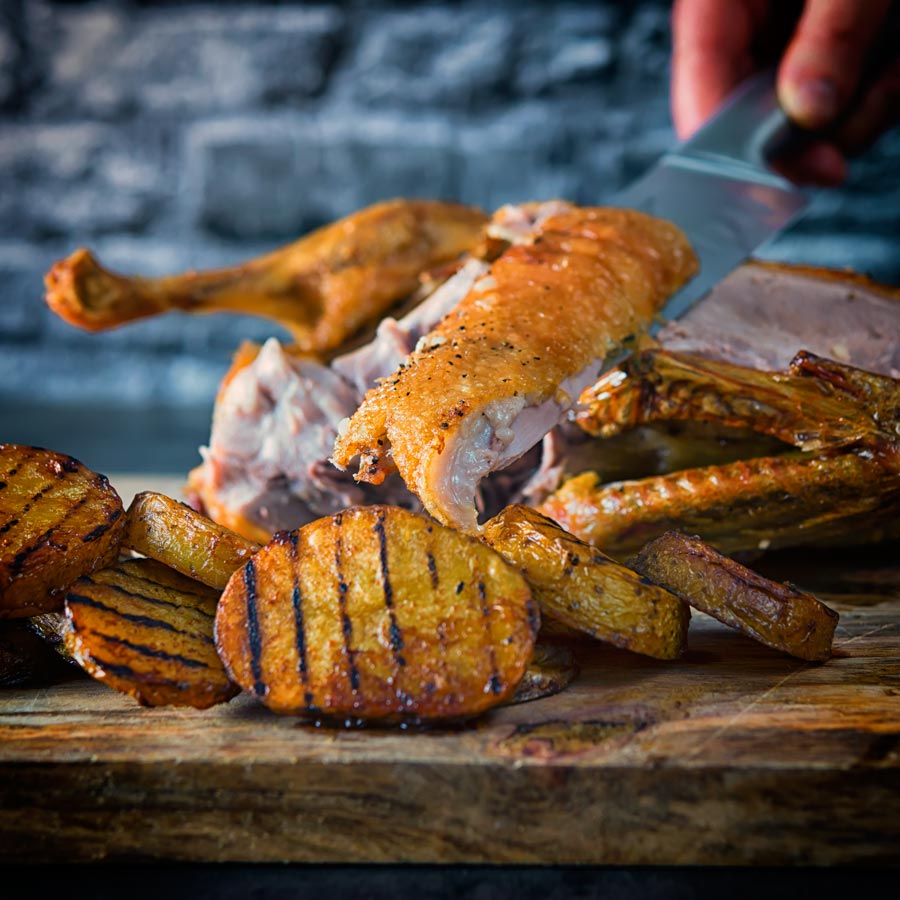 The Red Wine Gravy!
Ok, we now have the perfect indulgent rich duck and potatoes that will blow your mind we need a gravy.
The process of making gravy is not difficult, do not be tempted to take shortcuts.
This is a simple affair using the giblets from the duck to make a quick stock.
That is reduced down before we add red wine and reduce again. After that, all you need to do is add some butter and whisk and bosh we have an insanely tasty gravy.
A gravy far better than anything you will get from a packet.
If you want more veg then knock yourselves out, may I suggest a wee bit of braised red cabbage?
And if you have leftovers then take a look at my duck bonbons. They will be the purdiest leftover dish you will eat this year!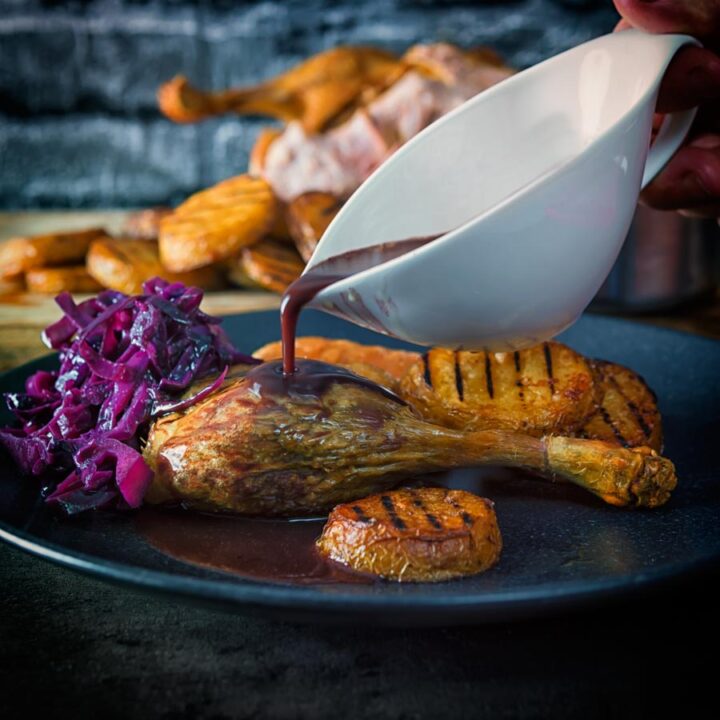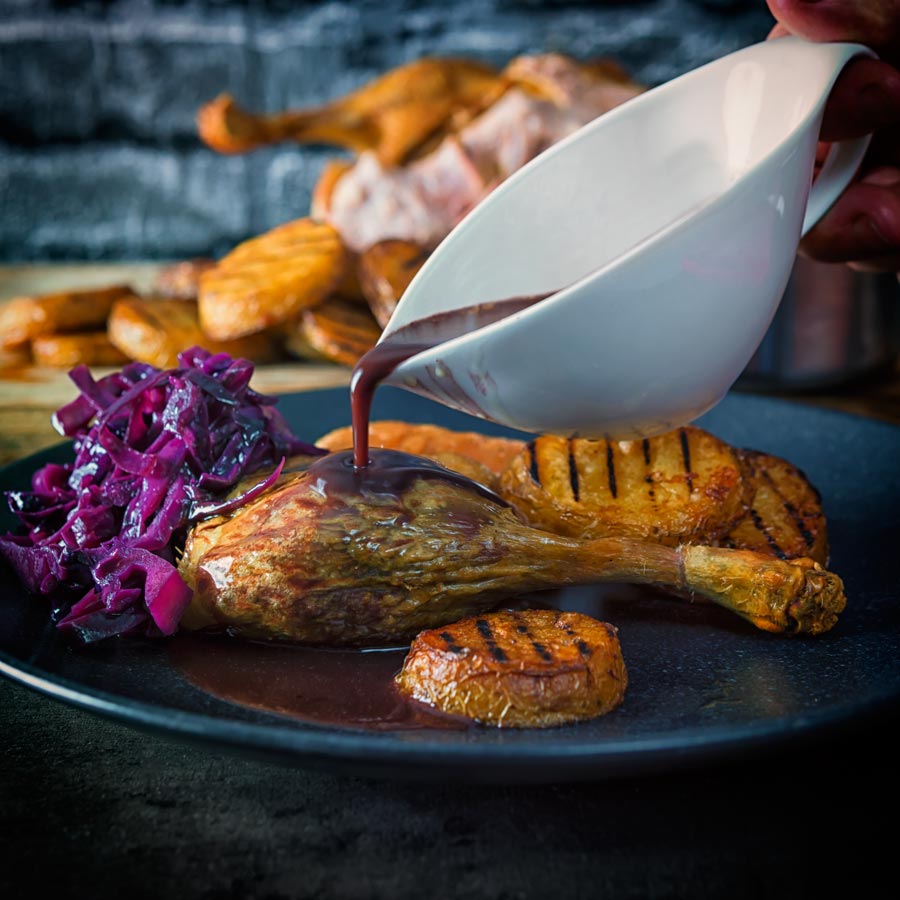 Yield:

4 Servings
Whole Roast Duck Recipe With "confit" roast Potatoes
Cook Time:
1 hour
20 minutes
Total Time:
1 hour
30 minutes
A whole roast duck always feels special and this recipe comes bundled with red cabbage and the very best potato recipe that I know!
Ingredients
For the Duck:
2.5 kg (5-5.5 lb) Whole Duck
Salt and Pepper
For the "Confit" Roast Potatoes:
800 g (3.5 Cups) Potatoes
1 Tbsp Cooking Oil
Salt and Pepper
For the Gravy:
Giblets from the duck
350 ml (1.5 Cups) Water
1 Onion
1 Stick Celery
200 ml (1 .25 Cups) Red Wine
75 g (5 Tbsp) Butter
Instructions
Heat the oven to 240°C 450°F.
Trim up the duck of any excess fat and season will inside and out generously with salt.
Tie the legs of the duck at the 'ankle'.
Place a roasting tin on the lowest shelf of the oven to catch the dripping fat from the duck.
The place the duck in the oven directly on a cooling grid, this allows the duck to cook evenly.
Cook on this high heat for 20 minutes.
Whilst this is happening heat a griddle pan over a high heat.
Slice your potatoes into 1cm thick scallops and then pour over the oil and season with salt and pepper.
Grill the potatoes for a couple of minutes on each side to get some nice grill marks.
Once the potatoes have the griddle marks and your duck has been cooking for 20 minutes arrange the potatoes in a single layer on the tray under the duck.
Reduce the heat to 180°C or 350°F and cook for a further 40 minutes.
Meanwhile, place the giblets from the bird in a pan with the onion that is roughly chopped and the celery roughly chopped and bring to a simmer for 40 minutes.
Remove the duck from the oven and tent with foil and rest for 20 minutes. This is THE most important part of this recipe!
Shift the potatoes to the middle of the oven and baste with the juices they are sitting in and allow them to cook on for the 20 mins resting time.
After your duck has been resting for 5 minutes heat a dry pan over a high heat and add the red wine for the gravy and reduce by two thirds.
Drain off the stock we made from the giblets and add it to the wine reduction.
Reduce by half again, skimming off any foam, taste and season as required with salt and pepper.
Add the duck resting juices and whisk in the butter just before serving!
Nutrition Information:
Yield:
4
Serving Size:
1
Amount Per Serving:
Calories:

1402
Total Fat:

100g
Saturated Fat:

36g
Trans Fat:

1g
Unsaturated Fat:

58g
Cholesterol:

250mg
Sodium:

326mg
Carbohydrates:

58g
Fiber:

7g
Sugar:

12g
Protein:

54g